If you are ready to shoot with an iron sight, and you are not obsessed with accurate shooting (not so precise results don't drive you crazy), you can try AK-47 or AK-74, taking in mind that it will not be as easy as for AR rifles.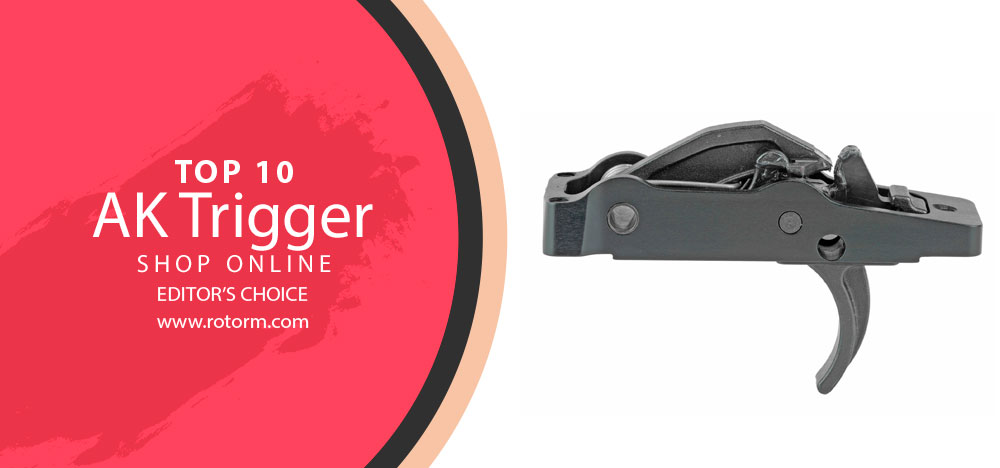 AKs are gas-operated, assault rifles, developed by Mikhail Kalashnikov in the Soviet Union in the period of WWII.
Why do we need an AK trigger?
The AK-47 is one of the common-used rifles in the world. The AK-74 is an upgraded version of AK-47 with a newer design. AK-type weapons are not as popular as American M16, because of less precision. Although there are some updates, allowing to improve AK-shooting accuracy peculiarities: good mount, trigger, and reliable scope. Upgraded AK triggers should provide a safe position, light pull, and short crisp reset to perform good results and faster firing rate in combat, training, competition shooting, or plinking on the range.
Best AK 47 Triggers | Best AK Trigger Reviews
| Image | Product | Brand | |
| --- | --- | --- | --- |
| | ALG Defense AK 47/74 Drop-In Trigger | ALG Defense | |
| | Franklin Armory BFSIII AK-C1 Trigger | Franklin Armory | |
| | CMC Triggers AK Tactical 3 Single Stage Trigger | CMC Triggers | |
| | FosTech Outdoors Echo AK-47 Trigger | FosTech | |
| | ALG Defense AK Trigger Ultimate (w/Lightning Bow) | ALG Defense | |
| | Century Arms RAK-1 N-PAP Trigger Group | Century Arms | |
| | CMC Triggers AK Single Stage Trigger Pull | CMC Triggers | |
| | Century Arms RAK-1 Trigger Group | Century Arms | |
| | Fime Group Fime Trigger Group Ak | Fime Group | |
| | Century AK Double Trigger Kit | Century Arms | |
#1 ALG Defense AK 47/74 Drop-In Trigger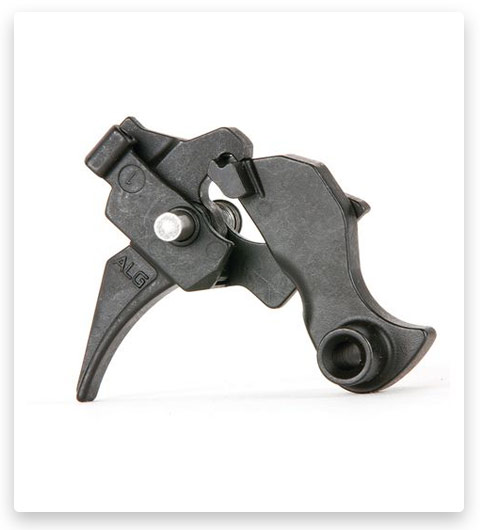 ALG Defense offers smoother and shorter triggers without springs, fitting gun models AK-47 and AK-74. These Rifle triggers are manufactured from S7 Tool Steel (machined triple alloy) with manganese phosphate finish in black color. AK 47/74 triggers are suitable for home defense and combat usage. The single-stage triggers feature drop-in installation and replacement type.
#2 Franklin Armory BFSIII AK-C1 Trigger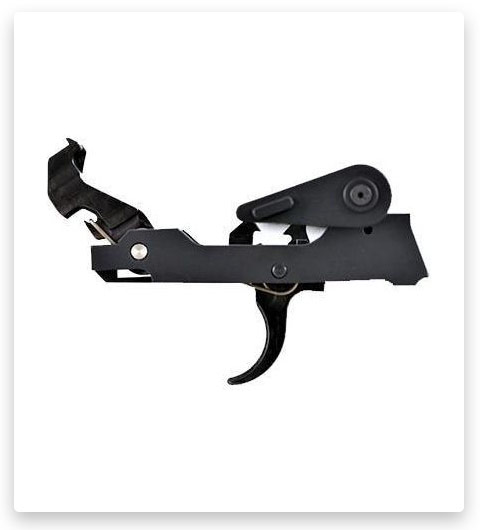 The BFSIII AK-C1 Trigger is a three-position trigger, where the first is for safety, no fire; the second is for semi-fires (one round per pull); the third is for binary fires (one round on pull and one other on release). The third position delivers the trigger to be the fastest semi-automatic one at the ammunition market, suitable for tactical, competition, and recreational application. The Binary Firing System GEN 3 (BFSIII) allows canceling the release round just by moving the Patent Pending selector out of Binary mode, holding the trigger back. There are 2 trigger models for calibers: 9mm and 7.62x39mm.
#3 CMC Triggers AK Tactical 3 Single Stage Trigger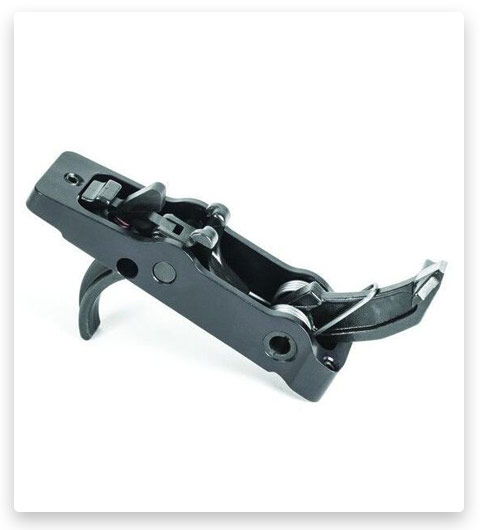 https://www.opticsplanet.com/cmc-triggers-ar-tactical-3-single-stage-trigger-group.html
CMC ensures AK Tactical triggers upgrading will be simple due to fine match grade pull to implement it. It is necessary to install the 3 Single Stage trigger fully self-contained, ready-to-go group, and safety check one.
#4 FosTech Outdoors Echo AK-47 Trigger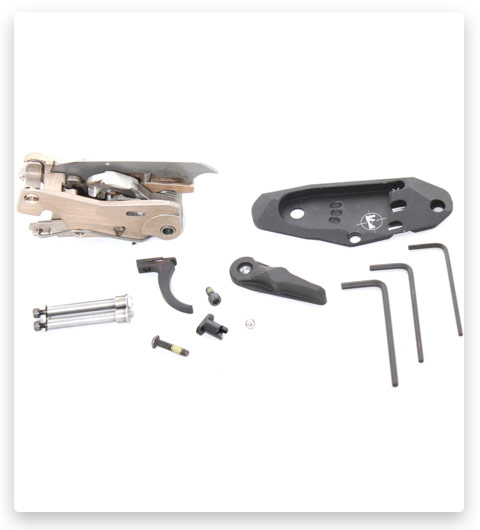 FosTech developed three modes of operation Safe Echo semi-automatic triggers, which include AR-II peculiarities to be installed on the AK-47 rifle platforms. These Echo AK-47 black triggers are designed for the common stamped models. These triggers will work well for rifles with a full auto-bolt carrier.
#5 ALG Defense AK Trigger Ultimate (w/Lightning Bow)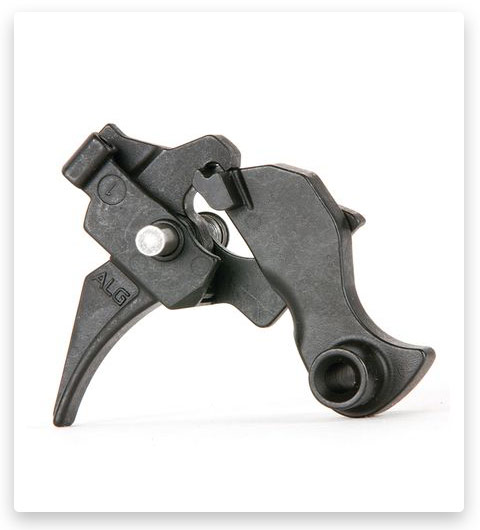 Single-stage triggers were developed to operate without fitting with most AKs, which have a rivet (not bigger than 0.062 inches tall) for the trigger guard rear, usually acting as an anti-slapp function. Higher rivet, than admitted one, can reduce necessary clearance, and cause the disconnector damage. To avoid trigger slap, it's necessary to shave down the rivet, not the disconnector tail. ALG Defense recommends a qualified gunsmith to install and make all fire control groups fitting.
#6 Century Arms RAK-1 N-PAP Trigger Group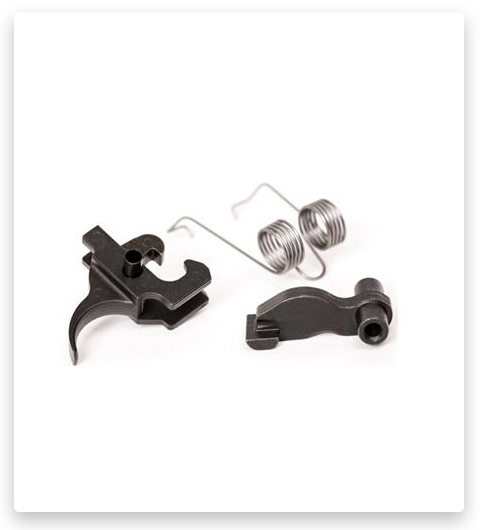 Century Arms designed double hook triggers (with an advanced relief cut), which can replace single hook triggers, being stronger. This single-stage trigger group consists of a disconnector with spring, hammer with spring, trigger, and its sleeve. The disconnector has passed high round count tests to exclude slap of trigger and folding of the engagement surface. Century Arms triggers are compatible with the N-PAP, N-PAP DF, M90 NP, M92 PV, O-PAP, and other Yugo AK rifle and pistol versions.
#7 CMC Triggers AK Single Stage Trigger Pull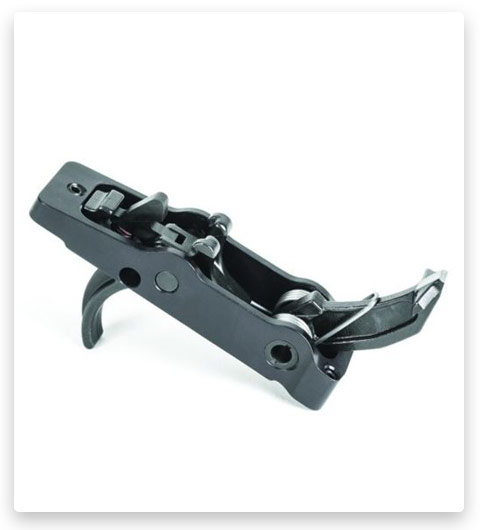 There are 3 models of CMC Triggers, depending on the trigger shape: AK Style curved, traditionally curved, and tactical flat. These trigger pulls are manufactured from 8620 Alloy Steel (S-7 Tool Steel and 7075-T6 aircraft grade Aluminum). AK Single Stage trigger with pull, weighing 4.5 lb, is fully self-contained and easy-to-install. CMC Triggers developed multi-patented designs to ensure a fine match grade trigger pull and its upgrading. CMC Triggers offers a ready-to-go trigger group, after installation, it's just necessary to check safety before shooting.
#8 Century Arms RAK-1 Trigger Group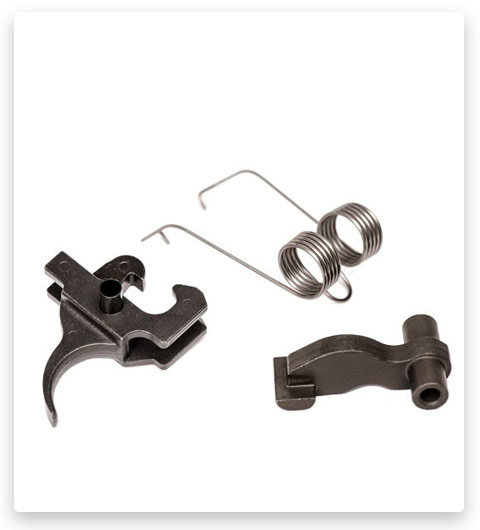 The RAK-1 Trigger Group OT1727 fits all AK rifles (AK63D, WASR, RAS47, C39, and other AK pistol variants), except for YUGO (Yugoslavian models). This single-stage trigger group comes with a trigger and trigger sleeve, a disconnector, hammer, and springs to them. Century Arms triggers have a double hook design with an advanced relief cut to be stronger than single hook triggers. The issue of bolt carrier hang-up was minimized due to the optimized top profile hammer, which performs smoother work (even without polishing it).
#9 Fime Group Fime Trigger Group Ak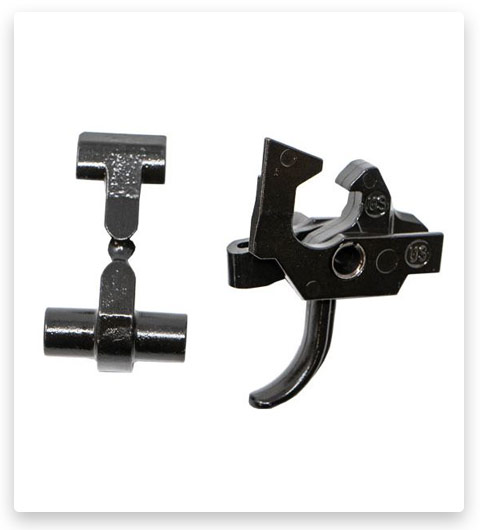 Fime Group declares many years of consistency and long-lasting Trigger Group. This semi-auto trigger is equipped with a hammer, disconnector with spring, stopper, and sleeve. The double-stage mil-spec trigger is fully assembled, having a drop-in construction for AK/RPK based rifles with stamped or milled receivers. The single-hook triggers were out-crafted from the hardening steel, coated with a protective black oxide. The front side of the disconnector has full contact with the hammer, delivering a secure lockup.
#10 Century AK Double Trigger Kit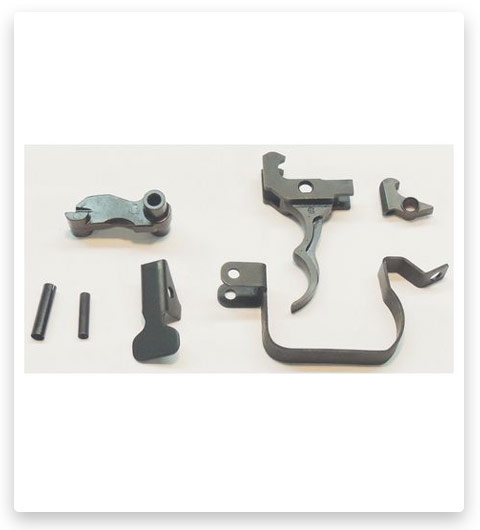 The double trigger kit is suitable for AK rifle platforms, allowing a faster rate of fire with better control. Century trigger guard must be constantly modified to handle the extra length trigger. These tactical replacement triggers are made of steel with a black finish. Century recommends shooters, unfamiliar with AK, to use gunsmith assistance while the trigger installation.
#BONUS 1: FAB Defense Tactical Folding Buttstock (AK-47/74)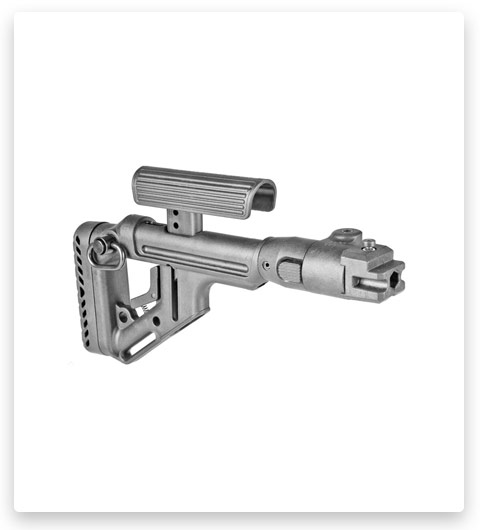 Tactical Folding Buttstock with embedded regulable cheek piece has a low and slim profile. These Buttstock constructed from spring lock on folded position, left folding stock by default, integrated prompt detach sling swivel connectors on both sides (SLS doesn't come with a kit). The simple functionality is provided due to quick locking, which is set free by a button push, and opening by a pulling motion and locking.
FAQ
Conclusion
Comparing AK-74 (5.45x39mm cartridge) with AK-47 (7.62x39mm one), the first Kalashnikov is more dependable and precise, the AK-47 is twice powerful, and it is more suitable for real combat. Although both can be used for field and urban areas. Quality new triggers help significantly upgrade any AK style rifle, improving the performance of reset, pulling, lock time, and providing safety (while holding the trigger), whereas saving the traditional dependability of a stock trigger.
Best Pick
Century Arms RAK-1 N-PAP Trigger Group.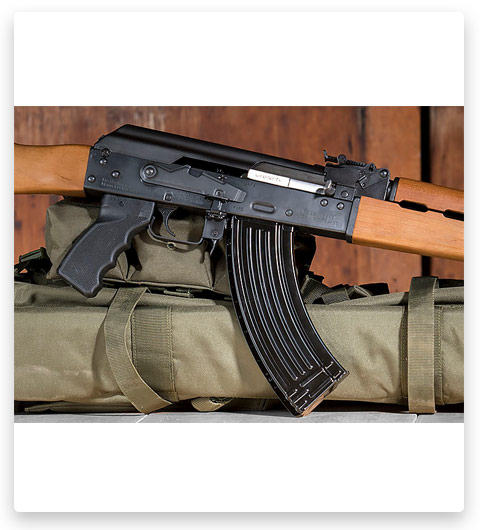 Double hook triggers, with an advanced relief cut, are stronger than single hook triggers. This single-stage trigger group with consistent trigger pull provides better control, resistant to wear.
Budget pick
ALG Defense AK 47/74 Drop-In Trigger.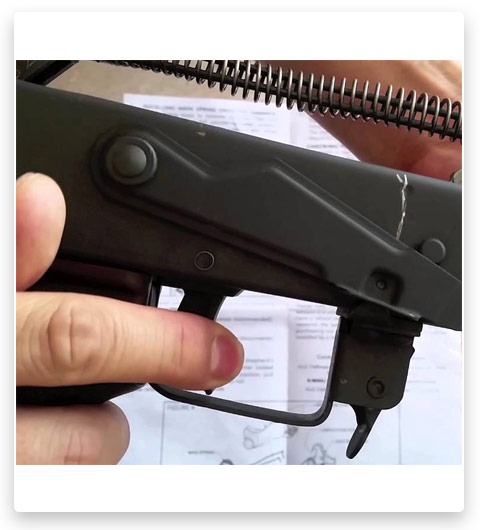 Smooth and short single-stage triggers without springs feature light pull and short crisp reset. This trigger doesn't slop when the safety is engaged.
Tags: #Best #AK #47 #74 #Trigger #Review #Ultimate Guide #Editor's choice, #Binary, #Defense, #fostech, #CMC, #AK trigger Franklin Armory, #ALG, #Tapco
See also similar Rotorm's reviews: Glock Trigger Reviews, AR 15 Trigger Reviews, Remington 700 Trigger Reviews, Binnary Trigger Reviews.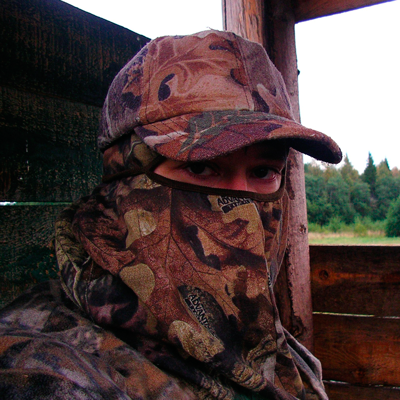 Tatiana Kursakova
Professional shooter, traveller, survivalist
My love of guns is in my blood, since childhood I have spent hours enjoying the beauty of guns and adored going through their parts.
Tactical accessories are another passion of mine that I could write about endlessly - my house and garage are full of tactical gadgets, luckily my family shares my interests.
I'm infatuated with traveling that's why work at one place with a daily routine and standard schedule is not for me. I prefer copywriting and English tutoring as a freelancer. I live in a male family among constant talks about cars, guns, hunting, fishing, and, of course, dinosaurs 😊.
My husband is an obsessed hunter, and my two sons are fans of «Demolition Ranch» of YouTube blogger Matt Carriker. They are my best consultants about weapon and all-around ammunition topics. All together we share a love for adventures. Every camping or mounting hiking trip is a "small survival", giving irreplaceable experiences. Nothing can be better than the satisfaction of observing wild nature.
Motto: «Born in Ukraine, made is the USA».
Read more
about our team
of expert authors.
Affiliate Disclosure: Rotorm.com sometimes gets paid for listings, through sponsors or affiliate programs like Amazon, Optics Planet, Lucky Gunner, Brownells, Cabelas, Rainier Arms, 5.11 Tactical, Bass Pro Shop, etс. Clicking a link helps keep Rotorm.com free, at no extra cost to you!
About the author: Each article on our site is written by experts in survival and tactical equipment, gun enthusiasts, extreme travelers, military, law enforcement and desperate professionals, read about the author at the bottom of the article or visit "About Us" page.
Note: The views and opinions expressed in this article are those of the authors and do not necessarily reflect the official policy or position of any agency.