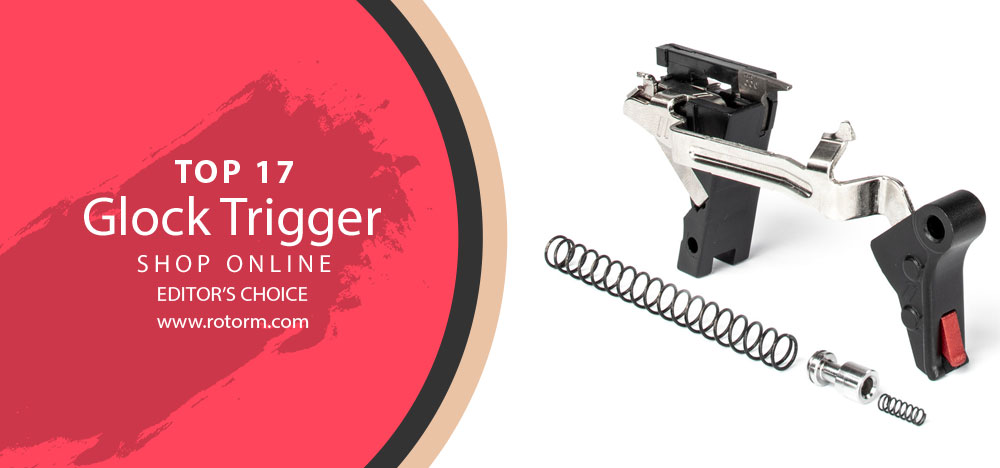 What is Glock Trigger? 💡
This term refers to the trigger mechanism used in Glock pistols, which are a popular brand of semi-automatic handguns. They are known for their unique design and characteristics.
Our Top Pick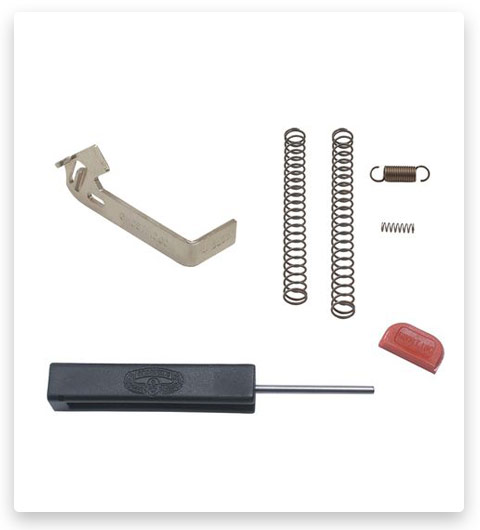 Ghost Inc EVO Elite 3.5 Trigger Installation Kit EETIK
It is now simpler to reinstall the factory trigger for the Glock GEN 1-5 by using the Ghost Inc EVO Elite Trigger kit. All the necessary components are already assembled, allowing you to install it yourself and meet the necessary parameters for comfortable shooting without relying on a gunsmith.
Buy Now On OpticsPlanet
If you click this link and make a purchase, we earn a commission at no additional cost to you.
How does It work? 🍀
🤚 Start with your hand on the pistol grip.
☝️Place your index finger on the trigger.
🔄 Pull the trigger backward.
🎯 As you pull, the trigger moves smoothly, activating the internal mechanism.
⚙️ Inside the gun, the trigger bar moves downward.
🔓 The trigger bar releases the firing pin safely, allowing it to move freely.
⏩ As the trigger continues to be pulled, the trigger bar engages the striker.
🚀 The striker is pushed back against a spring.
🤔 Once the trigger reaches the "breakpoint," the striker is released.
💥 The striker moves forward, striking the cartridge primer, and igniting the round.
🔙 Release the trigger to reset it.
🔁 The trigger resets as the trigger bar returns to its initial position.
🔒 The firing pin safety reengages, preventing accidental discharges.
🔄 The trigger is now ready for the next shot!
⭕ Remember, safety is crucial when handling firearms. Always follow proper gun safety protocols and ensure you receive proper training before operating a firearm.
Watch this video to find more information 💻
Parts ⌛
🎯 Trigger: The main component you pull with your finger to fire the gun. It initiates the firing sequence.
⚙️ Trigger Bar: A metal bar that connects the trigger to the rest of the internal mechanism. It transfers the force from the trigger pull.
🔒 Firing Pin Safety: A safety mechanism integrated into the trigger. It prevents the firing pin from moving unless the trigger is fully depressed.
🔓 Firing Pin Safety Plunger: A small component that interacts with the firing pin safety. When the trigger is pulled, it disengages the safety, allowing the firing pin to move.
🚀 Striker: A spring-loaded firing pin. When released, it strikes the cartridge primer to ignite the round.
🔁 Trigger Connector: A metal piece that connects the trigger bar to the firing pin assembly. It plays a role in determining the trigger pull weight and smoothness.
🎛️ Trigger Spring: A spring that provides tension to the trigger. It helps reset the trigger after each shot and affects the trigger pull weight.
⏩ Reset Spring: A spring responsible for pushing the trigger forward after firing, resetting it to its initial position for the next shot.
🧲 Connector Spring: A small spring that provides tension to the trigger connector, affecting the trigger pull weight and feel.
📛 Trigger Housing: The component that holds all the trigger parts together, providing a frame for their operation.
Advantages 🔥
🎯 Consistent: These triggers offer a consistent trigger pull from shot to shot. This allows for improved accuracy and better shot placement.
🏋️ Light Trigger Pull: The standard Glock trigger pull weight is around 5.5 pounds (2.5 kilograms). This relatively light pull weight reduces the chance of disturbing aim while maintaining a level of safety.
🚀 Quick Reset: These triggers have a relatively short reset distance. After firing a shot, the trigger can be quickly and easily reset, enabling faster follow-up shots.
🛠️ Customization Options: They can be customized with aftermarket parts to suit individual preferences. This allows shooters to fine-tune the trigger pull weight, reset distance, and other characteristics for a personalized shooting experience.
🔒 Built-in Safety: They incorporate built-in safety features, such as trigger safety. These safety mechanisms help prevent accidental discharges and enhance user confidence.
📐 Simple Design: They have a simple and intuitive design. They are easy to understand, operate, and maintain, making them suitable for both novice and experienced shooters.
⚡️ Durability: They are known for their durability and long service life. They are designed to withstand extensive use and maintain their functionality even in challenging conditions.
TOP-17 Glock Trigger
| Image | Product | Brand | |
| --- | --- | --- | --- |
| | Overwatch Precision TAC Glock Trigger | Overwatch Precision | |
| | Ghost Inc EVO Elite 3.5 Trigger Installation Kit EETIK | Ghost Inc | |
| | Apex Tactical Specialties Action Enhancement Kit  | Apex Tactical Specialties | |
| | Apex Tactical Specialties Action Enhancement Kit | Apex Tactical Specialties | |
| | Killer Innovations Velocity Glock 5.5 lb Trigger | Killer Innovations | |
| | Apex Tactical Specialties Glock Action Enhancement Trigger | Apex Tactical Specialties | |
| | Lone Wolf Ultimate Adjustable Glock | Lone Wolf Ultimate | |
| | Agency Arms Syndicate Glock Drop-In Trigger | Agency Arms Syndicate | |
| | ZEV Technologies Fulcrum Adjustable Glock Trigger Upgrade Bar | ZEV Technologies | |
| | Apex Tactical Specialties Action Enhancement Trigger | Apex Tactical Specialties | |
| | ZEV Technologies PRO Flat Face 9mm Glock Trigger Drop-In Kit | ZEV Technologies | |
| | Lone Wolf Ultimate Adjustable Glock Trigger | Lone Wolf Ultimate | |
| | Apex Tactical Specialties Action Enhancement Trigger Kit | Apex Tactical Specialties | |
| | Glock Triggers VOGEL Competition Trigger System | VOGEL | |
| | TRYBE Defense Glock Gen 5 Trigger | TRYBE | |
| | Laser Ammo Reset Trigger for Glock Pistols | Laser Ammo | |
| | Agency Arms Drop-In Trigger, Glock 17/19/19X/26/34 Gen5 | Agency Arms | |
1# Overwatch Precision TAC Glock Trigger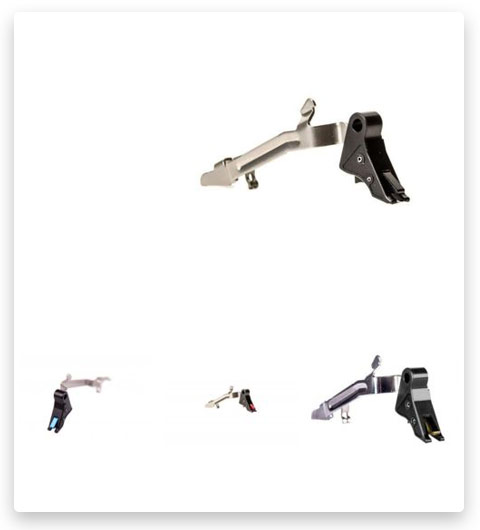 Overwatch Precision TAC Trigger – This can be a good replacement for the stock flat-panel trigger. This trigger also features a short trigger trip. With an overhang of just 0.24 inches, optimal comfort was achieved without compromising safety. Trigger width provides self-adjusting trigger pull and even finger placement. All trigger parts are made in the USA from durable 7075-T6 aluminum alloy. The parts attached to the 3rd generation OEM trigger strip and additionally are coated with NP3. For smooth and trouble-free operation, 316 stainless steel coil spring pins are used for fastening. When it comes to the durability of the running surface of the trigger shoe and safety tab, they are coated with Type III anodized to MIL-A-8625. It is very solid and reliable. The manufacturer was forced to sacrifice the convenience of setting the traction weight. The factory trigger settings of this model will remain unchanged forever. By getting rid of the tuning system, reliability has increased significantly, but tuning for your personal convenience has become impossible. If you are looking for unbreakable precision and stability, this trigger has a "fighting character".
2# Ghost Inc EVO Elite 3.5 Trigger Installation Kit EETIK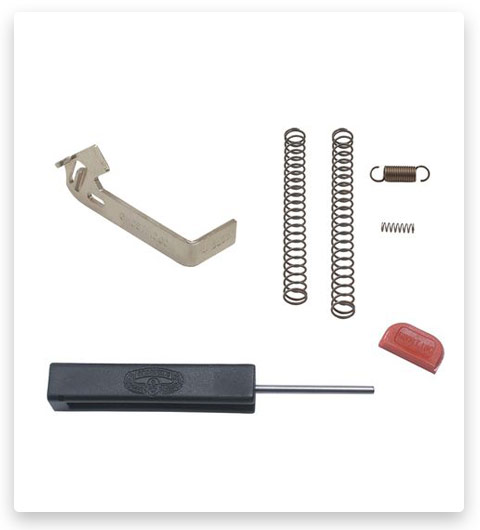 Reinstalling the factory trigger for the Glock GEN 1-5 has never been easier. Everything you need to install is already assembled in this Ghost Inc EVO Elite Trigger kit. You get complete independence from the gunsmith and can independently achieve the required parameters for comfortable shooting. All video instructions have already been prepared by the manufacturer and are freely available on the official website. Using this product, our team found that the trigger that comes with this kit is quite smooth and has a short and precise stroke. You are guaranteed to get rid of overtravel and if you polish the safety piston, you will get the trigger of your dreams. If you are not intimidated by a little manual work, this kit is for you.
3# Apex Tactical Specialties Action Enhancement Kit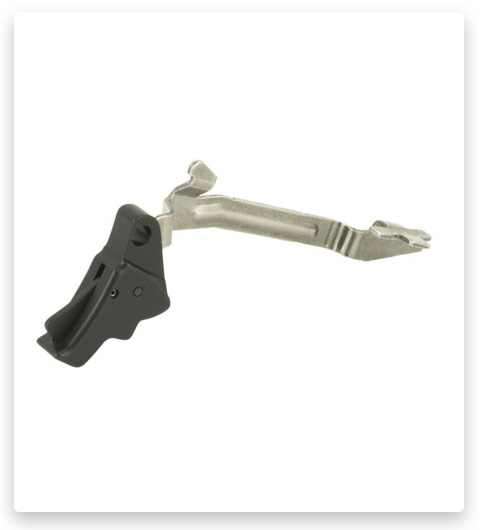 A factory 5th generation Glock trigger needs a lot of pull. If you decide to replace the factory trigger to make the trigger travel softer and lighter, consider the Apex Action Enhancement Trigger. You will certainly feel the difference, especially if you fire more than 500 shots in one day. This kit will provide a shorter, smoother ride with about 1-1.5 lb less force, and smoother absorption and release. At the same time, great attention is paid to comfort (ergonomics) and safety. The Apex trigger has a sleek flat design that most Glock owners love. With this design, the trigger feels much better so side pressure is minimized. You will find everything you need to reinstall your Glock's factory trigger yourself in this kit.  If you study the video tutorials on the manufacturer's website, the replacement will not take more than 2 minutes and it is really simple and easy. The only thing that is important to consider before placing an order is compatibility. This trigger is compatible with 5th generation Glock pistols: G17, G19, G19x, G26, G34, G44, G45. Due to the design of the trigger and trigger bar, this product will not work with 3rd and 4th generation Glock models and is not compatible with the .45 ACP. This set will help you shoot more pleasantly and accurately, but this is not a competition sniper set. For accurate shooting, you need more sensitive triggers and this is not one of them.
4# Apex Tactical Specialties Action Enhancement Kit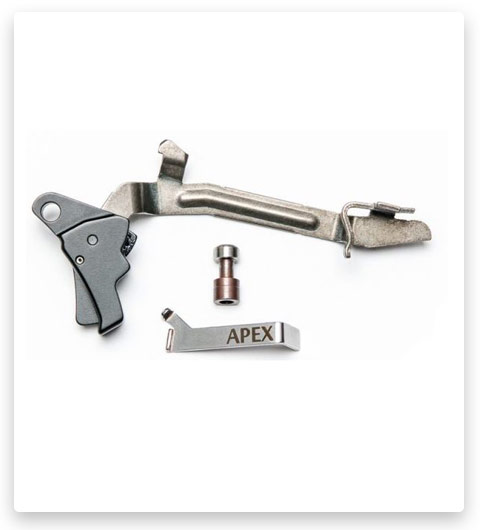 If you become the proud owner of Glock, you may have noticed some of the peculiarities of the factory trigger. The trigger feels quite rough, and hard when pressed, with cancellous fracture and return. Many shooters don't like this, which is why Apex created their standout Apex Action Enhancement Trigger Kit. This kit allows you to completely replace the resin trigger, safety plunger, and connector. This has significantly improved the pressing feel. This reduced the trigger travel and the pull is smoother, clearer, and easier. Where it used to require about 5 pounds of force, it's now at 4 pounds. If the stroke has decreased, therefore, the return has decreased, which is also nice.
If you choose this kit, you will need to install an Apex Ultimate safety piston and an Apex Performance connector. The new safety piston provides excellent wearing safety and protection against accidental drops. This trigger feels much better than the pre-installed trigger, but it will take up to 10 minutes to install. An important clarification from the manufacturer, this is suitable for Glock (including Gen 4 versions): G17, G17L, G19, G22, G23, G24, G26, G27, G31, G32, G33, G34, G35. Not suitable for Glock 10mm, .45 ACP, or .45 GAP models. and Gen 5 models.
5# Killer Innovations Velocity Glock 5.5 lb Trigger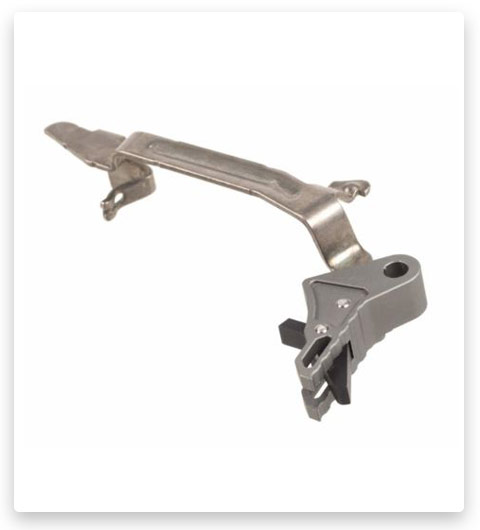 The Killer Innovations Velocity Glock 5.5lb trigger is a worthy replacement for the pre-installed trigger on the Glock pistol. It has a smoother ride and a crisp dash, which many shooters note. You can even feel the difference without firing a single shot. This trigger comes in a variety of different designs (colors) and a nice-tactile, textured jagged face. Killer Innovations places great emphasis on accuracy and safety. They manufacture their triggers from anodized aluminum for durability, and corrosion resistance, without weighing down your weapon. Your shooting (especially long-term) will be guaranteed to be more accurate if you do not lose energy for intense concentration before each shot. It's only 1 second or less, but after 500 shots you will definitely feel the difference. This trigger does not make any magic improvements – it just does its job consistently and clearly. Make sure this modification is valid for your weapon and try it out soon! In most cases, installation is not difficult, but if difficulties arise, watch the training videos again.
6# Apex Tactical Specialties Glock Action Enhancement Trigger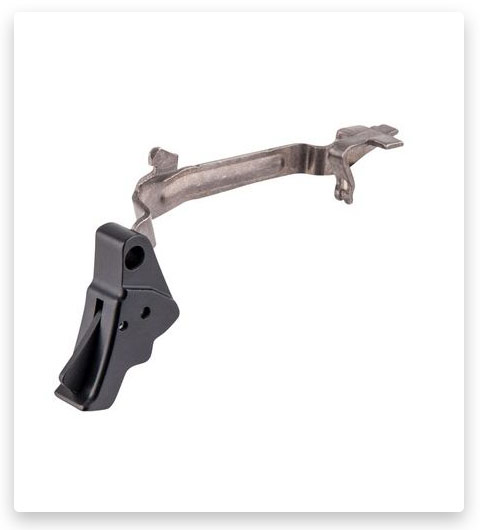 This is another alternative version to replace the polymer factory trigger of your Glock Gen 3. To be frank, it also fits other Glock models: G17, G17L, G19, G22, G23, G24, G26, G27, G31, G32, G33, G34. G35, G37, G38, G39. For Gen 2 this is compatible but may require additional manual adjustments. But don't even try to install it in Gen 5 – it won't work. Combined with the Apex Ultimate Safety Plunger, the overall stroke will be noticeably smoother and shorter. You will need less than 5 pounds of force to fire, which is much less than the preset trigger. Break and drop – crisp and clean. The two-color design is discreet and fits any pistol color. For this trigger, the fuse works flush and there is no need to fear accidental operation or failure of the internal security system. In addition, you have the right to paint the trigger with the enamel of any chosen color for an even greater effect. It feels like a good trigger with a big edge. The pressure is even and absolutely comfortable. You will also notice a significant reduction in overtravel after replacement. It may be a weak substitute for sniper shooting in competition, but it is a very economical proposition for home protection.
7# Lone Wolf Ultimate Adjustable Glock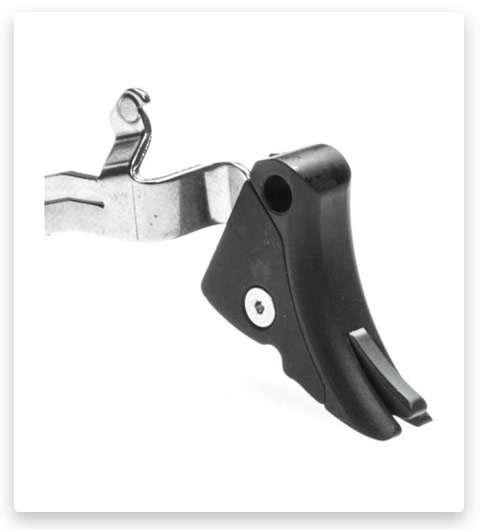 Lone Wolf decided to completely change the rules of the game and created a proposal that will definitely push you to experiment with your Glock. If the factory trigger doesn't meet your expectations and feels uncomfortable when pressed, it's time to fix it. The first thing to note is the ability to adjust the Ultimate Adjustable Trigger as desired. Adjustment requires removal of the trigger from the gun and reinstallation. This upgrade is available for all Glock models except Gen 5. Wolf is going to fix this shortly and fully satisfy all Glock owners. This is a versatile model and the differences between pistols are taken into account thanks to the interchangeable shoes. Version 9/40 fits all Gen 3 and Gen 4 Glocks (except G43). Version 10/45 fits all 10mm and 45ACP Glocks (except G36).
The design of the aluminum shoes is symmetrical with large rounded edges and a smooth surface. The safety arm is also extended and adheres to the shoe for maximum comfort. Lone Wolf also redesigned it. Their trigger is a 2-piece and has no extrusion pins. When making their triggers on CNC machines, the utmost accuracy was achieved, which was reflected in stricter tolerances. Vibrations between the shoe and the trigger bar are reduced to the limit. If you're wondering to what extent the push weight can be reduced, that's less than 3 pounds. We did not continue the experiment with dry fires, because we were simply tired of assembling and disassembling. We have achieved our goal (even more than expected) and we can say our conclusion – this is quite viable.
8# Agency Arms Syndicate Glock Drop-In Trigger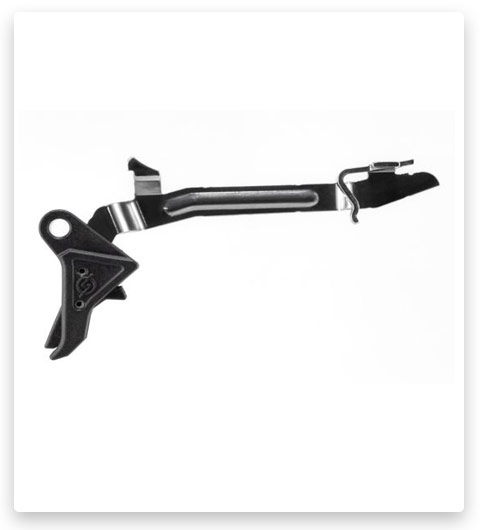 We continue to do the impossible and found another interesting offer for you. The Glock Drop-In trigger has an incredible price tag and has already caught our attention. This trigger has only 2 models, which are suitable for Glock 17, Glock 19, Glock 26, and Glock 34. One of the models can be easily integrated with Glock 19X, Glock 45. Therefore, be careful when ordering. Agency Arms Syndicate has created a polymer trigger with a comfortable and reliable design. It has a wide, flat face and a slightly raised toe so that the finger is always in control of its position. The corners are neatly smoothed out and it actually feels good.
In terms of material, the use of polymer is driven by the desire to reduce the weight of the weapon. Also, this allowed to significantly reduce the price. Of course, CNC-machined metal has tighter tolerances, but this trigger is not much of a hassle either. It may have some roughness and you may feel some excessive resistance, but the friction is on our side this time. Just a few dry fires and this will be much easier. And if you still use a couple of drops of gun oil, the problem will disappear by itself. And of course, remember to clean and lubricate the trigger after the 500-shot cycle.
9# ZEV Technologies Fulcrum Adjustable Glock Trigger Upgrade Bar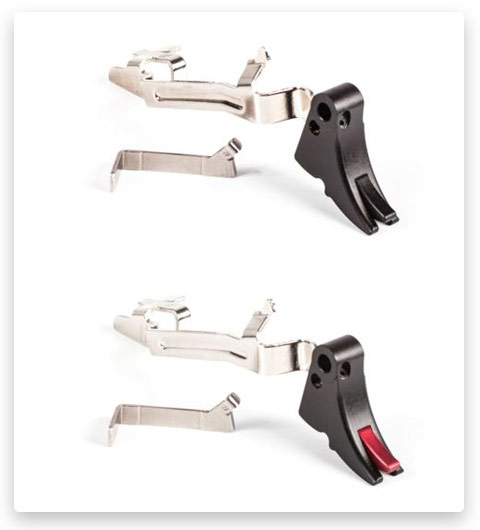 Zev Technologies presented its unique offering to the aftermarket of triggers. Fulcrum Adjustable turns the Glock into a highly sensitive and accurate weapon. This trigger has found widespread use among professionals and is very often used for competition. According to the company, the new product line was being prepared for 2 years. Each trigger has been designed for over 1000 hours and passed after hundreds of thousands of rounds of challenges, now it is ready to win your heart. The ZEV Trigger Bar features an interchangeable trigger guard for the Glock. This not only reduces launch weight, provides short, smooth travel and precise actuation, but also fully complies with Glock's safety requirements. The wide pad with a gentle curve feels good and is quite comfortable on the finger.
Adjusting this trigger also commands respect for the designers. Adjustment screws built into the trigger pad allow pre-travel and post-travel to be adjusted to personal preference. To adjust the force of the actuation, you will need to experiment with the firing pin safety spring, and the striker spring. This fits across a wide range of Glock models and you are sure to find the right trigger for you. The design is classic and austere, without any fear or mistrust. Everything looks well-built and fits perfectly together. If you are looking for something very precise and sensitive – pay attention to this offer and get your money ready. This upgrade costs over $100 for your Glock.
10# Apex Tactical Specialties Action Enhancement Trigger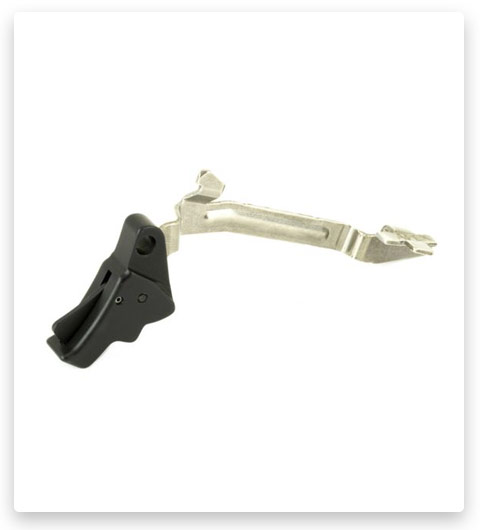 Due to many small design differences in different generations of Glock pistols, not all triggers are compatible with pistols. This trigger is for Gen 5 and is a good alternative to the polymer preset trigger. Apex guarantees quality as always and promises you will make a difference. What should change with the new trigger? Reduced starting weight, reduced drop distance, smoother assimilation and release, clear break, and of course a more user-friendly design. The flat black face of the trigger looks strict and restrained, it is quite comfortable to obey the finger and you can fully concentrate on your goal. When we tried this product the centrally mounted fuse fully complies with the safety values. Thanks to the reduced return time, you can fire a new shot much earlier. If every second counts, that can be the deciding factor.
Apex does not specify how much pressure this trigger has, but the company says the weight will decrease by 1 pound from the preset weight. Assuming that the Glock Gen 5 weighs 5.85 lbs (or 26 N), it would require 4.85 lbs of force. Setting this trigger shouldn't be difficult either. All video instructions are available on the manufacturer's website and explain each step of the installation in detail.
11# ZEV Technologies PRO Flat Face 9mm Glock Trigger Drop-In Kit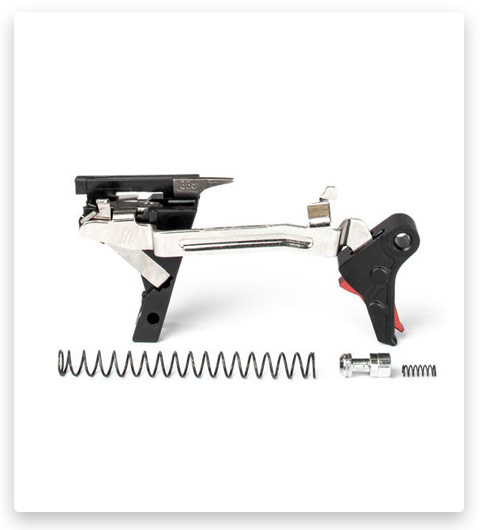 This is not just a trigger to install, it is a complete installation kit to replace the pre-installed Glock trigger yourself. By purchasing this, you will find: a PRO trigger bar, trigger spring ejector, proprietary hammer spring, complete safety mechanism, PRO connector, and trigger. The ZEV PRO flat-faced trigger mechanism with rivets is a complete replacement for the pre-installed Glock 9mm polymer trigger system. If you previously required almost 6 pounds of force to fire, with this trigger it will only be 3.5 pounds. Good drop, little creep, and not perfect break (our 4/5 rating) are what we were able to recognize. As much as we abuse this trigger, after 1000 shots it remained the same as we got it out of the box. With this, you can shoot quite comfortably and not feel additional fatigue. We also understand that you may have your own evaluation criteria. Therefore, our recommendation is this – try it and see for yourself, this set with a trigger deserves attention.
12# Lone Wolf Ultimate Adjustable Glock Trigger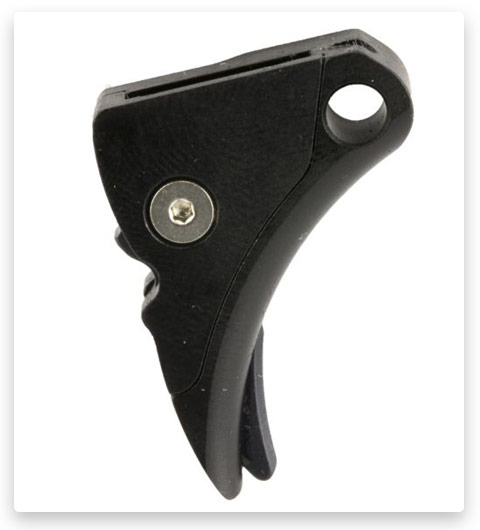 These are suggestions for the economical lovers of partial upgrades of their weapons. If you don't like the performance of your trigger system, the correct trigger shoe may fix it. Lone Wolf has just prepared an offer suitable for almost all Glock owners (except for Gen 5). Choose only the shoe (no trigger) and fit it to any Glock rail. For Gen 1 and Gen 2 (and G43), the bare shoe fits perfectly directly onto the boom. The Ultimate Adjustable Trigger is made from aluminum. The 9/40 and 10/45 versions (LWD stainless steel bar included) provide all the necessary parameters for comfortable shooting but continue to be accessible to everyone. You can also adjust this addition yourself. Tighten the overtravel set screws to obtain a clearer break.
13# Apex Tactical Specialties Action Enhancement Trigger Kit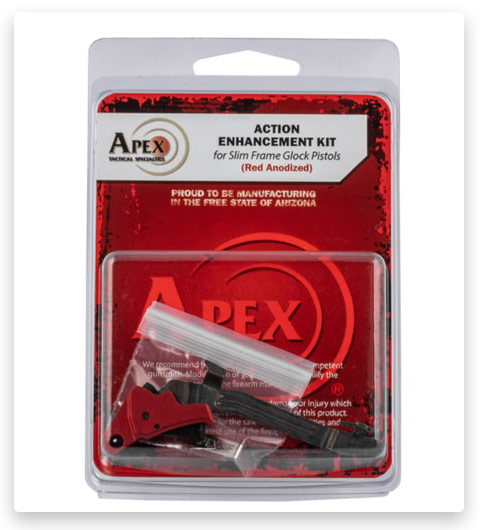 As you may have noticed, the Glock 43 / 43x / 48 are rarely on the compatibility list due to the slim frame. Especially for the "lucky ones" who have chosen this model, we also have an interesting offer. The Apex Action Enhancement Trigger Kit has a trigger bar and an Apex Performance connector. This is a complete replacement for your Glock's pre-installed trigger. It feels good, stretches easily, is beautifully folded, and looks really cool! If you like combinations with red, this trigger could be your favorite! We really liked the red anodized trigger cover, so we decided to add this proposal to our review.
14# Glock Triggers VOGEL Competition Trigger System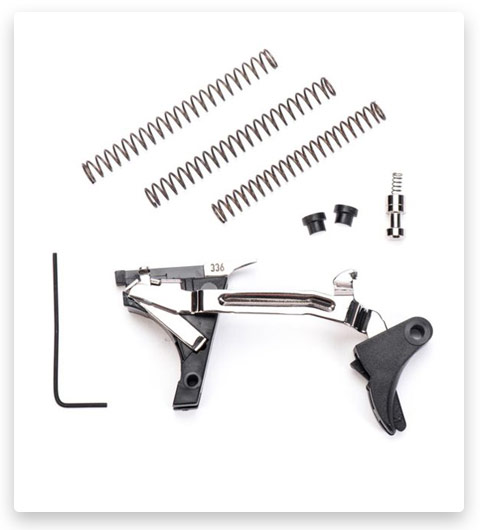 VOGEL Competition is a Trigger System approved by Robert G. Vogel and validated for use across all USPSA and IDPA divisions. We believe that this is a loud claim to win. VOGEL triggers are recommended for competition use ONLY due to their incredible sensitivity. This kit contains everything you need to set up and calibrate your new favorite trigger. All internal parts and pistons are carefully polished to a mirror finish. We are truly delighted with the quality of the workmanship and the attention to the smallest details!
You are free to customize this trigger to your liking and replace any of the springs in the kit. For this purpose, the manufacturer added three additional springs with reduced power to the set (for replacement at each stage of operation). The adjusting screw for correcting the overtravel (with a hex head) has its own adjusting key, which is also very convenient. You can change your pulling weight in ½ pound increments right between dry fires. If for some reason you want to go back to the basic trigger (for example, you want to test this system on another Glock), it can just as easily be dismantled in just a few minutes. This is a damn attractive set with a good package and well worth the money. If you are a true perfectionist and connoisseur of jewelry precision, please yourself with this trigger.
15# TRYBE Defense Glock Gen 5 Trigger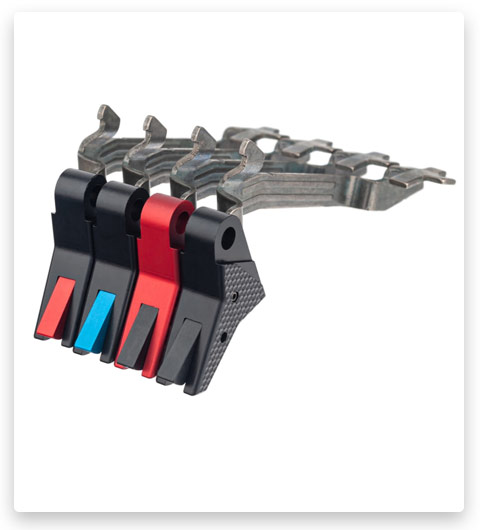 This offer from Trybe is aimed at the thrifty shooter. If you haven't bought a secondary trigger yet, this is a good intermediate option. It doesn't seem unreasonably expensive and looks quite serious. Hexagon design in vibrant trigger colors (available in full black) and complemented by a trigger frame. It definitely works better than the pre-installed Glock trigger. It is worth noting that Trybe is committed to expressing gratitude to the security and medical staff for their difficult and dangerous work. If your job is to protect the community, you may qualify for an additional discount. You will need to provide the serial number of the purchased company product and you will receive a partial refund. Otherwise, it is compatible with G19X, G45, G34, G17, G26, G19, so be careful.
16# Laser Ammo Reset Trigger for Glock Pistols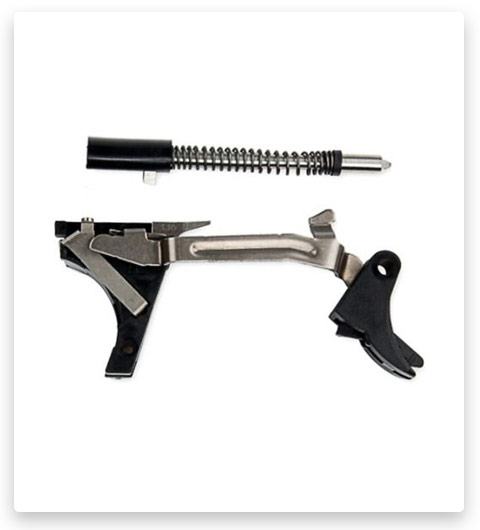 It takes practice to become a good shooter. Shooting at a range will help fix this, but it's not always convenient. To gain additional experience and get used to pulling the trigger, you need to take training shots. A set of laser triggers and laser bullets (and laser targets) was created specifically for training novice shooters with Laser Ammo. All you need is a few minutes for setup and batteries. By practicing dry shots, you can practice fast aiming movements and simulation of a shot. You will be able to train indoors, in a traffic jam, or in any convenient place, if it does not contradict the legislation.
The laser trigger for dropping ammunition for the Glock pistol is very close to the preset Glock trigger. You get an excellent simulation of feedback and learn to recognize the degree of pressure and also know where you might have gotten. Another feature, the trigger eliminates pulling the bolt after each shot to reload the trigger. Triggers of this principle are widely used in training programs for security recruits. Install the trigger on the SureStrike training guns.
If you were interested in how quickly you can release the entire clip to one point, this is your chance. You can challenge yourself without drawing the attention of the rest of the family. Train your agility quietly and completely safely.
17# Agency Arms Drop-In Trigger, Glock 17/19/19X/26/34 Gen5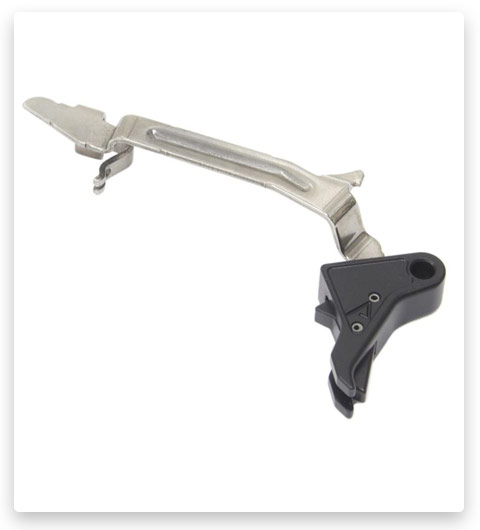 Agency Arms has unveiled 2 escapement models that will be a great addition to the Glock 17/19 / 19X / 26/34 Gen5, 3AF-PTR-GLKDIT2. These trigger kits from Agency Arms have wide flat-toed shoes. They are designed to reduce pre-bias and provide a comfortable depression. The bottom of the shoe protrudes slightly so that the finger automatically finds the most comfortable position for pressing. As always, you get crisp actuation, better reset, and full retention of all three Glock safety devices. To summarize this proposal in a few words, it is: easy to install, reliable in operation, and quite attractive both in design and price. There is no comprehensive information on the compatibility of these triggers with the Glock range on the manufacturer's (and seller's) website. If you are not sure about compatibility, ask the seller a question and he will promptly answer you. If this particular trigger does not suit you, the seller will offer you alternative models that suit you.
How To Install? 🛠️
🔫 Ensure the firearm is unloaded and the magazine is removed for safety.
🛠️ Disassemble the Glock by removing the slide, recoil spring, and barrel according to the manufacturer's instructions.
📛 Remove the trigger housing from the frame by pushing out the trigger pin.
🔄 Take out the factory trigger from the trigger housing.
🆕 Install the new trigger into the trigger housing, ensuring it fits securely
🔄 Reinsert the trigger pin through the frame and trigger housing, securing them together.
🔧 Reassemble the slide, recoil spring, and barrel onto the frame, following the proper assembly sequence.
🔎 Perform a function check by verifying the trigger's smooth operation, reset, and safety features.
🔫 Once satisfied with the installation, ensure the firearm is still unloaded before testing it at a suitable shooting range.
We believe this video can be helpful for you 📺
FAQ 🍀
Conclusion 📗
Triggers play a critical role in the functionality and performance of Glock pistols. The standard trigger offers a reliable and consistent trigger pull weight, contributing to the widespread popularity of Glock firearms. While aftermarket triggers can offer enhanced performance and customization options, their worthiness depends on individual preferences and needs. These triggers allow for personalized adjustments to trigger pull weight, reset distance, and overall feel, potentially improving accuracy and competitive shooting performance. However, it's important to consider legal considerations, cost, and warranty implications when opting for aftermarket modifications.
Among all the presented contestants, we would like to highlight those who we liked the most:
#12. The Lone Wolf Ultimate Adjustable Glock Trigger is only new footwear for a small price.
Be accurate shooters and use your weapons wisely! Good luck shooter!
Tags: glock trigger, glock 19 trigger, best glock trigger, glock trigger kit, glock 43 trigger, apex trigger glock, cmc glock trigger, glock 43x trigger
#Best #Glock #Trigger #Glock 19 #Glock 43 #Kit #Sale #Cheap #Reviews #Apex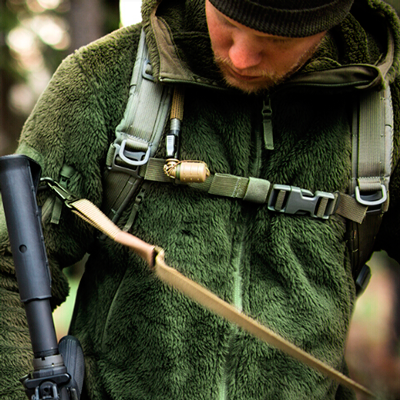 Dmitry Koval
Tactical & Survival Expert
I am from the generation that tried to repeat all the tricks of Jackie Chan, hunted birds with homemade bows, and built my mini-base in the forest. At the age of 18, I was a scout in PLAST (scout organization) and participated in campaigns and quests. Somehow we decided to test ourselves, took our backpacks and walked 50 km (31 miles) in 1 day. We had a lot of fun!
Remembering my past, I ask in bewilderment: "How am I alive after all my adventures?" - harsh trials, reckless parties, love affairs, and a sea of silliness.
My hobbies are weapon upgrades,
tactical gear
, and the latest in wilderness survival technology. I have hundreds of different survival gadgets in my collections, which are sent to me for "test-driving" by Amazon, eBay, and other online retailers. That's what I write about, and I also make YouTube videos about them! Stay tuned!
Read more
about our team
of expert authors.
Affiliate Disclosure: Rotorm.com sometimes gets paid for listings, through sponsors or affiliate programs like Amazon, Optics Planet, Lucky Gunner, Brownells, Cabelas, Rainier Arms, 5.11 Tactical, Bass Pro Shop, etс. Clicking a link helps keep Rotorm.com free, at no extra cost to you!
About the author: Each article on our site is written by experts in survival and tactical equipment, gun enthusiasts, extreme travelers, military, law enforcement and desperate professionals, read about the author at the bottom of the article or visit "About Us" page.
Note: The views and opinions expressed in this article are those of the authors and do not necessarily reflect the official policy or position of any agency.