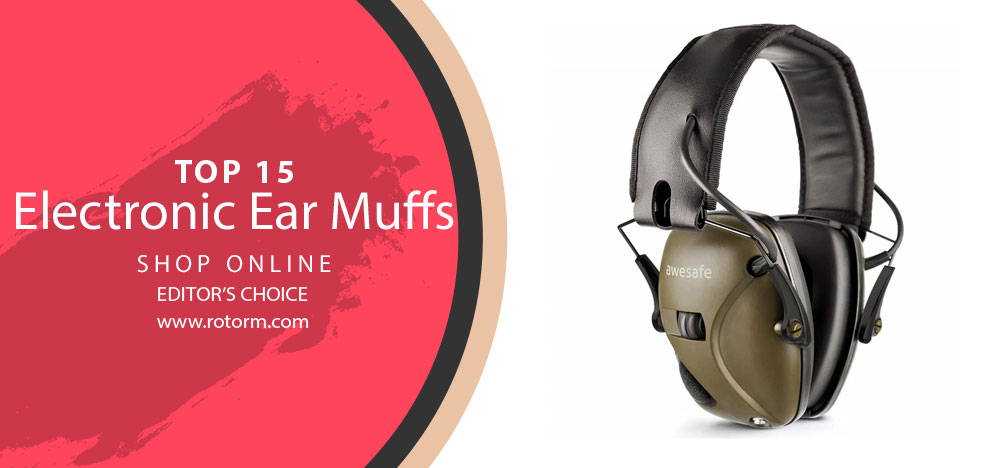 What are electronic ear muffs? 🤓
They are a form of hearing protection designed to reduce the sound levels in your environment without sacrificing comfort or clarity. They feature built-in amplifiers that allow you to hear spoken conversations, alarms, and other important sounds while still protecting your ears from loud noises.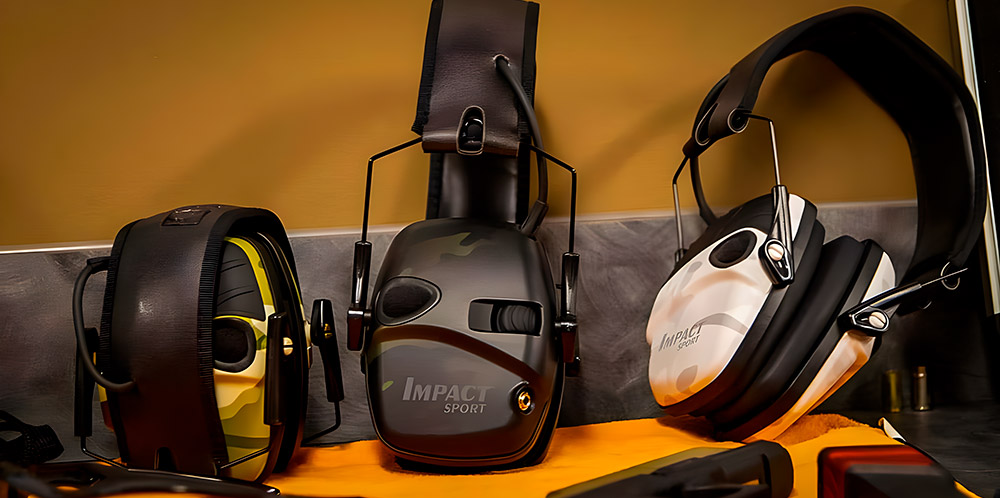 Features ✍️
Electronic ear muffs are personal protective equipment designed to protect hearing from loud noise. They offer a unique combination of protection and comfort, allowing wearers to comfortably and safely take part in activities with high sound levels. Here are several key features to consider:
| | |
| --- | --- |
| ✔️ Noise Reduction Rating (NRR): | The NRR is an indicator of how effective a particular model is at reducing loud noises. The higher the rating, the better it will be at reducing harmful noise levels. Look for models with an NRR between 25-30 decibels. |
| ✔️ Adjustability: | As with all hearing protection devices, it is important to ensure that your ear muffs fit correctly. Many models offer adjustable headbands and ear cups so you can create a snug and comfortable fit. |
| ✔️ Sound Amplification: | Many ear muffs feature built-in microphones which can detect and amplify lower-level sounds. This is useful for activities like hunting, where you need to be able to hear both low and high noise levels. |
| ✔️ Speech Enhancement: | Some models also offer dedicated speech enhancement technology, allowing wearers to more clearly hear voices in noisy environments. |
| ✔️ Bluetooth Connectivity: | They can offer Bluetooth connectivity so you can listen to music or take calls without having to remove your hearing protection. |
Our Top Pick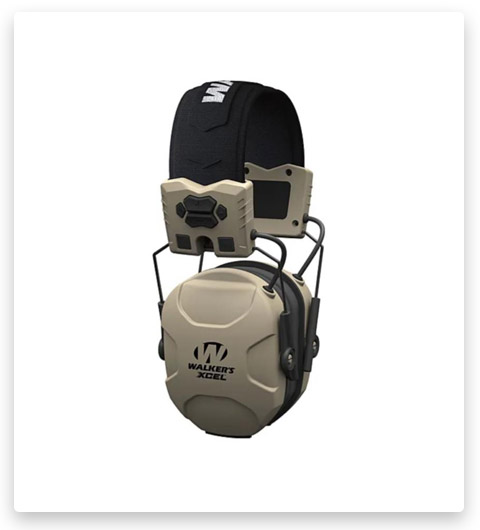 Walkers XCEL 100 Digital Electronic Ear Muffs
They provide a range of features to cater to your specific needs in any setting. With four different listening modes including universal, speech clarity mode, hi-frequency, and power boost, you can personalize your hearing experience and adjust the level of protection accordingly. No matter the environment, these muffs enable you to enjoy superior sound quality without compromising your hearing safety. Moreover, they are built for all-day comfort, ensuring a pleasant and hassle-free wearing experience.
Buy Now On OpticsPlanet
If you click this link and make a purchase, we earn a commission at no additional cost to you.
Benefits 🌞
Electronic ear muffs provide a range of benefits over traditional passive hearing protection. These include the ability to amplify normal sounds and reduce loud noises, improved comfort, and greater convenience.
🔔 The internal microphone and amplifiers allow you to hear conversations and other important auditory cues without having to remove the muffs or risk prolonged exposure to harmful noise levels.
🔔 Such ear muffs also feature sound compression that limits the maximum level of sound your ears are exposed to, even when there are sudden loud noises like gunfire or machinery.
🔔 They offer improved comfort compared to traditional passive hearing protection, as they fit snugly around your head without feeling too tight or putting pressure on your temples or jawline.
🔔 Many models come with gel-filled cushions that provide extra padding, helping ensure an even more comfortable experience during longer wear times.
🔔 Finally, thanks to their compact size and folding design, ear muffs are much easier to store and transport than bulkier headset products. This makes them ideal for those who need quick access to their hearing protection in a variety of situations.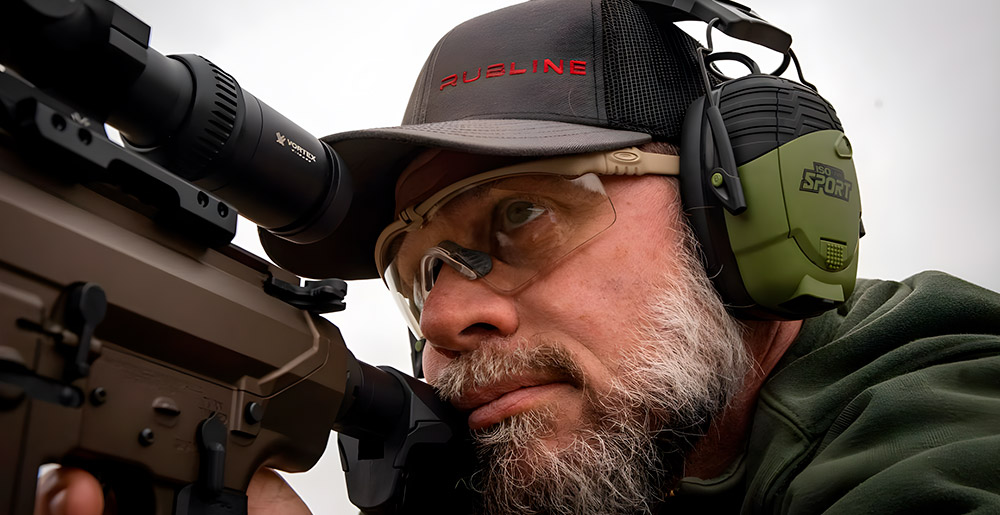 How pick proper ear muffs? 🔍
A proper pair of electronic ear muffs is essential for protecting your hearing when exposed to loud noises. Here are some tips that can help you make the best choice:
➡️ First, consider the level of noise reduction you need to safely protect your ears. Different ear muffs come with different levels of NRR (Noise Reduction Rating), which indicates the level of sound protection they can provide.
➡️ Next, consider the fit and level of comfort provided by different models. You should look for ear muffs with soft foam cushions that fit snuggly around your ears while still being comfortable enough to wear for extended periods without discomfort or irritation.
➡️ Finally, think about special features such as built-in microphones or Bluetooth compatibility, which allow you to communicate with other people while wearing earmuffs. These types of features are usually found in more advanced models but can be quite useful if you need them for specific activities or communication needs.
TOP 15 Electronic Ear Muffs 🎧
| Image | Product | Brand | |
| --- | --- | --- | --- |
| | Walkers Razor Slim Shooter Folding Electronic Ear Muff Up | Walkers | |
| | Walkers Razor Series Slim Shooter Folding Electronic Ear Muff Up | Walkers | |
| | Walkers XCEL 500BT Digital Electronic Ear Muff | Walkers | |
| | Walkers Razor Slim Electronic Quad Ear Muff | Walkers | |
| | Walkers XCEL 100 Digital Electronic Ear Muff | Walkers | |
| | Walkers Razor Slim Electronic Patriot Series Ear Muffs | Walkers | |
| | Peltor Tactical 100 Electronic Hearing Protection Ear Muffs | Peltor | |
| | Howard Leight Impact Sport Tactical Electronic Ear Muff | Howard | |
| | Champion Traps and Targets Ear Muffs | Champion | |
| | Rudolph Optics Electronics Slim Light Weight Ear Muffs | Rudolph Optics | |
| | Pro-Ears Pro Slim Gold Electronic Ear Muffs Up | Pro-Ears | |
| | Peltor RangeGuard Electronic Folding Ear Muff | Peltor | |
| | Walkers Alpha Muffs 360 Quad Electronic Ear Muffs | Walkers | |
| | Champion Traps and Targets Pink Ear Muffs-Electronic | Champion | |
| | Howard Leight Impact Sport MultiCam Electronic Earmuff | Howard | |
1# Walkers Razor Slim Shooter Folding Electronic Ear Muff Up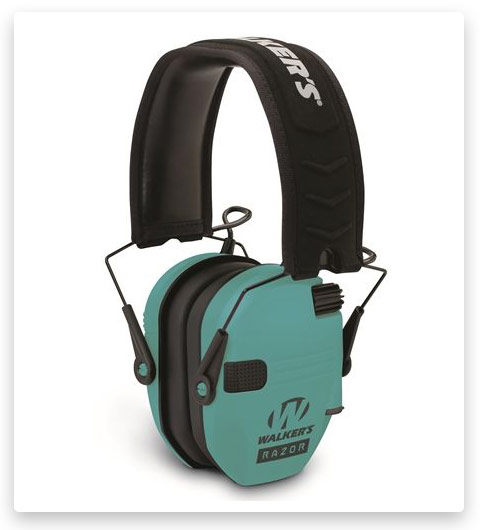 This model has a nice balance between quality and price. It's compact and convenient thanks to the folding design and comfort headband with a metal wireframe, and it connects with the help of a standard jack. The NNR is 23 dB. 2 omnidirectional microphones in collaboration with a low noise/frequency tune ensure clear natural sound. Besides, you can enjoy the sound-activated compression with only a 0.02-second delay. Control the volume to adjust it as you wish, The device works from 2 AAA batteries (included).
2# Walkers Razor Series Slim Shooter Folding Electronic Ear Muff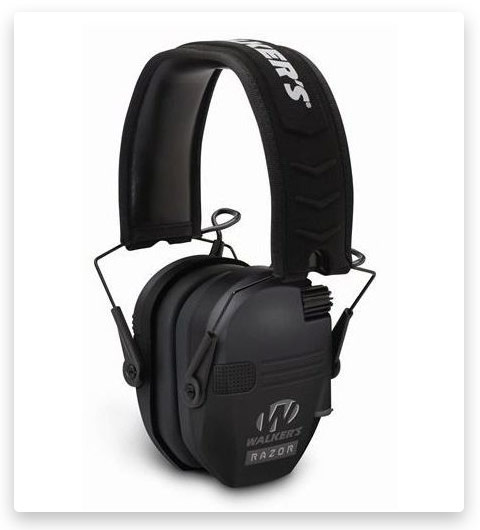 Another cheap ear muff for those who don't need too techy devices for their purposes. The characteristics of this model are quite similar to the previous model's parameters. It's a great compact device with two omnidirectional microphones, full dynamic range HD speakers, independent volume control, sound-activated compression, a low-frequency tune for natural sound, and a jack audio input. It also provides 23dB of NRR. If you need something that will save you from becoming deaf, it's a great choice.
3# Walkers XCEL 500BT Digital Electronic Ear Muff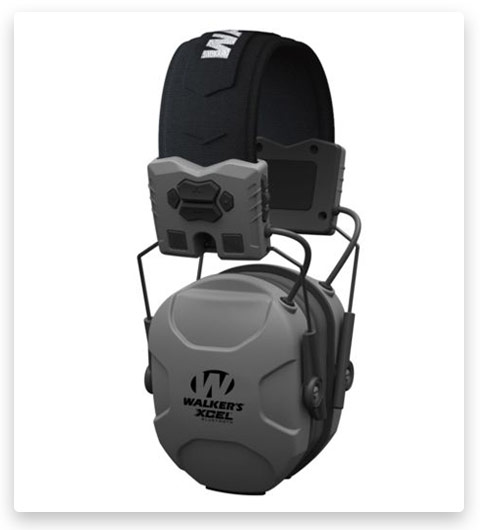 Searching for something more powerful? Take a look at this model. It offers a lot of great features that will make your shooting experience or any other loud experience much more comfortable. You can connect these muffs using Bluetooth and enjoy the hands-free mode. High-quality microphones, variable dynamic sound suppression, wind noise reduction mode, 4 listening modes (power BoosSpeech mode, universal, hi-frequency, clarity), and a special design ensure the best Noise Reduction Rating. 2 AAA batteries are required. You will be alarmed when you have to replace batteries.
4# Walkers Razor Slim Electronic Quad Ear Muff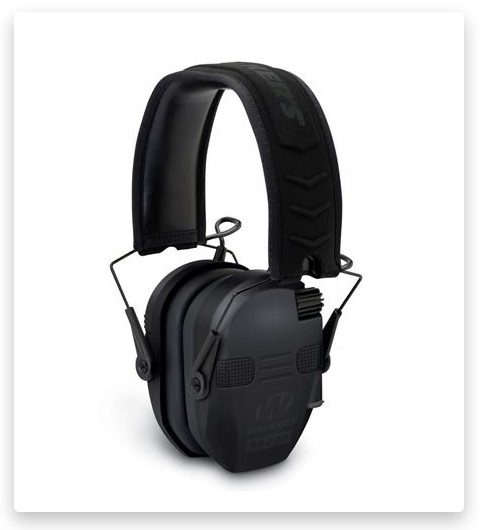 This model is a kind of a mix of all the previous models. It's durable, compact, and pretty efficient. You can connect these muffs to your mobile device to control it remotely and adjust it right to your needs. Here you will find all those useful features you have faced earlier, such as volume control, low noise tune, compression with 0.02-second activation, and 4 Hi-gain omnidirectional microphones. These parameters are enough to ensure the best quality of noise reduction for you of 22dB. The outstanding feature of this model is a built-in communication mic.
5# Walkers XCEL 100 Digital Electronic Ear Muff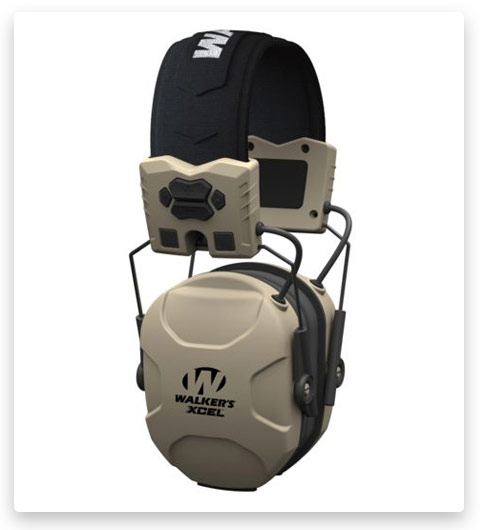 One more model designed by Walkers is also good and has great value for money. If you want to purchase an efficient device that won't let you down and will satisfy all your needs, you can buy XCEL 100. The muffs provide customers with the following features: active dynamic sound suppression, omnidirectional mics, 4 listening modes, wind noise reduction, auto shut off from 2 to 6 hours, voice control, an ergonomic headband design, and increased NNR. To power this device, you will need 2 AAA batteries. Don't be afraid to spend a bit more money to feel the comfort and save your time. Unlike XCEL 500BT, this model has no Bluetooth connection.
6# Walkers Razor Slim Electronic Patriot Series Ear Muffs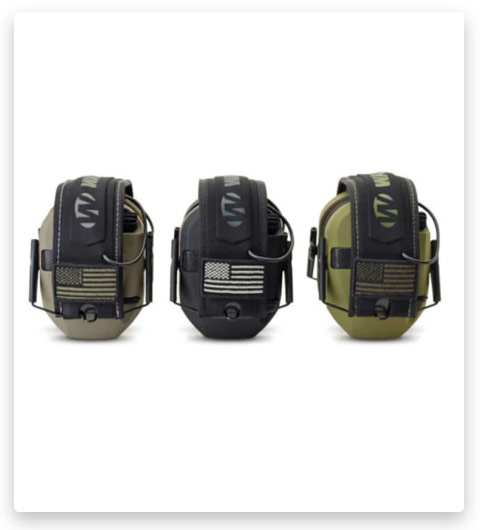 It's not a problem if you are looking for more balanced muffs, regarding price and quality. Let's see what this model offers to us. First of all, it's a very compact device with ultra-low profile ear cups and a rubberized coating. The construction is very comfortable and durable. Two omnidirectional microphones, low noise/frequency tune, volume control, and sound-activated compression allow you to get rid of unwanted noises and listen to what is important to you. The NRR of the model is 23dB, and the battery type is AAA (2 batteries are included). In addition to this, there are 2 US flag patches in the complete set of this model.
7# Peltor Tactical 100 Electronic Hearing Protection Ear Muffs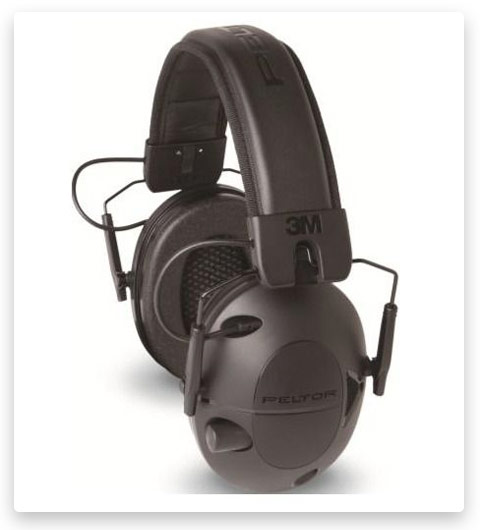 For minimalistic design lovers, there is a nice model on the market that runs on 2 AAA batteries, has a standard 3.5 mm jack, and auto shut-off functions that keep your batteries working much longer. Reduce the noises to hear what you need, With 22dB NRR and good suppression, you can filter sounds easily. Voice commands now are even better thanks to the adaptive frequency response. Nice characteristics for a quite affordable price — that's what you are looking for.
8# Howard Leight Impact Sport Tactical Electronic Ear Muff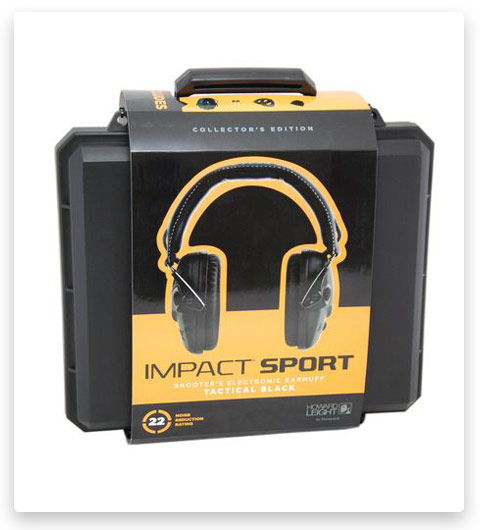 This model can't offer a great variety of features, but it's a very confident, solid product that is made of durable materials and ensures a pleasant user experience. Muffs are foldable, which makes them compact, it has an adjustable padded headband and comfort cushions. Plus, the device has an additional AUX input for you to connect mp3 players or scanners. The features you will like are auto shut-off after 4 hours and airflow control technology. However, the device is not cheap at all.
9# Champion Traps and Targets Ear Muffs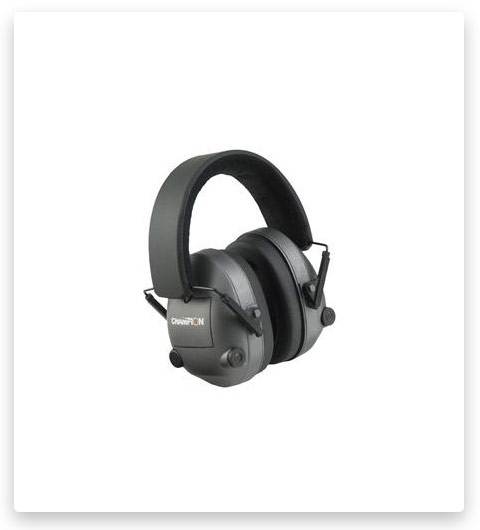 These are the first muffs you can buy in two variants: electronic or standard. Comes to the electronic variant, ensures noise reduction at a rate of 21 dB. The design is accurate and beautiful, but the main thing about it is the adjustment that allows almost everyone to wear these muffs. Unfortunately, the variety of features is not big, But the price is also not that bad. If you managed to find this model in a sale, you must try it out.
10# Rudolph Optics Electronics Slim Light Weight Ear Muffs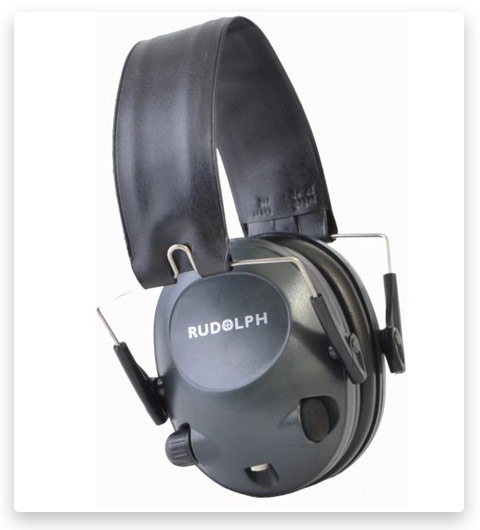 Another fully adjustable pair of muffs for a quite low price. This model offers 8x amplification and 25 NRR. It automatically shuts out sounds over 85dB and provides you only with clear sound. The device is lightweight and compact, so it's easy to carry it with you. Soft padded ear cups give you extra comfort. This solution will suit the majority of shooters and hunters.
11# Pro-Ears Pro Slim Gold Electronic Ear Muffs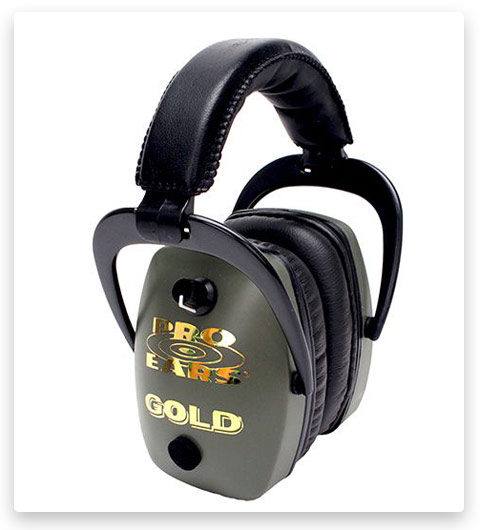 A hybrid digital/analog system that is used exclusively in these muffs and other great characteristics make this model premium. Of course, the price corresponds to the quality. So, this device is equipped with high-quality amplifiers and microphones, it uses the advanced DLSC technology for compression, and uses gold connectors to ensure pure natural sound and protect your ears from loud noises. The device performs 10,000 diagnostics per second to make sure everything is fine.
12# Peltor RangeGuard Electronic Folding Ear Muff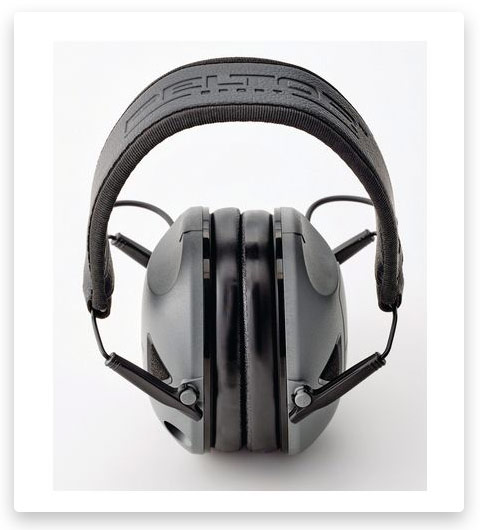 For rifles and shotguns, there is a great model designed by Peltor. It reduces noise and amplifies voice. The noise reduction level is 21 dB. The adjustable padded headband makes these muffs comfortable to wear. Besides, this model offers the following features: auto shut-off after 4 hours, 2-way radio compatibility, volume control, and 3.5 mm jack input. The low-budget segment also has a lot of decent pieces of work to show.
13# Walkers Alpha Muffs 360 Quad Electronic Ear Muffs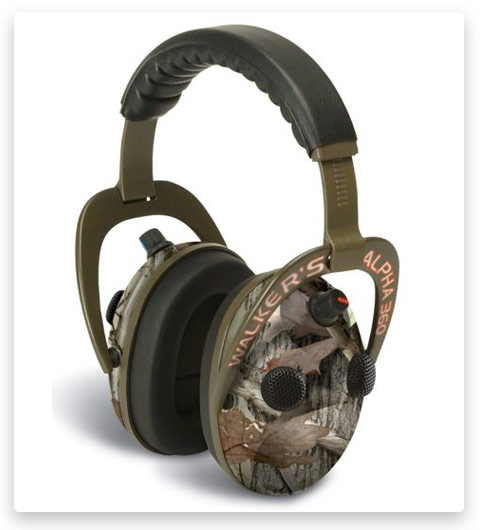 Here we've got an interesting model that differs a bit from other competitors. It offers very similar characteristics but with some exceptions. First thing first, these muffs have stereo microphones and high frequency. It also reduces wind noise. You can also enjoy 9x enhancement and 50 dB maximal output. Sound-activated compression (SAC) helps to provide you with the clearest sound. The noise reduction rating is 24, and the power source is 2 AAA batteries (not included)
14# Champion Traps and Targets Pink Ear Muffs-Electronic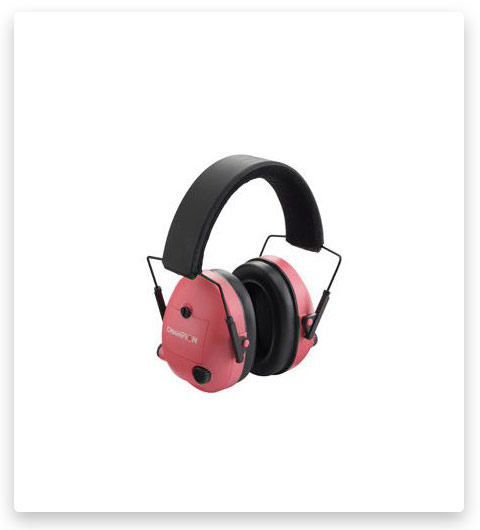 Again, this model is also available in a standard version, which means you can spend even less money if you don't need electronic muffs but you like this model. This is a light and compact device that has a stylish pink design and provides you with a 21 dB noise reduction rating. Defend your ears with comfort, with the help of these muffs.
15# Howard Leight Impact Sport MultiCam Electronic Earmuff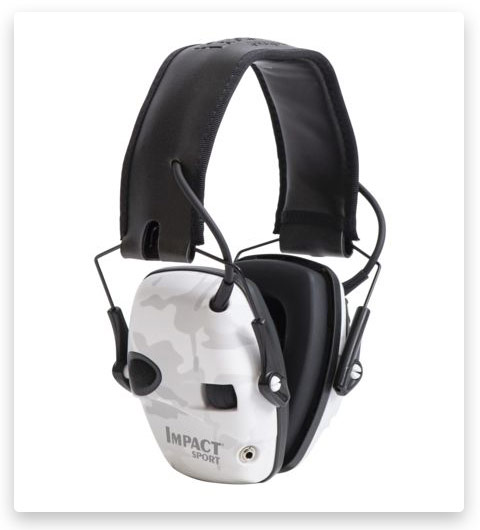 And the last model on the list is another model with directional microphones that amplify ambient sounds to a safe 82dB, which allows you to hear commands and necessary noises while shutting out unwanted loud noises. Besides, it's comfortable The NRR of the model is 22dB. A great advantage is the automatic shut-off feature. It's a good model with nice characteristics at a reasonable price.
How to improve it? 🤔
When it comes to protecting your hearing, electronic ear muffs are one of the best options available. These devices work by selectively amplifying sound that could potentially be hazardous to your hearing while dampening any sound that could lead to permanent damage.
🎧 To further improve your hearing protection, consider investing in an audiometer or sound level meter. An audiometer will measure the decibel level entering each ear separately; this allows you to determine if one side is receiving more dangerous levels of noise than the other and provides valuable data about how much protection you need.
🎧 It is also important to keep in mind that even with the most advanced headphones, your ears can still be damaged if exposed to loud environments for too long. Therefore, it is essential to take regular breaks from noise exposure, especially if working in loud areas such as factories or entertainment venues.
📺 More ways of improving in this video:
FAQ ❓
Сonclusion 😊
Finding the best electronic ear muffs for your needs can be a daunting task. With this buyer's guide, we provided you with information that helps make this process easier and more efficient. We've reviewed some of the top models on the market today, discussed their features, and outlined important factors in choosing an appropriate pair of earmuffs. Ultimately, it's up to you to decide which model is right for your individual needs! 🥰❤️‍🔥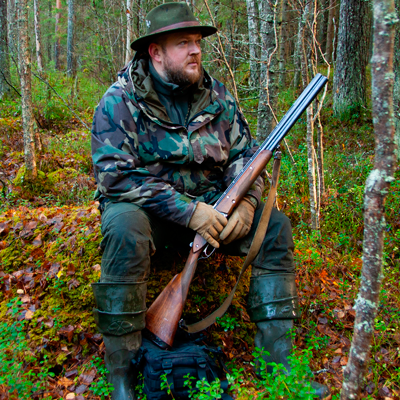 Max Endless
Weapon Expert & School Teacher
Hi, I'm Max. I'm a weapon expert and a teacher of English from Belarus. These two qualities allow me to share my opinions and observations about news from the gun world. I'm really into firearms and different weapons because I was learning about them since my childhood.
My life has taken me through different complications and exciting moments, so what I've learned is to always be ready to fight. My father is professional military personnel and he made me familiar with various weapons since my childhood. My first one was a bow, and then I started to have a fancy for this unbelievable world of firearms. My main specialization allows me to share my thoughts about different devices, guns, and gun details with the English-speaking community. In my articles, I talk about pistols, rifles, knives, shotguns, and many other tactical and survival things.
Read more
about our team
of expert authors.
Affiliate Disclosure: Rotorm.com sometimes gets paid for listings, through sponsors or affiliate programs like Amazon, Optics Planet, Lucky Gunner, Brownells, Cabelas, Rainier Arms, 5.11 Tactical, Bass Pro Shop, etс. Clicking a link helps keep Rotorm.com free, at no extra cost to you!
About the author: Each article on our site is written by experts in survival and tactical equipment, gun enthusiasts, extreme travelers, military, law enforcement and desperate professionals, read about the author at the bottom of the article or visit "About Us" page.
Note: The views and opinions expressed in this article are those of the authors and do not necessarily reflect the official policy or position of any agency.