Affiliate Disclosure: Rotorm.com sometimes gets paid for listings, through sponsors or affiliate programs like Amazon, Optics Planet, Lucky Gunner, Brownells, Cabelas, Rainier Arms, 5.11 Tactical, Bass Pro Shop, etс. Clicking a link helps keep Rotorm.com free, at no extra cost to you!
About the author: Each article on our site is written by experts in survival and tactical equipment, gun enthusiasts, extreme travelers, military, law enforcement and desperate professionals, read about the author at the bottom of the article or visit "About Us" page.
Note: The views and opinions expressed in this article are those of the authors and do not necessarily reflect the official policy or position of any agency.
Do you like shooting? No matter how skilled you are or how often you shoot, your firearm needs proper maintenance. This ensures the best shooting experience and makes you feel sure that things will never go wrong. It's essential to know that your firearm is all good and ready for action.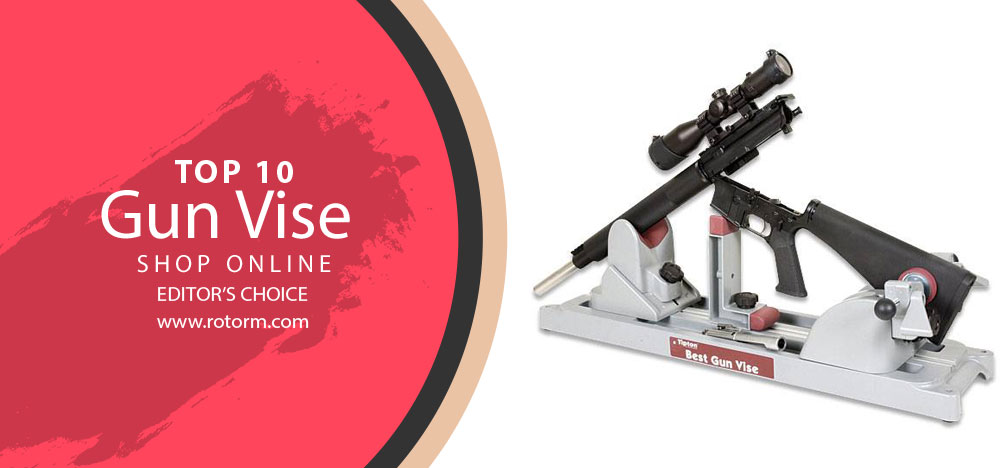 There is no option to mess up, especially when it comes to combat. That's why you have to visit a gunsmith to clean and repair your gun at least sometimes. But it could be so inconvenient to make time to do it. With a good gun vise, you can take care of your firearm by yourself. This is one of the best solutions for shooters of all types. The variety of gun vises is big, and it's better to know what to buy if you want to spend money reasonably. Moreover, it affects the quality of shooting and overall shooting experience. To help you find out the best model without browsing the market for hours, we have prepared a list of 10 top models, and we are happy to share it with you.
TOP-10 Gun Vise – Best Tipton Gun Vise
| Image | Product | Brand | |
| --- | --- | --- | --- |
| | Tipton Ultra Gun Vise | Tipton | |
| | Tipton Best Gun Vise | Tipton | |
| | Tipton Gun Vise | Tipton | |
| | MTM Red Gun Vise GV30 | MTM | |
| | Wheeler Engineering Delta AR-15 Upper Vise Block Clamp | Wheeler Engineering Delta | |
| | Tipton Compact Range Vise | Tipton | |
| | Hoppes Gun Vise | Hoppes | |
| | Tipton Gun Butler Vise | Tipton | |
| | CTK PRECISION P3 Ultimate Gun Vise | CTK PRECISION | |
| | Tipton Standing Ultra Gun Vise | Tipton | |
| | Wheeler Engineering Delta AR Upper/Pic Rail Vise Block | Wheeler Engineering Delta | |
#1 Tipton Ultra Gun Vise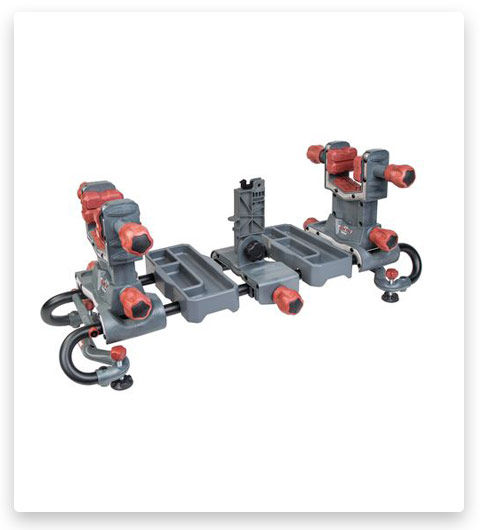 The first tool we are going to review is a great example of a gun vise that suits any AR-15 owner. It's quite expensive but it provides you with all the necessary features. This model is made of rugged steel and it's solvent resistant, which means the service life is long enough to satisfy the majority of customers. Thanks to the molded surfaces, your firearm's finish will never be damaged. The variety of weapon shapes you can use with this vise is wide because of the independently working slides and clamps. The maximal clamping distance is 26.5 inches. In addition to this, 4 independent leveling feet make it possible to mount any scope with a breeze. This is a very adjustable model with secure clamping and complete access, which allows you to maintain your weapon properly.
#2 Tipton Best Gun Vise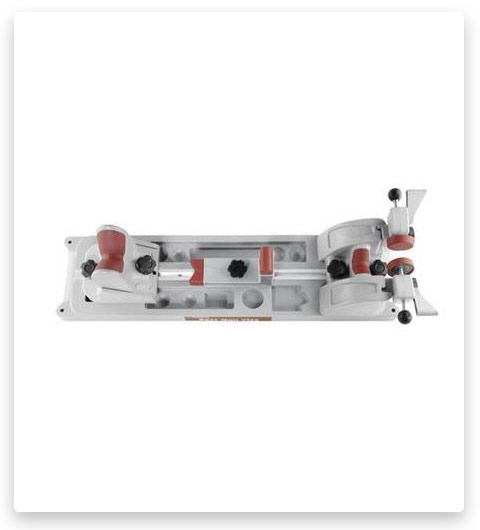 The next up is also a well-designed, durable gun vise for shotguns, rifles, and handguns. The device is made of solvent-resistant nylon, and it will serve you well for many years. The central aluminum channel ensures the most accurate positioning for your firearm, thanks to the independent movement of all components. Adjust each component as you want, to obtain the best results. Two offset clamps on the rear base can be also adjusted for a tight grip. A wide range of buttstock configurations is supported. This vise is stiff, easy to use, and «flexible», which is a great pack of qualities.
#3 Tipton Gun Vise
You can also take a look at cheaper models like this one. This gun vise allows you to firmly grip your weapon to perform any gunsmithing or cleaning procedures. The tool is solid and reliable, thanks to the solvent-resistant polymers. Rubberized cradles and soft molding protect your firearm from any damage. Besides, this model is equipped with molded-in compartments for small parts. If you are looking for a balance, you can buy this vise and enjoy it for a long time.
#4 MTM Red Gun Vise GV30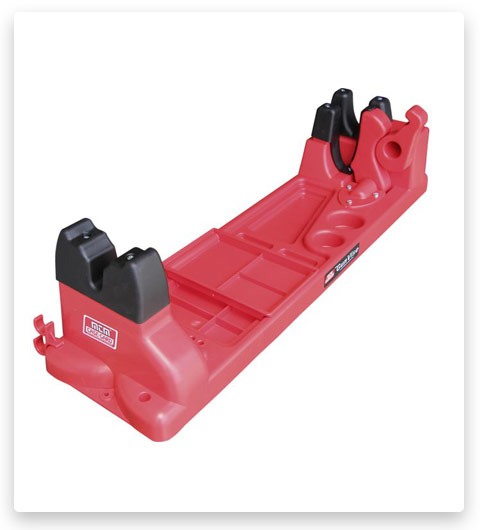 For those who like confident, well-designed but yet minimalistic things without extra features that could confuse you sometimes, we offer to take GV30 by MTM into consideration. This is a solid gun vise, made of high-quality materials, that provides you with a single adjustment clamp for fast and secure fixation. Thanks to the rubber padded hold, the finish of your gun will have no marring. Another advantage of this model is a small tray that slides from the base, which allows you to not lose small details. It's a great solution for a quite reasonable price.
#5 Wheeler Engineering Delta AR-15 Upper Vise Block Clamp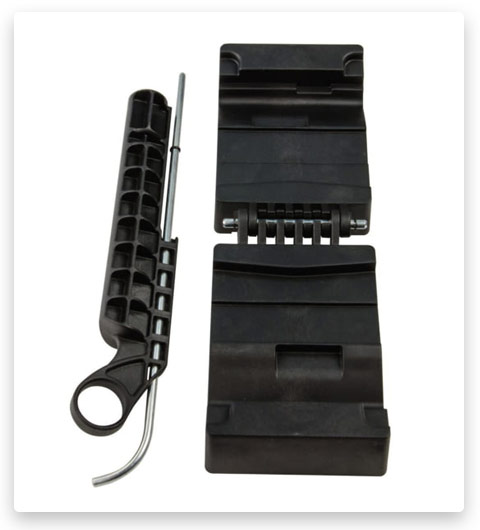 What comes to Wheeler Engineering Delta, it's a pretty interesting model to review. It's cheap and it's not similar to those we have reviewed before. This vise suits both right-handed and left-handed Mil-Spec A2 upper receivers, but it doesn't suit left-handed uppers with forward-flipping dust covers. The best thing about this upper vise block clamp is a special system that helps you align the gas tube for barrel maintenance. Plus, you can enjoy a solvent-resistant construction and soft holds that won't damage your gun. If you need to repair your upper block, this is a good choice.
#6 Tipton Compact Range Vise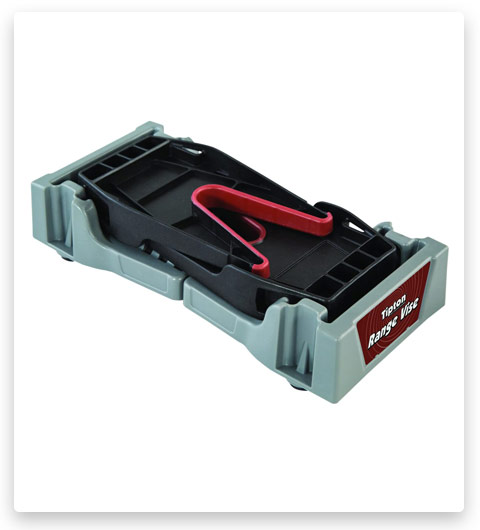 One more inexpensive model for all shooters who like to have everything necessary with them. The compact design allows you to take this vise with you, wherever you go. The solvent-resistant construction with a non-slip base expands from 11-¼ to 17-¾ inches, allowing you to securely hold a firearm without damaging it, thanks to two rubberized forks. Storage compartments for cleaning supplies are a good add-on for this vise. With such a tool, you can always be sure that your weapon is in a good condition, no matter where you are.
#7 Hoppes Gun Vise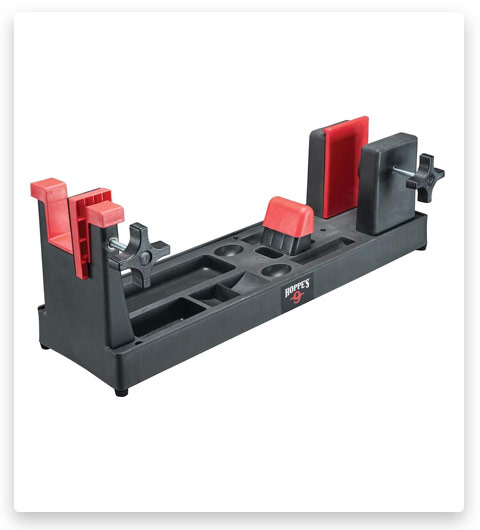 If you liked the previous model, you should take a look at this one. It's not that compact but it's simple and secure. Thanks to chemical-resistant polymers, the vise can serve for a long time. Lock each side to hold a firearm while cleaning or repairing it. Rubber padded holds won't let damage the finish, so you don't have to worry. Compartments for tools will help you organize your work and increase the efficiency of maintenance by saving a lot of time. Note that accessories should be bought separately.
#8 Tipton Gun Butler Vise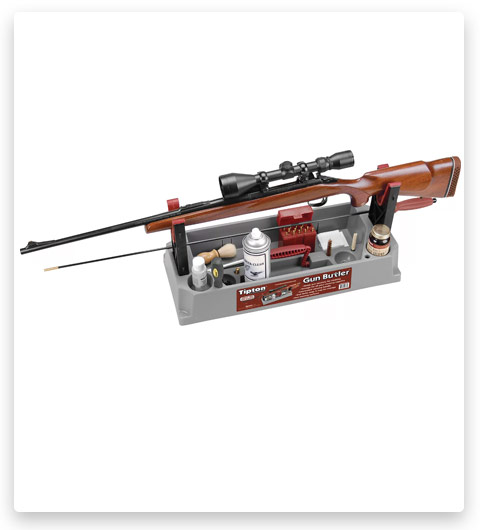 We suggest you buy this vise if you like to organize your working place and keep everything in the right order. Two forks hold a firearm securely and carefully, meanwhile, special compartments allow you to store various tools and accessories. This is a convenient way to store your gun and to clean it or perform other maintenance works. The tool doesn't cost a lot, so you will not be disappointed for sure. However, if you are looking for something that can replace the need of visiting a gunsmith, this is not the best choice for you because you can't do a lot with the help of this vise.
#9 CTK PRECISION P3 Ultimate Gun Vise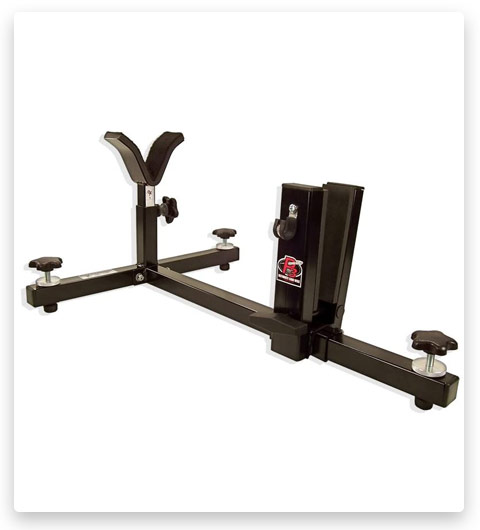 The model in 9th place differs a bit from other competitors. The reason is that it's not a regular vise for holding your rifle or pistol for cleaning, it's also a tool for boresighting. The three-point leveling system in collaboration with thumb locks ensures a stable hold. The vise is horizontally telescoping and can be adjusted to any firearm, pistol, or rifle. Only the best, high-quality materials are used to create such vises, which means you can use this model for as long as you wish. Professional shooters know what is necessary for precise aiming.
#10 Tipton Standing Ultra Gun Vise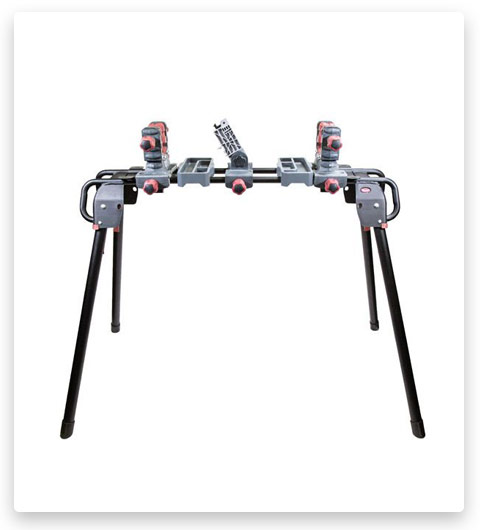 The last gun vise on the list is the most expensive and the most innovative one. This is a 4-leg construction that offers independent use. You don't need a table to work with your firearm, using this tool. The 35-inch height ensures comfortable working conditions. Besides, the tool weighs only 20lbs, which is not much and allows you to easily take the tool with you. Clean and repair your weapon in the field or on the range with a breeze. But if you have a nice workbench, this tool seems to be not that useful and rather pricey.
#BONUS: Wheeler Engineering Delta AR Upper/Pic Rail Vise Block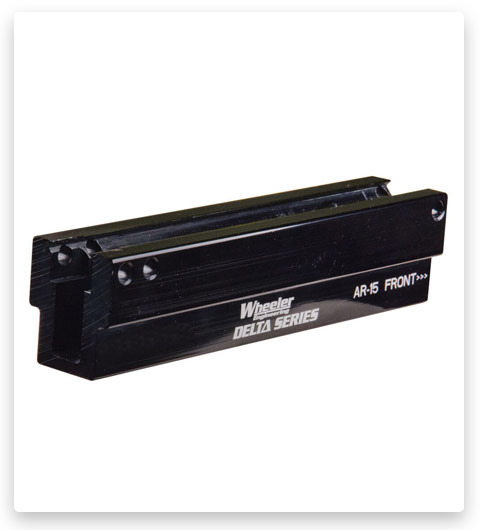 Also, for AR-15 and AR-10 owners, there is a great Picatinny rail vise block made of extremely durable materials that helps you properly maintain your weapon. This block is clamping to rail, securing any receiver of the corresponding type. This tool is easy to use and cheap enough to provide you with great possibilities without complications.
FAQ
Conclusion
We want to highlight a few models from this list to make it even easier for you to choose the right gun vise as fast as possible.
The best inexpensive models:
The best pricey models:
Tags: #tipton #best #review #gun #vise #price #shooting #sale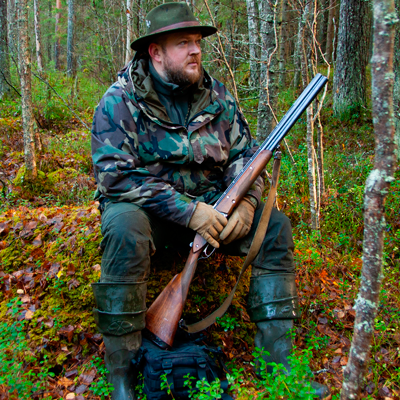 Max Endless
Weapon Expert & School Teacher
Hi, I'm Max. I'm a weapon expert and a teacher of English from Belarus. These two qualities allow me to share my opinions and observations about news from the gun world. I'm really into firearms and different weapons because I was learning about them since my childhood.
My life has taken me through different complications and exciting moments, so what I've learned is to always be ready to fight. My father is professional military personnel and he made me familiar with various weapons since my childhood. My first one was a bow, and then I started to have a fancy for this unbelievable world of firearms. My main specialization allows me to share my thoughts about different devices, guns, and gun details with the English-speaking community. In my articles, I talk about pistols, rifles, knives, shotguns, and many other tactical and survival things.
Read more
about our team
of expert authors.