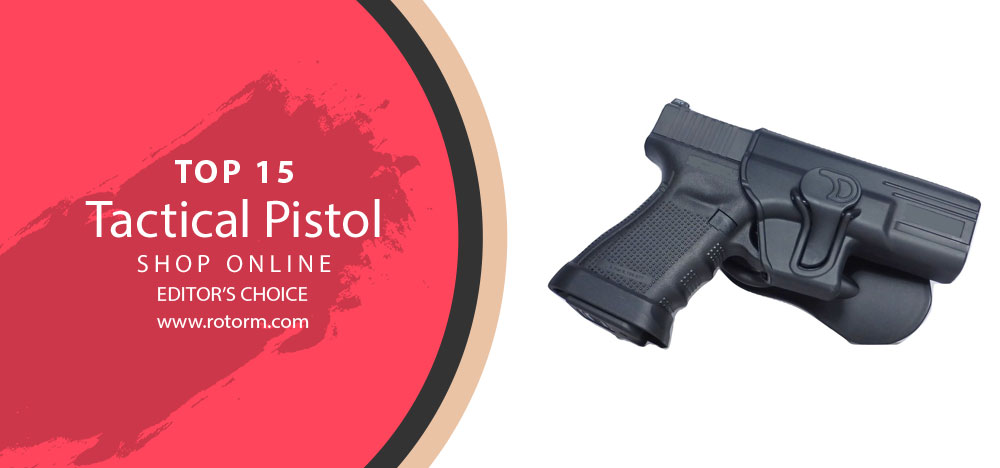 What is a tactical pistol?🧐
It is a handgun designed for use in military, law enforcement, and self-defense scenarios. It typically features a high-capacity magazine, ergonomic grips for enhanced control and accuracy, a lightweight frame to promote fast target acquisition and specialized sighting systems or accessories such as laser aiming modules.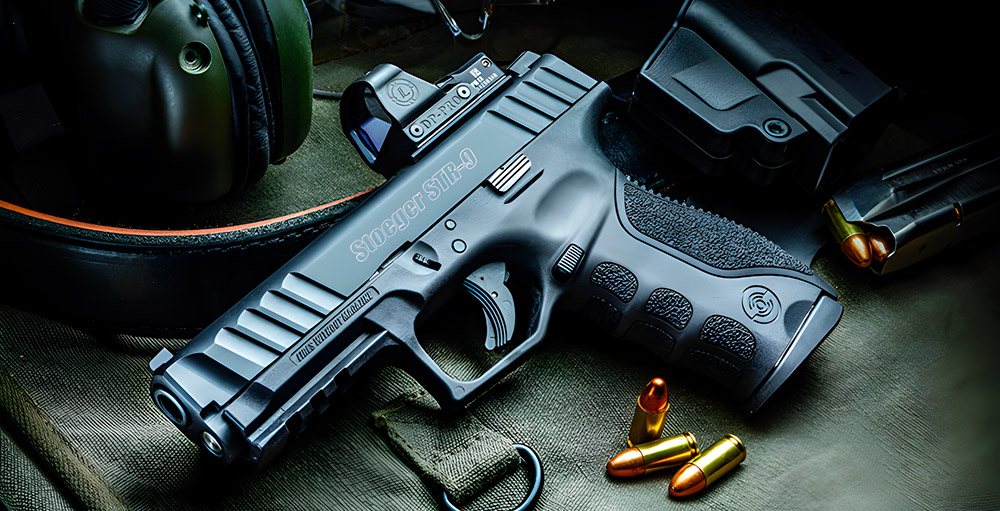 Features📝
Tactical pistols are designed for use in self-defense, law enforcement, competition shooting, and more. The features that make them different from other handguns include:
✅ Ergonomics – These pistols often have improved ergonomics compared to other handgun models, making them easier to handle and manipulate quickly. This is particularly important if you plan to use the gun for self-defense or competition shooting.
✅ Accessory Rail – They usually come with a Picatinny rail on the underside of the barrel, which allows you to attach lights, lasers, and other accessories. This is helpful if you plan on using your pistol in low-light situations or need additional aiming aids.
✅ Caliber Options – Most models are available in various calibers so that you can choose one that is best suited to your specific needs and preferences. It's important to note that some pistols may only be available in certain calibers, so make sure you do your research before making a purchase decision.
✅ Sight Options – Many pistols are equipped with adjustable sights, which allow you to quickly and accurately target targets. This is especially helpful in competition shooting or if you need to shoot in low-light conditions.
✅ High-Capacity Magazines – They usually have high-capacity magazines that can hold more rounds of ammunition than other handguns, allowing for quick reloads and increased firepower.
Our Top Pick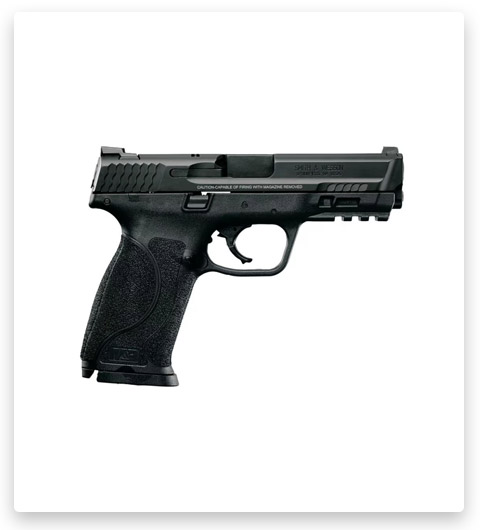 Smith & Wesson M&P M2.0 Full-Size Pistol
This striker-fired, polymer pistol offers a host of features for enhanced performance and user customization. The polymer frame is reinforced with an extended stainless steel chassis embedded within the frame, reducing flex and torque during firing. This construction promotes superior comfort and control, enhancing your shooting experience. Customizing the pistol to fit your hand perfectly is made easy with the included 4 interchangeable grip inserts. These inserts allow you to adjust the palm swell fit and trigger-to-backstrap length, providing personalized comfort and optimal control. For added convenience, the pistol includes a sear deactivation lever, allowing for safe disassembly without the need to pull the trigger.
Buy Now On BassProShops
If you click this link and make a purchase, we earn a commission at no additional cost to you.
Benefits🌞
A tactical pistol is a must-have tool for any serious shooter. They are designed to provide great accuracy, dependable reliability, and superior ergonomics. There are several benefits:
⭐️ Accuracy – Such pistols are built for precision shooting, offering better accuracy than traditional handguns at longer distances. With adjustable sights or optics, you have increased control over your shots for improved performance and accuracy.
⭐️ Customizability – Many pistols come with adjustable grips, interchangeable back straps, and the ability to mount optics for even more customization options. With these features, you can modify your pistol to fit your shooting style and preferences.
⭐️ Reliability – They are designed with reliable components that offer years of dependable service. Furthermore, their ergonomic design is tailored to minimize felt recoil while increasing control during firing.
⭐️ Durability – These pistols are built tough for use in a variety of conditions without compromising performance or reliability. They are constructed from durable materials such as stainless steel or polymer frames that can withstand heavy use in harsh environments over long periods.
⭐️ Furthermore, many models come equipped with features such as red dot sights and integrated laser aiming systems for improved accuracy.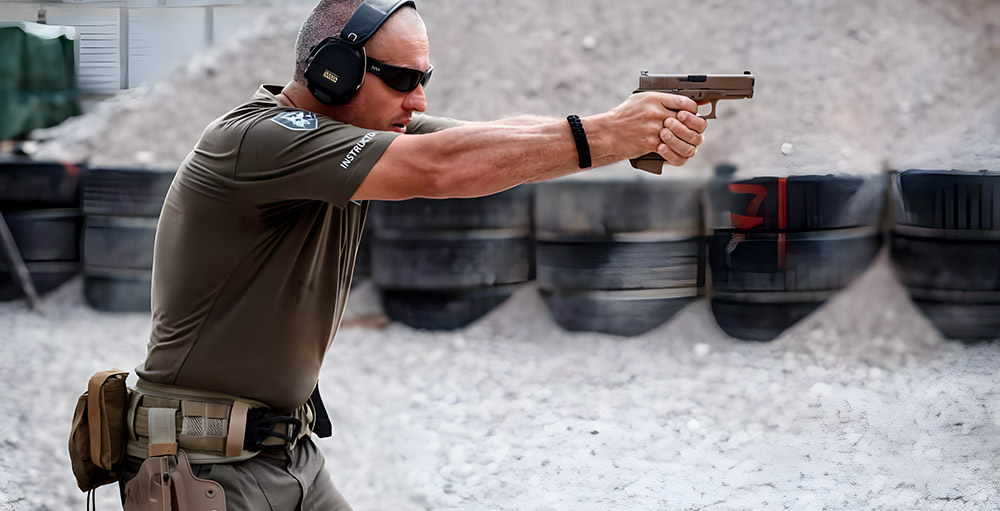 How to hold it properly?📢
Holding a tactical pistol correctly is an important part of gun safety. To do so, first, check to ensure that the pistol is unloaded.
➡️ With the muzzle pointed in a safe direction, grip the handle with one hand on either side and place your thumbs along the top of the slide. Your index finger should rest along the frame or trigger guard.
➡️ Keep your elbow straight and bring your firing hand up to shoulder level while angling your wrist slightly inward toward your body.
➡️ Ensure that your support hand wraps around the back of your firing hand and as far up as possible without obstructing any of the controls. This will help keep both hands close together for better control when shooting.
➡️ While keeping a firm grip on the pistol, use your dominant eye to line up your sights with the target, then set up a comfortable but firm stance using whichever foot is more dominant as the front foot.
➡️ As you become more familiar with shooting, practice aiming and target acquisition through various stances such as standing, kneeling, squatting, or prone positions.
➡️ Finally, slowly press down on the trigger until it reaches its breaking point for a clean shot with minimal recoil.
TOP 15 Tactical Pistol
| Image | Product | Brand | |
| --- | --- | --- | --- |
| | Beretta PX4 Storm Semi-Auto Pistol | Beretta | |
| | Glock 42 Semi-Auto Pistol | Glock | |
| | Beretta 92X Full-Size Semi-Auto Pistol | Beretta | |
| | Walther PPQ M2 Semi-Auto Pistol | Walther | |
| | FN 509 Tactical Semi-Auto Pistol | FN | |
| | Walther PPQ 45 Semi-Auto Pistol | Walther | |
| | Beretta 92FS Semi-Auto Pistol | Beretta | |
| | Smith & Wesson M&P M2.0 Full-Size Pistol | Smith & Wesson | |
| | Kimber Micro 9 Semi-Auto Pistol | Kimber | |
| | Heckler & Koch VP SK Semi-Auto Pistol | Heckler & Koch | |
| | Glock 30 SF Semi-Auto Pistol | Glock | |
| | Glock G45 Compact Semi-Auto Pistol | Glock | |
| | Beretta APX Semi-Auto Pistol | Beretta | |
| | FN 509 Tactical Semi-Auto Pistol | FN | |
| | FN FNX Tactical Semi-Auto Pistol | FN | |
1# Beretta PX4 Storm Semi-Auto Pistol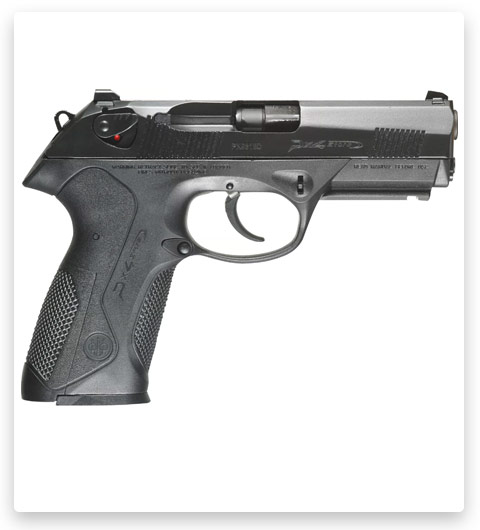 Based on the unique Beretta® PX4 modular technology, the semi-automatic pistol delivers fast fire and the highest accuracy. The ergonomic design complements the functionality of the weapon — this model uses a patented rotating barrel locking system, which reduces recoil and muzzle lift through radial energy release. Corrosion-resistant polymer frame additionally reinforced with fiberglass, equipped with 3 interchangeable straps for a comfortable fit. The non-slip texture of the handle provides a secure grip. The built-in Picatinny rail provides the ability to mount tactical flashlights and laser sights. The bolt has a non-reflective Black Bruniton™ coating for superior corrosion and wear resistance, while the front and rear teeth provide non-slip retention of the bolt when loading and unloading the weapon. The chrome-plated barrel is corrosion-resistant and requires only minimal maintenance.
2# Glock 42 Semi-Auto Pistol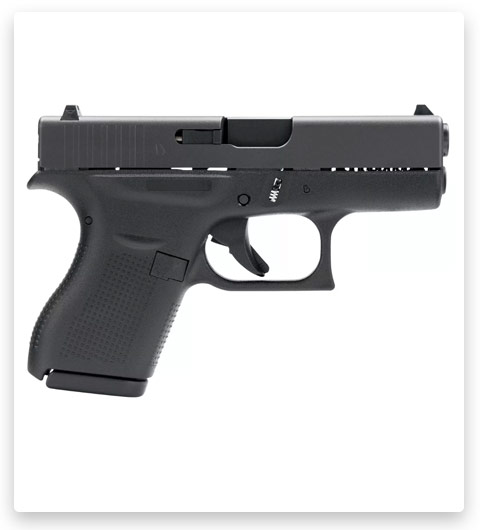 The Glock 42 semi-automatic pistol is a slim, sub-compact, semi-automatic pistol designed specifically for concealed carry. Manufactured from high-quality materials to ensure the longest successful use. At the heart of the pistol's mechanism are a patented striker, short recoil, and a barrel with a fixed bolt. The Safe-Action trigger system makes pistol shooting virtually error-free. A rough polymer grip provides a comfortable and secure grip, secure fit, and maximum control over the weapon during the shooting. The front sight with white dots and the rear sight with white brackets provide fast aiming and excellent firing accuracy even in minimal lighting. The Glock 42 semi-automatic pistol is the most reliable and easy-to-maintain weapon, perfect for everyday use by law enforcement officers and military personnel.
3# Beretta 92X Full-Size Semi-Auto Pistol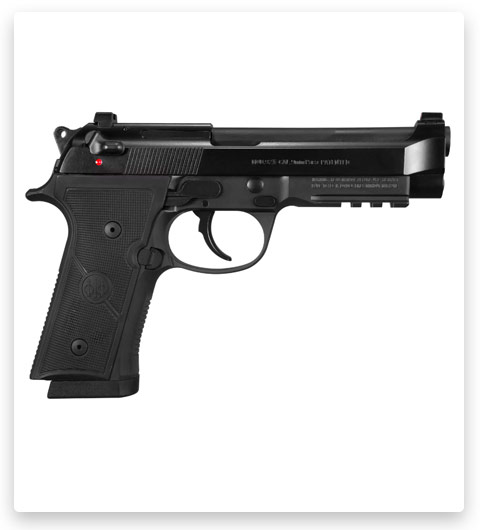 The Beretta 92X full-size semi-automatic pistol takes reliability to a whole new level. With high performance and extremely functional to use, the pistol is ideal for use by law enforcement and military personnel. Made from extremely durable and lightweight aluminum alloy, it has a versatile design and versatile frame. The excellent vertical grip angle, modeled after the legendary 1911, features a straight strap and comes with current Vertek-style handles for a secure grip and full control of the weapon when firing. Complemented by an easily convertible, versatile top breech design, the 4.7-inch pistol barrel features a recessed target head and a corrosion-resistant chrome trim. The integrated three-slot bar makes shooting easier and guarantees the possibility of adding a variety of accessories. The enlarged magazine allows for quick reloading.
4# Walther PPQ M2 Semi-Auto Pistol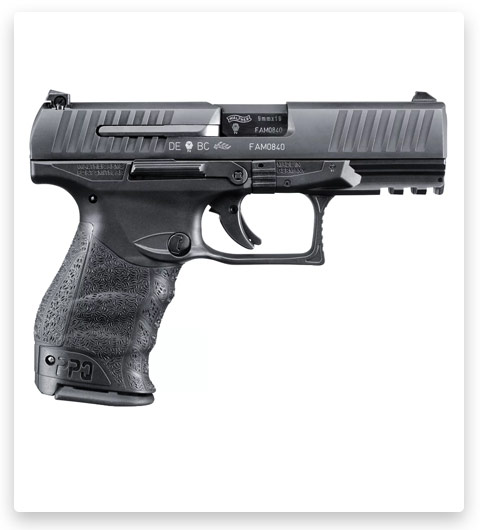 An ergonomic full-size semi-automatic pistol that aims at the target as quickly as possible – the ideal choice for the military. The steel bolt has a durable matte finish that is extremely corrosion-resistant, and the front and rear cocking teeth make it easy to move the bolt when loading and cleaning the weapon. The pistol is supplied with three interchangeable straps that do not interfere with removing the pistol from the holster and guarantee the possibility of instant use if necessary. Comes with two shops.
5# FN 509 Tactical Semi-Auto Pistol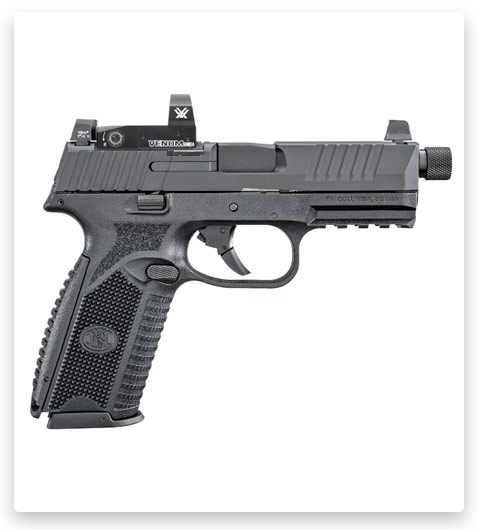 The Semi-Automatic Pit Gun in stylish black with the Vortex Venom Red Dot Sight Package is a unique high-performance pistol that is extremely versatile to use. 1/2 " x 28 threaded barrel accommodates mufflers including a threaded cap. Night sights allow you to quickly aim over an attached silencer. The patented FN Low Profile Optics Mounting System ™ allows the installation of the most advanced red dot optics. The sliding cover is intended for use when shooting without installed optics and has a textured ramp for installation. Structurally complemented by a unique textured grip for full control of the weapon when firing without sliding. The frame is fully adjustable. The magazine opening and trigger are easily accessible and completely symmetrical, allowing for a quick reloading while in combat.
6# Walther PPQ 45 Semi-Auto Pistol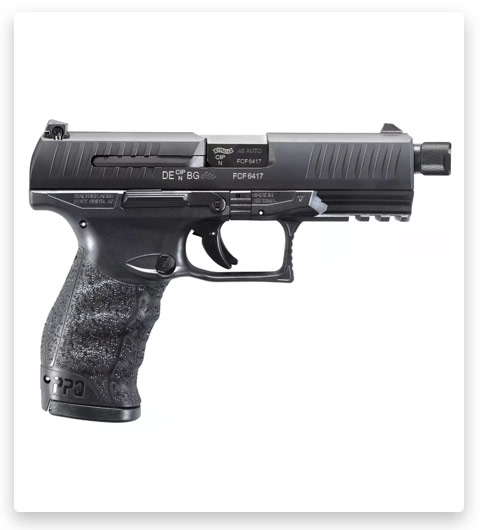 The newest model of the semi-automatic pistol is extremely convenient and highly effective for use in almost any situation. Ideal for personal protection. Provides the highest accuracy with minimal recoil when firing, ensuring accurate firing in any situation. The steel rails feature a robust, fully corrosion-resistant surface and aggressive sliding teeth for a secure and non-slip grip, even when worn with gloves. The durable textured polymer frame features three interchangeable straps for a personalized fit and improved gun control when shooting. Reversible controls provide a unique level of performance for use by both right-handed and left-handed shooters. The threaded barrel fits easily with the most popular mufflers and other muzzle upgrades.
7# Beretta 92FS Semi-Auto Pistol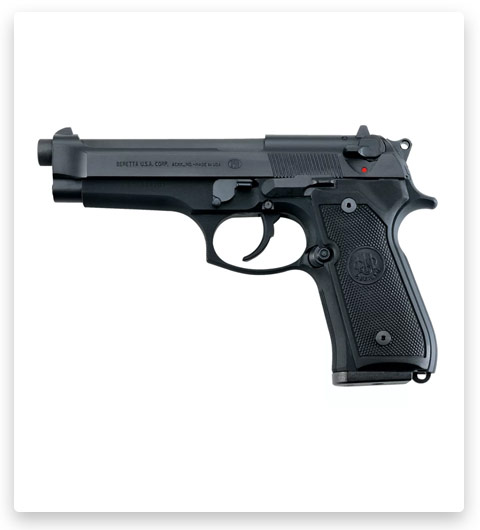 This model of a semi-automatic pistol is one of the most thoroughly tested samples in the world. Coated with a black reinforced non-reflective Bruniton coating, provides excellent corrosion resistance. The model is a double-action single-action pistol designed for superior reliability in virtually any environment. Checkered inserts on the handle provide the most secure grip and full control over the weapon. The design uses a unique short-recoil delayed system for improved aiming during active firing. The release latch makes it easy to remove from the site completely without tools. A spring-loaded, double-sided safety lever serves as an additional trigger for releasing the trigger, and a visible camera indicator allows visible tactile checks of camera status without disassembling the gun. The reversible magazine release is ideal for right-handed and left-handed shooters, while the included two 15-round magazines provide optimal firepower.
8# Smith & Wesson M&P M2.0 Full-Size Pistol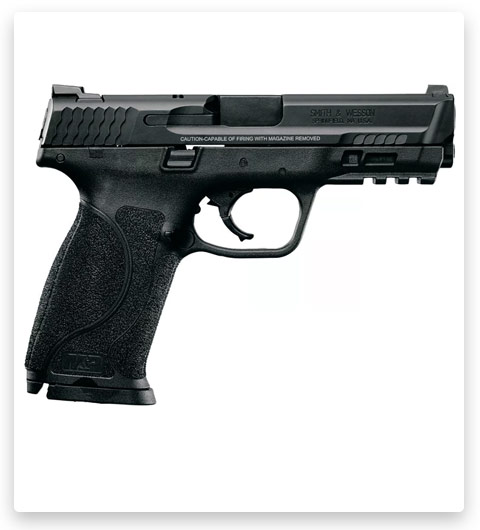 The Smith & Wesson M&P M2.0 full-size semi-automatic pistol is the successor to the M&P polymer pistol platform actively used by various law enforcement agencies. Pistol with bolt and stainless-steel barrel with anti-reflective and corrosion-resistant coating Armorite guarantees exceptional strength and durability, even with active use. Structurally, this model boasts a polymer frame with an extended stainless-steel chassis with an integral frame to reduce bending and torque when firing. Comes with four interchangeable grip inserts for a personalized palm fit and optimal length from trigger to tighten. The aggressive texture of the handle guarantees a non-slip grip. The high axis between the grip and the bore significantly reduces barrel flip for increased accuracy when firing quickly, and the unique sear deactivation lever allows the weapon to be disassembled without pulling the trigger. The installed Picatinny rail provides enough space for the possibility of retrofitting the weapon with additional accessories and upgrades.
9# Kimber Micro 9 Semi-Auto Pistol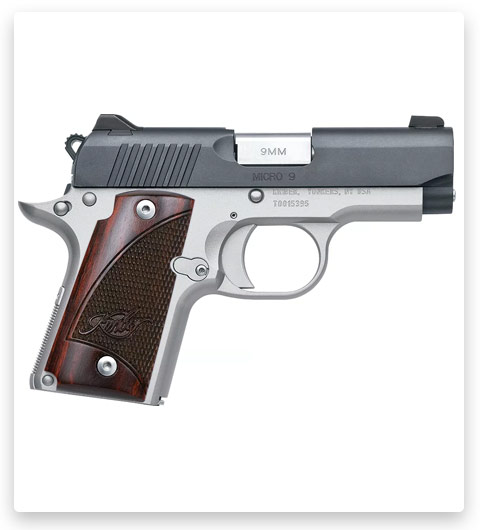 This pistol model has the minimum size and weight with full functionality and exceptional firing performance with 9mm cartridges. Provides comfortable hidden wearing. The design uses a single-action trigger that fully complies with the class to improve shooting accuracy while maintaining a minimum size. The slide and magazine release mechanism works on the principle of the legendary model 1911. The slide is made of high-quality stainless steel, and the frame is made of lightweight and corrosion-resistant aluminum. The Kimber Micro 9 semi-automatic pistol is a highly functional pistol capable of quickly and accurately hitting targets at close and medium ranges. The set includes 1 magazine for 6 rounds.
10# Heckler & Koch VP SK Semi-Auto Pistol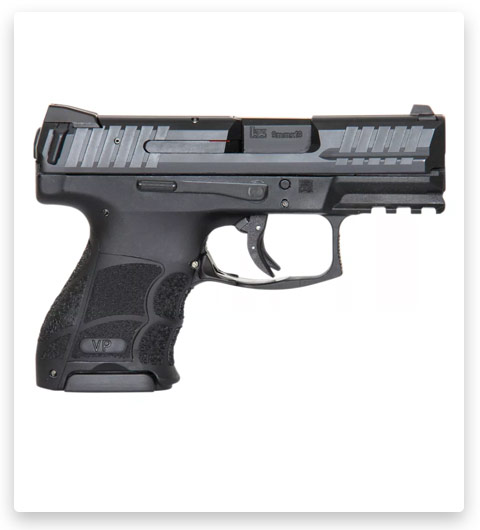 The semi-automatic pistol of this model is a reduced model of the standard VP pistol intended for concealed carry. The design uses an improved trigger, giving shooters an easy and quick recharge with a reliable single stop followed by a short positive reset. The trigger will allow shooters to unleash the full potential of the pistol's accuracy and significantly improve the control of the weapon during firing. The ergonomic frame made of high-quality polymer is equipped with three interchangeable straps on the back and 6 side panels that can be adjusted to any size of the shooter's palm. The beaver-tailed shank at the top and the clipped trigger encourages shooters to stay high and close to the bore centerline to minimize recoil on fast shots. The short Picatinny rail is intended for mounting tactical sights and flashlights. The machined steel carriage is completely protected from corrosion and wear, ensuring long-term durability in daily use. The bolt has aggressive front and rear teeth to aid in loading and cleaning the weapon.
11# Glock 30 SF Semi-Auto Pistol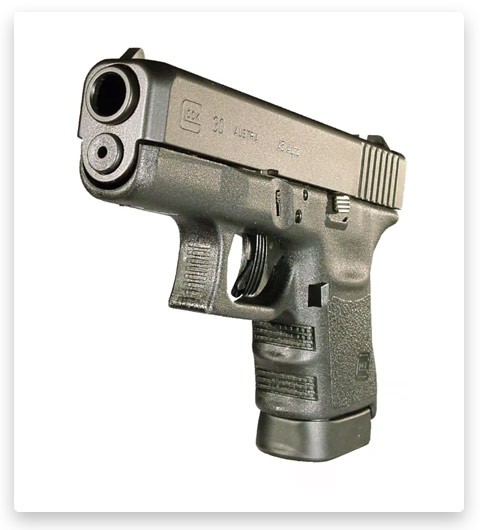 The latest semi-automatic pistol is designed specifically for concealed carry. It has a high-strength polymer frame, with a reduced circumference in the rear strap area, reducing the distance between the trigger and the backrest. Ideal for shooters with normal and smaller hands. The magazine and double stack 45 rounds guarantee a unique level of shooting performance. The frame has special notches on the front and rear straps for a non-slip surface, while finger notches on the front bar and finger rest on the front of the trigger guard help control fire. The trigger system makes shooting virtually error-free in any situation. Pre-cut steel breechblock and barrel treated with meta black finish for exceptional wear and corrosion resistance. Steel and polymer frame makes the gun completely immune to corrosion in all weather conditions and under all storage conditions.
12# Glock G45 Compact Semi-Auto Pistol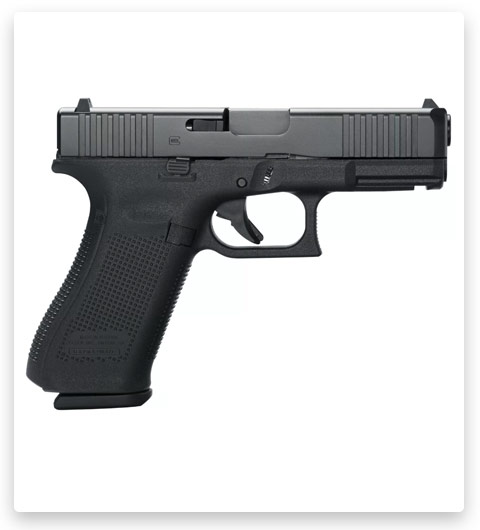 The Glock G45 semi-automatic pistol guarantees unique performance in any situation. The full handle makes it easy to take the weapon out of its holster and use it immediately. The short bolt makes it quicker to retrieve the pistol with a smaller bolt for easy and quick holster cleaning, and the reduced scope radius allows you to start firing faster in unexpected conditions. The shutter and major metal components are ion-bonded DLC for unique protection against corrosion and scratches on the body, as well as an improved ability to operate in extremely dry conditions such as the desert. The finger grooves have been completely removed for the shooter's comfort. The two-way slide stop lever and the two-way magazine fixator are suitable for both right-handers and left-handers. The barrel with polygonal grooves provides unique firing accuracy. The rough textured surface of the frame on the polymer frame provides a secure hold of the pistol in the hand for complete control over the weapon.
13# Beretta APX Semi-Auto Pistol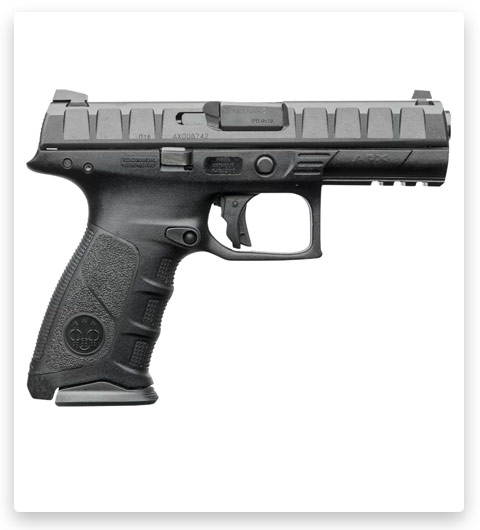 The latest semi-automatic pistol utilizes a unique trigger mechanism and outstanding ergonomics for close to medium-range precision shooting. A full-sized, highly functional weapon for law enforcement and military personnel that performs excellently even in the most extreme combat conditions. The polymer frame accommodates an internal serial chassis made of high-quality stainless steel, providing excellent modularity. Comes with three interchangeable straps for a comfortable grip in any palm size. The distance from the axis of the bore to the top of the grip is minimized to improve firing accuracy. A safety lever in the center of the trigger prevents unpredictable shots, and the trigger is equipped with an additional fall arrest safety device. This pistol model has a unique hammer-off button. The sight with three points in the shape of a dovetail guarantees the fastest possible aiming, and the built-in Picatinny rail provides the possibility of re-equipping the weapon with additional upgrades.
14# FN 509 Tactical Semi-Auto Pistol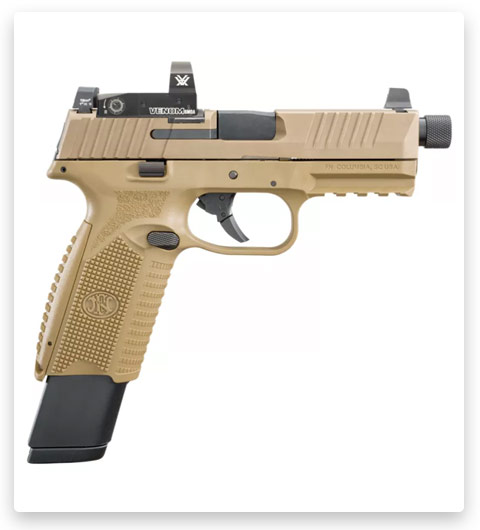 The FDE tactical semi-automatic pistol is the ideal choice for intelligence personnel and is the perfect weapon for use in virtually any combat environment. The Tactical Semi-Automatic Pistol is a modified result of a competition for the US Armed Forces. The tactical model includes significant improvements for tactical and personal protection. The patented FN Low Profile Optics Mounting System allows multiple optics to be mounted. The sliding cover is intended for use when shooting without optics and has a textured lip for installation. The grip has an improved texture scheme, guaranteeing full control of the weapon even within intense field conditions. The frame is fully adjustable to accommodate different sizes of shooters' palms.
15# FN FNX Tactical Semi-Auto Pistol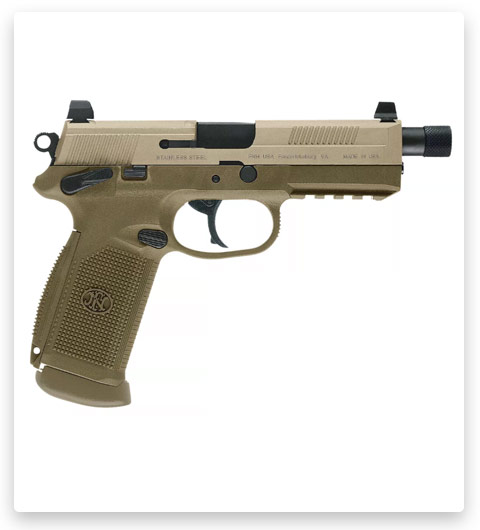 This model of tactical firearms provides high firing reliability. The high-quality polymer frame guarantees long-term successful use in all combat conditions. The stainless-steel barrel is manufactured using state-of-the-art cold forging, with a polished chamber and loading ramp for reliable feed and retrieval for cleaning. Raised 3-point night sights are standard and allow the use of sights to expand the functionality of this pistol model. The bolt is made of high-quality stainless steel with special notches to ensure reliable target locking and high accuracy at short and long ranges.
How to pick a proper pistol?💡
When selecting a tactical pistol for self-defense, it is important to consider the purpose of the firearm. Is this to be used primarily in close quarters or for concealed carry? Will it be used for home defense or competitive shooting? Depending on the intended use, there are several factors to consider when selecting the best pistol.
⭕ First, determine your budget. These pistols can range from a few hundred dollars to several thousand. It is important to decide how much you are willing to spend to find the best gun that fits your needs and budget.
⭕ Next, consider the size and weight of the pistol. A smaller handgun may be more comfortable for concealed carry while a larger one may provide more accuracy when shooting long distances. The weight of the weapon should also be taken into consideration; lighter guns will generally require less effort to handle and aim while heavier guns will provide more stability when aiming and firing.
⭕ It is also important to factor in ammunition capacity. High-capacity magazines allow shooters to hold more rounds and usually also require less reloading time than lower-capacity magazines do. Additionally, certain pistols are designed with specific features that accommodate different types of ammunition such as hollow point and subsonic rounds that are used for hunting.
⭕ Finally, another key factor is ergonomics or the comfort level of holding and firing it. Many handguns come with adjustable grips or accessories like interchangeable back straps that can help create an individualized feel depending on your hand size and grip preference.
⭕ Furthermore, some handguns come with additional features such as Picatinny rails which allow users to attach scopes, lights, laser sights, etc., making them better suited for certain tasks like competitive shooting or target practice at longer distances.
FAQ😎
Conclusion😉
Finding the best tactical pistol for your needs can be a daunting task but with our buyer's guide, you should have all the information necessary to make an informed decision. We reviewed some of the top pistols on the market today and provided useful tips to help narrow down your search. When it comes to purchasing firearms always remember safety first!🤠👍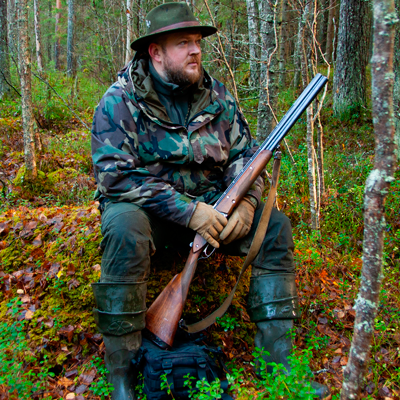 Max Endless
Weapon Expert & School Teacher
Hi, I'm Max. I'm a weapon expert and a teacher of English from Belarus. These two qualities allow me to share my opinions and observations about news from the gun world. I'm really into firearms and different weapons because I was learning about them since my childhood.
My life has taken me through different complications and exciting moments, so what I've learned is to always be ready to fight. My father is professional military personnel and he made me familiar with various weapons since my childhood. My first one was a bow, and then I started to have a fancy for this unbelievable world of firearms. My main specialization allows me to share my thoughts about different devices, guns, and gun details with the English-speaking community. In my articles, I talk about pistols, rifles, knives, shotguns, and many other tactical and survival things.
Read more
about our team
of expert authors.
Affiliate Disclosure: Rotorm.com sometimes gets paid for listings, through sponsors or affiliate programs like Amazon, Optics Planet, Lucky Gunner, Brownells, Cabelas, Rainier Arms, 5.11 Tactical, Bass Pro Shop, etс. Clicking a link helps keep Rotorm.com free, at no extra cost to you!
About the author: Each article on our site is written by experts in survival and tactical equipment, gun enthusiasts, extreme travelers, military, law enforcement and desperate professionals, read about the author at the bottom of the article or visit "About Us" page.
Note: The views and opinions expressed in this article are those of the authors and do not necessarily reflect the official policy or position of any agency.