What is the Best Mini Red Dot Sights?🔴
A mini red dot sight is a great addition to any gun. They're especially handy on pistols, where you might not have much space for iron sights. There are a lot of different variants out there, and it can be hard to figure out which one is the best for you.
In this blog post, we'll take a look at some of the best variants on the market and help you decide which one is right for you. We'll also discuss some of the pros and cons of each of them. So, whether you're looking for your first mini red dot sight or you're just looking to upgrade your current sight, read on!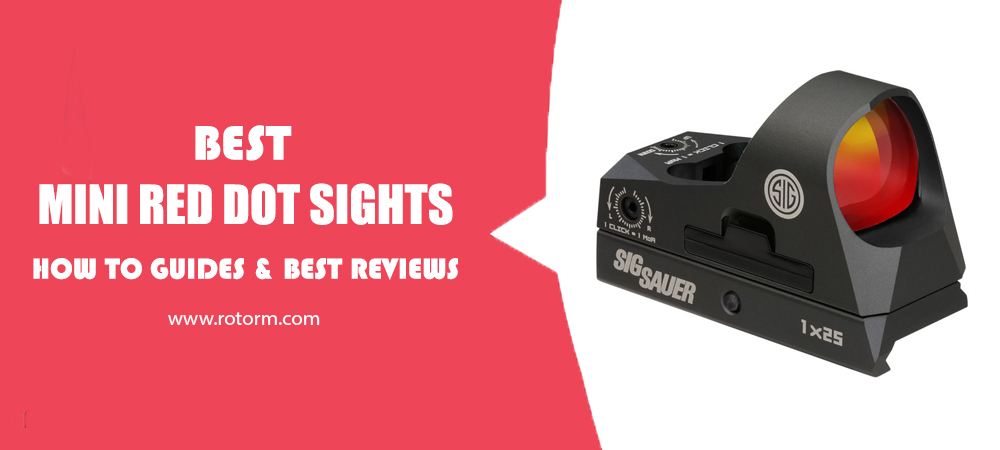 Benefits🔥
💁‍♂️Ease of Use: Mini Red Dot Sights (MRDS) is incredibly user-friendly. They allow the shooter to quickly acquire and focus on the target without the need to align front and rear sights.
⚡️Speed: The design of the MRDS allows the shooter to aim faster. This can be critical in high-stress situations, or in any instance where a quick response is needed.
🎯Improved Accuracy: It can enhance accuracy by offering a single point of focus. This is particularly beneficial at moderate ranges or when precise shooting is required.
🔫Versatility: They can be used on various types of firearms, from rifles and shotguns to handguns, making them a versatile choice for different shooting needs.
🌙Low Light Performance: It is visible even in low light conditions, allowing for more precise targeting when natural light is limited.
✨Lightweight and Compact: Due to their small size, they add minimal weight to the firearm, making them a good choice for those who prefer a lighter, more agile setup.
Our Top Pick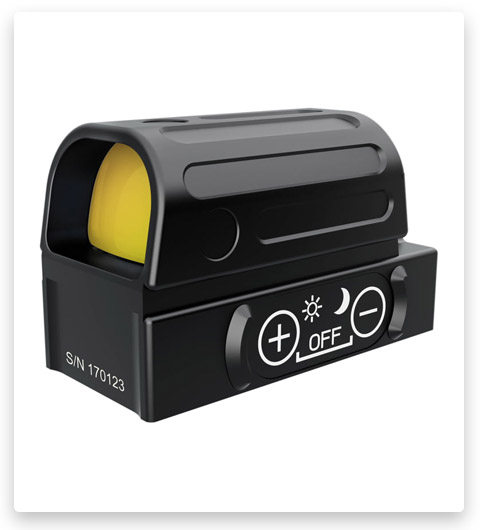 Meopta MeoRed T Mini Red Dot Sight
With its exceptional performance packed into a compact design, this sight truly stands out. Specifically engineered for personal defense weapons, it showcases a 3 MOA dot accompanied by 32 intensity levels, guaranteeing precise accuracy in every tactical scenario.
Buy Now On OpticsPlanet
If you click this link and make a purchase, we earn a commission at no additional cost to you.
Features😎
🔍Compact Size: As the name suggests, they are smaller than traditional sights, allowing for a less obstructed view and more space for other accessories on the firearm.
💡Illuminated Reticle: It contains an illuminated reticle, which allows for quick target acquisition, even in challenging lighting conditions.
🌓Variable Brightness Settings: Most of them have adjustable brightness settings, allowing the user to adapt the illumination of the reticle to different lighting environments.
👁️‍🗨️Unlimited Eye Relief: Unlike traditional scopes, MRDS offers unlimited eye relief, meaning the shooter can aim and get a clear sight picture from any distance behind the sight.
🔁Co-Witness Capability: Many of them can co-witness with iron sights, allowing for a backup sighting system in case of electronic failure.
🔋Battery Life: Modern MRDS often come with extended battery life, with some models lasting up to several years on a single battery.
🛡️Rugged Design: They are often designed to be shock-resistant, water-resistant, or even waterproof, making them suitable for various shooting conditions.
🔫Easy Mounting System: Most of them have an easy-to-use mounting system, making them simple to attach to a variety of firearms.
Our Top Pick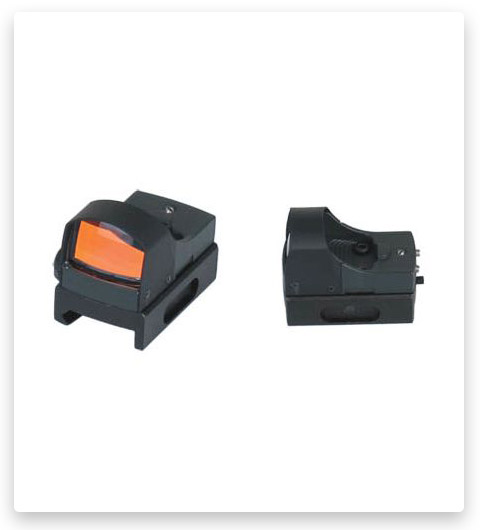 Tuff Zone Mini Red Dot Sight
Boasting a stylish and resilient black exterior, this product is designed for long-lasting performance. Meticulously crafted with premium optics and sturdy casing materials, it provides dependable service for years to come, all at an affordable price point.
Buy Now On OpticsPlanet
If you click this link and make a purchase, we earn a commission at no additional cost to you.
Why Red Dots on Little Guns Make Sense?✍️
"Red dots on little guns" refers to the practice of mounting RDS on compact or subcompact firearms, typically handguns. Here are a few reasons why this practice makes sense:
🔍Improved Accuracy: It provides a single point of focus, which can enhance the shooter's accuracy compared to traditional iron sights. This advantage can be particularly noticeable with compact firearms, which often have shorter sight radiuses that can be challenging for some shooters.
🎯Quick Target Acquisition: They can allow faster target acquisition, especially in dynamic or high-stress situations. This speed can be essential for defensive use, which is a common role for compact handguns.
👴Aging Eyes: As people age, their near vision can deteriorate, a condition known as presbyopia. This can make it difficult to focus on the front sight of a handgun, a key aspect of accurate shooting. RDS allows the shooter to focus on the target, which can be easier and more natural for those with aging eyes.
🌙Low Light Use: They are easier to see in low light conditions than iron sights, which can be beneficial for home defense scenarios that often occur in less-than-ideal lighting.
🔧Training Tool: It can also serve as a valuable training tool. The dot moves when the shooter's hands shake, helping to highlight issues with grip stability or trigger control.
Remember, while RDS offer several advantages, they also have their limitations. They can fail or run out of battery, they might not fit all holsters, and they require training to use effectively. As with all equipment choices, it's important to balance the advantages against the potential disadvantages based on your specific needs and circumstances.
Best 🚀 Mini Red Dot Sights Reviews
#1 Shield Sights Compact Reflex Mini Red Dot Sight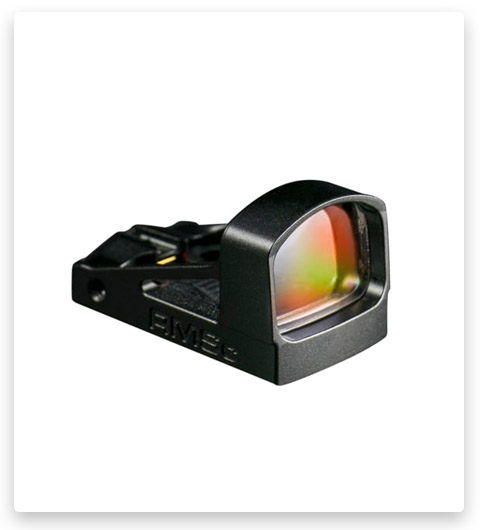 Introducing the Shield Sights RMSc, the latest pistol reflex mini red dot sight from Shield Sights. It is designed to fit on single-stack pistols such as the Glock43, Smith & Wesson shield, and 1911.
It features a clear polymer optic that can withstand up to ten times greater shock impact than products using glass optics. The sight body is made from aerospace-grade aluminum with an anodized matte black finish for superior durability and stealth. It provides fast target acquisition and Parallax free accuracy in a sleek, low-profile design.
#2 Swampfox Liberator II Mini Red Dot Sight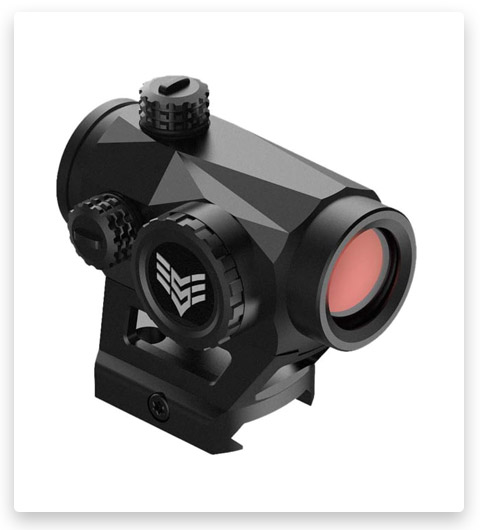 It is the perfect choice for shooters who demand the best. This upgraded version of the original Liberator features new emitters with greatly improved battery life and a Shake N Wake motion sensing auto on/off. The first two brightness settings are night-vision compatible, while the remaining 8 settings are daylight visible.
It comes with two 1913 MIL-STD Picatinny mounts for use on a variety of platforms, and the scope body is also compatible with industry-standard microdot mounts. No matter what your shooting needs are, it is sure to exceed your expectations.
#3 Swampfox Optics Liberator Mini Red Dot Sight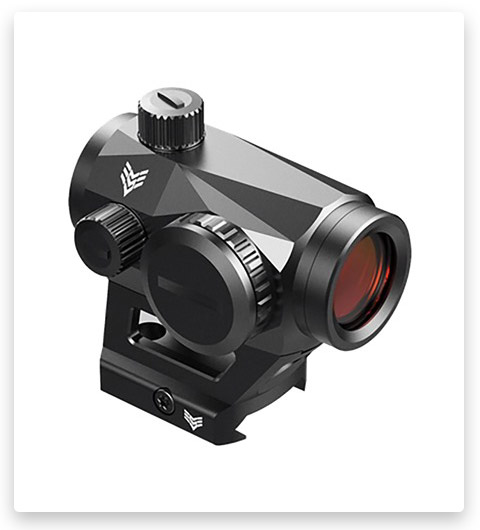 It is perfect for anyone looking for a lightweight and accurate sight. This mini red dot sight is optimized for lightning-fast sight picture acquisition and is perfect for use with both eyes open.
The hydrophobic and anti-scratch lens coatings make this sight tough and resistant to damage, while the included absolute co-witness mount ensures compatibility with AR-15s. Choose from 3 MOA variants, red circle dots, or green circle dot reticles to best suit your needs.
#4 Shield Sights Reflex Mini Red Dot Sight 2.0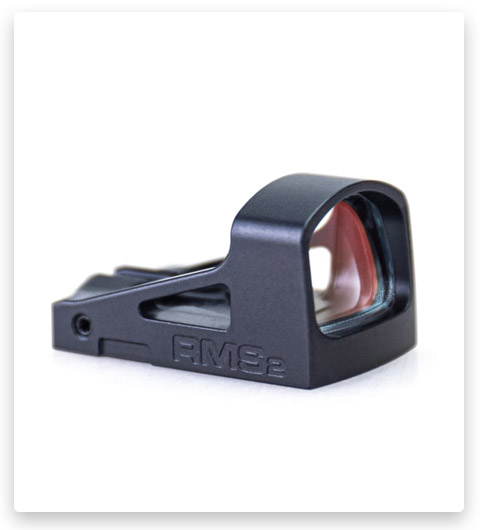 Experience unparalleled accuracy with the 8 MOA Dot Reticle, allowing for quick target acquisition and enhanced shooting speed. The RMS2-8MOA Polymer Lens ensures a crystal-clear sight picture, eliminating any distractions and providing optimum focus.
One of the standout features is its auto-brightness adjustment. Say goodbye to manual adjustments and let it adapt to your environment effortlessly. Whether you're in bright daylight or low-light conditions, it has got you covered.
Built to last, it boasts a long-lasting battery life of 2 to 3 years on average, ensuring you won't be caught off guard during critical moments. Plus, with its durable construction and solid build, it will withstand the test of time.
Not only does it excel in performance, but it also offers easy installation and compatibility with a wide range of handguns. It even eliminates the need for re-zeroing on most models, saving you valuable time and effort.
#5 Shield Sights Compact Shield Mini Red Dot Sight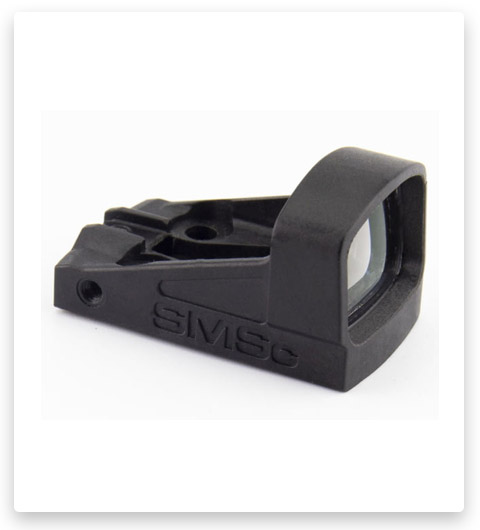 If you're looking for a tough and compact variant that's built for everyday carry and single-stack pistols, then it has the perfect option for you in the form of the Compact Shield Mini Red Dot Sight. This updated classic features improved strengthened polymer construction that's even tougher than the original SMS, making it more than up to the task of withstanding whatever you throw at it.
Additionally, its iconic design still allows shooters to co-witness with standard iron sights thanks to its low profile and unobtrusive design with a rear iron sight notch. Ultimately, this sight is all about helping you become a better shooter by eliminating distractions and providing you with one clear point of focus.
#6 Shield Sights Shield Mini Red Dot Sight 2.0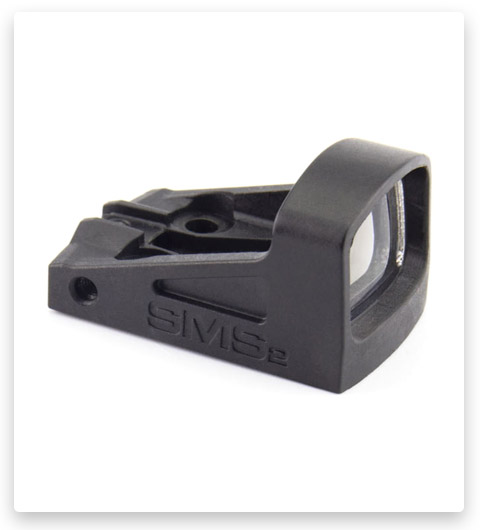 Featuring a sleek and minimalist design, the Shield Mini 2.0 is built to eliminate distractions and provide a clear line of sight. Its durable nylon glass-filled polymer case is engineered to withstand the toughest conditions, ensuring long-lasting reliability. The quartz coating on the lens offers exceptional protection against breaks, scratches, and cracks, guaranteeing crystal-clear visibility in any situation.
One of the standout features is its versatility. With multiple brightness settings, you have full control over the dot intensity, allowing you to customize it to your preference. Whether you're using it in low-light conditions or bright sunny days, it delivers exceptional visibility. It even works seamlessly with night vision goggles at the lowest setting.
It is designed for easy installation, fitting existing RMS/SMS mounts, and a wide range of other mounting systems. No need for additional adapters or modifications. Simply mount it and experience a whole new level of precision.
#7 Sig Sauer Romeo 3 Mini Reflex Sight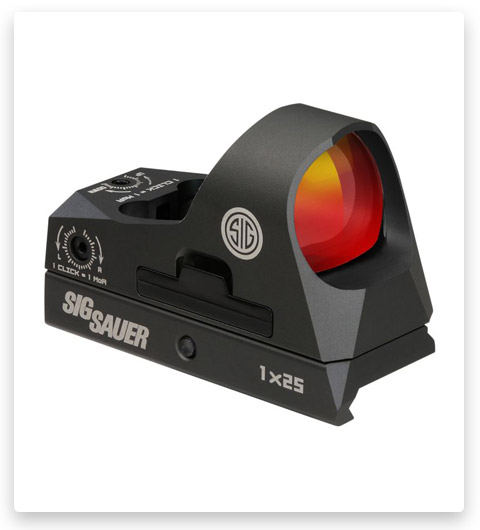 The compact design ensures easy and low-profile mounting, allowing you to maintain a consistent zero shot after shot. Crafted from aircraft-grade aluminum, this sight is not only lightweight but also incredibly durable, ensuring it can withstand the rigors of your shooting activities.
One standout feature is the MOTAC (Motion Activated Illumination) technology. This innovative feature senses motion and automatically powers up the illumination, conserving battery life when the sight is not in use. With 10 brightness settings, including two-night vision options, you'll always have the perfect reticle visibility, regardless of lighting conditions.
The clear, crisp optics of this sight are further enhanced by the Spectracoat lens coatings. These coatings reduce surface reflections, providing superior light transmission for ultra-clear images during the day and night.
Installing and operating it is a breeze. The side-loading battery allows for easy replacement without removing it from your firearm. Plus, with an IPX-7 waterproof rating and fog-proof construction, it can handle any weather conditions you encounter.
#8 SightMark Mini Shot M-Spec M3 Solar Reflex Red Dot Sight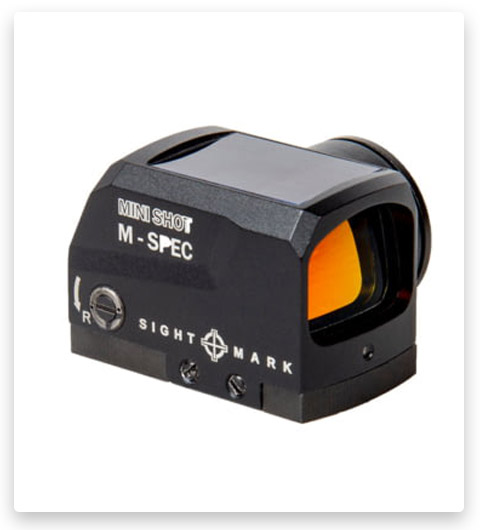 This dynamic combination of engineering, durability, and industry-informed efficiency is ideal for short- to medium-range engagements. It uses a 3 MOA reticle and a red-illuminated laser to acquire targets with speed and precision.
With its solar panel, automatic brightness adjustment, and extra-long 20,000+ battery life, this is the most convenient, long-lasting, and practical reflex sight in the shooting industry today. It mounts on Weaver and Picatinny rails, fits pistols with the RMS-C Footprint, and comes with a 2-year warranty.
#9 Sightmark Element Mini Solar Red Dot Sight
With up to 200,000 hours of battery life from a single CR203 battery, and the ability to run off top-mounted solar cells, its 3-MOA red dot reticle stays on in virtually any environment.
When tactical situations get intense, don't fumble with buttons to adjust brightness. It features an innovative Eclipse Light Management System that automatically adjusts to changing light conditions for optimum brightness and clarity.
#10 Sightmark Mini Shot A-Spec M3 Red Dot Sight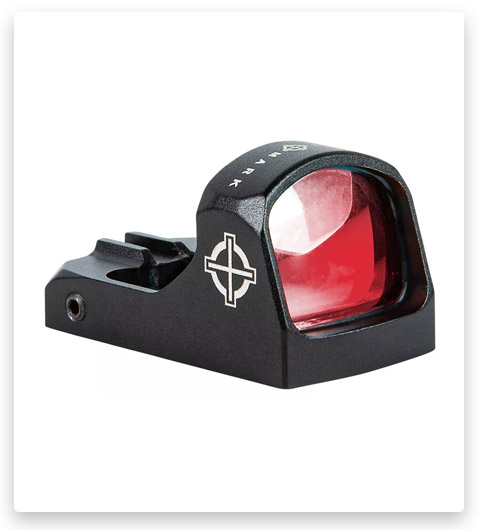 Featuring an illuminated 3 MOA red dot reticle with 10 brightness settings, it ensures optimal visibility in any lighting condition, be it day or night. Say goodbye to missed shots and hello to unbeatable reliability.
Crafted from lightweight aluminum alloy, it is built to withstand even the most powerful recoil, rated up to .375 H&H Mag. Its stability and durability make it a trustworthy ally on the field.
With 1 MOA windage and elevation adjustments, offering up to 120 MOA of travel, you can quickly zero in on your target and maintain your aim with ease. The Interlock internal locking adjustment system keeps your settings secure, ensuring consistent performance.
But that's not all! It also boasts an impressive 100,000-hour battery life, ensuring it stays operational when you need it the most. The low battery indicator and digital switch controls offer convenient usage, while the 1-hour auto shut-off feature helps preserve battery life.
Mounting this reflex sight is a breeze, thanks to its quick-detach picatinny mount. Plus, with Sightmark's legendary lifetime warranty, you can have peace of mind knowing your investment is protected.
#11 Matrix 1x Micro Reflex Compact Mini Red Dot Sights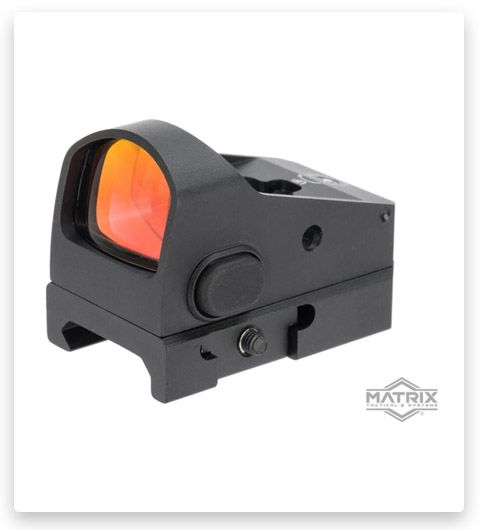 Crafted with an aluminum alloy housing and a coated anti-glare lens, it ensures durability and clear vision in any lighting condition. Its six brightness settings allow you to adapt to various environments effortlessly, while the soft touch button provides quick access to mode adjustments and power control.
But what truly sets it apart is its versatility. Designed to fit all popular 20mm accessory rails, it seamlessly integrates with your firearm, enhancing your shooting experience like never before. Whether you're a professional shooter, avid hunter, or recreational enthusiast, it will revolutionize your aiming capabilities.
Forget about the limitations of traditional sights. With it, you'll enjoy rapid target acquisition and improved accuracy, giving you the edge in any shooting scenario. Its 1X magnification and red illumination color ensures a crisp and clear sight picture, allowing you to confidently hit your target with precision.
#12 Meopta MeoRed T Mini Red Dot Sight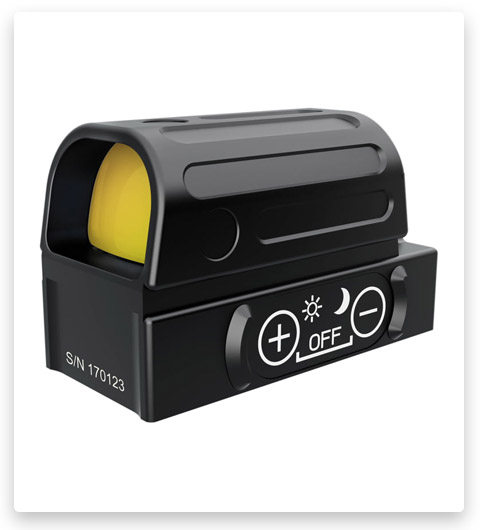 What sets it apart is its ability to deliver outstanding results in a small package. Designed for personal defense weapons, this sight boasts a 3 MOA dot with 32 levels of intensity, ensuring pinpoint accuracy in any tactical situation. Whether you need to enhance your night vision capabilities or magnify your view, it is compatible with night vision and magnification devices, providing you with versatility like never before.
Crafted with durability in mind, it is both waterproof and shockproof, making it reliable even in the harshest conditions. You can trust this sight to perform flawlessly when you need it the most.
Operating on two CR 1632 batteries, this sight offers extended battery life of up to 500 hours, so you can focus on the task at hand without worrying about power. Additionally, the sleek black matte finish and lightweight aluminum construction add a touch of elegance to your weapon.
#13 XTS Tactical Mini 1 x Red Dot Sight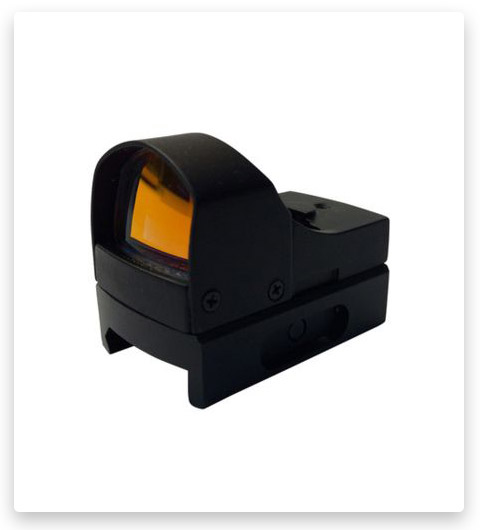 With its 2 MOA illuminated red dot reticle, this sight provides precise aiming capabilities, allowing you to quickly acquire and engage your targets with accuracy.
It is engineered to excel in any shooting scenario. Its compact and lightweight design makes it easy to mount on your firearm without adding unnecessary bulk. Whether you're engaging in tactical operations, participating in competitive shooting, or enjoying a day at the range, it delivers optimal performance.
One of the standout features is its exceptional durability. Built to withstand the rigors of intense shooting sessions, it is shock-resistant and fog-resistant, ensuring reliable performance in various weather conditions. You can trust that this sight will withstand the demands of your shooting activities
#14 Tuff Zone Mini Red Dot Sight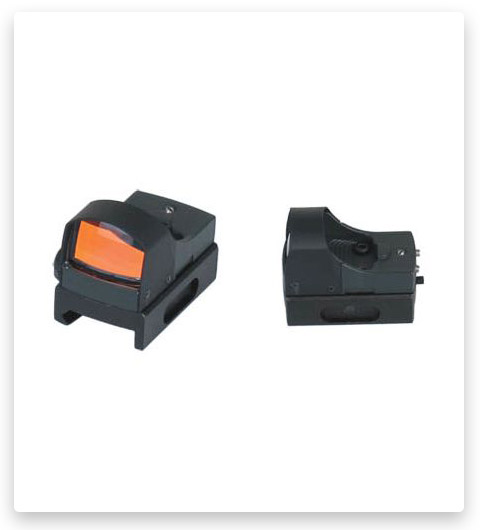 Featuring a sleek and durable black design, it is built to last. Crafted with top-quality optics and robust casing materials, it ensures years of reliable service without breaking the bank.
Thanks to its adjustable windage and elevation settings, you can effortlessly zero in on your target and make precise adjustments on the fly. Its integral Weaver rail allows for easy mounting on both handguns and rifles, giving you the flexibility to use it across various firearms.
What sets it apart is its rapid target acquisition capability. Say goodbye to wasted seconds trying to align your sights. It allows you to acquire targets swiftly and reacquire them immediately after each shot, enabling you to maintain your focus and improve your shooting speed.
At a mere 1.75 inches in length, 1 inch in width, and 1.4 inches in height, this compact and lightweight sight won't weigh you down during extended shooting sessions. Its 2 MOA dot reticle illuminated in red provides a crisp and clear aiming point, ensuring your shots are on target every time.
How To Sight In Your Pistol Red Dot🔴
Sighting in, or zeroing your pistol red dot sight is a critical step to ensure accurate shooting. Here is a general step-by-step process on how to do it:
🔵Mount Your Red Dot Sight: Make sure it is properly mounted to your pistol. The site should be securely fastened according to the manufacturer's instructions to ensure it doesn't move or shift during shooting.
🔵Understand Your Dot's MOA: The dot in your sight will be rated in Minutes of Angle (MOA), which will dictate how much of the target the dot covers at a certain distance. A smaller MOA dot provides a finer point of aim, while a larger dot will cover more area but allow for quicker target acquisition.
🔵Start at Close Range: Start at a close distance, typically 10 yards (or meters, depending on your preference). This allows for easier adjustments and reduces the chances of missing the target entirely.
🔵Fire a Group: Aim at the center of your target and fire a group of shots (typically 3-5). Remember to maintain a consistent and firm grip, and follow through with each shot.
🔵Check Your Group: Look at where your shots landed. The goal isn't to hit the bullseye with these first shots but to see where your shots are grouping relative to where you aimed.
🔵Make Adjustments: Based on your grouping, make the necessary adjustments to the sight. Most red dot sights adjust in MOA. If your shots are to the left, adjust your sight to the right. If they're low, adjust the sight up.
🔵Repeat the Process: After making your adjustments, fire another group of shots. Check your grouping again and continue making adjustments as needed. Repeat this process until your shots are hitting where you're aiming.
🔵Confirm at Longer Distance: Once you're zeroed in at a closer distance, confirm your zero at a longer distance (like 25 yards). This can help ensure it is accurate for a variety of shooting situations.
Remember to maintain the same sight picture and consistent shooting fundamentals throughout this process. Also, remember that different ammunition can impact where your bullets hit, so it's best to zero your sight with the same ammunition you plan to use regularly.
Lastly, always follow all safety rules when handling firearms and shooting, including using hearing and eye protection.
FAQ📚
Conclusion😎
Best Mini Red Dot Sights can be a great addition to your firearms. They are perfect for close-quarters combat and allow you to quickly acquire your target. In this article, we've reviewed some of the best variants on the market and given you some tips on how to choose the right one for your needs. We hope you found this information helpful and that it will help you make an informed decision when purchasing a mini red dot sight for yourself or someone else.
Affiliate Disclosure: Rotorm.com sometimes gets paid for listings, through sponsors or affiliate programs like Amazon, Optics Planet, Lucky Gunner, Brownells, Cabelas, Rainier Arms, 5.11 Tactical, Bass Pro Shop, etс. Clicking a link helps keep Rotorm.com free, at no extra cost to you!
About the author: Each article on our site is written by experts in survival and tactical equipment, gun enthusiasts, extreme travelers, military, law enforcement and desperate professionals, read about the author at the bottom of the article or visit "About Us" page.
Note: The views and opinions expressed in this article are those of the authors and do not necessarily reflect the official policy or position of any agency.