What is 50 Action Express ammo?🧐
It is a large-caliber handgun cartridge developed in the late 1980s by Evan Whildin of Action Arms. It was designed to offer a powerful round suitable for semi-automatic pistols, to create a cartridge that would replicate the performance of the .44 Magnum revolver cartridge in a semi-automatic pistol platform.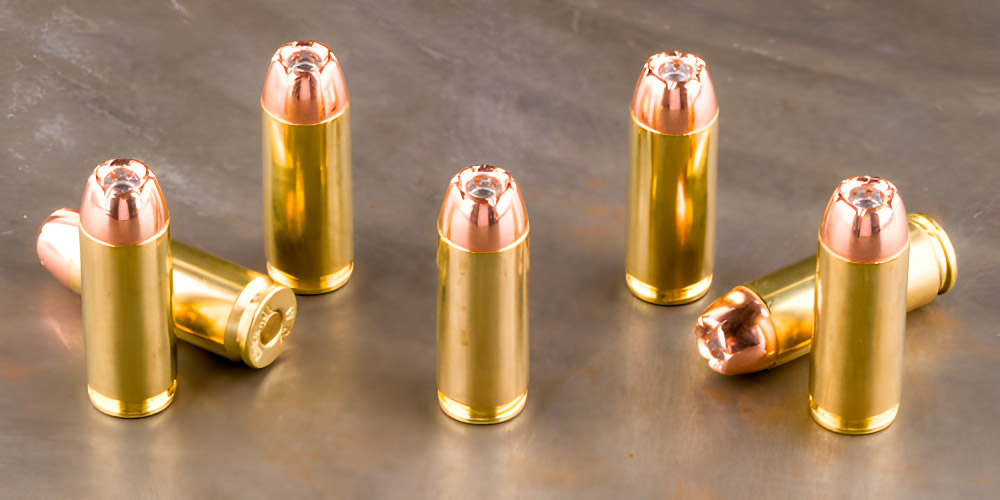 Features📚
The .50 Action Express (AE) cartridge has several notable features:
✅ Power and Performance: The cartridge is known for its impressive stopping power and energy. It was designed to offer performance comparable to the .44 Magnum revolver cartridge but in a semi-automatic pistol.
✅ Rim Design: It features a rimless case design with a rebated rim. This design allows the cartridge to be used in semi-automatic pistols designed for the .45 ACP cartridge without requiring extensive modifications to the pistol's design.
✅ Variety of Bullet Types: Like other handgun calibers, this ammunition is available in various bullet types, including a full metal jacket (FMJ), hollow point (HP), and other specialized loads. This variety allows shooters to choose ammunition suitable for different purposes, such as target shooting, self-defense, or hunting.
✅ Recoil and Handling: Due to its substantial power, it generates significant recoil. Shooters using firearms chambered in .50 AE should be prepared to manage the recoil effectively.
Our Top Pick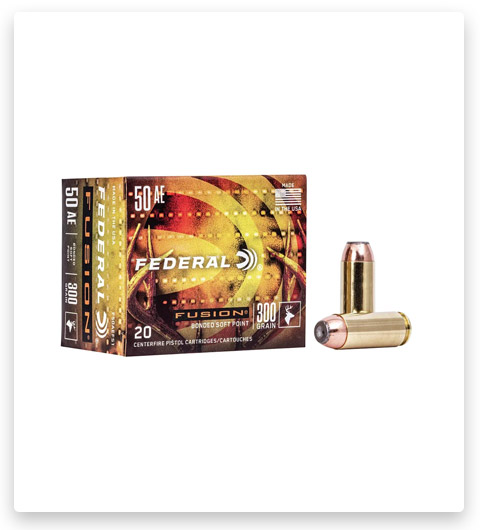 Fusion SP – 50 Action Express – 300 Grain – 20 Rounds
Putting handgun hunting loads to the test, Fusion Handgun goes beyond the ordinary. It inherits the same bullet construction found in its rifle counterparts, infusing ruggedness, precision, and stopping power for those of us who prefer shorter barrels. The bullet's weight and velocity are meticulously fine-tuned, striking the delicate balance of being effective against deer while remaining manageable for the shooter. The core receives a protective copper jacket, a result of a meticulous electro-chemical application process. This jacket is flawlessly consistent, ensuring reliability shot after shot. The thoughtfully designed, pre-programmed nose initiates reliable expansion upon impact, promoting consistent performance.
Buy Now On OpticsPlanet
If you click this link and make a purchase, we earn a commission at no additional cost to you.
Benefits😎
The .50 Action Express (AE) cartridge offers several benefits that make it a unique and attractive choice for certain applications:
🔥 It is versatile in its applications. It can be used for self-defense, where its stopping power can help neutralize threats effectively. Additionally, it's suitable for hunting medium to large game at relatively short to moderate ranges.
🔥 For hunters, this ammo can be a viable option for taking down larger game, such as deer or wild boar, at close to moderate distances. Its energy and bullet weight makes it capable of delivering effective shots.
🔥 Enthusiasts who hand load their ammunition can experiment with different bullet types, weights, and powder charges to tailor the performance of the .50 AE to their specific needs. This level of customization can result in optimized accuracy and effectiveness.
🔥 This cartridge can provide an added level of confidence in self-defense scenarios, where its ability to deliver substantial energy to a target can potentially deter or stop an attacker more effectively than smaller calibers.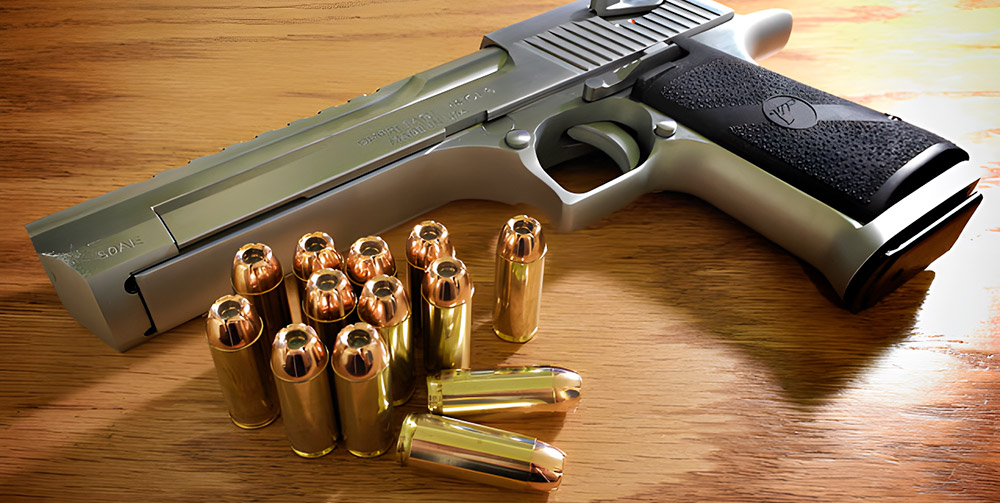 Ballistics📝
The ballistics performance of the .50 Action Express (AE) cartridge can vary depending on factors such as bullet weight, barrel length, and specific load used. Here are some general ballistics characteristics:
🔰 Bullet Weight: Ranges from around 300 grains (19.4 grams) to 350 grains (22.7 grams) or more.
🔰 Muzzle Velocity: It typically ranges from about 1,200 feet per second (fps) to 1,500 fps, with variations based on the specific load and firearm used.
🔰 Muzzle Energy: This is a measure of the bullet's kinetic energy at the moment of firing, ranging from approximately 1,200 foot-pounds (ft-lbs) to over 1,500 ft-lbs, depending on the load.
🔰 Effective Range: This is accurate shooting and terminal performance is generally considered to be around 50 to 100 yards (45 to 91 meters) for self-defense and hunting purposes.
🔰 Trajectory: This will depend on the specific load and firearm, but due to the cartridge's power, it will have a relatively flat trajectory at short ranges.
🔰 Penetration and Expansion: This cartridge is capable of deep penetration and substantial expansion upon impact, making it effective for self-defense and hunting large game.
🔰 Recoil: Due to its powerful nature, it generates significant recoil. Shooters should be prepared to manage this recoil when firing handguns chambered in .50 AE.
📌 It's important to remember that specific ballistics data can vary between different ammunition manufacturers, bullet designs, and firearm platforms.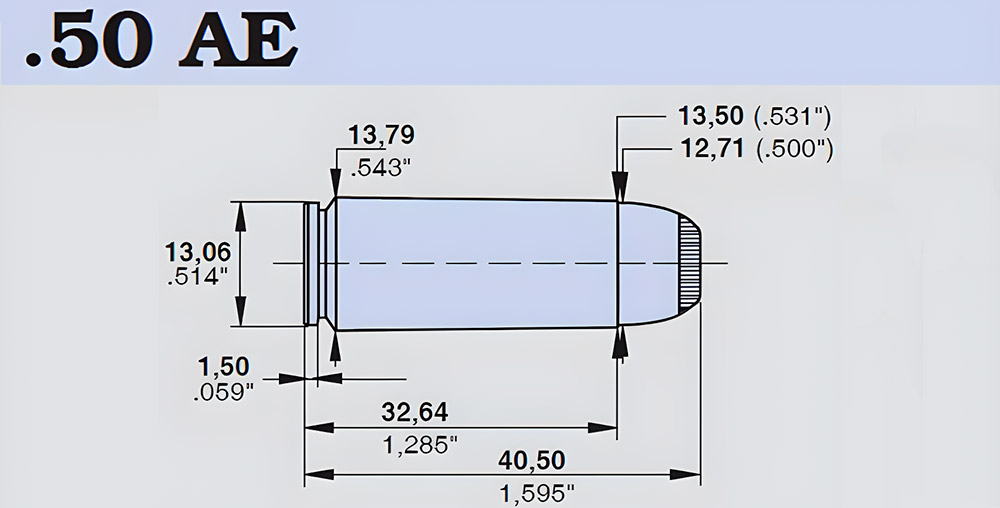 Best 50 Action Express Ammo Reviews
1# XTP JHP – Hornady Custom – 50 Action Express – 300 Grain – 20 Rounds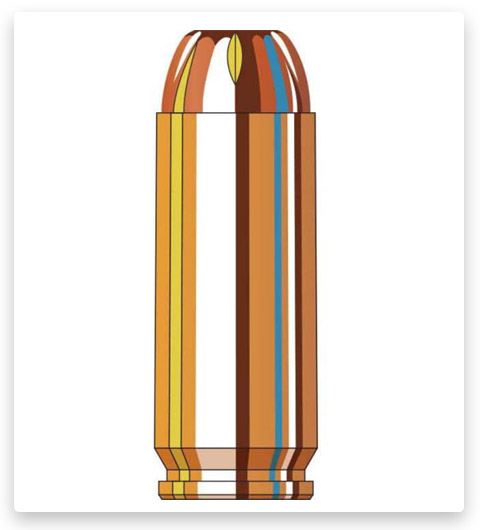 View on LuckyGunner  View on OpticsPlanet
Elevate your shooting sessions with a taste of excellence – give this ammunition a shot. These bullets embody the art of engineering, each designed to fulfill a specific purpose with finesse and precision. Crafted with care, Hornady takes the lead in producing the brass that forms the backbone of Hornady Custom pistol ammo. Harmonizing the symphony of each cartridge are the matched powders and primers. Precision is the watchword, as powders are meticulously calibrated to guarantee optimal pressure, velocity, and consistency across various batches. As our tests have shown every primer is handpicked to harmonize seamlessly with individual loads, igniting the powder charge promptly, completely, and without fail. In a world where performance matters, the XTP JHP – Hornady Custom – 50 Action Express – 300 Grain – 20 Rounds stands as a testament to dedication, heritage, and quality. It's more than just ammunition; it's the embodiment of a legacy in your hands.
2# Fusion SP – 50 Action Express – 300 Grain – 20 Rounds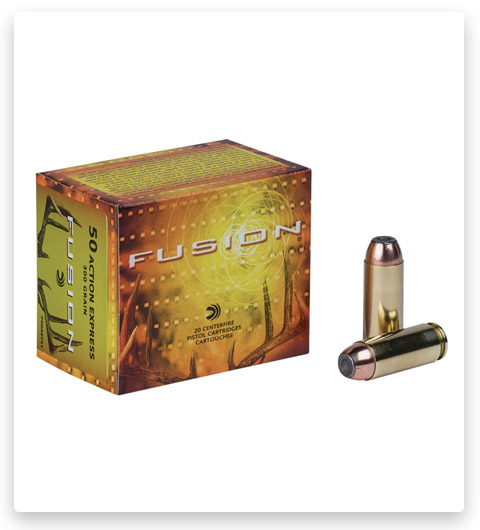 Experience a new level of performance in your handgun hunting endeavors with this ammunition. Embrace the confidence that comes from a bullet meticulously crafted through the electrochemical application of a copper jacket to its core. This precision process ensures a flawlessly uniform jacket, setting the stage for unparalleled consistency in performance. Picture this: a skived, pre-programmed nose that takes expansion to a whole new level. Our findings show that each shot promises reliable and controlled expansion, providing the stopping power you need without compromise. But it doesn't stop there – Fusion SP – 50 Action Express – 300 Grain – 20 Rounds is designed to maximize weight retention, ensuring each bullet delves deep for the ultimate penetration. Expect precision, reliability, and performance that redefine your expectations. Step into the world of Fusion Handgun and elevate your hunting game.
How to reload it?💥
Reloading .50 Action Express (AE) ammunition can be a rewarding and cost-effective way to shoot this powerful cartridge. Here's a general overview of the reloading process:
📢 Gather Equipment and Components:
✔️ Reloading Press: A sturdy reloading press is essential for assembling cartridges.
✔️ Dies: Obtain a set of reloading dies specifically designed for .50 AE.
✔️ Brass Cases: Collect once-fired .50 AE brass cases. Ensure they are in good condition and have been properly inspected.
✔️ Primers: Choose appropriate primers for your load. Consult reloading manuals for recommendations.
✔️ Powder: Select suitable powder types and quantities based on reloading data.
✔️ Bullets: Choose bullets of the desired weight and type for your application.
📢 Reloading step-by-step:
➡️ Clean and Inspect Brass: Before reloading, clean and inspect the brass cases to ensure they are free of debris and defects.
➡️ Resize and Deprime: Use the resizing die to reshape the brass to its original dimensions, then de-prime the cases by removing the spent primers.
➡️ Primer Seating: Insert new primers into the primer pockets using a priming tool.
➡️ Powder Charging: Follow the recommended powder charges listed in reputable reloading manuals. Use a powder scale to measure precise charges.
➡️ Bullet Seating: Seat the chosen bullet into the case mouth using the seating die. Pay attention to the desired overall cartridge length.
➡️ Crimping (Optional): Depending on your application, you may choose to apply a slight crimp to secure the bullet in place. This step is especially important for semi-automatic pistols.
➡️ Inspection: Carefully inspect each reloaded cartridge for defects, proper alignment, and overall quality.
➡️ Testing and Quality Control: Start with conservative powder charges and gradually work up to more powerful loads while observing safety guidelines and monitoring for pressure signs. Test your reloaded ammunition for accuracy, reliability, and function in your firearm.
➡️ Record Keeping: Keep detailed records of your reloading components, charges, and results. This information is crucial for consistency and safety.
📢 Important Safety Considerations:
⭕ Always follow established reloading practices and guidelines from reputable sources.
⭕ Start with conservative loads and work up gradually, watching for pressure signs.
⭕ Wear appropriate safety gear, including eye protection.
⭕ Use a reliable reloading manual for reference and adhere to the recommended load data.
⭕ Double-check your work and measurements at every stage of the reloading process.
📝 If you are new to reloading, consider seeking guidance from experienced reloaders or attending reloading classes to ensure safe and successful reloading practices.
FAQ🤩
Conclusion😉
To conclude, the .50 AE ammo stands out as a remarkable choice for those seeking substantial stopping power and penetrative capabilities in a handgun cartridge. Its .500-inch bullet diameter, combined with suitable firearm options such as the Desert Eagle, makes it a viable option for hunting large game or for self-defense scenarios. We gave you some information about the best ammo available and how to reload it. Hope it was useful for you, thanks for reading!🤠👍
Affiliate Disclosure: Rotorm.com sometimes gets paid for listings, through sponsors or affiliate programs like Amazon, Optics Planet, Lucky Gunner, Brownells, Cabelas, Rainier Arms, 5.11 Tactical, Bass Pro Shop, etс. Clicking a link helps keep Rotorm.com free, at no extra cost to you!
About the author: Each article on our site is written by experts in survival and tactical equipment, gun enthusiasts, extreme travelers, military, law enforcement and desperate professionals, read about the author at the bottom of the article or visit "About Us" page.
Note: The views and opinions expressed in this article are those of the authors and do not necessarily reflect the official policy or position of any agency.