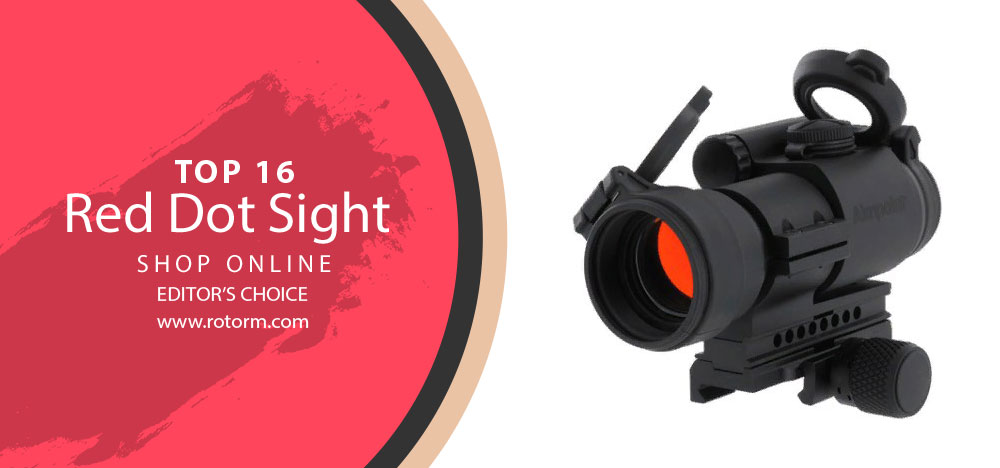 What is red dot sight?🤔
It is a type of weapon sight that uses an illuminated red dot to provide the shooter with an aiming reference when firing guns. Unlike traditional scopes, which magnify the target, RDSs use a reflected light beam from a LED or laser diode to produce a visible aiming point.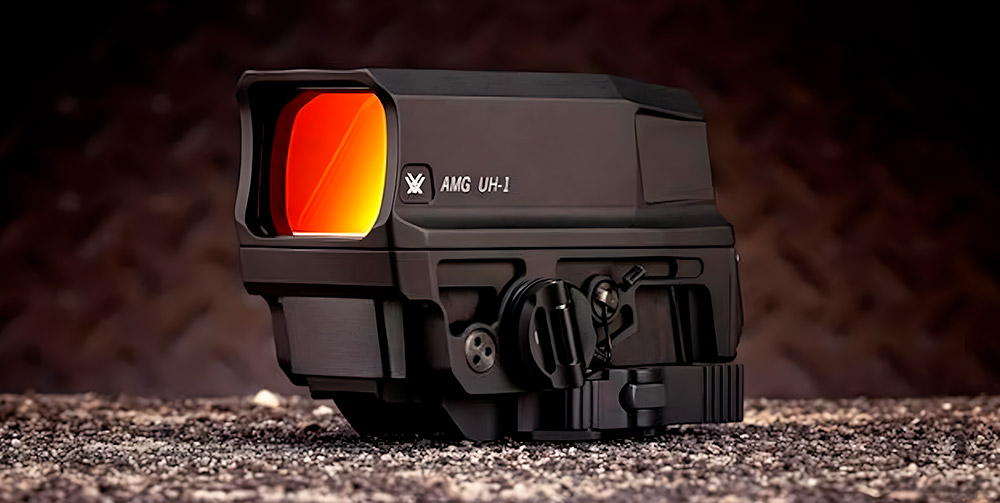 Features💡
Modern red dot sights are highly versatile and offer a range of features that make them suitable for a variety of shooting activities. Here is an overview of some of the features:
✅ Magnification: Many models come with a range of magnifications, from 1x to 4x. Higher magnification offers a clearer image at greater distances and is ideal for long-range shooting.
✅ Reticles: They have adjustable reticles with different shapes and sizes. This allows the shooter to customize their sight according to their preferences, such as selecting reticles that are easier to see in low-light conditions.
✅ Illumination: Most modern sights are illuminated, either by LED or fiber optics. The brightness of the illumination can be adjusted depending on lighting conditions and visibility needs.
✅ Durability: Such sights must be able to withstand recoil and other impacts associated with shooting activities. Look for models that are waterproof and fog proof, as well as made from strong, lightweight materials such as aluminum, titanium, or polymer.
✅ Battery life: Most of them use a battery to power the illumination. Pay attention to the battery life of each model you consider; some offer long-lasting batteries while others need regular replacement.
Our Top Pick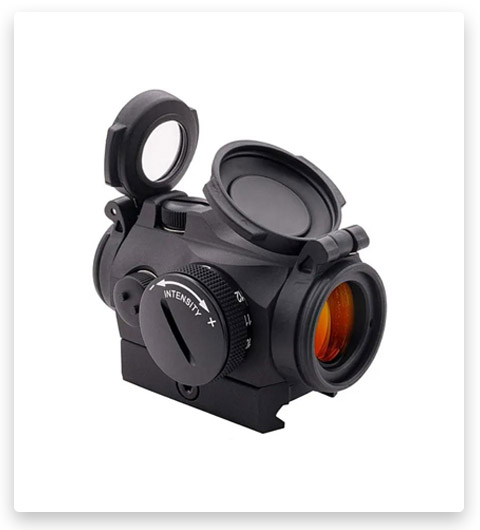 Aimpoint Micro T-2 2 MOA Red Dot Reflex Sight
This red dot is incredibly versatile, as it can be easily mounted on a wide range of individual weapon platforms. It comes equipped with an integrated mount designed for Picatinny and Weaver rails. Additionally, this reflex sight is fully compatible with all generations of night vision devices, further expanding its functionality. Crafted to endure the rigors of battle, it retains exceptional ruggedness while maintaining user-friendly operation. This model is engineered to excel even in the most extreme conditions, making it the go-to choice for professionals who demand uncompromising performance and reliability.
Buy Now On OpticsPlanet
If you click this link and make a purchase, we earn a commission at no additional cost to you.
Benefits🔥
Red dot sights are immensely popular among gun enthusiasts due to their versatility and ease of use. The primary benefits of using include:
🔷 Increased Accuracy: They provide a clear, bright aiming point that's easy to spot in any light condition, allowing you to make more accurate shots at longer ranges. This is especially beneficial if you're shooting at multiple targets or engaging a moving target.
🔷 Faster Target Acquisition: Such sights give you the ability to quickly acquire your target without having to line up iron sights or worry about parallax, making them ideal for fast-paced shooting situations.
🔷 Reduced Eye Strain: Many red dots feature an illuminated reticle that can be adjusted to the brightness level of your preference, reducing eye strain caused by poor lighting conditions or glare from direct sunlight.
🔷 Improved Visibility: It improves visibility in low-light conditions by providing enhanced contrast between the reticle and the background, making it easier to see what's happening in dimly lit areas like night shooting ranges or during early dawn/late dusk hunts.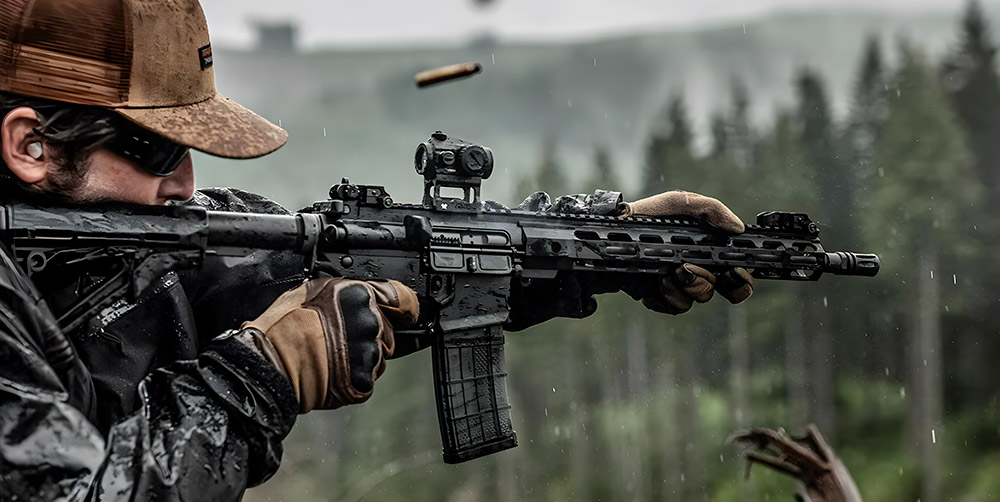 Correct position😎
Red dot sights are a popular choice for precision shooting and target acquisition; however, the sight must be correctly positioned to achieve optimal accuracy.
❇️ One of the most important factors when positioning your red dot is to ensure that it is aligned with the bore of your firearm. This can be done by using an alignment tool such as a laser bore sighter, which will allow you to find the exact center of your rifle's bore and adjust your sight accordingly.
❇️ When adjusting the position, it should be mounted low and close enough to provide a clear view of the target while not obstructing any major movement points on your firearm. Ensuring that the eye relief is properly adjusted will also help prevent injuries due to recoil. The eye relief – or distance between your eye and the sight – should be set according to the shooter's preference but should be at least 1 inch for handguns and 2 inches for long guns.
❇️ Finally, ensuring that both windage and elevation settings are calibrated correctly will also help improve accuracy when shooting with it. Windage refers to left or right adjustments while elevation refers to up or down adjustments, which can both be made via knobs found on many modern models.
Best Red Dot For AR 15 | Red Dot Sight Reviews
| Image | Product | Brand | |
| --- | --- | --- | --- |
| | Burris FastFire III Red Dot Reflex Sight | Burris | |
| | Holosun Paralow Red Dot Sight | Holosun | |
| | Sig Sauer Romeo4S Solar Sight | Sig Sauer | |
| | Ultradot Matchdot Red Dot Sight | Ultradot | |
| | JP Enterprises JPoint Reflex/Red Dot Sight | JP Enterprises | |
| | Trijicon RMR Dual Illuminated Sight | Trijicon RMR | |
| | Aimpoint Red Dot Sight | Aimpoint | |
| | Vortex Viper 1x24mm 6 MOA Red Dot Sight | Vortex | |
| | Leapers UTG 5th Gen Red/Green Dot Sight | Leapers | |
| | Holosun HS507C-V2 Red Dot Sight | Holosun | |
| | Trijicon RMR Type Adjustable 6.5 MOA Red Dot Sight | Trijicon RMR | |
| | Trijicon RMR Type 2 Adjustable LED Red Dot Sight | Trijicon RMR | |
| | Sightmark Ultra Shot Plus Reticle Red Dot Sight | Sightmark | |
| | Trijicon MRO Patrol Adjustable Red Dot Sight | Trijicon MRO | |
| | AimPoint Micro H-2 2 MOA Red Dot Sight | AimPoint | |
| | Meprolight Tru-Dot Red Dot Sight | Meprolight | |
1# Burris FastFire III Red Dot Reflex Sight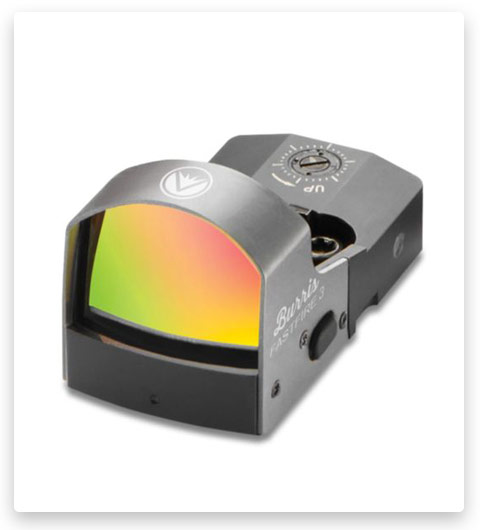 The scope of this model is one of the most versatile gun scopes available on the firearm attachment market. The red dot is ideal for mounting on a pistol, shotgun, or hunting weapon, guaranteeing greater accuracy and speed in finding a convenient point for firing at the selected target. Lightness and compactness are ensured by the use of innovative components. The scope does not affect the balance or control of the weapon, in addition, to providing unlimited eye relief, parallax-free optical zoom, and incredibly simple controls. Burris FastFire III sight offers feature enhancements such as vertical side adjustment, requiring no additional tools to install. Convenient power button with three different brightness levels, automatic brightness adjustment, and battery access at the top of the scope, greatly simplifying battery replacement in the event of a discharge. It is ideal for use with most modern pistols and AR-15 rifles. The scope requires fast target acquisition and will work well with carbines, lever guns, and shotguns. This model has a robust design, is completely immune to adverse weather conditions, and guarantees many years of use, even with weapons with extremely tough recoil.
2# Holosun Paralow Red Dot Sight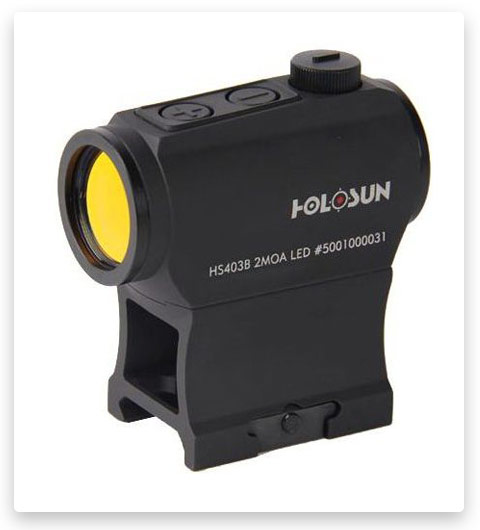 Holosun Paralow is a lightweight red dot scope with many features and design qualities that make it a great addition to any arsenal. Holosun scopes allow you to optimally assess the situation and provide the ability to shoot with your eyes open, using the 2 MOA point without parallax at all to effectively lock the target. Autonomous operation of the battery for 50,000 hours guarantees reliable operation for many years. The battery is equipped with automatic wake-up and shutdown. The high-quality aluminum construction and weather-resistant coating are completely waterproof to a depth of 1m, so every shooter can carry a scope for hunting in the wild, such as crossing the river. The purchase of this sight significantly reduces training time and ammunition consumption.
3# Sig Sauer Romeo4S Red Dot Sight
A solar-powered laser sight for a compact and secure mount on most firearms. Sig Sauer Romeo 4S Red Dot Sight improves your accuracy in short and medium-range combat. With a combination of solar power and battery power, these scopes can provide over 100,000 hours of battery life, ensuring you never lose sight of your target, even in the most stressful situations. This rifle scope is LED-illuminated and constructed from durable aircraft-grade aluminum, offering complete waterproof and anti-fog protection. The protection class of the case – IPX-7, provides maximum performance in almost any weather conditions. Also, you can customize your shooting with 4 different reticle options to choose from. The innovative MOTAC technology turns off the device after use, providing significant energy savings. Improve accuracy and overall aiming potential in the widest range of lighting backgrounds.
4# Ultradot Matchdot Red Dot Sight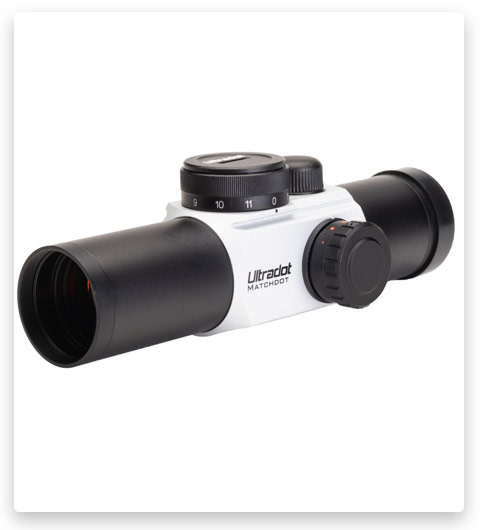 Ultradot Matchdot Red Dot Sight has been specially designed taking into account modern requirements for the quality of optics of firearms. Weighing only 4.8 ounces and only 5.1 inches in length, this scope model is the optimal choice for use with compact weapons such as pistols or submachine guns. The pistol scope has four selectable aiming point sizes – 2,4,6 and 8 MOA, as well as a 30mm diameter fully dimmable tube, ideal for almost all weather conditions. Be tagged at any time of the day and in all weather conditions!
5# JP Enterprises JPoint Reflex/Red Dot Sight
JPoint Red Dot Sight is a compact and lightweight telescopic sight. Will be a great addition to your pistol, shotgun, or rifle. Structurally, it is a microelectronic reflex sight with maximum accuracy up to point 8 MOA. The extremely lightweight construction will not burden the shooter during shooting and will not upset the balance of the weapon. Kit includes scope cover, dial with 1.5mm key, CR2032 battery, and instruction manual.
6# Trijicon RMR Dual Illuminated Sight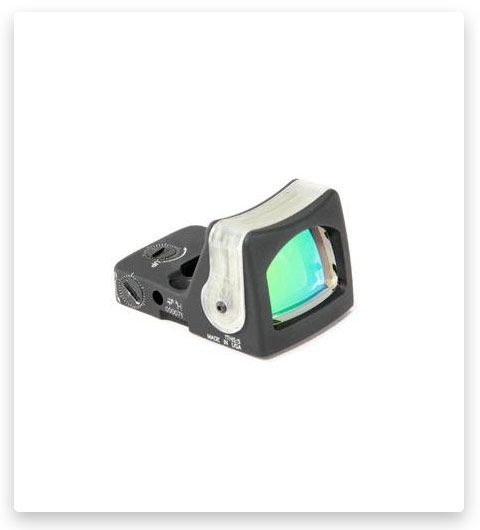 Designed with today's precision firearms in mind, this scope fits perfectly with any weapon style and caliber. This type of weapon is designed to withstand any load. It is a fully autonomous sight with innovative fiber optics. Structurally made of durable forged aluminum, it is extremely strong and lightweight. The latest types of knobs are extremely easy to use thanks to the audible closing clicks. It allows you to quickly adjust wind and altitude. The latest model of the scope is more accurate than any alternative on the market today and is ideal for use in military organizations, law enforcement agencies, and when hunting. Designed specifically to ensure maximum accuracy and ease of target acquisition in all weather conditions and at all distances. Trijicon RMR Dual Illuminated Red Dot Sight offers all different lighting configurations for the aiming process. These scopes are fully autonomous models, without the need to change the battery, and are equipped with fiber optics. It can be equipped with an innovative LED insert, which automatically adjusts the brightness in any lighting situation, providing optimal visibility of the aiming point, which significantly reduces the load on the shooter's eyesight and increases the accuracy of shooting both with horizontal and vertical aiming. Equipped with an ultra-clear hard-coated sight lens.
7# Aimpoint Micro T-2 2 MOA Red Dot Reflex Sight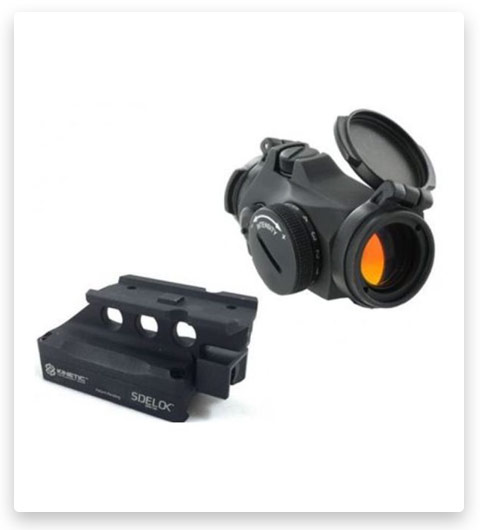 The perfect sight for any tactical target is the result of working with feedback from law enforcement and military experts. Features an innovative lens coating that radically improves the shape and clarity of the 2MOA red dot. Features a front transparent rear flip cover for ease of use. Additional protection of the electronic components of the sight is equipped around the adjustment turrets. The sealed scope tube design ensures reliable functionality in all weather conditions — no dirt, sand, or rain will prevent you from aiming straight at your target. Aimpoint Red Dot Sight can be installed on almost any firearm supplied on the market with a built-in mount. The scope is fully compatible with almost all generations of night vision devices, so it will be an excellent addition to covert tactical operations.
8# Vortex Viper 1x24mm 6 MOA Red Dot Sight
Vortex Viper MOA Red Dot Weapon Sight has a 6 MOA bright red reticle, providing precise aiming and improved accuracy in almost all weather conditions. These scopes are extremely easy to use and equipped with target designator power controls and additional lighting on the left side, so shooting adjustments don't have to be made by changing the position of the sight. Everything is for the convenience of the shooter. The scopes are mounted on all weapons with a low target designator mounting model, making them an excellent choice for pistols with cut-out rails. The device is completely waterproof, so it will be a great addition to the hunting arsenal.
9# Leapers UTG 5th Gen Red/Green Dot Sight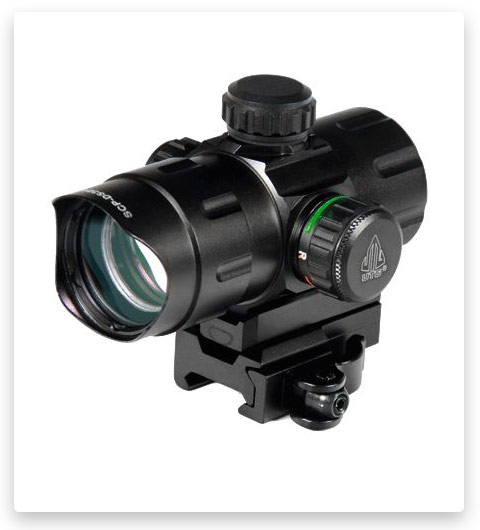 The latest rifle scope from the world's most renowned manufacturer with 2 QD mounts and lens caps mounts directly to Picatinny and Weaver-style rails. Fully compatible with shotguns and pistols, ideal for both hunting and trap shooting. The sight lens is additionally coated with a high-tech emerald, which eliminates the reflection and glares that the shooter can give out. The optimum height ensures that the sight is observed, providing even more aiming possibilities. A choice of two targeting modes — with a red and a green dot indicator, provides excellent target detection even in foggy weather. Leapers UTG 5th Red Dot Sight comes with adjustable mountings and a quick-release device for ease of shooting when you don't need a scope at all. Equipped with a special mount for personal customization and custom installation.
10# Holosun HS507C-V2 Red Dot Sight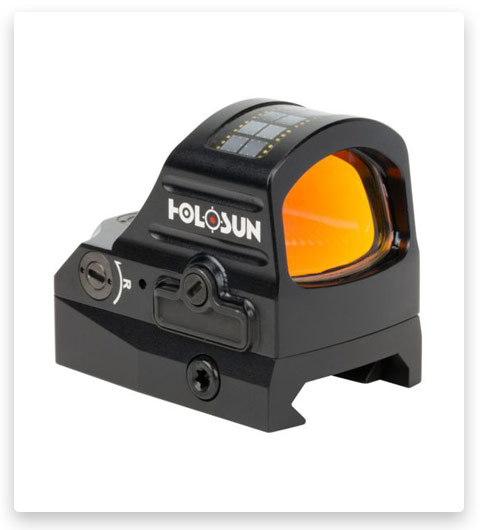 Holosun HS507C [V2] Red Dot Sight is equipped with many useful features, providing a wide field of view combined with useful features to make aiming easier and faster in all weather conditions. The optics offer advanced features such as enlarged dimmer buttons and a side battery compartment, allowing the operator to quickly replace the battery when needed without removing the device. The manufacturer crafted this product from lightweight and durable aluminum and complemented it with a high-quality multi-coated lens for bright and clear images. The riflescope uses innovative technology and a high-capacity lithium battery for long-lasting 50,000 hours of operation, giving you a reliable aiming point at all times in all field conditions. The optics are designed using innovative memory technology so that all individual shooter settings are retained even after using the device. The choice of shooter is given a 2MOA point or a 32MOA ring, as well as a ring with a dotted grid. All versions are projected using the same LED, so the next time you change the reticle, you do not need to reset the settings. By using this scope, the shooter will improve their shooting skills and have more fun shooting on the shooting range and hunting.
11# Trijicon RMR Type Adjustable 6.5 MOA Red Dot Sight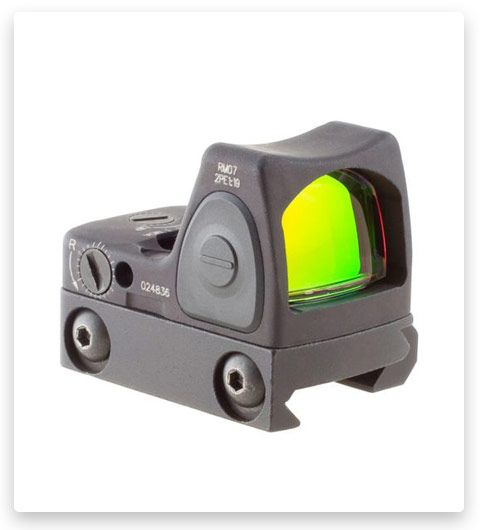 The newest model of the sight from the most famous world manufacturer guarantees increased shooting accuracy from most types of firearms. The scopes are equipped with an LED red dot, which provides the optimal aiming mode in all weather conditions and with limited visibility. Battery CR2032 guarantees trouble-free operation for more than 4 years, which makes the scope extremely durable and lightweight. The lightweight LED red dot sight can be easily adjusted in wind and height with the easiest-to-use controls, eight different brightness levels, and additional optical zoom. Trijicon MOA Red Dot Sight is versatile and perfect for hunting, clay trap shooting, and tactical purposes.
12# Trijicon RMR Type 2 Adjustable LED Red Dot Sight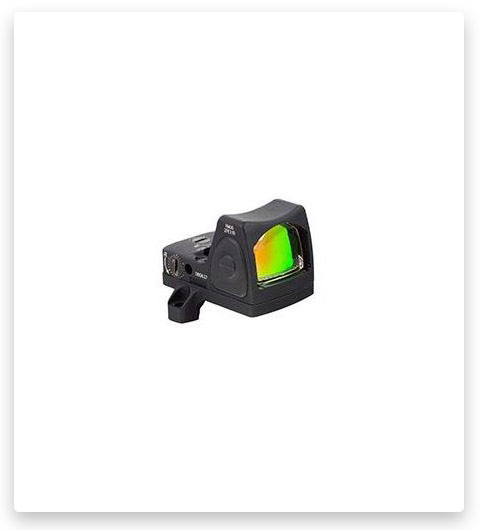 LED sight, with adjustable firing settings, designed specifically to improve aiming accuracy in all tactical and weather conditions. Ideal for mounting on all types of firearms, both small-caliber rifles and heavy automatic weapons. It is extremely light and durable, made of durable forged aluminum, and powered by a single CR2032 battery. Equipped with a variety of features, including 8 different brightness settings, subtle clicks of tilt and height adjustments, an easy-to-use knob, and much more. This model of a reflex sight is perfect for use in both military and hunting purposes — ideally, complements any arsenal.
13# Sightmark Ultra Shot Plus Reticle Red Dot Sight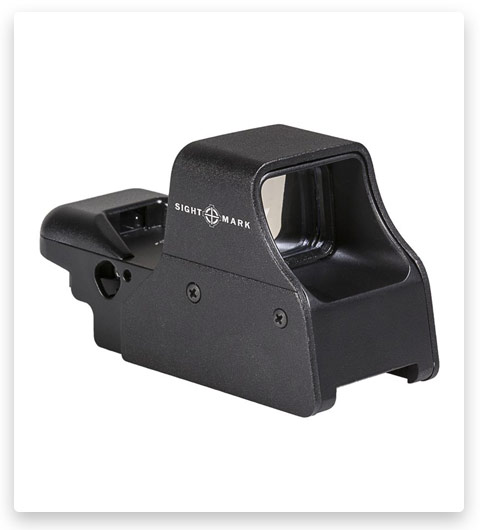 An innovative reflex sight, ideal for close-range combat and fast-moving targets, with customizable brightness adjustment options and accurate target detection in low-light conditions. These scopes can be removed and quickly mounted using a dedicated quick-release mount, ideal for use with a variety of firearms. Equipped with a built-in durable aluminum shield to protect sensitive optics. Sightmark Ultra Shot Red Dot Sight has a digital switch button for a quick set right in the battle or pursuing a target on the hunt. It is powered by a CR2 battery providing up to 1000 hours of continuous use.
14# Trijicon MRO Patrol Adjustable Red Dot Sight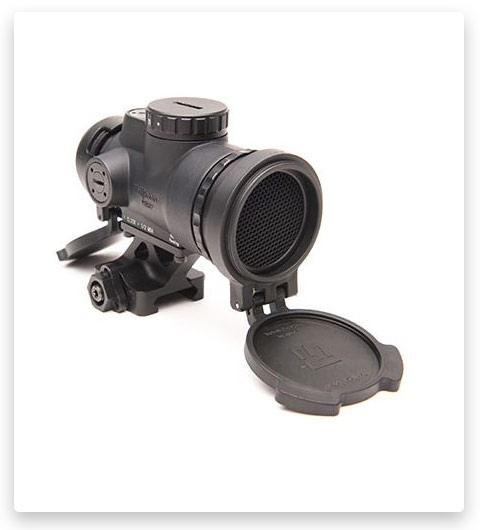 Trijicon MRO Patrol is the perfect red dot sight for your rifle, carbine, or shotgun. Significantly improves aiming accuracy, providing excellent visibility. Manufactured from hard-anodized aluminum to provide durability in all weather or tactical conditions, while not weighing down the selected weapon. Extremely compact — the miniature 1×25 telescopic sight has a large aperture and a tapering light beam for greater visibility down the scope for quick target hitting. The double-sided brightness control dial allows for near-instantaneous spot matching to match ambient lighting conditions to ensure excellent visibility even in night combat or hunting conditions. It also adjusts the point to suit all ambient lighting conditions for optimal viewing. Even in the face of intense hostilities, this sight will be stable. Optics guarantee complete water resistance.
15# AimPoint Micro H-2 2 MOA Red Dot Sight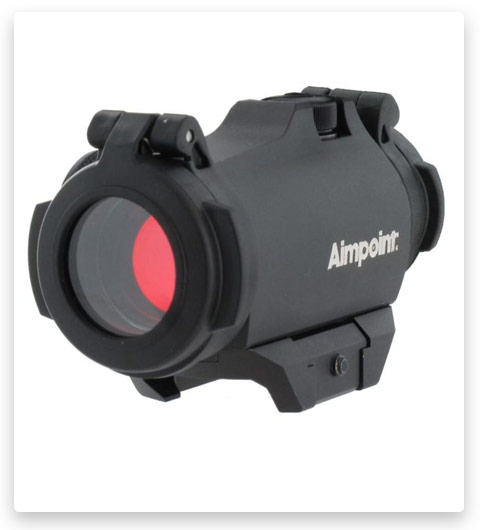 The excellent aiming accuracy of this designator model guarantees optimal use with almost any type of firearm. Thanks to the innovative ACET technology, these scopes from the world-famous manufacturer provide 50,000 hours of uninterrupted operation, powered by a CR2032 battery. The multi-layer optical coating of this rifle scope provides the brightest and sharpest image in all weather conditions. AimPoint Micro Red Dot Sight is completely waterproof and made of high-strength aluminum for optimal strength at an extremely low weight — only 96 grams of construction. 12 different brightness settings provide the perfect scope setting and quick adaptation in all lighting conditions.
16# Meprolight Tru-Dot Red Dot Sight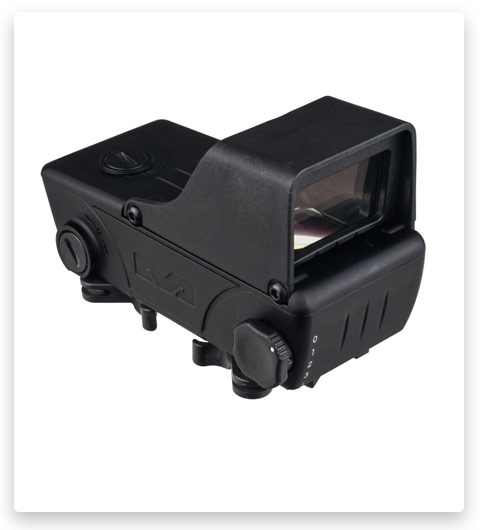 The latest model of scopes from the world's leading manufacturers guarantees excellent aiming in all weather conditions. Allows you to independently select the level of brightness of the grid from four different options. Identified by a red dot and a large display window. The durable and lightweight scope is characterized by a robust design that does not weigh the weapon down due to the use of light alloy materials. Meprolight Tru-Dot Red Dot Sight is equipped with innovative LED technology that extends battery life by several thousand hours. Fully compatible with magnifying scopes and most models of night vision devices. It can be easily used for long-range targeting in the dark. Ideal for use in all tactical and weather conditions, making it an excellent addition to your arsenal.
⚙️How to cold bore such a red dot?⚙️
Cold bore sighting a sight is a simple and effective way to ensure accuracy. To do this, you will need a few tools including a bore sighting device or laser boresighter, a target at least 100 yards away, and your rifle with the red dot sight attached.
➡️ First, attach your boresighting device to your rifle's muzzle and place the target at least 100 yards away. Looking through the red dot scope, align the reticle with the crosshairs of the boresight. If your scope has an adjustable windage and elevation knob, make sure to adjust accordingly until both reticles perfectly match up. Once this is complete you can move on to fine tuning.
➡️ Fine-tuning involves slowly adjusting the knobs until you are hitting consistently one spot on your target from different angles. To do this accurately you must shoot multiple rounds from different positions. This will help to determine the accuracy of your shots and make fine-tuning easier.
➡️ When you are finished with cold bore sighting, it is important to check zero at least once a year. This can be done by firing several rounds this time at closer range (25 yards) and again adjusting knobs until you hit consistently in one spot on your target.
FAQ🤓
Conclusion😉
Red dot sights can be a great addition to any shooter's arsenal and offer many benefits that other sights cannot provide. With so many options available on the market, it is important to take into consideration all of the features and specs before making your purchase. We have provided reviews of some of our favorite models as well as useful tips to help make sure you get the most out of your investment. Happy shooting!🤠🎯
Tags: #Best #Red #Dot #Sight #Reviews #Vortex #MCG #Reflex #For Pistol #For The Money #AR 15 #Bushnell #Glock #Mini #Sale #Price #Cheap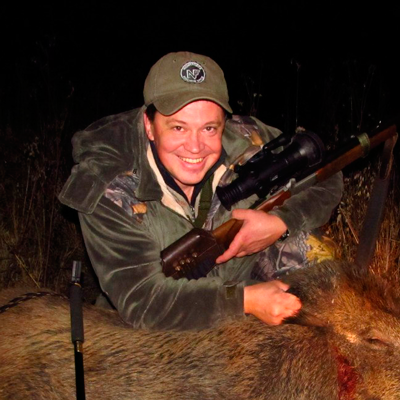 Yury Alexeev
Gun and Hunting Expert
The author of analytical top articles on firearms and accessories — a recognized expert in the field of survival in the wild, the author of many articles on quality camping and hunting equipment, and a firearms enthusiast. Due to many years of experience in hunting trips and studying the technical side of collecting firearms — both for hunting and for clay pigeon shooting — the author has many valuable tips to harmonize the passion for hunting and bring to it exceptional quality in terms of equipment and outfit.
My articles are precisely analyzed technical information and equipment specifications that allow a real hunter to assemble a decent set of weapons for multi-day outings in the wild. From the tents to the well-oiled gun, everything should meet the demands of the extreme entertainment enthusiast. Technically perfect weapons can greatly facilitate hunting even in the wilderness — choosing only the most qualitative, modern optics and other accessories for weapons, hunting efficiency will be maximum.
When choosing a weapon for hunting, pay attention to its specifications, and, above all, to the convenience for yourself — using high-quality equipment, you will discover the wonderful world of accurate shooting and successful hunting even in those weather conditions that don't imply hope for the shooter's eyes. Yury Alexeev - weapon and hunting expert, CEO of
Silencer.Systems
Read more
about our team
of expert authors.
Affiliate Disclosure: Rotorm.com sometimes gets paid for listings, through sponsors or affiliate programs like Amazon, Optics Planet, Lucky Gunner, Brownells, Cabelas, Rainier Arms, 5.11 Tactical, Bass Pro Shop, etс. Clicking a link helps keep Rotorm.com free, at no extra cost to you!
About the author: Each article on our site is written by experts in survival and tactical equipment, gun enthusiasts, extreme travelers, military, law enforcement and desperate professionals, read about the author at the bottom of the article or visit "About Us" page.
Note: The views and opinions expressed in this article are those of the authors and do not necessarily reflect the official policy or position of any agency.