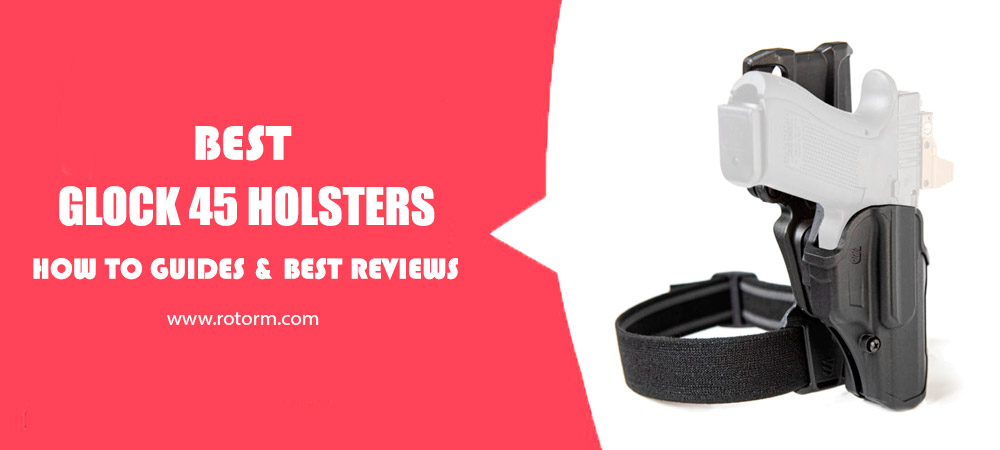 What is the Best Glock 45 Holster? 👀
The Glock 45 holster is a carrying solution designed specifically for the G45 handgun.
The gun itself is a 9mm handgun that was introduced by Glock Ges.m.b.H in 2018. It was designed as a crossover model, combining features of the Glock 17 and Glock 19, two of the company's most popular models. It has the full-sized frame of the Glock 17 for a better grip and higher capacity but adopts the compact slide of the Glock 19, making it more concealable and agile.
Given the G45's design intent as a versatile firearm suitable for both duty and concealed carry, holsters for this model vary widely in design and function. Law enforcement and military personnel might opt for duty models with added retention features, while civilians looking for concealed carry solutions might choose inside-the-waistband (IWB) or appendix carry models. The popularity means that many manufacturers offer options tailored to this specific model, ensuring a secure fit and efficient draw.
Benefits 🔥
✅ It offers several advantages tailored to the unique design of your handgun. One of the primary benefits is the ability to accommodate the Glock 45's crossover design, ensuring a snug fit that combines the benefits of both full-sized and compact firearms. This snug fit enhances retention and ensures that the firearm remains securely in place, reducing the risk of accidental dislodging.
✅ Furthermore, given its popularity among both law enforcement and civilian users, many manufacturers have developed designs that cater to a wide range of carry preferences. Whether it's for duty, open carry, or concealed carry, there's likely a variant that meets the user's specific needs. Additionally, using it specifically designed for your gun ensures optimal draw speed and re-holstering ease, enhancing the user's safety and efficiency.
Our Top Pick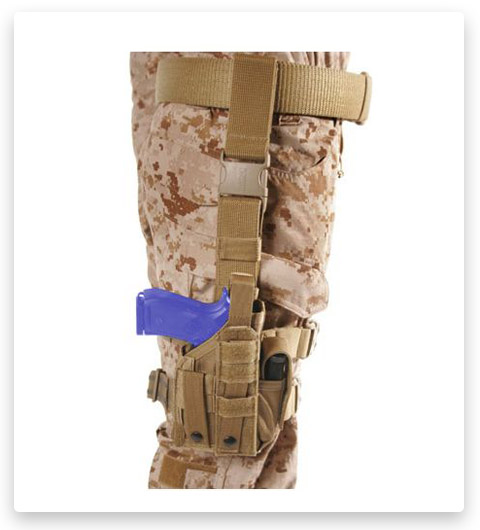 BlackHawk Nylon Omega VI Ultra Universal Modular Light Holster
Constructed from premium-grade nylon, this product guarantees exceptional durability for sustained, extended use. Its comfortably elasticized leg straps, enhanced with a rubberized finish, ensure a secure fit, alleviating any concerns of displacement during rigorous, high-intensity activities.
Buy Now On OpticsPlanet
If you click this link and make a purchase, we earn a commission at no additional cost to you.
Features ⭐
☑️ When examining the features, several aspects stand out. Firstly, a well-designed model will prioritize retention. Given the firearm's crossover design, it should have mechanisms, whether passive or active, to securely hold the firearm in place. This might include adjustable retention screws or thumb breaks.
☑️ Another feature to consider is the material. Whether it's Kydex, leather, or a hybrid combination, the material should offer durability while ensuring comfort against the body. For those who prefer concealed carry, models with a low profile or tuckable design can be beneficial, allowing the user to conceal their firearm effectively without printing.
☑️ Lastly, many of them come with adjustable cant and ride height, allowing users to customize the angle and position of the firearm for an optimal draw. This adaptability ensures that it can be tailored to the user's body type and drawing style.
Our Top Pick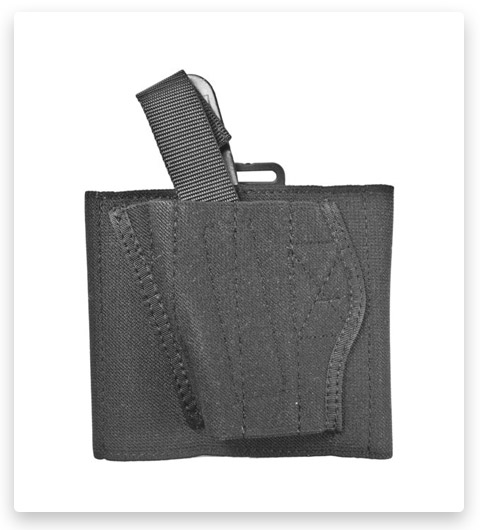 DeSantis Apache Ankle Rig Holster
Expertly fashioned from a gentle polymer material, this innovation guarantees day-long comfort while steadfastly securing your firearm. Bid farewell to the discomfort associated with conventional models and relish the newfound freedom of movement.
Buy Now On OpticsPlanet
If you click this link and make a purchase, we earn a commission at no additional cost to you.
Types Of Holsters 👌
Holsters come in various designs, each tailored to specific needs and preferences. One of the most common types is the inside-the-waistband (IWB) design, which is worn inside the pants, making it a popular choice for concealed carry. Its positioning allows for a shirt to be draped over the firearm, effectively hiding it from view.
🚩 Outside-the-waistband (OWB) designs are worn on the outside of the pants. These are often used by law enforcement and those who prefer open carry, as they allow for a quicker draw. However, they are more visible, making them less ideal for deep concealment.
🚩 Shoulder rigs are another option, consisting of a harness worn around the shoulders. They position the firearm under the arm, making them a suitable choice for those who spend a lot of time seated, such as drivers. They also distribute the weight across the shoulders, which can be more comfortable for some users.
🚩 Appendix carry is a variation of IWB but positions the firearm in the front of the body, near the appendix. This placement offers quick access and can be more comfortable for some, especially when sitting.
🚩 Ankle models wrap around the lower leg, providing a discreet carry option, often used for backup firearms. They're less accessible than other types but offer an added layer of security.
🚩 Pocket models are designed to fit inside a pocket, keeping the firearm oriented correctly for a draw while protecting it from lint and debris. They're typically used with smaller, compact firearms.
🚩 Lastly, there are specialized designs like belly bands, which wrap around the midsection, and bra holsters for women. These designs prioritize deep concealment and can be adjusted to fit various body types and clothing styles.
In conclusion, the diverse range of designs ensures that individuals can find a carry method that aligns with their needs, whether it's for concealment, comfort, quick access, or a combination of factors.
Best Glock 45 OWB And Drop Leg Holsters
When it comes to concealed carry, there's nothing more important than having a reliable holster that you can count on. That's why we've put together a list of the best OWB and drop-leg variants on the market right now. Whether you're searching for something lightweight and comfortable or something more heavy-duty, we've got you covered. So, whether you're just starting or you're a seasoned pro, be sure to check out our top picks!
1# BlackHawk T-Series L3D Light-Bearing Duty Holster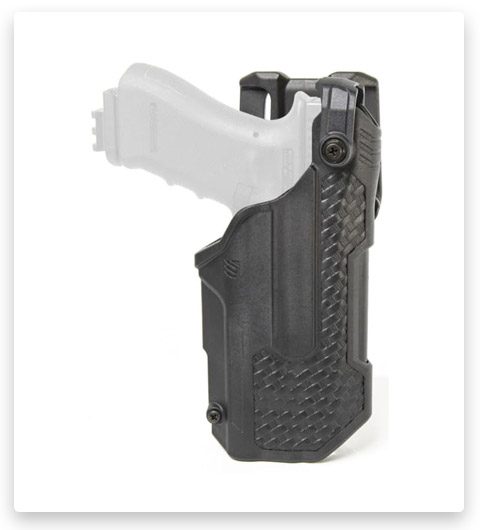 It provides secure and rapid firearm access with its streamlined thumb-activated retention system. You'll be ready for any situation at a moment's notice.
Designed to accommodate various firearms, including Sig P320, P250, M17, and M18 with TRL 1/2, this holster is versatile and dependable. It also fits Glock 17, 19, 22, 23, 31, 32, 45, and 47 models with precision. It comes with an additional rotating dust cover, safeguarding your optic from impacts and debris. You can remove it if needed, offering you adaptability and protection.
Crafted with high-quality polymer, it is built to withstand rigorous use. Its sleek and functional design not only ensures longevity but also adds a touch of elegance to your gear. Available in plain and basketweave finishes, you can pick the one that suits your style and preferences, adding a personalized touch to your setup.
2# BlackHawk T-Series L2C Overt Holster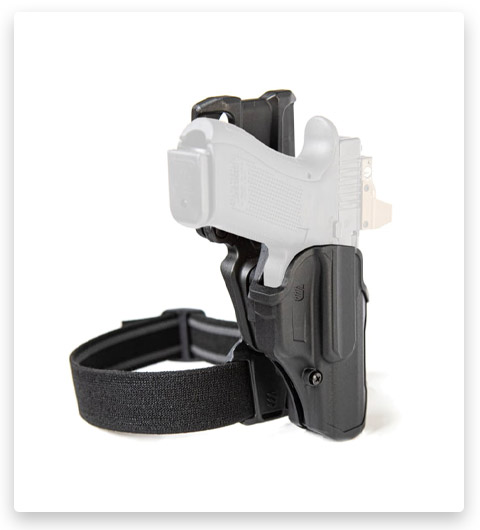 The Speed Cut geometry ensures rapid drawing and re-holstering, giving you the edge in critical situations. You'll be able to respond swiftly and confidently when it matters most.
Say goodbye to limitations. It is inherently optic-compatible, allowing you to use your preferred optics with ease. No need to compromise on your setup. The thumb-activated retention feature keeps your firearm securely in place until you need it. It provides peace of mind knowing that your weapon won't accidentally disengage.
It is constructed with durable polymer material, ensuring it can withstand the rigors of duty use. It's designed to serve you reliably for the long haul. Whether you're on duty or at the range, comfort is key. The low-friction interior minimizes discomfort, and the lightweight design won't weigh you down during extended wear.
3# Safariland Model 6378 ALS Holster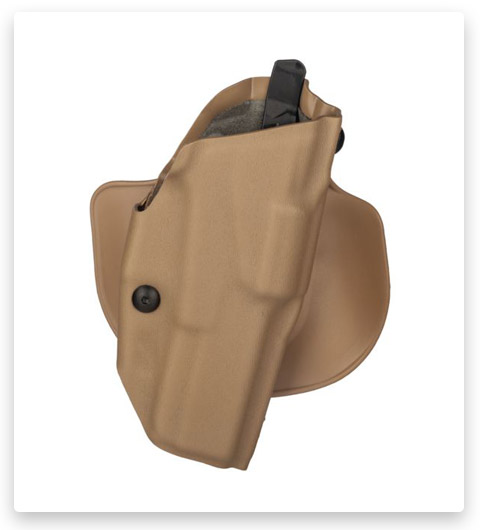 Features the innovative Automatic Locking System (ALS), providing an extra layer of security. Your gun will stay firmly in place until you're ready to draw. With a simple, intuitive release, you can access your firearm rapidly, making it ideal for self-defense situations.
Whether you prefer to paddle or belt loop attachments, it has you covered. Its adaptable design allows you to choose the most comfortable and secure carrying method. Plus, it's compatible with various Glock models, including Gen 1 to Gen 4 of the Glock 19 and Glock 23, ensuring a snug fit.
Built to withstand tough conditions, it is crafted from high-quality materials. It can handle the demands of daily use, making it suitable for both law enforcement officers and civilian gun owners.
If you're a tactical enthusiast, you'll appreciate it compatibility with tactical lights and lasers. It ensures a seamless fit with accessories like INFORCE APL, Streamlight TLR-1, and SureFire X300, allowing you to stay prepared in low-light situations.
4# Concealment Express OWB Paddle Kydex Holster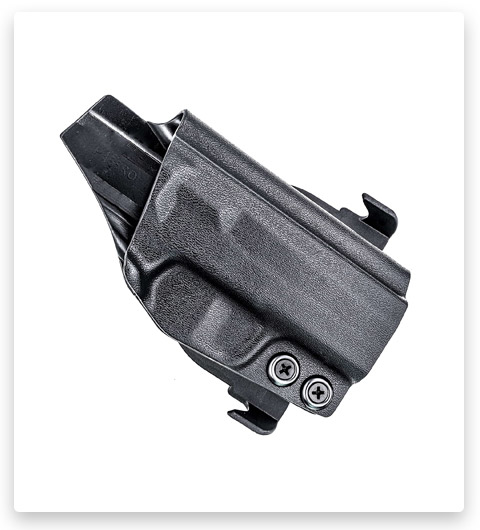 Designed to accommodate a variety of handguns, it ensures a custom fit for your specific model. Whether you have a Glock, Ruger, Sig Sauer, Springfield, or Walther, this holster is tailored to your needs.
Carry your firearm discreetly and comfortably outside the waistband with an untucked shirt. The .08″ KYDEX material used in its construction is precision-formed over proprietary CAD-designed aluminum molds, ensuring an unbeatable combination of consistency, quality, and comfort.
It boasts exclusive features that enhance your carrying experience. The undercut trigger guard prevents interference with your draw, while the over-cut open-face accommodates threaded barrels and clears suppressor height sights. A full-length sweat guard and rear sight shield protect your weapon from sweat and other elements. The fiber-reinforced stealth belt clip keeps your concealed carry a secret.
Holstering your firearm has never been more secure. You'll hear a satisfying 'CLICK' when your weapon is holstered, assuring you of its secure fit. Plus, the retention pressure is fully adjustable, allowing you to tailor it to your preference. The cant, or carry angle, is also adjustable, offering versatility for various carrying positions.
5# We The People Holsters OWB Kydex Holster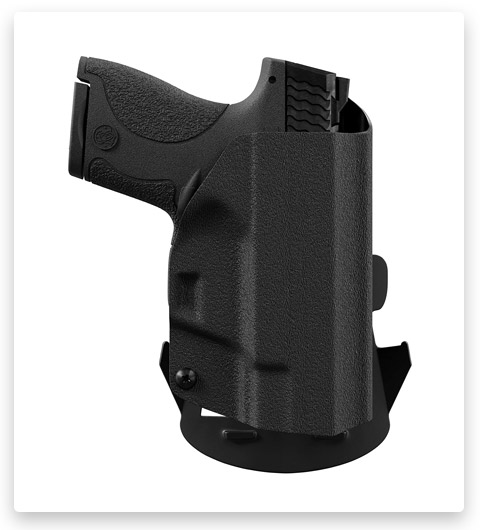 Crafted in the USA with top-quality Kydex, it's not only lightweight but also waterproof and durable, ensuring it won't rot or wear out like leather holsters.
Achieving a comfortable carry is crucial for self-defense, and it delivers. You can easily adjust its height and angle to your preference, ensuring a smooth draw in any situation. Designed to be worn outside the waistband, it offers discreet self-protection, reducing pressure on sensitive areas.
The thick Kydex construction paired with thoughtful design guarantees the safety of your pistol. Plus, its form-fitting build allows for effective concealment and quick access. Say goodbye to fumbling for your gun in critical moments.
6# BlackHawk Nylon Omega VI Ultra Universal Modular Light Holster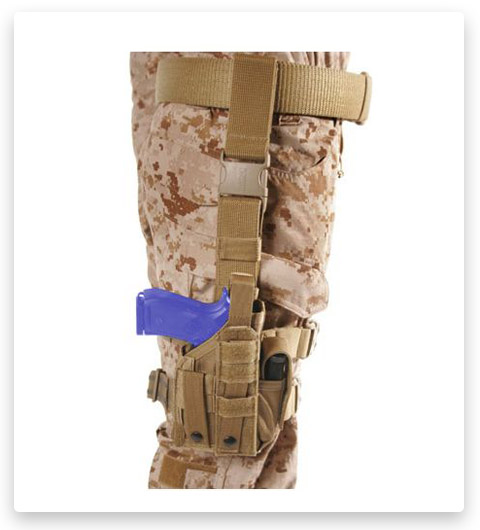 Crafted from high-quality nylon material, it ensures durability and long-lasting use. Its comfortable elastic, rubberized leg straps keep it securely in place, so you won't have to worry about it shifting during high-intensity activities.
In fast-paced situations, quick and easy access to your firearm is crucial. It features a quick-release mechanism, allowing for rapid deployment when you need it most. It is incredibly versatile and can accommodate most pistols with or without a light or laser aiming module. Its adjustable thumb break with extra hook and loop retention ensures a snug and secure fit for your specific firearm.
The front-mounted pouch on provides extra storage for a magazine, knife, or light, giving you quick access to essential gear when it matters. Designed for the modern tactical operator, it is MOLLE/S.T.R.I.K.E. compatible, allowing you to attach additional gear and accessories to your loadout with ease.
Best Glock 45 IWB And Concealment Holsters
If you need the best IWB holster and concealment system, look at the list of top IWB models and concealment systems below. We want you can be assured that your gun will be safe and secure while you carry it. So if you are searching for quality variants for your gun, just read! We have the perfect system for you!
1# FDO Industries The Paladin IWB Kydex Holster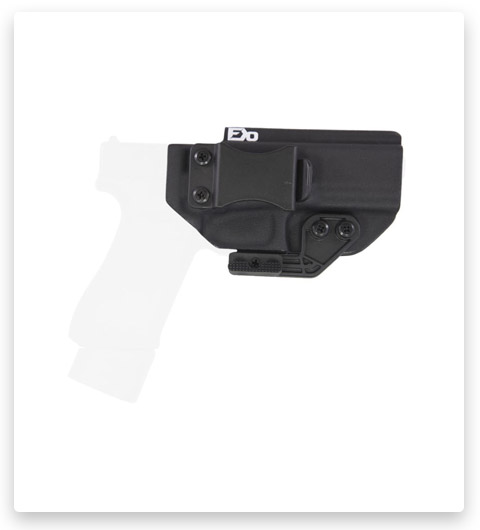 It is meticulously crafted from high-quality Kydex material, known for its strength and durability. Your weapon deserves the best, and that's precisely what it offers. The Kydex material is molded specifically for your firearm, ensuring a consistently smooth draw every time.
Worried about printing? It comes equipped with an innovative "claw" feature that reduces printing and boosts concealment. Whether you prefer appendix, hip, side, or back carry, it will keep your firearm discreet and secure. Not all concealed carriers are the same, and that's why it offers adjustable retention and cant options. You can easily customize it to find the perfect fit and carry angle that suits your preferences.
Safety should never be compromised, and it understands that. It fully covers the trigger and back side of your gun, safeguarding against sweat and other potential hazards. You can trust that your firearm is in good hands.
2# We The People Holsters IWB Kydex Holster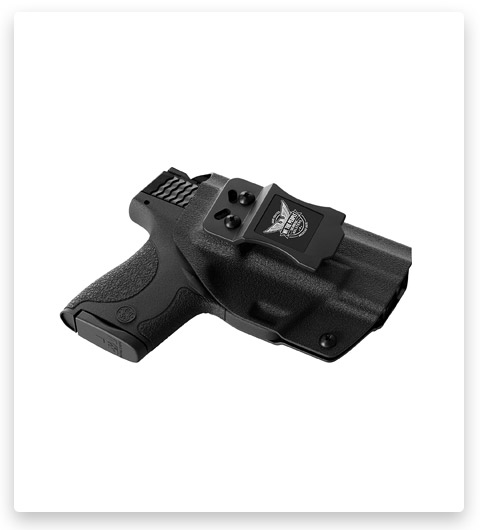 Constructed using 0.08-inch Kydex, a material that adds minimal weight to your carry gun while maintaining maximum strength and durability. Unlike leather holsters, Kydex is waterproof, washable, and resistant to rot. This means it will remain in pristine condition for a lifetime.
It is designed with your comfort in mind. It can be easily adjusted to your desired height and angle. With a simple unscrewing of the clip, positioning it, and then screwing it back into place, you can achieve your preferred tilt angle for a smooth draw.
Designed to be worn inside the waistband with a belt and an untucked shirt, it offers discreet self-protection. The lightweight construction helps reduce pressure when worn inside your pants, ensuring comfort throughout the day. It also aids in drawing and re-holstering your gun quickly and effortlessly, saving you precious seconds in critical moments.
Each model is handcrafted to mold precisely to your gun model, guaranteeing a perfect fit while maintaining a low profile. You'll hear an audible "click" every time you holster your gun, assuring you that your weapon is securely in place. It is designed for daily carry, offering ideal concealment, comfort, protection, and durability.
It comes with adjustable clip positions, allowing you to customize your cant and ride height. Whether you prefer a low grip, mid grip, high grip, or something in between, it has you covered. You can carry it comfortably in different positions to suit your preference.
3# FDO Industries IWB Kydex Holster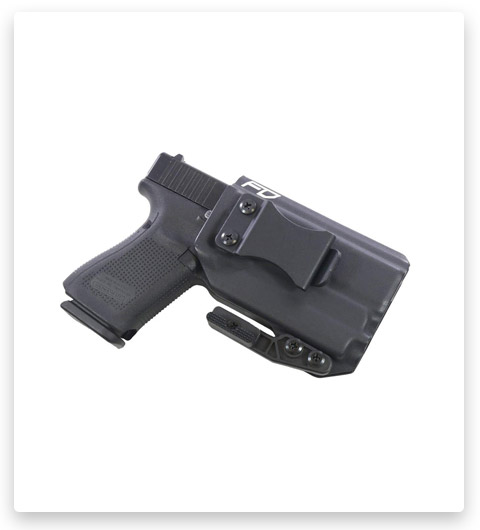 Crafted in the USA by FDO Industries, formerly known as Fierce Defender, it is designed to enhance your concealed carry experience in every way possible.
It goes beyond just fitting your firearm; it's engineered for comfort and security. It fully covers the trigger and back side of your gun, providing not only safety but also protection from sweat. Carrying a concealed weapon should be comfortable, and we've made it our mission to ensure it is.
Every gun owner is unique, which is why it features adjustable retention. You can fine-tune it to get the perfect fit that suits your preferences. The flared opening ensures easy re-holstering, adding to your convenience.
It features a unique "Claw" design, reducing printing and increasing concealment. It's perfect for larger guns or firearms with light attachments. No more worrying about your firearm becoming noticeable; it keeps it discreet. Crafted from high-quality Kydex material, it ensures durability and reliability. The Kydex construction, paired with our thoughtful design, guarantees that your firearm is secure and ready when you need it most.
4# DeSantis The Osprey OWB/IWB Leather Holster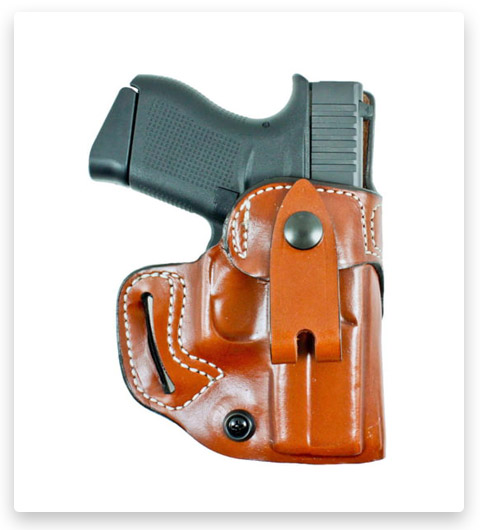 View on OpticsPlanet  View on Amazon
It features a trailing slot design, making it suitable for both outside-the-waistband (OWB) and inside-the-waistband (IWB) carry. Its adjustable cant allows you to customize the angle, ensuring a comfortable and secure fit. Whether you prefer OWB for quick draws or IWB for better concealment, it has you covered.
Crafted from premium saddle leather, it not only looks great but also promises durability. It's designed to fit belts up to 1.5 inches wide, ensuring compatibility with most belt options. The plain finish adds a touch of sophistication to your carry setup.
It is available for a wide range of medium and large autoloaders, including Glock models, SIG Sauer, Ruger, Kimber, Springfield, and more.
The IWB strap is easily removable without the need for tools, making it a breeze to switch between OWB and IWB carry styles. It is designed with practicality in mind, ensuring a smooth and hassle-free experience. With it, your firearm will ride securely, allowing for confident draws and reholstering. Its cant angle is adjustable to suit your preferences, ensuring a natural and ergonomic draw every time.
5# DeSantis Apache Ankle Rig Holster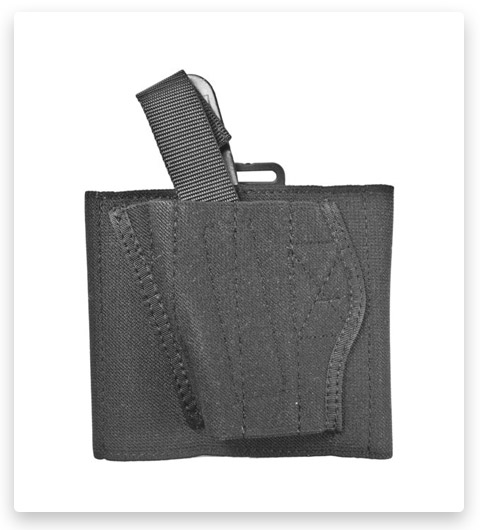 Crafted with a soft polymer material, it ensures all-day comfort while securely holding your firearm in place. Say goodbye to the discomfort of traditional models and enjoy the freedom of movement.
It is compatible with a wide range of small to large-frame semi-autos and small-frame revolvers. Whether you own a compact Glock or a snub-nose revolver, it is designed to accommodate them all. Featuring an adjustable Velcro thumb break, it provides rapid access to your weapon when you need it most. Your firearm stays securely in place until you decide to draw it.
It is not only practical but also stylish. It offers a discreet concealed carry option, allowing you to confidently carry your firearm without anyone noticing. Plus, it comes in classic black, ensuring it matches any attire.
What to Look for in a Glock 45 Holster 👀
When considering a carrying solution for the Glock 45, several factors come into play. Firstly, retention is paramount. Its unique crossover design requires a secure fit to ensure the firearm remains in place during daily activities. Adjustable retention mechanisms, whether through screws or thumb breaks, can provide the user with the desired level of security.
☑️ Material choice is another crucial aspect. Kydex, a type of thermoplastic, offers a rigid and durable option that can be molded precisely to the Glock 45's shape. Leather, on the other hand, provides a classic look and can be more comfortable against the skin, though it might require a break-in period. Some prefer hybrid designs, which combine both materials, offering the rigidity of Kydex with the comfort of leather.
☑️ Concealment is a significant factor for many. For those who prioritize discretion, designs with a low profile or tuckable features can be beneficial. These allow the firearm to sit close to the body, reducing the chances of printing through clothing. The positioning of the carry solution also plays a role in concealment. Inside-the-waistband designs, especially those tailored for appendix carry, can offer deep concealment options.
☑️ Adjustability can enhance comfort and draw efficiency. Features that allow users to modify the cant (angle) and ride height can ensure that the firearm sits in the most ergonomic position for their body type and draw style.
☑️ Lastly, ease of drawing and re-holstering are essential for safety and efficiency. The design should allow for a smooth, unobstructed draw and a straightforward re-holstering process, reducing the chances of accidental discharges.
When seeking a carrying solution, it's vital to consider retention, material, concealment, adjustability, and ease of draw. Balancing these factors will ensure a safe, comfortable, and efficient carrying experience.
FAQ 📚
Conclusion 😎
Holsters allow Glock owners to carry their pistols in an easily accessible and comfortable manner. There are many different types on the market, so it can be difficult to determine which holster is the best for your needs.
In this post above, we have provided a buyer's guide and included reviews of some of the most popular variants on the market. We hope this information will help you choose the best variant for your needs.
Affiliate Disclosure: Rotorm.com sometimes gets paid for listings, through sponsors or affiliate programs like Amazon, Optics Planet, Lucky Gunner, Brownells, Cabelas, Rainier Arms, 5.11 Tactical, Bass Pro Shop, etс. Clicking a link helps keep Rotorm.com free, at no extra cost to you!
About the author: Each article on our site is written by experts in survival and tactical equipment, gun enthusiasts, extreme travelers, military, law enforcement and desperate professionals, read about the author at the bottom of the article or visit "About Us" page.
Note: The views and opinions expressed in this article are those of the authors and do not necessarily reflect the official policy or position of any agency.