At some point, every hunter realizes that he really needs a shooting stick.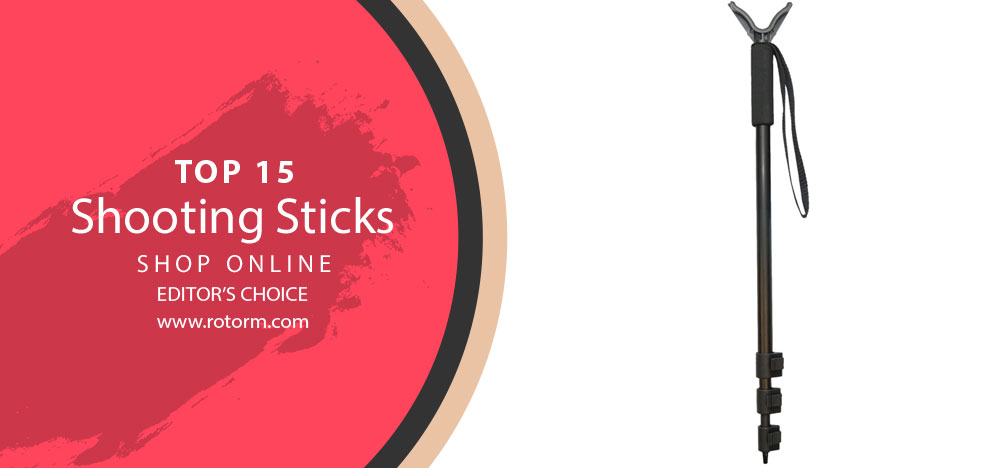 This device can be really convenient in some cases: when hunting in a field you detect an animal, and to make a clean shot you need something to lean on. And then a shooting stick comes for help!
There are some different types of shooting sticks:
– Tripod – this device has three support points. It takes a bit more time to set it.
– Bipod – it has two legs resistant to rolling and sliding.
– Monopod. It is easy to set but independently unstable.
Besides, shooting sticks have various types of supports and materials they are made of, so it's not that easy to find a proper shooting stick. But if you are reading this article, you're in luck! We have found 15 amazing shooting sticks, and you will definitely find something nice.
Best Shooting Sticks | TOP-15 Shooting Sticks
| Image | Product | Brand | |
| --- | --- | --- | --- |
| | Vanguard Scout B62 Shooting Stick | Vanguard | |
| | Primos Hunting Trigger Stick Gen 3 Tall Bipod | Primos | |
| | Vanguard Quest T62U 3-in-1 Shooting Stick Height | Vanguard | |
| | Primos Hunting Trigger Stick Gen 3 Short Tripod | Primos | |
| | Primos Trigger Stick Gen 3 Series | Primos | |
| | Vanguard VEO 2 AM-234TU Shooting Stick | Vanguard | |
| | BOG-Pod CLD Camo Shooting Rest | BOG | |
| | BOG Adrenaline Switcheroo Shooting Rests | BOG | |
| | Vanguard Scout B62 Bi Pod | Vanguard | |
| | Cuddeback Shooting Stick | Cuddeback | |
| | Allen Compact Shooting Stick 2164 Color | Allen Compact | |
| | Firefield Monopod Shooting Stick | Firefield | |
| | Swagger Stalker QD42 Bipod | Swagger | |
| | BOG Havoc Shooting Stick Monopod | BOG | |
| | Carbon Express Telescoping Shooting Stick | Carbon Express | |
| | BONUS: Mojo Pocket Pick Stick Shotgun Shell Retriever Magnetic | Mojo | |
#1 Vanguard Scout B62 Shooting Stick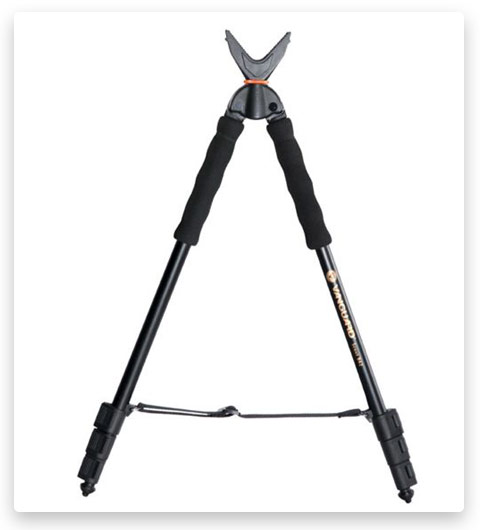 Our first model is a wonderful bipod, specially made for hunters who are always on the go. It's made of aluminum alloy which is extremely light and durable. Bipod is featured with quick flip legs locks which make it possible for you to regulate height easily. Besides, it has a V-shaped yoke covered with rubber providing ultimate stability for your gun. By the way, it can swivel 360° like an owl's head!
#2 Primos Hunting Trigger Stick Gen 3 Tall Bipod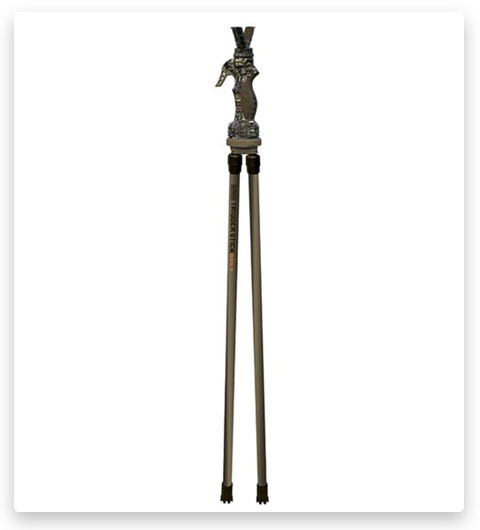 If your priority is speed, Primos Stick Gen 3 Bipod is exactly what you need. Its sophisticated detach yoke system with integrated lock' enables you to switch unhesitatingly and rapidly between your gun and optic. The device is adjustable, so you can change the height from 24'' to 61''. What is also exciting about this shooting stick is that it possesses a contoured grip with a no-slip backbone to hold it confidently.
#3 Vanguard Quest T62U 3-in-1 Shooting Stick Height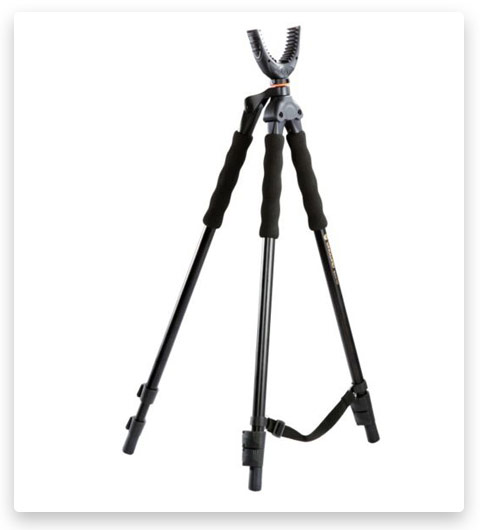 If you can't decide what type of a shooting stick to choose, you don't need to do it – this device can be a tripod, a bipod, and a monopod at the same time because of removable legs! Vanguard Quest 3-in-1 Stick is made of heavy and reliable aluminum alloy. This shooting stick is featured with a U-shaped yoke with rubber fins. It can rotate 360 degrees, so you can shoot without any hindrance, and countered hand grip even boosts its usage convenience.
#4 Primos Hunting Trigger Stick Gen 3 Short Tripod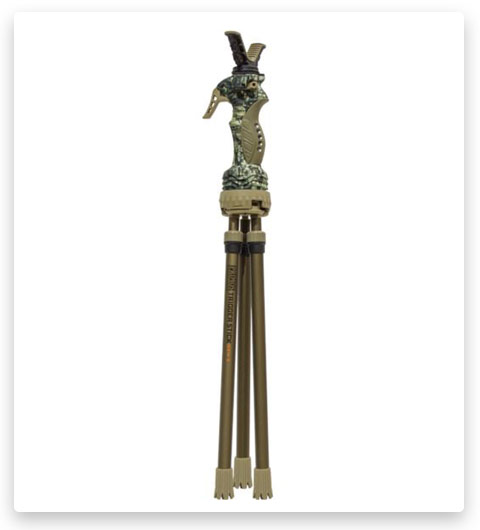 Let us introduce you to another wonderful model and tell you about all its advantages. First of all, this shooting stick can be adjusted from 18'' to 36''. Through this, you can change position quickly and without losing your target. What is more, the device is fitted with a contoured grip and no-slip backbone which makes it possible for you to instantly gain control and make accurate shots.
#5 Primos Trigger Stick Gen 3 Series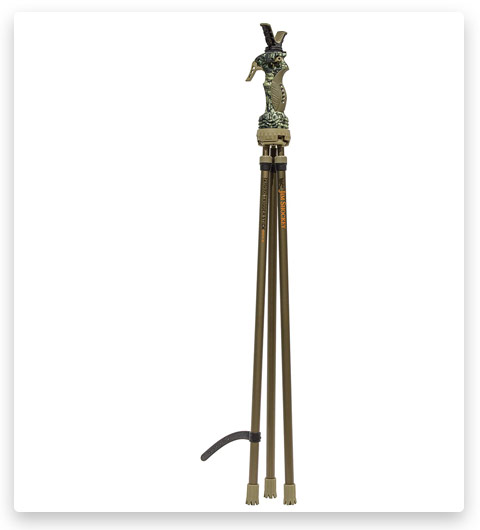 You are sure to like this amazing example! Thanks to its features you can get the maximum joy of your hunting. This shooting stick can easily adjust to the desired height. The sophisticated locking leg angles provide extreme stability in all-terrain. Smoother panning allows you to rotate a gun effortlessly.
#6 Vanguard VEO 2 AM-234TU Shooting Stick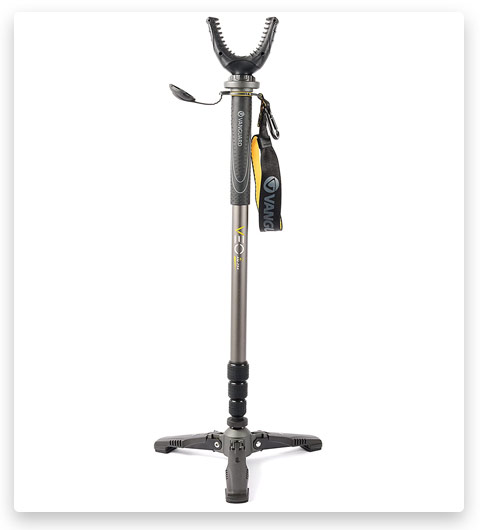 Make sure you don't miss this shooting stick. We can name ten of its benefits, but let's mark the most surprising ones: it is made of durable aluminum and its handle is covered with soft rubber, so you may be sure nothing can prevent you from successful hunting. It also possesses a ting stick enabling it to function as a tripod. As to U-yoke, it has the function of 360-degree rotating and is featured with rubber fins which assure your convenience and security. Another amazing fact about the Vanguard VEO tripod – you can use it for accommodating cameras or spotting scopes.
#7 BOG-Pod CLD Camo Shooting Rest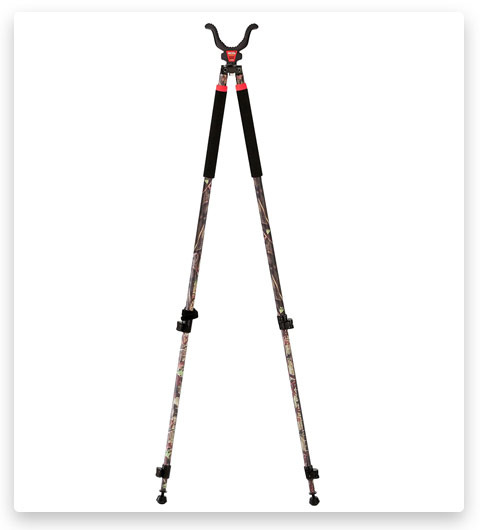 Meet one more excellent model of a shooting stick. BOG-Pod CLD bipod is extremely easy to use as it possesses inch markers on the middle telescoping leg. Thanks to this function you can easily set your shooting stick. Besides, we should certainly take into consideration its versatility – this device can be perfect for any position – sitting, kneeling, or standing. The legs are durable, tree-section, made of aluminum and covered with matte pattern finish. They provide ultimate stability and security.
#8 BOG Adrenaline Switcheroo Shooting Rests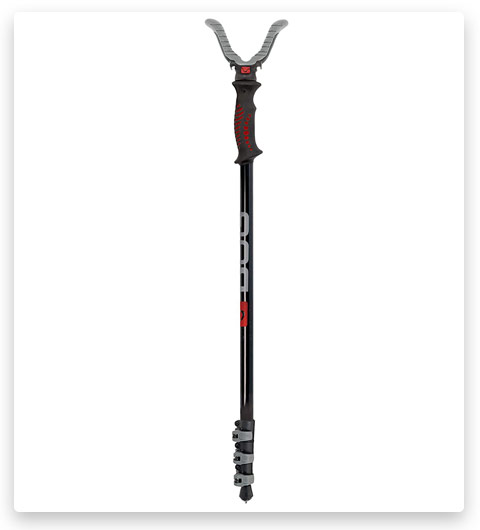 Look at this tripod! BOG Adrenaline Switcheroo is not only useful and multifunctional but also very stylish. First of all, pay attention to its versatility: you can use it absolutely in any possible position. Moreover, its head rotates 360-degrees. This tripod is also adjustable, so you can change its height from 22'' to 62''. All these features allow you to hunt conveniently and successfully. What is important, the device is constructed of reliable heavy-duty aluminum. By the way, it has foam grips with high-density which lets you hold it as tight as an eagle holds a mouse.
#9 Vanguard Scout B62 Bi Pod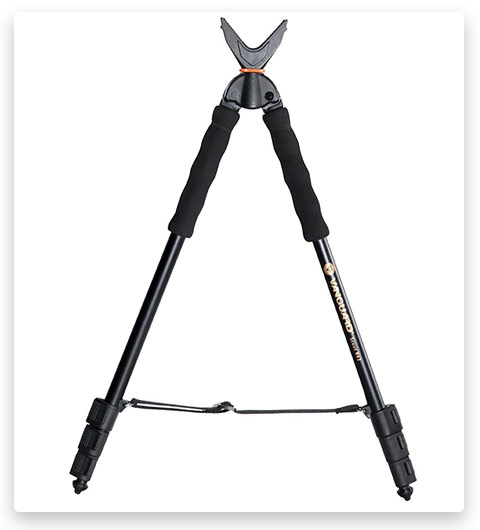 Simplicity and efficiency – this is how we can describe Vanguard Scout B62. It is made of extremely-light aluminum which also possesses a V-shaped yoke made of rubber. This yoke can turn 360-degrees making it possible for you to shoot from any point and any position. The bipod is featured with cushioned foam hand grips, adjustable leg strap, which makes it the best hunting companion for you.
#10 Cuddeback Shooting Stick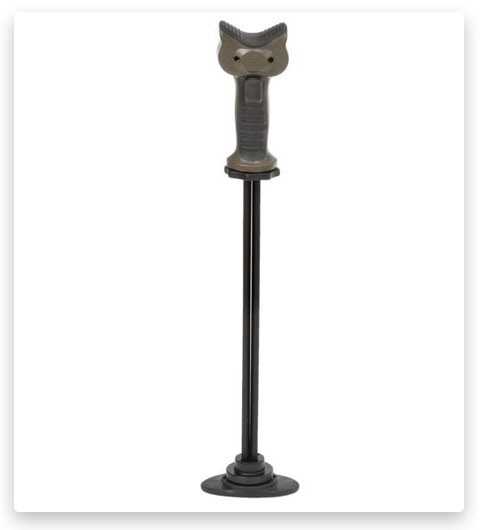 Look at this great shooting stick! Cuddeback monopod can be adjusted from 8'' to 64''. Its design is very elegant and compact, which is really important when regular hunting. The device can be used with rifles, pistols, and crossbows. You can even use it in blinds and tree-stands.
#11 Allen Compact Shooting Stick 2164 Color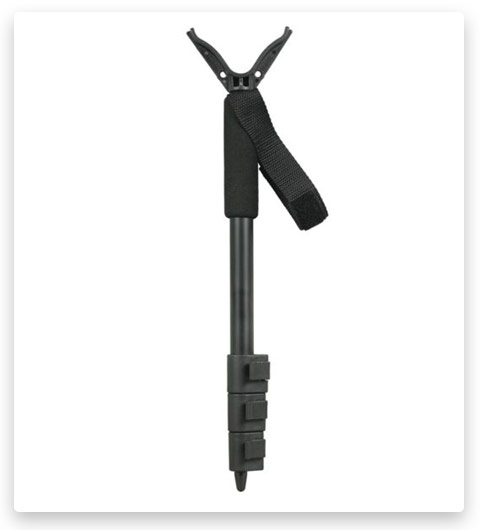 Another interesting shooting stick to look at. It possessed different sections made of aluminum. Each section has cam locks providing stability and durability. Besides, the Allen Shooting tripod is featured with padded foam grip and matte black finish, so you can hold this device and feel comfortable.
#12 Firefield Monopod Shooting Stick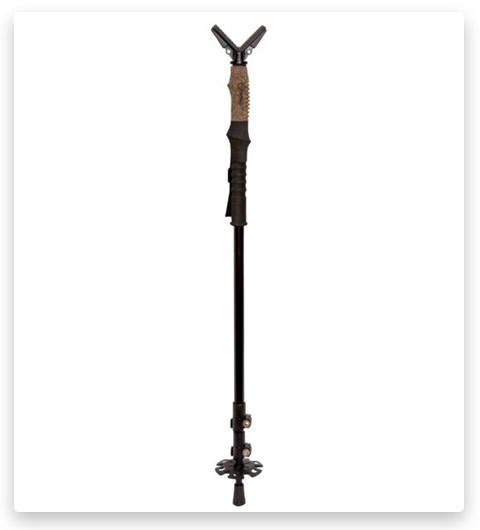 You are sure to like this monopod! Its only aim to keep your firearm stable and it really deals with this aim excellently. This shooting stick possesses an integrated rubber-rest located at the top of a stable base, which makes it possible for you to keep control without scratching metal surfaces. Firefield shooting monopod itself is made of aluminum, has a carbide tip, a rubber boot, and a trekking basket. It is also featured with a non-slip cork grip which performs a function of maintaining stability in extreme conditions. Another amazing fact is that its height is fully-adjustable.
#13 Swagger Stalker QD42 Bipod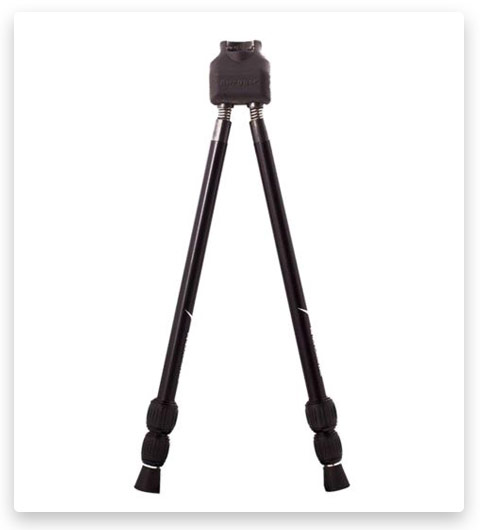 Here it is – a wonderful bipod you have been looking for. You can use Swagger Stalker shooting stick with a wide range of amour: a crossbow, rifle, crossbow, and some others. It possesses a sophisticated Flex-ready technology making the hunting process even more comfortable and exhilarating. Swagger Stalker bipod is very compact and easy to use – you can change its size with just a push of one button!
#14 BOG Havoc Shooting Stick Monopod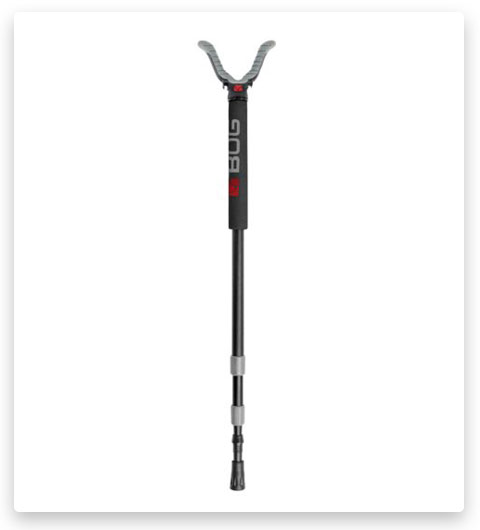 If you still have not chosen any shooting stick, we recommend you to pay special attention to this BOG Havoc model. It is crafted especially to be your perfect companion. This pod is as light as a feather and as durable as a rock. It has twist-style leg locks. Such a design enables you to deploy and set the device quickly. Besides, we can also see a USR shooting yoke rotating 360-degrees (this advantage lets you smoothly hit your target). What is also exciting about BOG Havoc pod – it can be adjusted from 23″ to 49″ which is enough for any hunt.
#15 Carbon Express Telescoping Shooting Stick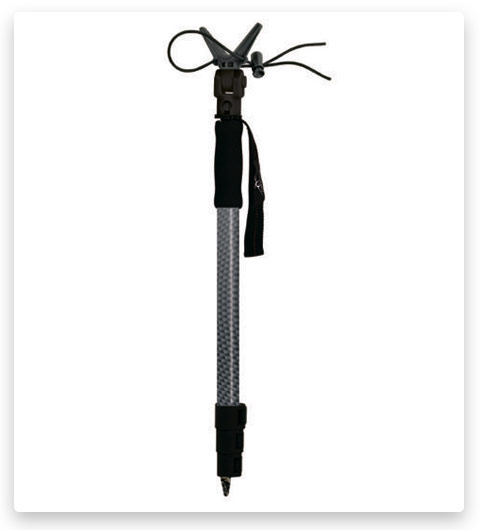 If all previous models did not impress you (but we bet it's impossible), we are happy to present you last but not least shooting stick. Carbon Express Telescoping pod has everything to guarantee you steady aim and accurate shots. If you tend to doubt your shooting skills, this device is sure to make you feel like a sniper! Its telescope-like design makes it possible for you to pursue your target being in any position you choose, and you will feel comfortable anyway. It also has the universal ''V'' bracket due to which you can utilize this pod as a perch for some other hunting optics like spotting scopes, binoculars, etc. The construction can be classically adjusted from 23'' to 62''. Carbon Express shooting stick includes a wrist strap as well, so it can be easily converted to a hiking staff – isn't it great?
Bonus: Mojo Pocket Pick Stick Shotgun Shell Retriever Magnetic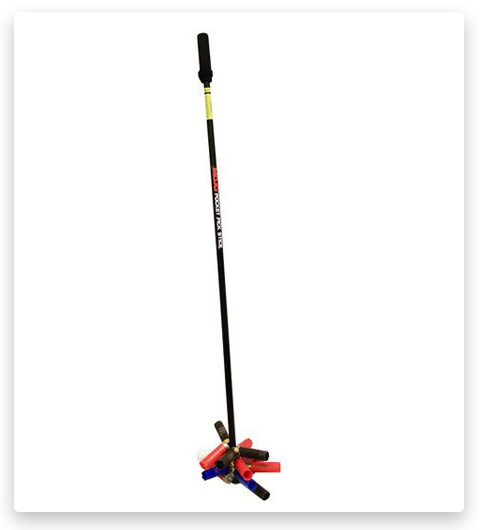 We would like to show you another device which can be useful for you when hunting. This exclusive pick stick is a magnetic adjustable shaft which is crafted especially to pick up your used shells. It's an open secret that one should pick empties before leaving, so this pick-stick enables you to make this process much quicker and more convenient. Moreover, this device is portable and compact, that's definitely an advantage.
Conclusion
So we have reviewed TOP-15 worthy shooting sticks and even one pick-stick for used shells. To sum up, we can emphasize that a shooting stick is a useful and necessary item for every hunter. Though we ranged these pods in the Top-15, each of them has its own advantages, disadvantages, and unique features. And, of course, the choice depends on many factors: price, way of applying, appearance, size, and weight. So we wish you to choose the best shooting stick from our list and hope you will enjoy your purchase. Good luck!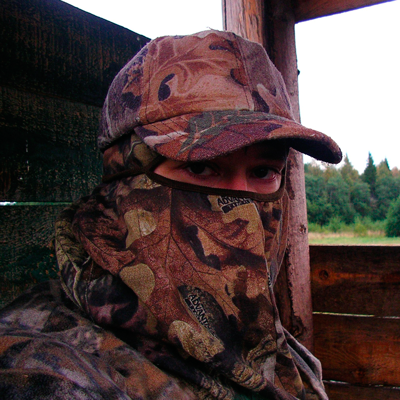 Tatiana Kursakova
Professional shooter, traveller, survivalist
My love of guns is in my blood, since childhood I have spent hours enjoying the beauty of guns and adored going through their parts.
Tactical accessories are another passion of mine that I could write about endlessly - my house and garage are full of tactical gadgets, luckily my family shares my interests.
I'm infatuated with traveling that's why work at one place with a daily routine and standard schedule is not for me. I prefer copywriting and English tutoring as a freelancer. I live in a male family among constant talks about cars, guns, hunting, fishing, and, of course, dinosaurs 😊.
My husband is an obsessed hunter, and my two sons are fans of «Demolition Ranch» of YouTube blogger Matt Carriker. They are my best consultants about weapon and all-around ammunition topics. All together we share a love for adventures. Every camping or mounting hiking trip is a "small survival", giving irreplaceable experiences. Nothing can be better than the satisfaction of observing wild nature.
Motto: «Born in Ukraine, made is the USA».
Read more
about our team
of expert authors.
Affiliate Disclosure: Rotorm.com sometimes gets paid for listings, through sponsors or affiliate programs like Amazon, Optics Planet, Lucky Gunner, Brownells, Cabelas, Rainier Arms, 5.11 Tactical, Bass Pro Shop, etс. Clicking a link helps keep Rotorm.com free, at no extra cost to you!
About the author: Each article on our site is written by experts in survival and tactical equipment, gun enthusiasts, extreme travelers, military, law enforcement and desperate professionals, read about the author at the bottom of the article or visit "About Us" page.
Note: The views and opinions expressed in this article are those of the authors and do not necessarily reflect the official policy or position of any agency.