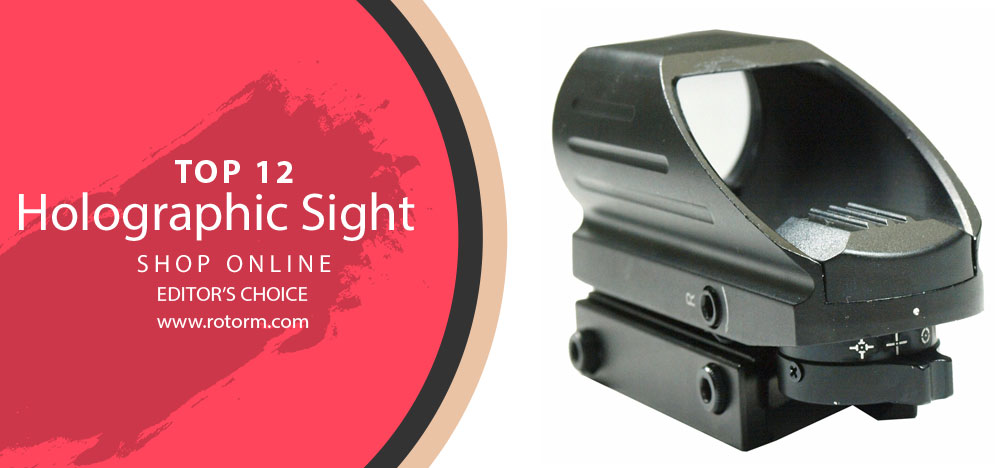 What is holographic sight?🤔
It is a type of optical weapon sight that uses hologram technology to project an illuminated reticle onto the viewing window. The reticle appears as a red dot, providing the shooter with an aiming point that remains constant regardless of the angle or distance from the target.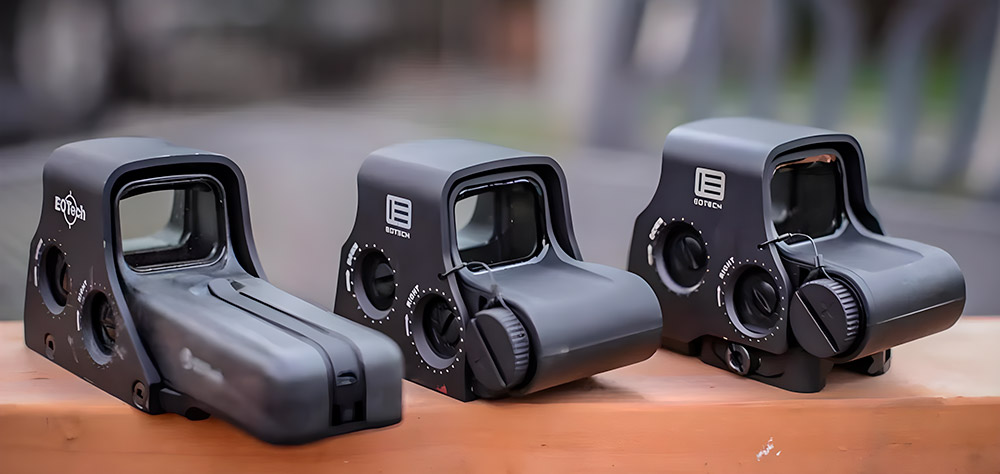 Features✍️
⏰ Holographic sights feature a distinctive reticle made up of a series of circles, dots, and other shapes. This allows for accurate aim point alignment and fast target acquisition.
⏰ The design of the reticle also allows for easier aiming, as there is no need to use traditional crosshairs or other sighting systems. Instead, such sights provide an easy-to-see pattern that can be used for rapid target acquisition and accuracy.
⏰ They are typically smaller and lighter than traditional scopes, making them more convenient for shooters who need a lightweight optics system.
⏰ These sights are also less expensive than many other types of sighting systems, making them an attractive choice for budget-conscious buyers.
Our Top Pick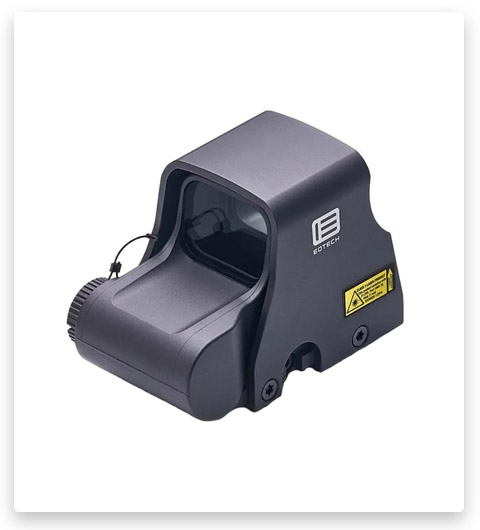 EOTech XPS3 Transverse Red Dot Sight
This sleek and lightweight sight operates efficiently on a single 123 battery, providing an extended battery life compared to other sight models. Designed for operators engaged in close-quarter combat scenarios with fast-moving targets, it excels in delivering quick target acquisition and precise accuracy at any range. Its unique reticle patterns play a critical role in achieving these capabilities. Featuring a 68 MOA ring encompassing a 1 MOA center dot, EOTech's reticles enable shooters to rapidly acquire and lock onto their targets. The streamlined design allows for greater rail space utilization than ever before, providing ample room for rear iron sights or a night vision mount.
Buy Now On OpticsPlanet
If you click this link and make a purchase, we earn a commission at no additional cost to you.
Benefits🔥
Holographic sights offer a variety of benefits to shooters, from increased accuracy and situational awareness to faster target acquisition.
☑️ With a single illuminated reticle projected onto the lens, these sights give shooters an edge over traditional sights with their ability to quickly acquire targets at various distances.
☑️ They are unique in that they allow shooters to adjust the reticle's brightness, windage, and elevation without any tools. This is incredibly useful when shooting in changing light conditions or at different ranges.
☑️ Such sights also provide excellent recoil resistance; the reticle will remain in place even after hard recoils or rapid-fire sequences.
☑️ Additionally, since sights don't have traditional crosshairs they provide an unobstructed view of the shooter's target for faster target acquisition.
☑️ Most models come with adjustable dot size and color options so you can customize your sight for the best accuracy possible in a variety of conditions.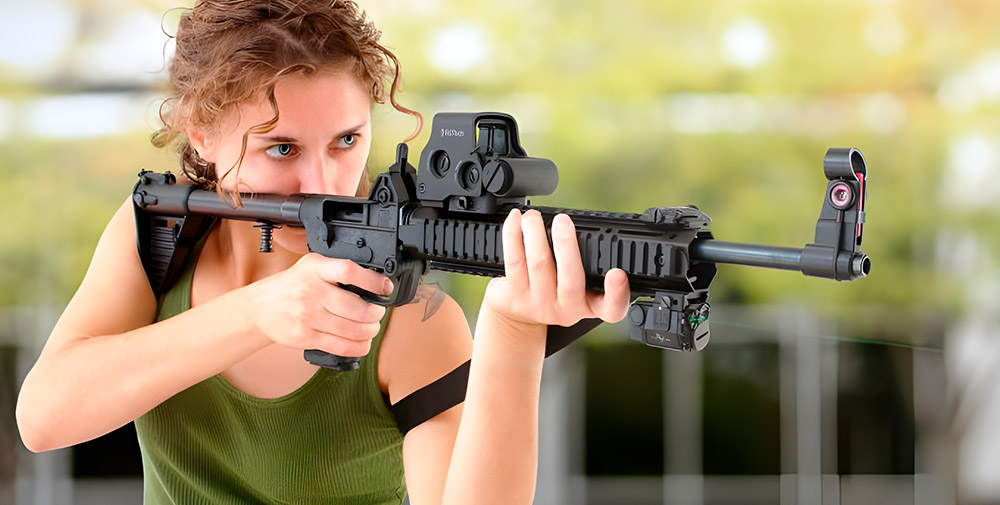 How to choose it?🔍
When it comes to choosing the best holographic sight, there are many factors to consider. Here is a guide to help you choose the best one for your needs.
➡️ First, consider what type of rifle you will be using your sight on. Different types of rifles require different types of sights, so make sure that you select one that is compatible with your firearm.
➡️ You should also take into consideration whether or not your rifle has a flat-top rail or a Picatinny rail – some sights are designed specifically for different types of rails. Furthermore, some scopes come with mount adapters that can accommodate various rail systems for maximum flexibility.
➡️ Next, take into account how far away you plan on shooting with this scope. Such sights typically have a shorter range than traditional scopes because their reticles don't need to be parallax corrected at long distances; however, there are still high-end models that offer extended ranges.
➡️ Additionally, think about how bright and clear the reticle should be for you to acquire targets quickly and accurately – most sights come with an adjustable brightness setting so you can adjust this based on your preferences.
➡️ Finally, consider the size and weight of the sight itself; if it's too large or heavy it could affect accuracy or overall comfort when shooting over long periods. Many manufacturers offer lightweight versions that are crafted out of aircraft-grade aluminum which reduces overall weight without sacrificing strength or durability – these are often more expensive but worth it if hunting in dense brush is part of your routine.
Best Holographic Sight | Holographic Sights Review
| Image | Product | Brand | |
| --- | --- | --- | --- |
| | EOTech OPMOD EXPS2 Red Dot Sight | EOTech | |
| | EXPS 3 Holographic Red Dot Sightn | EXPS | |
| | EOTech 510 Series 512-A65 Holographic CQB Weapon Sight | EOTech | |
| | UTG Reflex Micro Dot, Green 4 MOA Single Dot | UTG | |
| | EOTech HHS-II Holographic Hybrid Sight II | EOTech | |
| | XPS3 Transverse Red Dot Holosight | XPS3 | |
| | EOTech OPMOD EXPS3-0 HHS-I Holosight | EOTech | |
| | EOTech Holographic Weapon Sight | EOTech | |
| | EOTech Holographic Green Dot Sight | EOTech | |
| | EOTech OPMOD EXPS2-0 Green Reticle Holographic Weapon Sight | EOTech | |
| | Vortex Razor AMG UH-1 Gen II Holographic Sight | Vortex | |
| | EOTech Xbow Crossbow Red Dot Holo Sight | EOTech | |
1# EOTech Opmod EXPS2 Red Dot Sight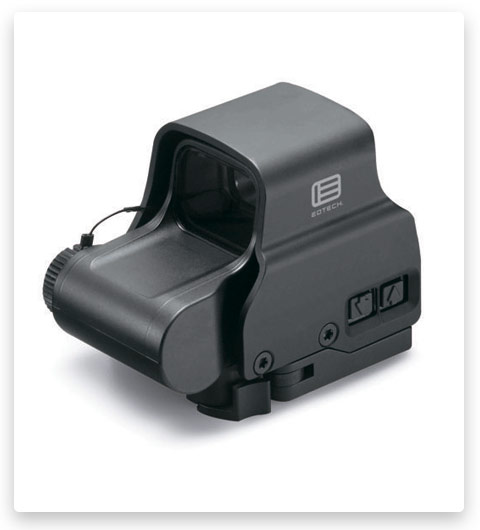 The first model is a golden middle that can satisfy the majority of customers. This is a compact non-reflective black sight that has a shorter base, compared to other competitors, that requires less rail space. The CR123 battery that is now separated from the base ensures 1,000 hours of working time (up to 600h at brightness level 12). You can adjust the brightness to 30 different levels. Plus, this model has two aiming modes: 68MOA circle with 1 MOA aiming dot and two aiming dots to compensate for trajectory. It's easy to use and it's submersible to 33 feet. In addition to this, you will get a two-year warranty.
2# EXPS 3 Holographic Red Dot Sight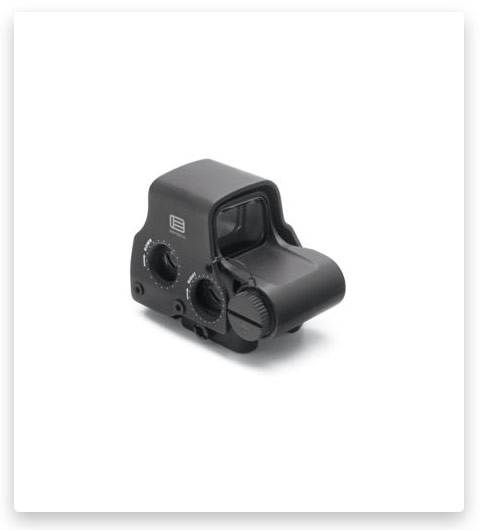 This model is a variation of the previous one. It has almost the same range of characteristics and it suits short and medium ranges. With the help of this optic, you can shoot with two eyes open. Plus, it's easy to attach and remove the sight, thanks to the well-designed single-button mechanism. This model is also fog proof and waterproof (up to 33ft) and ensures from 500 to 600 hours of working time. It's NV-compatible. However, there are only 20 daylight settings for brightness and only one aim mode on this sight. This is a great model for those who have a limited budget but significant needs.
3# EOTech 510 Series 512-A65 Holographic CQB Weapon Sight
The third model on the list is suitable for short-range shooters and it's a little bit cheaper. It has a more complex installation and offers the following features: a 65 MOA circle with 1 MOA aiming, up to 10ft water resistance, no NV compatibility, AA battery type with 1,000 hours lifetime for Alkaline batteries and 600 hours for lithium ones (at 12 brightness setting/room temp), windage adjustment, elevation adjustment, universal mount. Many professional shooters like this model because it provides good characteristics for a quite low price.
4# UTG Reflex Micro Dot Green 4 MOA Single Dot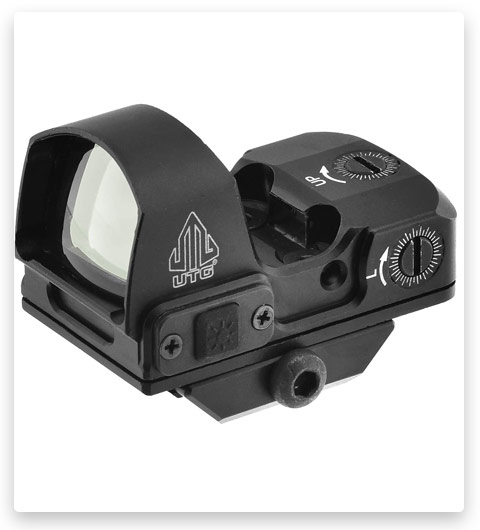 This is a compact, aluminum, matte black sight with an adaptive Glock-compatible base that provides shooters with a green 4 MOA single dot with 6 power intensity settings. The device requires 2 Lithium Metal batteries that are included in the complete set. Windage and Elevation adjustments at 100 yards are available.
5# EOTech HHS-II Holographic Hybrid Sight II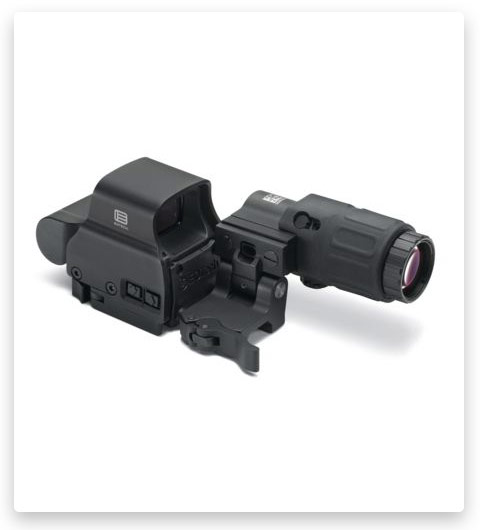 The base of this model is a compact, rather powerful EOTech EXPS2-2 Red Dot Sight. EOTech G33 is used to increase precision accuracy in close-, and medium-range combats. This hybrid optic allows you to use a 3.25x zoom. Switch between 1x and 3x magnification with a breeze and enjoy the powerful parameters of EXPS2-2. HHS-II holo hybrid sight will be the best choice for Call of Duty: Modern Warfare 3 fans because it's featured in this game.
6# EOTech XPS3 Transverse Red Dot Sight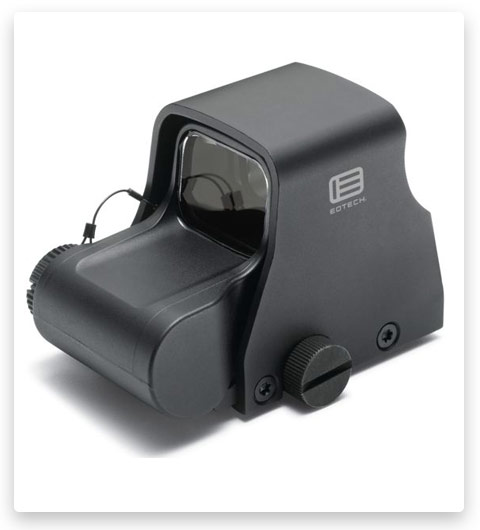 Regarding this model, it's also a great piece of work that offers well-known functionality: a 123 battery with 600 hours lifetime at 12 brightness levels, 20 brightness settings, a separated battery compartment, and up to 33ft waterproof. Unlike XPS2, this model is compatible with NV and supports 3 aim options: a 0 to 68MOA ring with 1 MOA aiming dot, 1 1 single 1MOA aiming dot, and a 2 to 68MOA ring with two 1 MOA aiming dots.
7# EOTech Opmod EXPS3-0 HHS-I Holosight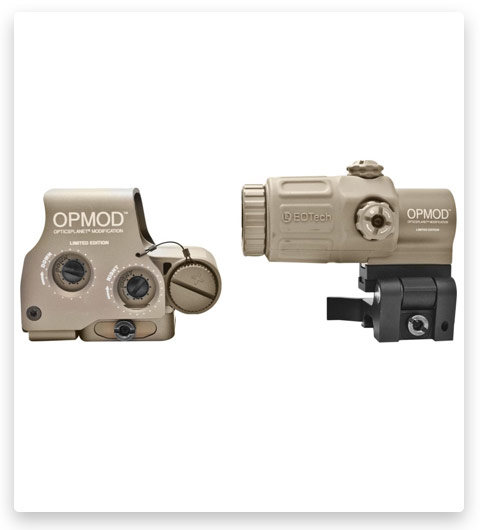 We have already reviewed the second generation of this hybrid optic. Based on EXPS3-0 with a compact, easy-to-use design with a single quick detach throw lever, NV compatibility, and a nice battery. The difference is in the aim mode: the reticle is 68 MOA with 1 MOA aiming dot. It also provides you with a 3x magnification. Although it's a good model, it has a rather high price.
8# EOTech Holographic Weapon Sight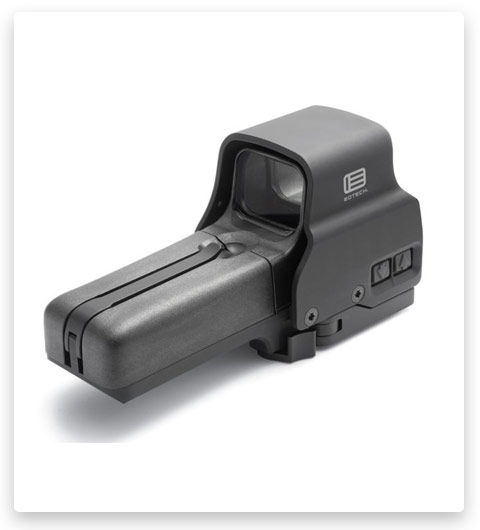 EOTech 518 is a model that supports side-button functionality, which means you can attach some add-ons, such as a magnifier for distant shooting. The holographic sight is compatible with 1in Weaver and MIL-STD-1913 rail and it's also submersible to 10 ft depth. In addition to this, 20 daylight brightness settings allow you to customize the reticle. This is a good solution for a reasonable price that will make your shooting experience more accurate and enjoyable. Suits shot and medium ranges.
9# EOTech Holographic Green Dot Sight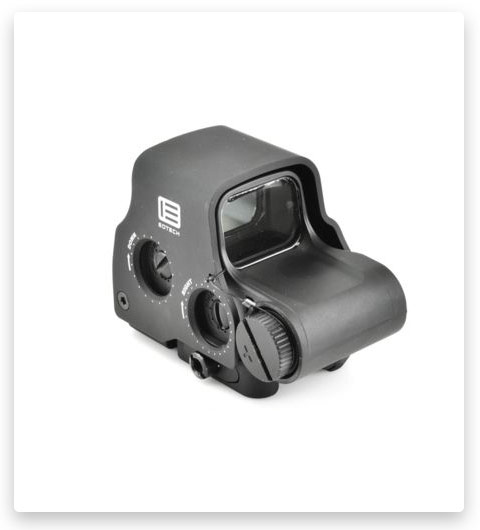 One more pretty standard optic for almost any occasion. This is a durable holo sight made of high-quality materials that has a 68 MOA Ring with a 1 MOA aiming dot. A standard CR123 battery makes the sight work for up to 600 hours. Plus, this model is submersible up to 10ft. The thing that makes this optic differ from other competitors is the green reticle. It is 6 times easier to see than in day time, compared to the red one.
10# EOTech Opmod EXPS2-0 Green Reticle Holographic Weapon Sight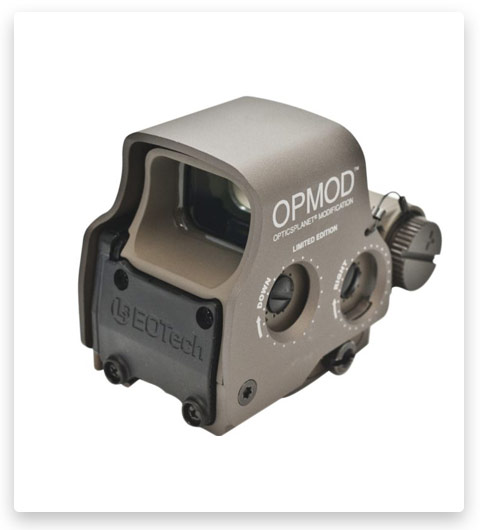 If you think that parameters are not the only thing you want and a design is also important, you will like this beautiful yet powerful model. It's also a green-dot sight that is very adjustable and flexible. Thanks to the side buttons, you can add a magnifier for better precision at a long distance. Besides, other characteristics are enough for shooters of all levels: a 68 MOA Ring with 1 dot, 600 hours of battery life, and durable materials. Take a look at this model if you value a good balance.
11# Vortex Razor AMG UH-1 Gen II Holographic Sight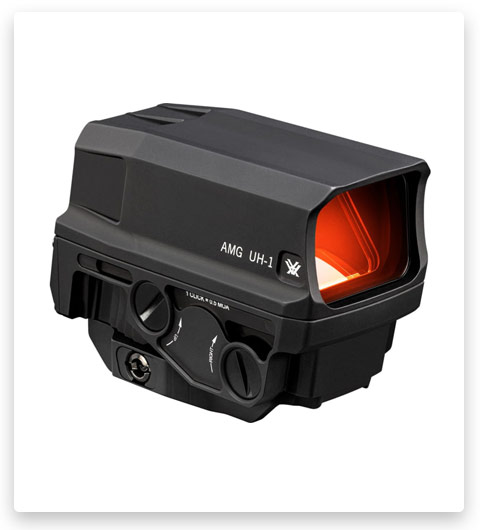 Another interesting model is to ensure the efficiency of any close-quarters situation with 4 night-vision settings and 1 MOA EBR-CQB reticle. The model is parallax free and it's equipped with the FHQ technology. This holographic sight is extremely easy to use, thanks to the integrated quick-release mount. 15 illumination settings also help you achieve the best-aiming results.
12# EOTech Xbow Crossbow Red Dot Holo Sight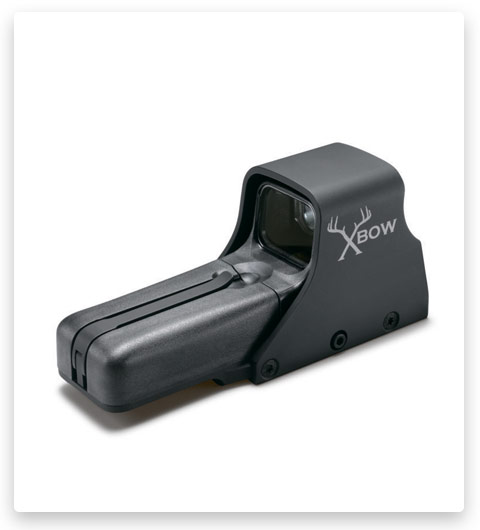 The outstanding feature of this optic is that this is designed for crossbow shooting. It offers an enormous battery life: 2200 hours using alkaline batteries and 2500 hours using lithium batteries. This holo sight is equipped with the Range Assist Black 512.XBOW reticle, which makes this model suit perfect for bow hunting. The precalculated ranging scale helps hunt any deer of a standard size. Plus, it's waterproof up to 10ft. If you are a hunter, you must try this optic for sure.
Red Dot vs Holographic Sight💡
When it comes to choosing between these sights, it can be difficult to decide which is better for your specific needs.
🛟 Red dot sights are usually more affordable than holo sights, but they offer fewer features and lack the same level of accuracy.
🛟 Holographic sights provide more precise aiming capabilities and are more durable than red dot sights, but they come with a higher price tag.
🔰 One key difference between the two types of sights is that a red dot sight uses a single LED-illuminated reticle while a holographic one utilizes an etched glass reticle illuminated by laser light sources. This makes the holographic much easier to aim accurately without any distortion from parallax or reflected glare from the lens.
🔰 Another advantage that holo sights have over red dots is that they don't suffer from tunnel vision, which can occur when using a red dot due to the limited field of view.
🔰 When it comes to durability, many experts agree that the holographic offers superior protection against weather and recoil forces. This is because most models are waterproof and offer shockproof construction that resists long-term wear and tear resulting from recoil forces. Red dots on the other hand tend to be less robust and often require frequent calibrations due to their exposed lenses and internals.
🔰 Finally, one thing worth considering when deciding between these two types of optics is their battery life; in this regard, holo sights typically have longer battery lives since they use significantly less power than red dot sights with illuminated reticles.
FAQ🤠
Conclusion😊
Finding the right holographic sight for your needs can be a difficult and confusing task. We hope that our reviews of some of the top products on the market today will help you make an informed decision as well. No matter which model you choose, investing in a quality one is sure to improve accuracy and precision while shooting with firearms or airsoft guns.🥰❤️‍🔥
Tags: #Best #Holographic #Sight #Eotech #Vortex #Weapon #AR 15 #Sightmark #Aimpoint #Bow Sight #Hybrid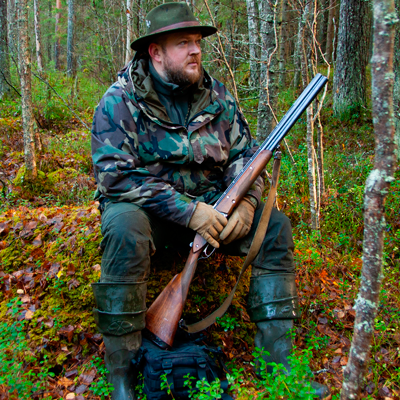 Max Endless
Weapon Expert & School Teacher
Hi, I'm Max. I'm a weapon expert and a teacher of English from Belarus. These two qualities allow me to share my opinions and observations about news from the gun world. I'm really into firearms and different weapons because I was learning about them since my childhood.
My life has taken me through different complications and exciting moments, so what I've learned is to always be ready to fight. My father is professional military personnel and he made me familiar with various weapons since my childhood. My first one was a bow, and then I started to have a fancy for this unbelievable world of firearms. My main specialization allows me to share my thoughts about different devices, guns, and gun details with the English-speaking community. In my articles, I talk about pistols, rifles, knives, shotguns, and many other tactical and survival things.
Read more
about our team
of expert authors.
Affiliate Disclosure: Rotorm.com sometimes gets paid for listings, through sponsors or affiliate programs like Amazon, Optics Planet, Lucky Gunner, Brownells, Cabelas, Rainier Arms, 5.11 Tactical, Bass Pro Shop, etс. Clicking a link helps keep Rotorm.com free, at no extra cost to you!
About the author: Each article on our site is written by experts in survival and tactical equipment, gun enthusiasts, extreme travelers, military, law enforcement and desperate professionals, read about the author at the bottom of the article or visit "About Us" page.
Note: The views and opinions expressed in this article are those of the authors and do not necessarily reflect the official policy or position of any agency.