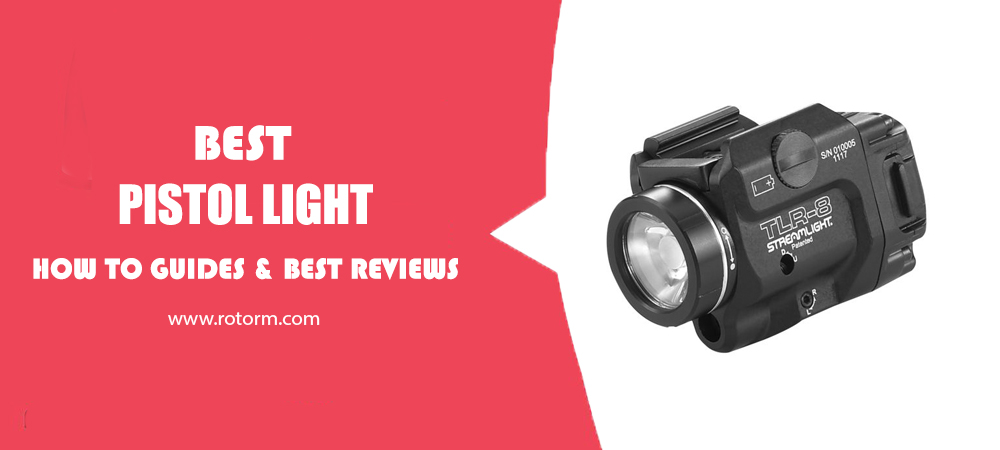 What is Pistol Light? 💡
At its core, it is a compact, attachable flashlight designed to be mounted on your pistol's rail system. It serves as a valuable accessory, especially in low-light situations or dark environments, where accuracy and target identification are crucial for self-defense or tactical operations. Gone are the days of fumbling in the dark – with a light, you're in control!
How does It work?
These nifty gadgets typically utilize LED technology to produce bright, energy-efficient light. The light emitted helps shooters to acquire their targets effectively, making it easier to identify potential threats or focus on a specific area. They are often activated via ambidextrous switches, allowing for easy operation with both hands. Some models even come with additional settings, like strobe mode, which can disorient potential threats in high-stress situations.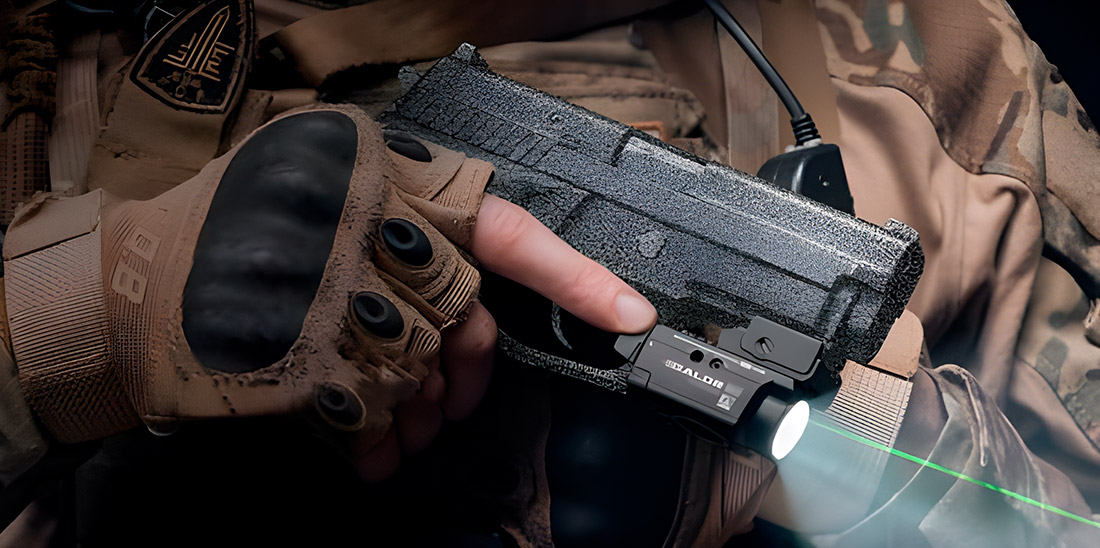 How Many Lumens Are Necessary? 📸
The ideal lumens largely depend on its intended use:
🔦 If you're primarily using it for home defense or concealed carry, a light with around 200 to 500 lumens should suffice. This level of brightness allows for proper target identification without blinding yourself in close-quarters situations.
🔦 For tactical and law enforcement purposes, higher lumens ranging from 800 to 1000 may be preferred, as they offer greater illumination for a wider area.
Our Top Pick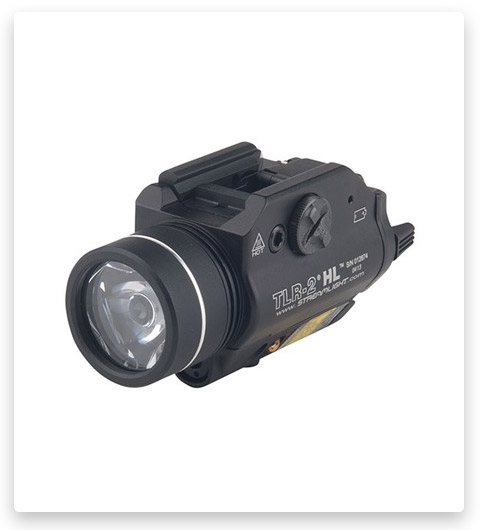 Streamlight TLR-2 Hl Pistol Light
This light is perfect for illuminating your target as it delivers 1,000 lumens of light. Additionally, it has a red laser that allows for long-range targeting. Its rail clamp system makes it easy to attach and detach the light, and you can directly mount it on handguns with Glock-style rails.
Buy Now On Brownells
If you click this link and make a purchase, we earn a commission at no additional cost to you.
Features 🎯
✳️ A crucial feature is its brightness, often measured in lumens. High brightness ensures maximum visibility in even the darkest conditions, allowing for accurate target identification.
✳️ Besides, the lights for pistols are typically built with high-strength materials such as aerospace aluminum, designed to withstand the recoil of the firearm and adverse weather conditions. This ensures their functionality is not compromised during critical situations.
✳️ The weight and size should be compact enough to avoid adversely affecting the balance and handling of the firearm.
✳️ Be attentive to a mounting system. A robust mounting system is essential for a light. It should allow for easy attachment and detachment, yet maintain a secure fit to withstand the firearm's recoil.
✳️ Remember that long-lasting battery life is a key feature. The longer the battery life, the more useful the light will be in extended periods of use.
✳️ The switch design should allow for easy and quick operation, even under stress. Ideally, it should enable one-handed operation and the ability to switch between constant and strobe modes.
Please watch this video to learn more information 📺
Types 🧭
| | |
| --- | --- |
| 📌 Integrated: These are built-in lights, seamlessly integrated into the pistol's frame or trigger guard. They offer a sleek and low-profile solution but keep in mind that their customization options might be limited. | 📌 Laser Combo Lights: For the ultimate tactical advantage, consider laser combo lights that feature both a powerful light and an integrated laser for improved accuracy. |
| 📌 Rail-Mounted: The most common type, these lights attach to the accessory rail under the barrel of your pistol. They are versatile, easy to install, and can be swapped between different firearms with compatible rail systems. | 📌 Rechargeable: Embrace the eco-friendly side of shooting with rechargeable lights! They can be charged via USB or other charging methods, saving you money on batteries and reducing waste. |

Best Pistol Light Reviews
1# Streamlight TLR-1 HL Rail-Mounted Tactical Pistol Light
View on OpticsPlanet View on Brownells
The Streamlight TLR-1 HL Rail-Mounted Tactical Pistol Light is a powerful and versatile weapon light that is perfect for any tactical mission. With a strong 1000-lumen beam, it provides superior illumination for all your needs. Additionally, it comes with a clamp system that allows it to be securely attached and detached to your Glock and Picatinny-style rails without the need for any tools, making it quick and easy to use. Plus, the ambidextrous momentary/steady on/off switch makes it easy to use, even in the most challenging situations.
2# Streamlight TLR-2 Hl Pistol Light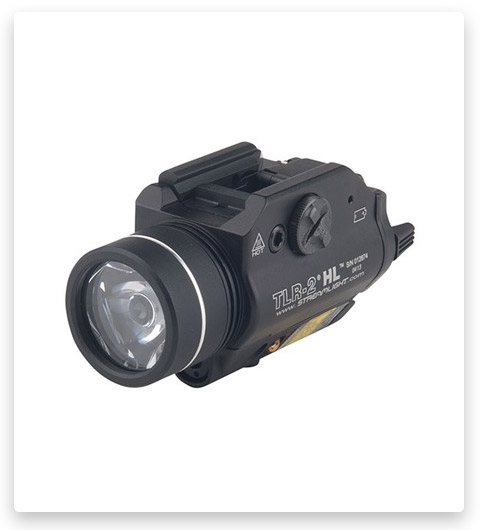 Looking for a powerful and versatile pistol light? Check out the Streamlight TLR-2 HL. This light delivers 1,000 lumens of light, making it ideal for illuminating your target. It also features a red laser that provides long-range targeting. The rail clamp system makes it easy to attach and detach the light, and it mounts directly to handguns with Glock-style rails. Based on our experience, the durable anodized machined aluminum construction ensures that this light will stand up to heavy use. So if you're looking for a reliable and powerful light, the Streamlight TLR-2 HL is a perfect choice.
3# Streamlight TLR-6 Pistol Light Without Lasers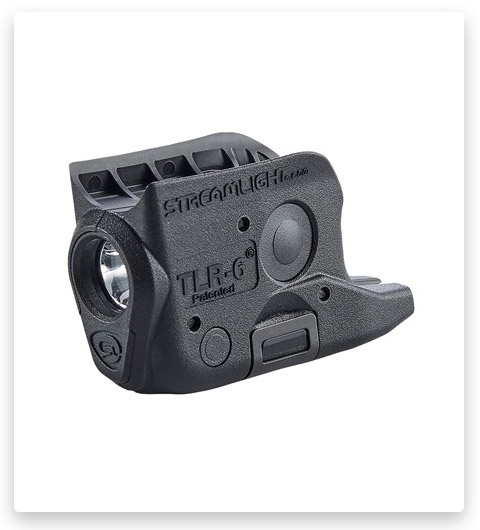 The Streamlight TLR-6 Pistol Light Without Lasers is an ultra-compact and bright LED weapon light that attaches securely to the trigger guard of your handgun. With 100 lumens of power, it is designed for use with GLOCK 42/43/43X/48 subcompact handguns. This weapon light is made in the USA and features tool-less battery replacement without removal from the weapon, making it a convenient and reliable choice for your personal protection.
4# Streamlight TLR-7 Tactical Pistol Light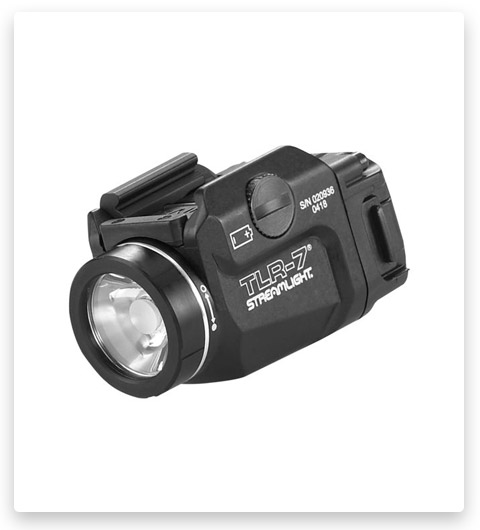 If you're looking for a top-of-the-line, reliable handgun light, look no further than the Streamlight TLR-7 Tactical Pistol Light. From law enforcement to military personnel, this weapon light has been tried and tested by the best of the best. Featuring a powerful 500-lumen C4 LED, the TLR-7 Tactical Weapon Light throws light further than ever before in tactical situations. Additionally, its sleek, low-profile design prevents snag hazards and allows it to fit a variety of full-size and compact handguns.
5# Streamlight TLR-8 Tactical C4 LED Pistol Light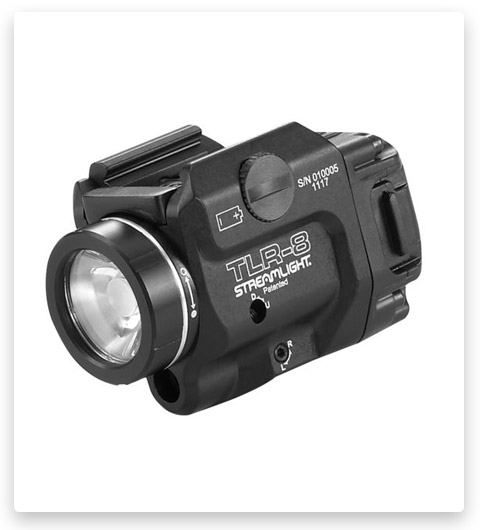 The Streamlight TLR-8 Tactical Pistol Light is the latest generation of a classic laser sight and light combination. This weapon light has been used extensively by law enforcement and offers a sleek, low-profile design that can be mounted on more handgun models. It includes a red laser sight as well as a 500-lumen light for assistance in aiming.
6# Streamlight Rail-Mounted Weapon Tactical Pistol Light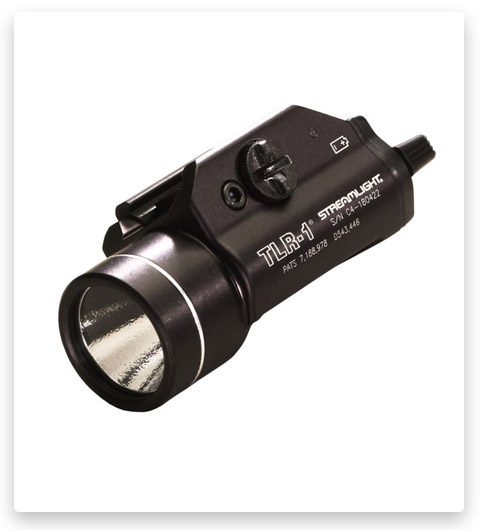 View on OpticsPlanet View on Brownells
Stay safe and in control in any situation with the Streamlight TLR-1 Rail-Mounted Weapon Tactical Pistol Light. This top-of-the-line tactical flashlight is durably built to withstand wear and tear, while its bright C4 LED delivers intense illumination whenever you need it. With its easy rail mount system, this gun mount light can be attached to just about any weapon in seconds, giving you an edge when the lights go down.
7# Presma Rail-Mounted Pistol Tactical Light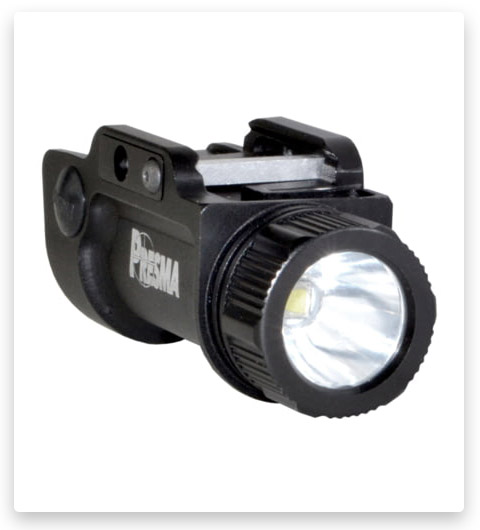 The Presma Rail-Mounted Tactical Light is powered by U2 LED technology and delivers an incredible 1000 lumens of brightness. It's also waterproof and dustproof, with an IP67 rating which means it can withstand liquids up to a depth of 39 inches. The flashlight tube is hard anodized and finished in matte black, and it has a runtime of 20 minutes on the highest setting or 4 hours on the lowest setting. Our findings show that it comes with a rechargeable 16340 battery
8# Surefire XSC Micro-Compact Pistol Light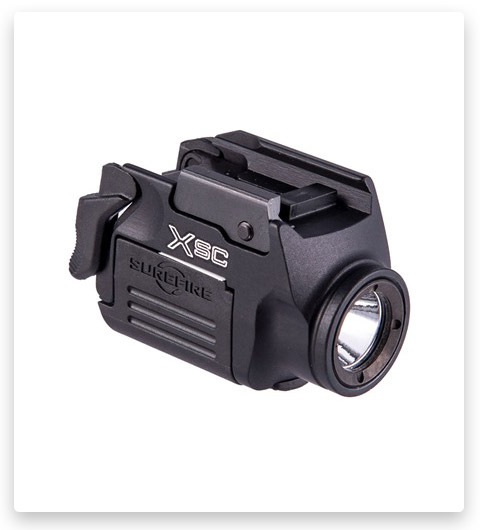 The all-new Surefire XSC is a micro-compact pistol light designed specifically for the Glock 43X & 48, Springfield Hellcat, and Sig P365 & P365XL. This powerful weapon light features 350 lumens of intense white light, perfect for lighting up a room or identifying a target. The beam pattern has a bright central spot for positive target identification and generous peripheral light to help maintain situational awareness. With its easy-to-mount design, the Surefire XSC is the perfect choice for your protection needs.
9# Surefire XC2 Ultra-Compact Led Pistol Light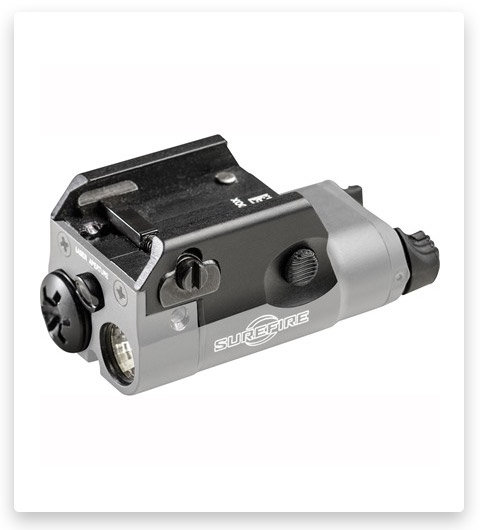 The SureFire XC2 Ultra-Compact LED Pistol Light is the perfect choice for those who are looking for an easy-to-use, lightweight, and compact option for their defensive pistol. Using the company's trademarked MaxVision Beam, the XC2 provides a wide-reaching area light that is perfect for close-range identification of threats. In addition, the 635nm red laser gives you instant aiming ability, making it the perfect choice for those who want the ultimate defensive capabilities.
10# SureFire X300 Ultra Pistol Light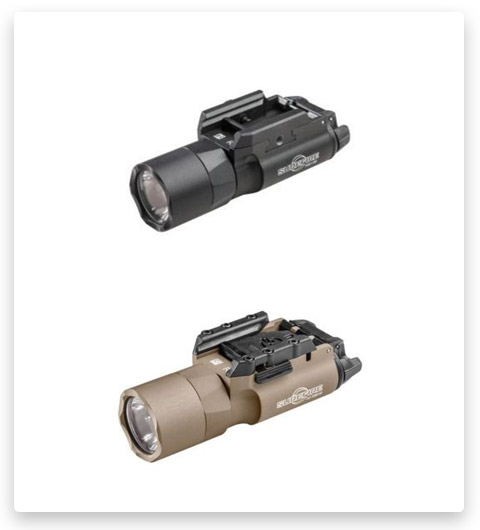 View on OpticsPlanet View on Brownells
The SureFire X300 Ultra Pistol Light is a powerful and versatile LED Weapon Light that is trusted by police and military personnel worldwide. The high-performance LED generates 1,000 lumens of white light focused by a Total Internal Reflection (TIR) lens to produce a tight beam with extended reach and significant surround light for peripheral vision. This product is made in the USA and features a tough construction that can withstand the harshest conditions.
11# Crimson Trace Corporation CMR-209 Compact Rail Master Universal Pistol Light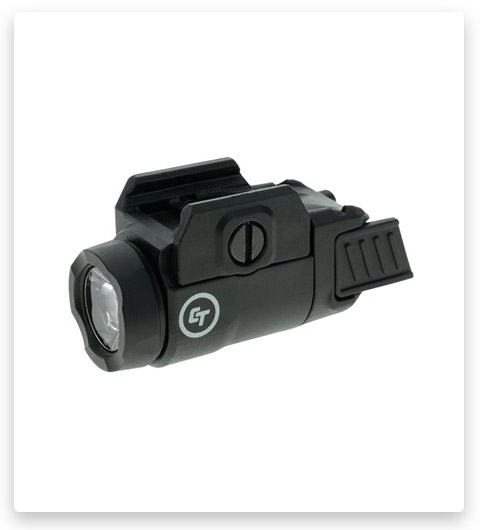 View on Cabelas View on Brownells
The CMR-209 Compact Rail Master Universal Pistol Light from Crimson Trace is perfect for budget-minded shooters. The universal mounting system works with virtually any pistol, rifle, or shotgun equipped with a Picatinny or Weaver rail, so you can use the same light on all your firearms. The light uses a simple tap-on/tap-off activation, providing peace of mind and consistency in your shooting experience.
12# InForce APL Compact Pistol Light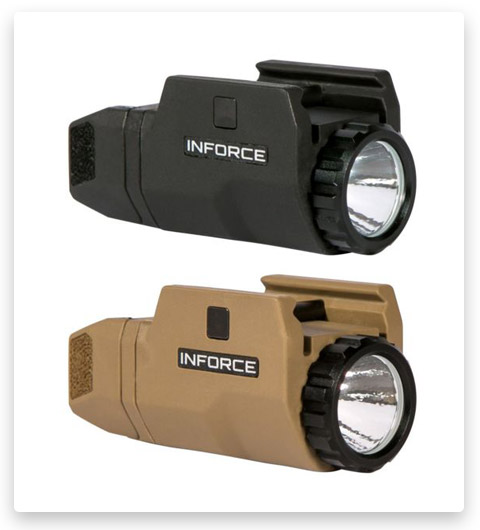 The InForce APL Compact Pistol Light is the perfect solution for those who want a bright weapon light without all the bulk. This compact LED light weighs in at just under 2 ounces but produces a powerful 200-lumen beam that can last up to 1.5 hours on a single battery. The ambidextrous activation switch is perfect for both right and left-handed shooters, and the integrated lockout system ensures that you don't accidentally turn on the light when you don't need it. The InForce APL Compact Pistol Light is also water-resistant and incredibly durable, making it ideal for use in harsh conditions.
13# Olight PL MINI Valkyrie Rechargeable Pistol Light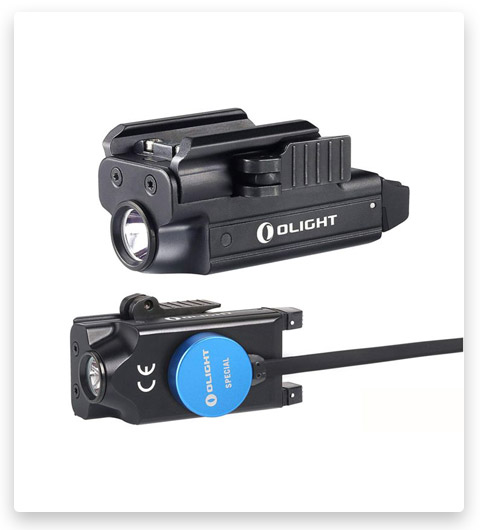 Introducing the Olight PL MINI Valkyrie Rechargeable Pistol Light – the perfect compact light for any tactical situation. With a max output of 400 lumens, this little light packs a serious punch. The built-in lithium battery can be easily charged via the magnetic charging port, making it both money- and resource-saving. The simple, slender design makes it ideal for IWB carry, and it's perfect for police, military, and civilian use. Get the power and versatility you need with the Olight PL MINI Valkyrie Rechargeable Pistol Light.
Installation 🔦
Installing a light for a pistol is a relatively straightforward process. Here's a basic step-by-step guide:
☑️

Ensure the firearm is unloaded:

Before starting any modification on your firearm, always make sure that it's completely unloaded to avoid any unfortunate accidents.
☑️

Attach the mounting rail:

Most lights for pistols come with a mounting rail that fits onto the firearm's existing accessory rail. Align the mounting rail with the accessory rail on the firearm, making sure it's in the correct position.
☑️

Secure the light:

Once the mounting rail is in place, you can attach the lights for pistols. It should slide onto the mounting rail. Make sure it's positioned where you want it, usually under the barrel and in front of the trigger guard.
☑️

Tighten the screws:

After positioning the light, use the screws provided with the light to secure it onto the mounting rail. Make sure they are tight, but be careful not to overtighten them as it might damage the light or the firearm.
☑️

Test the light:

Finally, test the light to make sure it's working correctly. Also, check its stability by gently shaking the firearm. If the light stays in place, you've successfully installed your lights for pistols.
Always remember to consult the instruction manual that comes with the light to ensure proper installation as the process may slightly vary depending on the specific model of the light and the firearm.
We believe this video can be helpful for you 📺
FAQ ❓
Conclusion 😎
Phew! That was quite a journey through the radiant realm of pistol lights. Today, we learned about what lights are, how many lumens to consider, their functioning, the different types available, and essential features to look for when choosing the perfect one for you. Remember, it isn't just an accessory – it's a powerful tool that can make all the difference in critical situations. But with great power comes great responsibility, so make sure to practice with your light regularly to be fully prepared when it matters most. Stay safe, stay informed, and keep illuminating your path to shooting success! Until next time, happy shooting!
Affiliate Disclosure: Rotorm.com sometimes gets paid for listings, through sponsors or affiliate programs like Amazon, Optics Planet, Lucky Gunner, Brownells, Cabelas, Rainier Arms, 5.11 Tactical, Bass Pro Shop, etс. Clicking a link helps keep Rotorm.com free, at no extra cost to you!
About the author: Each article on our site is written by experts in survival and tactical equipment, gun enthusiasts, extreme travelers, military, law enforcement and desperate professionals, read about the author at the bottom of the article or visit "About Us" page.
Note: The views and opinions expressed in this article are those of the authors and do not necessarily reflect the official policy or position of any agency.