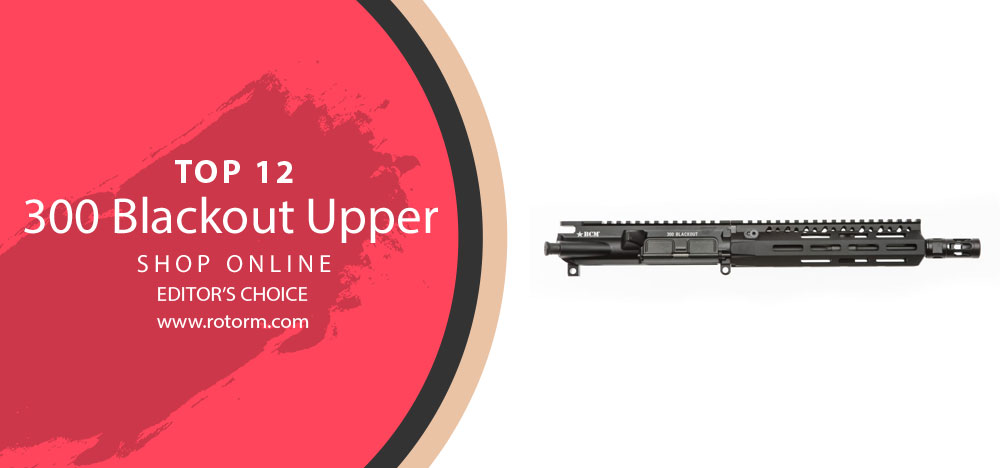 What is 300 Blackout Upper?🤔
It is the upper receiver portion of an AR-15 rifle chambered in 300 AAC Blackouts. This caliber was created by Advanced Armament Corporation and Remington Arms Company as a way to make use of existing .223/5.56mm NATO magazines while still providing the capability to fire .30 caliber projectiles from a rifle.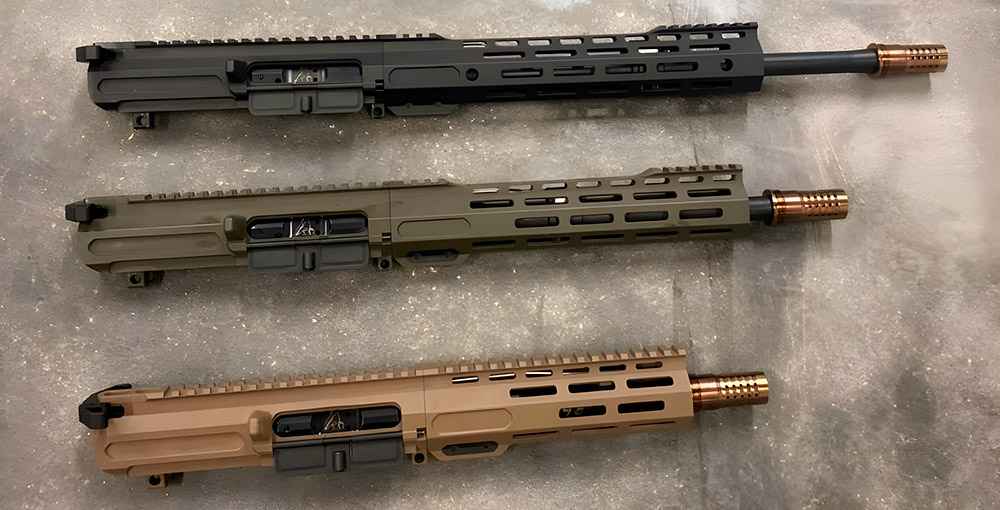 Features🔔
When considering the features of a 300 Blackout upper receiver, there are several aspects to take into account. The best models typically possess the following characteristics:
☑️ The 300 Blackout cartridge performs optimally with shorter barrels, typically between 8 and 16 inches in length. The twist rate should ideally be 1:7 or 1:8, allowing for stable flight and accuracy with both subsonic and supersonic ammunition.
☑️ The gas system configuration can vary, with the most common options being pistol-length, carbine-length, and mid-length systems. The choice depends on your intended use and personal preference, but carbine or mid-length gas systems are often preferred due to their reliability and softer recoil.
☑️ A good upper should feature a high-quality handguard with a rail system for attaching accessories such as optics, lasers, grips, or lights. Keymod, M-LOK, and Picatinny rails are common options that provide versatility for accessory attachment.
☑️ Given the versatility of the 300 Blackout cartridge, it's beneficial to have a muzzle device that allows for easy attachment of suppressors or flash hiders. Look for uppers that feature threaded barrels compatible with standard suppressor mounting systems.
☑️ A reliable and properly designed BCG is essential for the smooth functioning and consistent cycling of the firearm. Look for a high-quality BCG made from durable materials and properly treated for reduced friction and increased longevity.
☑️ The upper receiver can be made of various materials, including aluminum alloys such as 6061 or 7075. These materials offer strength while keeping the weight of the firearm manageable.
Our Top Pick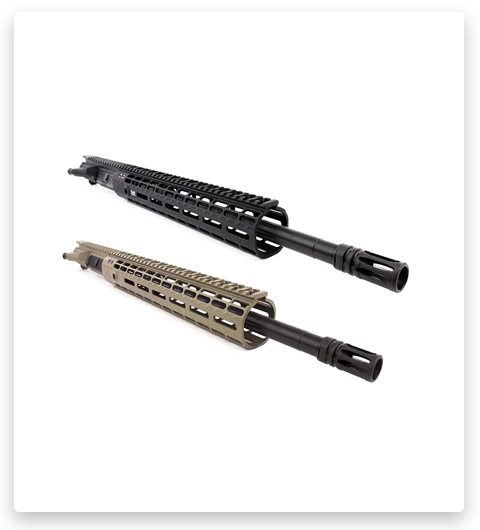 Aero Precision M4E1 16
These upper receivers are crafted by Aero Precision, ensuring high-quality construction. The Gen 2 Enhanced free-float handguards equipped on these upper receivers come with a Picatinny top rail and offer a choice of rail types on the other three faces, providing versatility for accessory attachment. They are designed to be compatible with standard AR15/M4 components, allowing for easy customization. They have undergone thorough MPI (Magnetic Particle Inspection) and HP (High-Pressure) testing, ensuring their durability and reliability.
Buy Now On OpticsPlanet
If you click this link and make a purchase, we earn a commission at no additional cost to you.
Benefits💥
When it comes to the best 300 Blackout upper receivers, several advantages make them a popular choice among firearm enthusiasts.
✴️ Versatility: One of the key strengths is its versatility. It accommodates both supersonic and subsonic ammunition, making it suitable for various applications like hunting, self-defense, and target shooting.
✴️ Compatibility: One of the significant advantages is its compatibility with existing AR-15 lower receivers. This compatibility allows shooters to utilize their preferred lower receiver, trigger, and accessories, minimizing the need for additional investments.
✴️ Customization Options: Such upper, like the AR-15 platform, offers a vast array of customization options. Shooters can personalize their setup with various handguards, optics, stocks, grips, and other accessories, tailoring the firearm to their preferences and intended use.
✴️ Ease of Maintenance: It is known for its straightforward maintenance and cleaning. This simplicity makes it accessible to shooters of varying experience levels and ensures that the firearm remains in optimal working condition with regular maintenance.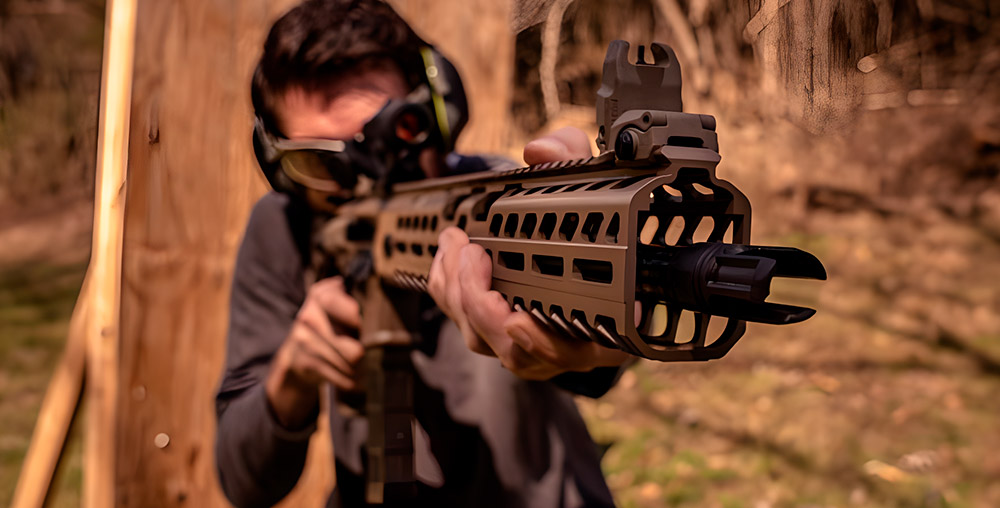 Major components of the upper assembly💡
When it comes to the upper assembly of an AR-15 rifle, understanding the key components is crucial for maintenance, customization, and troubleshooting. Here are the six major components you should be familiar with:
1️⃣ Barrel: It is a long, cylindrical tube that guides the bullet's path when fired. It plays a vital role in determining accuracy and effective range. Threaded at the muzzle end, it allows for the attachment of muzzle devices like flash hiders or suppressors.
2️⃣ Upper Receiver: The upper serves as the main housing for the upper assembly components. It attaches the barrel, handguard, bolt carrier group, and other accessories. Equipped with a rail system, such as Picatinny or M-LOK, it allows for the attachment of optics and other accessories.
3️⃣ Bolt Carrier Group (BCG): It comprises several essential parts, including the bolt, carrier, cam pin, firing pin, and retaining pin. It handles loading, chambering, firing, and extracting cartridges. During the firing cycle, the BCG moves back and forth within the upper receiver.
4️⃣ Charging Handle: Positioned at the rear of the upper receiver, the charging handle is a lever used to manually retract the bolt carrier group. It enables the chambering of a round and the clearing of malfunctions. Pulling back the charging handle cocks the firearm and chambers the first round.
5️⃣ Gas System: This system regulates the cycling of the bolt carrier group and facilitates the chambering of a new round after each shot. With options like pistol-length, carbine-length, and mid-length, the gas system utilizes gas tapped from the barrel to operate the firearm.
6️⃣ Handguard: It surrounds the barrel and gas system, providing protection and a gripping surface. It acts as a heat shield and features attachment points for accessories like lights, lasers, or foregrips. Handguards come in various lengths and materials like aluminum or polymer.
TOP 12 300 Blackout Upper | Best 300 Blackout Uppers
| Image | Product | Brand | |
| --- | --- | --- | --- |
| | Ghost Firearms Vital .300 Blackout Upper | Ghost Firearms | |
| | Aero Precision M4E1 Threaded Blackout Upper | Aero Precision | |
| | Ghost Firearms Elite .300 Blackout Upper Receiver | Ghost Firearms | |
| | Aero Precision M4E1 16" .300 Blackout Upper Receiver | Aero Precision | |
| | Daniel Defence DDM4 .300 Blackout Upper | Daniel Defence | |
| | Radian Weapons .300 Blackout Complete Upper Receiver | Radian Weapons | |
| | Aero Precision AR15 .300 Blackout Barrel Complete Upper Receiver | Aero Precision | |
| | Radical Firearms .300 Blackout Upper Receiver | Radical Firearms | |
| | Radical Firearms .300 Blackout AR15 Upper Receiver | Radical Firearms | |
| | Radical Firearms .300 Blackout Upper Receiver 8.5 in. | Radical Firearms | |
| | Radical Firearms 10.5 in. .300 Blackout Upper Assembly | Radical Firearms | |
| | Ghost Firearms .300 Blackout Complete Upper Receiver | Ghost Firearms | |
1# Ghost Firearms Vital .300 Blackout Upper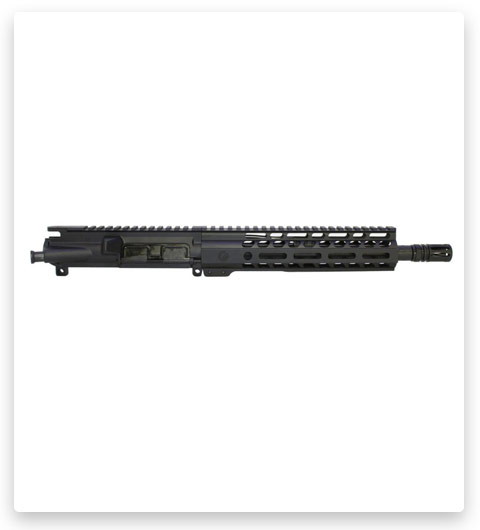 The blackout upper from a world-renowned manufacturer is specifically designed to combine performance and accuracy. Made with the highest quality materials on the market today, they will serve you for years to come. Manufactured following all current requirements of weapons chambered for .300. Equipped with the patented A2 Birdcage flame arrestor. Supplemented with a specialized gas system for adjusting the length of the pistol barrel. Extremely high quality and durable receiver with an additional anodized finish ensure reliable use for many years. Get this weapon accessory if you are looking for productivity and shooting accuracy.
2# Aero Precision M4E1 Threaded Blackout Upper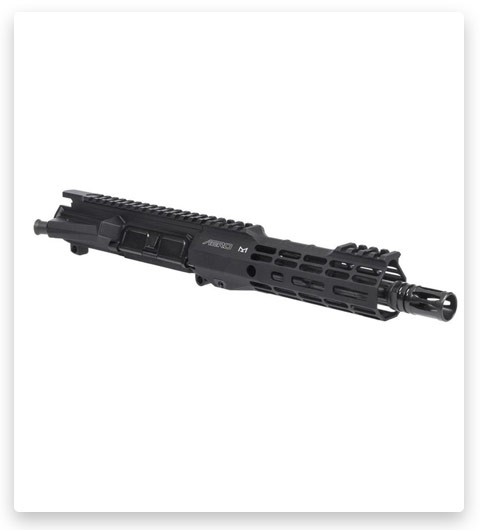 Transform your weapon into a stunning next-generation rifle with versatility with the 8" threaded blackout top receiver. Each of these receivers contains the patented Atlas S-One forend, fully compatible with low-profile barrels as well as Mil-Spec barrels. The structure of chrome-moly vanadium alloy with a special QPQ coating reliably protects the barrel from corrosion inside and outside ensuring maximum shooting performance and long service life. Special connectors for lanyards allow you to securely attach a lanyard for convenient transportation of weapons, while not compromising the overall integrity and strength of the structure. Each shooter can choose which of the rails is best for attaching optics and accessories. Install the supplied 8" threaded top barrel. Ideal for hunting or tactical combat use. Provides maximum performance with each trigger pull.
3# Ghost Firearms Elite .300 Blackout Upper Receiver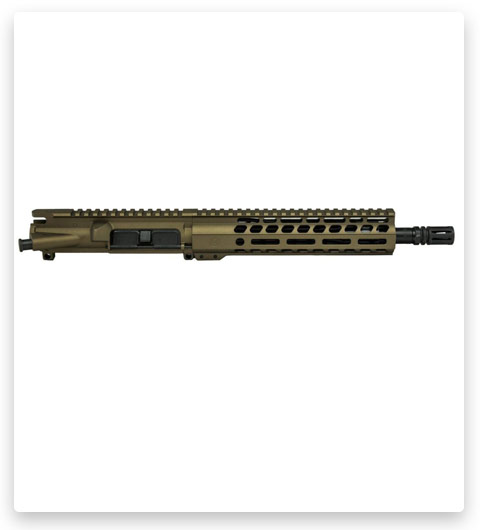 Complement your shooting arsenal with quality components that are critical when you need maximum performance from every shot. Globally renowned Ghost Firearms have manufactured these top receivers from high-quality 7075 T6 aluminum for the most durable and lightweight construction possible. Each upper receiver is crafted in conjunction with a patented pistol barrel length system and also includes manual protection with an M-Lock free float that allows you to attach a wide range of accessories to your rifle. Every aspect of this receiver is crafted from high-quality materials to ensure the longest possible service life. Create a versatile rifle with this receiver, built to the most current gun industry standards.
4# Aero Precision M4E1 16″ .300 Blackout Upper Receiver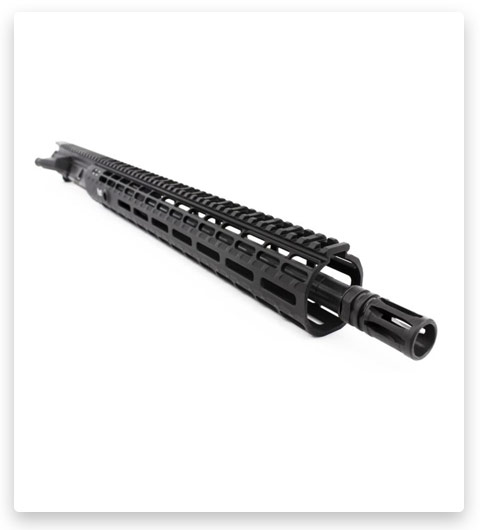 This model of the upper receiver is equipped with additional medium-profile barrels. Along with superior fit and finish, these AP15 rifle receivers come with an improved Gen-2 free-float forend with a patented Picatinny top rail system with an adjustable rail on three sides at once. The high-strength receiver parts are fully compatible with most standard components of the AP15 and M4 rifles. The product has passed official tests by MRI and HP. By installing this receiver, you will have an incredible shooting experience.
5# Daniel Defence DDM4 .300 Blackout Upper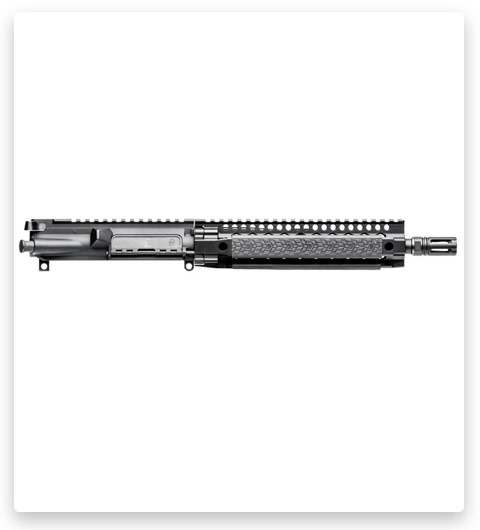 The top receiver from the world's most renowned manufacturer is equipped with a high-quality flame suppressor and a durable 10.3-inch barrel manufactured using the latest cold-forged technologies. Made especially for those shooting enthusiasts who expect the best performance from 300BLK short-barreled rifles. Each upper receiver comes with a flame arrester and a patented pistol-length low-profile gas system for smooth recoil. The forend DDM4 Rail 9.0 provides enough space for hanging accessories and has 3 comfortable Santoprene panels that are heat-resistant up to 300 degrees for complete protection of the shooter from burns. Turn your rifle into a work of art with the wide-profile platform.
6# Radian Weapons .300 Blackout Complete Upper Receiver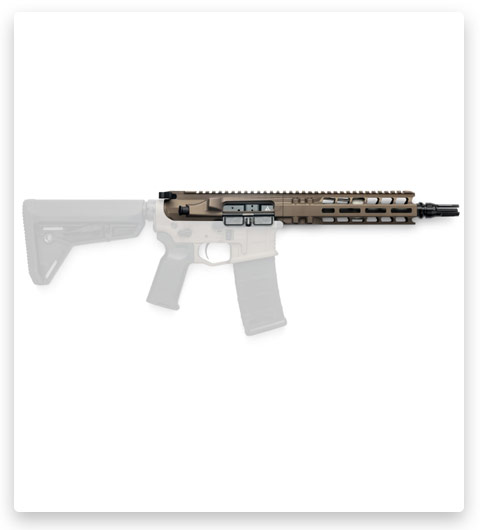 The upper receiver, made according to half of the last technological trends, uses the most advanced technologies. Thanks to high-quality components and materials, the manufacturers have managed to translate most of the wishes of experienced shooters into the form of this product. Equipped with fully symmetrical controls that are comfortable for both right-handed and left-handed users. Each model is hand-assembled by the hands of a highly qualified gunsmith who checks, tests, and cleans the weapons themselves to ensure the high quality of each piece. This model meets the strictest quality standards – no detail has been overlooked. The product comes with a lifetime manufacturer's warranty.
7# Aero Precision AR15 .300 Blackout Barrel Complete Upper Receiver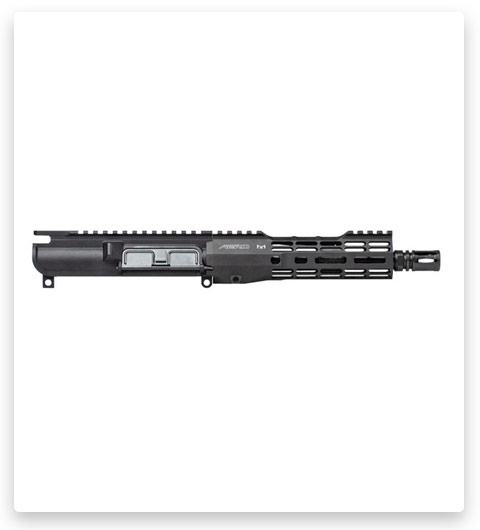 The comprehensive receiver from the leading manufacturer on the market will perfectly complement your AP15 rifle. Due to its versatility, it is ideal for equipping weapons with additional accessories and also optimizes the appearance. The combination of a lightweight forend and a low barrel profile with an unsupported upper receiver minimizes the overall weight of the weapon, making it a comfortable tool for hunting, clay pigeon shooting, and tense combat conditions.
8# Radical Firearms .300 Blackout Upper Receiver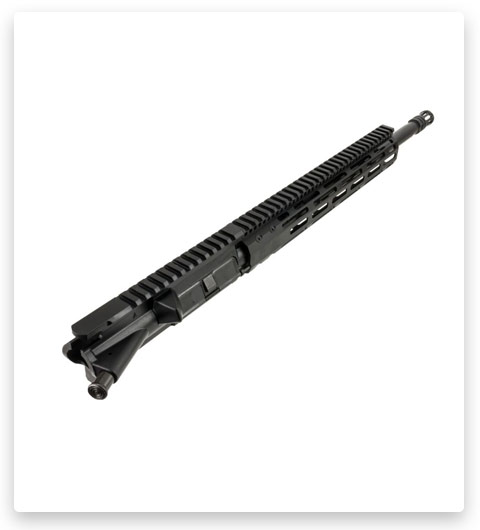 This model of the upper receiver provides a unique opportunity to equip your rifle with a variety of accessories that expand the range of its applications. Designed for law enforcement, equipped with a recessed receiver designed to be fitted with a Mil-Spec AR-15 bottom receiver. This top receiver model from innovators features excellent forward travel for improved accuracy and faster cooling. With a 16 " diameter ejection port door, you can use this model to upgrade your rotorcraft with the latest headsets. The top dimmer assembly fits easily into any firearm without the help of a gunsmith. The upper receiver assembly fully complies with the most current US weapons industry standards. The perfect choice for every shooter.
9# Radical Firearms .300 Blackout AR15 Upper Receiver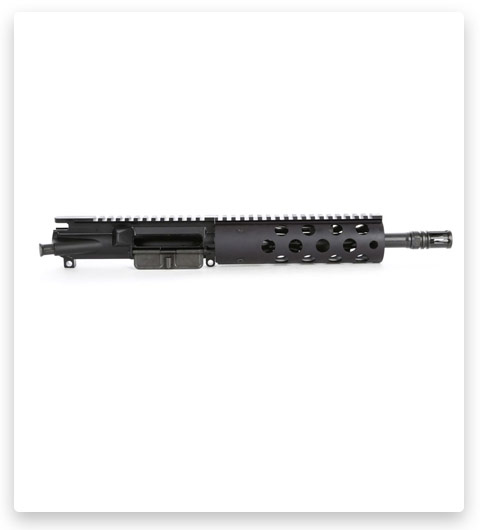 The latest model of the top receiver from the world's leading manufacturers guarantees excellent workmanship and long service life. Ideal for completing the AR15 rifle and creating a real work of engineering and shadow art out of it. Thanks to the use of advanced technologies and high-quality materials, the designers managed to create a truly unique model that will be extremely useful both in sports competitions and in tactical combat conditions.
10# Radical Firearms .300 Blackout 8.5-inch Upper Receiver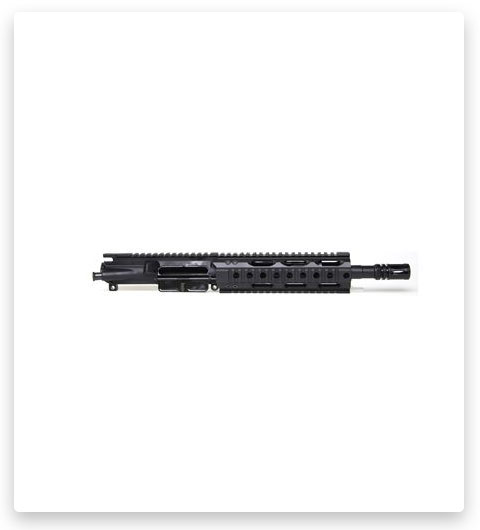 If you're searching for a law enforcement top receiver kit then the 8.5-inch Radical Firearms. The 300 AAC Blackout Upper Assembly is just for you – it's the perfect choice for equipping your rifle with a variety of accessories, including optics, under-barrel grenade launchers, and others. 8.5-inch HBAR barrel with an additional flash suppressor and Forward Guard Shield (FGS) free-float forend. The use of high-quality materials allows this barrel model to be used for many years. Differs in easy installation on the lower receiver of the AP15 platform. The included FGS forend with the Radical Firearms Blackout Upper boasts a free-floating design that keeps your hands cool while firing, doesn't get in the way of the barrel, and provides a variety of mounting options for additional accessories. This model will make a unique impression on professionals and amateurs alike, as it is a true work of engineering art.
11# Radical Firearms 10.5-inch .300 Blackout Upper Assembly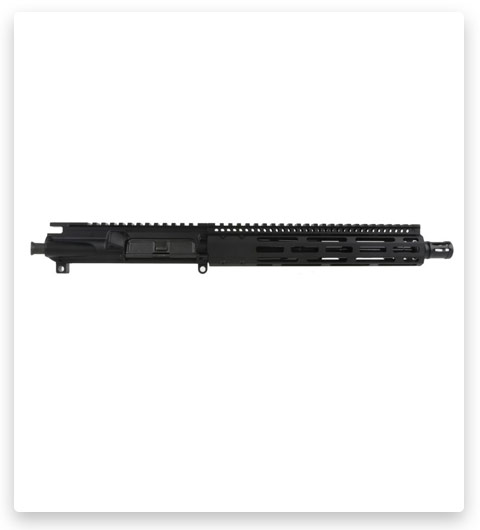 The 10.5-inch flat-top upper receiver is intended for law enforcement personnel. Fully recessed and ready to fit any Mil-Spec AR-15 lower barrel. This receiver model fully complies with all the most relevant technical requirements, providing a high-quality upper for any budget and shooting skill level. Supplied complete with top receiver, front assistant and ejection door, barrel adjusting nut. A barrel with a 10.5-inch HBAR profile and an A2 flame arrester will be the perfect complement to the AP15 platform. Made of high-quality chrome molybdenum alloy with 1-8 inch rolling speed. The M4 feed ramps and the low-profile gas macroblock protect the shooter from hot powder gases. Integrated Keymod and Picatinny rail for mounting flashlights, lasers, bipods, and scopes.
12# Ghost Firearms .300 Blackout Complete Upper Receiver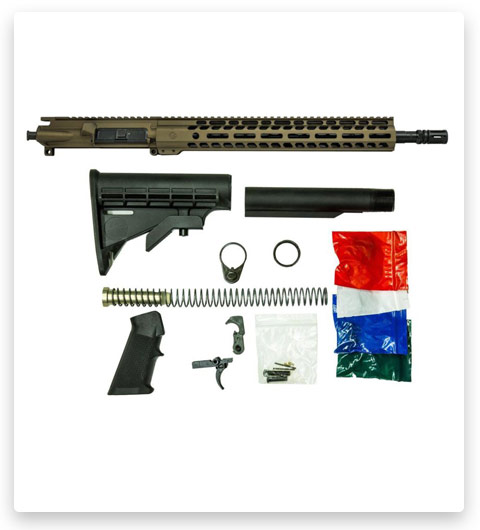 The upper receiver kit is designed specifically to be the perfect addition to your weapon. Thanks to its wide customization options, it goes well with a variety of weapon accessories. The AR15 rifle bottoms use the most reliable components to provide you with years of reliable and efficient service. Leading design engineers have gone to great lengths to create a versatile and reliable product that is ideal for mounting your rifle and further active use in sports and tactical shooting.
How to assemble it?🛠️
Assembling an upper receiver for an AR-15 rifle requires careful attention to detail and adherence to proper procedures. Here's a general guide on how to do this:
➡️ Gather the necessary components: Collect all the parts required for the upper receiver assembly. This typically includes the upper receiver, barrel, barrel nut, gas block, gas tube, handguard, muzzle device, forward assist, ejection port cover, charging handle, bolt carrier group, and any desired accessories.
➡️ Prepare the barrel: Install the barrel onto the upper receiver by aligning the barrel extension with the corresponding notch in the upper receiver. Slide the barrel into place until fully seated. Secure the barrel nut onto the upper receiver and torque it to the manufacturer's specifications, ensuring proper alignment for the gas tube.
➡️ Install the gas block and gas tube: Attach the gas block to the barrel at the appropriate location, ensuring it aligns with the gas port. Secure the gas block in place using the provided screws or pins. Insert the gas tube into the gas block and route it through the barrel nut and upper receiver, aligning it with the corresponding hole in the bolt carrier group.
➡️ Attach the handguard: Slide the handguard onto the barrel nut, aligning it with any corresponding attachment points. Secure the handguard in place using the appropriate mounting system (e.g., screws, clamps, or a proprietary attachment method). Ensure the handguard is properly aligned and tightened.
➡️ Install the muzzle device: Thread the desired muzzle device onto the barrel, ensuring it is properly aligned and tightened. Use a crush washer or other appropriate method to achieve proper timing of the muzzle device if necessary.
➡️ Install the forward assist and ejection port cover: Attach the forward assist assembly to the upper receiver using the provided hardware. Install the ejection port cover assembly by sliding it into the appropriate slots on the upper receiver.
➡️ Insert the charging handle and bolt carrier group: Insert the charging handle into the rear of the upper receiver, ensuring it is properly aligned and secured. Slide the bolt carrier group into the upper receiver, aligning the charging handle with the channel in the bolt carrier. Ensure the bolt carrier group moves smoothly.
➡️ Check functionality: Cycle the charging handle and bolt carrier group to ensure smooth operation. Verify that the ejection port cover, forward assist, and charging handle function correctly.
FAQ🤓
Conclusion😉
The best 300 Blackout upper is an essential part of any shooter's arsenal. It offers excellent performance and accuracy, as well as versatility for different shooting applications. We hope this guide has provided you with all the information necessary to make a confident purchase decision when it comes time to buy your upper. Thanks for reading!😊💝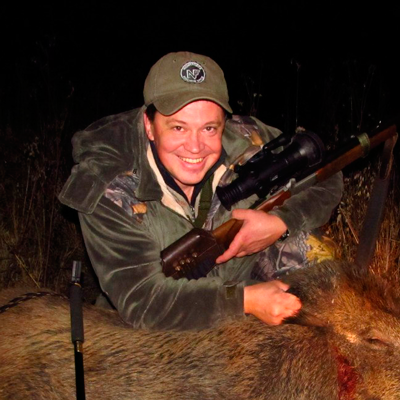 Yury Alexeev
Gun and Hunting Expert
The author of analytical top articles on firearms and accessories — a recognized expert in the field of survival in the wild, the author of many articles on quality camping and hunting equipment, and a firearms enthusiast. Due to many years of experience in hunting trips and studying the technical side of collecting firearms — both for hunting and for clay pigeon shooting — the author has many valuable tips to harmonize the passion for hunting and bring to it exceptional quality in terms of equipment and outfit.
My articles are precisely analyzed technical information and equipment specifications that allow a real hunter to assemble a decent set of weapons for multi-day outings in the wild. From the tents to the well-oiled gun, everything should meet the demands of the extreme entertainment enthusiast. Technically perfect weapons can greatly facilitate hunting even in the wilderness — choosing only the most qualitative, modern optics and other accessories for weapons, hunting efficiency will be maximum.
When choosing a weapon for hunting, pay attention to its specifications, and, above all, to the convenience for yourself — using high-quality equipment, you will discover the wonderful world of accurate shooting and successful hunting even in those weather conditions that don't imply hope for the shooter's eyes. Yury Alexeev - weapon and hunting expert, CEO of
Silencer.Systems
Read more
about our team
of expert authors.
Affiliate Disclosure: Rotorm.com sometimes gets paid for listings, through sponsors or affiliate programs like Amazon, Optics Planet, Lucky Gunner, Brownells, Cabelas, Rainier Arms, 5.11 Tactical, Bass Pro Shop, etс. Clicking a link helps keep Rotorm.com free, at no extra cost to you!
About the author: Each article on our site is written by experts in survival and tactical equipment, gun enthusiasts, extreme travelers, military, law enforcement and desperate professionals, read about the author at the bottom of the article or visit "About Us" page.
Note: The views and opinions expressed in this article are those of the authors and do not necessarily reflect the official policy or position of any agency.