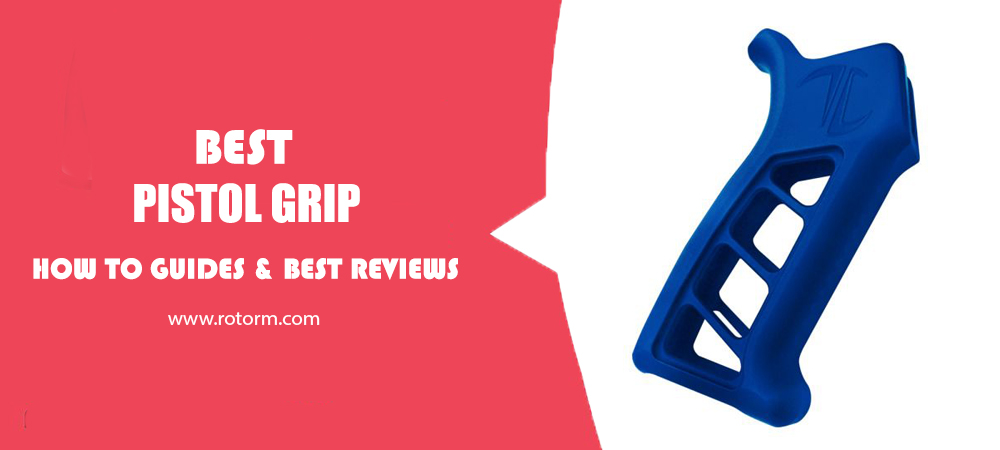 What is a pistol grip?🧐
It is a device that fits around the handle of a gun to provide better control and stability when shooting. It also adds comfort for the shooter, particularly if they are using a large or heavy weapon. The best grip should be comfortable to hold and help improve accuracy.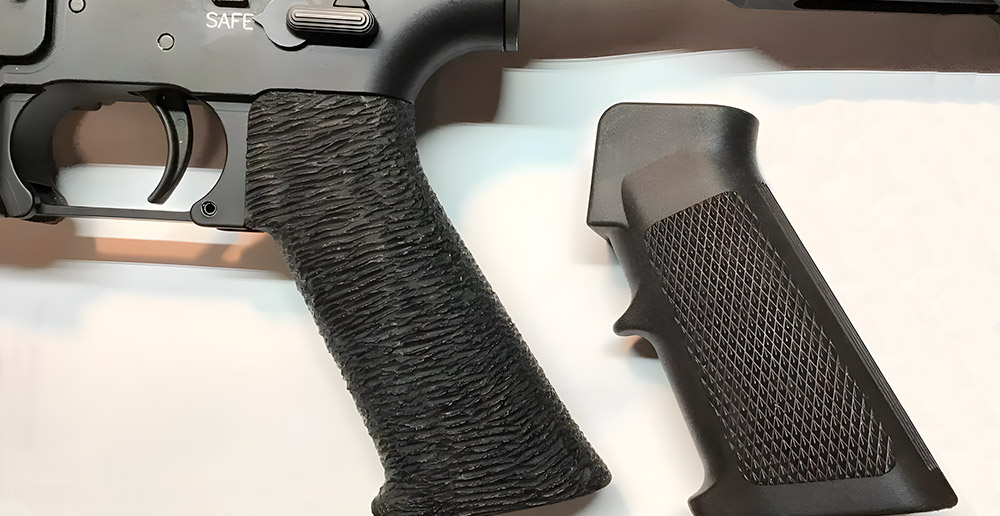 Features⌛️
When searching for the perfect pistol grip, our team of firearm enthusiasts understands the importance of considering various features that contribute to both comfort and control. We believe that the right grip can greatly enhance your shooting experience. Here are some key aspects to look out for:
🟣 Ergonomics: A top-notch grip should prioritize ergonomics, providing a comfortable and natural grip angle. This not only reduces strain on your hand but also improves your accuracy and shooting performance.
🟣 Texture: Opt for a grip with a suitable texture that ensures a secure hold, even in challenging conditions. A grip that prevents slippage enhances your control and confidence while handling the firearm.
🟣 Materials: Grip materials play a vital role in the overall feel and durability of the grip. Choices such as polymer, rubber, or wood offer different levels of longevity, tactile feedback, and aesthetics. It's essential to find a material that suits your preferences and shooting style.
🟣 Size and Shape: We understand that every shooter's hands are unique. That's why choosing a grip that fits your hand size and shape is crucial for enhanced comfort and control. The right size and shape promote a natural grip and allow for a more consistent shooting experience.
🟣 Recoil Absorption: During a rapid-fire or intense shooting session, recoil can impact your hand and wrist. That's why some grips feature recoil-absorbing mechanisms to minimize the felt recoil. This not only enhances your comfort but also helps maintain better control over the firearm.
Our Top Pick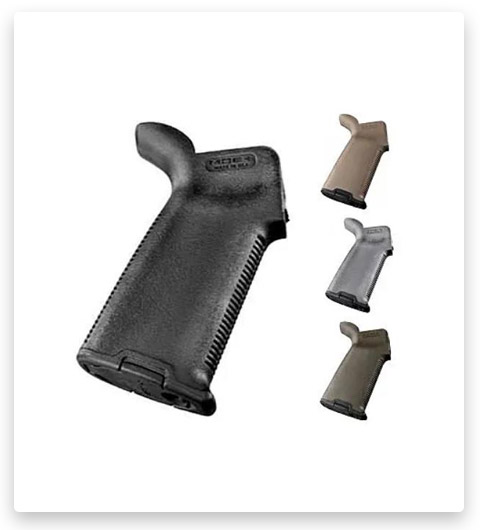 Magpul MOE-Plus AR15 Gun Grip
This grip is designed to provide an ergonomic and secure hold, enhancing your weapon handling and overall shooting performance. It features a one-piece reinforced polymer construction with wrap-around rubber over-molding. The hard polymer bottom edges of this grip are designed to minimize snags and prevent grip damage. The beavertail backstrap contributes to enhanced ergonomics, providing a comfortable and natural grip angle. This design feature helps reduce strain on your hand and wrist, allowing for extended shooting sessions without sacrificing control or performance.
Buy Now On OpticsPlanet
If you click this link and make a purchase, we earn a commission at no additional cost to you.
Benefits💣
We understand the significant advantages that investing in a quality pistol grip can bring to your shooting experience. Let's explore some key benefits in detail:
☑️ When it comes to hitting your target, consistency is key. A well-designed grip promotes a comfortable and secure hand position, allowing for better recoil management and precise shot placement. With each shot, you'll notice improved accuracy and increased confidence in your shooting abilities.
☑️ Achieving optimal control over your firearm is essential for effective handling. A quality grip provides a comfortable and secure hold, allowing you to maintain better control over your firearm. This translates to smoother handling, improved stability, and faster target acquisition, enabling you to react swiftly and with precision.
☑️ Extended shooting sessions can take a toll on your hand and arm muscles, leading to fatigue. However, a grip designed with ergonomics in mind helps minimize muscle strain and discomfort. By reducing fatigue, you can enjoy longer shooting sessions without compromising your performance, ultimately maximizing your time on the range.
☑️ We believe in the importance of personalization and finding a grip that suits your specific needs and shooting style. Many grips offer additional features such as interchangeable backstraps, finger grooves, or storage compartments. These customization options allow you to tailor the grip to your preferences, ensuring a comfortable and personalized shooting experience.
☑️ Safety is paramount when it comes to firearm handling. A reliable and high-quality grip ensures a firm hold on your firearm, minimizing the risk of accidental slippage or mishandling. By providing a secure grip, you can confidently and safely operate your firearm, promoting responsible shooting practices.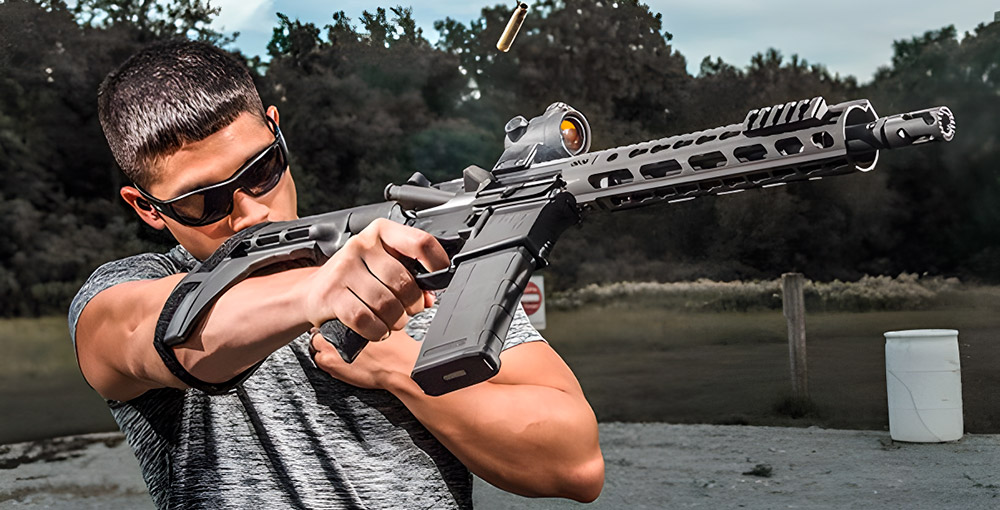 What's the best pistol grip?🤔
As a team of passionate firearm enthusiasts, we understand the quest for grip improvement. Let's explore the essential elements that contribute to enhancing it:
🔍 Grip Angle: The grip angle influences the alignment of your wrist and forearm. Some shooters prefer a traditional vertical grip, while others find a more angled grip better suits their shooting style. Ultimately, the grip angle is a matter of personal preference, and finding the right one can significantly impact your comfort and control.
🔍 Texture: A crucial aspect of a grip is its texture. A grippy texture ensures a secure hold, preventing slippage and promoting better control over your firearm. Whether you prefer aggressive checkering, stippling, or a rubberized surface, finding a texture that strikes a balance between grip and comfort is essential.
🔍 Materials: The choice of materials for your grip is crucial in terms of durability, weather resistance, and overall feel. Polymer grips offer excellent durability and resistance to harsh conditions, while rubberized grips excel in shock absorption and comfort. Consider your shooting requirements and personal preferences when selecting the materials for your grip.
🔍 Features: Additional features can enhance the functionality and versatility of your grip. Look for grips with modular designs, allowing for easy customization and compatibility with different accessories. Storage compartments within the grip can provide convenient space for small tools or spare batteries. Additionally, grips with customizable backstraps allow you to adjust the grip's size to fit your hand more comfortably.
Best Pistol Grip Reviews
1# FAB Defense Rubberized Pistol Grip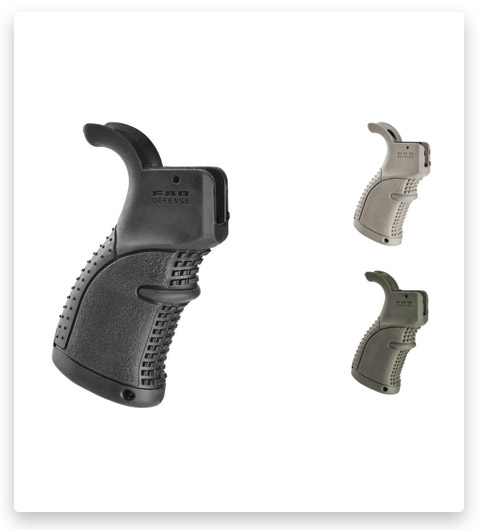 If you need a better grip on your weapon, look at the FAB Defense Rubberized Pistol Grip. This grip has been designed to provide a firmer grasp and a more comfortable shooting experience, thanks to its three different over-molded textures. The rib studded texture is perfect for the palm, while the alligator pattern provides a great grip for the front fingers. And the moon's surface texture is perfect for keeping your hand in place when firing. Combined, these three textures create an unbeatable grip that will give you the edge in any situation. Additionally, the extended beavertail on this grip provides even more stability and control. So don't settle for anything less than the best – get the FAB Defense Rubberized Pistol Grip.
2# FAB Defense SA. VZ. 58 Pistol Grip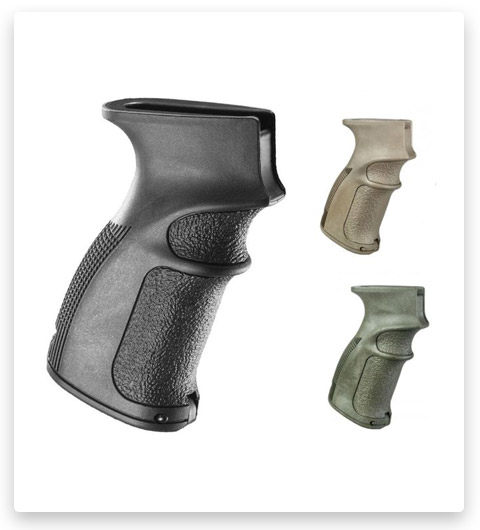 The FAB Defense SA. VZ. 58 Pistol Grip is a great way to improve your shooting experience and keep your weapon firmly in hand. This grip is made from MIL-SPEC fiberglass reinforced polymer composite for superior durability and features finger grooves that provide a more comfortable grip. An integrated storage compartment allows you to take batteries and other small parts with you wherever your rifle travels. Installation is quick and easy, so you can start enjoying the benefits of the FAB Defense SA VZ-58 Ergonomic Pistol Grip right away!
3# FAB Defense Ergonomic Pistol Grip for AK-47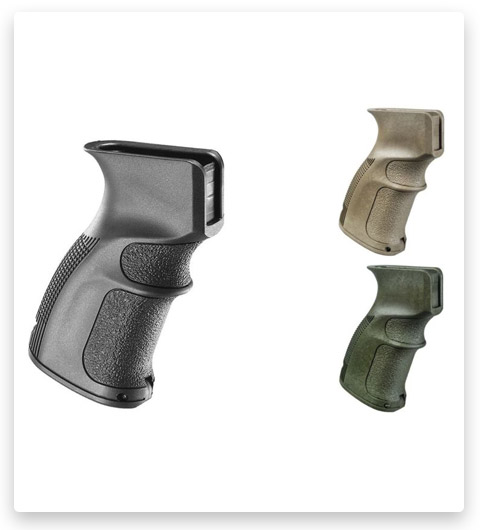 Want to buy an enhanced tactical grip for your AK-47 or AK-74 rifle? Look no further than the FAB Defense Ergonomic AK47 Pistol Grip. This grip provides a secure grip for your rifle, even in wet conditions, and prevents wrist fatigue thanks to its ergonomic design. It's made with mil-spec reinforced polymer composite for durability, yet is still light enough to not weigh you down. Plus, the removable cushioned battery grip improves trigger operation for even greater precision. Get a grip on your rifle today with the FAB Defense Ergonomic AK47 Pistol Grip.
4# FAB Defense Ergonomic Pistol Grip for AR15/M16/M4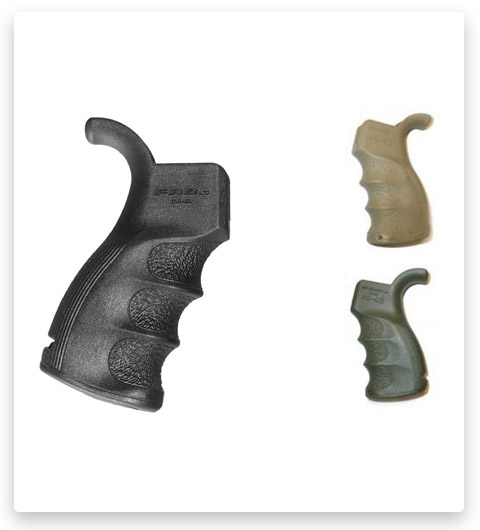 The FAB Defense Ergonomic Pistol Grip for AR15/M16/M4 is an excellent choice for anyone looking to improve their grip on their rifle. Made from reinforced plastic composite, this grip features finger swells and a backstrap shape that enhances your grip and provides texturing to minimize slipping, even if the grip gets wet. The integrated extended beavertail provides better control during firing sequences, and the hinged door in the bottom of the grip provides quick access to the storage area.
5# Magpul MOE-Plus AR15 Gun Grip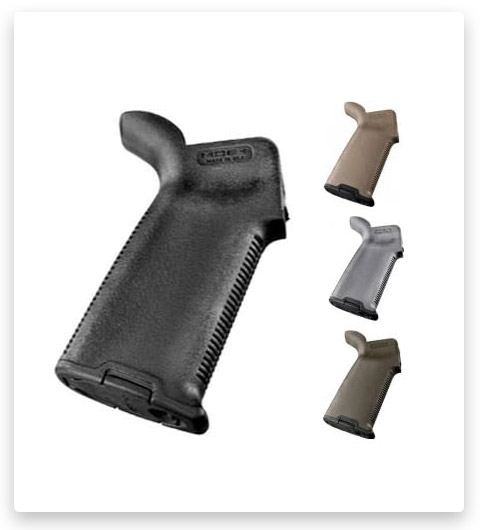 Magpul Industries MOE-Plus AR15 Pistol Grip offers improved weapon handling and an ergonomic, secure grip. This hard polymer grip minimizes snags with its drop-in design. The texturing on the Magpul MOE Plus AR15 Gun Grip provides a comfortable grip that improves your aim. Don't miss the opportunity to get an excellent performance – order the Magpul MOE-Plus AR15 Gun Grip just now!
6# Magpul MOE AR15 Gun Grip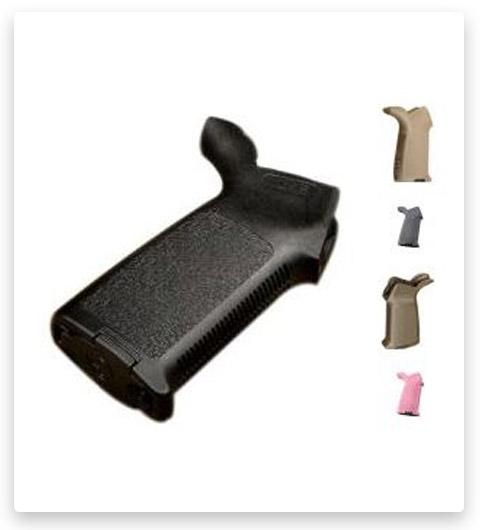 The Magpul AR15 MOE Rifle Grip is the perfect upgrade for your standard-issue rifle. The textured grip provides a solid grip and improved handling, while the one-piece reinforced design can withstand any mission. The storage cores accept extra gear and equipment, making this an essential upgrade for anyone serious about their shooting.
7# MFT Engage AR15/M16 Pistol Grip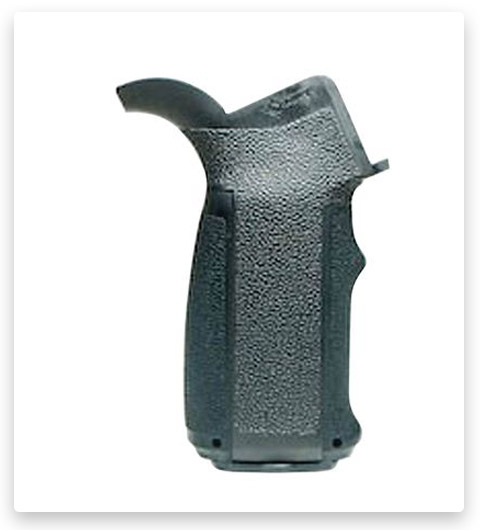 When you need to grip your AR15/M16 pistol like a pro, reach for the MFT Engage Pistol Grip. It's interchangeable backstraps and finger swells provide superior grip comfort, while the customizable foam storage block with a quick access tab diminishes rattle. And when you need to store small items or rifle accessories, the secure watertight storage compartment provides the perfect place. Try this quality MFT Engage AR15/M16 Pistol Grip!
8# MDT AR-15 Pistol Grip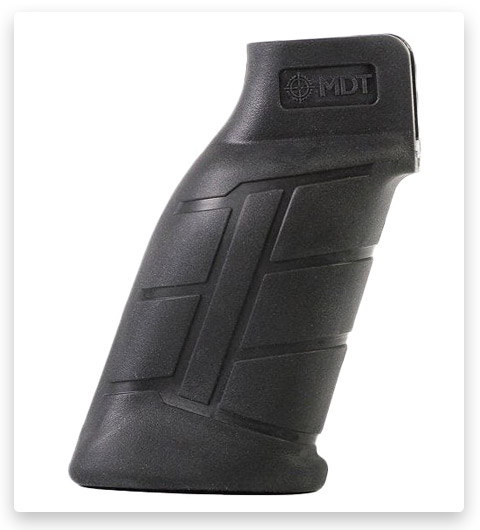 MDT AR-15 Pistol Grip: These MDT AR15 parts have been designed to provide superior ergonomics with insight from expert shooters' experiences and preferences. The one-piece reinforced inside core with a comfortable tactile over mold provides maximum comfort and strength. With integrated palm swells to better fit your hand, this grip provides outstanding ergonomics for both right and left-handed shooters. The MDT Pistol Grip rubber over mold is lightly textured and grooved to guarantee an anti-slip and solid rifle grip.
9# Timber Creek Outdoors Enforcer AR Pistol Grip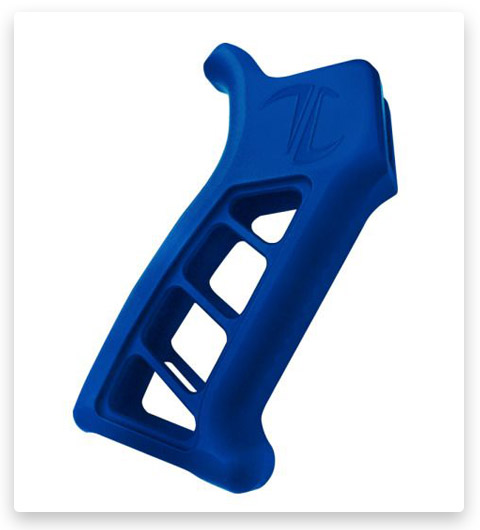 Searching for an easy way to upgrade your AR-style firearm? Look no further than the Timber Creek Outdoors Enforcer AR Pistol Grip. This high-quality grip is made from CNC machined aluminum for superior strength and durability and features a skeletonized body that helps reduce recoil and reverb. Whether you're a do-it-yourselfer or prefer to have a gunsmith install it, adding this grip to your firearm is quick and easy. So don't wait any longer, get the Timber Creek Outdoors Enforcer AR Pistol Grip today!
10# Strike Industries AR-15/AR-10 Enhanced Pistol Grip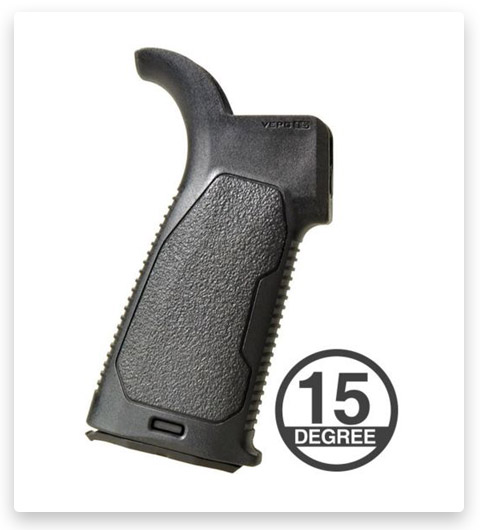 Do you want to get a more comfortable grip on your AR-15 or AR-10? Look no further than the Strike Industries Enhanced Pistol Grip. Now available in three different angles to suit any shooter's needs, this grip features an improved grip texture for more positive handling of the rifle. The grip is more streamlined and tapered where the webbing of the hand goes to allow more range of movement of the firing hand when accessing the controls. It has enough width in the palm area to maximize comfort during extended use. Each grip features a comfortable beavertail and secure storage underneath with an included rubber endcap. So don't let an uncomfortable grip ruin your shooting experience – upgrade to the Strike Industries Enhanced Pistol Grip today!
11# Strike Industries AK Enhanced Pistol Grip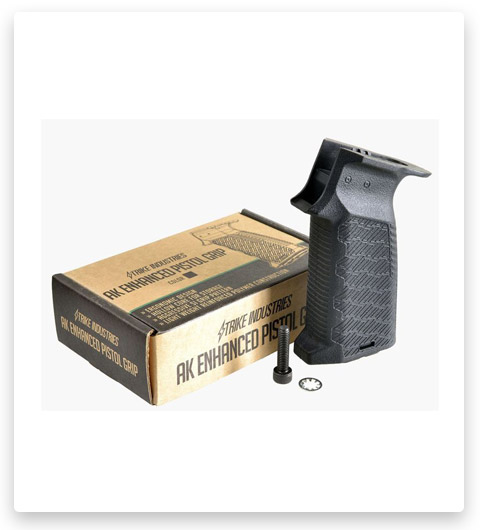 If you're searching for an upgrade to your AK-pattern pistol grip, you'll want to check out the Strike Industries AK-EPG. This grip is designed to improve ergonomics and performance, with an aggressive SI texture for positive weapon control. It's made of reinforced polymer and features a hollow core for extra storage. So if you're looking for a better grip on your AK, the AK-EPG is a great option.
12# Hogue AK-47 Pistol Grip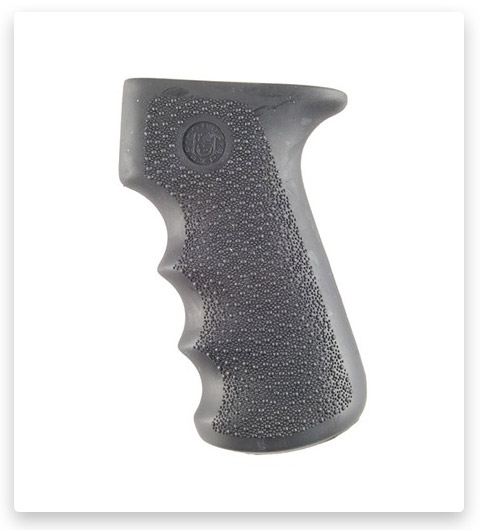 Do you want an upgrade to the small, stubby original wood grip on your AK-47? Check out the Hogue AK-47 Pistol Grip. This rubber "over-molded" grip gives you a solid purchase with an orthopedic shape that reduces shock and increases shooting comfort. The "cobblestone" surface texture provides a non-slip grasp, and the grip fits solidly against the frame, resisting wear and won't loosen. Plus, it counts as a U.S.-made part in compliance with U.S. Code Title 18 Section 922® part-source requirements. Give your AK-47 the upgrade it deserves with the Hogue AK-47 Pistol Grip.
13# Brownells AR-15 Retro Pistol Grip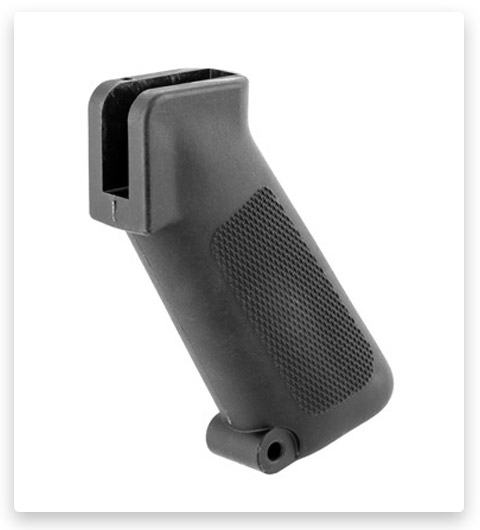 Searching for a way to add some historical flair to your AR-15? Then check out the Brownells AR-15 Retro Pistol Grip! This grip is modeled after the original grips issued to American servicemen and women and is a great way to give your rifle a classic look. It also includes instructions, a grip screw, and a washer, and can be combined with the Brownells AR-15 Retro Handguard Set and Buttstock Assembly to create a complete set for your rifle. So don't miss out on this great opportunity to add a touch of history to your gun collection – order the Brownells AR-15 Retro Pistol Grip today!
14# Heckler & Koch Pistol Grip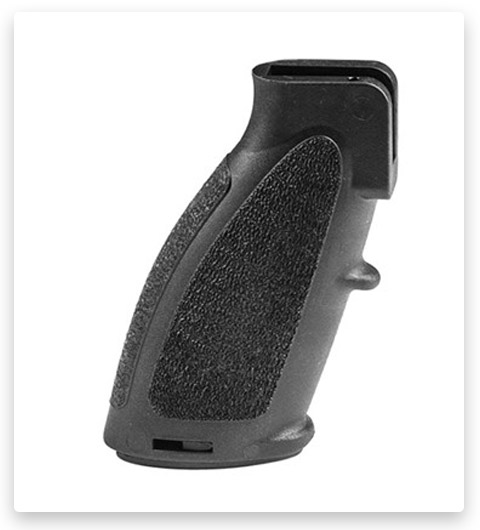 If you're searching for a top-quality grip, the Heckler & Koch Pistol Grip is a great option. This grip is made from durable polymer and is designed to provide a comfortable and secure hold on your gun. It's a great choice for both competition shooters and everyday carry. Say goodbye to complicated jobs and hello to the simplicity and quality of the Heckler & Koch Pistol Grip!
15# Pachmayr Signature Handgun Grip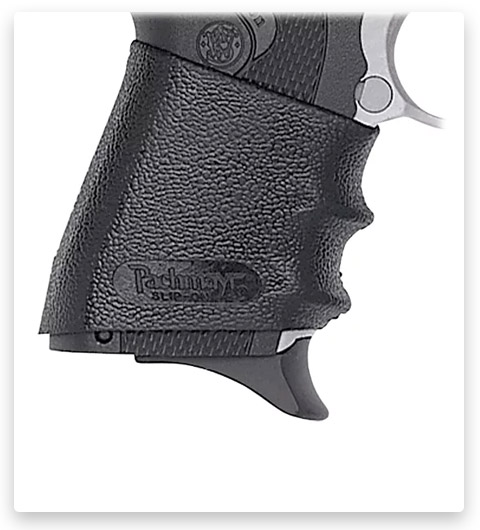 Do you want to get a handgun grip that fits your hand? Check out the Pachmayr Signature Handgun Grip. Constructed of special synthetic rubber, this grip offers superb comfort and control with steel inserts to maintain shape and strength. The soft rubberized texture also provides superior recoil absorption for easy sight acquisition and quick follow-up shots. Whether you're looking for a more comfortable grip or better control, the Pachmayr Signature Handgun Grip is a perfect choice.
Installing a grip in a rifle build🧑‍🔧
The excitement that comes with upgrading your pistol grip is huge, especially when embarking on a competition rifle build. To help you through the installation process, we've prepared a step-by-step guide:
➡️ Safety First: Your safety and the safety of others should always be the top priority. Before beginning any work on your firearm, ensure it is unloaded and follow all safety procedures. Take the necessary precautions to handle your firearm responsibly.
➡️ Disassembly: If required, carefully disassemble your firearm according to the manufacturer's instructions. Pay close attention to removing the existing grip, as this will allow you to install the new one.
➡️ Fitting the New Grip: Align the screw holes of the new grip with those on your firearm's receiver. Take the provided hardware and securely fasten the new grip in place. Remember to tighten the screws appropriately, ensuring a secure fit. However, exercise caution not to overtighten, as it may cause damage.
➡️ Function Check: After installing the new grip, reassemble your firearm, ensuring that all components are properly in place. Perform a function check to verify that everything is working as expected. This includes checking the safety mechanisms, triggers, and any other relevant features.
➡️ Test and Adjust: With your firearm fully assembled, head to the range to test your newly installed grip. Pay attention to its comfort, control, and overall performance. Take the time to evaluate how it feels in your hand and make any necessary adjustments or fine-tuning to achieve the desired feel.
FAQ😎
Conclusion🙂
In conclusion, there are many factors to consider when searching for the best pistol grip. By following our buyer's guide and product reviews above, you can be sure that you'll find the perfect grip for your needs. Whether you want something comfortable or durable, we hope this article has helped point you in the right direction! Thanks for reading!🤠👍
Affiliate Disclosure: Rotorm.com sometimes gets paid for listings, through sponsors or affiliate programs like Amazon, Optics Planet, Lucky Gunner, Brownells, Cabelas, Rainier Arms, 5.11 Tactical, Bass Pro Shop, etс. Clicking a link helps keep Rotorm.com free, at no extra cost to you!
About the author: Each article on our site is written by experts in survival and tactical equipment, gun enthusiasts, extreme travelers, military, law enforcement and desperate professionals, read about the author at the bottom of the article or visit "About Us" page.
Note: The views and opinions expressed in this article are those of the authors and do not necessarily reflect the official policy or position of any agency.