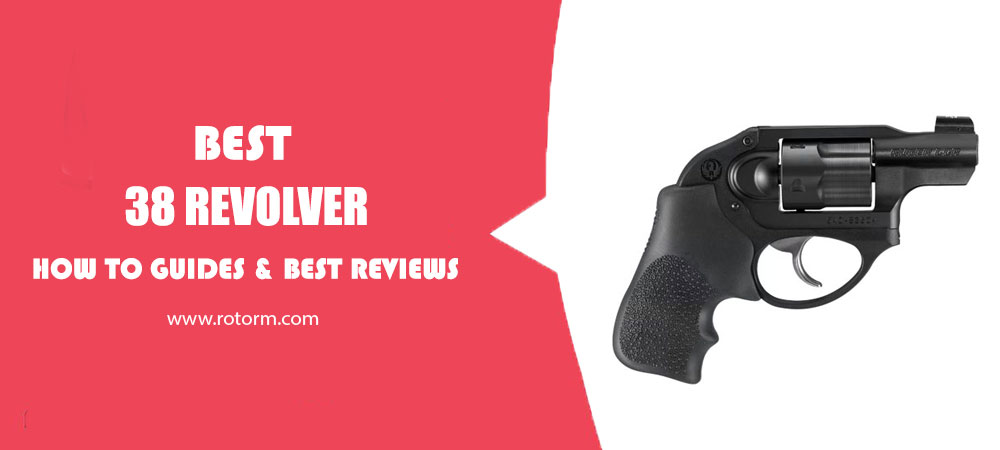 What is the Best 38 Revolver? 🔫
What is a good sidearm that can help you in a tough situation? People are usually divided into two groups: pistol lovers and revolver fans.
We don't say that there is only one option, but we'd like to tell you about the .38 revolvers that were popular among cops and detectives many years ago and still are considered to be a reliable weapon. They can be a good alternative to 9mm pistols. They are powerful, compact, and easy to use. With such a firearm, you will always feel more confident.
What are the most important aspects and parameters you should into consideration when choosing? How to find the one that will suit you perfectly? These questions are so popular and so complicated to answer on your own that we decided to make a list of the top models on the market. This article allows you to save a lot of time and buy exactly what you want as fast as possible!
Benefits 🔥
🔵 Reliability: They are incredibly reliable. They are less likely to jam or fail in any situation, which can be critical in self-defense.
🔵 Ease of Use: These firearms are simple to use and operate. There are no complicated controls or procedures to remember. You just point and shoot.
🔵 Maintenance: They are relatively easy to maintain. Their simple design means there's less to go wrong and less to clean or repair when you're performing maintenance.
🔵 Ammo Flexibility: It can fire .38 Special ammunition, and many models can also handle .357 Magnum rounds, providing greater flexibility in terms of ammo selection.
🔵 Concealability: Depending on the model, they can be pretty compact, making them a popular choice for concealed carry.
🔵 Durability: They are known for their durability. They can often withstand harsh conditions and heavy use better than other firearms.
Our Top Pick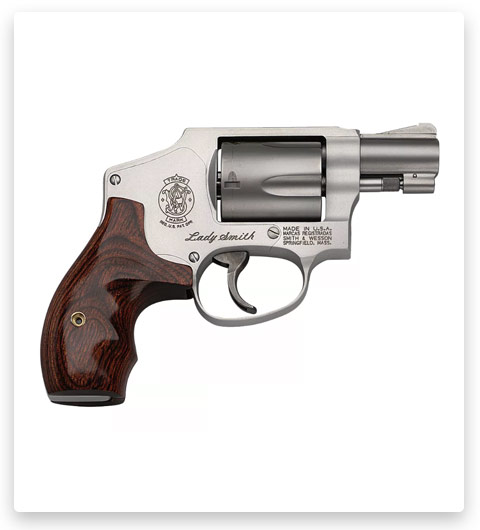 Smith & Wesson 642LS LadySmith Double-Action Revolver
Introducing a special edition revolver for women. Based on the Smith & Wesson J-Frame, it offers a stainless steel and alloy construction with corrosion resistance, a 5-shot cylinder for P+ .38 Special ammunition, and fixed rear and ramp front sights.
Buy Now On Cabelas
If you click this link and make a purchase, we earn a commission at no additional cost to you.
Features ⭐
🔴 Cylinder Design: They typically have a 5- or 6-round cylinder, providing multiple shots before needing to reload.
🔴 Double Action: Many of them are double-action, meaning the trigger pulls both cocks of the hammer and releases it, speeding up the firing process.
🔴 Barrel Lengths: It comes in various barrel lengths, from snub-nose models for concealed carry to longer barrels for increased accuracy.
🔴 Ammunition Compatibility: As mentioned before, many of them can also fire .357 Magnum rounds, giving you versatility in ammunition choice.
🔴 Safety Features: They typically lack external safety. This means less manipulation is needed to fire the weapon, which can be advantageous in high-stress situations.
🔴 Materials: Available in a variety of materials, including steel, stainless steel, and alloy frames, which provide options in terms of weight and durability.
🔴 Grip Options: A variety of grip options, allowing customization to fit individual hand sizes and preferences, enhancing comfort and control when shooting.
Our Top Pick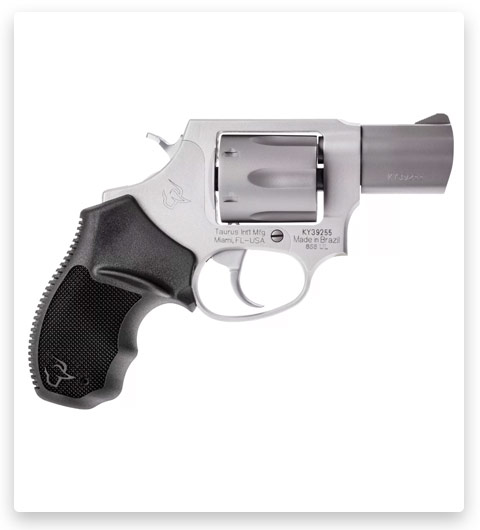 Taurus 856 Ultra-Lite Double-Action Revolver
This model is exceptional with its double-mode revolver design. It features an alloy frame, a steel barrel, and a 6-shot steel cylinder. Enjoy a comfortable grip, two fixed sights, precise manual cocking for accuracy, swift drawing, and reliable transfer bar safety.
Buy Now On Basspro
If you click this link and make a purchase, we earn a commission at no additional cost to you.
How to Choose the Best .38 Revolver? 🎯
Choosing the best .38 revolver depends on your specific needs and intended use for the firearm. Here are several factors to consider:
🔶 Intended Use: What do you plan to use the gun for? If it's for self-defense or concealed carry, you might prefer a small, snub-nose model that's easy to conceal. If you're planning to use it for target shooting or hunting, a model with a longer barrel might be more appropriate for better accuracy and velocity.
🔶 Comfort & Fit: Comfort should be a significant factor in your decision. The gun should feel right in your hand. Some of them come with interchangeable grips, so you can modify them to better fit your hand.
🔶 Weight & Size: A lighter gun might be more comfortable to carry for extended periods, but it can also have more recoil. A larger, heavier gun might be easier to shoot accurately, but it can be more difficult to carry concealed. Consider what trade-offs you're willing to make.
🔶 Capacity: It holds 5 to 6 rounds, but there are models with larger capacities. Determine how many rounds you're comfortable with and how much weight you're willing to carry for the added capacity.
🔶 Price: Set a budget and stick to it. Remember that you'll also need to purchase ammunition, a holster, and possibly other accessories.
🔶 Reputation & Reviews: Look for a manufacturer with a solid reputation for quality and reliability. Online reviews from current and past users can also provide valuable insight into a gun's performance and reliability.
🔶 Ammunition Compatibility: As mentioned earlier, some of them can also fire .357 Magnum rounds. If you want this kind of flexibility, ensure the model you're considering offers it.
🔶 Safety Features: Evaluate the safety features of the gun. While most pistols lack traditional safety, some offer features like transfer bars that prevent the hammer from striking the firing pin unless the trigger is fully pulled.
🔶 Maintenance & Durability: A quality model should last for years with proper care. Research how easy it is to clean and maintain, and how well it holds up under heavy use.
🔶 Local Laws and Regulations: Be aware of your local laws concerning firearm ownership. Some areas have restrictions on certain types of guns or ammunition.
Before making a final decision, it's a good idea to try a few different models if possible. Visit a local gun range that rents firearms to get a feel for how different revolvers handle them. Always ensure you have proper training and understand the responsibilities of gun ownership before purchasing a firearm.
Best .38 Revolver Review
1# Ruger LCR Double-Action Revolver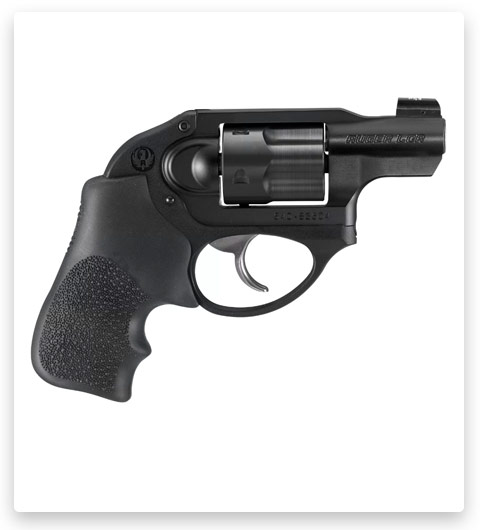 View on BassPro View on Cabelas
The first model we want to present is a rather balanced double-action revolver for self-defense that has an average price. This gun is compact and lightweight because its components are made of high-quality materials that don't increase the weight: an aerospace-grade, 7000 series aluminum frame, a polymer grip, stainless steel cylinder, and stainless steel barrel.
The concealed hammer allows you to quickly draw the gun out of a holster, and reworked trigger and spring mechanisms make the trigger pull smooth and simple. The front sight is pinned to the frame, while the rear sight is actually a groove on the top of this frame, which means you can adjust aiming as you wish. The model will satisfy you for many years.
2# Smith & Wesson 642 Airweight Double-Action Revolver
View on BassPro View on Cabelas
This manufacturer also offers a good double-action revolver. The gun is made of stainless steel and alloy, which makes it solid and also protected from corrosion, rust, and humidity. The overall weight is not big, thanks to the plastic grip that ensures nice fire control.
It features a 5-shot cylinder for +P .38 ammo. It's super convenient to draw out the weapon because of the internal hammer. The fixed notch rear sight altogether with a ramp front sight also helps you to use the gun with the best efficiency.
3# Smith & Wesson M&P Bodyguard 38 Double-Action Revolver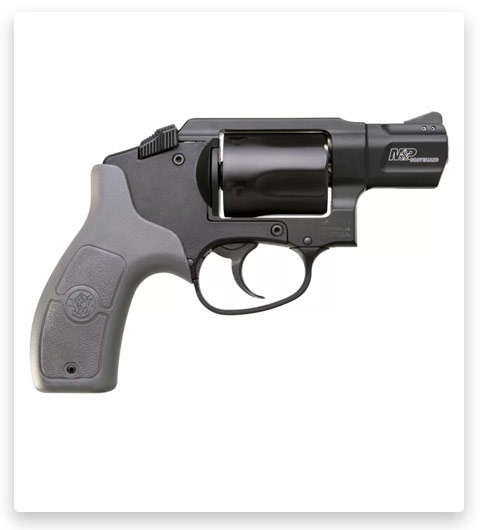 View on BassPro View on Cabelas
If you don't want to pay more for medium-level parameters, you can buy this model. Here you will find almost everything we have seen in the previous model but for a cheaper price. It has a barrel shroud integrated into an aluminum cylinder frame, a plastic grip frame, and a plastic trigger guard, which makes it durable yet light enough.
The cylinder itself is made of PVD-coated stainless steel and it's chambered for .38 Special +P ammunition. It's ambidextrous, so you can easily use the gun with any hand. The rear sight is fixed, and the front sight is pinned. This allows you to quickly shoot targets whenever you need it.
4# Smith & Wesson 637 38 Special Revolver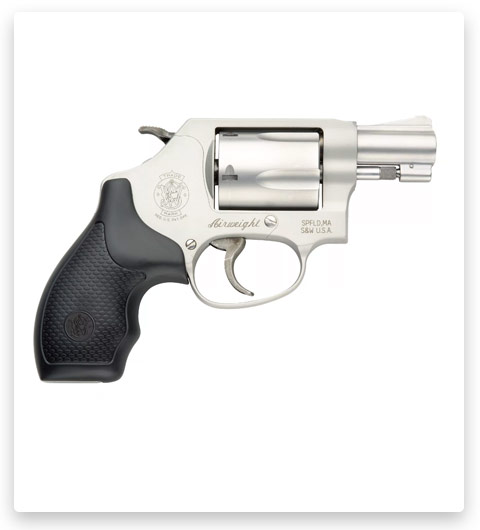 View on BassPro View on Cabelas
It stands out from the previous competitors because it can be used in both single- and double-action modes. If you want to aim more precisely you can cock the revolver on your own. On the other side, the double-action mode allows you to use the gun faster without any snags when you are struggling with a difficult self-defense situation.
Anyway, you won't miss any of 5 +P .38 Special rounds, thanks to the fixed rear sight and a low-profile front sight that allow you to quickly line up. The comfortable plastic grip helps to hold the gun comfortably, and the stainless-steel construction ensures good durability.
5# Charter Arms Undercover Lite Double-Action Revolver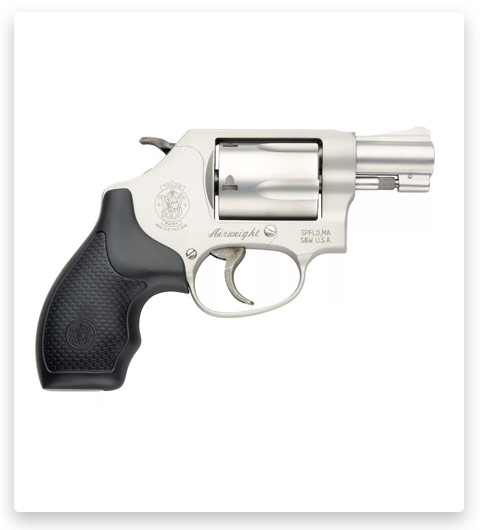 View on BassPro View on Cabelas
The next one is also a good model that can be either used as a standard double-action revolver or a Western-like firearm with manual cocking. The construction is made of solid elements: an aircraft-grade aluminum frame, a stainless-steel cylinder, and a stainless-steel barrel.
This means the gun will never let you down and will last for a long time. The rubberized grips ensure a nice hold and reduce recoil. You can buy it if you need a concealed weapon.
6# Smith & Wesson 642LS LadySmith Double-Action Revolver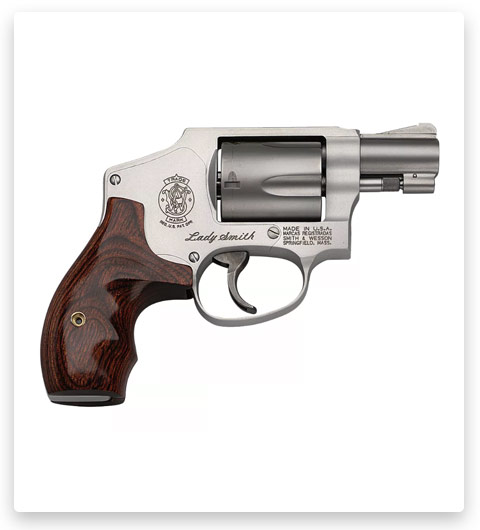 View on BassPro View on Cabelas
If you like special editions and special models, you will like this revolver that was made for women. Based on the Smith & Wesson J-Frame, the gun offers the same characteristics: a stainless steel and alloy construction with corrosion resistance, a 5-shot cylinder for P+ .38 Special ammunition, a fixed rear sight, and a ramp front sight.
It is easy to draw out, thanks to the internal hammer, so it will never snag on clothing, pockets, or whatever. This gun is lightweight, compact, easy to use, and beautiful, which makes it a nice solution for self-defense for any woman.
7# Taurus 856 Ultra-Lite Double-Action Revolver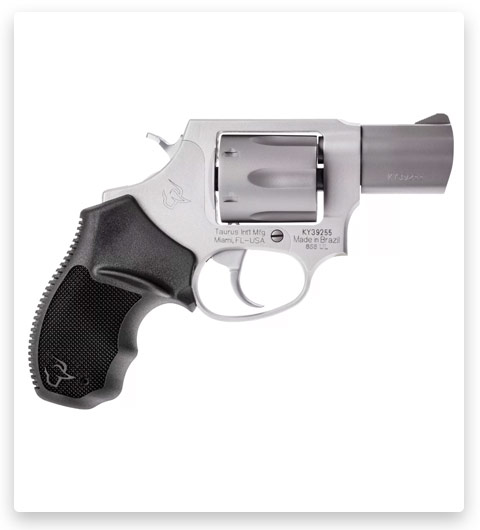 View on BassPro View on Cabelas
Regarding this model, it's even complicated to point out some downsides because it's really good. The double-mode revolver with an alloy frame, steel barrel, and a steel 6-shot cylinder offers various useful features, such as a comfortable grip, thanks to rubbers, two fixed sights, precise aiming with manual cocking, fast drawing, and a transfer bar safety that prevents accidental discharging.
Plus, the gun looks pretty because it has a nice matte finish. Enjoy using such a high-quality, efficient firearm for a very low price. If you don't want to buy something special, of course.
8# Smith & Wesson 642 CT Airweight Double-Action Revolver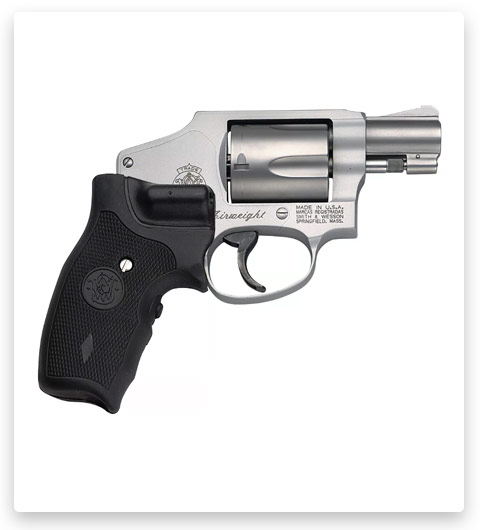 View on BassPro View on Cabelas
When you look at this model, it doesn't seem unique or interesting because it has well-known characteristics, such as a stainless steel and alloy construction that provides you with good durability and corrosion resistance, a snag-free design, and a 5-shot cylinder rated for P+ .38 Special ammunition.
But if you take a closer look, you will see that the synthetic grip has an integrated laser sight that helps you aim more precisely, which is very important in combat. The laser grip requires no activation, so it's enough to just hold the revolver. Such an easy way to solve a problematic situation can suit many of us.
9# Smith & Wesson M&P Bodyguard 38 Double-Action Revolver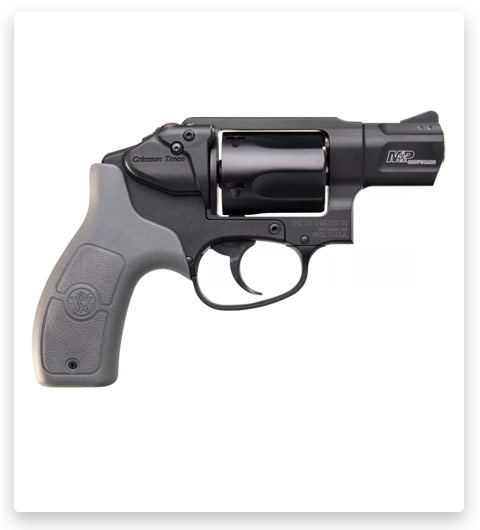 View on BassPro View on Cabelas
The last gun we have chosen to review is also designed by Smith & Wesson, and it also has a laser sight. Unlike the previous model with a laser sight, this one allows you to remove the module and use a standard double-action revolver without additional sights.
The cylinder frame is made of aluminum, the barrel rod shroud is integrated into the frame, and the stainless-steel barrel is inside the barrel shroud. The construction is solid and easy to use. Thanks to the modern snag-free design with an integrated hammer, anyone can shoot with this gun.
BONUS: Hornady XTP Pistol Bullets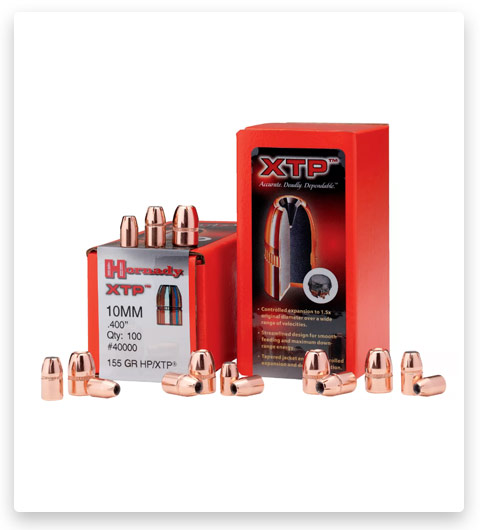 View on BassPro View on Cabelas
What ammunition do you buy? This is essential because it's one of the biggest aspects and parts of shooting to choose the right rounds. If you don't know where to begin or you just trust us, try these bullets. You should what ammunition you can buy!
How Does a .38 Revolver Compare to Other Concealed Carry Guns? ⚖️
It is a popular choice for concealed carry because it is relatively lightweight, easy to use, and has good stopping power. However, it also has some drawbacks, such as a limited magazine capacity and a slower reload time.
Here is a comparison of a .38 revolver to other concealed carry guns:
| | | |
| --- | --- | --- |
| Feature ⬇️ | .38 Revolver ⬇️ | Other Concealed Carry Guns ⬇️ |
| ✅ Weight: | Lightweight | Can be heavier |
| ✅ Ease of Use: | Easy to use | Can be more difficult to use, especially for beginners |
| ✅ Stopping Power: | Good stopping power | Can have better stopping power |
| ✅ Magazine Capacity: | Limited magazine capacity (5-6 rounds) | Higher magazine capacity (8-15 rounds) |
| ✅ Reload Time: | Slow reload time | Faster reload time |
| ✅ Cost: | Relatively affordable | Can be more expensive |
Ultimately, the best concealed carry gun for you depends on your individual needs and preferences. If you are looking for a lightweight, easy-to-use gun with good stopping power, then a .38 revolver may be a good option for you. However, if you need a gun with a higher magazine capacity or a faster reload time, then you may want to consider another type of concealed carry gun.
✅ Here are some other factors to consider when choosing a concealed-carry gun:
⭐ Your personal comfort level with different types of guns
⭐ Your shooting ability
⭐ The laws in your state
⭐ Your budget
It is important to do your research and try out different guns before you make a decision. You should also talk to a qualified gun instructor to get their recommendations.
FAQ 📚
Conclusion 😎
👍 In conclusion, the .38 revolver remains a reliable and popular choice for a sidearm, offering a balance of power, compactness, and ease of use. Its benefits include reliability, simplicity, easy maintenance, ammo flexibility, concealability, and durability.
The article provides a comprehensive guide to choosing the best variant, considering factors such as intended use, comfort, weight, size, capacity, price, reputation, ammunition compatibility, and safety features.
It also reviews the top 9 variants on the market, each with its unique features and benefits. Whether you're a seasoned gun enthusiast or a beginner looking for a reliable self-defense weapon, this guide provides valuable insights to help you make an informed decision.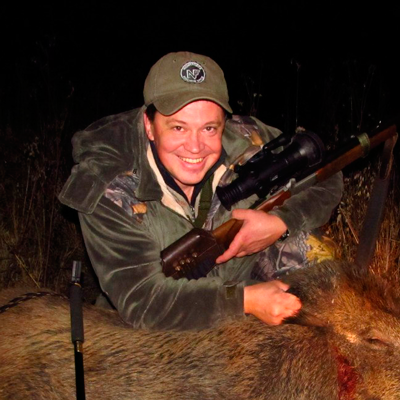 Yury Alexeev
Gun and Hunting Expert
The author of analytical top articles on firearms and accessories — a recognized expert in the field of survival in the wild, the author of many articles on quality camping and hunting equipment, and a firearms enthusiast. Due to many years of experience in hunting trips and studying the technical side of collecting firearms — both for hunting and for clay pigeon shooting — the author has many valuable tips to harmonize the passion for hunting and bring to it exceptional quality in terms of equipment and outfit.
My articles are precisely analyzed technical information and equipment specifications that allow a real hunter to assemble a decent set of weapons for multi-day outings in the wild. From the tents to the well-oiled gun, everything should meet the demands of the extreme entertainment enthusiast. Technically perfect weapons can greatly facilitate hunting even in the wilderness — choosing only the most qualitative, modern optics and other accessories for weapons, hunting efficiency will be maximum.
When choosing a weapon for hunting, pay attention to its specifications, and, above all, to the convenience for yourself — using high-quality equipment, you will discover the wonderful world of accurate shooting and successful hunting even in those weather conditions that don't imply hope for the shooter's eyes. Yury Alexeev - weapon and hunting expert, CEO of
Silencer.Systems
Read more
about our team
of expert authors.
Affiliate Disclosure: Rotorm.com sometimes gets paid for listings, through sponsors or affiliate programs like Amazon, Optics Planet, Lucky Gunner, Brownells, Cabelas, Rainier Arms, 5.11 Tactical, Bass Pro Shop, etс. Clicking a link helps keep Rotorm.com free, at no extra cost to you!
About the author: Each article on our site is written by experts in survival and tactical equipment, gun enthusiasts, extreme travelers, military, law enforcement and desperate professionals, read about the author at the bottom of the article or visit "About Us" page.
Note: The views and opinions expressed in this article are those of the authors and do not necessarily reflect the official policy or position of any agency.