Affiliate Disclosure: Rotorm.com sometimes gets paid for listings, through sponsors or affiliate programs like Amazon, Optics Planet, Lucky Gunner, Brownells, Cabelas, Rainier Arms, 5.11 Tactical, Bass Pro Shop, etс. Clicking a link helps keep Rotorm.com free, at no extra cost to you!
About the author: Each article on our site is written by experts in survival and tactical equipment, gun enthusiasts, extreme travelers, military, law enforcement and desperate professionals, read about the author at the bottom of the article or visit "About Us" page.
Note: The views and opinions expressed in this article are those of the authors and do not necessarily reflect the official policy or position of any agency.
Hello adventurer. COVID has made some adjustments to our plans, but this is no reason to lose heart. Now is the perfect time to get ready for the new gun season.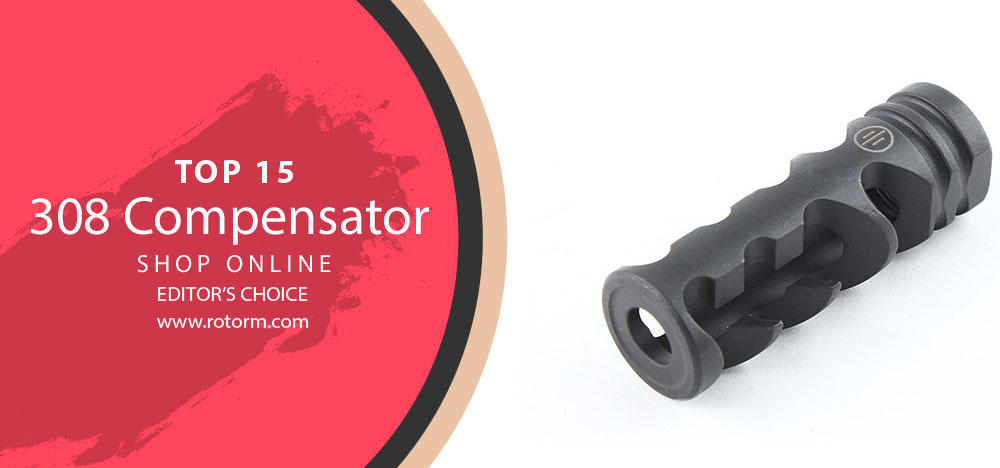 We've put together 15 really cool 308 barrel muzzles to suit every need. In our review, there are 308 compensators with Asian ones, those that extinguish 80% of the power of the shot and those that cost like two burgers. Stay with us and you will surely find something for yourself. We begin!
308 Compensator Review | Best 308 Compensator
| Image | Product | Brand | |
| --- | --- | --- | --- |
| | Precision Armament M4-72 Severe-Duty 308 Compensator | Precision Armament | |
| | TacFire Compact 308 Compensators | TacFire | |
| | Precision Armament Hypertap 308 Compensator | Precision Armament | |
| | Ultradyne Athena Linear Compensator | Ultradyne | |
| | LANTAC Dragon SilencerCo ASR .308/7.62 Compensator | LANTAC | |
| | TacFire 5.56 1/2X28 Linear Compensators | TacFire | |
| | Sniper Muzzle Brakes/Recoil 308 Compensators | Sniper | |
| | 2A Armament X3 308 Compensator | 2A Armament | |
| | Ultradyne Apollo Max 308 Compensator | Ultradyne | |
| | Strike Industries Japan Jcomp Type 89 308 Compensator | Strike Industries | |
| | KAK 308 Compensator | KAK | |
| | HERA Arms 308 Win Linear Compensator | HERA Arms | |
| | Ultradyne Pegasus Tanker-Style 308 Compensator | Ultradyne | |
| | Guntec USA AR .308 Cal Gen 2 Multi Port 308 Compensator | Guntec | |
| | Dark Storm Industries Competition 308 Compensator | Dark Storm Industries | |
#1 Precision Armament M4-72 Severe-Duty 308 Compensator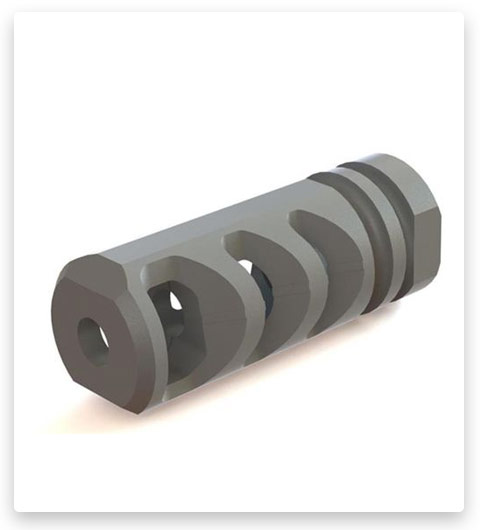 The Precision Armament M4-72 successfully reduces recoil by up to 75%. This 308 muzzle brake / compensator uses triple baffles with reverse ventilation to minimize recoil and eliminate muzzle lift.
The compensator is made of heat-treated stainless steel HTSR 416, HRC 26-32. It can withstand many waves of abuse and heated battles without any damage or erosion. The Precision Armament M4-72 features a closed bottom design and asymmetrical propellant gas release. For better impulse damping, more gas is directed upward, which allows the muzzle not to leave the line of sight. Installation requires the use of the Accu-Washer system, but it is not included in the kit.
Practice with this compensator has shown that the weapon remains maneuverable and the attachment weighs only 2.6 ounces at 2.25″ length for .223 Remington, 5.56×45 mm NATO (2.275″ for .308 caliber and 7.62×39 mm). The only negative phenomenon is the direction of the fireball directly in the face. It does take away most of the recoil (up to 75%) as advertised, but the sound remains loud even with earplugs. The shooters on adjacent lanes will not be thrilled with your long workouts.
#2 TacFire Compact 308 Compensators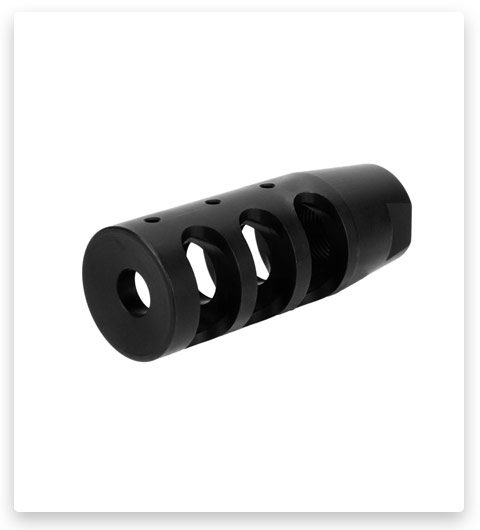 This offer will please everyone who is not ready to pay big bucks for big names of famous brands. This steel compensator will transform the kicker into a docile and accurate weapon, even at distances of up to 500 yards!
TacFire 5.56 1 / 2X28 – comes with a lock washer right out of the box. For an even better (professional) installation, it is preferable to use a lock nut instead of a washer, but this is not critical. The kit will work as expected, reducing recoil by about 50%.
By using this 308 muzzle brake compensator, you only reduce the actual recoil. The fireball remains for other shooters on the range, this must be taken into account. You must know why this is happening.
#3 Precision Armament Hypertap 308 Compensator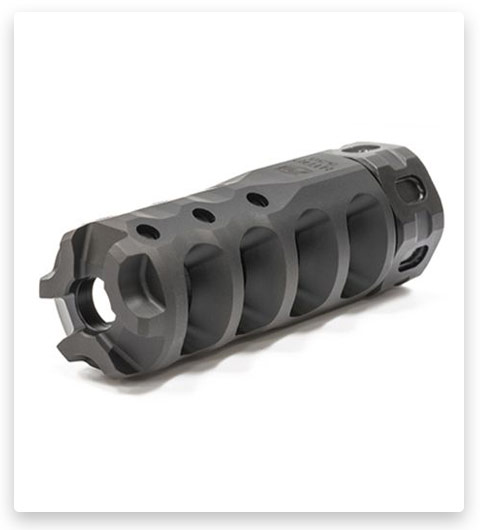 The Precision Armament Hypertap is designed to transform your rifle into the most obedient weapon. Absorbing more than 80% of the recoil seems incredible until you try this compensator. Everything that did not give you the ability to shoot quickly and accurately is now in the past. This small attachment will unleash your true potential.
The first thing that catches your eye is the machine processing of unsurpassed purity. The symmetrical diaphragm has an aggressive appearance, looks cool, and is very professional. The corners of the baffles deviate by only 35% and the large clearance of the barrel direct the flow of gases in such quantities and directions that the impulse of the shot is almost completely extinguished. The record 84% absorption is made possible by a patented hybrid design and improved convergent port geometry. It's hard for us to imagine how much simulation was done to achieve such impressive results!
This compensator is suitable for many rifles, but not all. If your barrel has a right-hand thread 1 / 2X28 or 9 / 16X24 – you can install it. It is also suitable for left-hand metric M15X1 threads. Thanks to the built-in universal timing nut, you can incorporate the expansion joint into your assembly even in the field, the wrench required for this is already included in the kit.
This expansion joint has a high price tag. At 1.09 inches in diameter and 4.9 ounces, it feels overpriced. But when you fit this brushed stainless-steel monster, you know the price is right. You pay for almost complete pulse absorption and zero flash magnification. If you doubt whether this compensator is so good, rest assured: it will surprise you!
#4 Ultradyne Athena Linear Compensator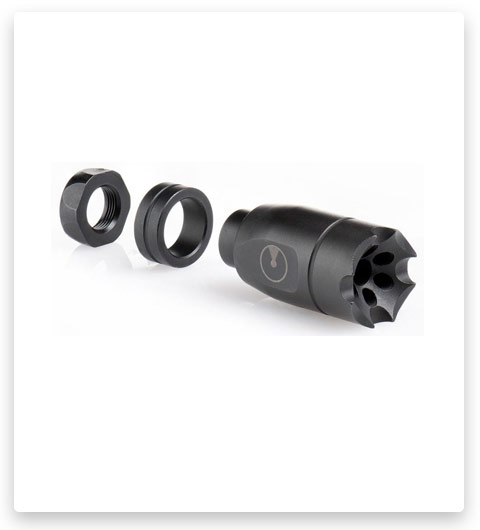 This update will make your build compatible with Dynamount systems and will be able to reduce the audio signature to an acceptable level. Not only will your ears say thank you, but your neighbors in the range will also notice the difference. This will not make your weapon super stable, – it will save you the deafening noise, but it will leave you recoil.
This linear expansion joint is manufactured from 416 stainless steel. Extra strong SB nitride coating added for better corrosion resistance. Also included in the kit you will find a temporary nut for easy installation.
Depending on the model, the MPN is slightly different. The UD10660 is 1.69″ long with an OD of 0.975. The UD10690 is slightly longer at 1.7 inches and slightly thicker at 1.1 inches. Overall, this is great for 5.56 / .223 caliber. It is a bad idea to try to fit this linear compensator on 9mm pistols. An insufficient inner hole will prevent a normal shot and destroy this squelch.
#5 LANTAC Dragon SilencerCo ASR .308/7.62 Compensator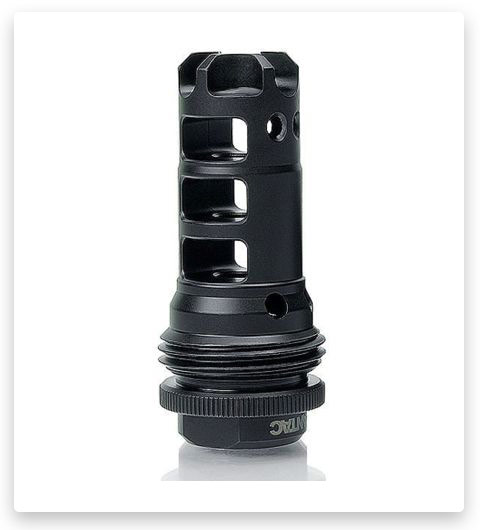 Many muzzle brakes only work well with single shots. Each subsequent quick shot saturates the barrel and muzzle brake (and especially the muffler) with powder gases, due to which the recoil and noise increase many times over. The LANTAC DGN762B-ASR Dragon is a muzzle brake that makes automatic shooting easy, accurate, and enjoyable. In addition, the LANTAC muzzle brake has an adapter for quick installation of a SilencerCo ASR silencer (for example, SilencerCo Saker, Omega Suppressors, and Blast Shield.).
This 308 barrel extension is made of stainless steel and is heat-treated for even greater strength. The result is 48Rc durability with additional nitride coating. It is a very hardy addition to your 7.62 / 308 caliber ammunition arsenal. By attaching the DGN762B-ASR to a 5/8 X 24 thread, you can only feel the impulse from the projectile bullet, and the powder gases will be efficiently dispersed to the sides. The muzzle practically does not move even with fast firing.
This 308 muzzle brake is based on the Short Energy Pulse system. This allows you to reduce the length of the recoil impulse so that subsequent shots could not knock the shooter off the target.
Lantac Dragon 308 muzzle brake is not considered a flame arrester under California law. The manufacturer recommends using Rocksett thread lock, but be aware that this is not included and does not work with the PMD. But the good news is that the kit includes a set of shims X2 .34mm, X3 .22mm, X3 .11mm, X4 .075mm, and a washer x1 2mm.
#6 TacFire 5.56 1/2X28 Linear Compensators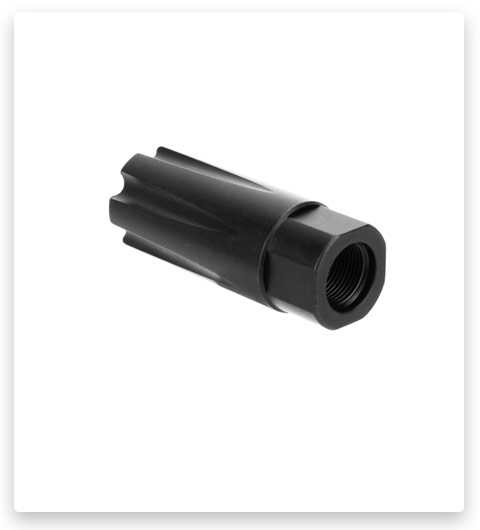 TacFire 5.56 1 / 2X28 is guaranteed to make your shooting more comfortable. These muzzles redirect the sound of the shot and the flash of powder gases from the shooter, following the bullet, but at the same time significantly reduce the audible sound.
Despite the low cost, TacFire makes its muzzle brakes from steel. The machining is not the best, and it may not have superb attention to detail, but it generally works. By purchasing this you get 2.26 inches in length and 0.87 inches and several designs to choose from. It can be a matte black or polished steel, buy whichever suits your barrel better.
This 308 muzzle is ideal for AR pistols and short-barreled rifles. The only thing that remains weak is the decrease in recoil. If it does reduce the recoil, it is very small, you should bear this in mind.
#7 Sniper Muzzle Brakes/Recoil 308 Compensators
The sniper muzzle brake / compensator was designed to effectively suppress the impulse of powder gases. With proper re-direction, muzzle lift is minimized and you can enjoy accurate single-shot and fast burst shooting. Sniper offers 14 modifications but remains very affordable.
This 308 muzzle is CNC machined from durable stainless steel. The design of some models is slightly different, but in general, it is a ribbed design with a discharge of powder gases to the sides. The ASMZ03 has an outside diameter of 0.98″ and tapers to 0.75″ at the threaded end, while the ASMZ04 has 0.98″ and tapers to 0.8″. In general, this varies slightly in diameter and length (about 2.26″) but weighs about 4.2 oz. Read carefully and you will find a suitable model for your barrel with 5/8 – 24 threads, or another.
This suggestion is workable right out of the box but may require some work. You may have to file off excess burrs somewhere, or fix scratches. A locknut and a retaining ring have already been added to the kit. If you have any questions about installing this add-on, it is better to turn to the Internet, because there are no instructions in the kit.
#8 2A Armament X3 308 Compensator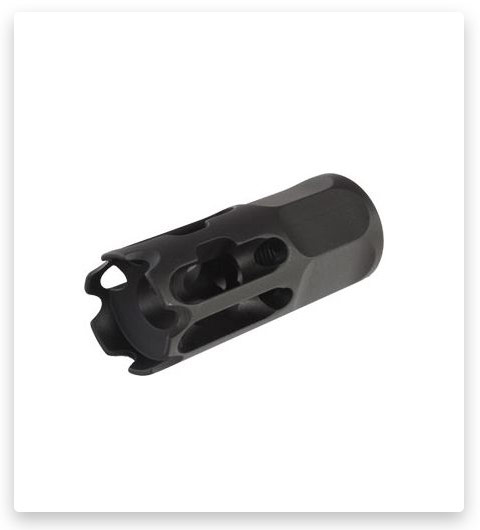 The 2A Armament X3 Compensator is the middle ground between a flame arrester and a muzzle brake. With this system, 7.62mm / .308 / .308BLK calibers (or less) become much more accurate and enjoyable to shoot.
The peculiarity of this 308 muzzle brake is that the powder gases are sent through the labyrinth of the muzzle and lose their main strength. Meeting the first partition, the gas is directed according to a geometric pattern and begins to work to stabilize the weapon. The second baffle directs the gas upward, which compensates for the rise of the muzzle. This allows you to substantially stabilize your rifle system, especially if the barrel is 16 inches or longer.
In terms of physical dimensions, this add-on measures 2.115 inches in length. But when you put the expansion joint on the barrel, some of the lengths will be hidden on the stem string, so it will be less than 2 inches. The muzzle uses a 5/8 x 24 TPI thread, which will suit most rifles.
This 308 compensator is good at suppressing the impulse of the shot, but the flash remains strong enough. Noise cancellation is also not very successful, it is still loud, albeit less than the baseline.
#9 Ultradyne Apollo Max 308 Compensator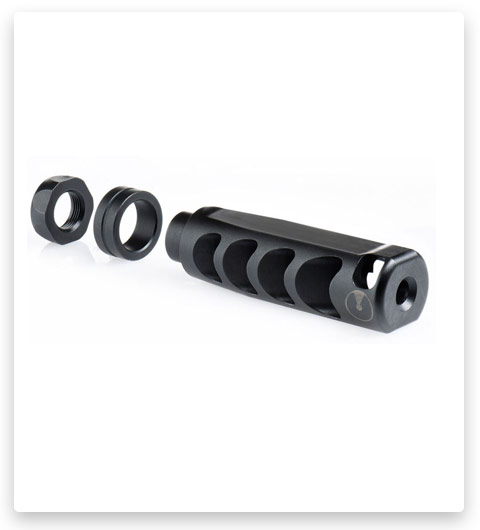 Ultradyne Apollo Max – significantly reduces recoil allowing full control of the muzzle and directs the powder gases away from the shooter. Muzzle compensation works equally well for long and short barrels. The main thing is that the barrel thread is 5/8 x 24.
This muzzle is made of stainless steel with a heavy-duty SB nitride coating. The outer diameter is .975 and is absolutely compatible with Dynamount sighting systems. Includes a temporary timing nut for quick and easy installation. The valve nut is 15/16 for the 308 Apollo brake. Use a dynamic wrench and foot 15/16 with a torque limit of 25 ft / lbs. This is enough to securely fix the brake at the end of the barrel.
When reading the description of the model, pay attention to the appropriate calibers. If you are trying to fit a .270 cartridge into a .223 model it will not work. You will need the help of an experienced gunsmith to bore the inner hole or choose a different expansion joint.
The real nuisance that can await you with the purchase of this muzzle is the abundant contamination of the GSR. This can emit your mask and red aiming point after just 60 shots. Use good ammo and this effect will be kept to a minimum.
#10 Strike Industries Japan Jcomp Type 89 308 Compensator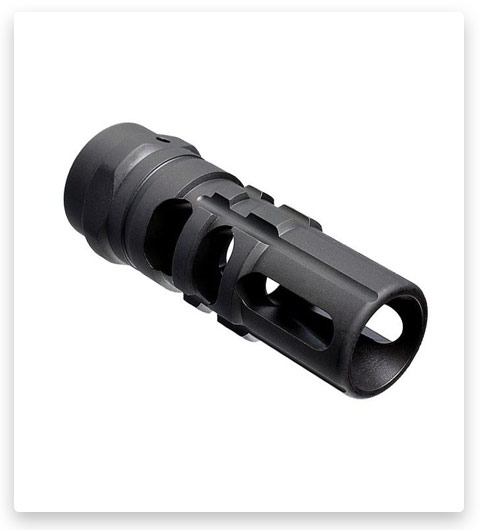 If you've been expecting representatives from the Asian segment of the market, you've got it. JComp Type 89 was born in Japan and is successfully used by the Japanese Self-Defense Forces (after World War II, they cannot have an "army", so their military is so named). As the name suggests, this muzzle mounts on the Type 89 assault rifle, which matches the .308 and 7.62mm calibers. Strike Industries manufactures three versions of the J-COMP to keep the system running at maximum efficiency. .223 / 5.56 owners can also install this on their rifles.
Strike Industries 308 compensator is made according to the classical scheme with a two-chamber structure. Barrel gases are redirected through six side vents. As a result, recoil is significantly reduced even with fast, sequential shots. The cherry on top is extra flash absorption, even in the dark.
This baby is created from durable steel, painstakingly processed on a CNC machine, and completed with a smooth parker finish. At 2.55×0.87 inches, it really looks thoughtful and well done.
It feels very confident on the trunk. You will need one minute to install and the crushing washer that is already included in the kit. You can replace the offered washer yourself with Loctite 222, this will only make your installation easier. The only disappointment that may await you is that the barrel does not match your rifle with a 5 / 8×24 thread. If you are good with it, a pleasant user experience is inevitable!
This is an excellent compensator at a very good price and we had to think for a long time to find its weak point. And so, we found its weakness – it is not compatible with the QD suppressor. This little thing aside, this is one of the best expansion joints we've ever worked with.
#11 KAK 308 Compensator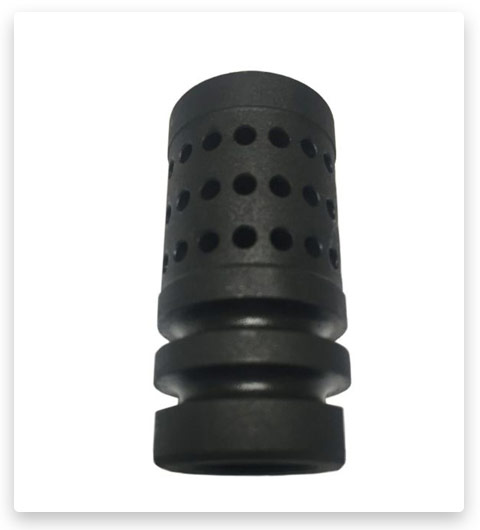 The KAK compensator is something that cannot be surpassed in price. It costs like a couple of burgers but makes your rifle more sophisticated and your build complete. KAK has created something that can withstand your abuse for many years and thousands of rounds.
This 308 compensator is produced in 3 modifications to cover all the most popular weapons. The .300 AAC Blackout and .308 calibers are available with a 5 / 8×24 thread. For NATO caliber, the thread is 1 / 2×28. Also available for 9mm Luger with 1 / 2×36 threads per inch. This is quite convenient because you do not have to modify the expansion joint yourself, or at the gunsmith.
An important detail, the holes in this expansion joint are directed in 3 directions. The lower part has no perforations to direct the barrel gas in the opposite direction from the throw. As a result, this does not correspond to super technologies, but it still works successfully and extinguishes the power of the shot.
#12 HERA Arms 308 Win Linear Compensator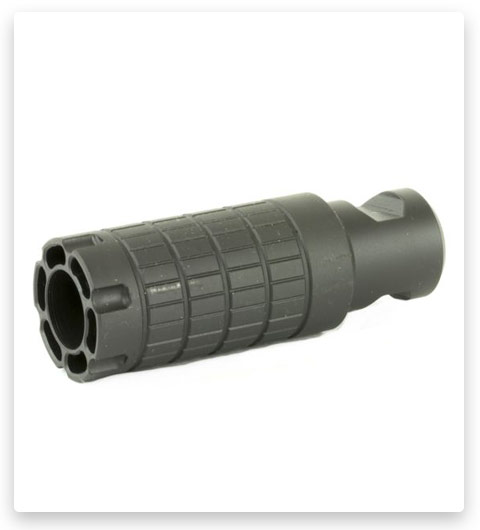 HERA Arms 308 Win Linear Compensator significantly reduces the noise level and absorbs some of the energy of the shot. It really is made in Germany with all the attention to detail and will make your .308 even better.
This expansion joint is based on a design with 12 separate expansion chambers. Powder gases are directed directly through the front faces of the compensator, eliminating bright flash and loud sound from the shooter. Even if you are using supersonic cartridges, some of the sounds are focused forward and the sound of the shot becomes quieter for the shooter.
The HERA Arms 308 Win Linear Compensator is an impressive 3.55″ in length and 1.23″ in diameter. Despite this, the second generation of the expansion joint received a 30% reduction in weight but retained all the achievements of the previous model. .308 compliance imposes some of its limitations. The maximum gauge is 7.62mm and the parallel threads are 5/8″ x 24.
This is really effective at dampening sound and flash. At the same time, it looks technologically advanced and very well made.
#13 Ultradyne Pegasus Tanker-Style 308 Compensator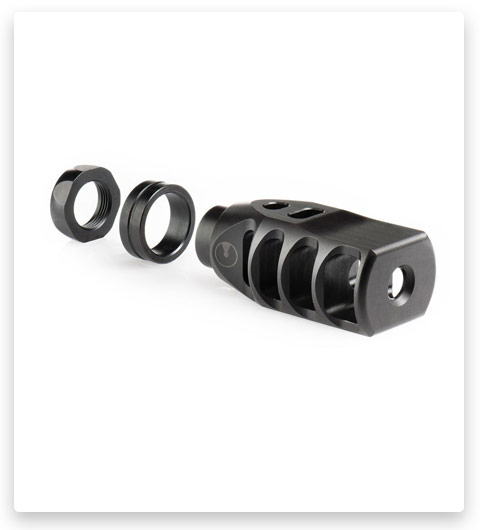 PEGASUS has developed a compensator with which the muzzle lift is almost completely neutralized and the energy of the explosion of gases is released smoothly and gradually.
The tanker-type compensator has progressive side windows with a gas meeting angle of 90 degrees. This allows you to absorb the shot gradually, at short intervals, but at the same time, the system will be ready for quick subsequent shots. In addition, the blast wave is taken away from the shooter's field of view and does not interfere with the view.
The Ultradyne Pegasus Tanker-Style is manufactured from 416 stainless steel coated with black SB nitride. The CNC machining is done well, all the relief transitions are expressive and very stylish. Optics planet offers a choice of two versions, for .308 (AR-10) and 6.5mm Creedmoor (AR-15). With a total length of 2.41″ and up to 1.36″ OD, this complete system will add 6.7 ounces to your barrel. Each kit is complemented by a temporary timing nut. The only thing you should check before buying is that the threads on the barrel end match 5 / 8×24 standards. If you are doing well with this, the installation will be simple and quick.
Pegasus 308 muzzle will be a great addition to your build and will not interfere with existing Dynamount sighting systems. Gap with 90-degree ports announces that this device looks and performs rigorously and undeniably.
#14 Guntec USA AR .308 Cal Gen 2 Multi Port 308 Compensator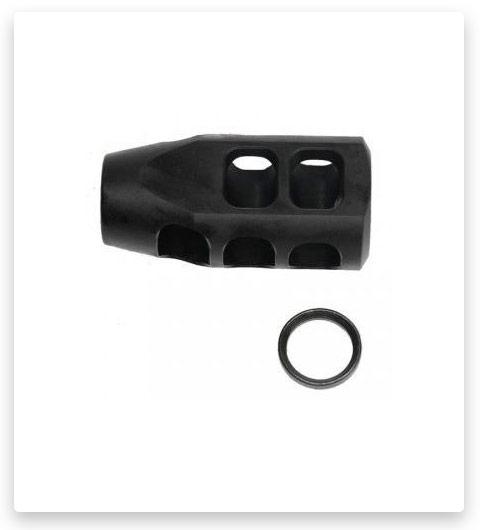 This multiport compensator from Guntec USA diverts gases to the sides and upward to dampen the impulse of the shot. The compensator has 3 large windows on the sides and two windows on the top. Although some of the gases are directed upward, the shooter does not encounter blinding or gas in the face. Everything works neatly and reduces the force of removal of the muzzle from the line of sight.
This device has already proven its effectiveness, therefore, in the second generation, it received new improvements that reduce the overall weight, but remain effective. It now weighs 4.7 ounces and is 2.5 inches long. CNC machined stainless steel cannot weigh less. Included in the kit you will also find a steel crusher disc that will complete your assembly.
Guntec USA has provided expansion joints for only one caliber – .308 with 5/8 x 24 threads. You also have the option of choosing between two designs, a dark nitride finish, or polished stainless steel. Regardless of your choice, this expansion joint does not have a complicated labyrinth of corridors, so it is quite easy to clean.
#15 Dark Storm Industries Competition 308 Compensator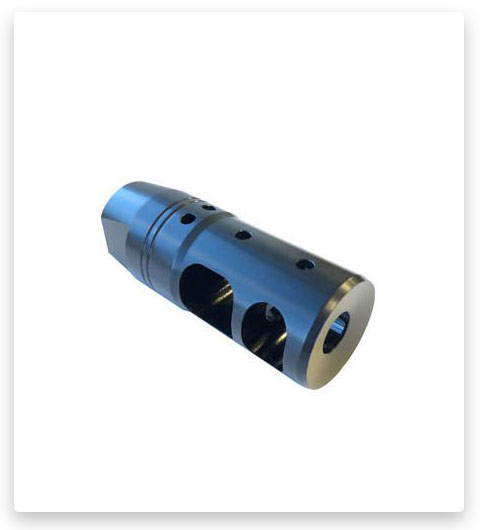 Dark Storm Industries has prepared a steel muzzle brake compensator for .0308 / .300 / 7.62 with a classic 5 / 8×24 right-hand thread. This 308 compensator reduces muzzle lift and recoil. For installation on short barrels, a pilot hole for pin and welding is provided.
This muzzle is made of durable stainless steel with a nitride coating. The geometry of the baffles is designed so that the barrel gas goes out to the sides and up, but does not interfere with the shooter and his neighbors. Most of the barrel gases are dispersed through the double side baffles. The double vertical port creates a major counter-recoil impulse. This turned out to be not enough for complex counteraction, so it was decided to add more perforations. The 2 corner top ports from the expansion chamber also direct the barrel downward but disperse the gas in a "V" pattern without distracting the shooters. This changed the cushioning efficiency and improved the user experience.
How to Install 308 Compensator
Try to always follow the manufacturer's instructions, if any. Sometimes flame arresters or muzzle brakes can be combined with mufflers. This is possible if the manufacturer has awarded this muzzle with a built-in synchronization device. In this case, you just need to find the correct size of the gasket.
If synchronization of the muzzle devices was not part of your plans, use a crushing washer. To do this, you need an AR-15 gun wrench or a ¾" open-end wrench.
The installation method assumes that you may be lucky the first time, or you will get the result in 5 minutes. This will inevitably be successful, but you may have to tinker.
The easiest way to install the muzzle is by presenting the watch face. Count the upper point as 12:00 and try to synchronize the device on the barrel with this point. To do this, you need to choose the right washer and turn the device by hand to the virtual mark of 10:00. If this works out, you just need to tighten the muzzle on the barrel with a wrench.
If the 10:00 mark could not be reached manually, the repeaters try with another washer. You will definitely succeed, but you need to try.
Conclusion
We do not know what is your priority, extinguish the power of the shot, reduce the noise or eliminate the flash, so we have selected a variety of options. Out of 15 applicants, you can definitely find one that will suit your rifle and not make your wallet too empty.
Here are our winners. They are arranged according to their primary review priority. We highly recommend that you consider each of them in more detail because they have already won our hearts.
Attention! Our winners:
Thanks for your time, we tried to make these minutes useful for you. Keep updating your arsenal and we will help you with this. Until next time, survivor!
Tags: 308 compensator, 308 linear compensator, m4-72 severe-duty compensator 308, 308 compensator flash suppressor, best 308 compensator, 308 compensator Review
#Best #308 Compensator #Sale #Linear #Review #m4-72 #Flash #Cheap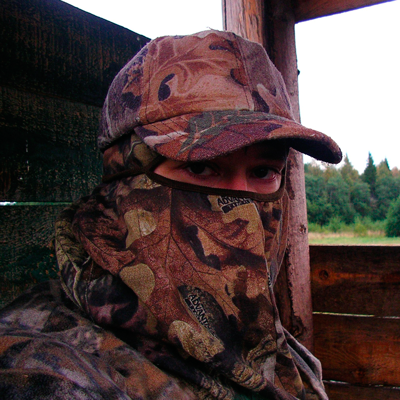 Tatiana Kursakova
Professional shooter, traveller, survivalist
My love of guns is in my blood, since childhood I have spent hours enjoying the beauty of guns and adored going through their parts.
Tactical accessories are another passion of mine that I could write about endlessly - my house and garage are full of tactical gadgets, luckily my family shares my interests.
I'm infatuated with traveling that's why work at one place with a daily routine and standard schedule is not for me. I prefer copywriting and English tutoring as a freelancer. I live in a male family among constant talks about cars, guns, hunting, fishing, and, of course, dinosaurs 😊.
My husband is an obsessed hunter, and my two sons are fans of «Demolition Ranch» of YouTube blogger Matt Carriker. They are my best consultants about weapon and all-around ammunition topics. All together we share a love for adventures. Every camping or mounting hiking trip is a "small survival", giving irreplaceable experiences. Nothing can be better than the satisfaction of observing wild nature.
Motto: «Born in Ukraine, made is the USA».
Read more
about our team
of expert authors.