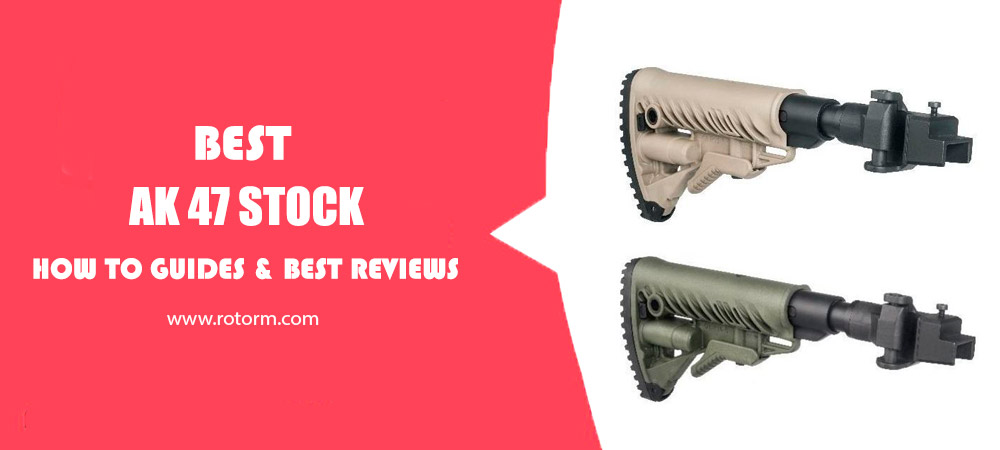 What is the Best AK 47 Stock? 🤔
The AK-47 stock is an iconic component of the Avtomat Kalashnikova 1947 rifle designed by Mikhail Kalashnikov. Introduced in 1947, the fixed wooden stock provides the support and shoulder rest for the 7.62x39mm Soviet intermediate cartridge rifle.
The simple, solid design enables stable and consistent firing while resisting weather effects. Early they were made of birch or beech wood. In the 1950s, Russia switched to laminated plywood variants that resisted warping and splitting. Along with the wooden handguard, it helps absorb recoil and provides a comfortable fit against the shooter's shoulder.
Though simple in design, it is integral to the reliability and accuracy of the famed rifle. Its classic wood variant has become an iconic image associated with Soviet forces and other militaries around the world that employ the AK-47 and its variants.
Benefits 🔥
✅ The AK 47, a legendary rifle known for its reliability and ruggedness, can be further enhanced with the right stock. A good variant can significantly improve the shooter's comfort and the rifle's overall ergonomics. Providing a stable shoulder rest, aids in better recoil management, allowing for more accurate follow-up shots. This stability can lead to improved accuracy over extended shooting sessions.
✅Additionally, a well-designed model can offer better cheek weld, ensuring consistent sight alignment and sight picture. For those who use their AK in various tactical scenarios, a quality model can also enhance the weapon's maneuverability, especially in close quarters. Furthermore, replacing or upgrading it can breathe new life into an older rifle, enhancing its functionality and extending its service life.
Our Top Pick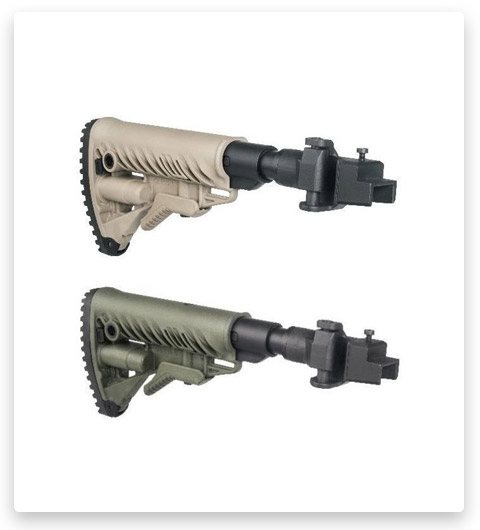 FAB Defense Collapsible Buttstock W/ Shock Absorber For AK 47
Crafted from robust 6061 anodized aluminum and polymer, this product is designed for AK-74 and AK-47 models, guaranteeing compatibility. Its non-slip design improves shoulder positioning for enhanced tactical performance, while its tough build ensures longevity.
Buy Now On OpticsPlanet
If you click this link and make a purchase, we earn a commission at no additional cost to you.
Features ⭐
☑️ It comes with a range of features tailored to meet the diverse needs of shooters. Many modern stocks are adjustable, allowing the shooter to customize the length of pull to fit their body and shooting style. This adjustability can be particularly beneficial for shooters wearing body armor or bulky clothing. Some of them also offer foldable designs, making the rifle more compact for transport or storage.
☑️ The materials used in them vary, but many are crafted from durable polymers or reinforced composites, ensuring they can withstand rough handling and adverse conditions. Some of them also come with built-in storage compartments, ideal for keeping small essential items like batteries or cleaning tools.
☑️ Additionally, many modern variants feature QD sling attachment points, facilitating the use of slings for carrying or shooting support. The design of them often considers ergonomics, with contoured shapes and rubberized butt pads to enhance comfort and reduce felt recoil.
Our Top Pick
FAB Defense Reinforced Stamped AK Buttstock System
Boasts a non-slip design for superior shoulder positioning, resulting in enhanced shot control and increased comfort during extended shooting sessions. Bid farewell to fatigue and welcome better accuracy.
Buy Now On OpticsPlanet
If you click this link and make a purchase, we earn a commission at no additional cost to you.
Factors to Consider When Choosing an AK 47 Stock 📋
🚩 When selecting, your intended use should guide your choice. For demanding military and law enforcement uses, durable and reliable variants are a must. For recreational shooting, match-grade models provide better accuracy. Adjustable stocks allow you to customize the length of pull and comb height for your body size and shooting style, while fixed types offer simplicity and ruggedness. Weight is another consideration – polymer and composite models shed weight over wood for easier carrying during prolonged use.
🚩 The height and shape of the comb affect consistency in cheek weld and aiming through optics. Some of them accommodate accessories like adjustable cheek risers, mono/bipods, and sling mounts. Comfort factors like the grip texture and butt pad design greatly influence the shooting experience during high volumes of fire. Materials like wood, polymer, and composites have trade-offs in weight, toughness, weather resistance, and cost. The design and mass help mitigate felt recoil – an important factor with heavy-hitting rounds.
🚩 Aesthetics and personal taste play a role too – traditional wood or more modern polymer styling. Prices run the gamut based on features and materials. Match your budget to your intended use. Ensure compatibility with your specific AK variant – stamped or milled receiver, fixed or folding model, etc. Keeping these factors in mind will help you pick the right choice.
Best AK 47 Stock Reviews
1# DoubleStar AKFX 8.5″ AK Skeleton Stock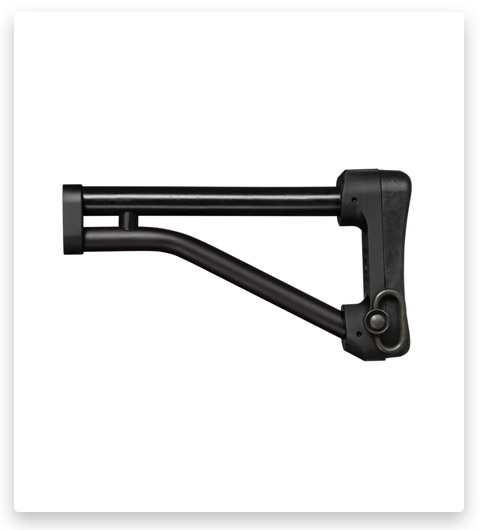 View on OpticsPlanet View on Brownells
The use of 7075-T6 Aluminum ensures that it is both lightweight and durable. You won't be weighed down during extended shooting sessions, and it's built to withstand the rigors of regular use.
With an 8.5-inch length, it provides a comfortable length of pull for a variety of shooters. Whether you're out for a day at the range or in the field, you'll appreciate the comfort it provides. It features a 0.5-inch recoil pad, reducing felt recoil and helping you maintain stability while shooting. This means faster follow-up shots and improved accuracy.
It comes with integrated QD slots and a push-button sling swivel, making it easy to customize your sling setup. Whether you prefer a single-point or two-point sling, it has you covered. The sleek black finish and skeletonized design not only look great but also contribute to weight reduction and improved cooling for your firearm.
2# DoubleStar AKFX-L Redesigned AK Skeleton Stock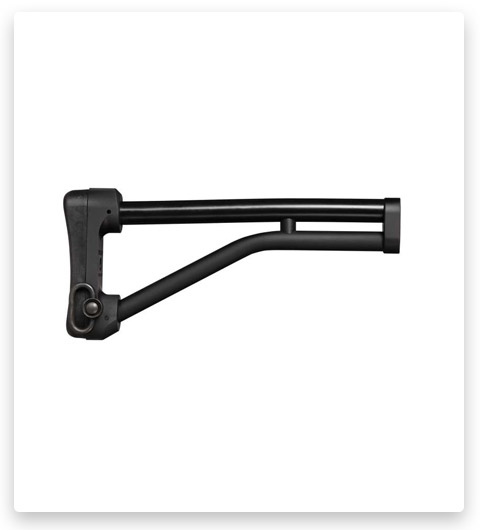 It features a 0.5-inch recoil pad, ensuring that every shot you take is comfortable and controlled. Whether you're on the range or in the field, it minimizes recoil, allowing for more accurate follow-up shots and a more pleasant shooting experience.
Designed to fit the Kalashnikov AK-47, it is engineered to provide a perfect fit and function seamlessly with your rifle. It's also compatible with a 1913 adapter for added versatility, making it suitable for various AK configurations.
Constructed from 7075-T6 aluminum, known for its exceptional strength and corrosion resistance, it is built to withstand the harshest conditions. It can endure rigorous use and abuse while maintaining its structural integrity. It is user-friendly and straightforward to install, allowing you to upgrade your firearm without hassle. The removable butt pad makes customization a breeze, so you can adjust the length to your preference.
3# Magpul MOE Fixed Stock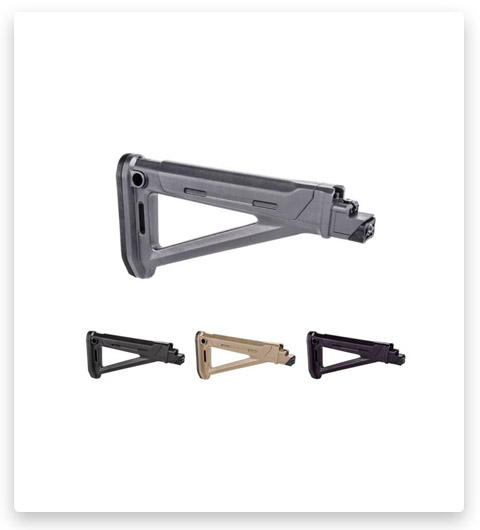 View on OpticsPlanet View on Brownells View on Amazon View on Cabela's
Constructed with reinforced polymer A-frame construction, it is engineered for longevity. The slim profile and user-friendly cheek weld guarantee a comfortable shooting experience, even during extended sessions. Plus, optional snap-on Cheek Risers (sold separately) let you tailor the fit to your preferences.
The internal storage compartment is optimized for your factory AK cleaning kit, ensuring you have essential tools at your fingertips when you need them most. The rubber butt-pad not only offers an anti-slip surface but also enhances impact protection. You can shoulder your rifle confidently, even with body armor.
It comes with rear sling mounts, including options for push-button QD swivels and a 1.25″ fixed sling loop, making it easy to carry your rifle comfortably. It mounts seamlessly to most stamped receiver AK-47/AKM/AK-74 pattern rifles with fixed stocks and a single tang trunnion. Please note that minor fitting may be required due to the wide range of AK tolerances.
Available in classic black, stylish plum, and versatile flat dark earth, you can pick the color that matches your preference or collection.
4# Magpul AK 47 Zhukov-S Folding Stock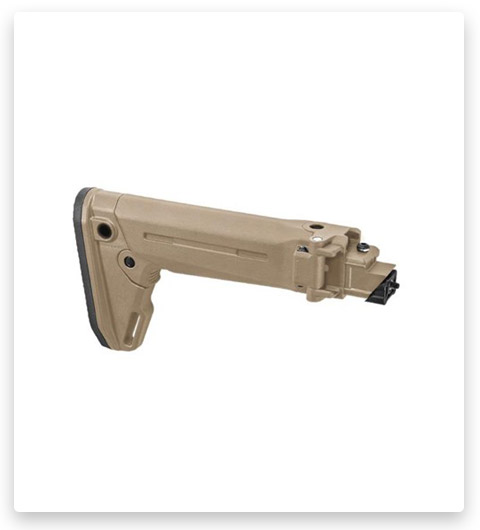 View on Brownells View on OpticsPlanet View on Cabela's
Combines the convenience of a folding stock with the robustness of the AK platform. This means you can easily adapt your rifle to different shooting scenarios, whether you need a compact profile for close quarters or an extended stock for precision shots.
It features modular Cheek Risers (sold separately), allowing you to customize the height to match your shooting style. The 5-position telescoping and shock-absorbing rubber butt-pad ensure superior traction and reduced recoil. Quick Detach (QD) sling mounts provide you with versatility when it comes to carrying your firearm. Easily attach or detach your sling as needed, making it an ideal choice for tactical or hunting applications.
Its right-side folding design ensures compatibility with side-mounted optics. No need to compromise on your choice of optics – it accommodates them seamlessly. Designed to fit the most common stamped AK receivers without modification via a unique wedge block, the durable injection-molded polymer simplifies the upgrade process. You won't need to be a gunsmith to enjoy its benefits.
5# Magpul AK 47 Zhukov Stock Set M-Lok Polymer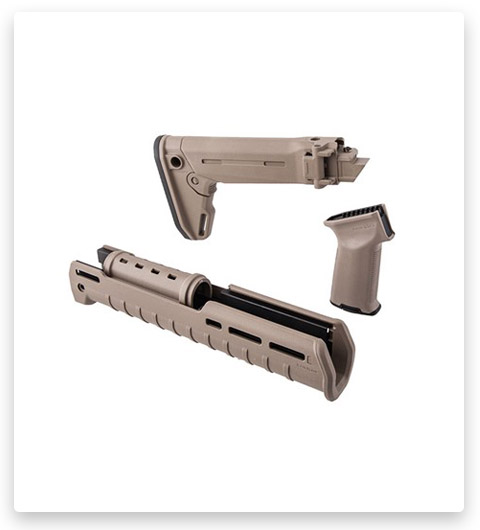 View on Brownells View on OpticsPlanet
It is the epitome of innovation. It discards the limitations of traditional AK stocks by providing a folding and collapsible design. With integrated QD sling mounts and modular Cheek Risers (available separately), it ensures versatility and adaptability. The shock-absorbing rubber butt pad delivers superior traction, ensuring stability during firing.
The right-side folding feature is perfect for compatibility with side-mounted optics. Plus, it fits most common stamped AK receivers without any modifications, thanks to the unique wedge block. Crafted from durable injection-molded polymer, it redefines your interaction with the AK platform.
It sets a new standard for AK forearms. It addresses the shortcomings of traditional designs and offers an extended option for modern shooting techniques. The aluminum chassis enhances strength and heat dispersion, while the injection-molded exterior provides superior ergonomics. With M-LOK slots, you can optimize accessory attachment, and it's compatible with the Ultimak gas tube rail for optics mounting. Please note that installation requires the removal of the hand guard retainer.
The MOE AK+ pistol grip is a drop-in upgrade designed to improve ergonomics and weapon control. Compatible with both reinforced and unreinforced receivers, it ensures a positive and comfortable hold on your firearm. Borrowing the rubber-over-molded surface from the popular MOE+ AR-15/M4 grip, the MOE AK+ is a game-changer.
6# Magpul AKM AK47/74 Furniture Kit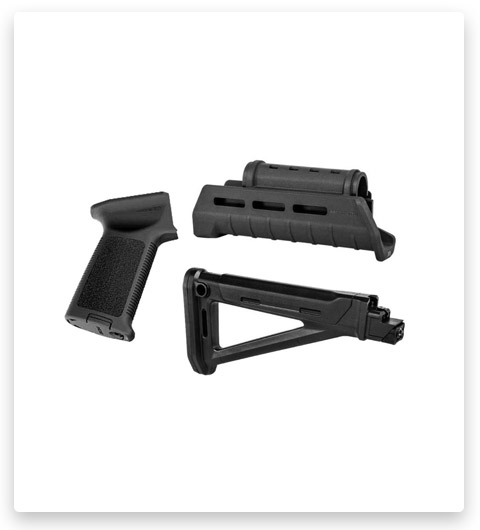 View on OpticsPlanet View on Brownells
Crafted from high-quality materials, it is built to last. The reinforced polymer construction ensures longevity and can handle the toughest conditions. Whether you're out in the field or at the range, your AK will maintain its reliability.
The Magpul MOE AK47 Tactical Rifle Grip included in this kit provides an ergonomic and comfortable grip. Its aggressive texture guarantees positive weapon control in all environments. You'll experience improved accuracy and stability with every shot.
It is designed to fit both milled and stamped receivers, including those with grip reinforcement plates. It offers versatility and can be customized to suit your needs. Add optional Storage Cores to store essential gear conveniently. The MOE AKM Handguard features an integrated heat shield, ensuring your hand remains protected from the heat generated during rapid fire. It also offers M-LOK mounting capability for attaching accessories or Picatinny rail sections.
It is a drop-in upgrade, making installation a breeze. It includes all the necessary mounting hardware, and with a little custom fitting to match your AK's receiver tolerances, you'll have it ready to go in no time. Available in different colors, including Flat Dark Earth and Black, you can select the one that best suits your style or the camouflage of your choice. Mix and match to create a unique look that stands out on the range.
7# ATI Outdoor Fiberforce Stock & Handguards for AK 47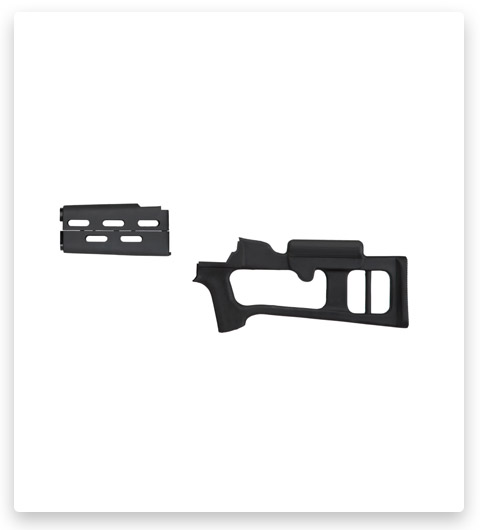 Crafted from high-quality glass-reinforced polymer, it offers the perfect balance of durability and lightweight design. Its black finish adds a sleek and tactical appearance to your rifle.
It features a thumbhole grip and a sure-grip textured pad, providing you with improved control and comfort during extended shooting sessions. The integrated cheek rest and 3M soft touch cheek rest pad enhance your shooting experience even further.
Built to withstand the toughest conditions, it is made from DuPont extreme-temperature glass-reinforced polymer. Whether you're in scorching heat or freezing cold, your rifle will perform flawlessly. Don't worry about complicated installations. It is designed for ease of use and can be installed without hassle, allowing you to spend more time at the range. It is compatible with AK-47 and Norinco MAK-90 models, making it a versatile choice for rifle enthusiasts.
8# Pro AA47DT AK 47 Stock Set Tan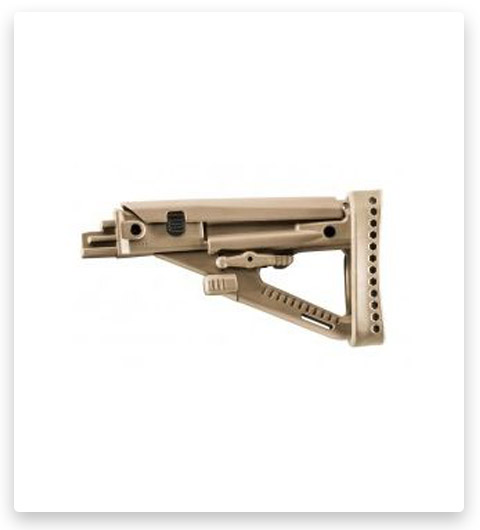 Made from high-quality polymer, this set not only provides durability but also ensures a comfortable grip. Whether you're at the range or in the field, the ergonomic design of this set allows for extended shooting sessions without discomfort.
It offers a unique selling point – customization. With this set, you have the freedom to tailor your AK-47 to your preferences. Choose from an array of tasteful colors to match your style, or even collect different colors to suit various occasions.
Thanks to its precision design and robust construction, it enhances your accuracy and control over your AK-47. Say goodbye to recoil and hello to pinpoint shooting accuracy.
9# FAB Defense Reinforced Stamped AK Buttstock System
Features a non-slip design, providing superior shoulder positioning. This means improved shot control and enhanced comfort during extended shooting sessions. Say goodbye to fatigue and hello to better accuracy.
With its 8-position tube, you can easily adjust the length to match your specific preferences and shooting style. Whether you prefer a shorter or longer length of pull, this buttstock system has you covered. Enjoy a personalized fit for maximum shooting comfort.
It boasts 2 ambidextrous Quick Detach (QD) sling swivel mounting ports, allowing you to quickly and securely attach your sling. This feature adds convenience and versatility to your setup.
Constructed from a durable and lightweight fiberglass-reinforced polymer composite, this buttstock system is built to last. It can withstand the rigors of regular use while maintaining a lightweight profile, ensuring that it won't weigh you down during your shooting adventures. The bolt-on design ensures a tight and easy fit on stamped receiver AK-47, AKM, and AK-74 variants. You won't need to be a gunsmith to install it, making the process hassle-free.
10# FAB Defense Collapsible Buttstock w/ Shock Absorber for AK 47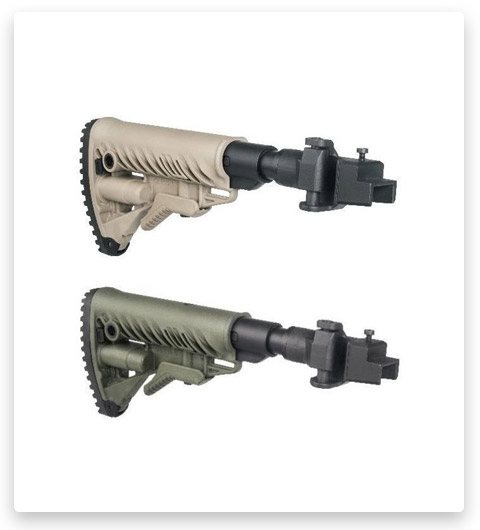 The integrated shock absorber in this buttstock is a game-changer. It significantly reduces recoil, making your shots more manageable and accurate. Whether you're a seasoned shooter or a novice, you'll appreciate the enhanced control and comfort this feature provides.
Constructed from high-quality 6061 anodized aluminum and polymer, it is built to withstand tough conditions. It's designed to fit AK-74 and AK-47 models, ensuring compatibility with your firearm. The non-slip design enhances shoulder positioning for improved tactical performance, while the tough and robust design ensures longevity.
One of the standout features is its foldable and collapsible design. It allows you to easily store your firearm in cases or tight spaces, making it a practical choice for transport and storage.
How to Install an AK 47 Stock ⚙️
➡️ To install, you'll need the rifle itself, the new stock, their mounting hardware including the bolt, washer, and nut, plus a screwdriver or wrench. First, ensure the rifle is unloaded and pointed in a safe direction. Remove the old stock by unscrewing the bolt and sliding it off the rear of the receiver. Take off any accessories like sling loops or cheek risers from the old and set them aside. Clean any dirt or debris from the receiver mounting area.
➡️ Insert the tang into the receiver's mounting point, aligning it straight with the rifle. Insert the bolt through the right side into the threaded hole in the receiver, seating the bolt head into the countersunk hole. Install the washer and nut onto the end of the bolt protruding from the left side. Tighten the nut several turns by hand initially. Then use a wrench to tighten the nut to approximately 20-30 ft-lbs of torque – do not over-tighten.
➡️ Reinstall any accessories like sling loops or cheek risers onto it as needed. Finally, perform a safety check to ensure proper installation and rifle function before firing the weapon. Take care to align it properly and tighten the mounting hardware to spec for optimal performance.
FAQ 📚
Conclusion 🏁
AK 47 stocks are a necessary part of the rifle. They can improve accuracy and comfort while shooting. There are many variants on the market, so it can be difficult to determine which one is the best for you. In this article, we have reviewed the best variants on the market. We have also included a buyer's guide to help you make your decision. We hope that this article was useful and you will have a better understanding and be able to choose the right one for you. 💪
Affiliate Disclosure: Rotorm.com sometimes gets paid for listings, through sponsors or affiliate programs like Amazon, Optics Planet, Lucky Gunner, Brownells, Cabelas, Rainier Arms, 5.11 Tactical, Bass Pro Shop, etс. Clicking a link helps keep Rotorm.com free, at no extra cost to you!
About the author: Each article on our site is written by experts in survival and tactical equipment, gun enthusiasts, extreme travelers, military, law enforcement and desperate professionals, read about the author at the bottom of the article or visit "About Us" page.
Note: The views and opinions expressed in this article are those of the authors and do not necessarily reflect the official policy or position of any agency.