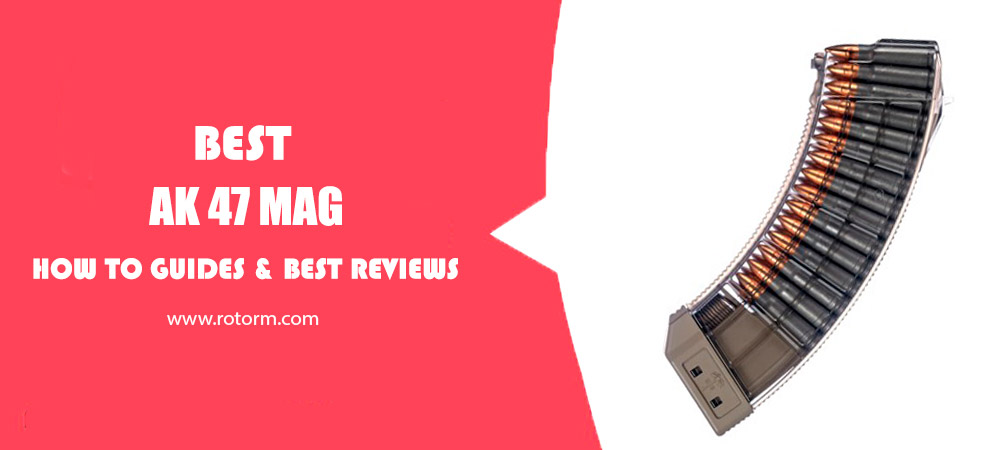 What is the Best AK 47 Mag? 🤔
The AK-47 magazine is a detachable box magazine used to feed ammunition into Kalashnikov pattern rifles. It was designed by Mikhail Kalashnikov in the late 1940s as part of his work developing assault rifles for the Soviet military.
Mag is made of steel and has a high capacity, typically holding 30 rounds of 7.62×39mm ammunition. It uses a strong spring and curved follower plate to feed cartridges reliably into the rifle's chamber. It has seen widespread use globally due to the popularity of Kalashnikov-pattern rifles.
Over 75 million of these rifles have been produced, making them the most common assault rifle in the world. It and its magazine have seen service with military and non-state groups in conflicts across the world since the mid-20th century.
Benefits 🔥
✅ The AK 47 magazine is an integral component of the renowned rifle, contributing significantly to its legendary reliability. One of the primary benefits is its robust construction, which ensures consistent feeding of rounds even in challenging conditions. This reliability is crucial in both tactical scenarios and rugged outdoor environments, ensuring that the rifle functions smoothly when it's needed most.
✅ The design also aids in quick and intuitive reloads. Its curvature and gripping surface make it easy to insert and remove from the rifle, minimizing fumbling and ensuring rapid ammunition replenishment.
✅ Additionally, its durability means it can withstand rough handling, drops, and impacts without compromising its performance. This resilience translates to a longer lifespan and reduced long-term costs for the shooter, as the need for replacements or repairs is minimized.
Our Top Pick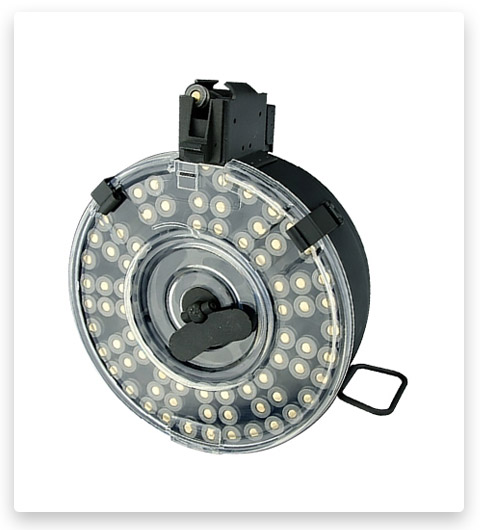 KCI AK 47 75 Round Drum Magazine
Inspired by the original Chinese design, this magazine ensures reliable feeding, allowing for worry-free firing without jams. Unlike traditional drum magazines, KCI's design offers easy loading.
Buy Now On Brownells
If you click this link and make a purchase, we earn a commission at no additional cost to you.
Features ⭐
☑️ It boasts several features that have made it a favorite among firearm enthusiasts and professionals worldwide. Its iconic curved design isn't just for aesthetics; it facilitates reliable feeding of the 7.62x39mm rounds. Many of them are constructed from steel, offering a combination of weight and durability that ensures longevity and consistent performance.
☑️ However, there are also polymer versions available, which are lighter and equally resilient, with some even offering transparent sections to quickly gauge the number of rounds remaining. The magazine's reinforced feed lips and follower are designed to ensure the smooth feeding of rounds into the rifle chamber.
☑️ Some modern variants also come with anti-tilt followers, further enhancing the reliability of feeding. The baseplate of many of them is designed for easy disassembly, facilitating cleaning and maintenance. This ensures that it can be kept in optimal condition, and ready for use at any time.
Our Top Pick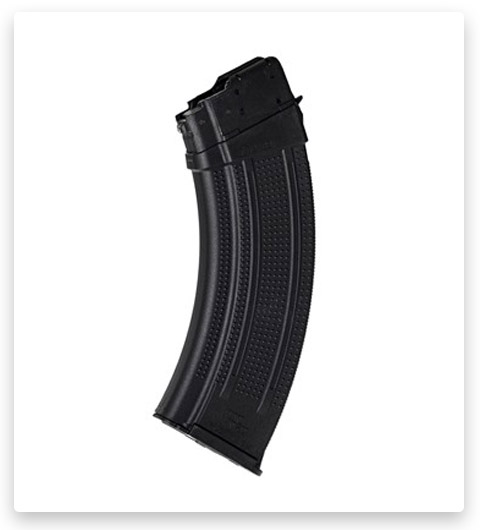 ProMag AK 47 Polymer Magazines
Why settle for the ordinary when you can have the extraordinary – up to 40 rounds of 7.62x39mm right at your fingertips? These 40-round magazines grant you more trigger time and fewer interruptions for reloading. Revel in extended shooting sessions without skipping a beat.
Buy Now On Brownells
If you click this link and make a purchase, we earn a commission at no additional cost to you.
Factors to Consider When Choosing an AK 47 Mag 👀
🚩 When choosing, several factors come into play to ensure you get the best performance and reliability from your rifle. The material is one of the first considerations. Traditional steel models are known for their durability and robustness, making them suitable for rough handling and challenging conditions. However, they tend to be heavier. On the other hand, polymer models are lighter and can be just as durable, with some even offering transparent or translucent sections allowing shooters to quickly check their ammunition status.
🚩 Capacity is another crucial factor. Depending on the intended use and local regulations, you might opt for standard 30-round magazines, larger capacity drums, or more restricted capacities. It's essential to ensure that your choice complies with local laws and regulations.
🚩 The design and ergonomics also play a role. Features like anti-tilt followers can enhance the reliability of feeding, ensuring smooth operation. The gripping surface, whether it's ribbed or textured, can influence how easily it's inserted or removed from the rifle, especially under stress or in wet conditions.
🚩 Maintenance and ease of disassembly should also be considered. A variant that's easy to take apart will be simpler to clean and maintain, ensuring longevity and consistent performance. This is particularly important if you're using it in environments where it might be exposed to dirt, mud, or other debris.
🚩 Lastly, brand reputation and user reviews can provide valuable insights. Established brands with a history of producing reliable mags can be a safer bet. However, newer brands or models with positive feedback from other AK 47 users can also be worthy contenders.
🚩 Price might be a consideration, but it's essential to balance cost with reliability and performance. After all, it plays a crucial role in the overall function of the rifle, and skimping on quality could lead to performance issues down the line.
Best AK 47 Mag Reviews
1# AK PMAG 10 Round Gen 2 MOE Magazine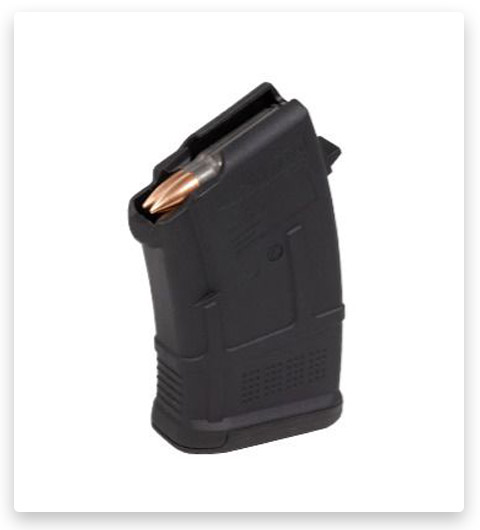 View on Brownells View on OpticsPlanet View on Cabela's
Say goodbye to feed jams and hello to smooth, uninterrupted shooting. The constant curve geometry of this magazine guarantees consistent feeding, shot after shot, so you can focus on hitting your target without interruptions.
Reliability is key in any shooting scenario, and it delivers. The high-reliability/low-friction follower ensures flawless operation, reducing the risk of misfeeds and malfunctions. Effortlessly maintain and customize it to suit your needs. It features a removable floorplate for quick and easy disassembly, while the paint pen dot matrix allows for convenient marking for easy identification.
Take control with the aggressive non-slip texture at the front and rear. You'll have a superior grip even in challenging conditions, ensuring it stays firmly in your hands. For those concerned about compliance, it counts as three US compliance parts, offering peace of mind and adherence to regulations.
2# US Palm AK 47 AK 30R Magazines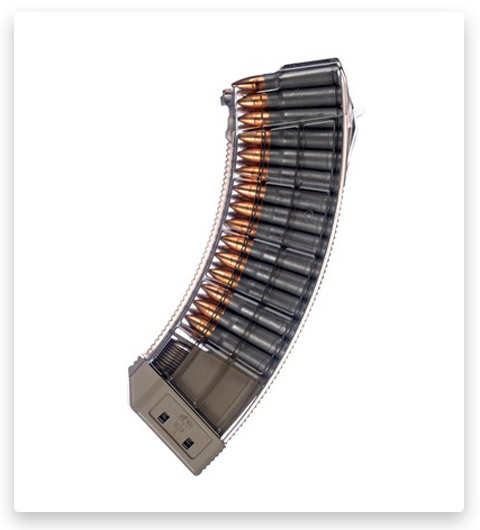 It is available in both black and flat dark earth finishes. Whether you prefer classic black or want to add a touch of style with the flat dark earth, it has you covered.
Designed specifically for use with the iconic AK-47 and its semi-automatic clones chambered in 7.62x39mm, they prioritize reliability above all else. The self-cleaning polymer follower ensures smooth and uninterrupted feeding, even in challenging conditions. Say goodbye to jams and malfunctions.
The classic waffle-and-tread design from US Palm not only adds a distinct visual appeal but also enhances handling. Regardless of the weather conditions, you can count on a solid grip for precise shooting. These polymer magazines are incredibly lightweight. You can carry more rounds without the extra weight, making your shooting sessions more comfortable and enjoyable.
3# Magpul AK/AKM 30 Round PMAGs Gen 3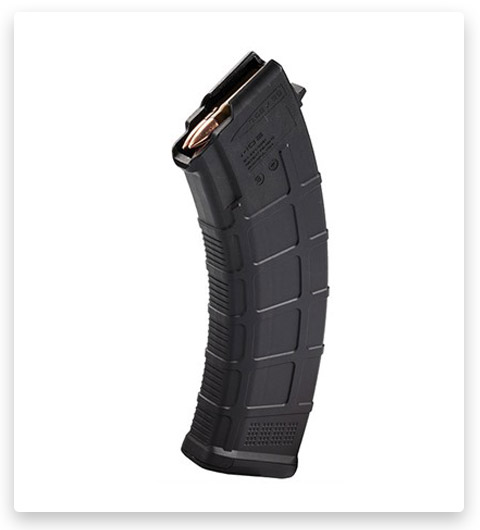 View on Brownells View on Cabela's
Built to withstand the harshest conditions, it features a steel-reinforced spine and front/rear lugs, ensuring it can handle the most demanding use. Whether you're in the field or at the range, count on it to perform flawlessly every time.
Magpul's constant-curve internal geometry guarantees the smooth movement of the round stack. No more worries about jams or misfeeds during critical moments. Shoot with confidence knowing it is optimized for peak performance. Say goodbye to guessing games. Convenient paint pen dot matrix panels on the lower portion make it a breeze to identify each of your mags. Keep your gear organized and ensure you grab the right magazine when it counts.
The flared floorplate design allows for easy and secure handling, even in high-stress situations. It's slim enough to fit comfortably in standard AK mag pouches, yet easy to remove for quick cleaning and maintenance. The polymer follower inside it is designed to reduce friction and eliminate tilting. With a 30-round capacity, it meets the demands of serious shooters. It also counts as 3 U.S.-sourced parts, ensuring compliance with 18 U.S.C. Sec. 922(r).
4# Magpul AK/AKM 20RD PMAG Gen M2 MOE Magazine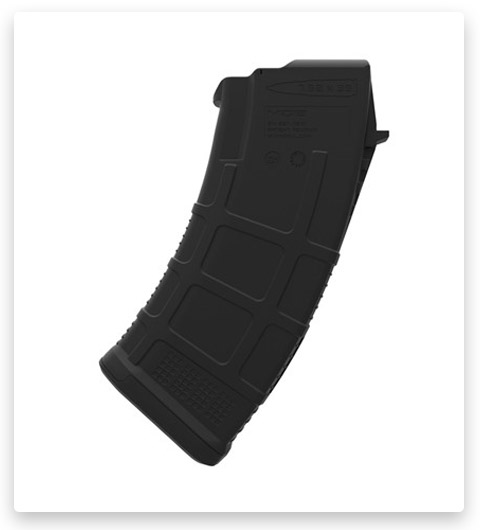 View on Brownells View on Cabela's
Constructed from impact and crush-resistant polymer, it boasts an exceptional level of durability and longevity, ensuring it stands the test of time. Its constant-curve internal geometry facilitates smooth and reliable feeding, enhancing your shooting experience with every round.
Equipped with an anti-tilt, self-lubricating follower, it maximizes reliability, making it a must-have for any serious shooter. The long-life stainless steel spring further contributes to its exceptional performance, ensuring consistent, trouble-free operation. Designed with your comfort in mind, it features a ribbed gripping surface and aggressive front and rear textures. These ergonomic enhancements provide a secure and positive grip, ensuring precise control during magazine handling and swift, confident reloads.
For added convenience, it comes with paint pen dot matrix panels on the bottom, allowing you to mark and identify it effortlessly. The flared floorplate design not only aids handling but also simplifies disassembly, making maintenance a breeze. With a matte finish and a timeless black color, it seamlessly blends form and function. Its 20-round cartridge capacity and compatibility with various Kalashnikov pattern rifles make it a versatile choice for any shooter.
5# FAB Ultimag AK Magazine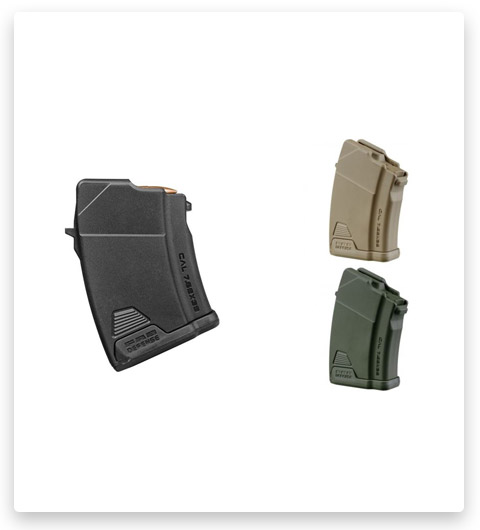 It features an ergonomic design that ensures a secure grip and lightning-fast magazine changes. Whether you're in the range or in the field, it will provide you with the confidence and speed you need.
Crafted from a signature polymer composite, it is both lightweight and rugged. It cools down rapidly after each round, ensuring that your AK remains ready for action. You can trust this magazine to withstand the rigors of your shooting adventures. It is highly reliable and built to last. It's compatible with 7.62×39 AK models and variants, making it a versatile choice for AK enthusiasts.
One of the standout features is its last round bolt hold open system. When you reach the last round, the bolt will automatically hold open, indicating that it's time for a reload. This feature enhances your shooting experience by keeping you informed and ready for action. It is available in multiple attractive colors, allowing you to choose the one that best fits your style. Collect them all to match your different attire and accessories.
6# ProMag AK 47 30 Round Magazine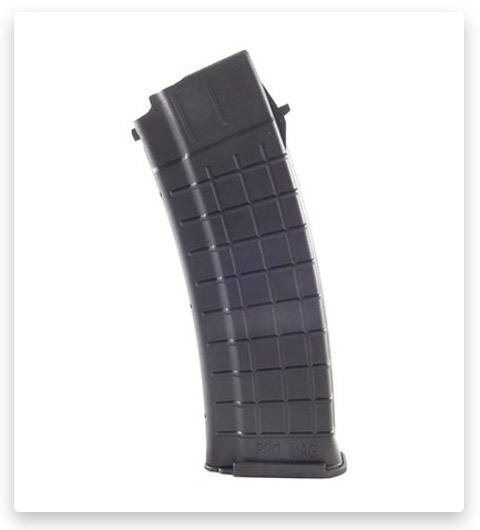 This magazine boasts a self-lubricating, polycarbonate follower combined with a precision-wound, heat-treated, chrome silicon spring. This dynamic duo ensures consistent and dependable feeding, so you can always count on your firearm when it matters most.
Thanks to the removable base plate, disassembling it for cleaning is a breeze. Keeping your equipment in top-notch condition has never been easier, than ensuring your firearm is ready for action when you need it.
Crafted from rugged, seamless black polymer, it reduces weight without compromising durability. Its molded-in waffle-pattern exterior texturing provides a secure grip, even in intense situations. Whether you're using it for defensive purposes or competing in tactical events, it is designed to meet your needs. It's compatible with the popular 223 Remington cartridge, making it a versatile choice for a variety of applications.
7# ProMag AK 47 Rifle Magazine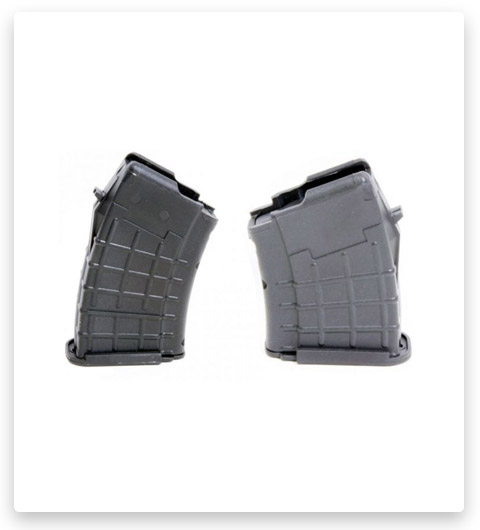 This magazine offers you options – available in both 5 and 10-round capacities. Whether you're heading out for a hunting trip or a day at the range, you can choose the capacity that suits your needs.
Crafted from a proprietary DuPont Zytel-based polymer, it is designed for the long haul. It can withstand the rigors of intense shooting sessions without missing a beat. You can rely on it to perform, shot after shot. It features a heat-treated Chrome-silicon wire spring. This ensures that your rounds feed smoothly into the chamber with every reload, reducing the risk of jams and misfeeds.
It's designed to fit the most common variants of the Kalashnikov in 7.62x39mm. So, whether you have a classic AK-47 or another compatible firearm, it will likely work like a charm. More rounds mean more shots on target. With it, you'll have extra rounds at your disposal, allowing you to stay in the action longer and make the most of your time at the range or in the field.
8# ProMag AK 47 7.62X39 Magazines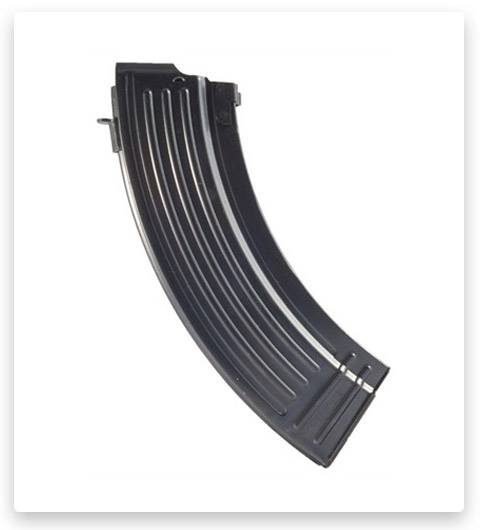 These magazines are not just an accessory; they are a game-changer. With a massive 40-round capacity, you'll have more rounds at your disposal, allowing for longer sessions at the range without constant reloading interruptions. Say goodbye to downtime and hello to more trigger time.
Crafted from high-quality Zytel polymer or steel, they are built to withstand the harshest conditions and rigorous use. Whether you prefer the lightweight polymer or the rugged steel version, rest assured they are both built for durability.
It features a heat-treated magazine spring made from chrome-silicon wire, ensuring consistent and reliable feeding. The injection-molded follower further enhances reliability, reducing the risk of jams or misfeeds. Proudly made in the USA, they adhere to strict quality control standards. You can trust in their performance and durability, knowing they are crafted by experts who are serious about firearms, just like you.
9# ProMag AK 47 Polymer Magazines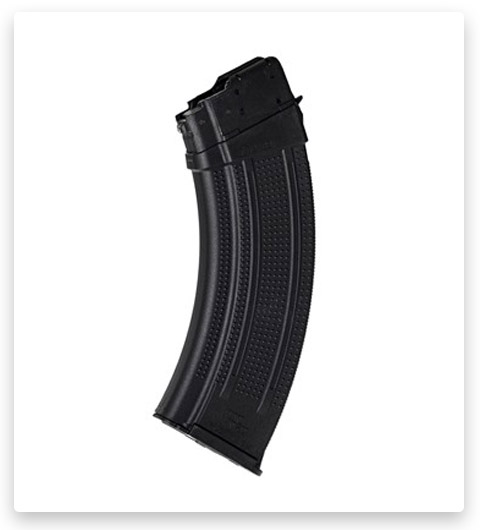 Why settle for standard capacity when you can have up to 40 rounds of 7.62x39mm at your disposal? These 40-round magazines provide you with more trigger time and fewer interruptions for reloading. Enjoy extended shooting sessions without missing a beat.
Crafted from high-quality Zytel polymer or steel, they are designed to withstand harsh conditions and heavy use. Whether you prefer the lightweight polymer or the rugged steel version, both are built to last, ensuring they can handle whatever you throw at them.
Feature a heat-treated magazine spring made from chrome-silicon wire. This guarantees consistent and reliable feeding, reducing the risk of jams or misfeeds. The injection-molded follower adds to the overall reliability.
10# KCI AK 47 75 Round Drum Magazine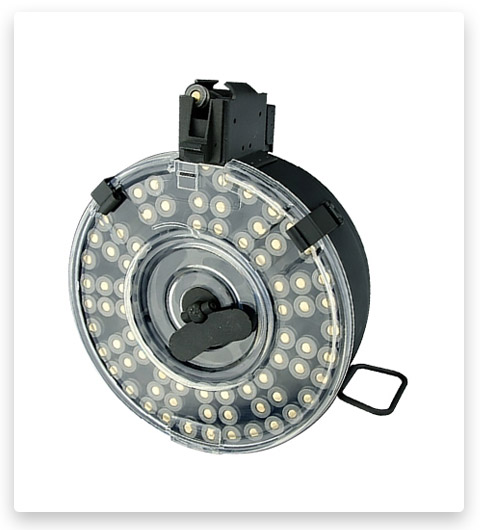 Based on the original Chinese pattern, it is engineered for reliable feeding. You can send plenty of rounds downrange without worrying about jams or stoppages. Unlike traditional drum magazines that require you to load one round at a time from the top, KCI's drum allows for easy loading. Simply open the rear cover and drop in the rounds, eliminating the need to wrestle with increasingly strong spring pressure.
When you're ready to use it, give the winding key a few twists to tighten the spring, snap it into your AK-47, and you're ready to unleash a barrage of shots. It can even be stored fully loaded with no pressure on the spring, ensuring it's always ready for action.
Crafted with a durable steel body and a matte black finish, it not only looks sleek but also withstands the rigors of regular use. The clear polymer cover allows for easy round count checks, so you're never caught off guard. It is designed to fit any 7.62x39mm AK-47/AKM that uses double-stack magazines. Please note that it's not compatible with AK-74 rifles.
How to Load AK 47 Magazines ⏬
➡️ Loading is a straightforward process, but like any firearm-related activity, it requires attention to detail and safety precautions. Before you begin, ensure that your firearm is pointed in a safe direction, and it's always a good idea to keep the firearm unloaded and separate from the magazine-loading process.
➡️ Start by holding it with one hand, ensuring the open side faces upwards and the front curve is pointing away from you. With your other hand, take a 7.62x39mm round and position it so that the base of the cartridge aligns with the rear feed lips. Press the round down and slide it back under the feed lips. You'll feel some resistance, especially as it fills up, but the design makes this process relatively smooth.
➡️ Once the first round is securely in place, repeat the process with the next round, positioning it in front of the previous one. Press down and slide it back under the feed lips, just like the first. Continue this process, stacking each new round in front of the last, until it reaches its capacity.
➡️ While loading, it's essential to ensure that each round sits properly stacked and aligned. Misaligned rounds can lead to feeding issues when it is used. If you feel that a round isn't seated correctly, it's better to remove it and reposition it to ensure smooth feeding.
➡️ After you've loaded it to its capacity, give it a gentle tap with the backside against your palm or a soft surface. This action helps settle the rounds and ensures they're seated correctly. Now, it is loaded and ready for use. Always remember to handle all firearms and ammunition with care, and ensure that the loaded magazine is stored safely away from unauthorized users or in a secured firearm.
FAQ 📚
Conclusion 🏁
In conclusion, the article provides a comprehensive overview of AK-47 magazines and offers valuable insights for readers looking to make an informed purchase. It highlights the key benefits, such as their high ammunition capacity, durability, and reliability. The article also provides a selection of top-rated variants with detailed features and pros and cons, catering to a variety of preferences and needs.
Furthermore, the article offers essential tips on how to properly load AK-47 magazines, ensuring smooth and trouble-free operation. It addresses frequently asked questions, providing readers with a well-rounded understanding. Thanks for reading! 👍
Affiliate Disclosure: Rotorm.com sometimes gets paid for listings, through sponsors or affiliate programs like Amazon, Optics Planet, Lucky Gunner, Brownells, Cabelas, Rainier Arms, 5.11 Tactical, Bass Pro Shop, etс. Clicking a link helps keep Rotorm.com free, at no extra cost to you!
About the author: Each article on our site is written by experts in survival and tactical equipment, gun enthusiasts, extreme travelers, military, law enforcement and desperate professionals, read about the author at the bottom of the article or visit "About Us" page.
Note: The views and opinions expressed in this article are those of the authors and do not necessarily reflect the official policy or position of any agency.