Whether you're a first-time shooter or an experienced gun enthusiast, having quality and reliable components can impact performance. We've created this comprehensive guide featuring top-rated AK 47 accessories explicitly designed with shooters in mind. From grips and stocks to scopes and ammunition carriers; we've researched every detail so you upgrade your AK 47 only with high-quality accessories! 😉
Best AK 47 Upgrades 😎
❇️ Scope Rails – one of the best AK 47 upgrades that you can make. This accessory allows you to attach an optic to the rifle, improving accuracy and allowing for greater customization. The rail sits atop the receiver cover and generally has a picatinny or weaver rail system, which is what most optics mount onto. It also comes with additional mounting points where one can add other accessories such as lasers, flashlights, and more.
❇️ Handguards – are integral parts of an AK 47 rifle. They provide a comfortable and secure handle with which to grip the rifle, as well as protect against heat generated by the barrel. Handguards can also be used to attach various accessories such as optics, foregrips, and rail systems.
❇️ Stocks are typically the first aftermarket upgrade someone makes to their AK 47. It has a big impact on comfort and accuracy, so it's important to choose wisely. The best stocks for your rifle should be lightweight and easy to handle without sacrificing stability.
❇️ Pistol grip – is a device designed to provide the user with increased control over the rifle. It typically features a rubberized or textured surface which makes it easier to hold, as well as an ergonomic design that fits the hand more comfortably.
❇️ Magazines – are designed to work with the AK 47 and its derivatives. The most common magazine capacity for an is 30 rounds, although there are larger options available such as 75 and 100-round drums.
❇️ Muzzle brakes are one of the most popular and effective upgrades for AK 47. A muzzle device is a part that attaches to the end of the barrel of your rifle, intended to reduce recoil, muzzle climb, and sound signatures.
❇️ Triggers are the most important part of your AK 47 rifle. It is responsible for controlling when the gun fires and how it fires.
❇️ Sight/Optics – is one of the best ways to maximize its accuracy and precision. The right optics can give you an edge in any situation, allowing you to accurately target and hit your desired target at longer distances than with iron sights alone.
❇️ Sling – is a canvas or nylon strap that attaches to the front and rear of the weapon, allowing you to carry it comfortably over your shoulder. The slings are designed to provide comfort and stability while carrying your rifle, as well as give you quick access to your firearm in an emergency.
For shooters, the AK 47 is a reliable and versatile weapon due to its exceptional accuracy. Whether you're an experienced shooter or just getting started, there's no denying that upgrades can take your gun game to the next level. But what are the top-rated AK 47 upgrades available on the market today? We've compiled top recommendations about how best to upgrade your rifle for optimal performance and style. 😊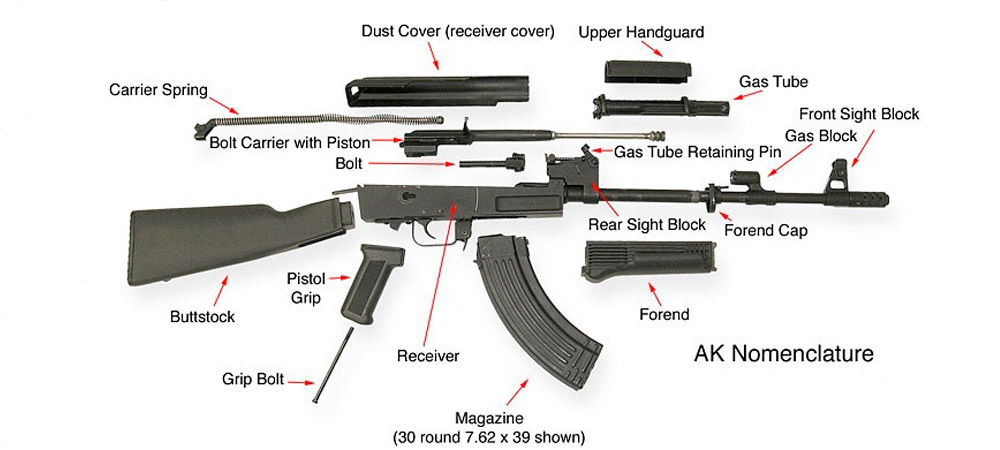 AK 47 Scope Rails 🙂
They are an essential upgrade for the rifle. They provide extra mounting points on the receiver and allow you to attach scopes, optics, lasers, and other accessories. The best AK 47 scope rail provides a secure mount that will last a long time and make your shooting experience more accurate. When choosing a scope rail, it is important to select one that meets your needs and budget.
How to install it? 🧐
To install a scope rail, all you need are a few simple tools.
🟢 First, ensure that the gun is unloaded with no ammunition present before beginning work on it.
🟢 Begin by removing the existing rear sight from the gun's receiver using a standard screwdriver.
🟢 Next, take the provided mounting screws and apply some thread-locking compound to them.
🟢 Place the new scope mount into position and use two screws to secure it in place; make sure they're tight enough but not too tight so as not to damage your gun.
🟢 To complete installation, attach your new optics or other accessories onto your scope rail and you're ready to go.
Having the right accessories is essential for proper function, so make sure to choose quality products from trusted brands.
Benefits 🔥
Upgrading an AK 47 with an optics rail is one of the best ways to enhance its performance.
✔️ Installing a scope rail enables you to attach high-quality optics for improved accuracy, precision, and target acquisition.
✔️A scope rail also allows you to mount laser sights and flashlights for close-quarter combat situations.
✔️ Furthermore, most models are relatively easy to install and require minimal tools.
As such, investing in a quality scope rail system is one of the best upgrades you can make to your AK 47.
Why need to upgrade? 🤓
Upgrading – is a great way to improve accuracy and extend range when using an optic such as a red dot or other types of sight. The rail provides a secure platform for mounting the optic, making it easier to sight in and aim without having to use the standard iron sights.
AK 47 Handguards 😀
They are one of the best accessories and upgrades to make your gun look better and function more efficiently. They can also protect your hand from heat generated during firing due to their insulation and support for the barrel assembly.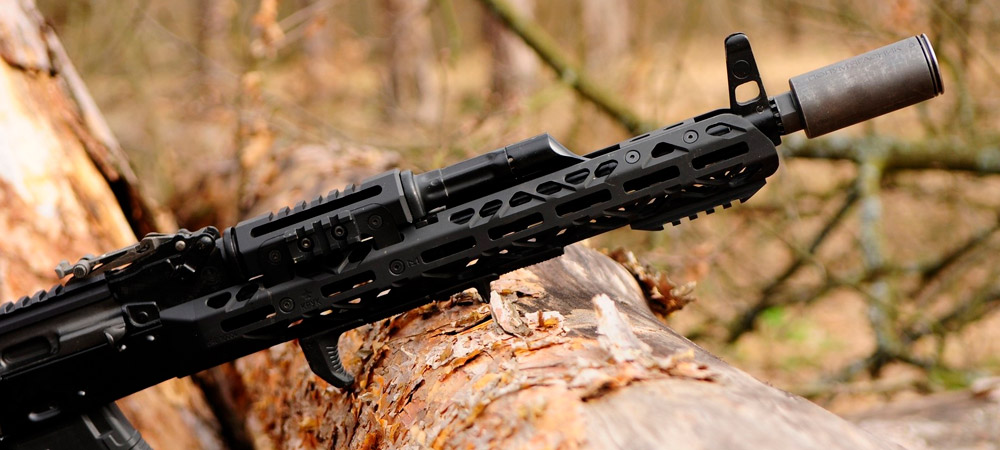 How many styles? 💥
Handguards usually come in two styles: drop-in or quad rails.
🔶 Drop-in handguards are easier to install.
🔶 Quad rails provide more customization options such as different attachments and rail covers.
The best option depends on your individual needs and preferences, so it's important to do some research before making a purchase decision.
Benefits 👍
The AK 47 handguard is a great upgrade for any firearm enthusiast. Handguards come in a variety of shapes, sizes, materials, and colors – all designed to improve your shooting experience. There are many different benefits associated with upgrading your AK 47 with an aftermarket handguard.
✳️ Firstly, they offer greater comfort due to their increased surface area, allowing for a more secure grip. This increases user confidence and reduces fatigue during long shooting sessions.
✳️ Additionally, by adding rails or other accessories to the handguard, you can make your AK 47 even more versatile and improve its performance.
✳️ Finally, it is also possible to customize the look of your rifle as well – giving it a unique style that stands out from others.
How to choose? 🔍
When shopping for new handguards, there are certain features you should look for:
➡️ Quick detach or non-detachable – Determine if you need a quick detach option or if you would prefer to keep the handguard in place with set screws.
➡️ Length – Consider the length of the handguard and make sure it fits your rifle correctly.
➡️ Fitment – Make sure that the handguard you choose is designed for your specific AK 47 model.
➡️ Heat protection – Look for a material that can provide adequate heat protection without compromising weight or mobility.
➡️ Mounting options – If you plan on attaching accessories to your AK47, look for a handguard with mounting options such as rail systems or slots for attaching components like optics, foregrips, bipods, and other gear.
AK 47 Stocks 🙂
It is one of the most popular upgrades for AK 47. They provide more stability, accuracy, and comfort during use. When selecting an upgraded stock for your AK 47, it is important to select the best option for you based on the intended purpose and any modifications you have or plan to make.
Benefits ⚡
Adding a stock to your AK 47 can provide numerous benefits.
✴️ Adjustable stocks allow for the length of pull adjustment, which is the distance from the trigger to the back of the stock. This allows you to customize the rifle's fit and feel to your body type.
✴️ Additionally, they may offer extra features like a cheek riser or a monopod attachment.
✴️ Stock will also help reduce felt recoil due to its increased weight and softer butt pad material compared to standard fixed stocks.
✴️ Installing an adjustable stock can improve accuracy by providing a more secure grip on the weapon as well as greater control when making shots at long range.
✴️ Lastly, many stocks have built-in storage compartments for various tools and accessories that can come in handy while out on the range.
What are the types? 🤔
The stock is what connects you to your firearm and has a major impact on how comfortable, stable, and accurate your shooting can be. There are three main types of AK 47 stocks: fixed, folding, and telescopic.
🔷 Fixed stocks are permanently attached to the rifle and cannot be adjusted in any way. They also don't collapse for storage or transport easily.
🔷 Folding stocks allow you to adjust the length of pull by collapsing the stock into itself when not in use. This type of stock will make your gun more compact but still maintain accuracy while shooting.
🔷 Telescopic stocks provide even greater adjustability with multiple positions, allowing you to customize the rifle to fit your body and shooting style.
Is it worth it? 🤨
Upgrading AK 47 stocks is an important step in ensuring your weapon is as effective and reliable as possible. The most common upgrades are to replace the stock parts with better quality components or add on accessories such as optics, foregrips, slings, or suppressors.
AK 47 Pistol Grips 😉
These grips are one of the best accessories for improved handling, ergonomics, and control. Pistol grips provide a more comfortable and natural grip on the rifle, allowing shooters to have better accuracy and better recoil management.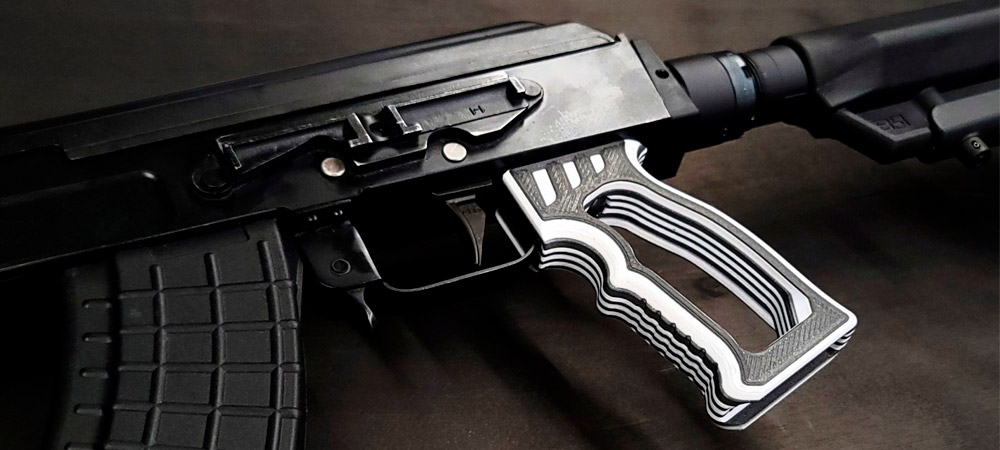 Benefits 😎
The pistol grip of an AK 47 is one of the most important parts and best upgrades available.
✅ This part helps to provide a more secure, comfortable, and ergonomic grip while firing the weapon.
✅ Installing a quality pistol grip can reduce fatigue, improve accuracy, and enhance overall control when handling the gun.
✅ It also provides additional accessories such as quick-release lanyards, flashlight mounts, and other tools that can make your gun easier to use in different situations.
✅ Additionally, they are generally easier to clean than standard grips due to their design.
For these reasons and more, installing a high-quality pistol grip is an invaluable upgrade for any AK 47 owner looking for improved performance from their weapon system.
How to choose? 🧐
When selecting a replacement pistol grip for your AK 47, there are numerous factors to consider.
🟣 Comfort is always a top priority; you should choose a grip that fits comfortably in your hand so that it does not slip or move during firing.
🟣 You should also consider materials: polymer grips tend to be lighter and more affordable than wooden models, while composite and rubberized grips provide additional texturing for improved control.
🟣 Finally, look at aesthetics: there is a wide variety of colors and shapes available to suit your tastes.
Why upgrade? 🤓
The AK 47 pistol grip is one of the most important features for upgrading your gun. The original pistol grip offers comfort and stability, but many aftermarket models offer enhanced ergonomics and improved gripping characteristics to enhance the shooter's control over the weapon. Upgrading your AK 47 with a new pistol grip can provide you with an array of benefits, from improved recoil management to a customized look.
AK 47 Magazines 😊
These magazines are the removable containers that hold ammunition in an AK 47 rifle. Usually made of metal or plastic, these magazines come in a variety of sizes and capacities and are an essential part of any shooter's arsenal.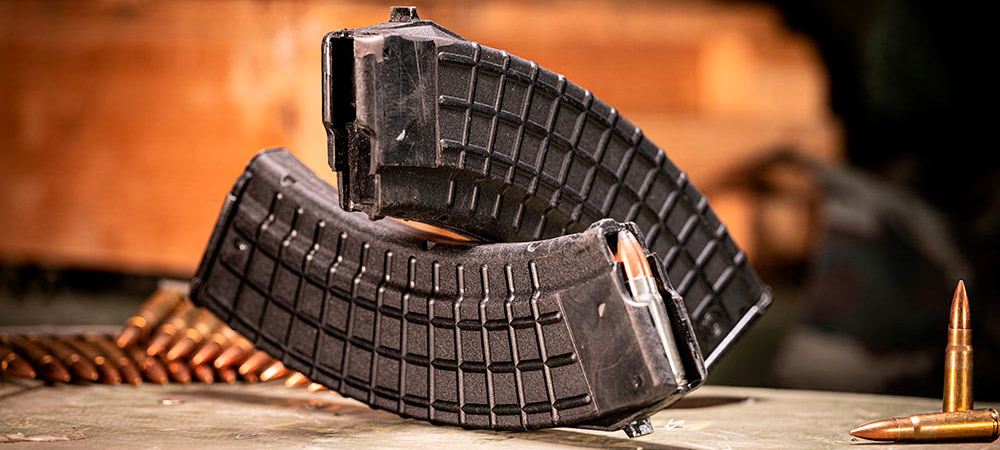 What types? 🤔
➡️ Extended Magazines – Increase your ammo capacity by purchasing extended magazines for your AK 47. These magazines can hold up to 30 rounds, allowing you to stay in the fight for longer.
➡️Drum Magazines – Get even more out of your AK 47 with a drum magazine. These magazines can hold up to 50 rounds and are great for extended firefights or target practice sessions.
➡️ High-Capacity Magazines – If you're looking for increased capacity without sacrificing accuracy, consider purchasing high-capacity magazines. These magazines can hold up to 60 rounds, giving you plenty of ammunition for any situation.
Benefits ✨
AK 47 magazines are one of the best upgrades you can make to your weapon.
✔️ Magazines come in various sizes and materials, providing a range of options for shooters.
✔️ They provide an improved capacity over standard models, allowing for greater firepower without having to carry extra rounds.
✔️ Magazines also provide additional safety features such as anti-tilt followers and dual springs which help prevent misfeeds and jams.
✔️ Finally, they may be enhanced with different finishes or even colored bodies that offer aesthetic appeal while still providing superior performance.
With all these benefits in mind, it's easy to see why so many gun owners opt for an AK 47 magazine upgrade.
Which is the best? 🧐
When it comes to upgrading your AK 47, the most important component is the magazine. There are several types of magazines on the market, each designed for different purposes and with different features. For example, some magazines feature a larger capacity, while others may be lighter or more durable. To determine which magazine is best for your needs, you'll need to consider factors such as capacity and weight before making a purchase.
AK 47 Muzzle Brake 😎
It is one of the most popular and best upgrades for AK 47 rifles. It replaces the standard muzzle nut by providing a much tighter fit that reduces felt recoil as well as reducing muzzle climb, making it easier to stay on target during rapid fire. The muzzle brake also helps maintain accuracy when shooting multiple rounds in quick succession.
Benefits 🔥
The muzzle brake is one of the best accessories to upgrade your AK 47. It serves as a recoil compensator and flash suppressor, both of which are beneficial when firing multiple rounds in succession.
❇️ The muzzle brake reduces the amount of felt recoil so that you can stay on target with each successive round fired, while also minimizing the flash signature and helping to reduce the risk of injury or damage due to excessive muzzle blast.
❇️ Additionally, it improves accuracy and extends barrel life by dispersing hot gases more evenly across the barrel's surface.
❇️ Installing a muzzle brake is easy since most models are screwed directly onto the existing threaded barrel without any additional action required.
❇️ Quality construction and performance enhancements.
How to remove wobble? 🛠️
One of the most common AK 47 upgrades is to install a muzzle brake. This accessory helps reduce recoil and makes the gun more accurate by reducing barrel rise, however, it can often cause the gun to wobble when fired.
✏️ The first thing you should do is make sure that your muzzle brake has been installed correctly. If it's not flush with the barrel then there may be an issue that requires adjustment or additional installation steps. You can also check that all screws are tight and secure before proceeding.
✏️ Once you have checked everything is in order, take some time to adjust the muzzle brake so that it fits snugly against the barrel. This will help to eliminate any unwanted movement when the gun is fired.
✏️ In addition to securing the muzzle brake correctly, it's also important to make sure that you are using quality screws and nuts when attaching it to your AK 47.
✏️ Finally, if you want an even more secure fit, consider using a thread locker such as Loctite on all fasteners used in the assembly process.
AK 47 Triggers 😉
They are an important part of the weapon's operation and performance. Upgradeable AK 47 triggers provide improved responsiveness, and accuracy, and lightly pull weights for better control. They may also offer increased safety features such as adjustable trigger stops or a manual reset.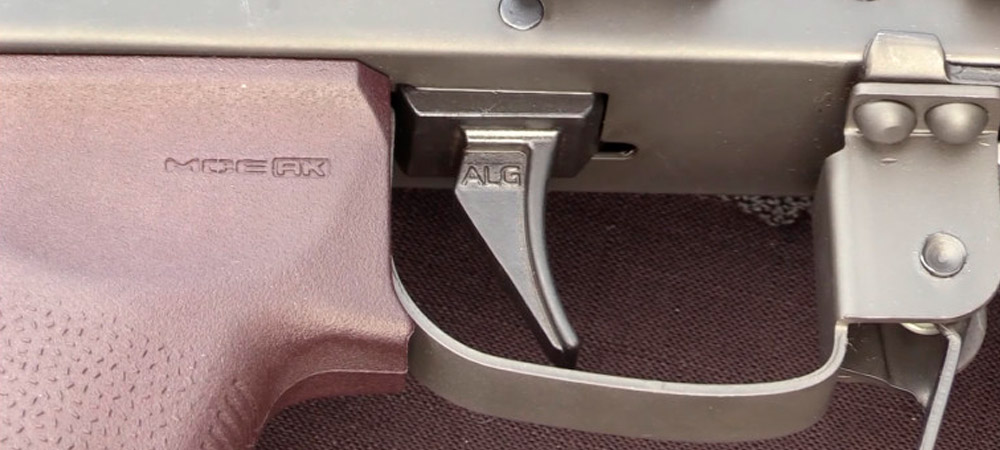 Benefits 💥
Triggers are one of the best AK 47 upgrades that you can make. It offers multiple benefits, including increased accuracy and reduced recoil.
☑️ By replacing your stock trigger with a precision-made aftermarket part, you'll be able to make more accurate shots in both semi-automatic and full-auto modes.
☑️ Additionally, some triggers offer adjustable pull weights for precise tuning of the firing mechanism. This can help reduce muzzle rise during rapid fire and allow for quicker follow-up shots.
☑️Many triggers also come with match-grade components like hammer springs, disconnectors, and sears which offer improved performance over their factory counterparts.
☑️ Finally, many AK 47 triggers include further features such as an extended magazine release or non-slip surface treatments to enhance safety and ergonomics.
By making the trigger upgrade, you'll be able to take full advantage of the AK 47's inherent accuracy and reliable operation.
What types? 🤔
When choosing what upgrades to get, you should always consider getting a better trigger assembly. There are a few different options:
🟢 Mil-Spec Trigger Assembly – This type of trigger assembly is installed in most factory rifles and is considered an upgrade from obsolete military triggers. This type of trigger features a heavier single-stage pull weight, preventing accidental discharges due to light pulls or flinching.
🟢 Drop-In or Match Grade Trigger Assemblies – These triggers come pre-assembled and ready to drop into your rifle with no further modifications required. Generally, these types of triggers are much smoother, lighter, and more consistent than mil-spec triggers.
🟢 Single-Stage or Two-Stage Trigger Assemblies – These types of triggers allow you to customize the pull weight, travel length, and reset point according to your preferences. This allows for a much more personalized experience when shooting your rifle.
When choosing which type of trigger assembly is best for your AK 47 upgrade, you must decide what type of shooting you will be doing with your rifle.
Do need to hire a gunsmith? 🤔
No, because installing a new trigger is an easy process that requires minimal tools.
🔶 First, start by removing the retainer pin located at the front of the lower receiver group.
🔷 Push out the hammer spring retainer plunger and separate it from the hammer spring assembly by twisting it counterclockwise.
🔶 With this done, remove the trigger guard assembly to access the AK's trigger parts.
🔷 Next, take out both pins that hold in place the disconnector, sear, and selector lever.
🔶 Afterward, lift these components until they come out of their respective holes in the receiver.
🔷 Place the new trigger parts in their respective positions, pushing down each part until it is fully seated, and replace the selector lever into its hole.
🔶 When everything is aligned correctly, reattach the retainer pin and hammer spring assembly before inserting the trigger guard back into place.
🔷 Once this is done, make sure to test your AK's fire rate before firing any live rounds to ensure that it functions properly.
Following these steps should get your AK-47 upgraded with a quality trigger easily and quickly.
AK 47 Sight/Optics 😀
It is one of the most important upgrades you can make to your rifle. This upgrade allows for greater accuracy and makes it easier for you to take on targets at longer distances. The right choice of AK 47 sight/optics will depend on the type of shooting you plan to do and your personal preference.
The most popular sights for AK-47s include red dot sights, holographic sights, and magnified scopes. These accessories are relatively affordable and will greatly improve your accuracy at various ranges.
Benefits 🤓
When it comes to upgrading an AK 47, the benefits of adding sights or optics are numerous.
➡️ The main advantage is improved accuracy and better target acquisition over long distances.
➡️ Additionally, the addition of the sight or optic can provide a greater degree of customization for those wishing to tailor their shooting experience.
➡️ Adding a sight or optic also increases the effectiveness of your gun in low-light environments such as dusk and dawn; these conditions make it difficult to acquire targets without magnification.
How to find the best one? 🔍
The key to finding the best AK 47 accessories is knowing your needs and budget. Consider what type of shooting you plan to do with the gun, as well as the environment in which it will be used.
✔️ If you are an experienced shooter and often shoot at distances greater than 50 meters, a magnified scope.
✔️ For shorter-range shooting, red dot sights or holographic sights tend to be more suitable.
Be sure to set realistic expectations for yourself when selecting a sight or optic; if you have never used one before, they may take some getting used to before you can use them effectively.
Is it worth it? 🤨
If you're searching for the best AK 47 sight/optics, the answer is a resounding yes.❗ Upgrading your rifle with sights and optics can turn an already reliable weapon into an even more formidable firearm. With 1x or 3x scopes, red dot sights, and other optical enhancements, you can drastically improve the accuracy of your shots and increase target acquisition speed drastically.
AK 47 Sling 😊
It is a great accessory to have if you are using your AK 47 for hunting, competitions, or general shooting. It allows the user to carry the rifle comfortably and easily with one hand while keeping it securely in position.
Benefits 😎
An AK 47 sling is one of the best upgrades you can make to your rifle.
✳️ It helps provide a more secure and comfortable carry for long distances and also gives you quick access to your gun when needed.
✳️ Additionally, a sling can help reduce fatigue by distributing the weight of the rifle across your body, making it easier for you to stay on target for longer periods.
✳️ Other benefits include improved accuracy due to better stability and a reduction in muzzle climb when shooting quickly.
✳️ Finally, a sling adds an element of personalization to your gun so that it looks great while providing excellent performance.
How to choose? 🧐
A good quality sling will not only help you carry your rifle more comfortably but also make aiming and shooting much easier. Here's what to look for when shopping for an AK 47 sling:
✒️ Comfort: The most important aspect of an AK 47 sling is that it must be comfortable against your body – no matter how long or far you have to walk with your rifle. Make sure the fabric used in construction offers padding as well as breathability. Also, look for adjustable straps so you can customize the fit to your body.
✒️ Durability: Look for a sling that is made with quality materials and has reinforced stitching – this will help ensure it can stand up to years of use without breaking down or showing signs of wear and tear.
✒️ Versatility: Slings should be versatile enough to allow you to carry your rifle in various configurations – with one shoulder or across both shoulders. Additionally, look for models that come with quick-release buckles for easy configuration changes on the go.
📌How to adjust the sling?
Adjusting a sling is a simple task that can greatly improve the comfort of your weapon.
☑️ To adjust an AK 47 sling, first measure the desired length by using a tape measure or a piece of string.
☑️ Next, attach the sling swivel to the front side of your rifle near the gas block with a small screwdriver or hex key.
☑️ Then attach one end of the sling to the swivel while stretching it to its desired length and secure it with either velcro straps or adjustable buckles.
☑️ Finally, attach the other end of the sling to either another swivel on the rear side of your rifle or to any compatible tactical webbing like MOLLE gear.
☑️ When adjusting an AK 47 sling for comfort and effectiveness it is important to make sure there are no loose loops or slack in the material.
☑️ The tightness should be adjusted so that when you place your non-firing hand on the pistol grip near your trigger finger, you can easily reach for ammunition without having to pull at any material.
FAQ 🤔
Conclusion 😊
Upgrading your AK 47 can be a great way to enhance its performance and customize it for your needs. With the right accessories, you can make sure that your gun is ready for any situation. From mounting optics to improving accuracy with triggers and muzzle devices, there are plenty of upgrades available to ensure that you have the best AK 47 possible. Whether you're looking for an upgrade or just want some new accessories, we hope this article has given you all the information necessary to find what works best for you! 😉❤️‍