Introduction to LuckyGunner Shop 📜
LuckyGunner is a notable online retailer specializing in ammunition and shooting accessories. Recognized for its real-time inventory system, customers can view and purchase exactly what is in stock, offering a wide variety of ammunition for handguns, rifles, and shotguns, alongside other shooting gear. Their commitment to fast shipping, often dispatching orders within a day, coupled with their customer service, has earned them a strong reputation among shooting enthusiasts. Additionally, LuckyGunner is known for providing valuable educational resources and supporting the Second Amendment rights, which enhances their standing within the firearm community.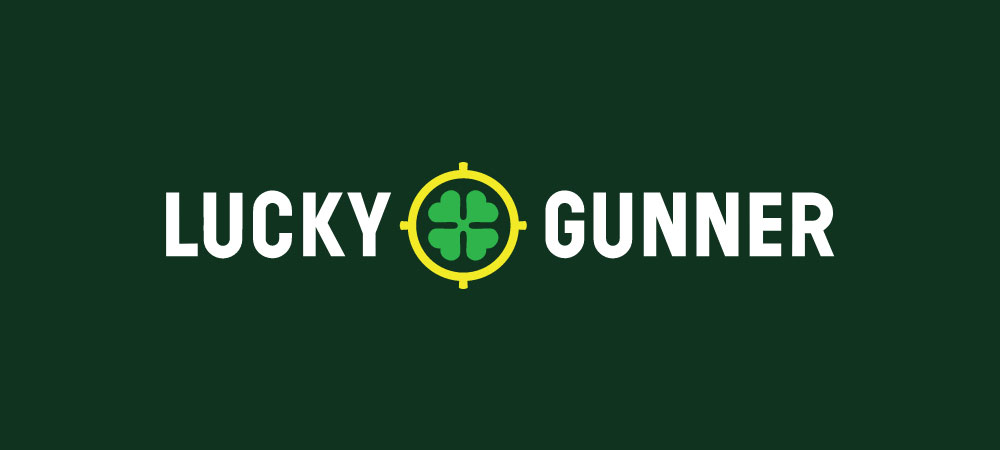 Quick Summary
🍀 LuckyGunner Shop is an online retailer catering to shooting enthusiasts, professionals, and hobbyists. The store offers a wide variety of firearms-related products including ammunition, shooting accessories, and safety gear.
Key highlights include:
✅

Impressive product variety

and real-time inventory tracking ensure items are in stock and ready to ship. Bulk buying options offer tiered pricing for bigger savings.
✅

Customer service

is responsive, knowledgeable, and committed to resolving any issues promptly.
✅

Shipping

is fast, typically within 1-5 business days, and options include discreet packaging. Returns and exchanges have a 30-day window for defective/damaged items.
✅

Payment

is limited to major credit cards. State and local regulations impact shipping accessibility but policies are transparent.
Overall, LuckyGunner provides a streamlined, user-friendly shopping experience for firearms-focused customers, combining niche expertise with exceptional service. The store has earned a reputation for reliability in product availability, shipping, and support.

Product Variety and Availability ✔️
A store's success, especially in the niche market of shooting and firearms, hinges largely on its ability to offer a diverse range of products that cater to the varied needs of its clientele. It excels in this department.
➡️ From the get-go, visitors to the site are greeted with an impressive assortment of products. Whether you're in search of handgun ammunition, rifle rounds, shotgun shells, or even more specialized types of ammunition, chances are LuckyGunner has it in stock. Beyond ammunition, the store also boasts a comprehensive selection of shooting accessories, ranging from holsters to targets and safety gear.
➡️ One of the commendable aspects is its real-time inventory system. Products listed as available are indeed in stock, which means customers don't face the disappointment of placing an order only to be informed later that the item is out of stock. This real-time system, coupled with regular restocks, ensures that the most popular items are readily available for purchase.
For those with more unique or specialized needs, it does a commendable job of sourcing and listing rare and hard-to-find ammunition types, making it a haven for collectors and enthusiasts looking for that elusive round.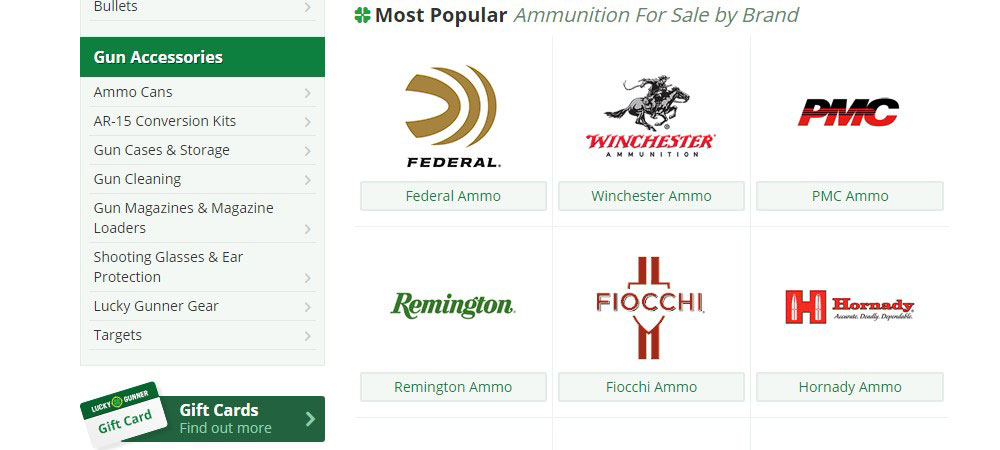 Pricing and Deals 🔖
⭐ The Discount Dilemma Solved: At LuckyGunner, discounts aren't just occasional treats; they're woven into the very fabric of their pricing structure. Their "tiered pricing" system is a nod to the age-old wisdom: the more you buy, the more you save. And this isn't just a catchy phrase; it's a reality for most products on their site. For a visual guide on this, their Bulk Ammo page comes equipped with an informative video. But that's not all. Their weekly specials, listed under 'Specials', are a treasure trove of deals waiting to be discovered. And while new customers might not find discount codes, returning patrons are occasionally treated to them. A pro tip? Sign up for their weekly newsletter. It's not just a digest of new products and deals but might also be your ticket to exclusive discounts.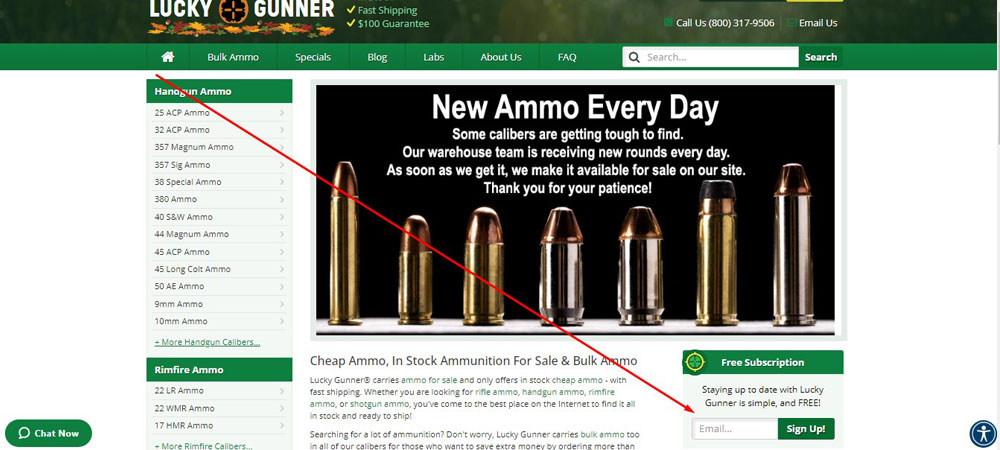 🚩 Bulk Buys, Bigger Savings: If you're looking to make a substantial purchase, say north of $5,000, or aiming for 25,000 rounds of ammo, this retailer encourages a direct conversation. A quick email to their customer service ([email protected]) can unlock potential bulk discounts tailored to your order. But if your order doesn't quite hit these numbers, fret not. The aforementioned "tiered pricing" ensures that bulk benefits aren't just reserved for the highest spenders.
🚩 The Price Match Puzzle: In the competitive landscape of ammunition sales, pricing can be a tricky game. While LuckyGunner prides itself on offering some of the best prices in the industry, they've chosen not to walk the price-matching path. But they're betting on a different currency: time and service. Their lightning-fast shipping and top-notch customer service are their trump cards, hoping to offset any minor price differences you might find elsewhere.
👌 Their pricing strategy is a blend of transparency, value, and customer-centricity. While they might not tick every conventional discount box, their unique approach ensures customers find value, both in terms of savings and service.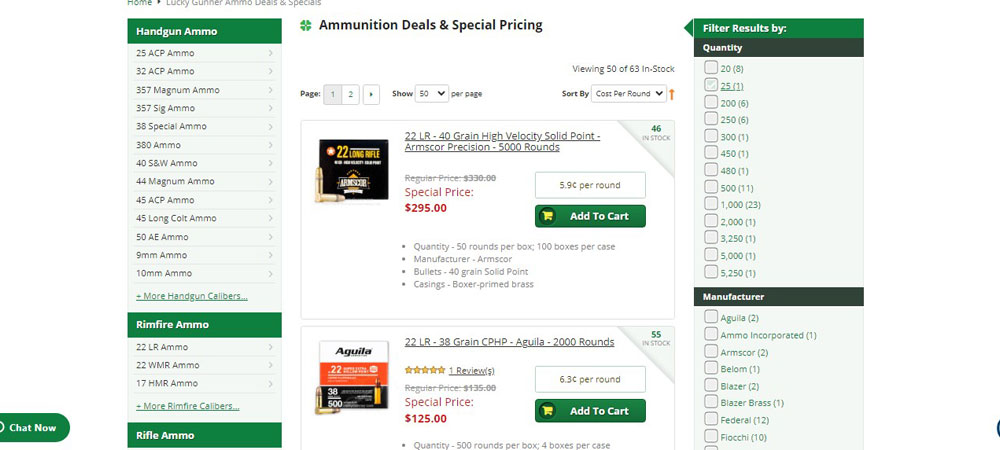 Customer Service 📱
In the realm of online shopping, where direct human interaction is minimal, the quality of customer service can make or break a company's reputation. The company, in this regard, has consistently demonstrated a commitment to excellence.
✳️ First and foremost, the website itself is designed with user-friendliness in mind. Clear product descriptions, an intuitive search function, and a comprehensive FAQ section address many potential queries right off the bat. However, should customers need further assistance, the support team is readily accessible.
✳️ It boasts a responsive customer service team that can be reached via phone, email, and sometimes even live chat. Feedback from customers often highlights the team's professionalism, knowledge, and genuine eagerness to assist. Whether it's a question about a product, an issue with an order, or just general inquiries, responses are timely and informative.
✳️ Another noteworthy aspect is the transparency the company maintains with its customers. In the rare event of a product issue or shipping delay, the company is proactive in its communication, ensuring customers are kept in the loop and any concerns are addressed promptly.
In a market where trust is paramount, the consistent positive testimonials and reviews regarding LuckyGunner's customer service are a testament to their dedication to customer satisfaction. In essence, they've replicated the warmth and helpfulness of a local store in the vast digital landscape.
Shipping & Delivery 🚛
While the allure of free shipping remains absent, the company compensates with commendably low shipping rates. The final tab isn't a flat rate but is meticulously calculated by FedEx and UPS, factoring in the weight and destination. For the curious shopper, a nifty shipping calculator on their site breaks it down: simply add your desired items to the cart, punch in your zip code, and voilà – your shipping cost is revealed.
| | |
| --- | --- |
| 📌 Warehouse Visits: A No-Go: | For those fantasizing about a warehouse treasure hunt, it's time to pop that bubble. The company operates exclusively as a ship-to-door service, eliminating any in-person pickups. |
| 📌 Navigating the Shipping Maze: | Their shipping map is vast, covering most of the continental U.S. But, like all mazes, there are dead ends. A handful of locations, including Alaska, Hawaii, and certain urban hubs like New York City and parts of Illinois, are off the table. International shipping? That's a chapter yet to be written. Before diving into a shopping spree, a quick detour to their Gun Laws page can save potential heartbreak. |
| 📌 The Race Against Time: | In the e-commerce relay, the company sprints ahead. Place an order before the 3 p.m. EST buzzer on a business day, and it's airborne the same day. Any later, or if it's the weekend, and your package joins the next day's flight. From their base in Knoxville, Tennessee, the journey to your doorstep, courtesy of UPS or FedEx ground, is a swift 1-5 business days. |
| 📌 The Tracking Trail: | Every order embarks with a digital trail—a tracking number emailed to customers. This beacon lights up once UPS or FedEx logs the package, usually by 8 PM EST on the shipping day. |
| 📌 Unwrapping the Package: | The default is the original manufacturer's attire for your products. But for those seeking discretion, an "Overbox" option cloaks your order in an unassuming cardboard box. And for the extra cautious, there's a choice to mandate an adult's signature upon delivery. |
Navigating the shipping and delivery process feels less like a mundane task and more like a well-guided tour. With transparency, efficiency, and options galore, it's clear they're not just delivering products; they're delivering an experience.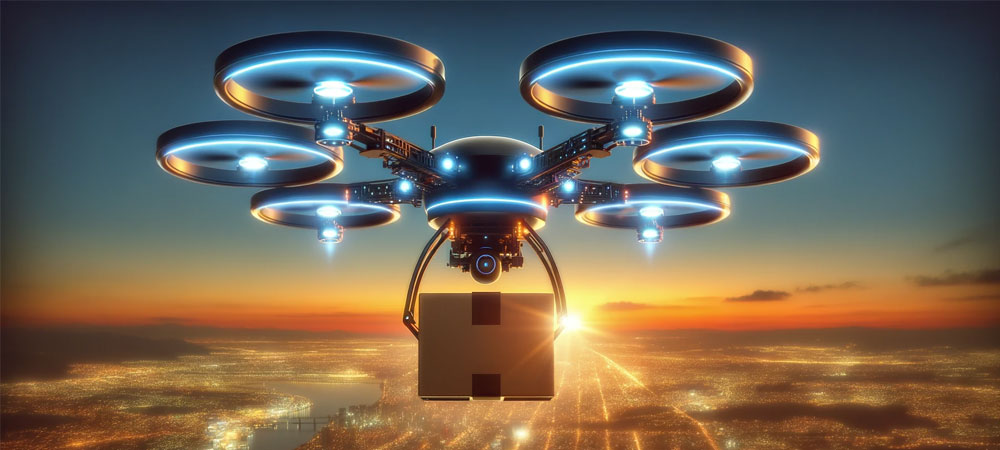 LuckyGunner Shop's Return and Refund Policy ↩️
The return policy is tailored to the distinctiveness of its products. If you're eyeing a return because the box looks a tad worn, you might want to reconsider. The policy is clear: returns are only entertained for products that are damaged or defective, not the packaging. And there's a ticking clock – returns must be initiated within 30 days of the order date.
📢 To set the return wheels in motion, a quick email to [email protected] is your first step. But here's the catch: don't even think about sending back a product without their approved Return Request form. This form isn't just a formality; it's your ticket to a successful return. Document any damage, snap some photos, and once approved, you'll get a pre-paid shipping label. But remember, the onus is on you to pack it securely for its journey back.
Upon its arrival, the product undergoes a thorough inspection. If all checks out, you're either looking at a shiny replacement or store credit. But if you have a change of heart and want the product back, their accommodating spirit shines through. They're willing to ship it back, albeit for an additional fee.
☑️ The Return Process Unveiled: Got a product you want to send back? The process is straightforward. Shoot an email to [email protected], and once your request gets the nod, you'll be armed with all the details on how to send it back and the options awaiting you post-return.
☑️ When Damages Occur: Let's face it, shipping can sometimes resemble a rough-and-tumble rugby match. If your product bears the brunt of this and arrives damaged, don't dilly-dally. Reach out to them pronto. Remember, superficial scratches or dents don't count. It's the actual functionality of the product that's under the microscope.

And, as always, the 30-day window is in play.
With clear guidelines, prompt communication, and a customer-centric approach, they've crafted a return policy that's both fair and transparent.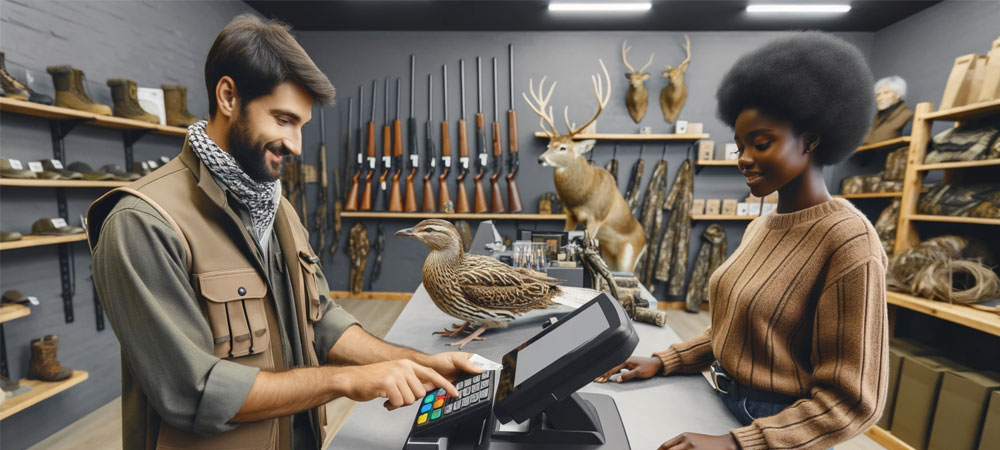 Payment Options 💳
➡️ The Accepted Currency: When it comes to settling the bill, they've embraced the major players in the card game. Visa, Mastercard, Discover, and American Express credit cards get the green light. And if you're more of a debit card enthusiast, as long as it sports one of these four endorsements, you're good to go.
However, if you're thinking of dusting off that old checkbook, counting out cash, or diving into the digital realm with Bitcoin or other cryptocurrencies, you might want to rethink. These methods don't cut. And for those who've embraced the convenience of PayPal, there's a hiccup. Due to PayPal's policies on ammunition, it's off the table.
➡️ Juggling Multiple Payment Methods: Dreaming of splitting your payment across multiple cards? There's a slight snag. Their system isn't set up for that kind of juggling act. But, they've thrown in a workaround. You can blend a credit card with a gift card. And if you're keen on using two different cards, why not channel one into buying a gift card and then use both the gift card and your second card for the purchase? It's a tad roundabout, but it gets the job done.
🎁 Gift Cards: The How-To:
Got a gift card burning a hole in your pocket? Here's how to play it:
📌 Dive into shopping and hit "Buy Now" on your chosen treasures.
📌 In the cart, spot the "Add Gift Card Code" right beneath the shipping calculator.
📌 Punch in that precious code and tap "Apply Code".
📌 Got a stack of gift cards? Feed in those codes one by one, hitting "Apply Code" each time.
📌 With that sorted, glide into the Checkout.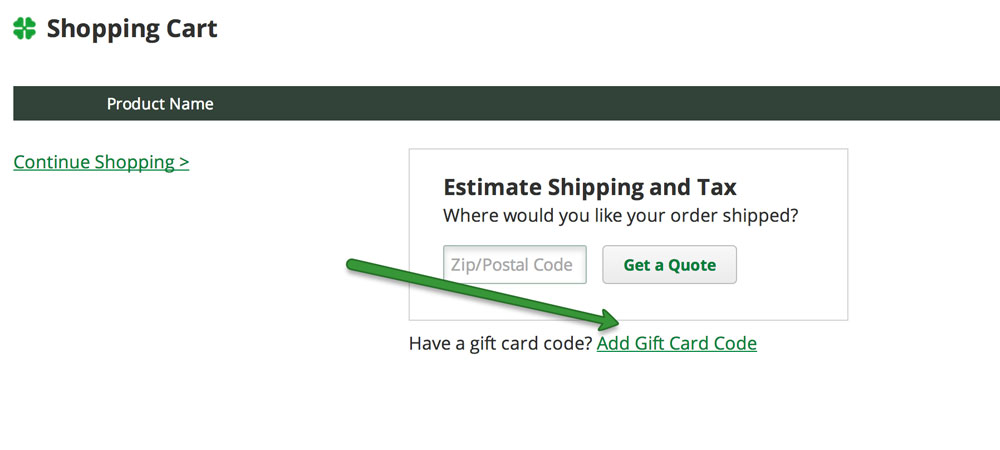 The payment methods, while streamlined, offer flexibility, especially with the clever use of gift cards. While there are some limitations, their system is designed with clarity and user-friendliness in mind, ensuring a smooth transaction from cart to checkout.
State-by-state regulations 👮
LuckyGunner's shipping map is vast, covering most of the continental U.S. But, given the intricate tapestry of gun laws, there are notable exceptions. The no-go zones include Alaska, Hawaii, Massachusetts, California, New York City, parts of Illinois, Washington, DC, and our neighbors up north in Canada. Not to mention, international destinations are off the table. For a deep dive into state and local regulations, their interactive Gun Laws page is a treasure trove.
| | |
| --- | --- |
| 👉 California's Conundrum: | The Golden State, with its stringent regulations, has proven to be a tough nut to crack. Despite valiant efforts to collaborate with FFL dealers, California's regulatory maze was a bridge too far. But, the respect and camaraderie for Californian customers remain undiminished. |
| 👉 Connecticut's Clarity: | For Connecticut residents, the path is clear. A valid Connecticut ID coupled with a state-issued permit or certificate is your ticket. Once these documents are greenlit, your order is on its way. |
| 👉 Illinois Intricacies: | While most of Illinois is accessible, Chicago and a few neighbors are exceptions. The key to unlocking shipping here? A valid FOID card and an Illinois ID. The address on these documents is pivotal, as it determines the shipping destination. |
| 👉 New Jersey's Nuances: | The Garden State has its prerequisites. A valid New Jersey ID and a state-issued firearms license or permit pave the way for a smooth shipping experience. |
| 👉 New York's Navigations: | The Empire State, with its SAFE Act, has added a few hoops. While New York City, Great Neck Estates, and Skaneateles are off-limits, the rest of the state requires a detour through an FFL holder or a Registered Seller of Ammunition. This intermediary will handle the background check and the final handover. |
| 👉 Rhode Island's Route: | For those in the Ocean State, a government-issued photo ID and a state-issued firearms certificate or license are the keys to unlock shipping. |
| 👉 The Rest of the Map: | Gun laws are ever-evolving, and while LuckyGunner does its best to stay updated, it's always wise to do a personal check. If your state isn't spotlighted above, chances are you're in the clear. But, local city and county regulations can throw a curveball. Their State Ammo Sales page offers a comprehensive breakdown. |
The shipping policies, while intricate, reflect a commitment to adhering to state and local laws. Their transparent approach, coupled with detailed guidelines, ensures customers are well-informed and can navigate the process with ease.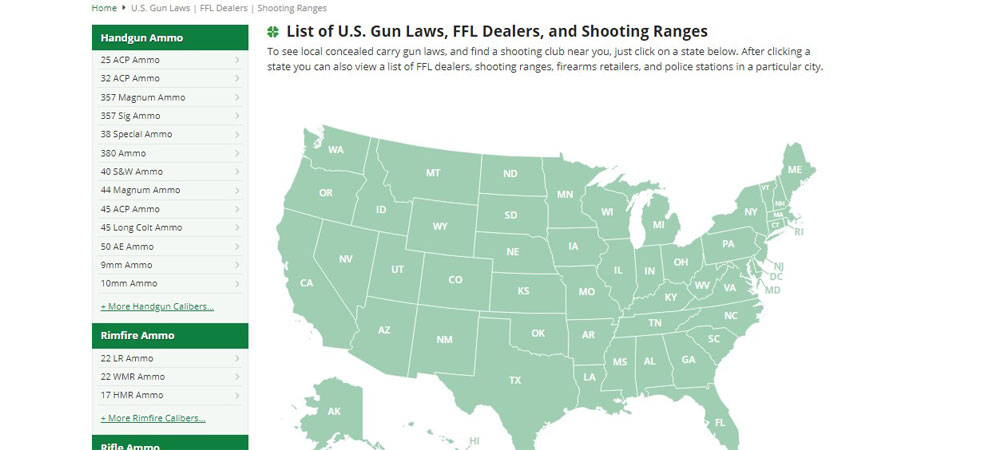 Conclusion 🏁
In conclusion, LuckyGunner stands out as a top-tier ammunition supplier due to several compelling features:
Speedy Delivery: 🚚 Their orders are shipped quickly, often hitting the road to customers on the same day.
Customer Focus: 👥 With a stellar reputation for customer service, they prioritize consumer satisfaction.
Educational Content: 📚 They offer an array of informative resources for both novice and experienced shooters.
Pro-2A Support: 🔫 A fervent supporter of Second Amendment rights, they actively engage in the community.
Transparent Inventory: 💻 Their innovative live inventory system ensures customers see only what's available, preventing order frustrations.
LuckyGunner is not just a retailer; it's a valuable partner for anyone involved in the shooting sports industry.
Affiliate Disclosure: Rotorm.com sometimes gets paid for listings, through sponsors or affiliate programs like Amazon, Optics Planet, Lucky Gunner, Brownells, Cabelas, Rainier Arms, 5.11 Tactical, Bass Pro Shop, etс. Clicking a link helps keep Rotorm.com free, at no extra cost to you!
About the author: Each article on our site is written by experts in survival and tactical equipment, gun enthusiasts, extreme travelers, military, law enforcement and desperate professionals, read about the author at the bottom of the article or visit "About Us" page.
Note: The views and opinions expressed in this article are those of the authors and do not necessarily reflect the official policy or position of any agency.