Upgrading your AR-15 with aftermarket mods can significantly improve its performance. Accessories are a great way to customize and upgrade your AR-15 with the parts you need most. With so many different types of modifications available, it's important to make sure you choose the right ones for your needs. 😉😎
🔥Best Aftermarket Mods for Your AR-15
✔️ Magazines – It provides a higher capacity, improved reliability, and faster reloading. Some AR-15s may require special magazines, while others can use standard ones.
✔️ Sights/Optics – A wide variety of sights and optics are available for AR-15s, including red dot sights, holographic sights, night vision scopes, and even laser aiming devices. These modifications can help increase accuracy when shooting at longer distances.
✔️ Barrels – Replacing the barrel on an AR-15 with one of superior quality helps increase accuracy and reduce recoil for more comfortable shooting. Match-grade barrels are recommended for best results.
✔️ Grips – Upgrading the grip can help make firing more comfortable and improve control when you're shooting many rounds at a time. Grips are available in various styles, materials, and finishes to suit your needs.
✔️ Muzzle Brakes – Installing a muzzle brake can help reduce felt recoil and muzzle rise when firing the AR-15. This allows for faster follow-up shots and improved accuracy during rapid-fire shooting or competition events.
✔️ Triggers – An aftermarket trigger can help increase accuracy and consistency when shooting. There are various types of triggers available, such as single-stage and two-stage designs, that provide different levels of pull weight and travel distance.
✔️ Enlarged Trigger Guards –  Enlarged trigger guards help improve access to the trigger, allowing for more comfortable shooting. This part can be especially helpful when using gloves or in cold weather conditions.
✔️ Stocks – Upgrading your stock can help improve the ergonomics of shooting, as well as provide more stability when firing. It is available in various styles and materials.
✔️ Rail Systems/Handguards – Rail systems provide more mounting points for accessories, such as lights, lasers, etc.
✔️ Bolt Carrier Groups –  Replacing the bolt carrier group can help improve reliability and reduce malfunctions when firing. This mo is available in various materials, such as stainless steel and titanium, for added strength and durability.
✔️ Extended Bolt Releases – Installing this helps speed up the reloading process, allowing for faster follow-up shots. This modification is particularly useful in competition shooting or defensive situations.
✔️ Ambidextrous Safety Selectors –  Ambidextrous safety selectors are ideal for shooters who are left-handed or need to switch between hands while shooting. This modification allows you to quickly and conveniently switch the fire mode without having to take your hand off the grip.
✔️ Anti-Rotation Pins –  Installing anti-rotation pins helps reduce the wear and tear on your AR-15's parts by keeping them in place when firing. This is especially useful if you're shooting a lot of rounds at a time or using heavy recoil ammunition.
✔️ Slings/Sling Mountings – A good sling helps keep your AR-15 secure while you're shooting or carrying it around. They come in various styles such as single-point and two-point designs, which provide added stability when firing from various positions.
By upgrading your AR-15 with mods, you can take your rifle from stock form to custom-tailored performance in no time. With the right knowledge and quality parts, you'll be able to improve your rifle's performance while still retaining its iconic looks. Keep these tips in mind when looking for the best parts for your AR-15! 🔥🔥🔥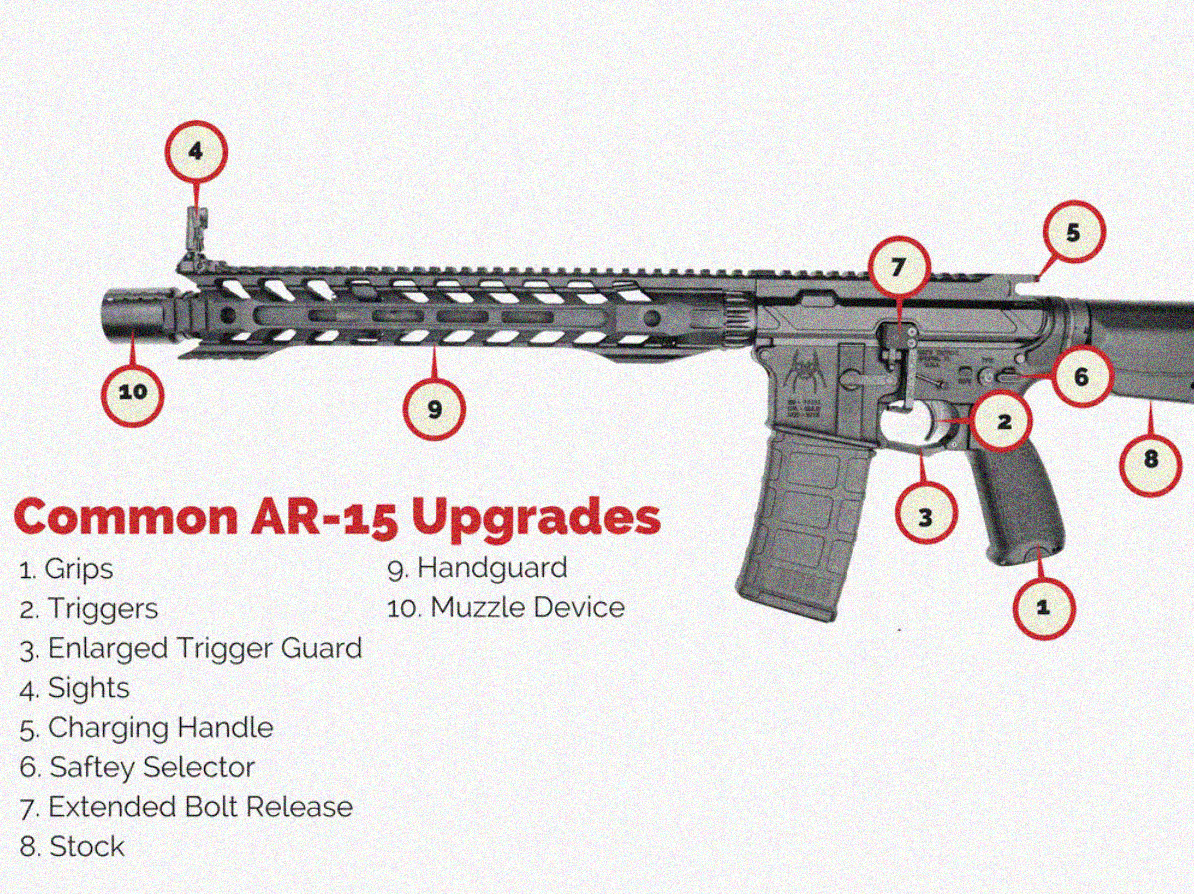 🔥 AR-15 Magazines
An AR-15 Magazine upgrade allows you to increase the capacity of this and make reloading more efficient. Aftermarket magazines are often made from higher quality materials than factory options and therefore offer a more reliable feeding system.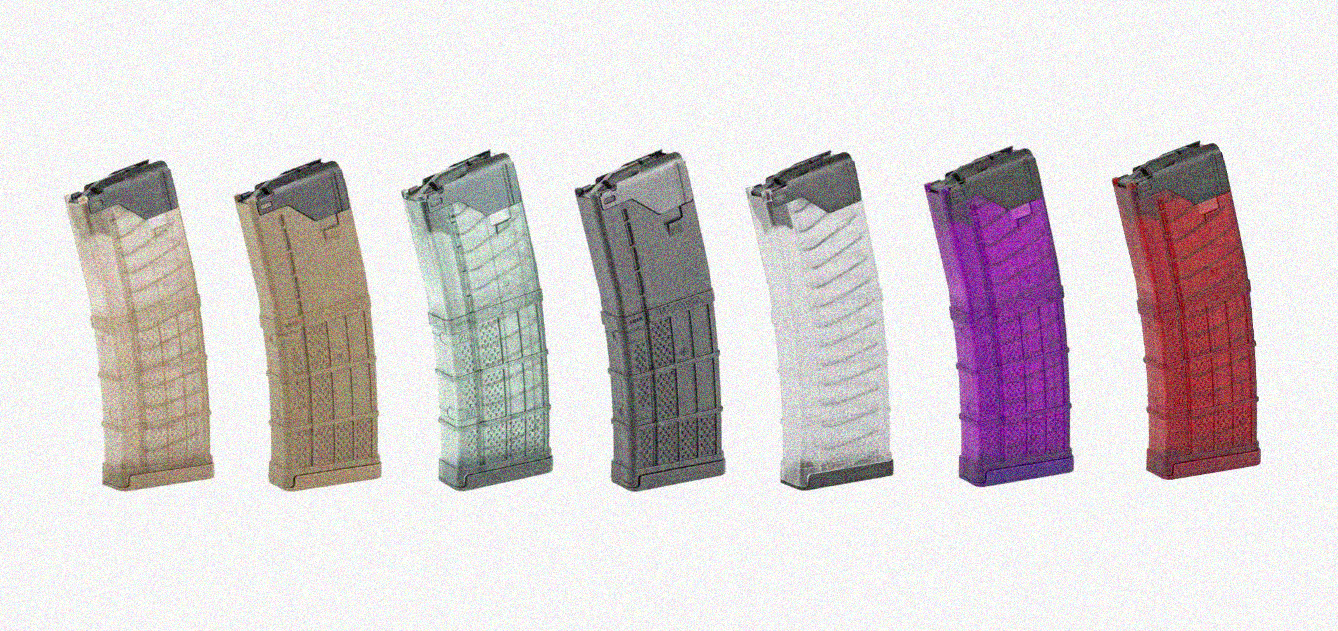 ⚠️Benefits:
✅ Come in larger sizes that hold more ammunition than standard, which can be beneficial for situations like tactical or competition shooting.
✅ Increased durability and reliability. Manufacturers of parts for AR-15 use higher quality materials to build their magazines, making them more rugged and reliable than stock options. Improved reliability can also help ensure your rifle runs smoothly and accurately in any situation.
✅ Offer improved ergonomics and tactical options. Many companies produce ergonomically designed magazines with enhanced gripping surfaces or anti-tilt followers that make it easier and faster to load and unload and may also include extended baseplates that can improve reloading speed or add additional storage space for spare ammunition. A variety of colors, sizes, and shapes are also available to fit different needs and preferences.
🤨 Is It Worth It?
Yes ❗️  Aftermarket mags are one of the most affordable and effective upgrades you can make, offering increased capacity, improved reliability, and durability, as well as enhanced ergonomics and tactical options. With so many different types of AR-15 magazines available from manufacturers, it is easy to find the perfect option for your needs.
🔥 AR-15 Sights/Optics
The AR-15 platform is one of the most versatile firearms platforms in the world, and that versatility extends to its ability to accept a variety of sights and optics. Red dot sights are extremely popular due to their low-profile design and fast target acquisition capabilities. Magnified scopes can provide an increased level of accuracy at longer distances and can be used for both hunting and competitive shooting. Flip-up iron sights are also popular and offer a backup option if the optic fails.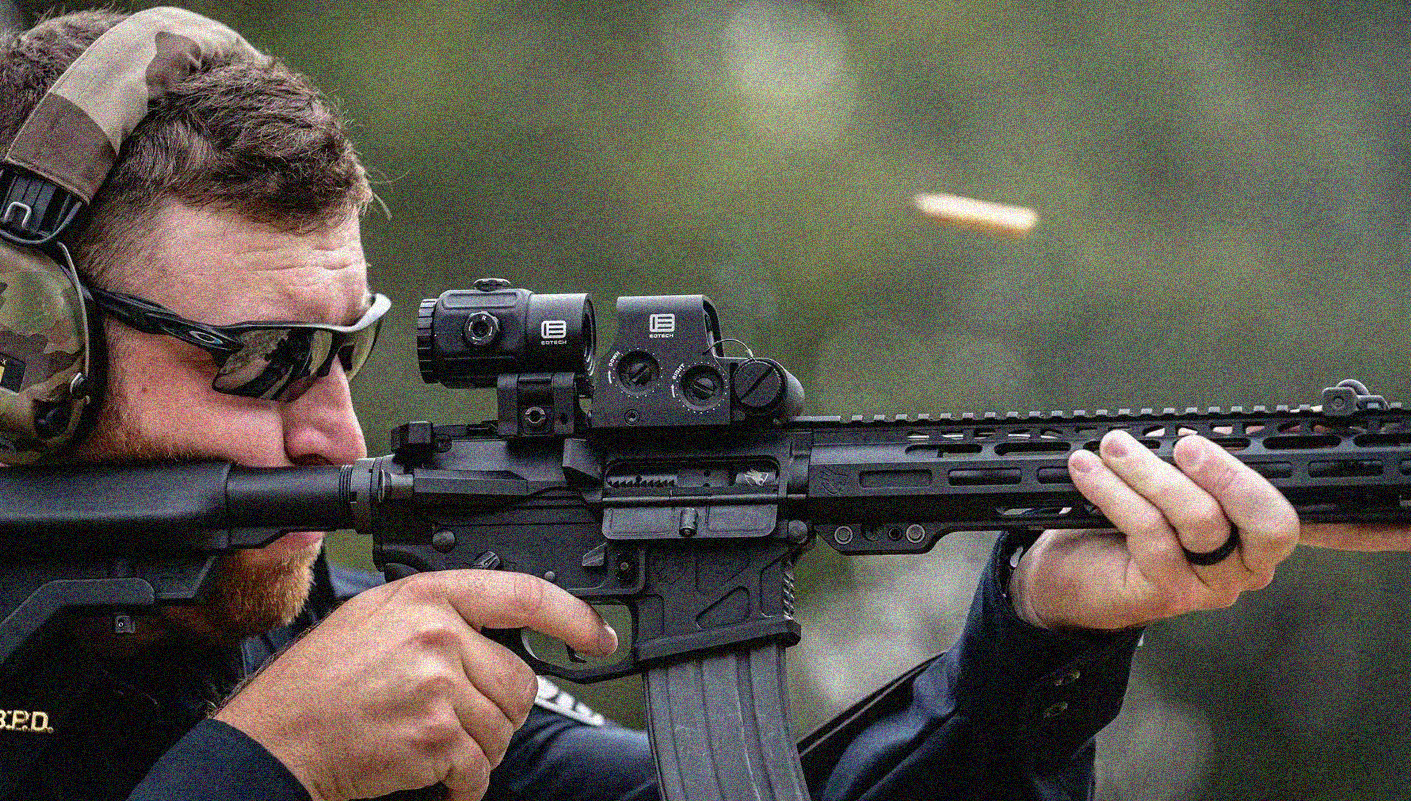 🤔 How do I choose?
It depends on the intended use of your AR-15. For close-range applications like home defense, a red dot sight might be best, but for precision shooting at longer distances, you'll want to look for a magnified scope with adjustable magnification levels. Your budget should also be taken into account when choosing an aftermarket sight or optic for your AR-15.
⚠️ Benefits:
➡️ Will provide increased accuracy when shooting, enabling more precise aiming for greater accuracy.
➡️ Some optics can be mounted directly onto the rail system on an AR-15 as opposed to being attached to the upper receiver like traditional iron sights. This allows for easier access to your site and makes switching between scopes a much more streamlined process.
😎 Features:
No matter what type of sights and optics you choose, it's important to make sure that they are properly mounted onto your AR-15. This will ensure that you get maximum accuracy from your weapon. Consider investing in a quality mount such as one made of aluminum alloy so that your sights don't move while firing.

🔥 AR-15 Barrels
The barrel of your AR-15 is the part that propels the ammunition out of the chamber. It's also one of the most important parts as it has a direct influence on accuracy, recoil, and ballistics. That's why upgrading to an aftermarket AR-15 barrel can be a great way to improve the performance of your rifle in all categories.
😎 See also:
😎 Here are some of the best barrels for improving accuracy, reducing recoil, or achieving higher velocities:
🚩 The match-grade barrels feature tighter tolerances and a superior machining process which increases accuracy. They are ideal for competition shooting, hunting, and target practice.
🚩 Fluting a barrel increases rigidity and helps dissipate heat faster which results in higher velocities and better accuracy.
🚩 A threaded barrel is great for attaching muzzle brakes, flash hiders, or suppressors. It's also useful if you want to add other accessories like silencers.
🚩 Weight reduction barrel will reduce the overall weight of your gun while still providing superior accuracy and velocity.
🚩 Stainless steel barrels are more corrosion-resistant and can withstand harsher conditions. That makes them great for environments with high humidity or saltwater like coastal areas.
⚠️ Benefits:
✔️ Better accuracy can be achieved through improved rifling or fluting which allows for more consistent shot placement.
✔️ Increased durability allows for less wear and tear on the barrel itself as well as on other components during firing.
✔️ Reduced weight makes it easier to transport your rifle from one shooting location to another without adding too much strain on your arms and back.
✔️ Better performance comes from using high-quality materials and manufacturing techniques.
🤨 Is It Worth It?
Upgrading your AR-15 with an aftermarket barrel can be a great way to get the most out of your rifle. But they are more expensive than factory standard options, so make sure that any additional features or benefits justify the cost. Additionally, ensure that whatever barrel you choose meets all legal requirements in your state before installation.
🔥 AR-15 Grips
Upgrading your AR-15's grip allows you to better control the rifle and make it more comfortable to shoot. Grips also come in a variety of styles, colors, and materials, allowing you to customize your AR-15 according to your preferences.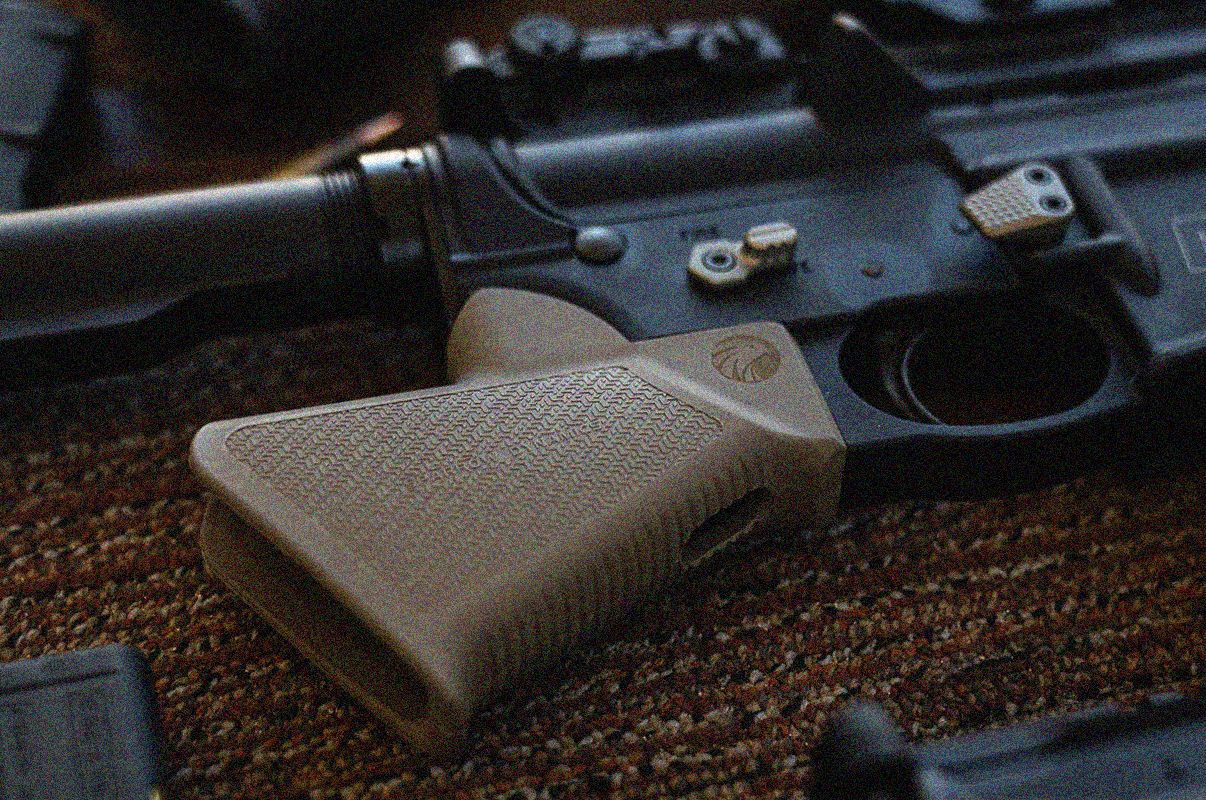 🙂 What types?
✅ Some grips feature ergonomic designs that reduce hand fatigue during shooting sessions.
✅ Others have rubberized textures to improve grip when shooting in wet conditions or provide enhanced comfort while shooting long distances.
✅ Some manufacturers offer custom engraving services that allow you to personalize your AR-15 with custom text or images.
🤔 How to choose?
When choosing an AR-15 grip, you should consider the type of shooting you will be doing most often. If you plan on using your AR-15 for tactical applications, a more ergonomically designed one may be beneficial. For competition shooters and enthusiasts, many grips offer enhanced control and comfort at the range. Additionally, it's important to ensure that it is compatible with your particular AR-15 model before making a purchase.
⚠️ Benefits:
☑️ It is to allow for better control and handling of the rifle. Grips allow you to customize your weapon to fit your personal preferences in terms of ergonomics, comfort, and aesthetics.
☑️ The improved ergonomics. Aftermarket grips are designed to fit the contours of your hand better, allowing for a more natural grip and improved comfort while shooting. This can make all the difference in improving your accuracy during training or competitions.
☑️ Installing a new AR-15 grip on your rifle can add a touch of personal style as well. Many AR-15 enthusiasts enjoy adding custom touches to their rifles that set them apart from everyone else.
🤨 Is It Worth It?
Absolutely! 😎 Upgrading the grip of your AR-15 can provide several benefits for both casual and more experienced shooters. Improved ergonomics, comfort, and accuracy are just some of the reasons why you should consider installing an aftermarket AR-15 grip on your rifle.
🔥 AR-15 Muzzle Brakes
An AR-15 muzzle brake is partly designed to reduce the recoil of an AR-15 rifle. It also reduces the amount of noise generated by the gun when firing and helps keep the barrel down during rapid-fire scenarios.
🤔 How Does it Work?
A muzzle brake works by redirecting some of the gases at a high velocity outwards rather than rearward, which reduces felt recoil and keeps the barrel steady during rapid fire. Additionally, ports in a muzzle brake can be tuned to cause more turbulence to further reduce felt recoil and increase accuracy over sustained shots. They are typically threaded onto the end of your barrel for easy installation, but some models may require welding or machining installation.
⚠️ Benefits:
➡️ Reduced recoil;
➡️ Improved accuracy over sustained shots;
➡️ Keeps the barrel steady during a rapid-fire;
➡️ Reduces muzzle rise and noise signature when firing.
🤨 Is It Worth It?
Of course! 😎 AR-15 muzzle brakes can not only reduce felt recoil and help keep the barrel steady during rapid fire, but they can also reduce the noise signature when firing.
🔥 AR-15 Triggers
An aftermarket AR-15 trigger increases accuracy, speed, and reliability by allowing faster lock time and a smoother reset cycle compared to factory triggers.
🤔 How to choose?
There are several factors to consider when selecting the right trigger upgrade for your AR-15:
✅ Weight of pull is a key factor, with lighter pulls offering quicker lock times and improved accuracy.
✅ You'll also need to think about reset type; single or two-stage triggers are both available depending on personal preference.
✅ You can choose between drop-in or custom-fit triggers depending on your level of comfort performing gunsmithing work.
⚠️ Installing
When installing your new AR-15 trigger, be sure to follow all instructions carefully and double-check everything is correctly seated before proceeding with any testing. It's also important to use the right tools, such as a torque wrench when performing gunsmithing work on your rifle. If you're unsure how to install your new parts or would like help selecting the right ones for your needs, don't hesitate to ask an experienced gunsmith for assistance.
⚠️ Benefits
✔️ You can expect to see improved performance from your rifle.
✔️ You'll also benefit from smoother engagement when firing as well as achieving more consistent shots at longer distances due to the reduced 'trigger creep' of upgraded parts.
✔️ An improved trigger assembly will also help reduce the amount of recoil felt when shooting, making for an overall better experience in target shooting or hunting scenarios.
🤨 Is It Worth It?
The new AR-15 triggers are worth it if you want to get the most out of your rifle. Better accuracy, improved reliability, and reduced recoil will make for a much more enjoyable shooting experience. 🙂
🔥 AR-15 Enlarged Trigger Guards
An enlarged trigger guard is an upgrade that provides more room for the user's finger when activating the trigger. This mod can be particularly useful for those with larger hands, or for anyone who wants a little extra space around their trigger.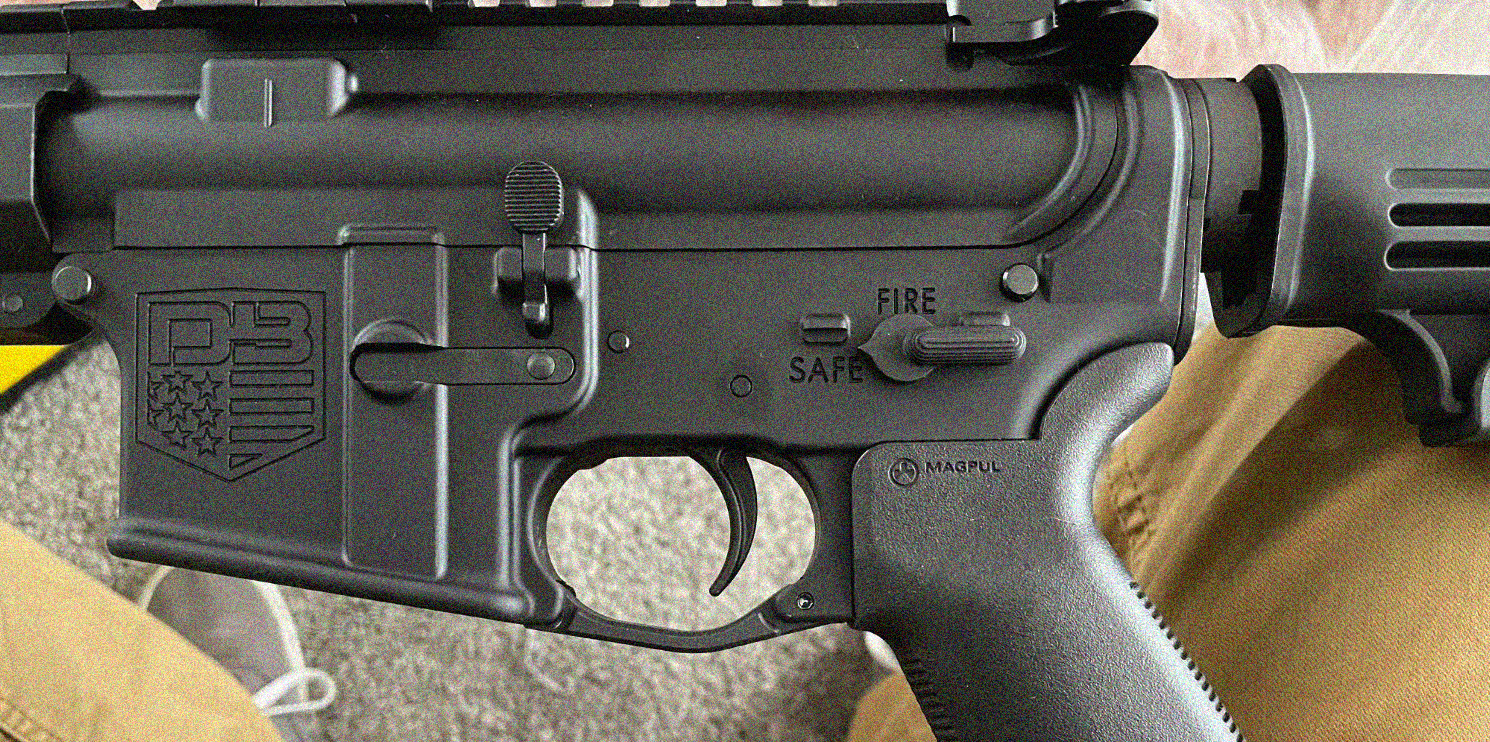 🙂 Why Upgrade?
The enlarged trigger guard gives users more control over their AR-15, which translates to greater accuracy and faster target acquisition. Plus, it looks great! 😎
⚠️ Installation
Installing an enlarged trigger guard on your AR-15 is fairly straightforward to complete with some basic tools:
➡️  First, disassemble the upper receiver of your rifle to access the existing trigger guard.
➡️ Then remove the screws holding it in place and replace them with your new enlarged version.
➡️ Finally, reassemble the upper receiver and you're ready to go!
🤨 Is It Worth It?
Absolutely!  😎 An enlarged trigger guard is a great upgrade that will give you an edge when engaging targets. With easy installation and plenty of features, this aftermarket mod is sure to provide you with improved performance and accuracy.
🔥 AR-15 Stocks
AR-15 stocks have a significant impact on how the gun performs because they provide stability and accuracy when shooting. They are also the key component that dictates which accessories can be used with them.
Some popular aftermarket stock for AR-15s include:
✔️ Adjustable buttstocks allow you to adjust the length of pull (LOP) or create a drop in cheek weld height according to your shooting preference.
✔️ Folding stocks offer more portability while still providing stability when shooting.
✔️ Skeletonized stocks are lightweight and reduce overall weight while offering an incredible level of customization.
⚠️ Benefits
➡️ Increased accuracy and precision.
➡️ Improved comfort and better stability when shooting.
➡️ Ability to customize with accessories such.
➡️ Lightweight models reduce overall weight for improved portability and maneuverability.
😎 Features
🚩 Material type: Depending on the stock, you can find models made from metal, aluminum, polymer, and more.
🚩 Weight: Look for lightweight models that offer increased stability when shooting without compromising on portability or maneuverability.
🚩 Size: Consider what size works best for your needs so you can get the most out of your stock upgrade.
🚩 Accessories compatibility: Make sure to check if the AR-15 stock is compatible with any accessories you plan on using with it.
🚩 Durability and longevity: Look for stocks designed to withstand wear and tear over time while still providing optimal performance when shooting.
🤨 Is It Worth It?
By investing in an aftermarket stock for your AR-15 rifle, you can enjoy improved accuracy, precision, and comfort when shooting. With so many models on the market to choose from, it's important to take into consideration factors such as material type, weight, and size to find a stock upgrade that meets your specific needs. So don't wait any longer – update your AR-15 with these easy-to-install aftermarket mods today and watch your shooting performance improve! 🙂
🔥 AR-15 Rail Systems/Handguards
The rail system is the main component of an AR-15 and offers a variety of customization options. It is usually made from aluminum, polymer, or steel and can be found in various lengths.
🤔 Why upgrade?
A new set of rails can add extra features such as accessories like flashlights, lasers, and scopes for better situational awareness.
🙂 What to look for?
When shopping for an AR-15 rail system you should look for one which is compatible with your rifle, durable enough to last years of use, lightweight, and easy to install. It is also important to consider the type of material it is made from as well as how many rails it has available for accessory mounting. A good quality rail system will also have heat shields built in for improved heat dissipation when shooting.
🤨 Is It Worth It?
Yes, investing in a quality AR-15 rail system is a great way to upgrade your rifle and unlock its full potential.
🔥 AR-15 Bolt Carrier Group
An AR-15 bolt carrier group (or BCG) is the heart and soul of your AR-15 rifle, so it's essential to invest in one that meets both your shooting needs and budget. Aftermarket BCGs offer a variety of options with different materials, coatings, and other features such as adjustable gas keys.
⚠️ Benefits
✅ Most notably increased reliability and improved performance. Aftermarket BCGs are generally made from higher quality materials than factory parts, ensuring that they last longer and perform better under strenuous conditions.
✅ Many BCGs come with adjustable gas blocks that allow you to fine-tune the performance of their rifles according to their specific shooting needs.
✅ Some BCGs are equipped with improved cam pins that provide a better lockup between the bolt and barrel extensions.
🤔 How to choose?
When looking for a BCG, it's important to consider several factors such as material quality, coating durability, adjustability of gas keys, and other features. Additionally, you should also ensure that the BCG is compatible with your AR-15 rifle before making a purchase.
🙂 How much are they?
AR-15 BCGs can range in price from as low as $99 up to several hundred dollars depending on the features and quality of the part. Generally speaking, the more expensive BCGs are made from higher-grade materials such as stainless steel or titanium, while budget-friendly models are constructed using standard steel.
🤨 Is It Worth It?
Aftermarket BCGs offer improved reliability and performance over factory parts, making them well worth the extra cost for serious shooters. Be sure to research the different options available before investing in a BCG to make sure you're getting the best product for your money.
🔥AR-15 Extended Bolt Release
This mod allows the user to quickly and easily release the safety on their rifle without having to manipulate the charging handle. The extended bolt release also makes loading and unloading a magazine easier, as you can use your index finger instead of your thumb to pull back the bolt catch.
🤔 Why Should I Upgrade?
Upgrading your AR-15 with an extended bolt release will make it easier for you to operate the safety on your rifle. Additionally, it reduces fatigue when shooting by giving you more leverage when manipulating the bolt catch.
⚠️ Benefits
✔️ Quick and easy release of the safety on your AR-15;
✔️ Easier reloading & unloading magazines;
✔️ Reduced fatigue while shooting by providing more leverage when manipulating the bolt catch ;
✔️ Variety of finishes to customize the look.
😎Features
➡️ Easy installation and removal;
➡️ Pressure applied in the same way as OEM components for consistent operation;
➡️ Ensures secure retention of the bolt catch in both safe and fire positions.
❗️Note: Be sure to understand the laws and regulations governing aftermarket modifications in your state or country before making any changes.
🔥 AR-15 Ambidextrous Safety Selector
An AR-15 Ambidextrous Safety Selector (often referred to as an "Ambi safety") is a simple device that allows you to quickly and safely switch between safe mode, semi-auto and full auto on your rifle.
🤔 Why you should upgrade?
This upgrade is perfect for those who need to switch between different shooting modes or those with less than perfect access to the traditional safety selector – such as left-handed shooters. An Ambi safety also makes it quicker and easier to keep your finger off the trigger when switching shooting positions or making other rifle adjustments.
⚠️ Benefits
🚩 Quick and safe switching between shooting modes.
🚩 Easier to keep your finger off the trigger when making rifle adjustments.
🚩 Improve accuracy, performance, and ergonomics.
🚩 Great for left-handed shooters.
🤨 Is It Worth It?
Upgrading your AR-15 with an Ambi safety is one of the best aftermarket mods you can do to improve accuracy, performance, and ergonomics – so if you're looking for a way to take your rifle shooting game to the next level, give this upgrade some serious consideration! 🙂
🔥 AR-15 Anti-Rotation Pins
AR-15 anti-rotation pins are a way to secure the receiver extension tube of an AR-15. This is important because it prevents the buffer tube from rotating and allows the buttstock to become loose during use. It's also one of the best aftermarket mods you can get for your rifle.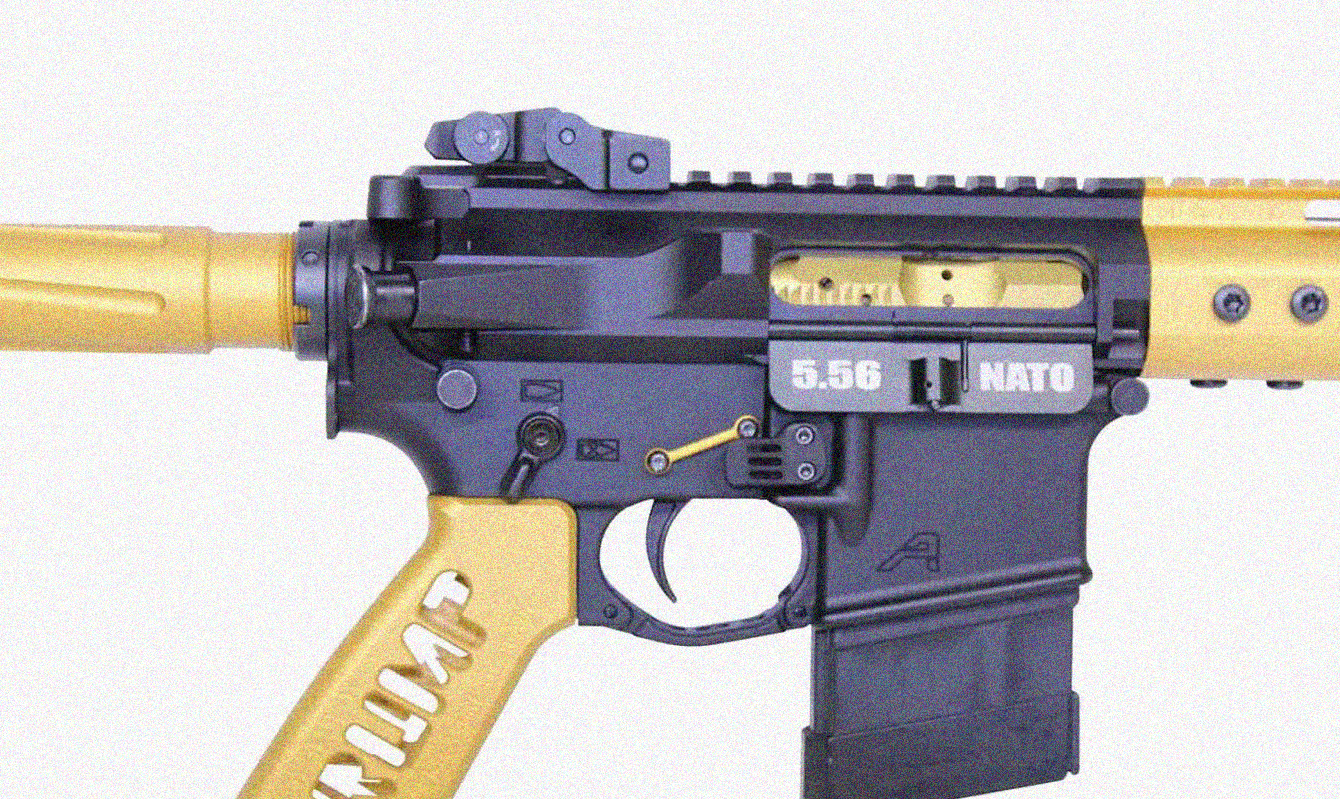 🤨 Why install?
Installing anti-rotation pins is necessary if you want your rifle to be as durable as possible. Without them, your receiver extension tube could rotate, leading to wear and tear over time and eventually causing problems with accuracy when firing. Additionally, having anti-rotation pins installed will give your AR-15 an added level of security when out in the field or shooting range, since they won't move or become loose while you're firing.
🤔 How to install it?
Installing anti-rotation pins isn't overly complicated, but it does require some basic knowledge of your AR-15 and a few tools.
🚩 First, you'll need to remove the buffer tube from your AR-15's receiver extension.
🚩 Once this is done, place the anti-rotation pins into the notches on either side of the receiver extension tube.
🚩 After that, tighten down both screws with a small screwdriver or Allen key until they're secure.
🚩 Finally, reassemble your AR-15 and you're good to go!
⚠️ Benefits
✔️ Increased Security: Installing anti-rotation pins will help keep your AR-15 secure. This makes it less likely that your buttstock will become loose during firing, leading to increased accuracy and a more enjoyable experience overall.
✔️ Enhanced Durability: Without anti-rotation pins, your AR-15's receiver extension tube could rotate over time, leading to wear and tear. With them installed, you'll be able to enjoy peace of mind knowing your rifle is as durable as possible.
✔️ Durable Construction: The pins themselves are made from high-quality materials that are designed to last for years without any issues.
🔥 AR-15 Slings and Sling Mountings
A sling is a type of strap attached to the AR-15 that is used to aid shooters in maneuvering the rifle and carrying it with ease. Sling is usually made from a strong, lightweight material such as nylon or leather. This can be attached to the AR-15 either through direct mounting points on the gun or through rails that are installed onto the rifle.

Sling mountings refer to the various ways in which slings can be attached to an AR-15. There are several options:
🚩 quick detach (QD) loops;
🚩 fixed loops;
🚩 M4 push button mounting systems;
🚩 looped mounting systems.
⚠️ Benefits
➡️ Carrying the rifle hands-free or over one shoulder without tiring out quickly;
➡️ Maneuverability in tight spaces;
➡️ Retaining control of the weapon;
➡️ Quickly transitioning from one target to the next.
😎 Features
When selecting slings for your AR-15, you should consider the following features:
✔️ Material – The material of the sling itself is important. Nylon and leather are both very durable materials that can withstand some abuse without taking damage. Look for quality construction with stitching reinforced along stress points.
✔️ Adjustability – You want to be able to adjust your sling so that it fits your body comfortably and securely. Look for adjustable straps with quick-release buckles.
✔️ Strength – Slings that are made from strong materials will provide increased strength and durability over time.
✔️ Mounting System – Different mounting systems offer various levels of convenience when it comes to attaching and detaching your sling. Look for a mounting system that is quick and easy to use.
🤨 Is It Worth It?
The goal of upgrading your AR-15 with the best mods is to make sure it's reliable and customized for maximum performance in any situation. If you're looking to make your AR-15 the best it can be in terms of looks and performance, then don't forget to upgrade with quality aftermarket mods such as slings! 🔥
🤔 FAQ
🙂 Conclusion
AR-15s are popular firearms, and there are many ways to upgrade them. In this article, we've shared some of the best aftermarket mods for AR-15s. We hope you find these mods helpful and that they help you take your AR-15 shooting experience to the next level. What is your favorite AR-15 mod? Let us know in the comments below! 🔥❤️
❗️❗️❗️ Note: Not all mods are appropriate for every type of firearm, so it's important to research and understand what is compatible with your specific model before making a purchase. Additionally, always practice safe firearm handling when installing upgrades or modifications. If you have any questions about this mod or other AR-15 parts and accessories, don't hesitate to reach out to an experienced gunsmith for assistance.