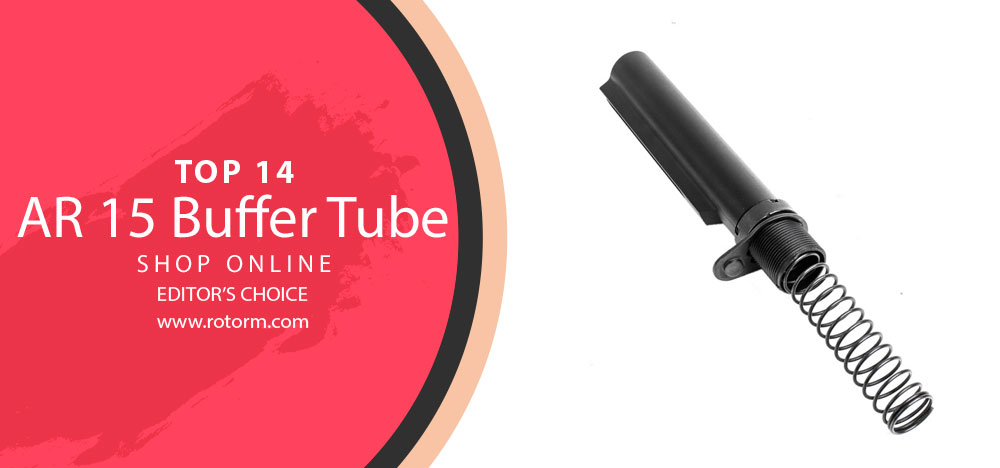 What is AR 15 Buffer Tube? 🔍
⚫️ The AR-15 buffer tube, also known as the receiver extension, is a component of the AR-15 rifle platform. It is a cylindrical tube located at the rear of the rifle's lower receiver, where the stock attaches.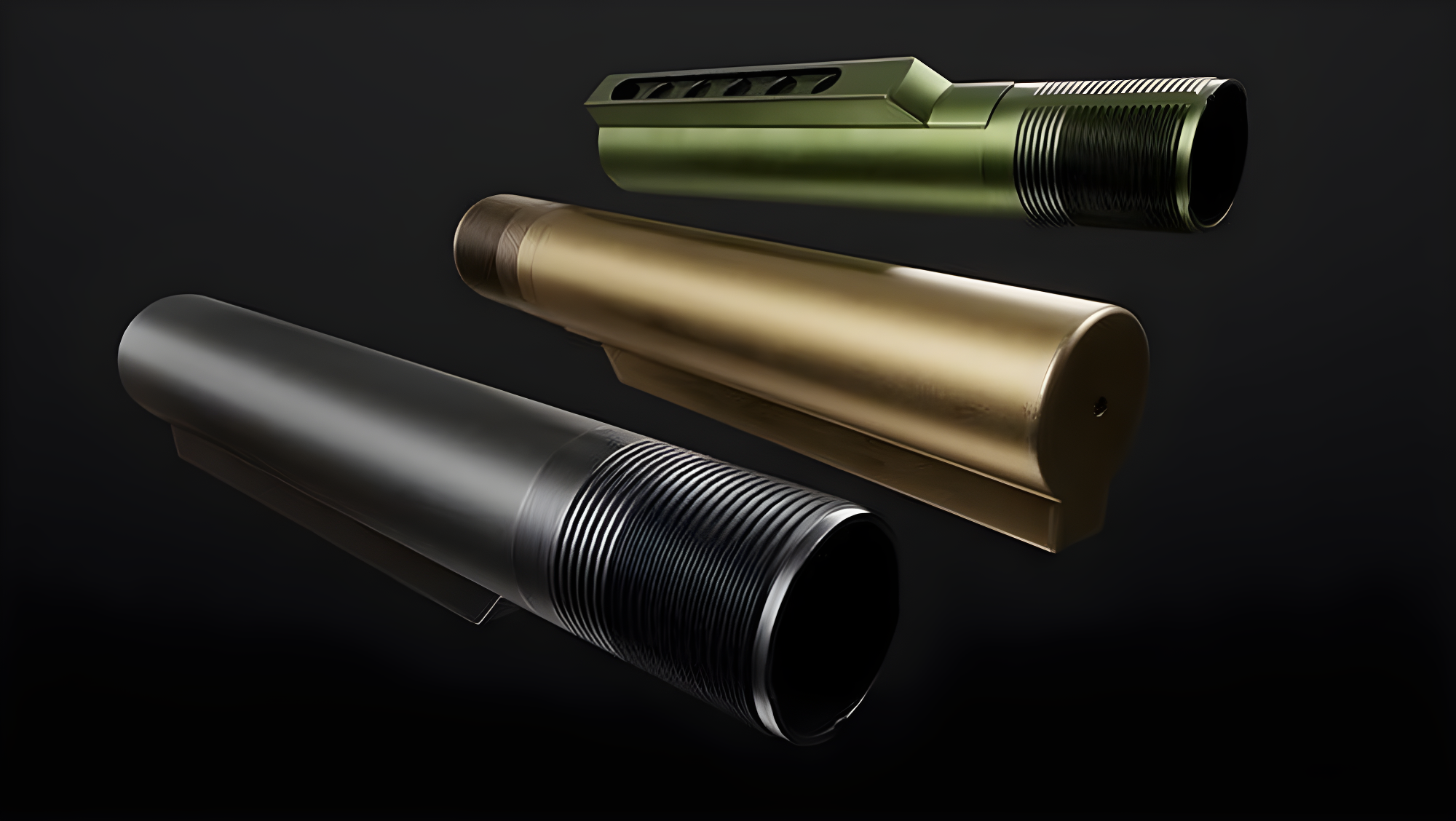 Features 💎
☑️ Material: The buffer tube is typically made of high-quality materials such as aluminum or steel, providing durability and strength.

☑️ Length:

They come in different lengths, including rifle length, carbine length, and pistol length. The length you choose depends on the specific AR-15 configuration you're using.

☑️ Diameter:

They are available in different diameters, with the mil-spec (military specification) being the most common. Mil-spec tubes have a diameter of 1.148 inches, while commercial buffer tubes are slightly larger at 1.168 inches.

☑️ Tube Type:

These tubes can be categorized into two types: fixed and collapsible. Fixed buffer tubes are non-adjustable and provide a solid and rigid stock platform. Collapsible buffer tubes, often referred to as adjustable or telescoping, allow for length adjustment, providing versatility and accommodating different user preferences.

☑️ Mounting Options:

The tubes have attachment points for the stock, either through a threaded end or a sling mount. These mounting options allow for the secure installation of the stock onto the buffer tube.

☑️ Buffer Weight:

The buffer tube houses the buffer, which helps control the recoil of the firearm. Buffers come in various weights to accommodate different ammunition types and shooting preferences.
Our Top Pick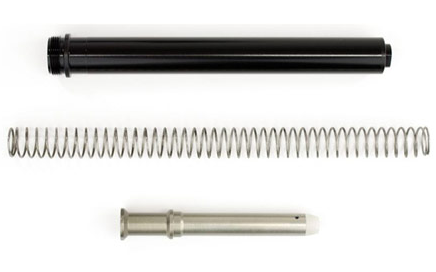 Aero Precision AR 15 Rifle Buffer Tube
The buffer sleeve is made of high quality 6061-T6 aluminum and was processed with precision. It has an even finish that provides reliable protection against corrosion.
Buy Now On OpticsPlanet
If you click this link and make a purchase, we earn a commission at no additional cost to you.
Benefits 🔐
💣 Recoil Control:

The buffer tube, in conjunction with the buffer, helps reduce recoil and muzzle rise, making it easier to control the firearm during rapid or sustained fire. This results in improved accuracy and faster follow-up shots.

💣 Versatility:

The collapsible options offer adjustable length settings, allowing users to customize the length of pull to fit their individual needs and shooting positions. This versatility makes the AR-15 adaptable to various shooting scenarios, including close-quarters combat and long-range engagements.
💣 Comfort and Ergonomics: With adjustable length options, shooters can achieve a more comfortable and ergonomic shooting position, enhancing the overall shooting experience and reducing fatigue during extended use.

💣 Stock Options:

It serves as the attachment point for the stock, providing options for various stock designs and configurations. This allows shooters to choose stocks that align with their shooting style, body size, and personal preferences.

💣 Durability and Compatibility:

Buffer tubes are constructed from sturdy materials, ensuring long-lasting durability and resistance to wear and tear. Additionally, they are designed to be compatible with a wide range of AR-15 components, including stocks, ensuring easy customization and upgrades.

💣 Sling Attachment:

They often have built-in sling mounts or attachment points, allowing for the attachment of slings for improved weapon retention, carry options, and ease of transition between shooting positions.
Our Top Pick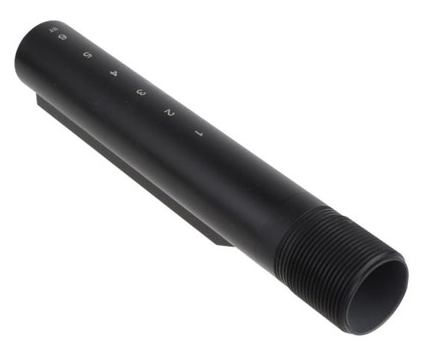 Spikes Tactical Mil-Spec AR-15 Buffer Tube
It has an updated dry lubricating film instead of the previous gray coating which could wear off and didn't look very good. The new coating doesn't leave any sticky residue and is smudge-proof.
Buy Now On OpticsPlanet
If you click this link and make a purchase, we earn a commission at no additional cost to you.
How to Install a Buffer Tube Assembly? 🔧
👣 After deep research, our team revealed that installing a buffer tube assembly typically involves the following steps:
1️⃣ Ensure you have the necessary tools and components: You will need a buffer tube assembly, a castle nut, a receiver end plate, a carbine buffer, a buffer spring, and a stock or brace compatible with the buffer tube.

6️⃣ Install the buffer:

Insert the buffer into the buffer tube. The buffer typically weighs one end and a rounded end on the other. The rounded end should face towards the receiver while the weighted end should face away from it.

2️⃣ Safety check:

Before starting any work on a firearm, make sure it is unloaded and the chamber is empty. Double-check that there is no ammunition present in the area.

7️⃣ Thread the buffer tube:

Carefully thread it onto the lower receiver. Turn it clockwise until it is snug against the receiver. Be careful not to cross-thread it.

3️⃣ Disassemble the lower receiver:

If your firearm is already assembled, you'll need to remove the stock or brace and any other components attached to the tube. This typically involves removing the retaining screw or pin that holds the stock or brace in place.

8️⃣ Align the buffer tube:

While holding it in place, align the castle nut with the notches on the receiver end plate. Thread the castle nut onto the buffer tube and tighten it using an armorer's wrench or a castle nut wrench. Make sure it is securely tightened, but avoid overtightening.
4️⃣ Install the receiver end plate: Attach the receiver end plate to the buffer tube. The end plate usually has a small loop on one side. Align the holes on the end plate with the holes on the tube and slide it into place, ensuring it sits flush against the end of the buffer tube.

9️⃣ Final adjustments:

Check the alignment of the tube and castle nut. If necessary, adjust the position of the buffer tube and retighten the castle nut until everything is properly aligned.
5️⃣ Insert the buffer spring: Insert the buffer spring into the buffer tube. The large end of the buffer spring should go into the tube first. Ensure the spring is properly seated inside the tube.
🔟 Attach the stock or brace: Once the buffer tube assembly is securely installed, attach your desired stock or brace to the buffer tube. Follow the manufacturer's instructions for proper installation.
🔔 Remember to consult the specific instructions provided by the manufacturer of your firearm and components, as the process may vary slightly depending on the model and design. ⚠️ If you are unsure about any step of the installation process, it is recommended to seek assistance from a qualified gunsmith or an experienced individual.
🎥 Watch the video to see the approximate process:
Best AR 15 Buffer Tube | AR 15 Buffer Tube Review | AR 15 Buffer Spring
| Image | Product | Brand | |
| --- | --- | --- | --- |
| | Geissele Premium AR-15 Mil-Spec Buffer Tube | Geissele | |
| | Bravo Company MFG AR 15 Buffer Tube | Bravo Company | |
| | Aero Precision AR15 Rifle Buffer Tube | Aero Precision | |
| | Spikes Tactical Mil-Spec AR-15 Buffer Tube | Spikes Tactical | |
| | Guntec USA AR-15 Mil-Spec Buffer Tube Set (6-Position) | Guntec USA | |
| | Phase 5 Weapon Systems Inc AR-15 Buffer Tube | Phase 5 Weapon Systems Inc | |
| | CMMG, Inc Receiver AR-15 Buffer Tube | CMMG, Inc | |
| | Strike Industries AR-15 Buffer Tube | Strike Industries | |
| | Timber Creek Outdoors AR 15 Mil-Spec Buffer Tube | Timber Creek Outdoors | |
| | Luth-AR 9mm Carbine Buffer Assembly - Mil-Spec | Luth-AR | |
| | TRYBE Defense AR-15 Buffer Tube | TRYBE Defense | |
| | KAK Mil-Spec Carbine AR 15 Buffer Tube Kit | KAK | |
| | Tacfire AR15 Pistol Buffer Tube Kit | Tacfire | |
| | JE Machine Tech AR-15/AR10 Mil-Spec Buffer Tube | JE Machine Tech | |
1# Geissele Premium AR-15 Mil-Spec Buffer Tube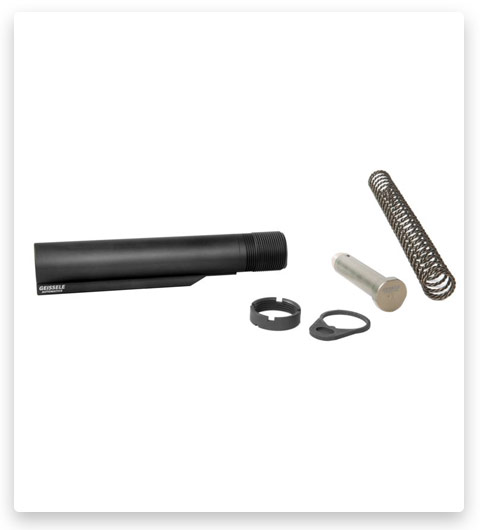 Geissele Premium AR-15 / M4 Mil-Spec Buffer Tube with Super 42 Spring will show you how far from ideal your base buffer is. With a 15% increased return force, the Super 42 Spring runs very quietly and smoothly. The secret is hidden in the special structure of the spring. It is woven from three independent veins, which reliably and softly absorb the impulse. You can choose between 6 models and find the best option for you. This buffer tube is constructed from 7075-T6 aluminum and is additionally coated with Type-3 hard anodizing. Buffer tubes and springs are strictly standardized and fit all models. The encoding in the name H1, H2, and H3 refer to the buffer weight. To select the correct buffer weight for your rifle, you need to rely on the caliber and length of the gas system. The H1 buffer is surprisingly smooth and quiet and fits most rifles instead of the base unit. It is easy to install and fits snugly. Easy to install and snug fit. If you've been looking for a supplement that can help you achieve tangible recoil softening, check out Super 42.
2# Bravo Company MFG AR 15 Buffer Tube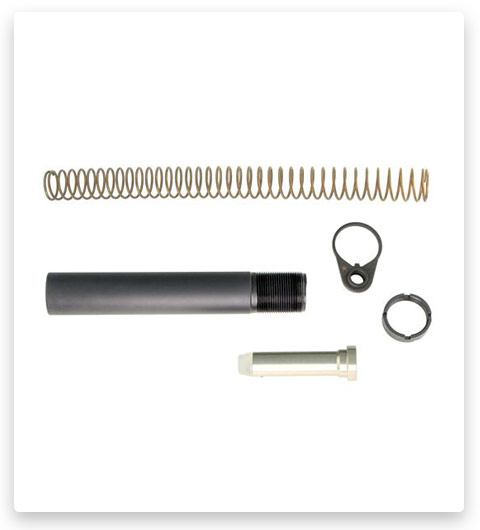 BCM has created one of the best solutions for the AR15 / M4 / M16. This is a complete receiver extension kit that works with a carabiner damper and action springs. It is compatible with the Sig Tac SB15 pistol stabilization bracket and is ATF compatible. The lower parts for AR15 are produced in 7075 T6 anodized aluminum. The coating complies with Mil-A-8625F, Type 3, Class 2. It is very tough and resistant to abrasion and corrosion. The finish is smooth and uniform to match the bottom of the AR15 perfectly. An important caveat, a pistol buffer tube will not work with a shock wedge gun retainer, as this requires a dedicated carbine buffer tube. Therefore, it will not work to put on the buffer tube from Bravo. The outer diameter of the buffer tube from BCM is 1.2 inches. Weight adjustment is not provided with this assembly. You will always get 2.9 ounces, but it will be a perfectly balanced system. As a nice addition, the Bravo pistol buffer has a QD mount suitable for one-point and two-point strings.
3# Aero Precision AR 15 Rifle Buffer Tube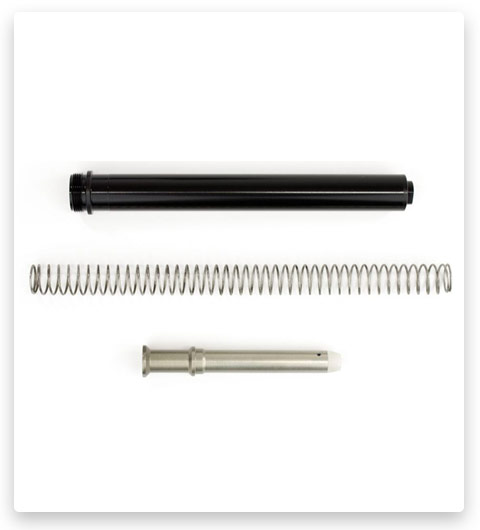 This buffer is designed for use with a fixed butt carabiner. Longer spring and shock absorber smoother recoil momentum. Simply put, a kit for those who prefer a rifle to a carbine. The buffer sleeve is made of 6061-T6 aluminum. The fit was done with high quality, we have not met a processing tool. The finish is evenly applied and reliably protects against corrosion. With the purchase of this kit, you do not need any additional parts for installation. The kit has already included the correct screws. Since it is for AR15, it is compatible with buffer tube A2. This means that the update is suitable for AR.308, AR10, and other rifles with Magpul GEN3 stock, FAB Defense, and the like.
It's easy to install, well done and doesn't drain your wallet. A great addition for lovers of comfortable shooting.
4# Spikes Tactical Mil-Spec AR-15 Buffer Tube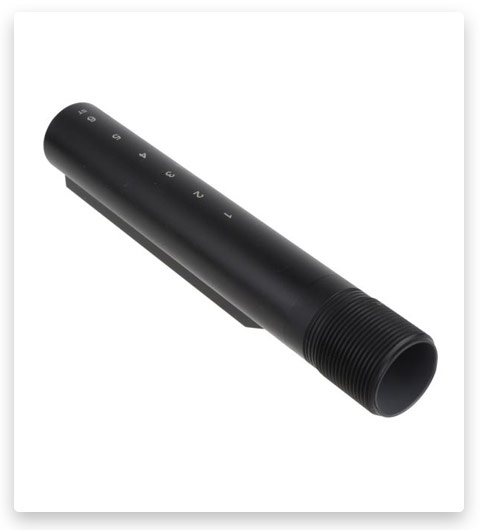 Is your AR build in need of an update? Check out Spikes Tactical Mil-Spec Buffer Tube, 6-Position. This underside from Spikes Tactical is specially designed for the AR15 and features a dry lubricating film. Previously, a gray lubricant coating was used that could wear off and did not look the best. This has now been corrected and the new coating creates a dry film that does not smudge leaving a sticky residue. The bottom is made of 7075 T6 anodized aluminum with a black nitride type 3 coating. The buffer tube has 6 positions to suit your AR folding stock. The position number is laser engraved and painted in neat white numbers for contrast. There are no excess parts in this kit, just a buffer tube. If you require an additional end plate or castle nut, buy it separately. This is the set that you risk nothing with because the price is very affordable. If you haven't become a fan of Spikes Tactical yet, this is the best deal to guarantee a pleasant first acquaintance.
5# Guntec USA AR-15 Mil-Spec Buffer Tube Set (6-Position)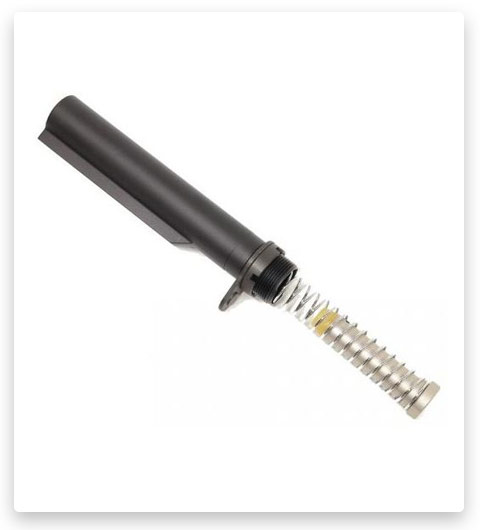 This offer is used on many internet sites, but only the optical planet provides such a sweet price. If there is no difference in the products you buy, why pay more? 🙂 This Guntec USA AR-15 Mil-Spec 6 Position Buffer Tubing Set is made of T6 aluminum and comes in 5 different buffer tube colors. A set of Mil-Spec lower pieces fit snugly into the forend of your AR pistol. The CAR buffer has a constant weight of 3 ounces, which is achieved by an updated chrome-plated silicone spring. You get with this kit: Mil-Spec Buffer Tubing Kit (6-Position), Retrofit Spring, and Endplate. It feels well-made, light, and balanced. The true price of the welcome is absolutely a great upgrade for the pistol.
6# Phase 5 Weapon Systems Inc AR-15 Buffer Tube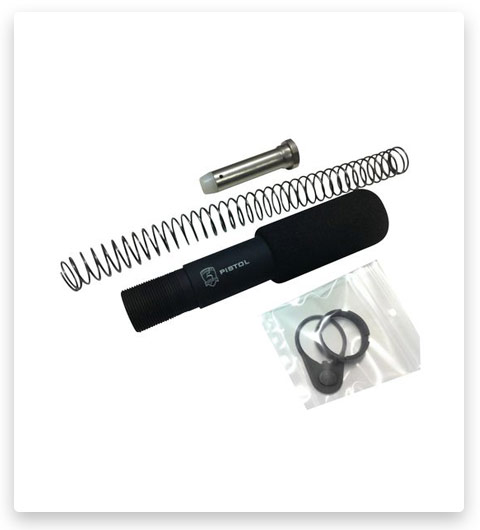 Phase 5 Weapon Systems Inc AR-15 Pistol Buffer Tube Complete Assembly PBT-CA is an offer not to be missed. This offering is packed with everything you need for a quick setup right out of the box. The hallmark of these bottoms for your AR15 is thicker foam padding and improved spring-loaded cushioning. The aluminum buffer tube is CNC machined and carefully checked by the quality control department. For production, only certified billets made of 7075 T651 aluminum are used, which is why the creation process is so well-oiled. After processing, the part is covered with Type III hard black anodizing. The entire design is fully compliant with high Mil-Spec requirements.
The design of the bottom remains attractive thanks to the military-inspired finish. This is not only beautiful but also better protects against corrosion and abrasion of components. Installation is also very simple and even enjoyable. The bottom groove is machined to remain compatible with all Mil-Spec end plates and lanyard accessories. This is to ensure Phase 5 PBT-CA compatibility with Sig Sauer without unnecessary side movements while firing the pistol.
Now some exact numbers. The bottom is 7.4 inches long with a total diameter of 1.25 inches. Together with this, it weighs only 4.8 ounces, while the spring resistance does not exceed 3 ounces. It works perfectly with PBT-CA pistols and others like the AR-15.
The kit includes an endplate with a lock nut, a foam pad, a karabiner buffer, and a reinforced phase 5 buffer spring. This is all you need for installation and has already been carefully added by phase 5. The only addition that would make this assembly a flawless kit is the QD lanyard. at the end of the tube. Otherwise, it is a great product with excellent functionality.
7# CMMG, Inc Receiver AR-15 Buffer Tube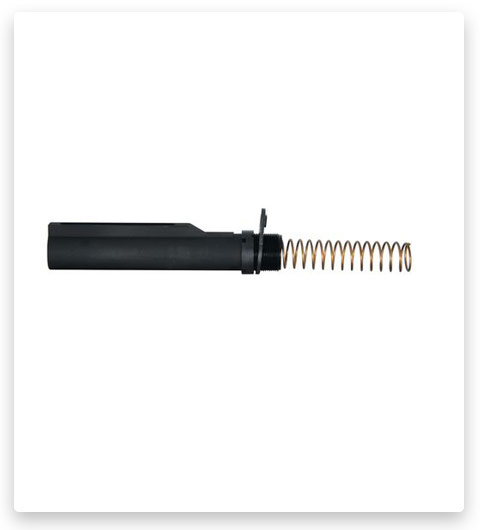 CMMG is adept at making top-notch weapon add-ons, and this time it's an add-on for the AR-15 rifles. The receiver extension kit is designed to work with standard NATO rifles and, of course, supports 5.56mm caliber. The extended receiver kit is Mil-Spec 6-position compliant and will suit almost any build of yours. This tube is made of high-quality anodized aluminum. Unfortunately, we did not find the exact marking of which aluminum it is, but it is really durable. The matte black finish protects the lower parts from corrosion and hides small scratches. It looks very decent and pleasant to the touch.
This kit includes: a 6-position CMMG carabiner buffer tube, CMMG carabiner spring, CMMG carabiner shock absorber, castellated nut, and endplate. This kit from CMMG is designed to work correctly with NATO standard rifles (5.56mm caliber) and standard AR rifles. This update is well-stocked and will definitely fit one of your arsenal's rifles. CMMG makes good components but does not know how to fill out a product card on the site. Anyway, we tested it on our builds and can now recommend it to you.
8# Strike Industries AR-15 Buffer Tube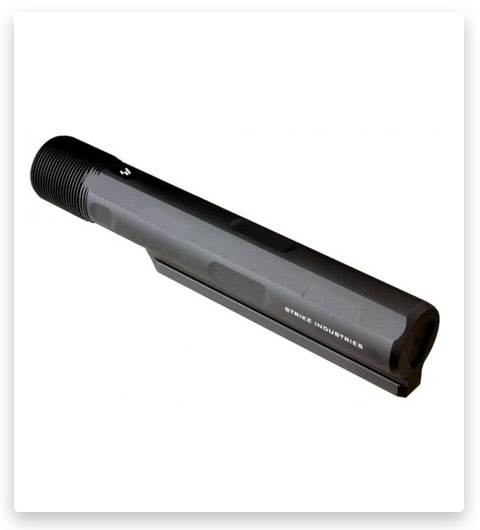 The 7-position bottom from Strike Industries was created specifically for the AR10 and AR15 but applies to other platforms as well. As an innovative addition, the buffer tube is rewarded with a characteristic ridge. The scallop reduces friction against the stock and reduces weight while maintaining the full strength of surfaces exposed to maximum stress.
If you want to make your unique build even better – take a closer look at the Strike Industries Advanced Buffer Tube with 4 color options. For the production of this buffer tube, 7075-T6 aluminum is used. Subsequent processing on machines grinds and polishes the ends and runs the thread many times. As an innovation that may surprise you, a front groove has been added for securing the buffer clip. Painstaking attention to detail turns this buffer into a piece of engineering.
All this is covered with durable anodizing of the selected color (black/red/blue /FDE). This is one of those cases where the chosen one may differ slightly from the one shown in the picture. FDE appears darker metallic and burnt like burnt bronze. Perhaps this is because aluminum has its natural grayness and absorbs some of the bright colors, leaving a matte base and a slight metallic sheen.
With an overall length of 7.28 inches, a diameter of 1.145, and a weight of 3.8 ounces, it is fully Mil-Spec AR15 compliant, compatible with Strike Industries Pit Viper stock, can operate with an adjustable SBA lock, and fits the HK416 gun shackle adapter. More precise length adjustment and 7 positions guarantee you will find your ideal tension, without hesitation on the body. The only thing is that this tube cannot work with the A5 buffer system.
We still have two pieces of news about this offer. This offer does not include a spring, end plate, or castle nut. This is replacing your standard buffer tube with a Strike Industries buffer tube (color of choice). But there is also positive news, for all the US military and those who served in law enforcement (emergency response) a pleasant discount is provided. It's cute and we love it.
9# Timber Creek Outdoors AR 15 Mil-Spec Buffer Tube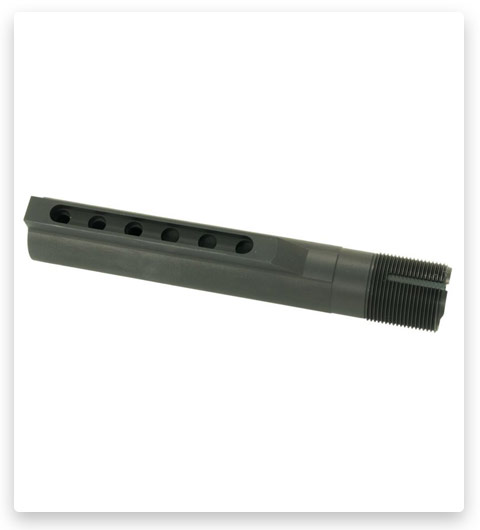 The Timber Creek Outdoors Mil-Spec Buffer Tubing is marketed as the best addition to an AR15 or AR308 build but is also compatible with other stocks from many manufacturers. The vial is available in 9 different colors and will definitely fit your build. This component is manufactured from T6-6061 aircraft-grade aluminum using high-precision CNC machining. The end of the recess has recesses for centering over the bumper stop. The last 3 holes in the tube are gouged, presumably for the discharge of water and debris without removing the buffer tube. If our assumption is correct, this is an interesting engineering solution that shows user care.
The anodized coating is evenly distributed on both the outside and the inside of the tube. We did not find any roughness that could catch in the spring or something similar. It may be difficult to screw on the box nut for the first time, but putting it back on will smooth it out. Timber Creek Outdoors Mil-Spec Buffer Tube will work with SBA as it meets Mil-Spec standards. Accordingly, the tube is 7.25 inches long, 1.148 inches in diameter, and 3.75 ounces in weight. You will not find a castle nut, end plate, or spring in this offer. This is just a colored test tube and nothing else. But along with that, it has a good price tag and a lifetime warranty.
10# Luth-AR 9mm Carbine Buffer Assembly – Mil-Spec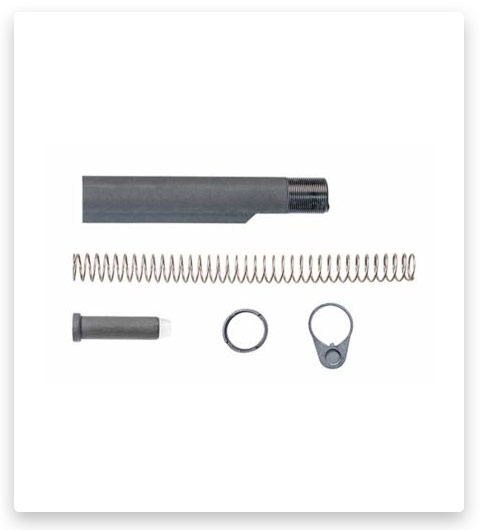 Another bright offer. This time to upgrade your pistol caliber carbine. This 9mm Mil-Spec buffer tube from Luth-AR is fully equipped to integrate with a 6-position karabiner stock. It looks good and works even better with many rifles like the AR-10 or AR-15. As expected, this Mil-Spec buffer tube is made of aluminum and weighs in at 5.3 ounces. The buffer is well-finished and coated with anodized glaze. Added to this is a stainless-steel spring. Everything is designed and calculated for the use of 9×19 mm cartridges. Luth-AR attaches great importance to ensuring trouble-free reliability and security. The installation of this assembly is very simple and easy. Simply slide into any Mil-Spec lower barrel while still being compatible with the Luth-AR MBA-3/4 rifle buttstock. The kit also includes a plate retainer and retaining ring. Luth-AR has passed everything so that the buffer tube can please you and protect your new build from disappointment.
11# TRYBE Defense AR-15 Buffer Tube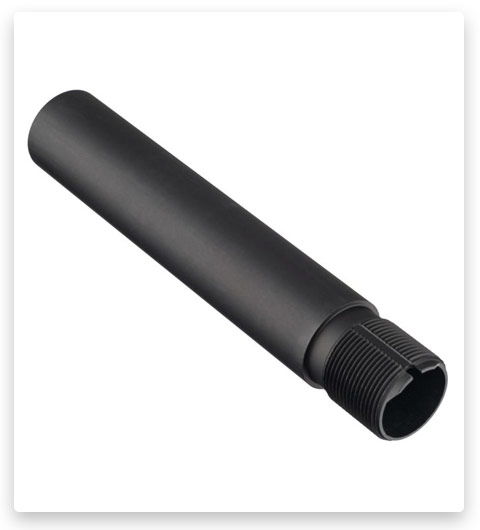 TRYBE Defense loudly declares itself as a manufacturer of high-quality and affordable rifle components. This time our review includes a buffer tube for AR10 / AR15 / AR308 rifles with a stylish black finish. Two offerings are available, shock absorber with or without foam cheek pad. This is an anodized pistol shock absorber manufactured taking into account all the requirements for the reliability of weapon assemblies. This tubing is standard 7.25″ length and 1.24″ diameter suitable for a pistol or carbine. You will not find this information in the product description on the planet page, so we indicate this for our readers. If you are looking for a mod 1 shank buffer tube, do not buy this tube, it will not work for you. TRYBE Defense comes with a limited lifetime warranty and good value for money. Unfortunately, the package is reduced to only one component, so it is difficult to recommend this as a complete replacement of the lower part. It is a good replacement part with a quality finish and a black anodized finish.
12# KAK Mil-Spec Carbine AR 15 Buffer Tube Kit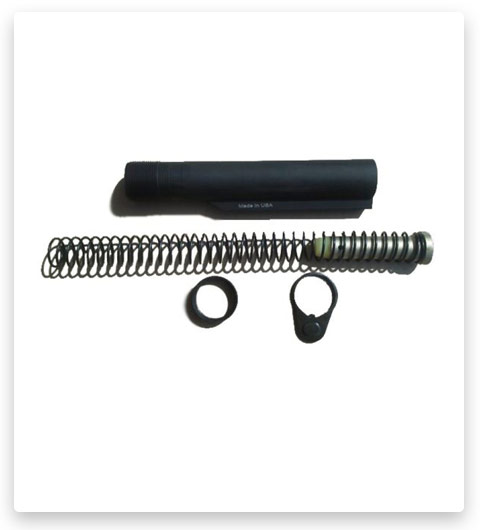 Kak Industry did not want to stand aside and also joined the competition to create the best offer for the AR-15. This set for carabiner tubes meets all standards and is fully integrated with Mil-Spec. In the kit, you will find all the standard checklists that will be required when installing these lower parts. The anodized aluminum body of the 6-position tube is finished in matte black and will fit the vast majority of rifles. The silicone spring has a standard stiffness and glides well inside, especially after lubrication. If you've noticed the price of this kit, the richness of the package should surprise you. A standard karabiner buffer, lock nut, and endplate are added to the buffer tube and spring. That's all you need and it is carefully added by Kak Industry. The main disadvantage of this proposal is the impressive weight of the kit. It weighs in at 9.8 ounces and we didn't like it. Even an extra 5 ounces over the long haul turns into overwhelming pounds. This is perfectly acceptable at home, or the shooting range, but not on long hikes.
13# Tacfire AR15 Pistol Buffer Tube Kit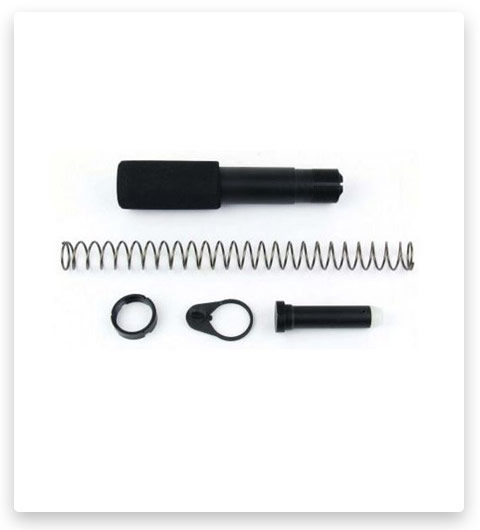 This is a triple proposal for a low-budget build of the AR-15 Mil-Spec pistol. The first kit added an adapter for a two-loop lanyard, the second a set of buffer sleeves for a pistol with a vertical lanyard adapter, and the third proposal was awarded the RegulAR endplate. The kits are a little heavy, but at the same time feel solid and well-crafted. The buffer cylinder is made of 6061 T6 aluminum. The entire assembly is 8 inches (L) and 13 ounces. This weight seems overwhelming, but the price says "You get what you pay for." Tacfire pre-packaged kits include Classic Mil-Spec Gun Buffer Tube with Foam Insert, 3 Oz Buffer, Buffer Spring in Standard Carabiner Springs, Dual Loop Lanyard Adapter End Plate (Optional), and Castle Nut. There is a gasket on the buffer tube as well as a neoprene cover. This means you get a kind of "double gasket", but the price is still very low. Of the shortcomings, we noticed 3 factors: the excess weight of the entire set, the buffer, and the spring create a noticeable noise and unreliable staining (the paint is scratched and peeled off). Otherwise, we really liked this budget proposal, and of course, we recommend it.
14# JE Machine Tech AR-15/AR10 Mil-Spec Buffer Tube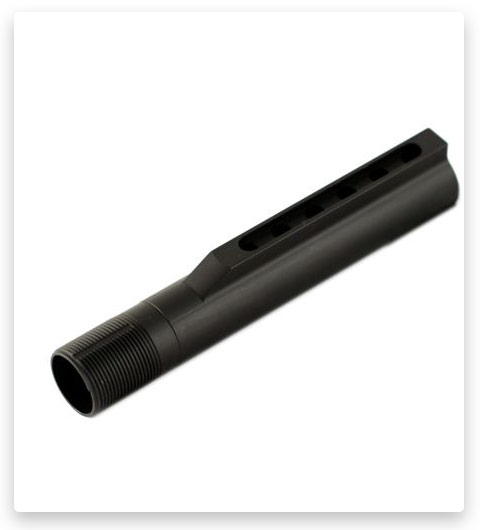 Our latest offering has many strong contenders but still surpasses them in price and quality. JE Machine Tech has created a really high-quality buffer tube without turning out their fans' pockets! This is a one-item offer but should definitely be considered. The JE Machine Tech AR-15 / AR10 Mil-Spec 6-Position Buffer Tube is made from impact-extruded 6061 T6 grade aluminum. Smooth blackening hides full compliance with MIL-A-8625 F, type III (class 2 anodizing). The philosophy of this product is to take care of its customer. By purchasing this for little money, you will definitely be glad you could save. Having experienced this, you will be able to assess the reliability and quality of production, which means you will rejoice at the conclusion of a successful deal. And now, after a while, you become a fan of JE Machine Tech, just like us. =)
How to Choose The Right Buffer for Your AR-15? 💡
🔐 When selecting a buffer tube for your AR-15, it's important to consider a few key factors to ensure compatibility and optimal performance. 📝Based on the results of our research, here are some factors to consider when choosing:
➡️ Mil-Spec vs. Commercial: Buffer tubes come in two primary types: Mil-Spec and commercial. Mil-Spec tubes have a diameter of 1.148 inches, while commercial tubes have a slightly larger diameter of 1.168 inches. It's crucial to match the tube type with the corresponding lower receiver type to ensure a proper fit. Most AR-15s are built with Mil-Spec dimensions, so it's often recommended to go with a Mil-Spec buffer tube.

➡️ Material and Construction:

They are typically made from aluminum alloy. Look for tubes made from high-quality materials and robust construction to ensure durability and reliability. The tube should be capable of withstanding the recoil forces generated by your AR-15.

➡️ Length and Configuration:

Buffer tubes come in different lengths and configurations to accommodate various stock options and shooting preferences. The two common configurations are carbine-length and rifle-length. The carbine-length tube is shorter and is compatible with collapsible stocks, while the rifle-length is longer and is used with fixed or adjustable rifle stocks. Choose a length that suits your desired stock type and shooting style.

➡️ Weight:

Consider the weight, especially if you prioritize lightweight builds. Some options are designed to be lighter than others, which can be advantageous for shooters who require enhanced mobility and reduced overall weight.

➡️ Compatibility with Accessories:

If you plan to use additional accessories such as adjustable stocks, cheek rests, or sling attachment points, ensure that the tube is compatible with those components. Some buffer tubes may have built-in features or attachment points for accessories, so factor that into your decision-making process.

➡️ Brand Reputation:

Opt for buffer tubes from reputable manufacturers known for producing reliable firearm components. Brands such as Aero Precision, BCM, Daniel Defense, and VLTOR are well-regarded for their tubes and other AR-15 parts.
🔔 Additionally, familiarize yourself with any legal requirements or regulations that may apply in your jurisdiction when modifying or replacing parts of your firearm.
🎥 Hope the video will be helpful for you:
FAQ 🤔
Conclusion ⏰
The AR 15 Buffer Tube is an essential component that helps ensure the smooth functioning of your rifle. With this guide, you now have a better understanding of what to look for in choosing the best option for your needs. From considering different materials and lengths to evaluating construction quality and compatibility with other parts, there are several factors to take into account when making your decision. We hope reading our reviews has helped narrow down some options so you can choose the perfect variant for your firearm! 😉
Tags: ar 15 buffer tube, ar 15 buffer tube kit, ar-15 pistol buffer tube, ar-15 buffer tube, ar 15 mil spec buffer tube, mil spec buffer tube kit ar 15, ar 15 pistol buffer tube cheek rest, best ar 15 pistol buffer tube, ar-15 buffer tube assembly
#Best #AR 15 #Buffer #Tube #Review #Pistol #Cheek #Rest #Assembly #Kit #Hornady #Sale #Cheap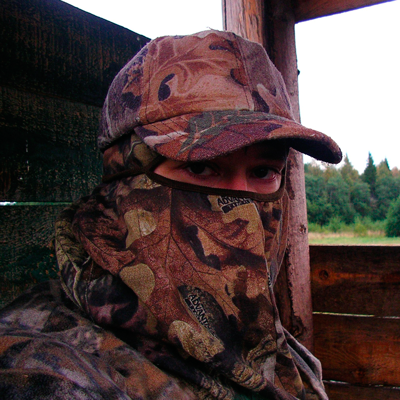 Tatiana Kursakova
Professional shooter, traveller, survivalist
My love of guns is in my blood, since childhood I have spent hours enjoying the beauty of guns and adored going through their parts.
Tactical accessories are another passion of mine that I could write about endlessly - my house and garage are full of tactical gadgets, luckily my family shares my interests.
I'm infatuated with traveling that's why work at one place with a daily routine and standard schedule is not for me. I prefer copywriting and English tutoring as a freelancer. I live in a male family among constant talks about cars, guns, hunting, fishing, and, of course, dinosaurs 😊.
My husband is an obsessed hunter, and my two sons are fans of «Demolition Ranch» of YouTube blogger Matt Carriker. They are my best consultants about weapon and all-around ammunition topics. All together we share a love for adventures. Every camping or mounting hiking trip is a "small survival", giving irreplaceable experiences. Nothing can be better than the satisfaction of observing wild nature.
Motto: «Born in Ukraine, made is the USA».
Read more
about our team
of expert authors.
Affiliate Disclosure: Rotorm.com sometimes gets paid for listings, through sponsors or affiliate programs like Amazon, Optics Planet, Lucky Gunner, Brownells, Cabelas, Rainier Arms, 5.11 Tactical, Bass Pro Shop, etс. Clicking a link helps keep Rotorm.com free, at no extra cost to you!
About the author: Each article on our site is written by experts in survival and tactical equipment, gun enthusiasts, extreme travelers, military, law enforcement and desperate professionals, read about the author at the bottom of the article or visit "About Us" page.
Note: The views and opinions expressed in this article are those of the authors and do not necessarily reflect the official policy or position of any agency.