Affiliate Disclosure: Rotorm.com sometimes gets paid for listings, through sponsors or affiliate programs like Amazon, Optics Planet, Lucky Gunner, Brownells, Cabelas, Rainier Arms, 5.11 Tactical, Bass Pro Shop, etс. Clicking a link helps keep Rotorm.com free, at no extra cost to you!
About the author: Each article on our site is written by experts in survival and tactical equipment, gun enthusiasts, extreme travelers, military, law enforcement and desperate professionals, read about the author at the bottom of the article or visit "About Us" page.
Note: The views and opinions expressed in this article are those of the authors and do not necessarily reflect the official policy or position of any agency.
Weapon case is a special bag that can hold a pistol, shotgun, rifle, or machine gun, as well as some additional accessories. The legislation of any country directly requires that all types of weapons, including sports pneumatic ones, be transported only in disassembled and carefully packed form.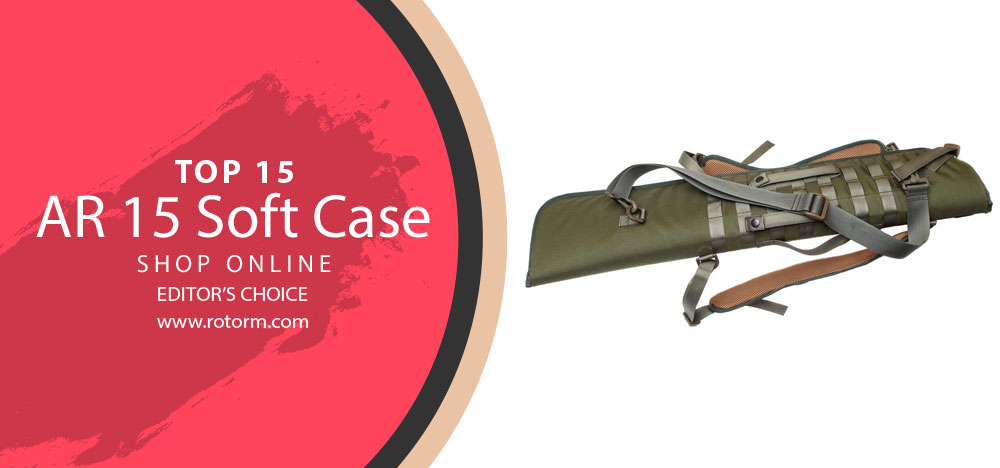 In this review, we will look at the characteristics, features, and advantages of different AR 15 soft cases from the most popular manufacturers with a good reputation in the market. While all AR-15 cases have roughly the same functionality, they can be very different in design. You can verify this further.
TOP-15 AR 15 Soft Case
| Image | Product | Brand | |
| --- | --- | --- | --- |
| | BlackHawk Discreet Weapons Case | BlackHawk | |
| | Elite Survival Systems Assault Systems Submachine Gun Case | Elite Survival Systems | |
| | Safariland Dual Rifle Case | Safariland | |
| | Uncle Mike's Law Enforcement Discreet Weapon Case | Uncle Mike's | |
| | Bulldog Cases Ultra Compact | Bulldog Cases | |
| | Daniel Defense SoftRifleCase | Daniel Defense | |
| | VISM Heavy Duty 28in Deluxe Soft Gun Case | VISM | |
| | NcSTAR Vism Discreet Carbine Case | NcSTAR | |
| | Galati Gear 37in XT Premium Rifle Case | Galati Gear | |
| | Elite Survival Systems Assault Systems Rifle Case | Elite Survival Systems | |
| | Voodoo Tactical 30in Single Weapon Case | Voodoo Tactical | |
| | Galati Gear 30in. Breakdown AR Case | Galati Gear | |
| | VISM Discreet Carbine Case | VISM | |
| | NcSTAR Vism Competition Range Bag | NcSTAR | |
| | VISM AR15 & AK Carbine Pistol Case | VISM | |
#1 BlackHawk Discreet Weapons Case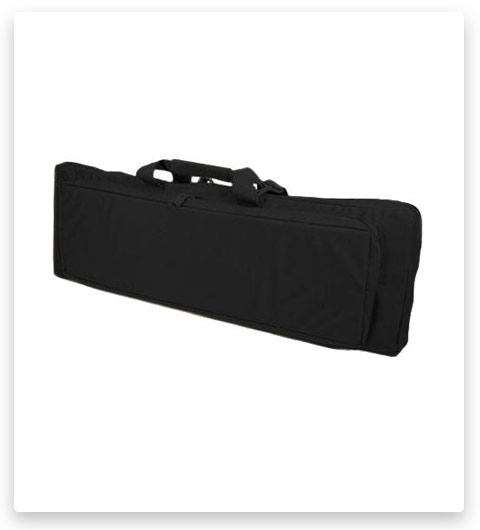 BlackHawk Discreet AR-15 Case ideally copes not only with the role of a cover but also bedding (rug) for convenient placement when hunting and shooting. This is possible thanks to the fully opening zipper, which is sewn along the entire length of the case. Here are a brand-new design and a completely redesigned modular weapon bag. This AR-15 case will be convenient to wear because of a removable shoulder strap on which a soft pad is sewn. This way, the bag will not put pressure on the shoulder, even though the contents are heavy. You can arrange the case inside however you want (you just need to buy separate cells for additional accessories). You can attach them with Velcro, sewn into the inner compartment of the case. With a cover case like this, you can go outside even in a rainstorm, because the closed-cell foam padding provides a waterproof effect.
#2 Elite Survival Systems Assault Systems Submachine Gun Case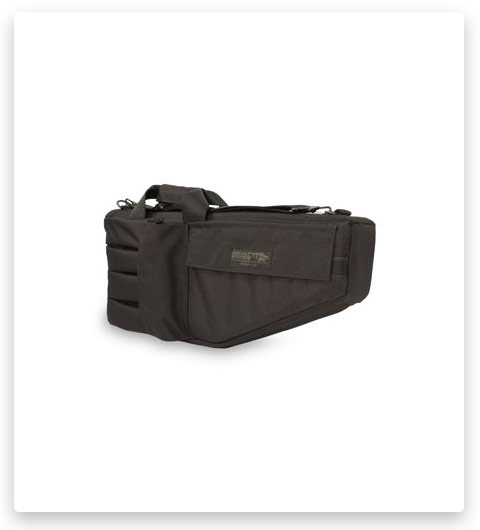 Elite Survival Submachine AR-15 Case is an indispensable element for the work in law enforcement agencies, military personnel, and just fans of hunting or shooting. It is worth paying attention to the well-known brand of this model – Elite Survival Systems (United States), it manufactures the best tactical gear using quality and durable nylon. In addition to brand awareness and high-quality manufacturing, the buyer will have to face the unique design: the manufacturer takes into account all the gun-owner's wishes and requirements – regarding the parameters of the cells, compartments for weapons, and accessories.
#3 Safariland Dual Rifle Case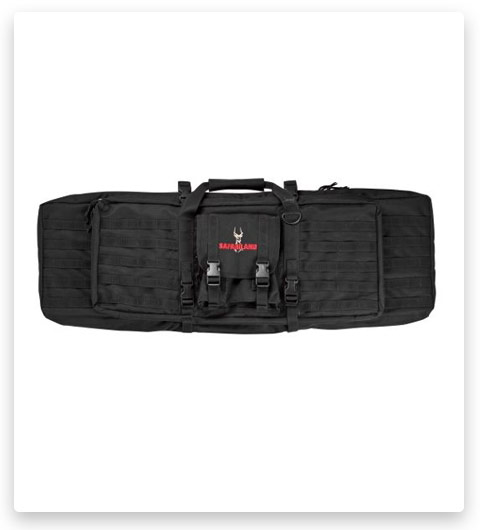 You won't find a weapon case stronger than this Safariland Dual Ballistic AR-15 Case: material and lightning are extremely strong. Internal compartments for additional weapon accessories can be adjusted to suit you. Your weapon and you will be completely safe because you will store it in a double case that closes tightly and has good holding hooks and loops. As for the additional patches, there is foam padding and a 2-inch removable lining. Carrying the bag on the shoulder is not difficult, because the comfortable shoulder strap is individually adjustable for each owner. If not needed, it can be hidden in a specially designated pocket for storing the belt.
#4 Uncle Mike's Law Enforcement Discreet Weapon Case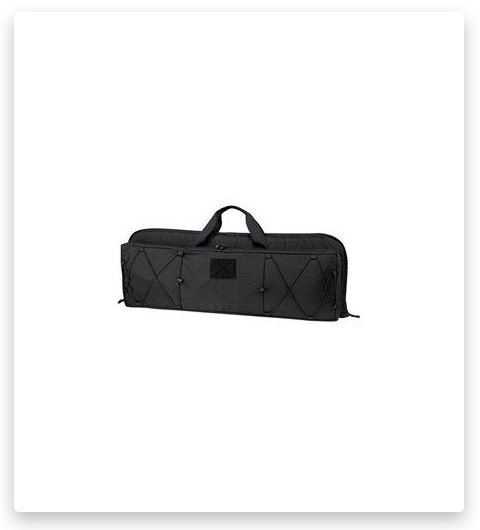 The stylish design of the bag does not even betray its true purpose. Looking at it, hardly anyone will think that it is precisely firearms that are stored in it. Uncle Mike's Law Enforcement Discreet AR-15 Case is equipped with a separate zippered compartment for storing additional weapon accessories. You can use it not only to carry your AR-15 but also as a comfortable and soft shooting mat.
#5 Bulldog Cases Ultra Compact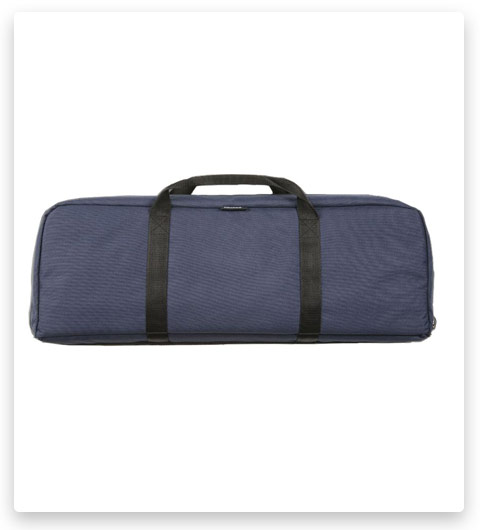 Compactness is the main feature of this Bulldog AR-15 Case. There are no external compartments in this model but the internal one is so conveniently equipped that the weapon can be disassembled into two parts and safely stored unassembled or left completely assembled. There are also two slots for weapon accessories. When storing props in a bag, it does not deteriorate, because the soft lining between the layers of fabric reliably protects the details. Another advantage of the Bulldog Ultra Compact Case is its waterproof function. The design of this AR-15 case is quite comfortable: round handles and a long, strong zipper provide the best features.
#6 Daniel Defense SoftRifleCase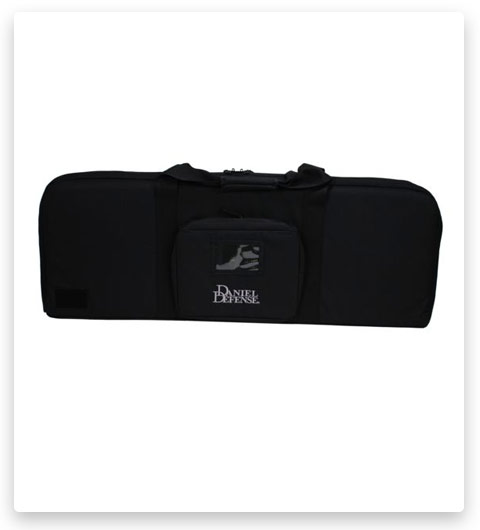 Daniel Defense Soft AR-15 Case is a high-quality luxury model at an affordable price. Let's talk about design: classic black color, rather voluminous parameters: 38 × 14 inches (ideal for AR15 / M4 gun owners), moreover, you can safely store optics and 30 cartridges in a specially designed cell. Looking inside the case, you will see a rectangular transparent pocket. Outside, there is also an additional zippered pocket that contains three medium-sized cells. Softening padding is sewn between the layers of fabric, which protects weapons and additional accessories from all kinds of damage.
#7 VISM Heavy Duty 28in Deluxe Soft Gun Case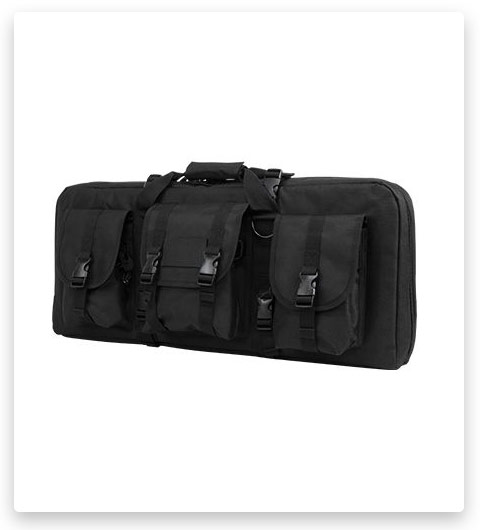 In the VISM Heavy Duty Deluxe Soft AR-15 Case you can carry not one, but two weapons! It simultaneously houses such models as AR and AK. The weapon is tightly secured with strong straps, and between them is a dense and soft lining, it protects the weapon from contact and damage. Outside, there are three more compartments: two medium and one large, which are closed with fastexes and Velcro. The case can be carried either in the hand or hanging on the shoulder. After all, this set includes both short soft handles and an adjustable shoulder strap.
#8 NcSTAR Vism Discreet Carbine Case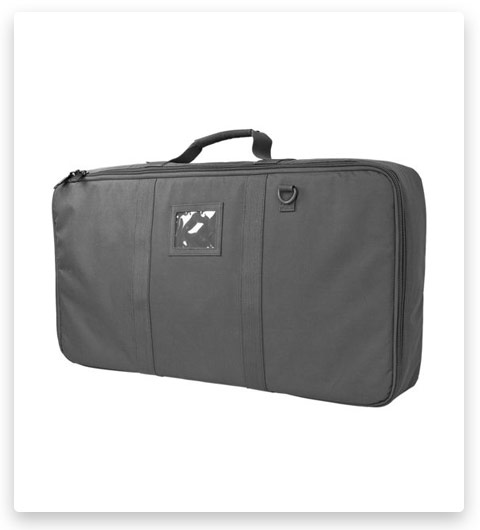 NcSTAR Vism Discreet Case is designed for the ideal storing AR-15 / M4 weapons. A padded lining separates the three internal compartments for storing rifle parts. These parts are secured with Molle straps, which are fastened with Velcro and can be stored separately in each designated cell. In addition to the compartments, there are 2 mesh pockets on the other side of the case (10×10 size). Here you can store additional accessories or documents. This is a rarity, but the manufacturer decided to diversify the color scheme of weapon cases – now you can choose green or urban gray for the case.
#9 Galati Gear 37in XT Premium Rifle Case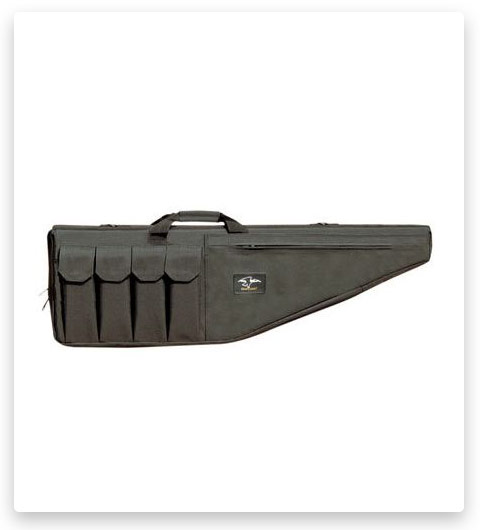 Galati Gear XT Premium AR-1537-inch Case is equipped with four external pockets for storing additional weapon accessories and ammunition. You can choose from two colors of this line: black or olive.
#10 Elite Survival Systems Assault Systems Rifle Case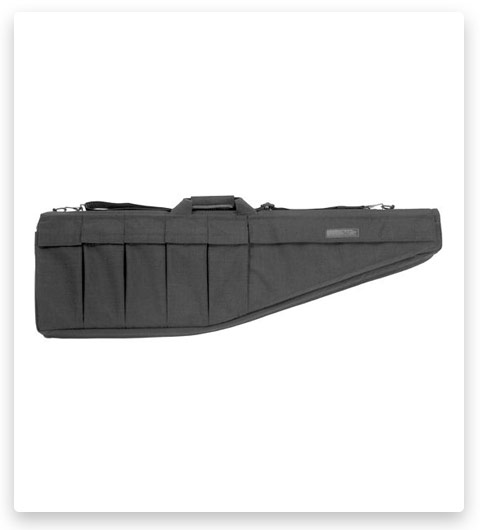 This Elite Survival Systems AR-15 case is equipped with five small and one large external pocket for storing weapon accessories, documents, or ammunition.
#11 Voodoo Tactical 30in Single Weapon Case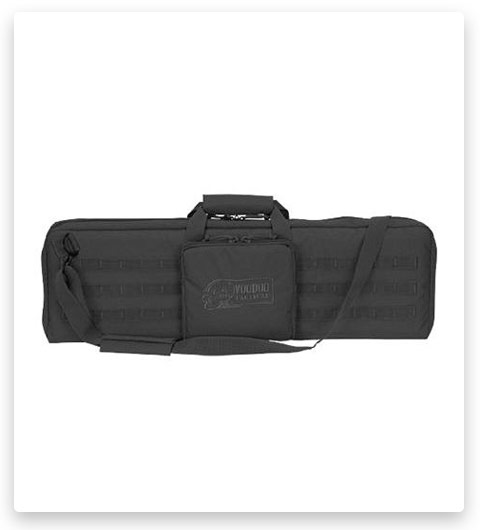 PALS straps on the inside and outside of the Voodoo Tactical Padded Weapon Case allow you to attach special or service pouches for more convenient equipment organization. Choose the Voodoo Tactical Modular Firearms Carrier for a sturdy, beautiful bag you can count on to protect your gear. The Voodoo Tactical AR-15 Case will hold absolutely everything you need for shooting: ammunition, goggles, masks, and other important accessories besides the weapon itself. A soft yet durable lining between the storage compartments protects the weapon from contact, impact, and damage. Strong straps hold the weapon securely with strong hooks and loops. You can carry the case in your hand or hang it on your shoulder. Thanks to the padded padding on the detachable shoulder strap, you won't even feel the weight or pressure on the bone.
#12 Galati Gear 30in. Breakdown AR Case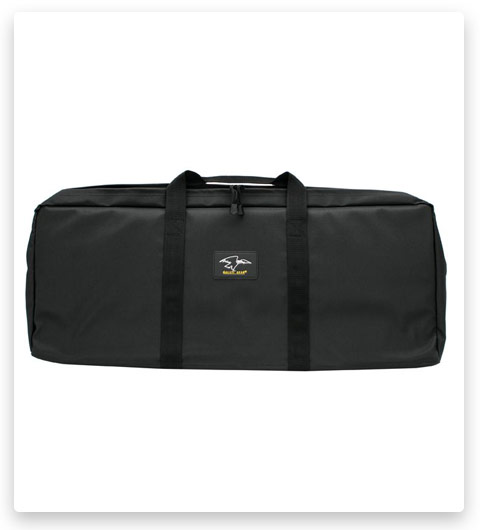 This Galati Gear Breakdown AR-15 case is designed for reliable protection and 100% safe-carrying of your AR 15. The package includes two internal compartments for Galati Gear pistols, folding rifles models AR-15 / M-16, SIG 556, Folding AK, MP5, FN PS90, and other models. The attached parts are separated by a soft pad, that will also protect the weapon from damage.
#13 VISM Discreet Carbine Case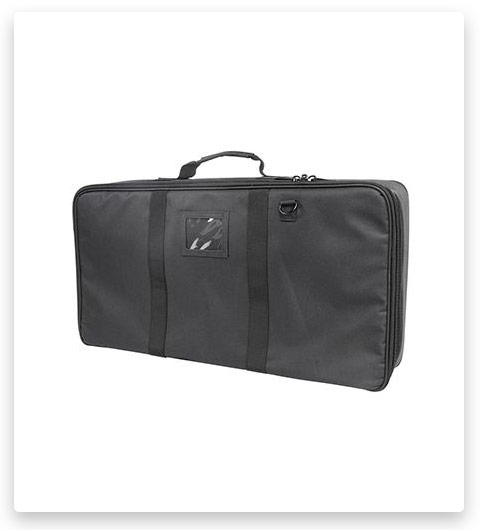 Even the heaviest rain is not a problem for your AR-15 as long as it is stored in the VISM Discreet case, – it completely protects the contents from moisture and dust penetration. The parameters of this model are designed for storing an AR-15 / M4 carbine with a 16-inch barrel. Carry your bag using short handles or a shoulder strap that fastens with D-rings.
#14 NcSTAR Vism Competition Range Bag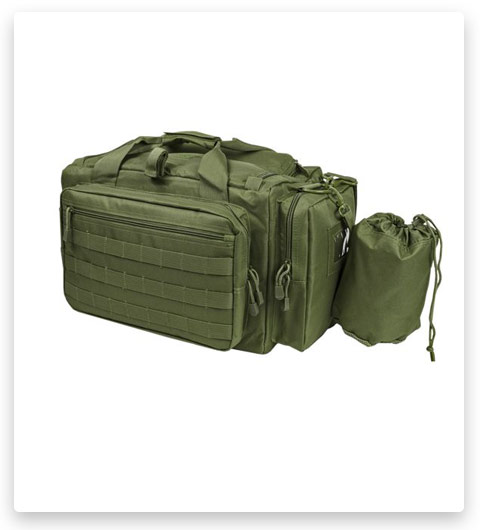 You have hardly ever seen a bag for storing firearms more spacious than this model. NcSTAR Vism Competition Range AR-15 Bag allows you to conveniently place everything you need: there are two pockets with holding straps for weapons with Velcro inside the bag. The compartments between the pockets are padded to protect the integrity of the weapon. Inside pockets, you can store at least 8 AR-15 magazines. Strong zip closes the bag securely. However, to increase protection, you can hang up a small padlock. In terms of design, there is a sticky area on the front of the bag that you can attach patches to. For easy portability, you can attach the shoulder strap, which is held firmly in place thanks to the metal D-rings.
#15 VISM AR15 & AK Carbine Pistol Case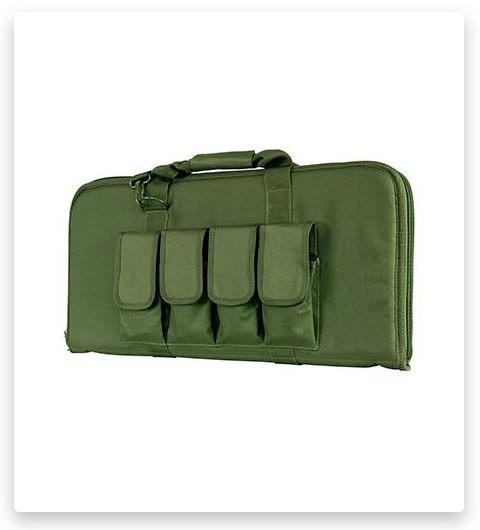 This VISM AR-15 Case is notable for 4 external pockets for storing additional weapon accessories or cartridges, which are closed with Velcro. Zippers in this model meet all expectations and are even closed with a metal lock. With a soft handle and an additional shoulder strap, carrying the bag will not be hard work for you.
BONUS: Fix It Sticks AR-15 Tool Kit with Soft Case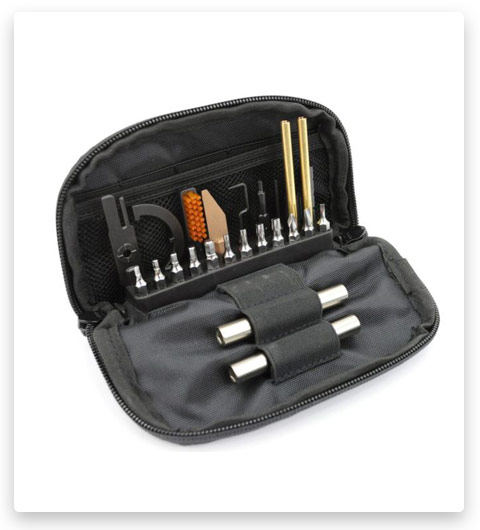 AR-15 requires proper care and timely maintenance. To do this, you should always have a set of necessary Fix-It Sticks AR-15 tools at hand. The kit includes a set of Fix-It sticks, Bolt Carrier Group scraper, metal punch, lock wrench, bronze scraper, steel pick, cleaning brush, A2 adjustment bit, 12 chrome-plated 1/4" bits, and a plastic punch that does not leaves scratches. Also, the kit includes sets of brass cleaning rods for 8-32 threaded nozzles and bit adapters for 8-32 threaded components (two adapters in total).
Conclusion
Any AR-15 needs proper care, maintenance, and transportation. Only under this condition, AR-15 can serve its owner as long as possible. One of the most important attributes that you shouldn't forget owning your AR is a special case, which allows you secure transportation and avoids undue attention. Such a case can protect your AR-15 from the negative effects of external factors – like dust, dirt, moisture, water, etc. We have reviewed the most affordable and high-quality AR-15 soft gun bags – the choice is yours!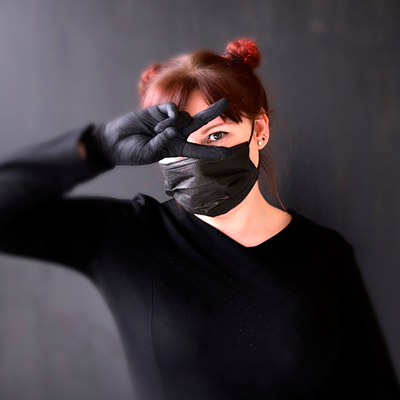 Ann Burwell
Mother, Extreme Lover, Author, and Outdoor Gear Expert
Nice to meet you, my name is Ann. What I can say about myself is that I am a supporter of a healthy lifestyle and enjoy spending my leisure time actively (most frequently outdoors). My hobby is camping, hiking, climbing mountains. And of course, I adore various survival and tactical gear, which is so necessary for a comfortable stay in extreme conditions. I am fortunate that my husband and family support me about this.
That is why it is important for me to find good items that will help me and my family have a good time without too much hassle. I like to look for stuff for myself or gifts for my loved ones. We also share the high-quality products we find with each other, and I think it is really important to transfer your opinion and knowledge, that is why I am pleased to share the useful information I find with other people. I'm so happy that my family helps me in this matter. We hope that someone really finds this helpful and interesting enough!
Read more
about our team
of expert authors.