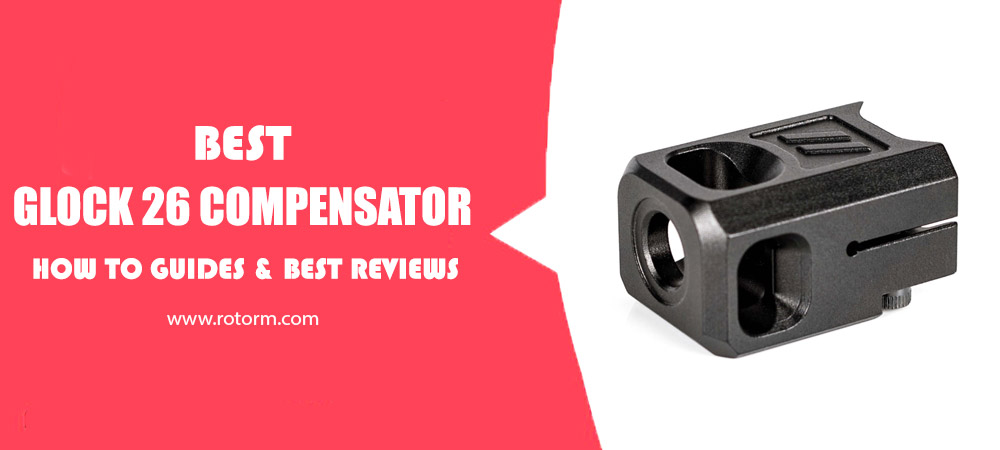 What is a Glock 26 compensator?🧐
It is a device attached to the muzzle (the front end) of a firearm to help reduce recoil and muzzle rise. It achieves this by redirecting some of the gases generated by the fired cartridge to counteract the upward movement of the firearm during firing.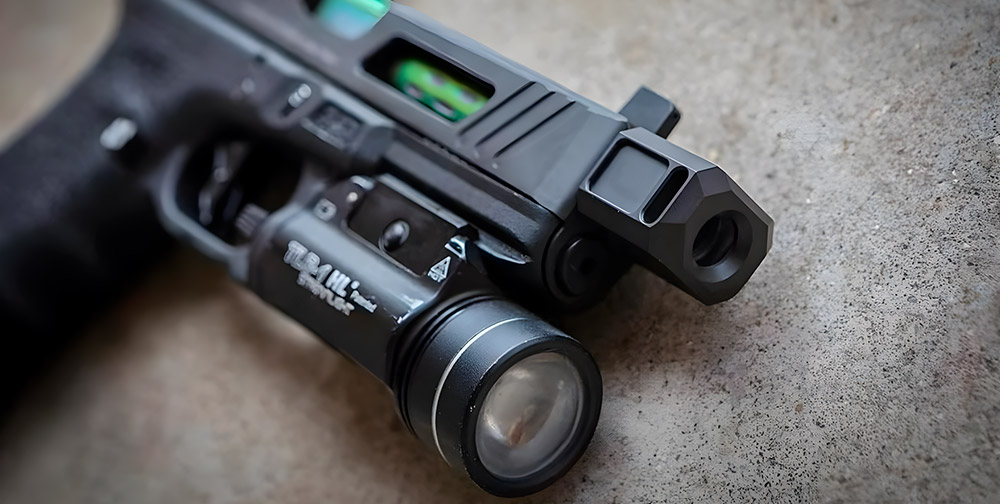 Features📚
A compensator for a Glock 26, or any other firearm, is a muzzle device that can help improve shooting performance and make it easier to control, especially when firing rapidly. Here are some common features:
✅ Compensators work by redirecting some of the high-pressure gases generated during firing to counteract the recoil of the pistol. This results in less felt recoil, making it easier to stay on target and recover quickly between shots.
✅ One of the primary advantages is its ability to reduce muzzle rise. When the gun fires, the compensator directs gases upward, which helps keep the front of the pistol down, allowing for faster follow-up shots and improved accuracy.
✅ A compensator can enhance the shooter's overall control of the Glock 26, especially during rapid or multiple shots. This is particularly useful for competitive shooting or defensive scenarios where quick and accurate follow-up shots are crucial.
Our Top Pick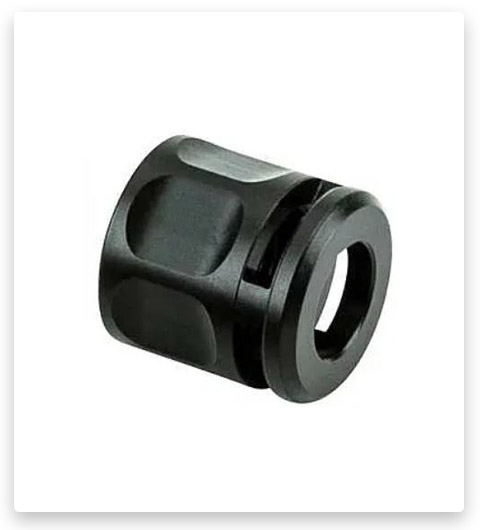 Griffin Armament Micro Carry Comp
It was designed with concealed carry enthusiasts in mind, aiming to enhance recoil control and muzzle management without adding excessive bulk or weight. It's a compact solution that extends just a bit beyond a standard thread protector, making it inconspicuous and practical. This innovative compensator features a unique design with precise 17-4 stainless steel porting that effectively redirects gas and minimizes recoil. This reduction in recoil translates to faster follow-up shots and tighter shot groupings, improving overall shooting performance. What's particularly impressive is that this comp achieves all of this without significantly altering the firearm's dimensions or adding unnecessary weight. It's a practical addition that won't compromise your concealed carry setup or burden you with extra heft.
Buy Now On OpticsPlanet
If you click this link and make a purchase, we earn a commission at no additional cost to you.
Benefits💣
Installing a compensator on a Glock 26 can offer several benefits, especially for those who want to improve their shooting performance or customize their firearm. Here are some of the key advantages:
💥 Improved Accuracy: With reduced recoil and muzzle rise, shooters can maintain a more stable and consistent sight picture. This can lead to improved accuracy, making it easier to place shots precisely where they are intended.
💥 Customization: Compensators come in various styles, finishes, and designs. Adding one to your Glock 26 can provide a personalized and unique look to your firearm.
💥 Tactical Advantage: In self-defense situations, a compensator can help you maintain control of your Glock 26, allowing for quicker and more accurate follow-up shots if needed.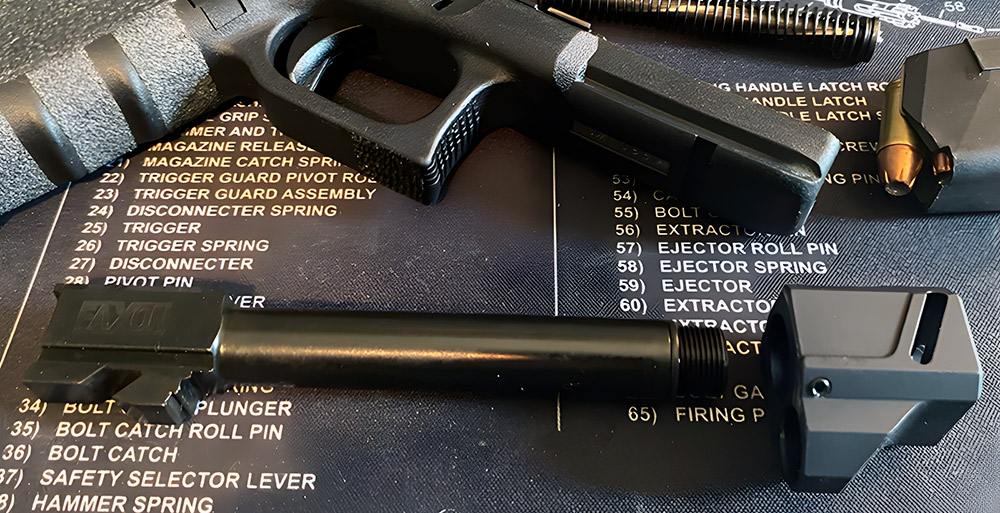 Do pistol comps work?💡
😉 Yes, pistol compensators, often referred to as "comps", can be effective at reducing recoil and muzzle rise in handguns. They work by redirecting some of the high-pressure gases generated when a round is fired to counteract the upward movement of the pistol's muzzle. Here's how they work and their effectiveness:
🎯 When a bullet is fired, hot gases rapidly exit the barrel. A compensator is designed with specially shaped ports or channels that

divert a portion of these gases upward

. This upward force counters the natural tendency of the handgun to rise during recoil.
🎯 By reducing the rearward recoil force and redirecting gases upward, a compensator can

make the handgun more controllable

. Shooters often experience less perceived recoil and muzzle flip, allowing them to stay on target more easily.
🎯 Improved control over the pistol's muzzle can lead to faster and

more accurate follow-up shots

, which is particularly valuable in competitive shooting and self-defense situations.
🎯 The reduced muzzle flip and better control provided by a compensator can

lead to improved accuracy

. Shooters can maintain a consistent sight picture and target alignment, resulting in more precise shot placement.
Best Glock 26 Compensator Reviews
1# ZEV Technologies PRO Glock V2 Compensator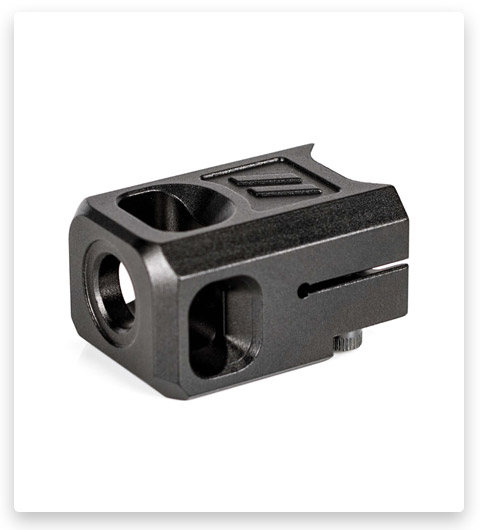 View on OpticsPlanet View on Brownells
If you're serious about marksmanship and want to take your shooting skills to the next level, then you need the ZEV Technologies PRO Glock V2 Compensator. Based on our experience this top-of-the-line compensator is designed to greatly reduce recoil and muzzle rise, keeping your shots on target with every pull of the trigger. The contoured porting, enlarged guide rod channel, and secure mounting system make this compensator a step up from previous generations, and it's optimized for high performance on the G19 model. But regardless of which 9mm Glock model you have, this compensator will provide a significant improvement in accuracy. So don't settle for anything less than the best – get this comp and take your shooting to a whole new level.
2# Primary Machine Glock 9mm Stealth Compensator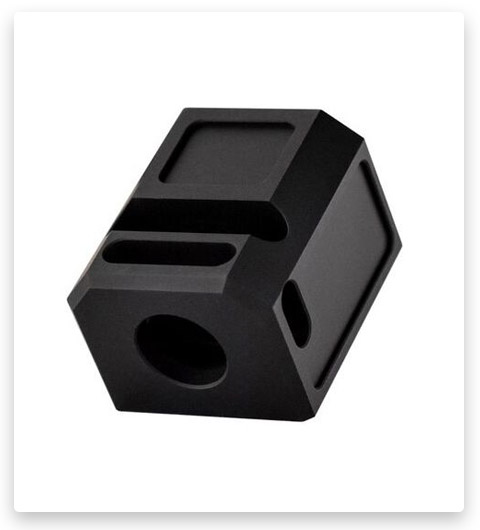 View on OpticsPlanet View on Brownells
The Primary Machine Glock 9mm Stealth Compensator is a high-quality muzzle brake and compensator that is designed to provide you with years of reliable performance. This product is made using only the best materials and craftsmanship, so you can be sure that it will last for a long time. Additionally, this compensator is easy to install and use, making it a great choice for nearly any shooter. Don't miss the opportunity to get an excellent performance – order it just now!
3# Griffin Armament Micro Carry Comp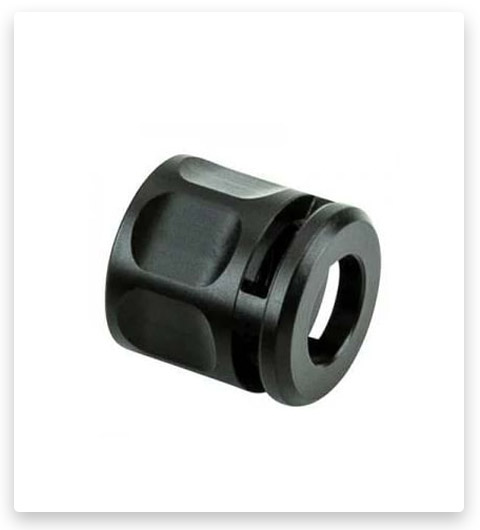 View on OpticsPlanet View on Brownells
At Griffin Armament, we know that your carry piece is important to you. You need a product that is going to add value and performance without adding unnecessary weight or bulk. That's why we designed the Micro Carry Comp (MC). Our research has shown that this patent pending design is only a few tenths of an inch longer than a typical thread protector, but it packs a punch with its close-dimensioned 17-4SS ported baffle face. It significantly reduces recoil, increases split times between shots, and decreases group sizes. Its minimal size and weight make it ideal for concealed carry, and its wrench flats provide an easy gripping surface for torquing the device into place. So don't wait any longer, pick up such comp today!
4# Arms Republic Pistol Compensator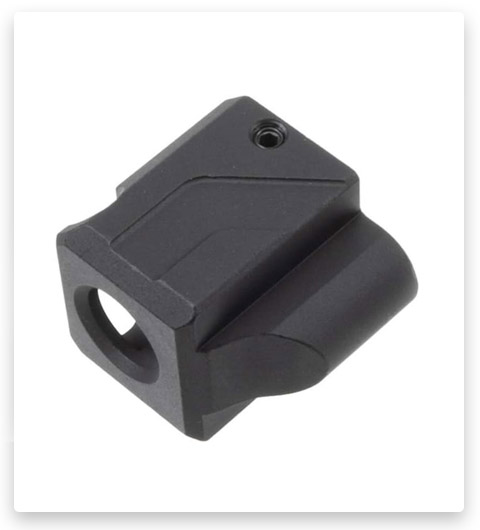 The Arms Republic Pistol Compensator is a great option for someone looking for a top-quality compensator that doesn't have side ports. This product is perfect for use on something like a Flux Raider and comes with everything needed to mount it. It is made from high-quality 6061 T6 aluminum and has a sleek, anodized finish. This product also has 1/2×28 threads per inch and a weight of only 0.25 ounces. The contoured lines on this compensator perfectly match Glock's slide design. This quality-made pistol compensator is an awesome choice for your needs!
5#  Trybe Defense Universal Single Port 9mm Compensator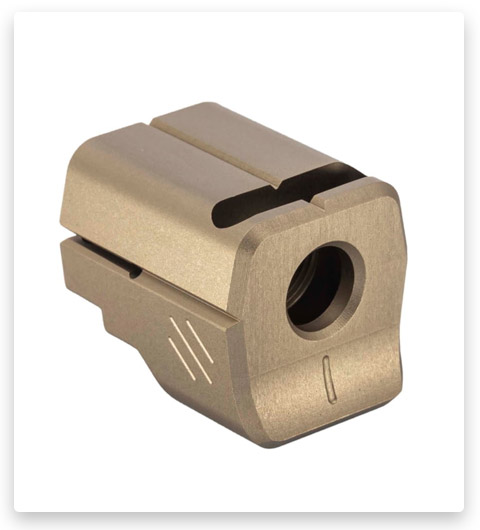 The Trybe Defense Universal Single Port 9mm Compensator is a must-have for any gun enthusiast. This compensator dramatically reduces muzzle rise and sensed recoil, allowing for lightning-fast target re-acquisition. Based on our observations requiring zero modification to your 9mm firearm and compatible with almost any grain of ammunition, it maintains a minimal profile to aid against printing for concealed carriers while also greatly improving your accuracy in the field. Compact and full-sized models weighing in between 0.70oz. – 1.00oz., boasting an ultra-sleek profile, and built from durable and long-lasting 7075 aluminum fits beautifully on any brand of 9mm firearm that you choose to optimize!
What mounting techniques are for you?🛠️
💡 The choice of a mounting technique for your handgun largely depends on your specific firearm, preferences, intended use, and local regulations. There are several common methods for mounting compensators to handguns:
| | |
| --- | --- |
| 📢 Threaded Barrel: | Many compensators are designed to be mounted on a threaded barrel. This is a popular method and is commonly used on handguns equipped with threaded barrels. To use this method, you'll need a threaded barrel that matches the threading of the compensator. Simply screw the compensator onto the threaded barrel, and it's ready to use. |
| 📢 Dovetail Mounting: | Some compensators are designed to fit into a dovetail or similar slot on the handgun's frame or slide. This method doesn't require a threaded barrel but may necessitate a modification to your handgun's slide. It's essential to have a gunsmith or a knowledgeable individual install to ensure proper fit and alignment. |
| 📢 Clamp-On Compensators:  | Clamp-on compensators are designed to attach directly to the front of the barrel, usually without requiring any permanent modifications. They use screws or clamps to secure the compensator in place. This method is relatively easy to install and remove and is less likely to affect your firearm's resale value. |
| 📢 Integral Compensators: | Some handguns come with integral compensators, meaning the compensator is built directly into the barrel or slide. This design provides a sleek and integrated appearance but may limit your customization options. Integral compensators are usually found on specialized competition or custom-built firearms. |
| 📢 Frame-Mounted Compensators:  | In some cases, compensators can be mounted to the frame or lower receiver of the handgun. These are less common and may require specific frame modifications. Frame-mounted compensators can offer excellent performance but are generally reserved for competition or custom-built firearms. |
😎 Ultimately, the right mounting technique for you will depend on your specific circumstances and preferences. If you're unsure or have any doubts, it's advisable to consult with a qualified gunsmith or firearm expert to ensure safe and proper installation.
FAQ
Conclusion😉
When it comes to Glock 26 compensators, there are a lot of choices on the market. In this article, we've tried to provide an overview of the different types of compensators available and some of the pros and cons of each type. We hope that this information will help you make an informed decision when purchasing your compensator. Good luck!🤠👍
Affiliate Disclosure: Rotorm.com sometimes gets paid for listings, through sponsors or affiliate programs like Amazon, Optics Planet, Lucky Gunner, Brownells, Cabelas, Rainier Arms, 5.11 Tactical, Bass Pro Shop, etс. Clicking a link helps keep Rotorm.com free, at no extra cost to you!
About the author: Each article on our site is written by experts in survival and tactical equipment, gun enthusiasts, extreme travelers, military, law enforcement and desperate professionals, read about the author at the bottom of the article or visit "About Us" page.
Note: The views and opinions expressed in this article are those of the authors and do not necessarily reflect the official policy or position of any agency.