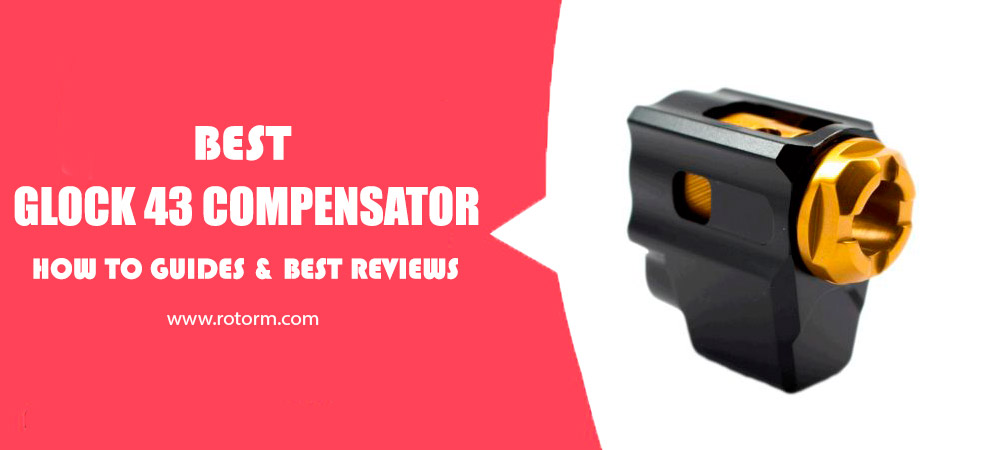 What is a Glock 43 compensator?🤔
It is an aftermarket accessory designed to reduce recoil and muzzle rise when firing the Glock 43 pistol. A compensator typically attaches to the muzzle of the pistol and redirects some of the escaping gases upward, which helps counteract the muzzle rise and recoil, allowing for faster and more accurate follow-up shots.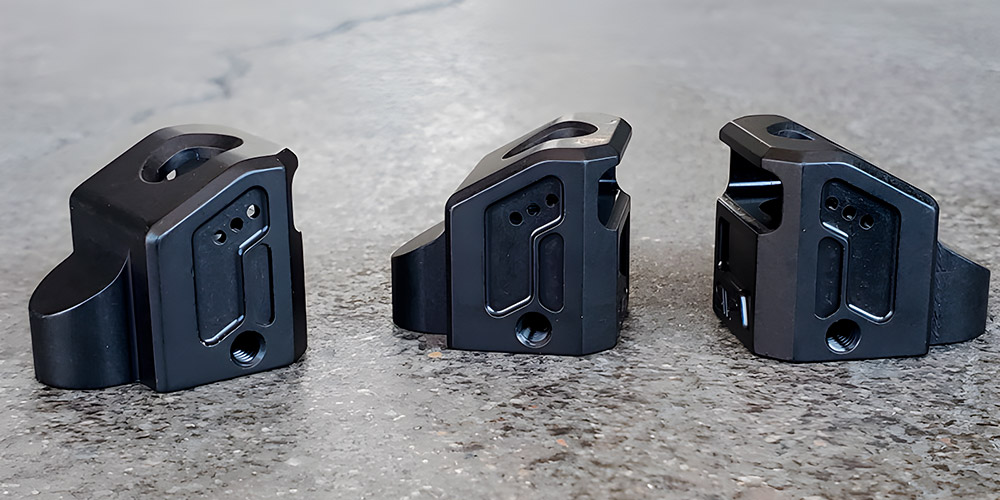 Features📚
The features of a compensator for Glock 43 can vary depending on the specific make and model. However, here are some common ones:
✳️ Muzzle Rise Reduction: The primary function of this device is to reduce muzzle rise, making it easier to control recoil and stay on target for faster follow-up shots.
✳️ Material: Compensators can be made from various materials, including aluminum, steel, or polymer. Materials can affect weight, durability, and performance.
✳️ Weight: They can add weight to the front of the pistol, which can help reduce recoil further. However, excessive weight may affect the balance and handling of the gun.
✳️ Venting/Porting: Many models have specific venting or porting patterns to direct escaping gases in a way that counteracts recoil. The design of these ports can vary.
✳️ Finish: The finish of the compensator can vary, including options like matte, polished, or coated finishes for durability and aesthetics.
Our Top Pick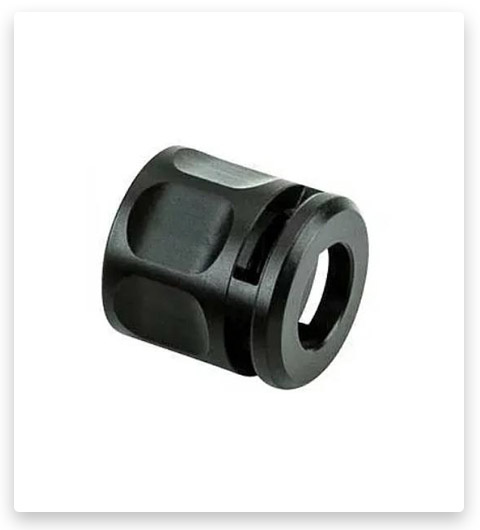 Griffin Armament Micro Carry Comp
Its innovative design, covered by a patent, features a compact 17-4 stainless steel ported baffle face that directs gas effectively. By significantly reducing recoil, this little device not only speeds up your shot-to-shot timing but also tightens your shot groupings. It does all of this while maintaining a minimal size and weight, ensuring that it won't create any noticeable bulges or weigh you down when carrying concealed. By adding it to your setup, you're investing in your defense. It's a reminder to stay vigilant, stay safe, and remember that accuracy matters above all else.
Buy Now On OpticsPlanet
If you click this link and make a purchase, we earn a commission at no additional cost to you.
Benefits🔥
A compensator for Glock 43 can offer several benefits to the shooter, enhancing their overall shooting experience and improving their performance. Here are some of the potential advantages:
🟣 By mitigating recoil and muzzle flip, it helps the shooter maintain better control over the firearm, leading to more accurate and consistent shooting.
🟣 Reduced recoil and muzzle rise mean that you can get back on target more quickly after each shot. This is particularly beneficial in competitive shooting sports and self-defense situations where rapid, accurate shooting is crucial.
🟣 Such compensator can contribute to improved accuracy by minimizing the movement of the pistol during and after each shot, leading to tighter shot groups.
🟣 While the primary purpose is to improve shooting performance, some shooters suggest that it may help reduce wear and tear on the firearm over time by mitigating recoil forces.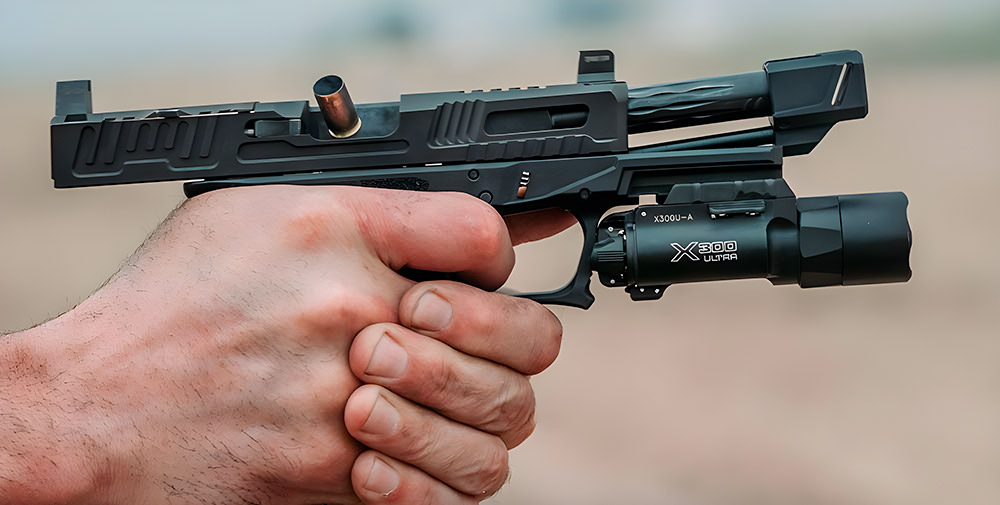 Does it work on a pistol?📢
Compensators on pistols can be effective at reducing recoil and muzzle rise, but the extent to which they work depends on several factors, including the design of the compensator, the caliber of the ammunition being used, and the shooter's skill level. Here's a breakdown of their effectiveness:
☑️ These devices are designed to redirect some of the gases produced when a firearm is fired. By directing these gases upward, compensators counteract the natural tendency of the pistol's muzzle to rise during recoil. This results in reduced muzzle rise, making it easier for the shooter to maintain target alignment and get back on target quickly for follow-up shots.
☑️ While comps are primarily intended to reduce muzzle rise, they can also have a secondary effect of reducing felt recoil. The redirected gases exert a downward force on the pistol, helping to counteract the backward recoil forces. This can make shooting more comfortable and allow for faster and more accurate follow-up shots.
📌 However, the degree of effectiveness depends on various factors, including the compensator's design, ammunition used, shooter skill, and firearm characteristics. Shooters should carefully consider their specific needs and preferences when deciding whether to use a compensator and which one to choose.
Best Glock 43 Compensator Review
1# Tyrant Designs T-Comp Glock 43/43x/48 Compensator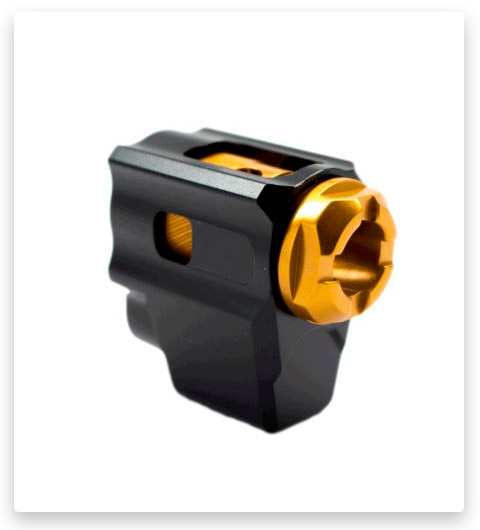 View on OpticsPlanet
Searching for a way to improve your target acquisition and reduce muzzle rise on your Glock 43? Look no further than the Tyrant Designs T-Comp compensator! This innovative two-piece design installs quickly and securely in seconds, without the need for set screws or any other attachment methods. The T-Comp compensator works with all Glock 43 models, including the 43x, and is compatible with all 1/2-28 threaded barrels. It also functions with almost any grain ammunition. So whether you want to improve your shooting performance or just want to add a little extra style to your gun, this compensator is the way to go!
2# Griffin Armament Micro Carry Comp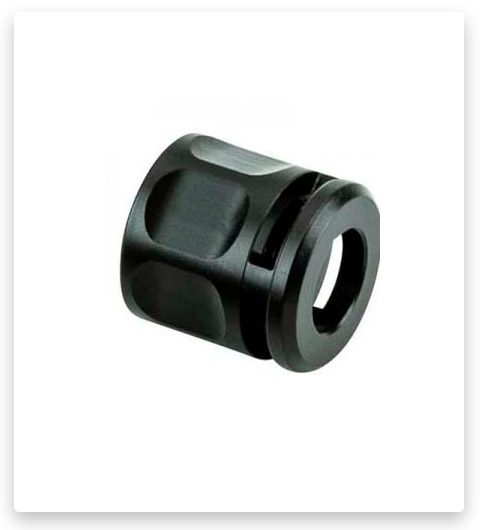 View on OpticsPlanet
Are you interested in a little extra power for your 9mm subcompact handgun? If so, consider Griffin Armament's Micro Carry Comp 1/2×28. Using this product, our team found that this handy little accessory is made from 17-4 stainless steel and is compatible with popular models like the G43 G42 Sig P938 and P365 threaded barrels. It's also got a black nitride finish that resists surface wear and corrosion, and it provides increased surface hardness. Plus, it decreases recoil, increases muzzle control, and provides fast follow-up shots! So why wait? Get your comp today!
3# Agency Arms 417C Glock 43 Compensator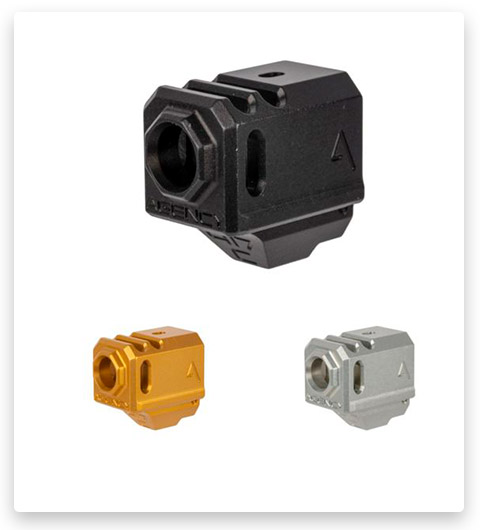 View on OpticsPlanet View on Brownells
The Agency Arms 417C Glock 43 Compensator is a great way to improve the performance of your G43. It features a dual chamber design that helps to reduce muzzle rise and felt recoil, making it a great option for competitive shooters or anyone who wants to get the most out of their G43. The compensator is machined from 7075 aluminum and is MIL-A-8625 Type 3 hard anodized, so you can be confident in its durability and longevity. It's designed to work with threaded barrels with 1/2×28 thread pitch and an overall barrel protrusion of 0.695″ +/- 0.005″ for optimal fitment and comes with a front sight hole that allows you to transfer your existing front sight from your slide to the compensator. Please note that the compensator may require tuning of the Recoil System. It's designed to work with most factory-loaded ammunition but will yield the best results with heaver-charged ammunition.
4# Agency Arms 417 Single Port Barrel Compensator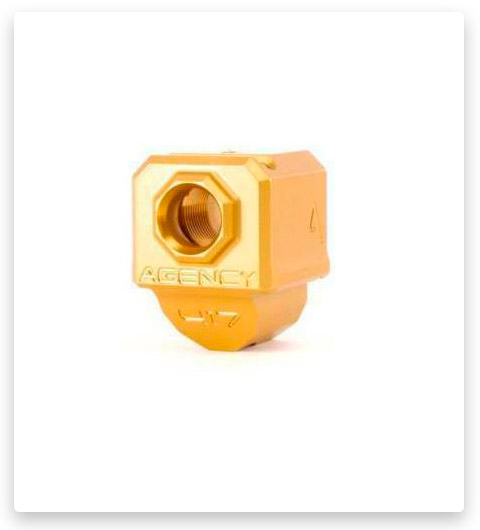 The Agency Arms 417 Single Port Barrel Compensator is a must-have for any Glock 43 owner. Our research has shown that this high-quality compensator features a single chamber design with a single vertical venting port, making it extremely effective at reducing muzzle rise and felt recoil. It's machined from 7075 aluminum for durability and is MIL-A-8625 Type 3 hard anodized for corrosion resistance. The 417C is also designed to work with most factory-loaded ammunition but will provide the best results when used with heaver-charged ammunition. For optimal fitment, the compensator requires a threaded barrel with 1/2×28 thread pitch and an overall barrel protrusion of 0.695in +/- 0.005in.
5# Arc Division Sparc V2 Pistol Compensator

View on OpticsPlanet
Who says you can't have it all? The Sparc V2 Pistol Compensator from Arc Division gives you the perfect blend of style and function. This bad boy is machined from high-quality aluminum and features a unique square back design with double top ports. It's the perfect way to add a little attitude to your pistol while also improving performance. Plus, it comes with everything you need for easy installation, including a thread locker, set screws, and an Allen key. So don't wait any longer, pick up a Sparc V2 today!
6# Arc Division Sparc V1 Pistol Compensator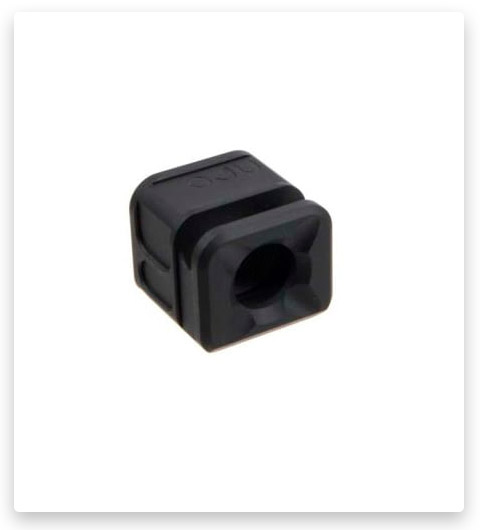 The Arc Sparc is the first of the Arc Division line of compensators for handguns. The Sparc will help you shoot flatter and faster in all situations. As a result of using this product, we found that it is made from high-quality 7075 Aluminum and is available in the standard 1/228 and 13.5×1 LH for Glock factory threaded barrels and 9/16×24 for .40Cal. The Sparc is a great choice for anyone searching for a compensator that will help them shoot flatter and faster. Don't wait – order it just now!
Ported barrel vs Thread-on compensator
Both ported barrels and thread-on compensators are designed to reduce recoil and muzzle rise, but they achieve this goal through different mechanisms, and their effectiveness can vary. Here's a comparison of the two in terms of shooting characteristics:
🟦 Ported Barrel:
🟦 Thread-On Compensator:

🧩 How it Works: It has holes or vents cut into the top of the barrel near the muzzle. When the firearm is fired, some of the high-pressure gases are vented upward through these ports, exerting a downward force on the barrel, which counteracts muzzle rise and reduces recoil.

🧩 Recoil Reduction: These barrels can effectively reduce recoil and muzzle rise to a certain extent. The recoil reduction tends to be more noticeable with smaller calibers and lower-pressure rounds.

🧩 Soft Shooting: They can make a handgun feel softer to shoot because they reduce both recoil and muzzle flip. This can lead to improved accuracy and faster follow-up shots.

🧩 Permanent Modification: Ported barrels are typically integrated into the firearm and cannot be easily removed or changed.

🧩 How it Works: It is an aftermarket accessory that attaches to the threaded muzzle of the barrel. It redirects gases in various directions, typically upward, to counteract muzzle rise and reduce recoil.

🧩 Recoil Reduction: Such compensators are designed specifically to reduce recoil and muzzle rise. They can be very effective when properly designed.

🧩 Soft Shooting: Compensators, when well-designed and tuned, can make a handgun shoot very flat and soft. They are often used in competitive shooting sports for this reason.

🧩 Removable and Exchangeable: They can be removed and changed easily, allowing shooters to use different compensator designs or revert to a standard muzzle configuration when desired.
➡️ Which one shoots flatter or softer: In general, a well-designed thread-on compensator is likely to provide more significant recoil reduction and a flatter shooting experience compared to a ported barrel. Thread-on compensators are designed with the specific purpose of reducing recoil and muzzle rise, and they can be fine-tuned for optimal performance. This makes them a popular choice for competitive shooters and those searching for the softest shooting experience.
FAQ🤓
Conclusion😊
Glock 43 compensators are a great way to improve your accuracy and control while shooting. In this article, we've outlined some of the best ones for Glock 43 on the market today. Whether you're a first-time shooter or an experienced marksman, these tips will help you find the perfect device for your needs. Good shopping!🛒😉
Affiliate Disclosure: Rotorm.com sometimes gets paid for listings, through sponsors or affiliate programs like Amazon, Optics Planet, Lucky Gunner, Brownells, Cabelas, Rainier Arms, 5.11 Tactical, Bass Pro Shop, etс. Clicking a link helps keep Rotorm.com free, at no extra cost to you!
About the author: Each article on our site is written by experts in survival and tactical equipment, gun enthusiasts, extreme travelers, military, law enforcement and desperate professionals, read about the author at the bottom of the article or visit "About Us" page.
Note: The views and opinions expressed in this article are those of the authors and do not necessarily reflect the official policy or position of any agency.