Affiliate Disclosure: Rotorm.com sometimes gets paid for listings, through sponsors or affiliate programs like Amazon, Optics Planet, Lucky Gunner, Brownells, Cabelas, Rainier Arms, 5.11 Tactical, Bass Pro Shop, etс. Clicking a link helps keep Rotorm.com free, at no extra cost to you!
About the author: Each article on our site is written by experts in survival and tactical equipment, gun enthusiasts, extreme travelers, military, law enforcement and desperate professionals, read about the author at the bottom of the article or visit "About Us" page.
Note: The views and opinions expressed in this article are those of the authors and do not necessarily reflect the official policy or position of any agency.
If you are not obsessed with the stock sights and scopes on the heavy barreled rifles, or you find shooting from such firearms dull, you should try classic battle sights, someone combines it with a bull barrel adapter.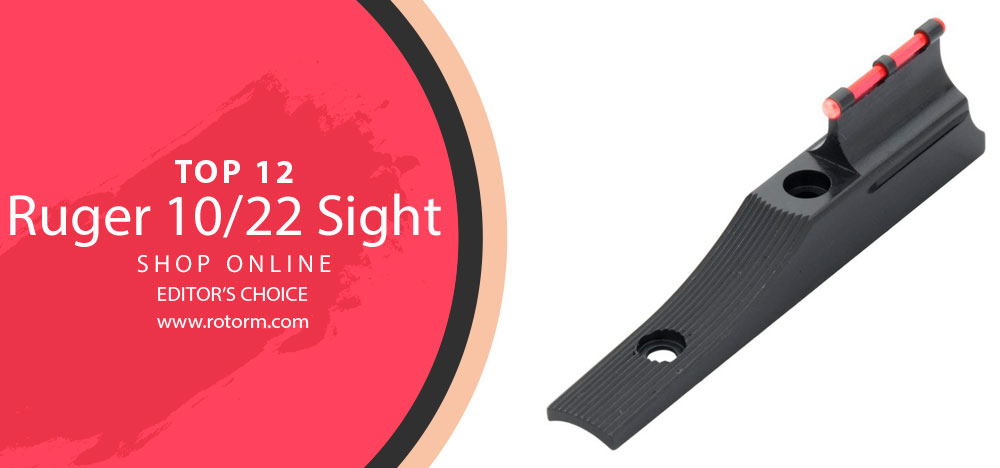 The clear sight images will allow you to improve accuracy results.
Why do we need a Ruger 10/22 sight?
Among firearms accessories sighting systems occupy important places. Due to reliable sights, grouping can be reduced by half (from 25 to 100 meters), it always returns to zero after takedown. Ruger sight was designed to replace the standard rifle beads to provide faster target acquisition and higher visibility.
Ruger 10/22 Sights Review| Best Ruger 10/22 Sight
| Image | Product | Brand | |
| --- | --- | --- | --- |
| | Williams Gun Sight Ace In The Hole For Ruger 10/22 | Williams | |
| | Ruger 10/22 Fiber Optic Front/Rear Sight | Ruger | |
| | Williams Gun Sight Ruger 10/22 WGRS Fire Sight | Williams | |
| | Ruger LaserMax Laser Sight for Ruger 10/22 | Ruger | |
| | Nodak Spud LLC RUGER 10/22 Adjustable Front Sight | Nodak Spud LLC | |
| | Hiviz Litewave Sight for Ruger 10/22 | Hiviz | |
| | TruGlo Ruger 10/22 Rifle Sight | TruGlo | |
| | Tandemkross Shadow Sight Mount Ruger 10/22 | Tandemkross | |
| | Ruger 10/22 Standard Open Rear Sight | Ruger | |
| | KNS Precision Ruger 10/22 .425 Iron Gun Sights | KNS Precision | |
| | XS Sight Systems - Ruger Mini-30 Rear Sight | XS Sight Systems | |
| | Tech Sights - Ruger 10/22 TSR200 | Tech | |
| | | | |
#1 Williams Ruger 10/22 Sights (Ace In The Hole)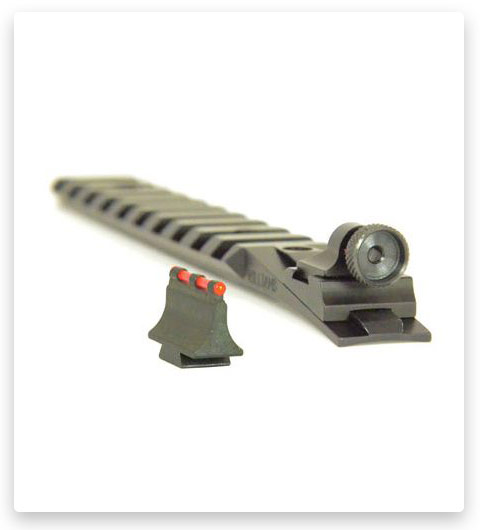 Williams Gun is specialized on different rifle parts. The Ace In The Hole sight is designed to operate on the Ruger 10/22 takedown. The Williams sight is manufactured of CNC machined high-grade aluminum, covered with a standard black finish. This sight consists of a Picatinny scope rail that can be used as an integral back-up aperture sight.
#2 Ruger 10/22 Fiber Optic Front/Rear Sight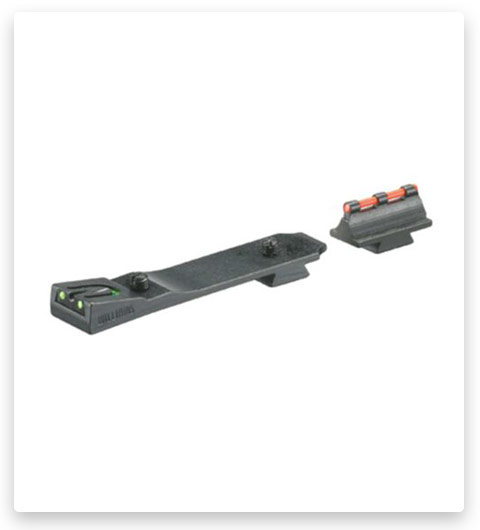 Front and rear sight, compatible with Caliber.22LR is more efficient than factory iron sights, but they cannot replace peep style sights. This Fiber Optic Sight is suitable for fast sight acquisition, close range, but not for accurate shooting without modification. The rear sight does not extend over the rifle connection point, it is shorter mostly than rear sights with other similar designs. The rear sight is equipped with dovetailed, mounted by a set screw. Windage should be adjusted by loosening and moving the sight. Elevation is regulated as well by the screw, which needs to be driven into the barrel and pushes the sight up or down. The ambient light is collected and projected by bright three-dot sights. Rear green dots are brighter and easier to see than a front red dot, but still, it is more visible than standard brass dot front sight, coming on standard 10/22 rifles.
#3 Williams Gun Sight Ruger 10/22 WGRS Fire Sights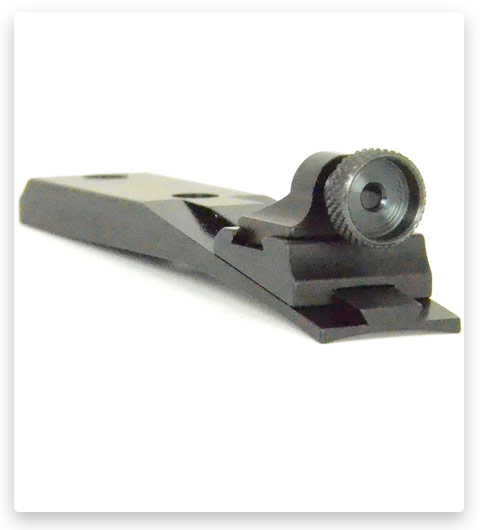 The Williams sight set with a good-visible red fiber optic is very accurate with the rear peep sight. The Front Sight Color is red and Rear Sight Color is black. The peep sight is made from a strong aluminum alloy, and installed with existing screws on the receiver top or dovetail is used. After installing the rear sight, it is necessary to secure the screws with lock tight. After zero, the position of elevation and windage should be noted, and secure each position with lock tight. This sight set fits Ruger 10/22, 1400 Slug Hunter, Slug Hunter, Winchester 1300.
#4 Ruger LaserMax Laser Sight for Ruger 10/22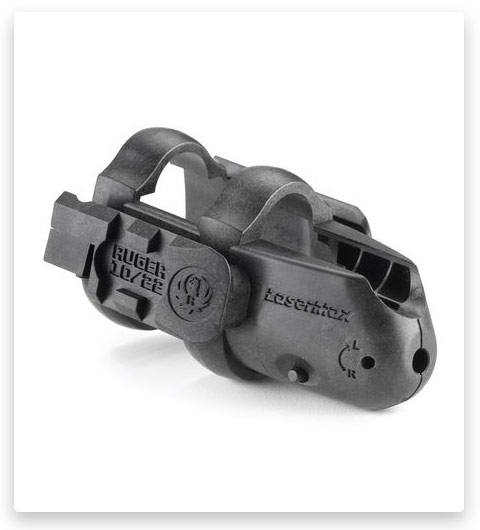 LaserMax developed Laser Sight to flawlessly integrate on the Ruger 10/22 to enhance shooting precision, regardless of the shooter's skill level. The Laser Weapon Sight should be mounted on a Ruger 10/22 takedown by swapping out the present barrel band. The Ruger Sight with five laser outputs has red beam color. This sight is coated with a black finish, equipped with two built-in Picatinny rails for other accessories, and comes with a battery. Choosing shooting distance (out to 100 yards), mind the light conditions, which can influence the accuracy results.
#5 Nodak Spud LLC RUGER 10/22 Adjustable Front Sight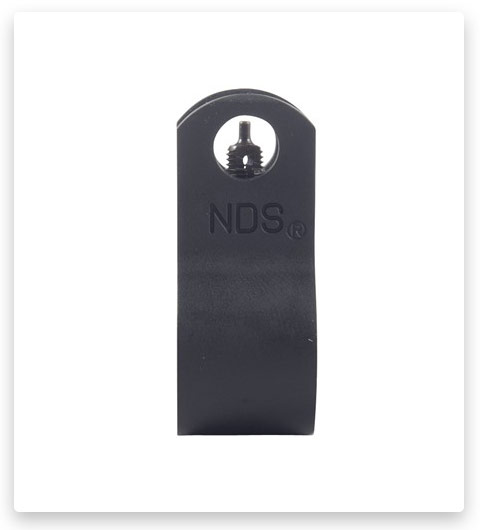 Nodak spud sight operates with standard 10/22 barrels, allowing them to have almost identical sight images to military-type rifles one (the AR-15/M16). The Nodak designed the front sight to ensure quick laser bore sight and alignment spot-on, without moving on the barrel. Leveling the rifle and the front sight is quick to the top dead center. Under the instructions, two mounting screws should not over-torque, as their polymer tips could be crushed (10 inch-pounds is enough). These sights are used with Ruger 10/22 Rear Sight with Rail; with SKS post, mounted with two 10-32 nylon, tipped set screws. The aluminum sights can be put on a variety of receivers. The elevation adjustment needs a SKS/AK-style sight setting tool.
#6 Hiviz LITEWAVE  Sight for Ruger 10/22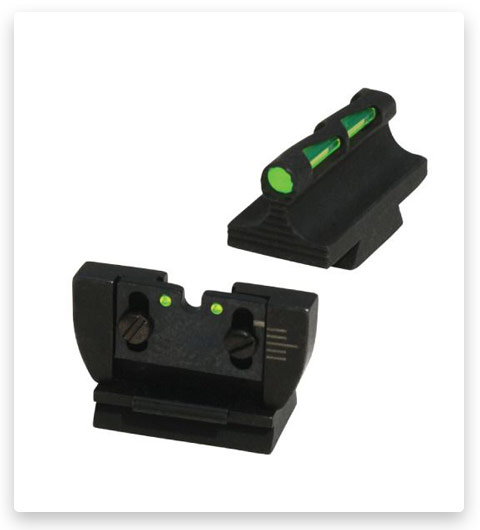 View on BassPro View on Cabelas View on Optics Planet
Hiviz sights are crafted from an advanced, diagonal-wave exoskeleton carbon steel frame to protect the Litepipe from damage, providing light gathering from all angles. The Hiviz designed a bright 3-point sight system to improve the sight acquisition on Ruger 10/22 in daylight, and even in dim light. There are 3 interchangeable LitePipes: red, green, and white, coming with a changing key for Front and Rear Sights. The rear sight elevation adjusts in green. The interchangeable front sight with six .080 diameter LitePipes regulates in various colors. LITEWAVE Front and Rear Sight fits standard rifles Ruger 10/22 with 18.5″ barrel, carbine, and takedown models.
#7 TruGlo Ruger 10/22 Rifle Sight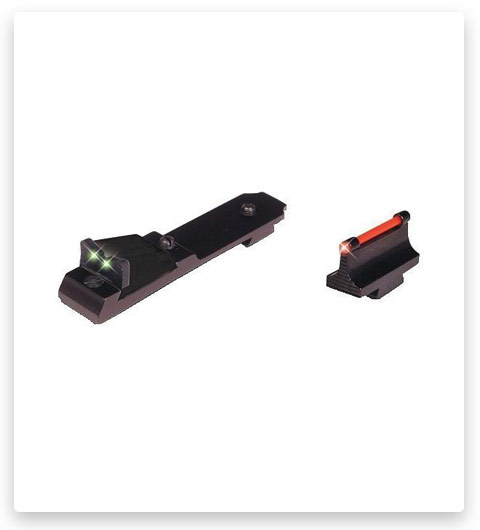 Fiber Optic Sights, with better aiming pictures, are designed by TruGlo to place on the Ruger 10/22 instead of the existing factory ones. If you have a take-down model, this Ruger sight will not fit properly, as it is suitable for the dovetail slot, but it can cover the barrel lug and interfere with the gun takedown. The CNC machined double Sight with .060″ front and .035″ rear diameters has red and green colors correspondingly to deliver fast target acquisition, which is suitable for plinking and hunting.
#8 Tandemkross Shadow Sight Mount Ruger 10/22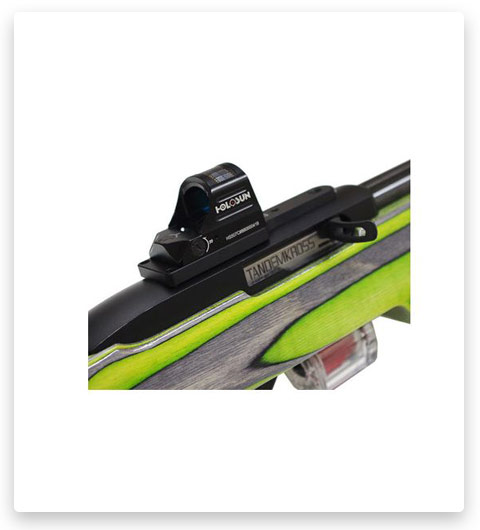 This Shadow sight mount is equipped with all needed hardware such as dowel pins, gaskets, and screws. Having a unique screw pattern, it mounts easily on the 10/22 rifle in any position rear or front. Due to the upgraded design, this mount can fit many optics and place directly to the 10/22 receiver without a clamp and Picatinny base. The manufacturer recommended before choosing the mount, check with your optics compatibility in the chart.
#9 Ruger 10/22 Standard Open Rear Sight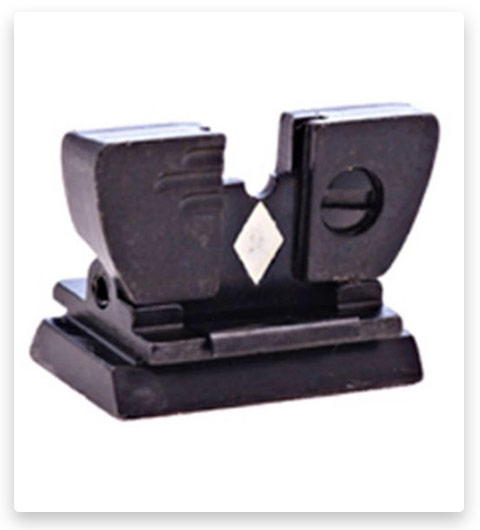 This rear sight is designed for Ruger 10/22 rifles and comes with two screws on the front. After installing the sight by drifting it into the dovetail, it is needed to check if it is centered (how it shoots: to the left or right of the aimpoint). Having an error, drift the sight in the dovetail to center it. To adjust elevation, it's necessary to loosen two tiny slotted screws on either side of the white diamond and regulate up or down for the needed distance to sight in at.
#10 KNS Precision Ruger 10/22 .425 Iron Gun Sights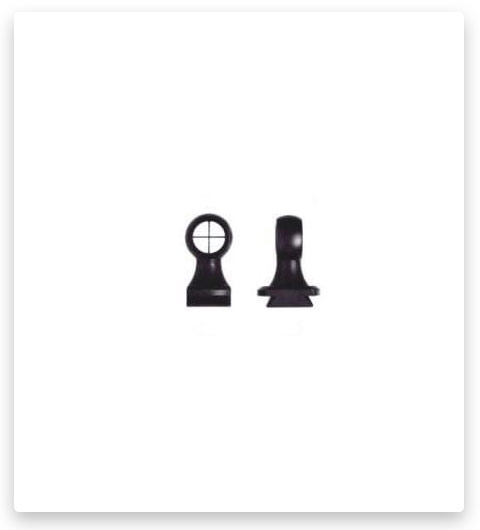 KNS offers 6 models of Gun Sights with Standard or Duplex Crosshair, and 3 available sizes 0.425, 0.525, 0.625. Ruger 10/22 Gun Sights are manufactured from heat-treated iron by using durable and effective components. This Precision Sights have a .240 aperture body style for standard crosshair type (with .010 diameter size).
#11 XS Sight Systems – Ruger Mini-30 Rear Sight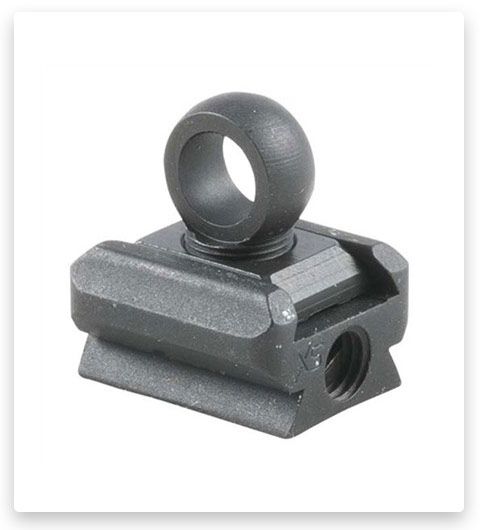 XS SIGHT SYSTEMS developed open aperture sights with high accuracy and sighting speed. The Mini-30 Rear Sight is constructed from steel, fully machined with a black finish. This Ghost Ring sight is easily mounted, utilizing the rear scope base holes on many popular rifles, and regulated with dual set screws.
#12 Tech Sights – Ruger 10/22 TSR200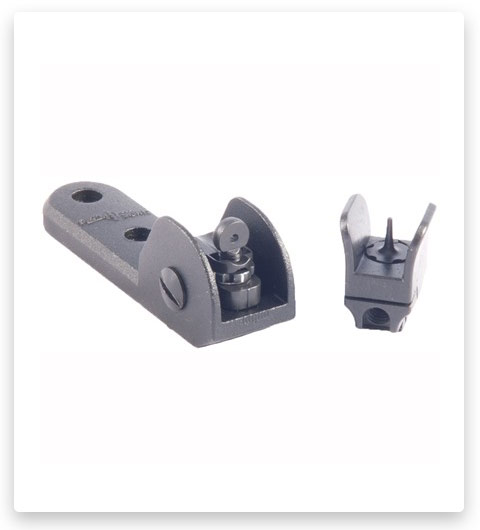 These GI-STYLE Sights become a great improvement over the factory buckhorn sights on the 10/22 rifles. The sight allows to zero the rifle easier and faster than with the factory Ruger sights. TECH SIGHTS declares that exchange sight sets deliver a longer sight radius to enhance accuracy with a similar sight picture as an AR-15/M16 sight. Rear sights can be installed, using the factory-provided holes for a scope base without drilling or tapping. The TSR200 rear peep sight is equipped with a single aperture with a rotating dial to adjust elevation properly. All-steel front sight assembly on a standard stopper-locking M16 post, edged by ears, protecting it from misalignment and damage. This iron sight is suitable for a stock or bull barrel 10/22.
#Bonus 1: Tacticool22 Threaded Barrel Adapter for Ruger 10/22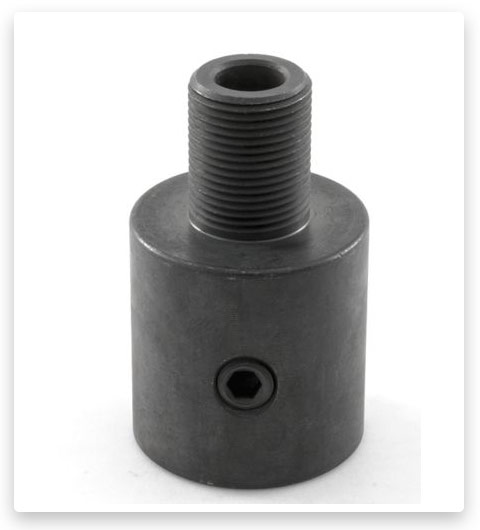 There are two available models of threaded Barrel Adapter for Ruger 10/22: one black with an oxide finish, the other silver with silver finish. This adapter is equipped with a cutout to put around the front iron sights to fit the Ruger 10/22 models: carbines and takedowns. Threaded Barrel Adapter's diameter is a bit larger than A2 birdcage-style flash hiders. This adapter is held in place with a set screw, which after tightening is flush.
#Bonus 2: Evolution Gun Works Vortex Viper/Venom Sight Mount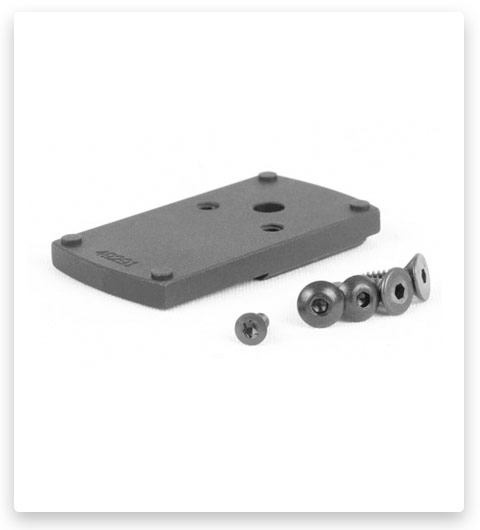 Sight Mount is crafted of 7075 aluminum with a matte black hard coating. This mount does not fit Walther PPQ 22 or Q4, TacWalther Q5. To place the plunger on some Walthers models, there is a hole, drilled in the dovetail bottom. If necessary this plunger can be removed from the slide. The installation should be done from the left to the right (with the muzzle facing forward). To replace the rear sight, just take the mount off. After placing the red dot sight on the EGW Sight Mount, it is needed to apply blue Loctite to the supplied mounting screws. The manufacturer warns any firearm modification may annul the warranty, it's better to make an installation at a competent gunsmith.
#Bonus 3: ProMag Archangel 556 Conversion Stock, Ruger 10/22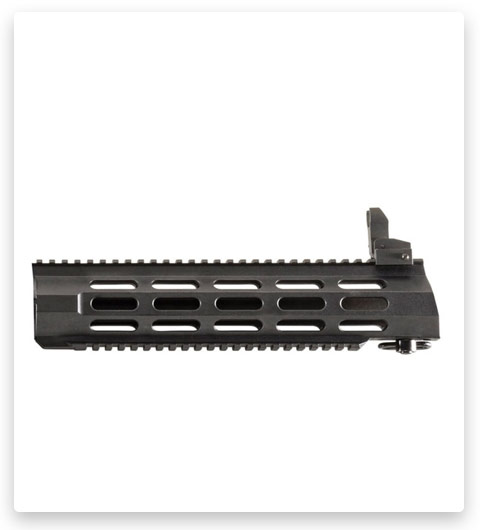 The Archangel 556 Conversion Stock for Ruger 10/22 is manufactured of heavy-duty carbon fiber and glass-reinforced black polymer with 4 fast detach hardpoints and extended full-length top Picatinny rail. ProMag designed Conversion Stock similar to an M-4 flat-top carbine, equipped with 2 safe storage compartments. The 6-position folding buttstock adjusts from 10.25in to 14.25in pull length.
Conclusion
Quality Ruger 10/22 sights are designed to match rifles, exceeding factory sights and other devices, found on high-end precision rifles to satisfy even knowledgeable shooters. Using Ruger 10/22 sights, quick aim acquisition and higher visibility are provided, there will be no issue with getting the rifle to return to zero after field strip cleanings and repeated takedowns, to provide. Apart from the picked sights in the review, experienced shooters pay attention to the Tech-Sight systems that came up with affordable, durable, functional, and precision iron sights for the 10/22 and SKS as well.
Best pick
Williams Gun Sight Ace In The Hole For Ruger. This sight consists of Picatinny scope rail, and it can be used as an integral back-up aperture sight. Fits perfectly on take-down. The rear sight doesn't interfere with any scopes, having adjustment to get the sights zero in.
Budget pick
Ruger 10/22 Fiber Optic Front/Rear Sight. The rear sight does not extend over the rifle connection point, it is shorter mostly than rear sights with other similar designs. The ambient light is collected and projected by three-dot sights (bright green rear dots and red front ones).
Tags: #Best #Ruger #10/22 #10 22 #Sight #Review #Sights #Front #Iron #Peep #Tech #Takedown #Replacement #Red Dot #Wiliams #Rear #Ghost #Rings #Rails #Tactical #Carabine #Laser #Night #Fire #M1 #Remove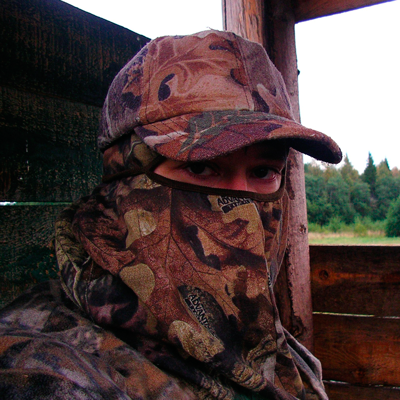 Tatiana Kursakova
Professional shooter, traveller, survivalist
My love of guns is in my blood, since childhood I have spent hours enjoying the beauty of guns and adored going through their parts.
Tactical accessories are another passion of mine that I could write about endlessly - my house and garage are full of tactical gadgets, luckily my family shares my interests.
I'm infatuated with traveling that's why work at one place with a daily routine and standard schedule is not for me. I prefer copywriting and English tutoring as a freelancer. I live in a male family among constant talks about cars, guns, hunting, fishing, and, of course, dinosaurs 😊.
My husband is an obsessed hunter, and my two sons are fans of «Demolition Ranch» of YouTube blogger Matt Carriker. They are my best consultants about weapon and all-around ammunition topics. All together we share a love for adventures. Every camping or mounting hiking trip is a "small survival", giving irreplaceable experiences. Nothing can be better than the satisfaction of observing wild nature.
Motto: «Born in Ukraine, made is the USA».
Read more
about our team
of expert authors.