What is Glock 19 Recoil Spring?🧐
It is a crucial component of the Glock 19 pistol, a popular firearm known for its reliability and performance. The spring assembly substantially increases the life of the system. It is designed to absorb and manage the recoil generated by the pistol's firing process, effectively reducing muzzle flip and making the pistol easier to control, especially during rapid firing. This contributes to the Glock 19's reputation for accuracy and ease of use.
Our Top Pick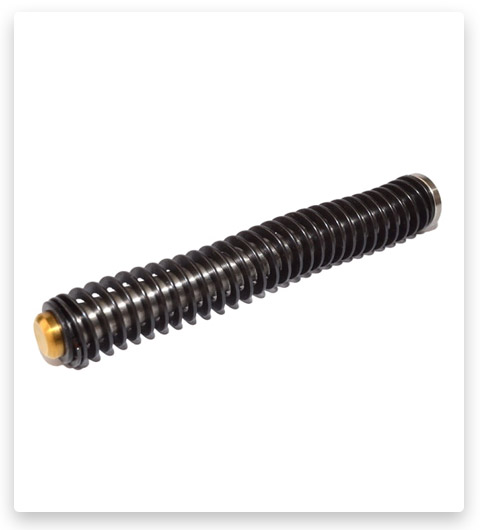 Centennial Defense Systems Stainless Steel Guide Rod Competition Kit
This steel guide rod eliminates flex and prevents chipping, cracking, or breaking like plastic guide rods. It provides a lifetime of reliable service. The kit includes 11-pound, 13-pound, and 15-pound springs, as well as the rod, screw, washer, and Allen key. The flat-wound recoil springs are made of certified aerospace-grade materials and are heat-treated, shot-peened, and stress-relieved for maximum durability.
Buy Now On OpticsPlanet
If you click this link and make a purchase, we earn a commission at no additional cost to you.
Why Does a Good Recoil Spring Matter?🤔
A well-functioning spring is integral to the overall performance of a firearm, particularly semi-automatic pistols like the Glock 19. Its primary function is to absorb and effectively manage the kinetic energy generated during firing. This not only reduces the wear and tear on the pistol's frame but also makes it safer and more comfortable for the shooter.
💡 Without a good spring, shooters would have to contend with the full force of the pistol's recoil every time they fired a shot, leading to decreased accuracy and potential safety risks.
💡 Additionally, a compromised spring might fail to return the slide to its forward position after a shot, interrupting the cycle of operation and causing a malfunction, popularly known as a 'jam'. This could be critical in high-pressure scenarios where reliability is paramount.
💡 Moreover, a good item significantly contributes to the longevity of the firearm. By absorbing much of the stress and strain associated with the firing process, it shields other components of the gun from excessive wear. Hence, investing in a quality spring ensures that your Glock continues to function optimally and reliably over a longer period, offering better value for your money.
What Makes a Good Spring?😎
⚫ Material Quality: A good one is made from high-grade, strong, and resilient materials. These materials ensure the spring can withstand the stress of repeated firings without deforming or breaking, maintaining consistent performance over time.
⚫ Proper Tension: The right amount of tension in the spring is crucial. Too much or too little tension can affect the cycling rate of the firearm, potentially causing malfunctions and reducing the gun's accuracy.
⚫ Durability: A sign of a good one is its longevity. It should be able to endure rounds upon rounds of firing without losing its efficiency or causing wear and tear on the firearm.
⚫ Compatibility: It should be specifically designed to fit and function within the firearm model it is intended for. A good item, for instance, will work seamlessly with other parts of the Glock system, enhancing the overall performance of the pistol.
⚫ Ease of Installation: It should be easy to install and replace. This ensures minimal downtime during maintenance and allows for efficient operation of the firearm.
Assembly Types🤔
| | |
| --- | --- |
| 🔰 Captured Recoil Assembly | A captured assembly is comprised of a spring and guide rod designed to stay together as one unit. This design simplifies the disassembly and reassembly process, making it easier for the average shooter to perform maintenance. Captured recoil assemblies are often found in modern firearms, such as the Glock series, due to their ease of use and convenience. |
| 🔰 Non-Captured Recoil Assembly | On the other hand, a non-captured assembly consists of a spring and guide rod that are not connected and come apart during disassembly. This design allows for greater flexibility, as it makes it possible to change out springs of different strengths based on the shooter's preference or situational needs. However, non-captured recoil assemblies can be more challenging to work with, especially for those unfamiliar with the assembly process, as they require a higher level of care during disassembly and reassembly to avoid potential issues. |
Best Glock 19 Recoil Spring Reviews
#1 DPM Recoil Rod Reducer System for Glock

The DPM Recoil Rod Reducer System for Glock is exactly what you need if you want a recoil reducer that doesn't require changing the configuration of your gun. This system has a multi-spring intricate rod (three springs) that controls the functionality of the gun, so your slide will never hit the frame. Accompanying this system are two separate springs so you can fine-tune the weapon for your personal standards. The longer spring (more coils) is stronger and has a heavier pound rating than the shorter spring, resulting in less felt recoil and faster follow-up shots. It's also highly durable, so you can rest assured knowing that it's worth the price.
#2 Centennial Defense Systems Stainless Steel Guide Rod Assembly

The Centennial Defense Systems Stainless Steel Guide Rod Assembly is a top-quality, durable drop-in unit made from solid stainless steel. This guide rod assembly eliminates flex and ensures that it will not chip, crack or break like plastic guide rods, providing a lifetime of reliable service. The recoil springs are manufactured from certified materials, heat treated, shot peened and stress relieved to maximize durability. This product is an excellent choice for those who are looking for a high-quality, long-lasting guide rod assembly for their Glock 19.
#3 Wilson Combat Shok-Buff Recoil Buffers

The Wilson Combat Shok-Buff Recoil Buffer will protect your pistol from frame damage during recoil better than any other buffer on the market. This 1/10″ thick poly fibre buffer sandwiches the slide and frame contact areas, preventing the slide from damaging the frame. Not only does this provide optimum protection for your pistol, but it also delivers superior shock absorption and longevity. And since it's easily replaceable, you can keep your pistol looking and working like new for years to come. So don't wait any longer, pick up a package of 6 Wilson Combat Shok-Buff Recoil Buffers today and rest assured that your pistol is protected!
#4 Centennial Defense Systems Stainless Steel Guide Rod Competition Kit

The Centennial Defense Systems Stainless Steel Guide Rod Competition Kit for Gen 1-3 G17 is a complete drop-in unit made from solid one-piece stainless steel. This eliminates guide rod flex and ensures it will not chip, crack or break like plastic guide rods providing a lifetime of reliable service. The kit includes 11lb, 13lb and 15lb springs as well as the rod, screw, washer and Allen key. Flat wound recoil springs are manufactured of certified aerospace spec materials which makes them heat treated, shot peened and stress relieved to maximize durability. The screw tip is quickly and easily removed so that the user can switch out spring weights according to their Ammunition of choice. This way, they can fine-tune recoil springs for a better experience.
#5 Lone Wolf Arms Complete Glock Guide Rod Assembly
View on OpticsPlanet View on Brownells
When firing a gun, many things can go wrong if the guide rod is made of cheap plastic. It could chip, crack, or break; causing feeding or ejection failures. Not to mention that accuracy problems arise from guide rod flex. To avoid all these issues get The Lone Wolf Guide Rod Assembly. Made with high-quality materials, it guarantees reliability and safety for as long as you use it.
Precision CNC machined from stainless steel, this complete assembly is a great upgrade for any Glock owner. The Gen 1-3 assembly comes with a removable 3/32 Allen head tip, while the 17/22 and 20/21 models feature Lone Wolf's own 17lb flat wound recoil spring. And all models are calibrated to factory spring weights.
But the best part of the Lone Wolf Arms Guide Rod Assembly is its durability. It's 75% heavier than the OEM part, meaning it will stand up to even the most intense shooting sessions. So if you're looking for a top-quality, long-lasting guide rod assembly, go with Lone Wolf Arms. You won't be disappointed!
#6 Glock OEM Dual Spring Recoil Assembly

View on OpticsPlanet View on Brownells
Looking for a reliable, complete guide rod assembly for your Glock? Look no further than Lone Wolf Arms! Our guide rod assembly is designed for optimal performance and durability and is a must-have for any Glock owner.
The OEM part from Glock is built for lasting performance, with a heavy buffer and recoil spring that make it one of the most important parts of the Glock operating system. The longer length of our Gen5 guide rod assembly provides a heavier lock load and reduced felt recoil, while the extra length also provides increased durability. Trust Lone Wolf Arms to keep your Glock running like new!
#7 Rival Arms Guide Rod Assembly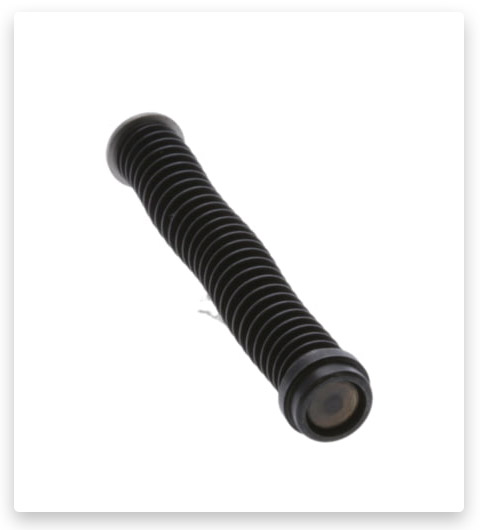 View on OpticsPlanet View on Brownells
If you're an experienced shooter, you know that plastic guide rods can cause all sorts of problems – from feeding and ejection failures to accuracy issues. That's why Rival Arms created their Guide Rod Assembly, which addresses all of these potential problems. Made from high-quality materials, this guide rod is built to last a lifetime. Plus, the spring is much stiffer than the stock option, making it easier to pull back – even for a 2-year-old. So if you're looking for a reliable, top-quality guide rod assembly, look no further than Rival Arms. Thank you Rival Arms for making such an awesome product!
#8 ISMI – Flat Wire Recoil Springs For Glock

When only the best will do for your Glock, look to Rival Arms and their Guide Rod Assembly. Created with precision from high-quality materials to Aerospace specifications, this guide rod assembly delivers dependability, consistency, and peak performance.
The Rival Arms Guide Rod Assembly is available in either chrome silicon or corrosion-resistant stainless steel and features a heat-treated, shot-peened, and stress-relieved design for a reduced spring set. It also comes in your choice of factory weight (17 lb. or 18 lb.) to perfectly match your needs. For even more precision, pair this guide rod assembly with Strike Industries S.S. guide rods.
#9 LANTAC Flared Head Glock 19 Guide Rod

The LANTAC GR-19-N Flared Head Glock Pistol Guide Rod is the perfect choice for those looking for a high-quality, reliable guide rod that is backed by a lifetime guarantee. Made from 17-4PH stainless steel, this guide rod is machined to provide smooth, accurate cycling while maintaining lateral control. This guide rod is also finished with a black coating for superior corrosion resistance and long-term durability.
How to Tune🛠️
Tuning the spring can make a significant difference in its performance, especially if you're using custom ammunition or have specific shooting requirements. Here's a detailed guide:
🧷 Materials Needed: You will need a new spring, your Glock, and a clean, well-lit workspace. Ensure that the spring you have is appropriate for your Glock model.
🧷 Safety First: As always, safety is paramount when working with firearms. Ensure the firearm is unloaded by removing the magazine and checking the chamber for any ammunition.
🧷 Disassemble the Glock: To remove it, you need to first field-strip your Glock. This involves pulling back the slide, depressing the disassembly lever, and then removing the slide from the frame.
🧷 Remove the Old Spring: It is located underneath the barrel in the slide. To remove it, simply press towards the muzzle and lift out the assembly.
🧷 Install the New One: Place the rear end of the spring assembly into the slot beneath the barrel. Push toward the muzzle and down into place. Ensure the assembly is seated properly.
🧷 Reassemble the Glock: Reattach the slide to the frame, making sure it's on the correct rails. Pull the slide back to its rearward position and release it to move forward. This should reengage the disassembly lever, locking the slide back onto the frame.
🧷 Test: After reassembly, conduct a function check to ensure everything is working correctly. This involves cycling the slide to ensure it returns to its forward position, and dry firing the pistol in a safe direction.
Tuning can improve the performance of your Glock, reduce recoil, and increase the lifespan of your firearm. It's a simple procedure that can yield significant benefits when done correctly. Always remember to follow the manufacturer's guidance and use the appropriate parts for your specific Glock model. Safety should always be your top priority.
Watch this video to find more information💻
FAQ❓
Conclusion🤩
In conclusion, understanding the intricacies of your Glock 19, especially the recoil spring system, significantly contributes to your shooting experience. Whether it's a captured or non-captured recoil assembly, the quality of the material, the correct tension, durability, compatibility, and ease of installation all determine the efficiency and lifespan of your firearm. Balancing these key features ensures optimal performance, safety, and value for your investment. So, never overlook the importance of a good spring — it's the silent hero that drives the reliability and longevity of your Glock 19.
Affiliate Disclosure: Rotorm.com sometimes gets paid for listings, through sponsors or affiliate programs like Amazon, Optics Planet, Lucky Gunner, Brownells, Cabelas, Rainier Arms, 5.11 Tactical, Bass Pro Shop, etс. Clicking a link helps keep Rotorm.com free, at no extra cost to you!
About the author: Each article on our site is written by experts in survival and tactical equipment, gun enthusiasts, extreme travelers, military, law enforcement and desperate professionals, read about the author at the bottom of the article or visit "About Us" page.
Note: The views and opinions expressed in this article are those of the authors and do not necessarily reflect the official policy or position of any agency.