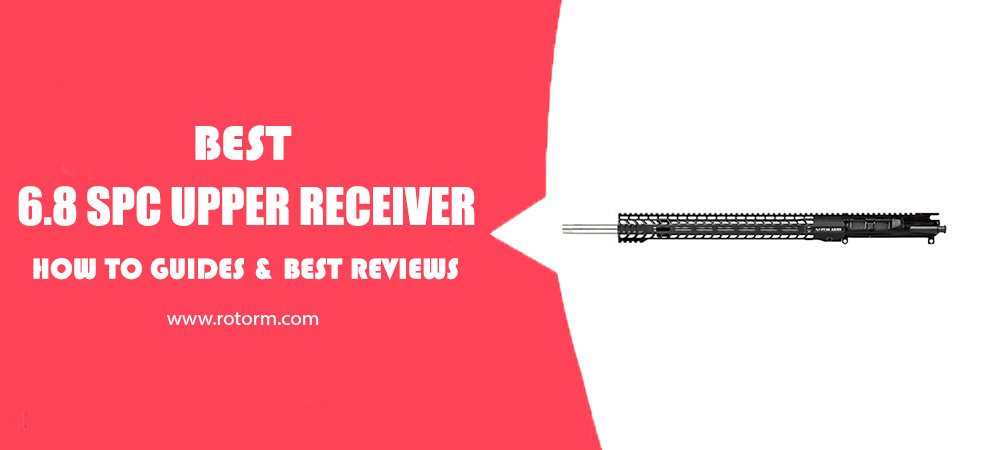 What is 6.8 SPC Upper Receiver? 🧐
The 6.8 Special Purpose Cartridge Upper Receiver is a key component of the 6.8 SPC calibre firearm, specifically designed for enhanced performance in a variety of tactical and hunting scenarios. It houses the barrel, bolt carrier group, charging handle, and other critical parts of the firearm. The 6.8 Special Purpose Cartridge Upper Receiver is typically lauded for its balance between power and recoil, proving to be versatile and effective in short to mid-range engagements.
Our Top Pick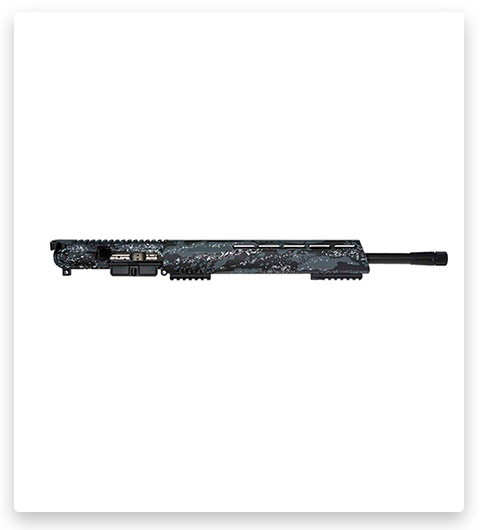 Brenton USA Scout Upper Receiver
This receiver incorporates Brenton's innovative RecevierLock system, a patent-pending technology that sets a new standard for security and stability in the market. With HuntSpec controls and precise tolerances, it delivers an unparalleled hunting experience. The handguard is crafted from Brenton's cutting-edge RealFeel PolyCore material, ensuring a truly realistic tactile experience. Additionally, the charging handle is designed with a gas-diverting feature, enhancing safety during operation.
Buy Now On OpticsPlanet
If you click this link and make a purchase, we earn a commission at no additional cost to you.
Features 😎
The 6.8 Special Purpose Cartridge Upper Receiver boasts several notable features that make it a standout choice for firearms enthusiasts and professionals alike.
💠 Firstly, it is engineered to accommodate a larger bore, allowing it to fire 6.8 SPC caliber rounds which are known for their superior terminal ballistics- especially over .223/5.56 rounds. This potent combination of power and precision makes it a reliable option for both hunting and tactical applications.
💠 Secondly, its robust construction ensures durability under stressful conditions. The receiver is typically made from high-quality materials such as 7075-T6 aluminium, imparting resilience and longevity.
💠 Additionally, the upper receiver often comes with a Picatinny or M-LOK rail system, providing users with ample space for mounting optics, lights, and other accessories. This takes customization options to the next level, enabling users to tailor their firearm setup to their specific needs.
💠 Furthermore, many of these receivers feature a low recoil design, reducing shooter fatigue and enabling rapid follow-up shots. This makes this upper receiver an ideal choice for shooters who value a blend of power and usability.
💠 Finally, it often features a gas-operated system, which provides reliable, consistent cycling of rounds, ensuring optimal performance in the field or on the range.
Maintenance 🧼
Maintaining your upper receiver is essential to ensuring its optimal performance and longevity. Regular cleaning is a key part of this maintenance. Here are the steps to clean it effectively:
| | |
| --- | --- |
| 🟣 Disassemble: |  Start by ensuring that your firearm is unloaded before proceeding with the disassembly. Take out the bolt carrier group and charging handle, followed by removing the handguard if it's removable. Be sure to consult the user's manual for specific instructions to avoid damaging any components. |
| 🟣 Cleaning the Chamber and Bore: | Use a bore brush attached to a cleaning rod to scrub the inside of the barrel. Apply a suitable gun-cleaning solvent to the brush before starting. Brush the chamber and bore thoroughly to remove any residue or dirt. |
| 🟣 Cleaning the Bolt Carrier Group and Charging Handle: |  These components often accumulate dirt and residue due to constant use. Use a small brush and cleaning solvent to clean these parts meticulously. Make sure to pay attention to small crevices and slots. |
| 🟣 Cleaning the Upper Receiver: | Use a clean cloth to wipe down the inside of the upper receiver. For stubborn debris, you may use a nylon brush. Apply solvent to areas with carbon build-up and let it sit for a few minutes before scrubbing. |
| 🟣 Lubrication: | Once all components are clean and dry, apply a high-quality firearm lubricant. Focus on the bolt carrier group, charging handle, and inside of the upper receiver. This will ensure smooth operation and prevent wear and tear. |
| 🟣 Reassemble: | After all the components are cleaned and lubricated, reassemble your firearm. Always check its functionality after reassembly to ensure that it's operating correctly. |
⭕ Remember, regular maintenance of your Upper Receiver can significantly enhance its performance and lifespan. Always follow safety guidelines when handling your firearm.
Watch this video to find more information 💻
What Are Upper Receivers Made From? 🎯
Upper receivers are typically made from materials that are selected for their ability to withstand significant wear and tear, as well as their capacity to handle the heat and pressure generated during the firing process.
⬜ One of the most common materials used in the manufacturing of upper receivers is 7075-T6 aluminium. This specific type of aluminium is a high-strength alloy, characterized by its light weight and remarkable durability. It is considered an industry standard for upper receivers because of its excellent resistance to corrosion, its ability to withstand high temperatures, and its fantastic strength-to-weight ratio. The "T6" indicates that this aluminium alloy goes through a process of heat treatment and artificial ageing to increase its hardness and durability.
⬜ Another material often used in the production of upper receivers is 6061 aluminium. While not as strong as 7075-T6, it is easier to machine and weld, and it still provides excellent durability and corrosion resistance. It is often used in the production of more economical upper receivers.
⬜ Recently, there has been a growing interest in using polymers in the construction of upper receivers. Polymer upper receivers are desirable for their lightweight and cost-effectiveness. However, while they hold up well under normal conditions, they may not offer the same level of durability and heat resistance as their aluminium counterparts.
⬜ Some high-end upper receivers are also made from steel or titanium. Steel is highly durable and can handle a large amount of heat and pressure, but it is also heavier than aluminium. Titanium, on the other hand, is lighter than steel but stronger and more heat-resistant, although it can be more expensive.
Best 6.8 SPC Upper Receiver Review
1# Radical Firearms Complete Upper Assembly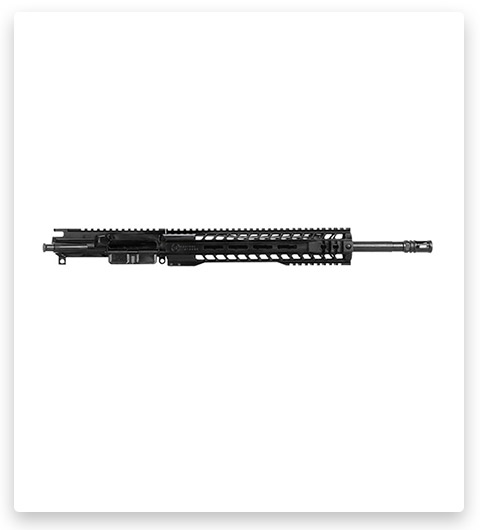 The Radical Firearms 16in Heavy Barrel 6.8 SPC II is perfect for anyone looking for MIL-STD compliance in an upper assembly. It's perfect for novice or experienced shooters who want to finish out a build and hit the range. The 15-inch MHR free float rail system provides increased accuracy and keeps your hands cool. And with the A2 flash hider, you'll be ready for any situation. So whether you're into target shooting or hunting, Radical Firearms has you covered.
2# Brenton USA Scout Upper Receiver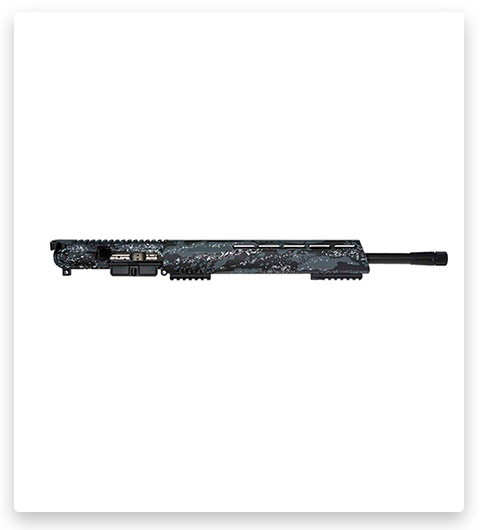 Introducing the Brenton USA Scout Upper Receiver! This receiver is made with Brenton's patent-pending RecevierLock system, making it one of the most secure and stable receivers on the market. It also features HuntSpec controls and tolerances for the ultimate hunting experience. The handguard is Brenton's RealFeel, PolyCore material for the most realistic feel possible. The charging handle is gas-diverting for added safety. The BCG is an 8620 Carrier with a 9310 Bolt and NiB protective coating. This receiver comes with a lifetime warranty from Brenton USA against defects in materials and workmanship, as well as our Sub MOA Guarantee. We promise that your rifle will look, feel and perform like a premium hunting rifle should.
3# Stag Arms Stag-15 6.8 SPC Super Varminter Upper Receiver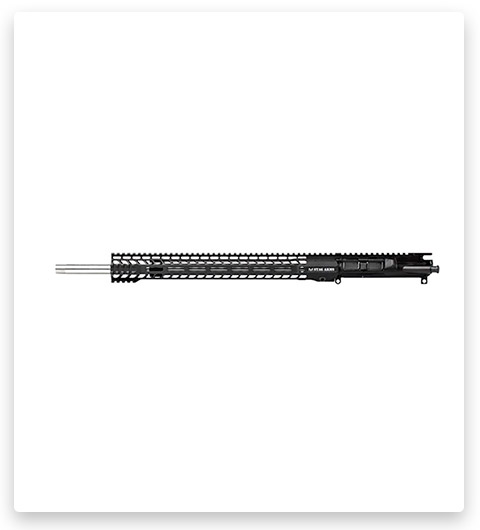 Whether you're a seasoned hunter or just getting started, the Stag Arms Stag-15 6.8 SPC Super Varminter Upper Receiver is the perfect choice for game hunting. This rifle uses the powerful 6.8 SPC II cartridge for extra power, making it ideal for taking down large games. The 20.77″ barrel with an 11-degree target crown provides accuracy and precision when it counts, while the 16.5″ SL handguard and Magpul MOE pistol grip ensure a comfortable and secure grip. The Stag-15 also comes with a mil-spec Black nitride-coated M16 BCG and a Transferable Lifetime Warranty for peace of mind. So if you're looking for a reliable and affordable rifle that will perform when it matters most, look no further than the Stag Arms Stag-15 6.8 SPC Super Varminter Upper Receiver.
Installation 🛠️
Installing the requires a bit of technical knowledge, but with the right tools and instructions, it can be accomplished by any firearm enthusiast. Here's a detailed guide to help you understand the process.
🔘 Before you begin the installation process, ensure that your workspace is clean, well-lit, and free of any potential hazards. It's also advisable to have the manufacturer's manual on hand, as it will provide specific instructions related to your specific model.
🔘 Start by separating the upper receiver from the lower receiver of your firearm. This is typically accomplished by pushing out the takedown pins located on the lower receiver. Once the takedown pins are removed, the upper and lower receivers should separate easily.
🔘 After the receivers are separated, the next step is to remove the bolt carrier group and charging handle. To do this, pull back on the charging handle and remove the bolt carrier group. Once the bolt carrier group is removed, you can pull the charging handle all the way back and it should slide out of the receiver.
🔘 Now you are ready to install it. Insert the charging handle into the upper receiver, making sure to align the grooves on the handle with the tracks inside the receiver. Once the charging handle is in place, you can insert the bolt carrier group. Make sure the bolt is extended from the carrier and the gas key fits into the channel of the charging handle.
🔘 Finally, line up the holes on the upper receiver with the holes on the lower receiver and push the takedown pins back in. This should secure the upper receiver to the lower receiver. Once everything is securely fitted, give your firearm a quick function check to ensure everything is working correctly.
Remember, safety should always be your top priority when working with firearms. Always ensure the firearm is unloaded before starting any work on it. Following these steps should guide you through the process of installing a 6.8 Special Purpose Cartridge Upper Receiver safely and correctly.
FAQ ❓
Conclusion 🤩
The 6.8 SPC Upper Receiver, with its admirable durability and versatility, is a top choice for firearm enthusiasts seeking a high-performing, reliable component. Its design, which emphasizes low recoil, aids in reducing shooter fatigue, making it suitable for prolonged use.
With customizable rail systems such as Picatinny or M-LOK, users can personalize their set-up to meet individual needs. The receiver's material, usually a robust alloy like 7075-T6 or 6061 aluminium, guarantees longevity even under challenging conditions.
Furthermore, the installation process, while requiring attention to detail, can be accomplished by anyone with a keen interest in firearms and basic technical knowledge.
Overall, these Upper Receiver is a testament to the blend of engineering and craftsmanship in the realm of firearms.
Affiliate Disclosure: Rotorm.com sometimes gets paid for listings, through sponsors or affiliate programs like Amazon, Optics Planet, Lucky Gunner, Brownells, Cabelas, Rainier Arms, 5.11 Tactical, Bass Pro Shop, etс. Clicking a link helps keep Rotorm.com free, at no extra cost to you!
About the author: Each article on our site is written by experts in survival and tactical equipment, gun enthusiasts, extreme travelers, military, law enforcement and desperate professionals, read about the author at the bottom of the article or visit "About Us" page.
Note: The views and opinions expressed in this article are those of the authors and do not necessarily reflect the official policy or position of any agency.