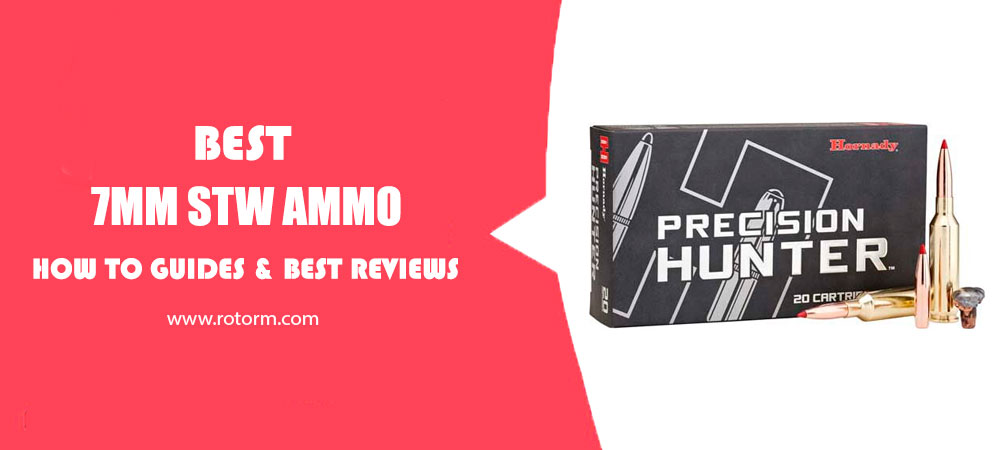 What is 7mm STW ammo?🧐
It is a powerful rifle cartridge designed for long-range shooting and hunting. It was introduced by Layne Simpson and gunsmith Robby Roberts in the early 1990s. The cartridge is based on the .375 H&H Magnum case, necked down to accept 7mm (.284-inch) bullets. It offers higher muzzle velocity and greater energy compared to many other 7mm cartridges, which translates to flatter trajectories, better energy retention at long ranges, and improved terminal ballistics.
Features✍️
The 7mm STW (Shooting Times Westerner) ammunition is known for its powerful performance and long-range capabilities. Here are some key features:
☑️ High Velocity: This cartridge is designed to achieve high muzzle velocities, which results in flatter trajectories and better downrange energy retention. This makes it effective for long-range shooting and hunting.
☑️ Excellent Ballistics: It offers impressive ballistic coefficients (BC) for its bullets. This means that it maintains velocity and energy better than many other cartridges, reducing the effects of wind drift and bullet drop.
☑️ Effective Energy Transfer: The 7mm STW delivers substantial energy upon impact, making it effective for taking down large game animals. Its combination of high velocity and suitable bullet selection contributes to reliable terminal performance.
☑️ Recoil: Due to its high velocities and powerful nature, this ammo generates significant recoil. Shooters using firearms chambered in this cartridge should be prepared to manage the recoil, potentially requiring a recoil-reducing stock or other measures.
☑️ Reloadability: Reloaders who are experienced in handloading ammunition can customize their 7mm STW loads to suit their preferences. This can help optimize accuracy and performance for specific shooting scenarios.
Our Top Pick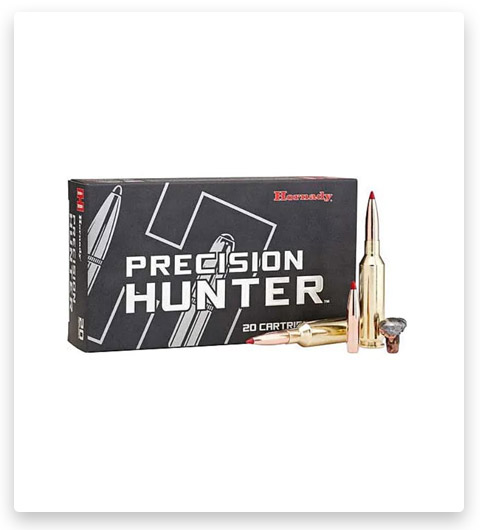 SBT – Hornady Precision Hunter – 7mm STW – 162 Grain – 20 Rounds
The intricately designed streamlined ogive and optimized boattail configuration, combined with highly concentric AMP bullet jackets and the innovative heat shield tip, together create a bullet that boasts unmatched aerodynamic efficiency. This design has been meticulously crafted for match-level accuracy in hunting scenarios. During our analysis of high-velocity impacts within the 0-400-yard range, a remarkable pattern emerged. The bullet consistently expands along its path of penetration, offering a reliable and controlled performance. This can be attributed to the thick shank of the jacket and the highly effective InterLock ring, working in unison to retain an impressive 50-60% of the bullet's weight.
Buy Now On OpticsPlanet
If you click this link and make a purchase, we earn a commission at no additional cost to you.
Benefits🔥
The 7mm Shooting Times Westerner ammunition offers several benefits that make it attractive to shooters and hunters searching for high-performance cartridges. Some of the key benefits include:
✴️ The 7mm STW is designed for long-range shooting and hunting. Its high muzzle velocity and ballistic efficiency result in flatter trajectories, reduced bullet drop, and minimal wind drift. This enhances accuracy and makes it easier to engage targets at extended distances.
✴️ Shooters can choose from a variety of bullet types, including expanding bullets designed for hunting and high-ballistic-coefficient bullets for precision shooting. This allows users to tailor their ammunition to specific applications.
✴️ It is available with a range of bullet weights, enabling shooters to select the most appropriate weight for their intended use. Lighter bullets might be favored for long-range shooting, while heavier ones are commonly chosen for hunting larger games.
✴️ Shooters appreciate the 7mm STW's inherent accuracy potential, which can be maximized with careful load development and proper marksmanship techniques. This makes it a favorite among precision shooters and long-range enthusiasts.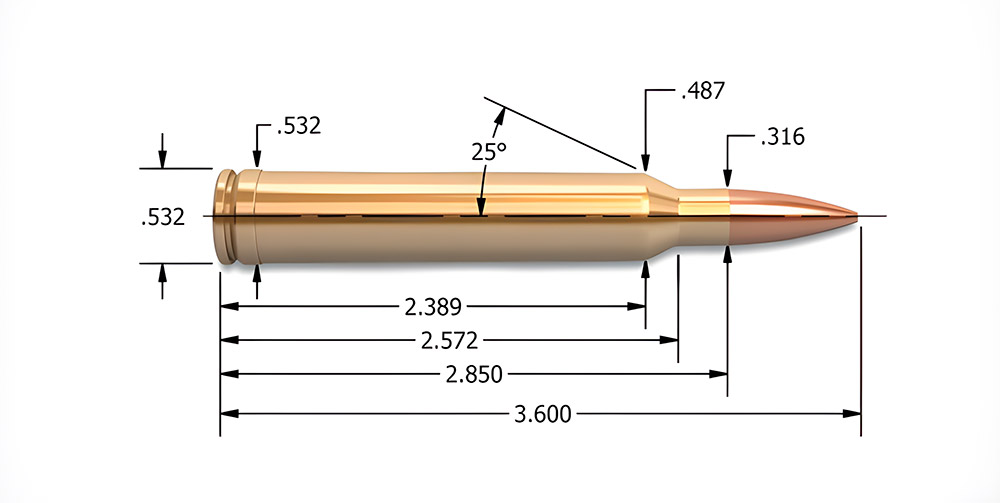 Best uses for this ammo🧩
As we delve into the world of firearms and ammunition, we can't help but be intrigued by the remarkable capabilities of the 7mm STW (Shooting Times Westerner) ammo. Let's talk about how this ammunition brings both power and precision to the table, offering a range of applications that cater to your shooting needs.
🎯 Long-Range Hunting: Imagine standing amidst the vast wilderness, aiming for that perfect shot at an elusive game like elk, moose, or deer. It steps up to the plate with its high velocity and flat trajectory, making those extended shots more accurate than ever.
🎯 Open Terrain Adventures: Picture expansive hunting grounds, where the distance between you and your target can be quite challenging. This ammo truly shines in these settings, combining its impressive speed and accuracy to help you take down your prey with confidence.
🎯 Mountainous Pursuits: If mountain hunting is your passion, you know that the terrain can be as tough as the game you're after. The 7mm STW has the energy and precision needed to make those challenging shots count, even in rugged landscapes.
🎯 Precision Shooting Competitions: For those who enjoy the thrill of competition, its outstanding accuracy over long distances makes it a valuable asset. Whether you're hitting targets at varying ranges, this ammo's ballistic performance keeps you at the top of your game.
🎯 Target Shooting Thrills: There's a unique satisfaction in nailing long-range targets or hitting steel with precision. This cartridge offers a rewarding experience for enthusiasts who love the challenge and excitement of such endeavors.
🎯 Embracing Challenges: If you're a hunter who seeks the thrill of demanding hunts, where precision is paramount, the 7mm STW steps up to the plate. Its prowess in accuracy is your trusty companion on those exhilarating quests.
📌 Remember, the ammo's exceptional performance is matched by its recoil, so don't forget to consider proper recoil management to ensure a comfortable shooting experience. And, as always, safety should be your constant companion whenever you handle firearms and ammunition.
Best 7mm STW Ammo Reviews
1# SBT – Nosler – 7mm STW – 175 Grain – 20 Rounds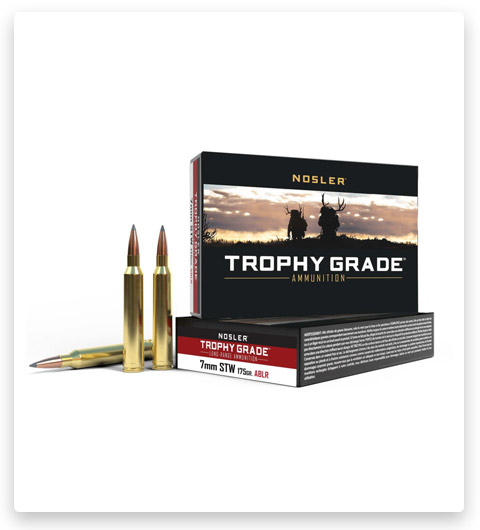 Introducing the Nosler Trophy Grade Long Range AccuBond Ammo in 7mm STW. This ammo is loaded with Nosler's new AccuBond bonded core bullet, which has been proven to shoot faster and farther than any other bonded bullet on the market. The unique design of the AccuBond bullet provides exceptional in-flight stability and rapid deformation upon impact, making it the perfect choice for long-range shooting. Our research has shown that the boat tail design acts as a brake to reduce hind end drag without loss of energy, and the polycarbonate nose and long taper window of the AccuBond-LR allow for in-flight stability and rapid deformation. This is truly premium ammunition, and it will provide you with the accuracy and stopping power you need to make those long-range shots. Order your 20-round box of ammo today!
2# SBT – Nosler – 7mm STW – 160 Grain – 20 Rounds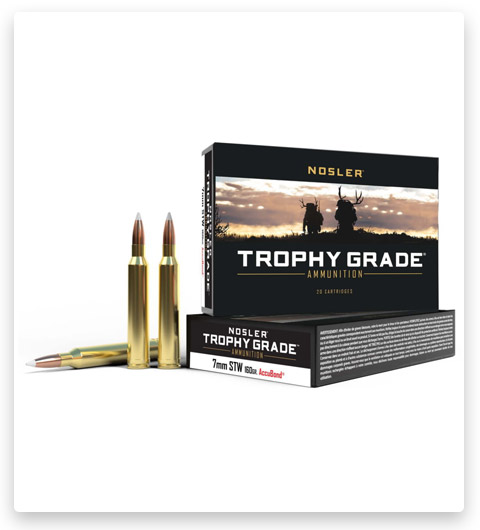 Searching for high-quality, dependable ammunition for your next hunt? Look at this ammunition. It is manufactured to strict tolerances and inspected by hand to ensure top quality. Featuring Nosler Custom brass and the trusted AccuBond bonded core bullet, Trophy Grade ammo is sure to deliver superior performance in the field. Thanks to the bonding process that eliminates voids in the bullet core, the AccuBond bullet penetrates deep and retains 60-70% of its weight after impact. With a muzzle velocity of 3075 fps, this 7mm STW round is perfect for a take-down large game. Don't settle for second best – order Nosler Trophy Grade ammunition today.
3# SBT – Hornady Precision Hunter – 7mm STW – 162 Grain – 20 Rounds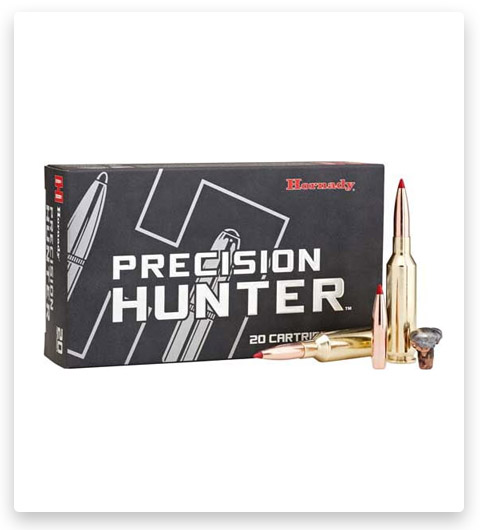 Hornady's SBT line of ammunition is designed for accuracy and terminal performance, making it the perfect choice for hunters. As a result of using this product, we found that the ELD-X bullet offers incredible ballistic potential, while the heat shield tip helps to maintain its aerodynamic efficiency. These features combine to make the SBT line one of the best hunting ammunition options on the market today. Don't miss the opportunity to get an excellent performance – order this ammo just now!
4# SBT – Federal Premium – 7mm STW – 160 Grain – 20 Rounds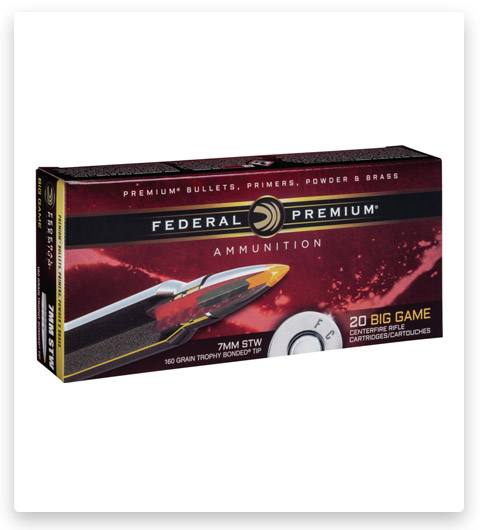 The Federal PremiumSBT–7mm STW–160 Grain–20 Rounds is the perfect choice for the serious hunter who demands surgical accuracy and terminal results. The tough and accurate Trophy Bonded Tip combines bonded construction with a bone-crushing solid copper shank and boat-tail design to tighten groups. The resulting polymer tip is tough and accurate, making it a perfect choice for the full spectrum of medium and big games at any practical range. Don't wait – order this ammunition just now!
5# JSP HSM – 7mm STW – 175 Grain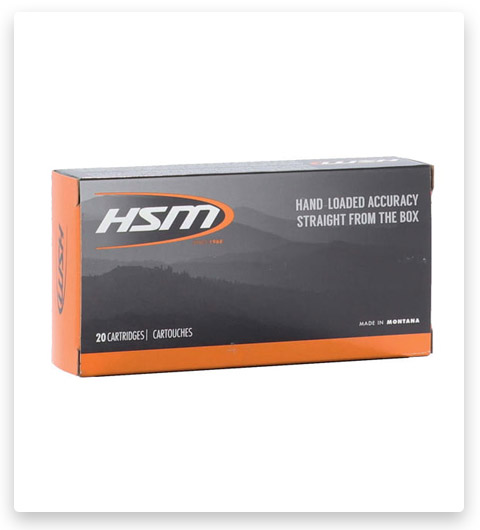 Need top-quality Rifle Ammo? Pay attention to the Hsm Ammunition Hsm Ammo 7mm Stw 175gr. Pointed Soft Point 20-pack! This superb product is formulated with only the most durable and dependable components, ensuring that it will give you years of reliable performance. HSM Ammunition has been in the business of developing top-quality products for a long time, and this product is their way of showing just how much they care about their customers. With its superior design and craftsmanship, this ammunition is sure to be a welcome addition to your collection!
Tips for optimal ammo performance💡
Let's dive into some valuable tips that can help you achieve optimal performance when using 7mm STW ammo. Whether you're a seasoned shooter or just getting started, these pointers will enhance your shooting experience:
💥

Quality Ammunition Selection

:
Choose reputable manufacturers known for producing high-quality 7mm STW ammunition. Trusted brands often ensure consistent performance and reliable ballistics.
💥

Match Bullet Weight to Purpose

:
Different bullet weights are suitable for varying applications. Lighter bullets might offer flatter trajectories for target shooting, while heavier bullets are ideal for hunting larger games.
💥

Consistent Bullet Seating

:
When reloading, ensure that bullets are seated at a consistent depth. This consistency promotes accuracy and uniform ballistics, minimizing shot-to-shot variation.
💥

Precision Reloading

:
If you're into handloading, focus on precision. Accurate powder charges and careful case preparation contribute to consistent and predictable performance.
💥

Optimal Twist Rate

:
Check your rifle's twist rate and match it with the appropriate bullet weight. An optimal twist rate stabilizes the bullet, leading to improved accuracy at longer distances.
💥

Recoil Management

:
Due to its power, the 7mm STW generates substantial recoil. Use proper shooting techniques, consider recoil-reducing accessories, and practice to manage recoil effectively.
💥

Barrel Care

:
Regularly clean and maintain your rifle barrel. A clean barrel ensures consistent accuracy by preventing fouling and buildup that can affect bullet flight.
💥

Optics and Scope Calibration

:
Invest in high-quality optics and ensure your scope is properly calibrated. Precise optics are essential for accurately placing shots at extended ranges.
💥

Ballistic Data and Charts

:
Keep ballistic charts or apps handy to quickly reference bullet drop and windage at different distances. This helps you make on-the-fly adjustments in the field.
💥

Consistent Shooting Fundamentals

:
Focus on consistent shooting fundamentals, including proper breathing, trigger control, and sight alignment. These basics significantly impact accuracy, especially at longer ranges.
💥

Range Practice

:
Regularly practice shooting at various distances to become intimately familiar with your rifle's performance and the trajectory of your chosen ammunition.
💥

Test Different Loads

:
Experiment with different loads and bullet types to find the one that performs best in your rifle. Not all rifles respond the same way to every load.
💥

Weather Considerations

:
Keep an eye on weather conditions, as temperature, humidity, and wind can all influence bullet flight. Make necessary adjustments for accurate shots.
💥

Patience and Experience

:
Achieving optimal performance takes time and experience. Don't be discouraged by challenges; instead, view them as opportunities to refine your skills.
💥

Safety First

:
Above all, prioritize safety. Always adhere to safe firearm handling practices, wear appropriate protective gear, and shoot within your skill level.
❗ By incorporating these tips into your shooting routine, you'll unlock the full potential of your ammo and enjoy improved accuracy and performance. Remember, shooting is a journey, and each step you take to refine your skills brings you closer to becoming a more proficient marksman!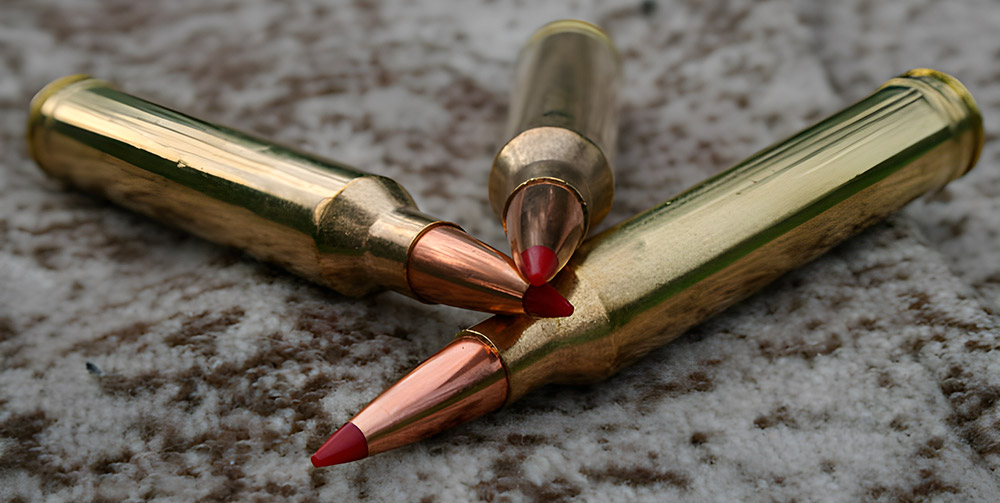 FAQ🤓
Conclusion🙂
7mm STW ammo is a great choice for anyone looking to purchase quality rounds for their rifle. It offers excellent accuracy and stopping power, making it perfect for hunting or self-defense situations. In this article, we have reviewed some of the best products on the market and shared some tips on shooting performance. We hope you found this information helpful and that it will assist you in choosing the right ammunition for your next hunt or shooting outing. Thanks for reading!😎👍
Affiliate Disclosure: Rotorm.com sometimes gets paid for listings, through sponsors or affiliate programs like Amazon, Optics Planet, Lucky Gunner, Brownells, Cabelas, Rainier Arms, 5.11 Tactical, Bass Pro Shop, etс. Clicking a link helps keep Rotorm.com free, at no extra cost to you!
About the author: Each article on our site is written by experts in survival and tactical equipment, gun enthusiasts, extreme travelers, military, law enforcement and desperate professionals, read about the author at the bottom of the article or visit "About Us" page.
Note: The views and opinions expressed in this article are those of the authors and do not necessarily reflect the official policy or position of any agency.