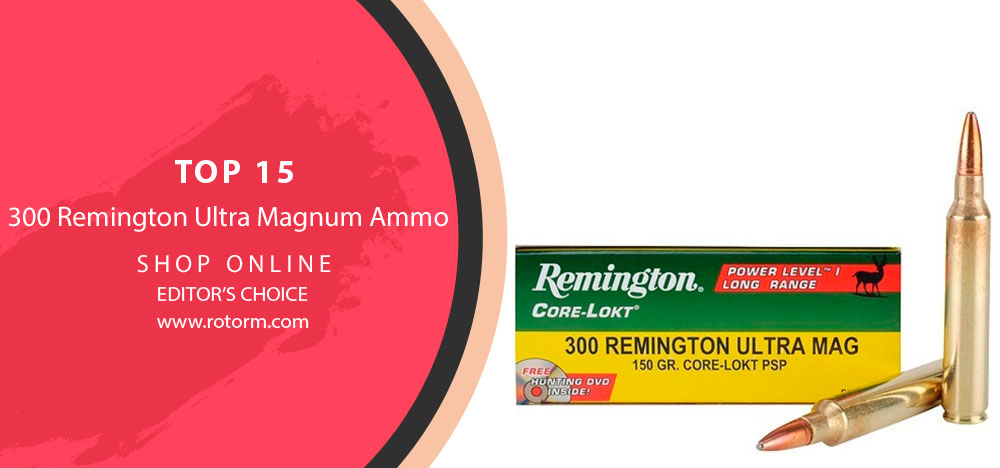 Introduction to the 300 Remington Ultra Magnum
Hey there, fellow hunters and sharpshooters! If you're on the prowl for a cartridge that's both powerful and precise, let us introduce you to the 300 Remington Ultra Magnum, or as some enthusiasts lovingly call it, the "300 RUM." 🚀
Developed back in the year 1999 by the fine folks at Remington, this was born for one thing – pushing the boundaries of long-range shooting and hunting. With its massive case capacity, the 300 RUM packs a wallop, making it a popular choice for seasoned hunters and those seeking thrills in long-range target shooting. 🏹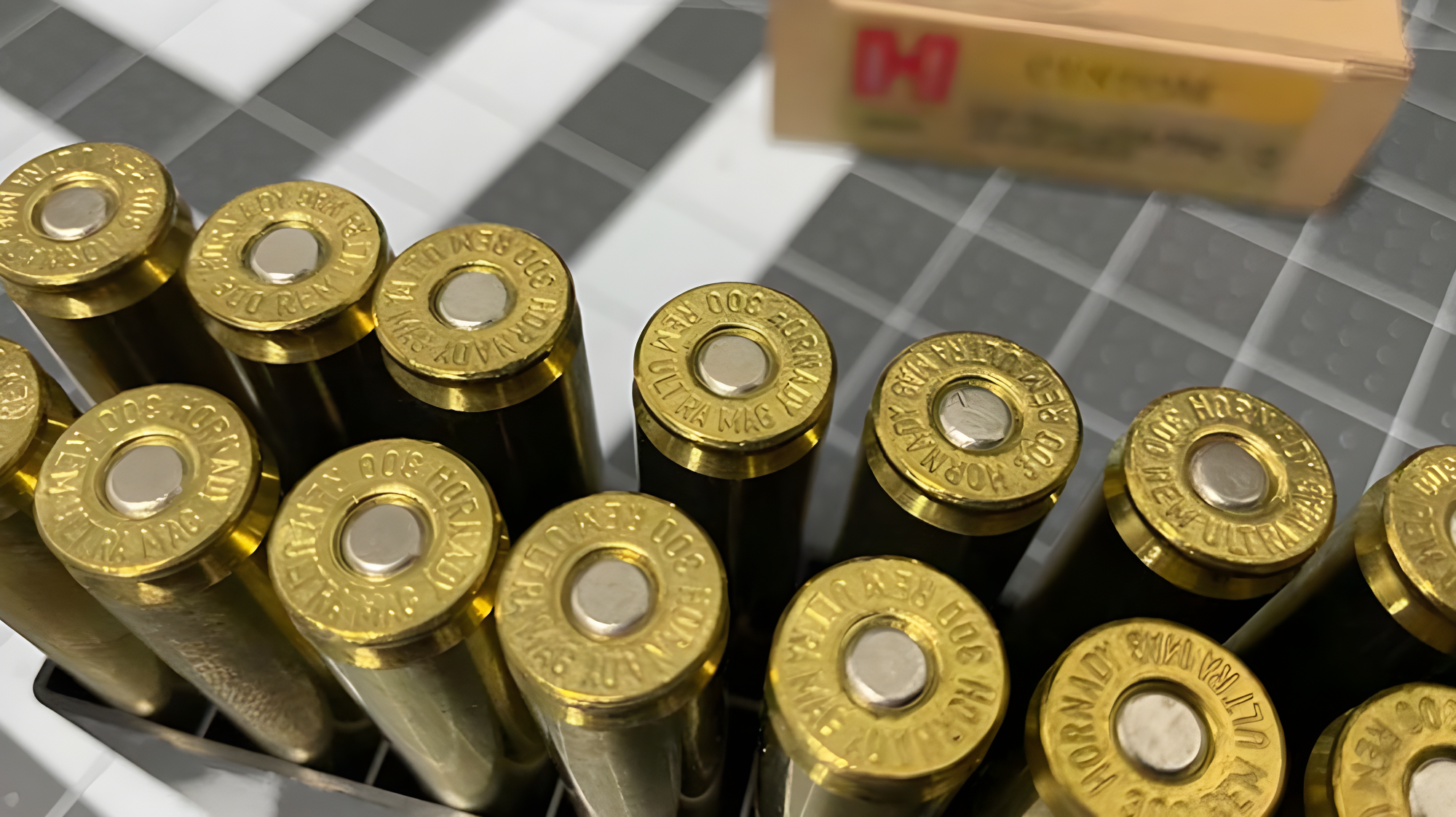 Features 💣
Welcome to the heart of our exploration – the exceptional features that set 300 Remington Ultra Magnum Ammo apart from the crowd. This ammunition isn't just your average run-of-the-mill choice; it's a testament to precision engineering and unbridled power that's sure to leave you in awe.
| | |
| --- | --- |
| 📍 Power Unleashed: When it comes to raw power, the 300 Remington Ultra Magnum Ammo stands head and shoulders above the rest. Packing a serious punch, this cartridge is designed for long-range precision shooting and big game hunting. | 📍 High Energy Transfer: Thanks to its impressive energy transfer upon impact, the ammo delivers devastating stopping power, making it ideal for taking down large games like elk, moose, or bear with confidence. |
| 📍 Velocity Supremacy: With a blistering muzzle velocity, it flies at incredible speeds, ensuring a flat trajectory and minimal bullet drop at extended ranges. This velocity translates to exceptional accuracy and improved target-hitting consistency. | 📍 Versatile Bullet Selection: Shooters can choose from a wide variety of bullet weights and designs, allowing customization to suit specific shooting needs – whether it's long-range precision work, hunting, or even some steel target shooting fun. |
Our Top Pick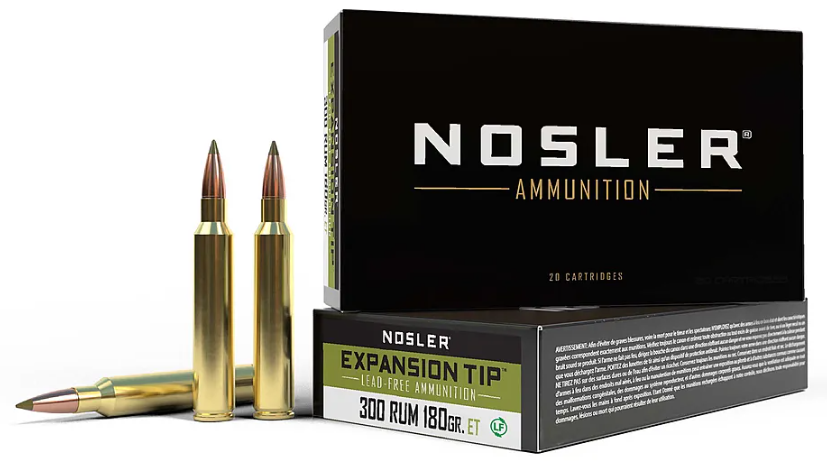 Benefits 🔋
Now that we've covered the impressive features, let's unveil the incredible benefits that await those who choose the 300 Remington Ultra Magnum Ammo. It's not just about raw power; it's about the unparalleled advantages that come along with this ammunition, elevating your shooting game to new heights.
✔️ Unmatched Precision: With its exceptional ballistics, shooters can achieve tight groupings and consistent shots even at extreme distances. This precision and reliability instill confidence in marksmen, enhancing the overall shooting experience.
✔️ Ethical Hunting: The 300 RUM's energy and stopping power ensure clean and humane kills, vital for ethical hunting practices. As responsible shooters, we prioritize quick and effective takedowns of game animals.
✔️ One Cartridge, Multiple Uses: From hunting majestic games in the wilderness to testing your skills on the shooting range, the ammo serves as a versatile option, suitable for various shooting scenarios.
Our Top Pick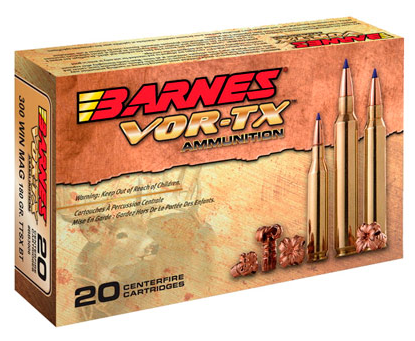 Types of 300 RUM Ammo 💎
When it comes to the 300 RUM, variety is the spice of life! This powerful cartridge comes in different configurations, tailored to cater to diverse shooting preferences. We explore some popular types below.
🔰 Premium Hunting Loads: These loads are designed explicitly for hunting purposes. They feature specially engineered bullets that expand reliably upon impact, maximizing energy transfer to bring down the game quickly and efficiently. If you're planning an epic hunting adventure, these loads won't disappoint.
🔰 Match-Grade Ammo: Precision shooters and long-range enthusiasts rejoice! Match-grade ammo is carefully crafted with utmost precision to deliver consistent performance. From the propellant charge to the bullet itself, every aspect is optimized for accuracy. Whether you're competing or honing your skills at the range, these loads are a must-try.
🔰 Bonded Bullet Loads: Bonded bullets are engineered to retain their mass and integrity upon impact, making them perfect for hunting tough, thick-skinned games. These loads provide deep penetration and reliable expansion, ensuring you can take on the most challenging hunting scenarios with confidence.
🔰 Varmint Loads: Don't let the name fool you – varmint loads in 300 RUM are not just for small critters. With lighter bullets and explosive expansion, these loads are surprisingly effective for predator hunting and pest control. Plus, they offer reduced recoil, making them enjoyable for extended shooting sessions.
🔰 Range Training Ammo: If you're looking to log some serious range time without breaking the bank, range training ammo is the way to go. These budget-friendly options still offer decent accuracy and consistency, making them perfect for honing your skills without burning through your ammo budget.
Our Top Pick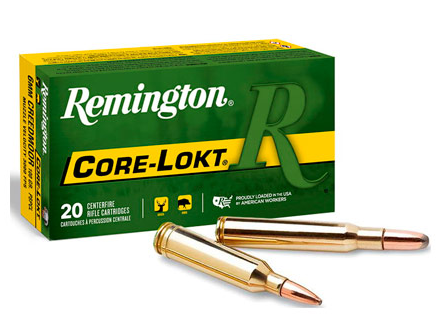 300 Remington Ultra Magnum Ammo Review | Top-15 300 Remington Ultra Magnum Ammo
#1 Hornady Outfitter 300 Remington Ultra Magnum Ammo – 180 Grain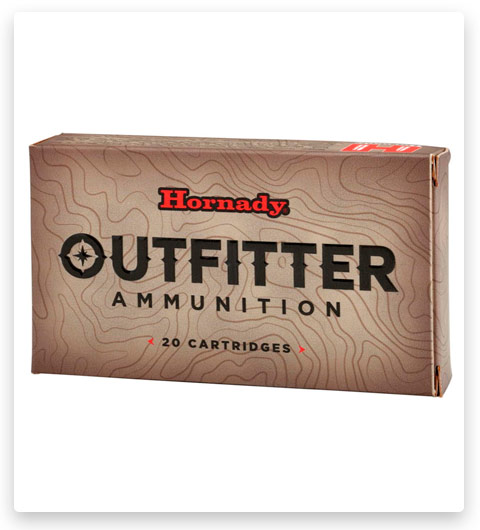 Introducing Hornady Outfitter .300 RUM 180 Grain GMX Centerfire Rifle Ammunition, the ideal choice for hunters in the backcountry or back-forty. This ammunition boasts the rugged GMX bullet, crafted from monolithic copper alloy, ensuring uniform expansion, deep penetration, and exceptional weight retention. With watertight protection from sealed primers and case mouth, along with corrosion-resistant nickel-plated cases, Outfitter ammunition guarantees peak performance even in the toughest conditions. California-compliant and perfect for regions requiring nontraditional bullets, trust Hornady's accurate and dependable ammo for your next hunting adventure.
#2 Nosler Trophy Grade 300 Remington Ultra Magnum Ammo – 165 Grain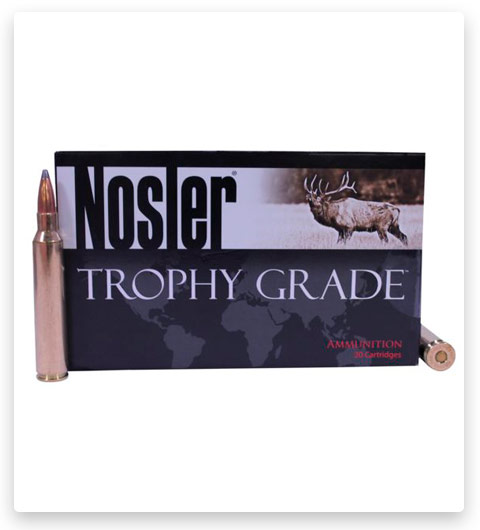 Nosler Trophy Grade .300 Remington Ultra Magnum 165 Grain Ammunition – the epitome of precision and reliability for discerning shooters. Crafted with meticulous attention to detail, each round features Nosler Custom brass and a Flat Base Spitzer 165-grain Nosler Partition bullet, ensuring consistent performance and lethal accuracy. The Partition bullet's advanced design guarantees rapid expansion and deep penetration, making it superb for deer hunting. With a muzzle velocity of 3350 fps and 4111 ft-lbs of muzzle energy, this USA-made ammunition is the faultless choice for shooters who demand nothing but the best.
#3 Nosler Custom 300 Remington Ultra Magnum Ammo – 180 Grain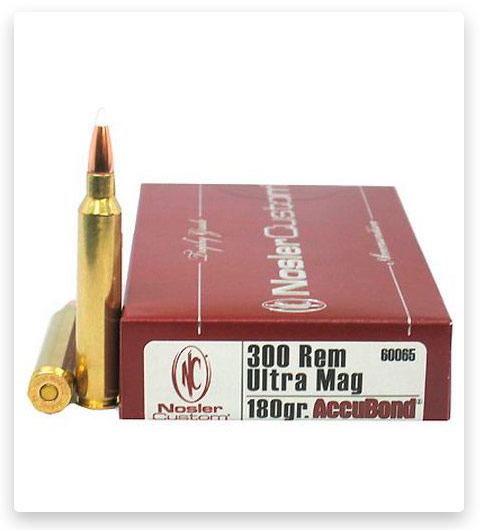 The Nosler Trophy Grade .300 Remington Ultra Magnum 180 Grain AccuBond ammunition offers shooters exceptional precision and reliability. With a muzzle velocity of 3250 ft/s and energy of 4092 ft-lbs, it delivers consistent, deep-penetrating shots. The AccuBond bonded core bullet ensures reliable expansion upon impact and minimal barrel fouling, making it perfect for hunting elk and moose. Hand-packaged with Nosler Custom brass, this high-quality ammunition is a trusted choice for top-notch performance and consistency in the field.
#4 Nosler Trophy Grade 300 Remington Ultra Magnum Ammo – 210 Grain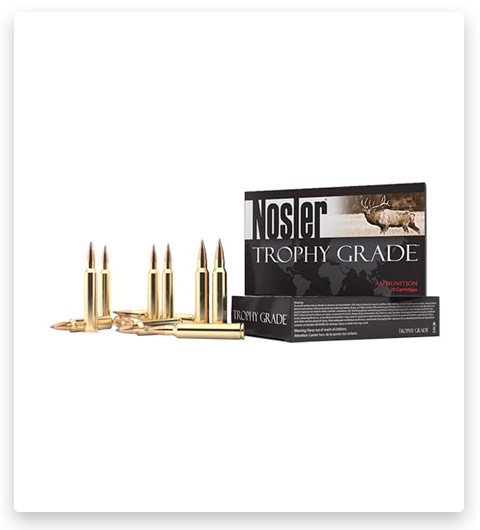 Nosler Trophy Grade Long Range Centerfire Rifle Ammunition, expertly designed to deliver top-tier performance for shooters and hunters alike. Crafted with solid brass casings, this .300 Remington Ultra Magnum cartridge guarantees reliability in your firearm. Its ultra-high B.C. bonded-core bullet with a sleek profile ensures outstanding results at long distances, exhibiting consistent wind drifts and terminal ballistics. Ideal for varmints, medium, and big games, this ammunition offers exceptional value and minimal recoil, making it perfect for training purposes.
#5 Barnes Vor-Tx 300 Remington Ultra Magnum Ammo 180 grain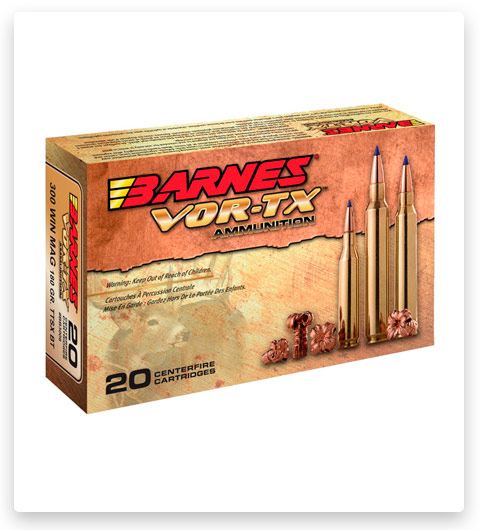 Let's take a look at the Barnes VOR-TX .300 Remington Ultra Magnum 180gr TTSX BT Rifle Cartridges – the pinnacle of accuracy and power for big game hunters. With a boat tail hollow point design, these 20 rounds offer unparalleled expansion and energy retention upon impact. The 180-grain bullets, made with brass cartridge cases, boast a high muzzle velocity of 3360 ft/s and an impressive 4158 ft-lbs of muzzle energy. The lead-free composition and G1 Ballistic Coefficient of 0.442 ensure maximum penetration and deadly double-diameter expansion. For those wishing for the most potent and reliable ammunition, Barnes VOR-TX is the ultimate choice.
#6 Norma Bondstrike 300 Remington Ultra Magnum Ammo 180 Grain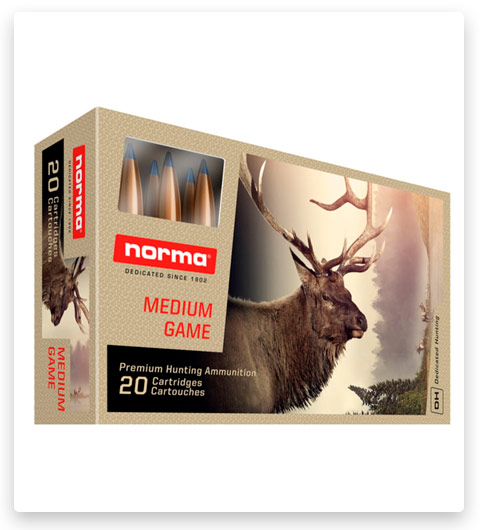 Norma Ammunition presents the 20176682 Bondstrike Extreme, a game-changing 300 RUM round tailored for unparalleled long-range accuracy and remarkable in-game performance. The cutting-edge design incorporates bonded weight retention and superior penetration, setting it apart in the competitive long-range hunting bullet market. With its aerodynamic excellence, shooters can expect exceptional precision, making it a wonderful thing for tackling extreme distances with unwavering confidence.
#7 Remington Premier Scirocco Bonded 300 Remington Ultra Magnum Ammo 150 Grain
Note the Remington Premier Scirocco Bonded .300 Ultra Magnum Ammo, a powerful and advanced choice for hunters pursuing large game animals. This ammunition boasts a bonded bullet construction, ensuring superior strength and weight retention, making it ideal for close-range takedowns of even the most formidable African game. The boat tail design enhances velocity while the polymer tip reduces drag, resulting in exceptional ballistics. With a seamless fusion of jacket and core, this ammunition guarantees optimum performance and deep penetration.
#8 Nosler Custom 300 Remington Ultra Magnum Ammo 180 Grain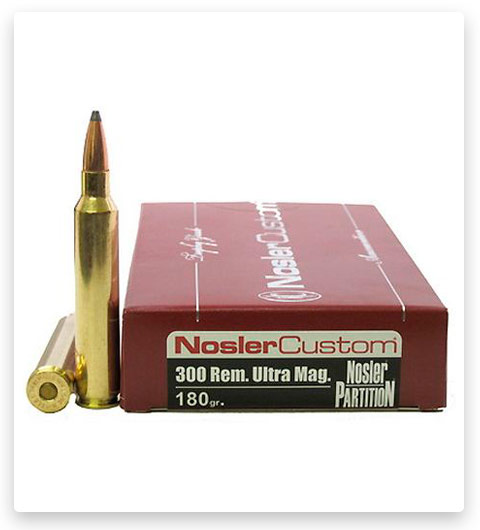 Nosler Custom .300 Remington Ultra Magnum 180 Grain Nosler Partition Brass Cased Centerfire Rifle Ammunition, a pinnacle of precision and performance. Crafted with the utmost care, this ammo boasts a 180-grain AccuBond bonded core bullet, meticulously loaded to Nosler's strict standards, guaranteeing consistency and reliability. With a rapid muzzle velocity of 3200 fps and impressive muzzle energy of 4092 ft-lbs, hitting your mark is assured. The traditional copper-alloy jacket and lead core allow for precise expansion and accuracy, making it great for taking down elk and moose. You may elevate your shooting experience with this ammunition.
#9 Nosler Trophy Grade 300 Remington Short Action Ultra Magnum Ammo 180 Grain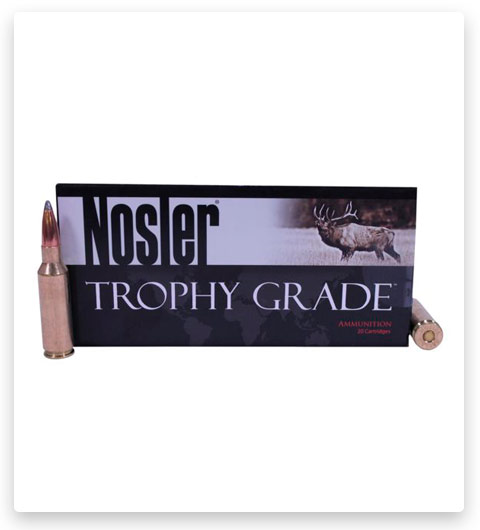 The Nosler Trophy Grade .300 Remington Short Action Ultra Magnum ammunition is the epitome of precision and reliability for discerning shooters. With hand-packaged, high-quality components, including Nosler Custom brass and renowned Partition Bullets, this ammunition ensures consistent performance and deep penetration. Delivering a powerful muzzle velocity of 2900 fps and muzzle energy of 3360 ft-lbs, it's tailored for elk and moose hunting. Its flat base spitzer design, ballistic coefficients, and exceptional build make it a top choice for people looking for optimal accuracy and stopping power. Made in the USA, this ammo is a mark of quality and consistency for any shooting adventure.
#10 Remington Core-Lokt 300 Remington Ultra Magnum Ammo 180 Grain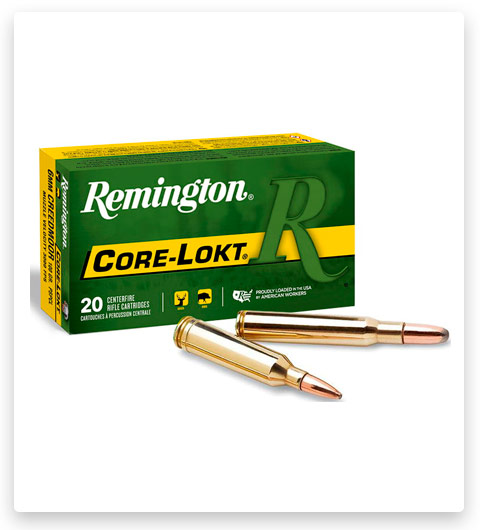 Introducing the Remington Core-Lokt .300 Ultra Magnum 180 Grain Pointed Soft Point Centerfire Rifle Ammunition, the go-to choice for hunters worldwide. Trusted since 1939, this feature-loaded cartridge is designed for popular handgun makes and offers hunters a supreme time-proven load with an array of caliber options. With a muzzle velocity of 3175 ft/s and muzzle energy of 4030 ft-lbs, this brass-cased ammunition delivers unmatched performance for big game hunting. Its Jacketed Soft Point (JSP) design ensures precision and reliability. We found out that this is the preferred ammunition for shooters who need consistent and successful results on every continent.
#11 Barnes Vor-Tx Long Range Centerfire 300 Remington Ultra Magnum Ammo 190 grain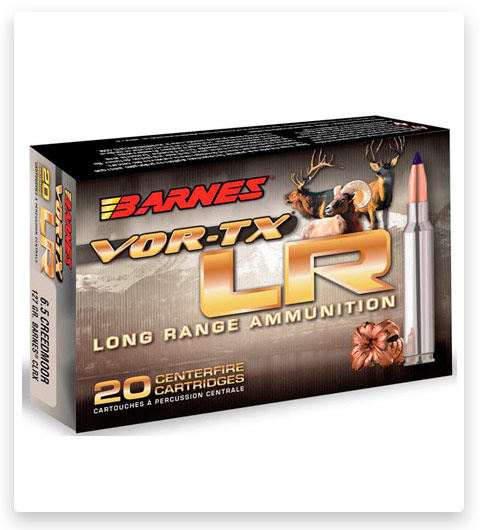 Consider the Barnes Vor-TX LR, a breakthrough in extreme-distance ammunition. Crafted with meticulous precision using super-premium components, the .300 Remington Ultra Magnum 190gr LRX BT Rifle Cartridges are optimized for match-grade accuracy and devastating terminal impact on big game, whether at close range or well past 700 yards. With specially engineered LRX bullets boasting a G1 ballistic coefficient of 0.54 and a G7 ballistic coefficient of 0.266, this lead-free ammunition guarantees unmatched flight characteristics and massive expansion. Experience quick, clean, and ethical kills with Barnes Vor-TX LR, no matter the distance.
#12 Federal Premium VITAL-SHOK 300 Remington Ultra Magnum Ammo 180 grain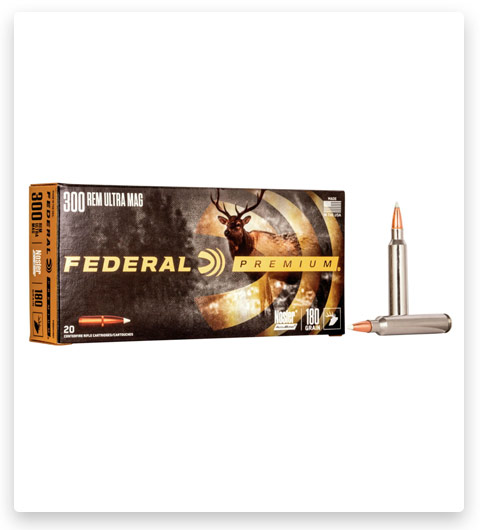 Federal Premium Vital-Shok .300 RUM 180gr. Nosler AccuBond Rifle Ammo is a top-notch choice for getting a powerful performance. Expertly manufactured by Federal, this ammunition features a boat-tail design and high-performance polymer tip, ensuring impressive downrange velocity and energy. With a core bonded to a tapered jacket, it offers fast and controlled expansion, making it ideal for medium and big game hunting. Its deep penetration and moderate weight retention guarantee reliable terminal performance. Whether you're a seasoned hunter or a shooting enthusiast, based on our experience, this ammo's accuracy and energy transfer will not disappoint.
#13 Norma Oryx 300 Remington Ultra Magnum Ammo 180 Grain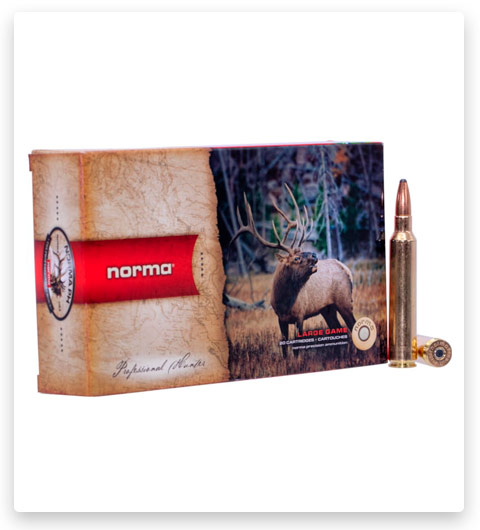 We experienced Norma ORYX 300 RUM 180 gr American PH ammunition and concluded that it is a game-changer for shooters seeking optimal performance. With its thin forward jacket featuring internal splitting zones, this ammo guarantees flawless mushrooming at any impact velocity. It's bonding and thicker rear jacket wall ensure a remarkable over 90% residual weight retention after impact, granting excellent penetration.
#14 Barnes Vor-Tx 300 Remington Ultra Magnum Ammo 165 grain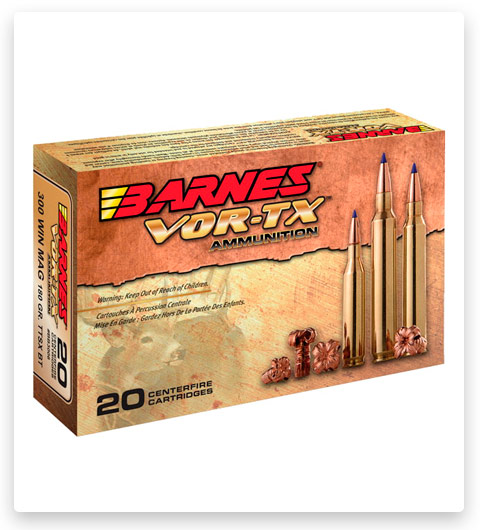 Experience the pinnacle of hunting ammunition with Barnes Vor-TX .300 Remington Ultra Magnum 165gr TTSX BT Rifle Cartridges. These precision-engineered rounds deliver devastating power to stop the big game in its tracks. With all-copper bullet technology, expect unparalleled weight retention and double-diameter expansion for maximum tissue and bone destruction. Our specialists ensured that the deadly combination of bullet integrity and predictable chaos guarantees animals go down like never before. Ideal for big game hunting, these lead-free rounds offer exceptional accuracy and pass-through penetration.
#15 Nosler 300 Remington Ultra Magnum E-Tip Ammo 180 grain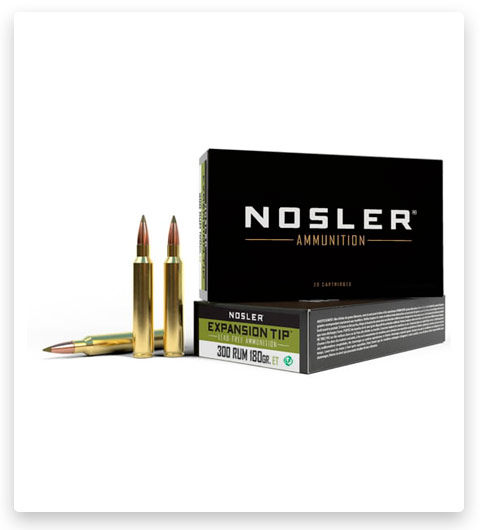 The Nosler .300 Remington Ultra Magnum E-Tip 180-grain Brass Cased Rifle Ammunition is a high-performance option favored by long-range shooters and hunters exploring new territories. Its high BC, all-lead design allows for higher velocities and immediate, uniform expansion through the advanced polymer tip and Energy Expansion Cavity. With 95% weight retention, this bullet ensures superior penetration. Its boat tail configuration enhances long-range performance and reloading ease. Faultless for big game hunts, such as elk and moose, this American-made ammunition from Nosler guarantees exceptional quality and performance for your hunting needs.
💡 Choose the Right Option
Choosing the right ammunition for your firearm, such as the 300 Remington Ultra Magnum (300 RUM), requires considering various factors to ensure safety, accuracy, and suitability for your shooting needs. Here are some essential steps:
1️⃣ Purpose of Use: Determine the primary purpose of using the ammunition. Are you planning to use it for long-range precision shooting, hunting, or target practice? Different loads are designed for various purposes, so identifying your intended use is crucial.
2️⃣ Bullet Type: It typically accommodates a wide range of bullet types, including soft point (SP), hollow point (HP), ballistic tip, and more. Each bullet type has distinct characteristics, such as expansion, penetration, and accuracy. Choose a bullet type that aligns with your shooting requirements.
3️⃣ Bullet Weight: The weight of the bullet can significantly impact its performance. Heavier bullets typically offer better long-range stability and penetration, while lighter bullets may have higher velocities and flatter trajectories. Consider your shooting distance and the type of game you'll be hunting (if applicable) to choose an appropriate bullet weight.
4️⃣ Muzzle Velocity: Different loads may have varying muzzle velocities. Higher muzzle velocities generally result in flatter trajectories and less bullet drop at longer distances. However, higher velocities might also produce more recoil, which could affect your shooting comfort and accuracy. Strike a balance between velocity and controllability.
5️⃣ Recoil Management: Consider your ability to manage recoil. The ammo is known for its significant recoil, and while it offers excellent performance, it may not be suitable for all shooters. If you're sensitive to recoil or are relatively new to shooting, you might opt for a load with less recoil.
6️⃣ Ammunition Brand: Choose reputable ammunition manufacturers known for producing high-quality and consistent rounds. Some well-regarded brand include Remington, Federal Premium, Nosler, Hornady, and Barnes, among others.
7️⃣ Barrel Length: Keep in mind that different barrel lengths can affect the performance of ammunition. Ballistic data and muzzle velocities are often provided for specific barrel lengths. If your firearm has a barrel length that differs significantly from the standard used for testing the ammunition, it may impact your results.
8️⃣ Reviews and Testing: Check online reviews and consider conducting your own testing if possible. Real-world experiences from other shooters can provide valuable insights into the performance of specific loads.
9️⃣ Budget: Quality ammunition can be expensive, especially for a powerful cartridge like this. Set a budget that aligns with your shooting requirements and frequency.
📝 Always follow the manufacturer's recommendations and safety guidelines for your firearm and ammunition. Additionally, consider consulting with experienced shooters or firearms experts for personalized recommendations based on your specific shooting needs.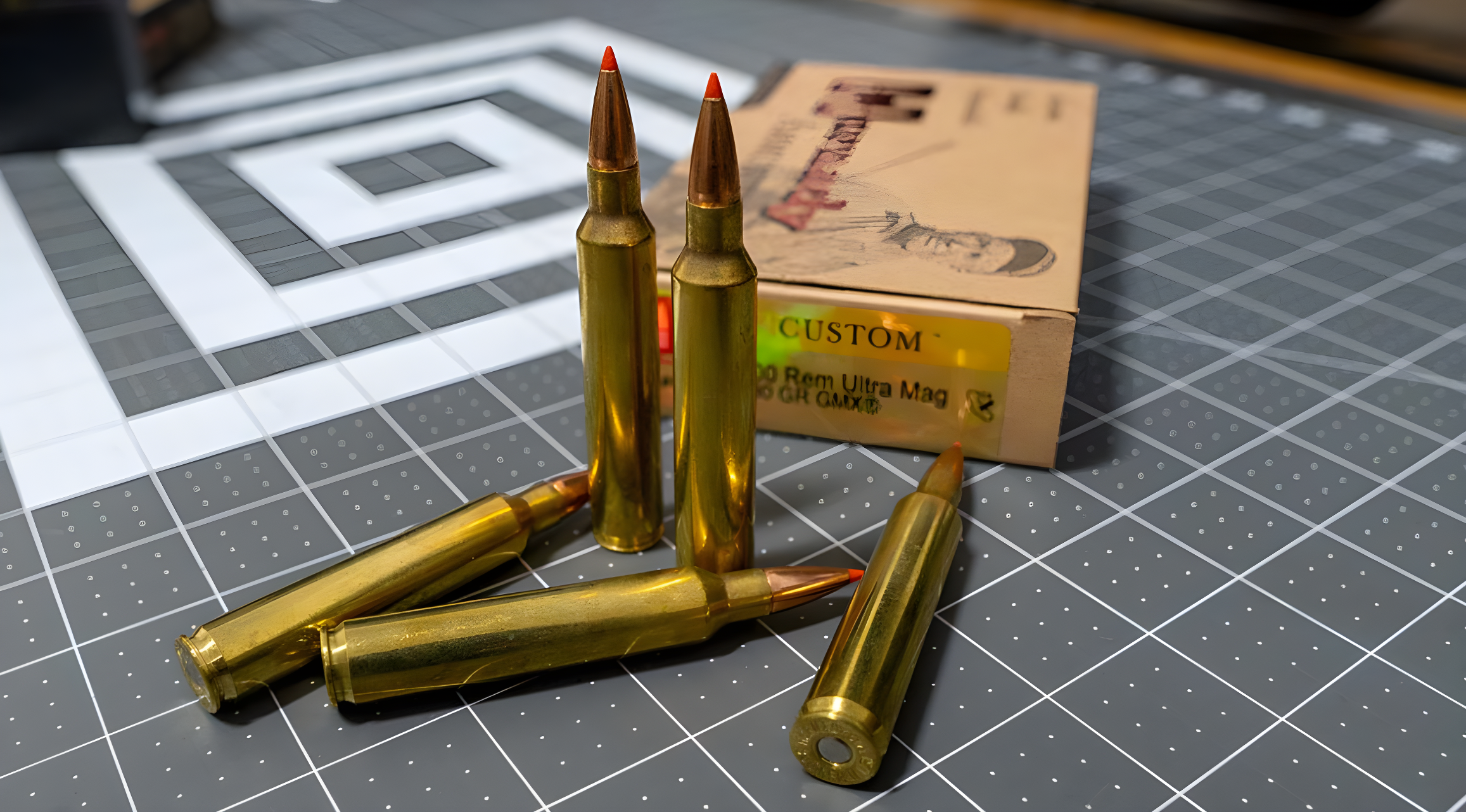 FAQ 🤔
Conclusion ⏰
So there you have it, the Best 300 Remington Ultra Magnum Ammo Buyer's Guide! The 300 RUM offers a lethal combination of power, accuracy, and versatility, making it a top pick for hunters and long-range enthusiasts alike. Just remember, with great power comes great responsibility, so always prioritize safety and ethical hunting practices. Happy shooting and hunting!
Tags: #Best #300 Remington Ultra Magnum #Ammo #Review #Remington #Winchester #Self #Homme #Defense #Hornady #Sale #Ballistics
Affiliate Disclosure: Rotorm.com sometimes gets paid for listings, through sponsors or affiliate programs like Amazon, Optics Planet, Lucky Gunner, Brownells, Cabelas, Rainier Arms, 5.11 Tactical, Bass Pro Shop, etс. Clicking a link helps keep Rotorm.com free, at no extra cost to you!
About the author: Each article on our site is written by experts in survival and tactical equipment, gun enthusiasts, extreme travelers, military, law enforcement and desperate professionals, read about the author at the bottom of the article or visit "About Us" page.
Note: The views and opinions expressed in this article are those of the authors and do not necessarily reflect the official policy or position of any agency.