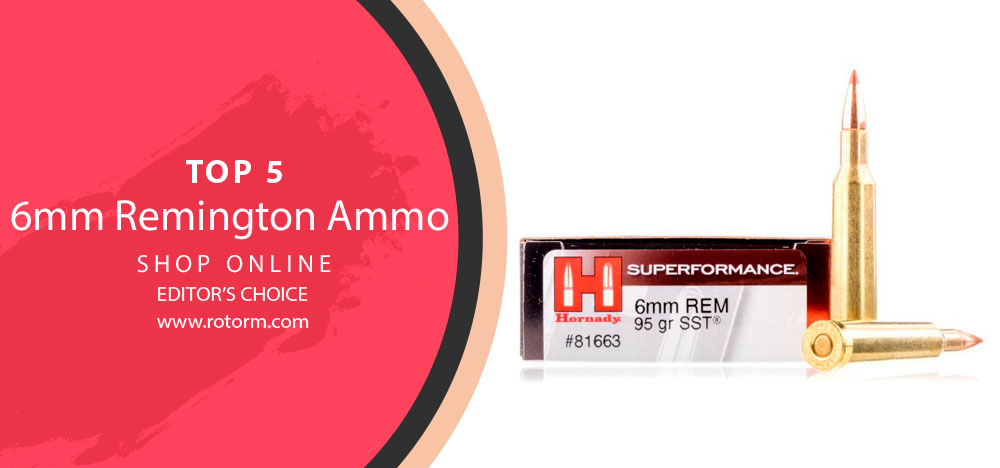 What is 6mm Remington ammo? 🧐
It also known as the 6mm Rem, is a popular centerfire rifle cartridge primarily used for hunting and target shooting. It was introduced by Remington Arms Company in 1955 and is based on the .257 Roberts cartridge case necked down to accept a 6mm (.243-inch) caliber bullet.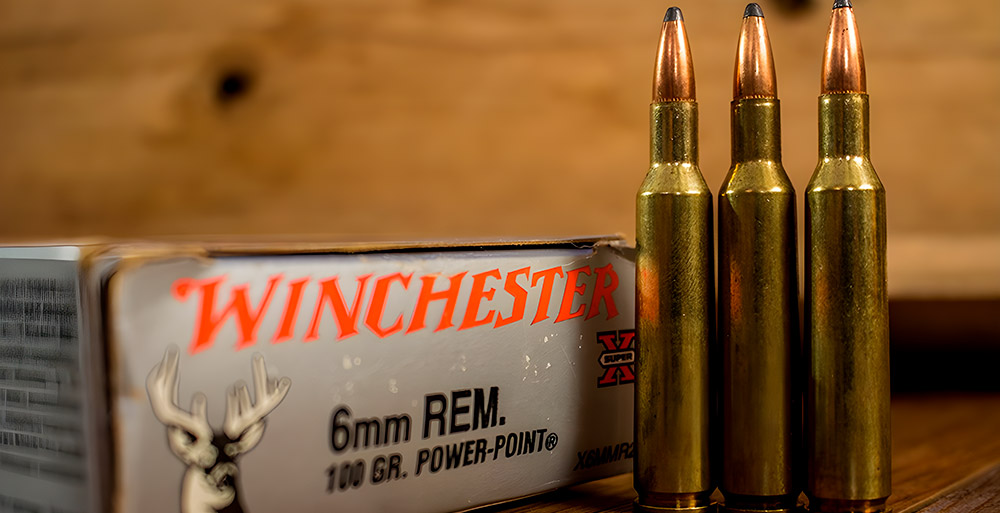 Features ✍️
The features of 6mm Remington ammunition can vary depending on the specific manufacturer, bullet type, and load, but here are some general characteristics commonly associated with it:
✅ Bullet Types: This ammunition is available with a wide range of bullet types, including soft point (SP), hollow point (HP), ballistic tip, boat-tail, and more. These bullet types are designed for various purposes, from varmint hunting to big game hunting to long-range precision shooting.
✅ Bullet Weights: Such ammo typically comes in various bullet weights, commonly ranging from 55 grains for varmint and small game hunting to 100 grains or more for larger game and long-range target shooting.
✅ Velocity: The velocity can vary depending on the specific load, but it often falls in the range of 2,800 to 3,400 feet per second (fps) for standard loads. Some specialized loads may exceed this range.
✅ Recoil: The recoil is considered moderate, making it manageable for most shooters. This is one reason why it's a popular choice for both hunting and target shooting, as it allows for accurate follow-up shots.
Our Top Pick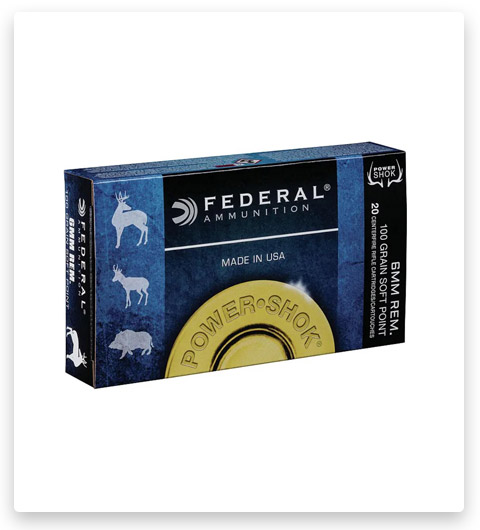 Federal Premium Power-Shok 6mm 100 Grain Jacketed Soft Point Centerfire Rifle Ammunition
What stands out about this ammunition is the proven power it offers, combined with the reliable soft points and expanding lead cores. These elements work together to deliver consistent and effective results in the field. Federal offers a range of options within its ammo lineup, including jacketed and soft point rounds with lead cores, catering to various hunting scenarios. The convenience of factory-fresh ammunition means you don't have to worry about reloading, saving you time and effort for your hunting trips. In summary, this ammo proves to be a dependable choice for hunters, offering the performance and quality needed for successful hunting experiences.
Buy Now On OpticsPlanet
If you click this link and make a purchase, we earn a commission at no additional cost to you.
Benefits 🤩
6mm Remington ammunition offers several benefits that make it a popular choice for a variety of shooting applications. Here are some of the key advantages:
⭐️ This cartridge is known for its flat trajectory, which means that the bullet travels relatively straight and doesn't drop as quickly as some other cartridges over longer distances. This flat trajectory is advantageous for both hunting and long-range target shooting.
⭐️ The versatility is one of its standout features. It is suitable for a wide range of shooting applications, including varmint hunting, small game hunting, medium-sized game hunting (like deer), and target shooting. Shooters can choose from various bullet types and weights to match their specific needs.
⭐️ While it may not be the largest caliber available, it is still effective for hunting medium-sized games like deer, providing appropriate bullet choices and shot placement. Many hunters appreciate its combination of flat trajectory and adequate terminal performance.
⭐️ Firearms chambered in 6mm Remington are widely available, and many reputable rifle manufacturers produce rifles in this caliber. This allows shooters to choose from a range of rifles to suit their preferences and needs.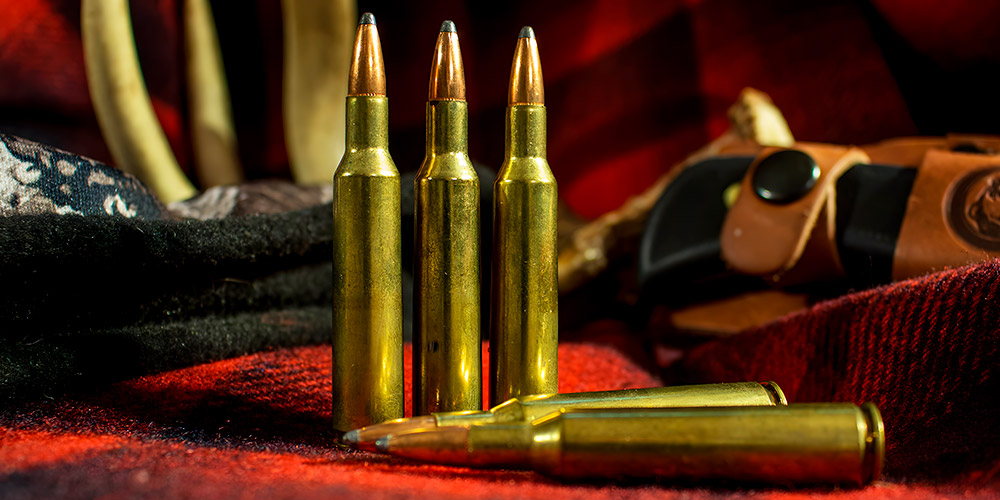 Is 244 Remington the new 6mm Remington? 🔍
The .244 Remington is not a separate or distinct cartridge from the 6mm Remington. The .244 Remington is an older designation for the cartridge that is now commonly known as the 6mm Remington. The two names refer to the same cartridge.
🔰 The confusion arises because Remington initially introduced the cartridge in 1955 as the .244 Remington. However, there were some issues with the early cartridge, including a relatively slow twist rate in some rifles that didn't stabilize heavier bullets well.
🔰 As a result, Remington renamed the cartridge to the 6mm Remington in the early 1960s and modified the twist rates in their rifles to better accommodate a wider range of bullet weights.
📌 So, if you come across references to the .244 Remington or the 6mm Remington, they are typically referring to the same cartridge. The change in the name was primarily a marketing and design adjustment made by Remington to improve the cartridge's performance and versatility.
6mm Remington Ammo Review | Top-5 6mm Remington Ammo
| Image | Product | Brand | |
| --- | --- | --- | --- |
| | Winchester SUPER-X RIFLE 6mm Remington Ammo 100 grain | Winchester | |
| | Remington Core-Lokt 6mm Remington Ammo 100 Grain | Remington | |
| | Federal Premium VITAL-SHOK 6mm Remington Ammo 100 grain | Federal Premium | |
| | Federal Premium Power-Shok 6mm Remington Ammo 100 grain | Federal Premium | |
| | Hornady Superformance 6mm Remington Ammo 95 Grain | Hornady | |
1# Winchester Super-X Rifle 6mm Remington 100 grain Power-Point Centerfire Rifle Ammunition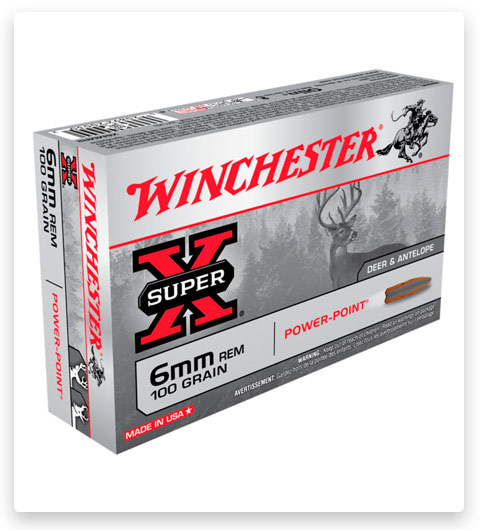 One notable feature is its heavy metal-free metal nose cavity, which contributes to its exceptional performance. Winchester offers a variety of bullet types, but the standard load we examined was the Winchester Soft Point, known for its soft lead core. Based on our observations this design is specifically engineered to deliver significant knock-down power for all your hunting needs. What sets this ammo apart is its contoured jacket, which ensures maximum expansion, resulting in highly efficient and effective results in the field. Whether you're heading to the range or venturing into the forest, this rifle ammunition provides the accuracy and power you'd expect from a well-established and reputable company.
2# Remington Core-Lokt 6mm 100 Grain Core-Lokt Pointed Soft Point Centerfire Rifle Ammunition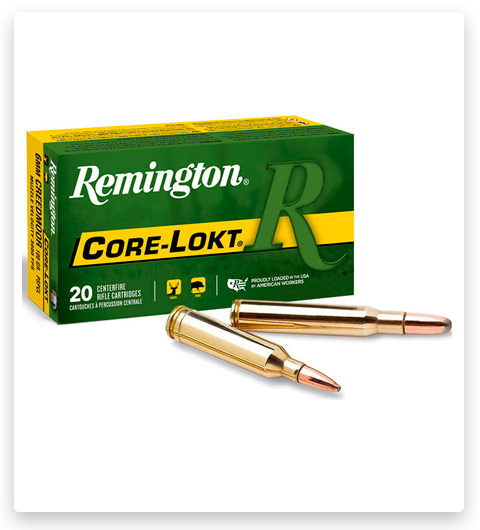 This ammunition is crafted by the experts at Remington Shooting and Handgun Ammo, and it's known for its dependable and proven controlled expansion design. What's remarkable about this ammo is its consistent performance shot after shot. It's designed to ensure controlled expansion upon impact, and the harder the impact, the more effectively it delivers results while maintaining bullet stability. This specific load features a 100-grain pointed soft point bullet that provides exceptional 2x expansion, weight retention, and consistent on-game results. Overall this centerfire rifle ammunition is a reliable choice for shooters and hunters who value consistent performance and controlled expansion, especially when it comes to semi-automatic rifles.
3# Federal Premium Vital-Shok 6mm 100 Grain Nosler Partition Centerfire Rifle Ammunition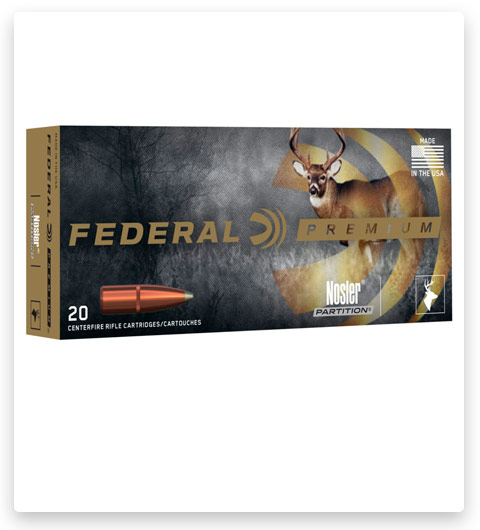 What sets the Nosler Partition apart is its innovative design, featuring a partitioned lead core. This unique construction allows the bullet to behave distinctively upon impact. The front half mushrooms, creating a powerful energy release upon striking the target, while the back half remains intact, ensuring deep penetration. The result of this distinctive design is twofold. Based on our own experience, it generates a significant wound channel due to the bullet's flat base, making the Nosler Partition highly effective with the initial shot. This design often necessitates seating the bullet at or near the minimum pressure. Secondly, the partitioned lead core facilitates high weight retention upon entry into the vital zone, ensuring that the energy release effect impacts the entire body of the target. This contributes to quick and humane takedowns. Over time, this ammo has established itself as the gold standard for consistency and reliability.
4# Federal Premium Power-Shok 6mm 100 Grain Jacketed Soft Point Centerfire Rifle Ammunition
In our evaluation of Federal Power-Shok 6mm Remington Ammo, we found it to be an excellent choice for hunters targeting medium to large game. This ammunition packs a punch, thanks to the proven power and explosive energy delivered by Power-Shok bullets. It's a reliable option that offers consistent performance at an affordable price point. One key factor instilling trust in this ammo is the company's commitment to rigorous quality control. They maintain strict standards throughout the manufacturing and packaging processes. Skilled professionals adhere to these high standards, ensuring reliability and consistency with every shot. Hunters can confidently rely on this ammunition for their favorite hunting adventures, knowing that Federal prioritizes quality and consistency in their product.
5# Hornady Superformance 6mm Remington 95 Grain Super Shock Tip Centerfire Rifle Ammunition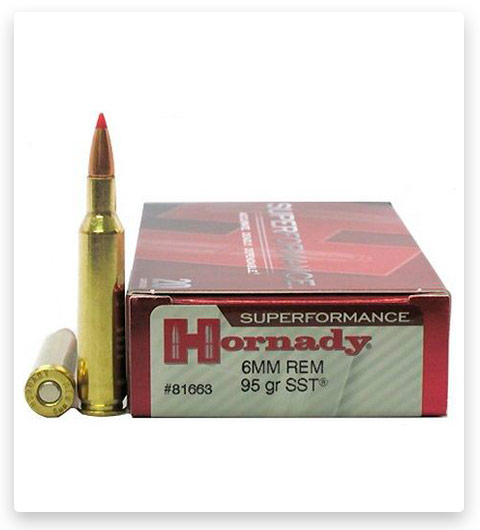 Hornady Superformance ammunition is designed to provide the confidence needed to take that important shot. Our findings show that these rifle rounds are engineered to be exceptionally accurate, allowing shooters to achieve precise and repeatable results. One standout feature of Hornady Superformance is its ability to deliver an extra 200 feet of muzzle velocity without introducing additional chamber pressure, recoil, muzzle blast, or temperature sensitivity. This means you can maximize your rifle's speed and power without sacrificing comfort or accuracy. Furthermore, such ammo maintains its performance even in terms of fouling and accuracy, ensuring consistent results with every shot. It's an option that allows you to optimize your shooting experience without concerns about unwanted side effects.
6mm Creedmoor vs 6mm Remington Cartridge 💡
The 6mm Creedmoor and the 6mm Remington are both popular cartridges for shooting sports and hunting, and they have some similarities as well as differences. Here's a comparison between the two cartridges:
🔶 6mm Creedmoor:
🔶 6mm Remington:
🟣 Origins:
 The 6mm Creedmoor is a relatively new cartridge that was designed in 2007 by Hornady, a renowned ammunition manufacturer. It was developed specifically for long-range precision shooting and competitive shooting disciplines.
 The 6mm Remington, on the other hand, has been around since 1955. It was developed by Remington primarily for hunting purposes but has also been used in target shooting.
🟣 Cartridge Design:
The 6mm Creedmoor is based on the .30 TC (Thompson Center) cartridge case, necked down to accommodate a 6mm (.243-inch) bullet. It has a shorter case length compared to the 6mm Remington.
The 6mm Remington is based on the .257 Roberts cartridge case, necked down to accept a 6mm (.243-inch) bullet. It has a longer case length than the 6mm Creedmoor.
🟣 Performance:
The 6mm Creedmoor is designed with long-range precision shooting in mind. It is known for its excellent accuracy, moderate recoil, and good ballistic performance, making it a popular choice for competitive shooting disciplines like PRS (Precision Rifle Series) and long-range target shooting.
The 6mm Remington offers versatility, with a longer case allowing for various bullet weights and hunting applications. It has a flatter trajectory compared to many larger caliber cartridges, making it suitable for medium-sized game hunting and target shooting.
🟣 Bullet Selection:
While there is a good selection of bullets available for the 6mm Creedmoor, it is often associated with high ballistic coefficient (BC) bullets designed for long-range shooting.
The 6mm Remington also has a variety of bullet options, including those suitable for varmint hunting, medium game, and target shooting.
🟣 Recoil:
The 6mm Creedmoor typically generates less recoil compared to the 6mm Remington, making it more user-friendly for shooters, especially in precision shooting where recoil management is crucial.
🟣 Availability:
The 6mm Creedmoor has gained popularity in recent years, and as a result, ammunition is widely available from various manufacturers.
While it may not be as common as the 6mm Creedmoor, 6mm Remington ammunition is still available from multiple manufacturers.
📌 In summary, the choice between the 6mm Creedmoor and the 6mm Remington depends on your specific shooting needs and preferences. If you're primarily interested in long-range precision shooting or competitive shooting, the 6mm Creedmoor's design and lower recoil may be advantageous. However, if you want a more versatile cartridge for hunting and general shooting purposes, the 6mm Remington offers a wider range of bullet options and has been a reliable choice for many years.
FAQ 🤓
Conclusion😉
6mm Remington ammo is a great choice for anyone searching for an all-around round for hunting. With so many great ammo options on the market, it can be tough to choose the right one for you. However, by taking into consideration the above factors, you can narrow down your choices and find the best ammo for your specific needs!🥰❤️‍🔥
#Best #6mm Remington #Ammo #Review #Remington #Winchester #Self #Homme #Defense #Hornady #Sale #Ballistics
Affiliate Disclosure: Rotorm.com sometimes gets paid for listings, through sponsors or affiliate programs like Amazon, Optics Planet, Lucky Gunner, Brownells, Cabelas, Rainier Arms, 5.11 Tactical, Bass Pro Shop, etс. Clicking a link helps keep Rotorm.com free, at no extra cost to you!
About the author: Each article on our site is written by experts in survival and tactical equipment, gun enthusiasts, extreme travelers, military, law enforcement and desperate professionals, read about the author at the bottom of the article or visit "About Us" page.
Note: The views and opinions expressed in this article are those of the authors and do not necessarily reflect the official policy or position of any agency.