What is the Best 243 Ammo? 🔎
The .243 Winchester is a popular centerfire rifle cartridge that was introduced in 1955 as a dual-purpose hunting and target shooting round. It was designed by necking down the .308 Winchester casing to accept a .243-inch (6mm) bullet.
It was quickly adopted by firearm manufacturers and became popular among hunters looking for a versatile mid-powered round. It performs well for hunting deer, antelope, hogs, and varmints out to medium ranges. The mild recoil makes it suitable for younger or smaller-framed shooters.
They fire slim, aerodynamic bullets from 55-105 grains at velocities between 2,700-3,100 fps. This provides a flat trajectory and accuracy at longer distances. The lightweight bullets allow for rapid follow-up shots on quick-moving varmints.
While not as powerful on the large game as rounds like the .308, it provides sufficient penetration with proper expanding bullets. The accuracy and fast handling characteristics have also made it popular for target shooting competitions.
It continues to be a common chambering in popular hunting rifles like the Remington Model 700 and the Winchester Model 70. It has carved out an effective niche as an excellent dual-purpose medium game hunting and target shooting cartridge.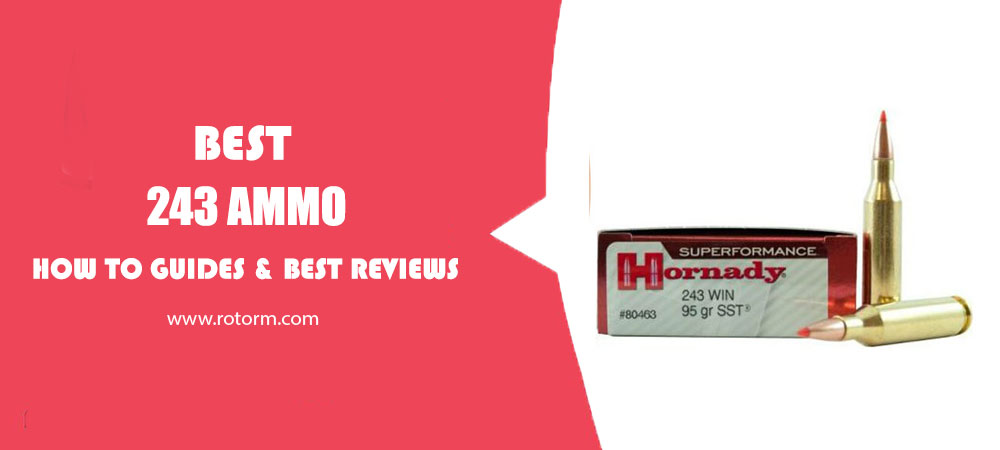 Benefits 🔥
| | |
| --- | --- |
| ✅ Versatility: | It is suitable for both big game hunting (like deer) and varmint hunting (like prairie dogs and coyotes). |
| ✅ Low Recoil: | Due to its mild recoil, it's ideal for new shooters or those who are sensitive to heavy recoil. This ensures better shot placement and consistent shooting practices. |
| ✅ Long-Range Potential: | With the right load and rifle, it can be an effective long-range cartridge, making it popular among target shooters. |
| ✅ Wide Bullet Selection: | There's a diverse range of bullet weights and types available, allowing for customization depending on the intended use. |
| ✅ Youth and Women Friendly: | Due to its manageable recoil and lighter-weight rifles, it is often recommended for younger shooters and women. |
| ✅ High-Velocity Performance: | The cartridge typically offers high muzzle velocities, which can lead to flatter trajectories and improved accuracy. |
| ✅ Economical: | Compared to some other big game cartridges, it can be more affordable, making it a good choice for regular shooters. |
| ✅ Environmental Impact: | It, when used for hunting, can lead to less meat damage due to its smaller caliber, ensuring less waste. |
Our Top Pick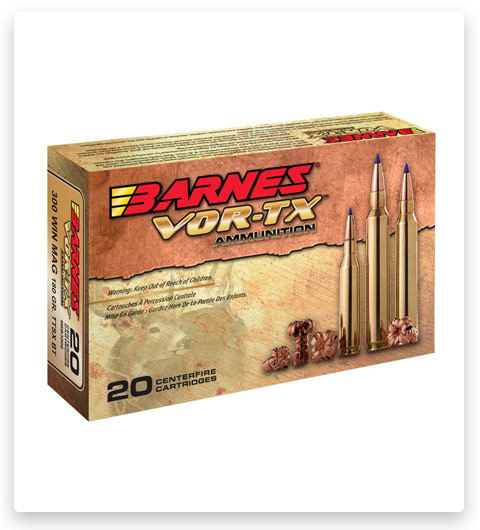 Barnes Vor-Tx 243 Winchester Ammo 80 Grain
Crafted with meticulous precision and innovation, it guarantees unparalleled accuracy. Whether you're a seasoned hunter or shooting enthusiast, it's tailored to your needs. Benefit from its exceptional design, ensuring double-diameter expansion, weight retention, and accuracy. TSX, Tipped TSX, and TSX FN bullets ensure quick, humane kills.
Buy Now On OpticsPlanet
If you click this link and make a purchase, we earn a commission at no additional cost to you.
Features ⭐
| | |
| --- | --- |
| ☑️ Caliber Size: | The .243 ammunition is 6mm in diameter, making it a medium-bore cartridge. |
| ☑️ Case Origin: | It is derived from the .308 Winchester case, necked down to accept 6mm bullets. |
| ☑️ Bullet Weight Range: | Bullets can range from 55 grains (suited for varmints) up to 115 grains (for bigger game or long-range target shooting). |
| ☑️ Twist Rate: | Rifles chambered in .243 often have a twist rate optimized for the bullet weight, with many common rifles featuring a 1:9 or 1:10 twist. |
| ☑️ Muzzle Velocity: | Depending on the load and bullet weight, muzzle velocities can range from around 2,700 fps to over 3,900 fps. |
| ☑️ Case Length: | The standard case length is 2.045 inches. |
| ☑️ Parent Case: | As previously mentioned, its parent case is the .308 Winchester, making it a shortened variant of the same. |
| ☑️ SAAMI Maximum Pressure: | The Sporting Arms and Ammunition Manufacturers' Institute (SAAMI) lists the maximum pressure at 60,000 psi. |
Our Top Pick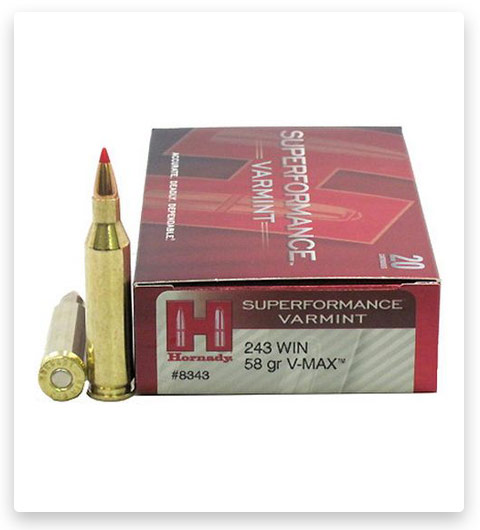 Hornady Superformance 243 Winchester Ammo 58 Grain
Engineered for precise accuracy, it ensures every shot counts. V-MAX bullets guarantee consistent hits. No more missed chances, just dependable precision. Progressive propellants and innovative design elevate V-Max, NTX, SST, GMX, and InterLock bullets to unmatched performance. Achieve remarkable velocity and unwavering trajectory for bullseye hits, every time.
Buy Now On OpticsPlanet
If you click this link and make a purchase, we earn a commission at no additional cost to you.
Common 243 Bullets 🔝
🚩 The .243 caliber bullet is a popular choice among hunters and target shooters alike. Derived from the .308 Winchester, the .243 Winchester cartridge is known for its flat trajectory and versatility in taking down a variety of games, from varmints to medium-sized ungulates.
🚩 One of the primary reasons for their popularity is their ability to deliver a relatively light recoil, making it suitable for younger shooters and those who are sensitive to recoil. This caliber is often recommended as a good starting point for new hunters, especially those who might be apprehensive about the kick of larger calibers.
🚩 They come in a variety of weights, typically ranging from 55 grains to 115 grains. The lighter bullets, such as the 55-grain and 58-grain, are often preferred for varmint hunting, as they can achieve higher velocities and deliver explosive results on smaller games. On the other hand, heavier bullets, like the 100-grain or 115-grain, are chosen for deer and antelope because they offer better penetration and energy transfer.
🚩 Manufacturers produce a wide range of them, each designed for specific purposes. For instance, there are bullets optimized for long-range shooting, with boat-tail designs that improve aerodynamics and reduce drag. There are also bullets with polymer tips that initiate rapid expansion upon impact, making them ideal for hunting.
🚩 It is a versatile and widely appreciated choice in the shooting world. Its range of bullet weights and designs cater to a broad spectrum of applications, from hunting small games to engaging targets at longer distances.
243 Ammo Review | Best 243 Ammo
#1 Hornady Superformance 243 Winchester Ammo 95 Grain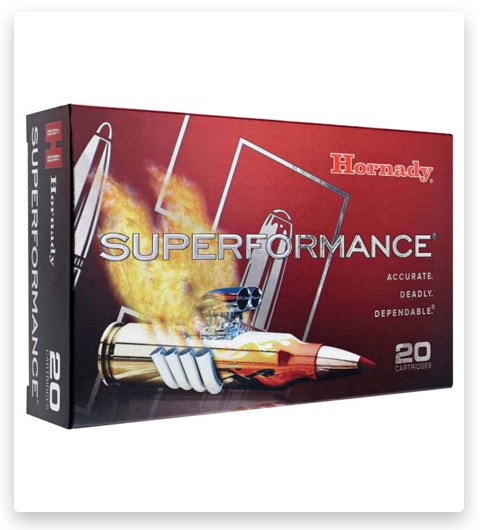 With Superformance technology, it delivers speeds that are 100 to 200 fps faster than conventional options. Say goodbye to compromises – achieve optimal performance in every shot without sacrificing accuracy or recoil management.
The cutting-edge performance technology is a game-changer. It utilizes ultra-progressive propellants that push your favorite SST or GMX bullets to levels of performance that were previously unattainable with conventional propellants.
Crafted with a Spitzer Boat Tail (SBT) bullet weighing 95 grains, this ammunition is perfect for medium and large game hunting. The G1 Ballistic Coefficient of 0.355 ensures remarkable accuracy and efficiency.
It meets the highest safety standards and is designed for use in all firearms, including semi-autos, lever guns, and pump actions. Whether you're a professional shooter or a dedicated hobbyist, safety is paramount.
#2 Federal Premium BERGER HYBRID HUNTER 243 Winchester Ammo 95 grain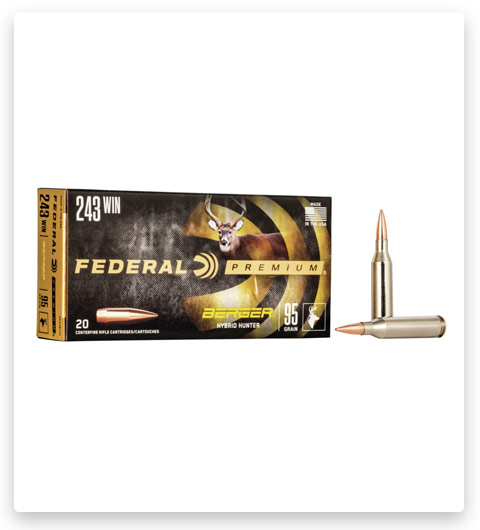 It features a cutting-edge tangent-secant ogive bullet design that ensures superior ballistic performance. Experience pinpoint accuracy and tight groupings even at extended distances, giving you the edge you need for successful shots.
Whether you're hunting medium game or honing your shooting skills, it delivers reliable terminal performance. Its high ballistic coefficient and specialized propellants guarantee consistent expansion and energy transfer, ensuring a clean and humane takedown.
No matter your firearm of choice, it is designed to fit seamlessly with a wide range of factory firearms. Its versatility extends to compatibility with different platforms, allowing you to explore various shooting styles and scenarios.
Loaded with Gold Medal primers and nickel-plated brass, this ammunition stands out for its consistent performance, reliable ignition, and smooth cycling.
#3 Fort Scott Munitions 243 WINCHESTER Ammo 58 Grain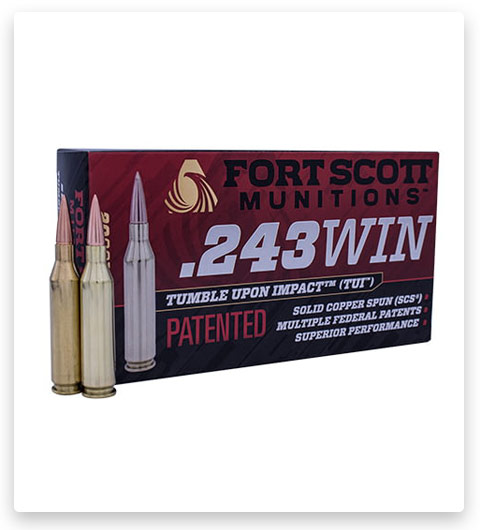 This ammo features match-grade solid copper bullets engineered to Tumble Upon Impact, ensuring devastating stopping power. This advanced technology provides unparalleled terminal performance, dropping varmints, games, and even larger targets in their tracks.
Built with meticulous attention to detail, it offers an array of benefits that elevate your shooting experience. The high-quality solid copper construction guarantees ethical and effective performance, making it an ideal choice where lead ammo is prohibited. With its ability to shoot steel targets up to 1,000 yards, you'll experience remarkable accuracy and power.
It is precision machined and loaded with care, ensuring tight tolerances and consistent performance. The incorporation of our multi-patented Tumble Upon Impact technology sets this ammunition apart, maximizing energy transfer and minimizing over-penetration risks.
#4 Winchester SUPER-X RIFLE 243 Winchester Ammo 100 grain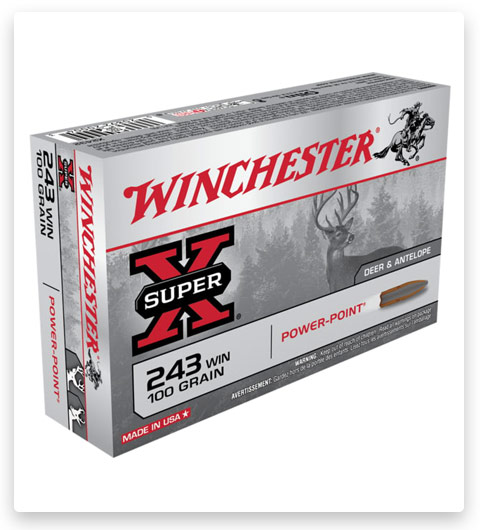 Unlock the full potential of your hunting experience with this premium ammunition. Specifically designed for avid hunters, it offers unparalleled benefits that will elevate your shooting accuracy and overall performance.
Crafted with meticulous attention to detail, this ammunition boasts a 100-grain Power-Point soft point bullet, optimized for quick and massive knock-down. Say goodbye to uncertainty – the strategic notching design ensures consistent and reliable expansion, even in the most challenging hunting conditions.
The core of this ammunition is alloyed lead, enhancing weight retention for deeper penetration. No more missed opportunities due to insufficient stopping power. With a muzzle velocity of 2960 ft/s and a muzzle energy of 1945 ft-lbs, it guarantees exceptional impact force, ensuring your target is taken down swiftly and effectively.
#5 Remington Core-Lokt 243 Winchester Ammo 100 Grain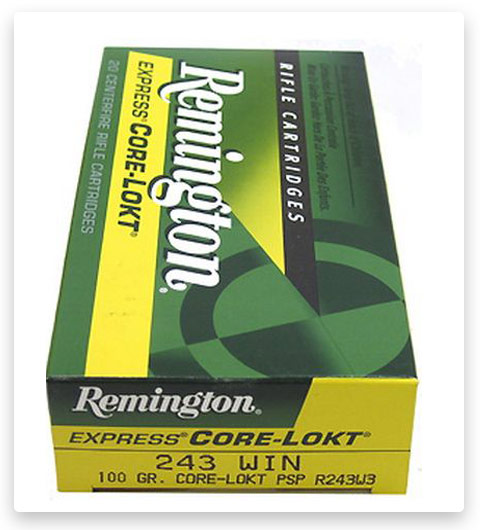 Crafted with a legacy of over 75 years of excellence, it stands as the pinnacle of controlled expansion bullets. Its track record speaks for itself, having harvested game on countless continents and landscapes. It is a staple choice for hunters who want results they can count on.
The secret to Core-Lokt's success lies in its tapered copper jacket, seamlessly fused to a robust lead core. This unique construction delivers unparalleled 2X expansion, weight retention, and consistent on-game performance. The results? Swift takedowns, ethical hunting, and a successful hunt every time.
But that's not all – it brings you another game-changing advantage. With a meticulously engineered design, it guarantees accuracy and unmatched reliability. The fusion of technology and design doesn't just enhance your shooting experience; it ensures you never miss a shot and achieve consistently precise results.
Moreover, impressive ballistic performance is matched only by its adaptability. Choose from an array of bullet weights and calibers, allowing you to tailor your ammunition to your specific hunting needs. Whether it's a large game or a challenging shot, it equips you with the ultimate tool.
#6 Federal Premium Power-Shok 243 Winchester Ammo 100 grain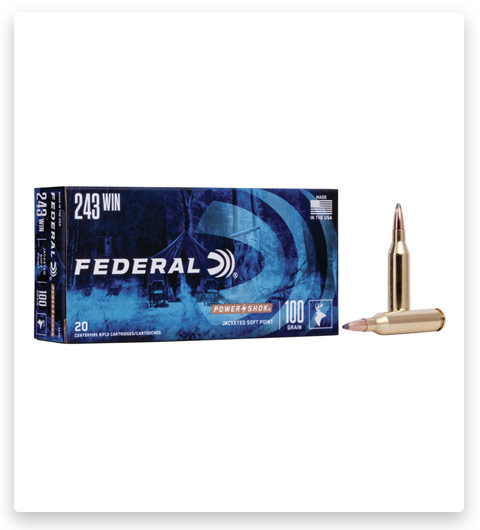 Unleash the potential of your rifle with it. Designed with precision and performance in mind, it promises to enhance your shooting experience in more ways than one.
Crafted with meticulous attention to detail, it offers a range of benefits that cater to hunters, enthusiasts, and precision shooters alike. With its 100-grain jacketed soft point bullets, it guarantees solid accuracy and power that hits the mark every time.
Experience the thrill of consistent, reliable performance. The lead-core hunting bullets of the Federal Power•Shok rifle loads provide you with the peace of mind you need, knowing that your shots will hit the target with precision. Whether you're targeting medium-sized games or larger targets, it is your reliable companion.
Say goodbye to ammunition-related worries. This ammo is crafted with top-tier Federal brass, primers, and powder, ensuring every shot is fired flawlessly. It's designed to cater to various shooting applications, making it an affordable choice without compromising quality.
#7 Winchester BALLISTIC SILVERTIP 243 Winchester Ammo 95 grain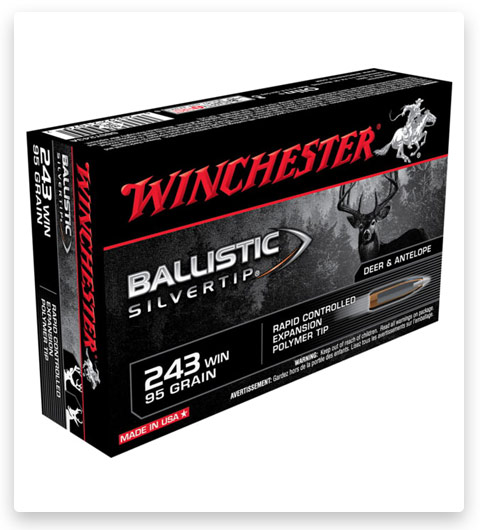 Designed for hunters who demand excellence, it combines innovative engineering with superior performance. Crafted with a focus on benefits, it delivers exceptional results for varmint and deer hunting.
Crafted with a 95-grain Rapid Expansion Polymer Tip (REPT) bullet, it ensures optimal expansion upon impact. The polymer tip resists deformation and maximizes long-range performance, guaranteeing deep penetration for effective takedowns. The alloyed lead core further enhances retained weight, resulting in superior knockdown power.
The contoured jacket provides controlled expansion, while the boat tail design enhances accuracy, making each shot count. The Lubalox (Black Oxide) Coating reduces engraving forces and barrel fouling, ensuring consistent performance over time.
Available in a convenient box of 20 rounds, it is built to handle the demands of serious hunters. The .243 Winchester caliber, combined with a muzzle velocity of 3100 ft/s and muzzle energy of 2021 ft-lbs, ensures you have the power and accuracy needed for successful shots.
#8 Winchester DEER SEASON XP 243 Winchester Ammo 95 grain

Crafted with meticulous attention to detail, it is specifically designed for the avid deer hunter. Advanced engineering ensures optimal performance in the field, delivering results that every hunter dreams of.
The Extreme Point bullet is the game-changer. With an oversized impact diameter, it leaves nothing to chance. The increased impact trauma, enhanced energy transfer, and larger wound cavities lead to quicker and more humane knockdowns.
This ammunition isn't just about raw power; it's about smart design. The streamlined profile ensures a flat trajectory, while the tapered jacket guarantees lethal penetration on deer. The alloyed lead core maximizes energy transfer and impact power, ensuring every shot counts.
Whether you're an experienced hunter or just starting out, it offers versatility that fits any skill level. Its capabilities make it an ideal choice for various shooting situations, promising consistent and reliable performance every time.
#9 Sig Sauer SIG Hunting Rifle 243 Winchester Ammo 55 grain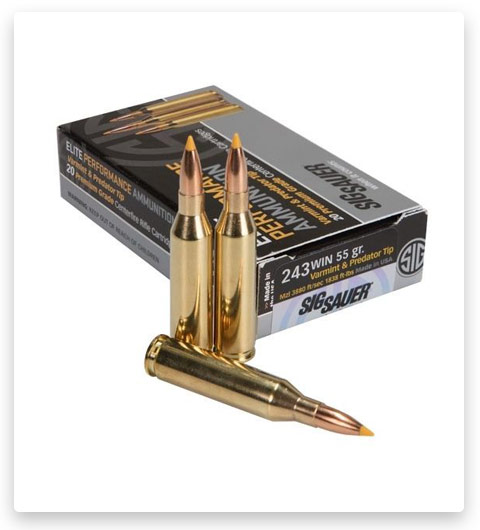 Designed to excel in accuracy and reliability, these rounds are optimized for medium-sized games, making them the ideal choice for hunters who require precision with every shot. The 55-grain Full Metal Jacket (FMJ) bullet is not only highly effective but also contributes to consistent muzzle velocities, providing flatter trajectories for improved downrange accuracy.
The yellow-tipped projectiles are specifically designed for explosive expansion, ensuring quick and humane takedowns. This ammunition is a testament to SIG SAUER's dedication to producing rounds that are consistent, reliable, and lethal.
Crafted from high-quality brass casing, it guarantees longevity and consistent performance. The brass casing also ensures smooth feeding and ejection, enhancing your shooting experience. Each round is loaded with precision and care, using state-of-the-art equipment and electromechanical monitoring to ensure charge weight consistency and geometric conformity.
Experience enhanced ballistic performance with muzzle velocities of up to 3880 ft/s, translating to flatter trajectories and increased accuracy at various hunting distances.
#10 Federal Premium VARMINT PREDATOR 243 Winchester Ammo 75 grain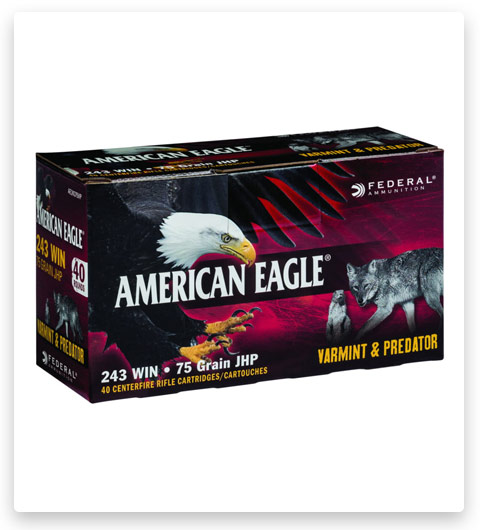 Designed for the avid varmint hunter, it offers a unique blend of accuracy, consistency, and reliable performance that sets it apart from the rest.
Crafted with attention to detail, each round features a 75-grain jacketed hollow point (JHP) bullet, delivering explosive expansion upon impact for maximum lethality. Whether you're targeting varmints or predators, it guarantees the stopping power you need for successful hunting outings.
With reloadable brass cases and reliable primers, you can trust in the functionality of each round. Plus, the highly reloadable brass cases and bulk pack options reduce in-the-field waste, making it an environmentally conscious choice for high-volume shooters.
#11 Hornady Precision Hunter 243 Winchester Ammo 90 Grain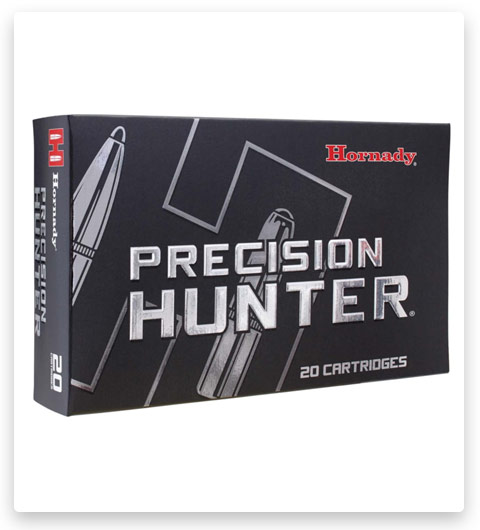 Crafted with precision, it is tailored for those who demand the best. This bullet is engineered to reach its maximum ballistic potential, ensuring you hit your target with pinpoint accuracy every time. This ammo is specifically designed to provide superior results, making it an essential tool for both small game and moving targets.
But the benefits don't stop there. With a high ballistic coefficient verified by Doppler radar, the Heat Shield tip withstands aerodynamic heating, maintaining its shape for optimal trajectory throughout its flight. The streamlined secant ogive and optimum boattail design work together with the highly concentric AMP bullet jackets and Heat Shield tip, ensuring remarkable aerodynamic efficiency.
This bullet expands consistently throughout its penetration path, offering devastating performance on impact. With the thick shank of the jacket and a high InterLock ring, the core and jacket remain intact, providing exceptional weight retention of 50-60%. And for extended-range shots, the Heat Shield tip initiates expansion upon impact, ensuring controlled expansion, deep penetration, and large cavities.
#12 Hornady Custom 243 Winchester Ammo 87 Grain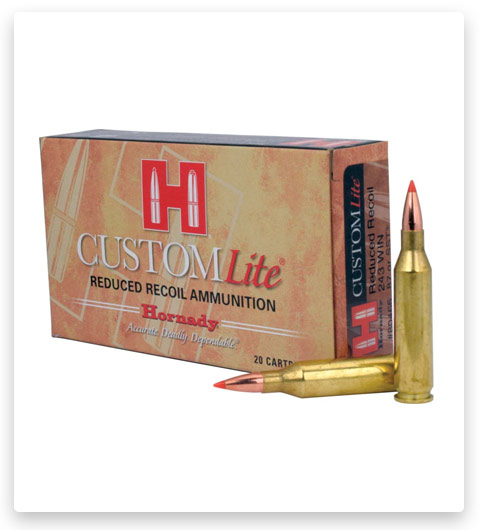 The advanced design of the SST bullet features a polymer tip that initiates rapid and controlled expansion upon impact, delivering massive energy transfer to your target. Whether you're targeting a medium-sized game or a larger quarry, this ammunition's expansion and penetration capabilities ensure quick, humane kills.
The use of high-quality brass casings enhances reliability and ensures consistent performance, shot after shot. With a muzzle velocity of 2800 ft/s and a muzzle energy of 1514 ft-lbs, you can trust that it will perform reliably at various distances, giving you the confidence you need to make that perfect shot.
The secant ogive design of the bullets minimizes drag and maximizes ballistic efficiency, resulting in flatter trajectories and improved accuracy. From the polymer tip that ensures controlled expansion to the reliable brass casings that guarantee consistent ignition, every detail of this ammunition is optimized to provide an edge in accuracy and effectiveness.
#13 Hornady Superformance 243 Winchester Ammo 58 Grain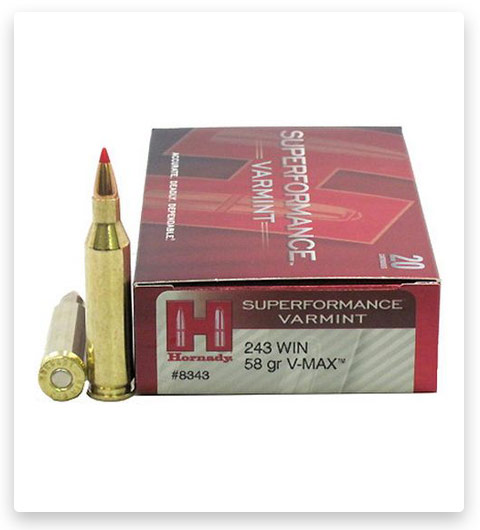 It is engineered to hit the mark with unparalleled accuracy. Its V-MAX bullets are optimized for precision, ensuring that every shot counts. Say goodbye to missed opportunities and welcome consistent and reliable accuracy.
The blend of progressive propellants and innovative design takes your favorite V-Max, NTX, SST, GMX, and InterLock bullets to levels of performance that were previously unattainable. Achieve remarkable velocity and trajectory consistency for a shot that hits the bullseye every time.
Designed with varmint hunting in mind, it is optimized for accuracy and impact. The Spitzer bullets are finely tuned to provide maximum energy transfer upon impact, ensuring swift and ethical takedowns. Whether you're targeting coyotes, prairie dogs, or other small game, it is your ammunition of choice.
It boasts a G1 Ballistic Coefficient of 0.250, contributing to its exceptional accuracy and trajectory stability. Whether you're shooting at varying distances or challenging angles, it offers the edge you need to maintain precise shot placement.
#14 Barnes Vor-Tx 243 Winchester Ammo 80 grain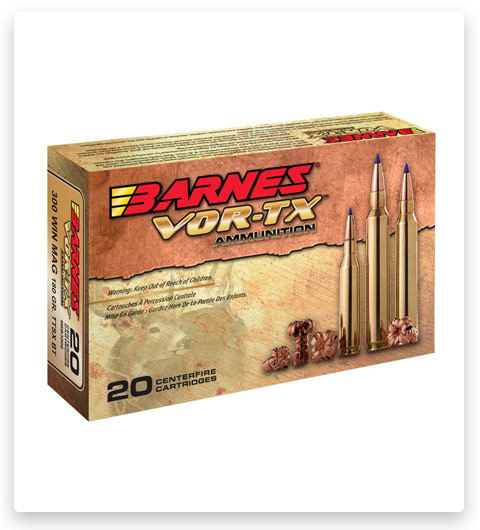 Crafted with the utmost precision and innovation, it is your ticket to unparalleled accuracy and terminal performance. Whether you're a seasoned hunter or a shooting enthusiast, it is tailored to meet your needs.
Benefit from its exceptional design that ensures double-diameter expansion, maximum weight retention, and remarkable accuracy. The TSX, Tipped TSX, and TSX FN bullets guarantee rapid tissue and bone destruction upon impact, resulting in a quick and humane kill.
One of the standout features of it is its revolutionary technology. The bullets open instantly upon contact, expanding rapidly to create four sharp-edged copper petals. This unique design guarantees optimal tissue, bone, and vital organ destruction, ensuring that your shots are effective and humane.
It is ideal for big game hunting, offering a muzzle velocity of 3350 ft/s and a muzzle energy of 1994 ft-lbs. With a G1 ballistic coefficient of 0.331, expect exceptional accuracy and consistent performance. This ammunition is available in a convenient box packaging, containing 20 rounds.
Saving Money on Ammo 💰
✔️ In recent times, the cost of shooting has risen, prompting enthusiasts to look for ways to economize without compromising their passion. One of the most effective strategies to reduce expenses is by buying in bulk. Purchasing larger quantities often results in a lower price per round, and while the initial outlay might be significant, the long-term savings can be substantial.
✔️ Another approach is to keep an eye out for sales and promotions. Retailers, both online and brick-and-mortar, frequently have seasonal sales or clearance events. By staying updated with these promotions, one can stock up at discounted prices. Signing up for newsletters from favorite retailers or joining shooting forums can be a good way to stay informed about these deals.
✔️ For those who shoot frequently, reloading can be a cost-effective alternative. By reusing spent casings and buying components like powder, primers, and projectiles separately, shooters can tailor their rounds and often produce them at a fraction of the cost of new ones. However, it's essential to note that reloading requires an initial investment in equipment and a commitment to learning the process to ensure safety and reliability.
✔️ Another avenue to explore is joining a shooting club or range that offers member discounts. Membership might come with perks like reduced prices on products or access to exclusive deals. Additionally, networking with fellow enthusiasts can lead to opportunities to swap or purchase rounds at more favorable rates.
✔️ Lastly, while it might sound counterintuitive, investing in training or professional lessons can lead to savings in the long run. By improving shooting techniques and accuracy, one can reduce the number of rounds spent during practice sessions. Over time, the savings from using fewer rounds can offset the cost of training.
✔️ While the rising costs associated with shooting can be daunting, several strategies can help enthusiasts manage their expenses. Whether it's buying in bulk, waiting for sales, reloading, joining clubs, or investing in training, there are multiple avenues to pursue to make the most of one's budget.
FAQ 📚
Conclusion 😎
The .243 Winchester is a versatile cartridge that offers a balance of power and manageability. Its ability to cater to both big game and varmint hunting, combined with its suitability for younger and female shooters, makes it a popular choice among hunters and shooting enthusiasts.
With a plethora of ammunition options available in the market, each with its unique features and benefits, shooters can find the perfect ammo to match their specific needs and preferences. Whether for hunting or target shooting, it continues to be a reliable and effective choice. 😉
Tags: 243 ammo, 243 winchester ammo, 243 ammo for deer, .243 winchester ammo, hornady 243 ammo, best 243 ammo, 243 ammo for sale, cheap.243 ammo
#Best #243 Ammo #Review #Remington #Winchester #Self #Homme #Defense #Hornady #Sale #Ballistics #Cheap #For Deer
Affiliate Disclosure: Rotorm.com sometimes gets paid for listings, through sponsors or affiliate programs like Amazon, Optics Planet, Lucky Gunner, Brownells, Cabelas, Rainier Arms, 5.11 Tactical, Bass Pro Shop, etс. Clicking a link helps keep Rotorm.com free, at no extra cost to you!
About the author: Each article on our site is written by experts in survival and tactical equipment, gun enthusiasts, extreme travelers, military, law enforcement and desperate professionals, read about the author at the bottom of the article or visit "About Us" page.
Note: The views and opinions expressed in this article are those of the authors and do not necessarily reflect the official policy or position of any agency.