What is 17 WSM Ammo? 🧐
Simply put, the 17 Winchester Super Magnum (WSM) is a rimfire rifle cartridge that packs a mighty punch. It was introduced in 2012 by Winchester, and boy, did it make a splash in the shooting community! The 17 WSM boasts impressive velocity and trajectory, making it perfect for varmint hunting and long-range shooting.
Advantages🌟
The .17 Winchester Super Magnum (.17 WSM) ammunition offers several notable advantages that make it a favourite among long-range shooters and small-game hunters.
High Velocity: It offers extremely high velocities – faster than any other rimfire cartridge, reaching up to 3,000 feet per second. This allows for a flatter trajectory and less wind drift, making it highly effective for long-range shooting.
Accuracy: With its high velocity and flat trajectory, it provides excellent accuracy, making it perfect for small-game hunting and varmint control.
Low Recoil: Despite its high velocity, it has a relatively low recoil, making it more comfortable for extended shooting sessions.
Versatility: This ammo is suited for a variety of firearms including bolt-action, semi-automatic, and single-shot rifles. This means it can be adapted to a range of shooting situations.
Affordability: While this item is more expensive than some other rimfire cartridges, it is generally cheaper than centerfire ammunition, making it an economical choice for regular shooters.
Embracing the .17 WSM can thus offer a significant upgrade for those seeking improved performance in long-range shooting and small-game hunting.
Our Top Pick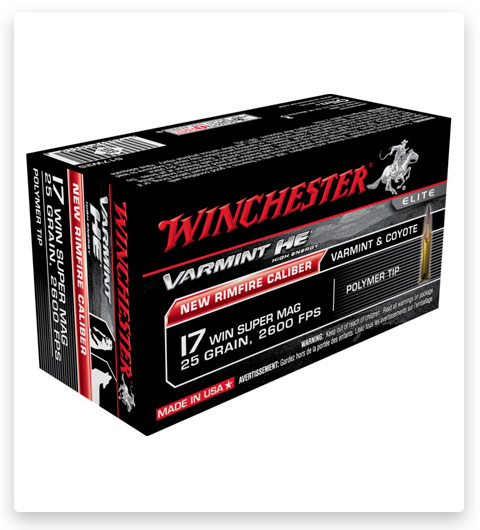 Winchester VARMINT HE 17 WSM Ammo 25 Grain
Our studies indicate that this product is a true feat in rimfire ammunition technology, surpassing previous limits in this category. Its unparalleled speed, power, path, and resistance to wind drift make it a premium selection for shooting enthusiasts who expect the best from their rimfire rounds. While it may not be the most economical choice, the exceptional capabilities it offers validate the cost for those in search of an unparalleled shooting adventure.
Buy Now On OpticsPlanet
If you click this link and make a purchase, we earn a commission at no additional cost to you.
Types🎯
| | | |
| --- | --- | --- |
| Full Metal Jacket (FMJ): FMJs are primarily used for target shooting and plinking. They are less expensive than other types, and they don't expand upon impact, making them suitable for shooting at hard targets or steel plates. | Soft Point: Soft point bullets are ideal for game hunting. They offer controlled expansion, which allows for a deep wound channel without causing excessive damage to the game. | V-Max: This type is designed for rapid expansion upon impact, making it perfect for hunting small game and varmints. Its polymer tip and streamlined design contribute to its precision and long-range capabilities. |
| Polymer Tip: These rounds have a plastic tip that enhances the bullet's ballistic coefficient, making it more aerodynamic and improving its long-range performance. They're primarily used in hunting. | Hollow Point: Known for their rapid expansion and shock effect, hollow point rounds are excellent for hunting and self-defence. They're designed to mushroom upon impact, causing a larger wound channel in the target. | Lead-Free: Environmentally conscious shooters will appreciate the lead-free variants, which maintain outstanding performance without leaving a trace. |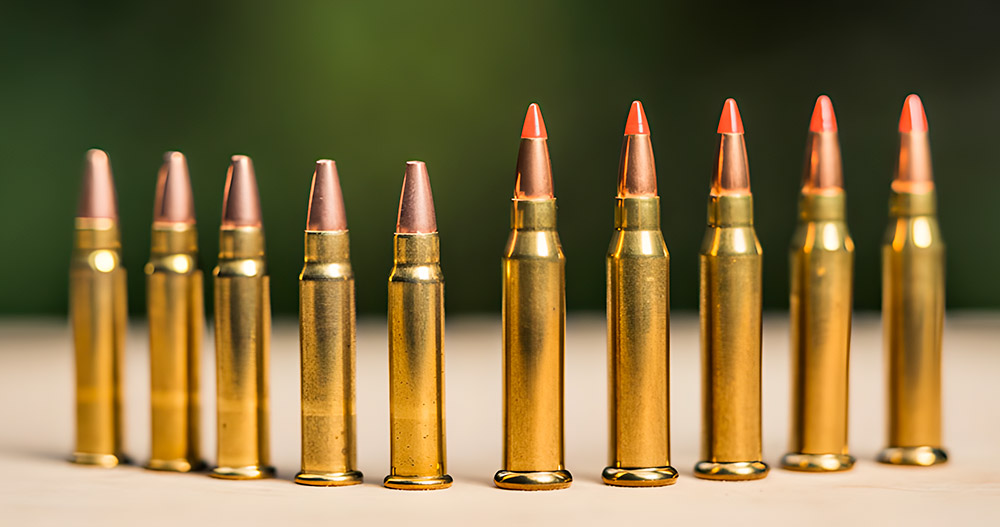 Features🔍
The .17 Winchester Super Magnum ammunition exudes distinct features that make it a reliable choice for diverse shooting activities.
✴️ High-Speed Performance: This ammo is renowned for its speed. With a velocity reaching upwards of 3,000 feet per second, it surpasses all other rimfire cartridges in speed, contributing to its excellent long-range shooting capabilities.
✴️ Superior Accuracy: Coupled with its high-speed performance, it offers unparalleled precision. Its flat trajectory aids in maintaining the course, ensuring the bullet reaches its target accurately. This is particularly useful for small-game hunting and varmint control.
✴️ Low Recoil: One of the major advantages of .17 WSM ammunition is its low recoil. Despite the high velocity, shooters experience minimal kickback, allowing for more comfortable and controlled shooting, even during extended sessions.
✴️ Versatility: This ammunition is adaptable and compatible with a wide array of firearms such as bolt-action, semi-automatic, and single-shot rifles. This versatility makes it an excellent choice for various shooting scenarios.
✴️ Affordability: From an economics perspective, the .17 WSM is an attractive choice. While it's slightly pricier than other rimfire cartridges, it still comes in cheaper than most centerfire ammunition, striking a balance between performance and cost.
✴️ Variety in Type: The ammo is available in multiple types, including Hollow Point, Soft Point, Full Metal Jacket, and Polymer Tip, each catering to different shooting needs. This diversity further enhances its adaptability, allowing shooters to choose the most suitable ammunition type based on their requirements.
These key features work in synergy to provide the .17 WSM ammunition's superior performance, making it a favoured choice for both long-range shooters and small-game hunters.
17 WSM Ammo Review | Best 17 WSM Ammo
#1 Winchester VARMINT HE 17 WSM Ammo 25 grain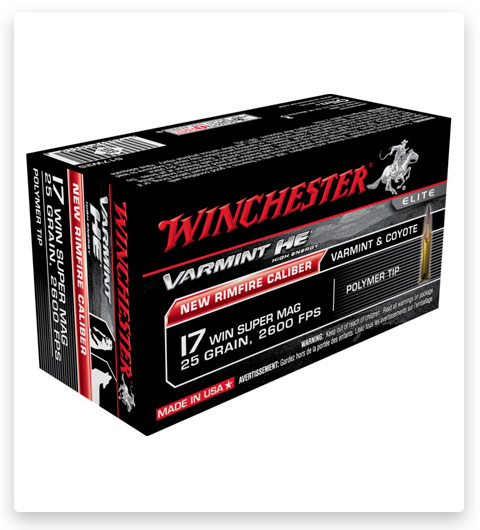 Today, we have the pleasure of introducing you to the revolutionary 17 Win Super Mag calibre. This remarkable ammunition is a true game-changer in the world of rimfire products, boasting unparalleled ballistic performance that leaves its competitors in the dust. Let's dive into the captivating features that make this cartridge stand out from the crowd.
Our research has shown that it is a true marvel of rimfire engineering, pushing the boundaries of what we thought possible with this class of ammunition. Its unmatched velocity, energy, trajectory, and wind drift characteristics make it a top-tier choice for shooters who demand exceptional performance from their rimfire cartridges.  While it may not be the most budget-friendly option, its capabilities justify the investment for those seeking the ultimate shooting experience.
#2 Winchester VARMINT X LF 17 WSM Ammo 15 grain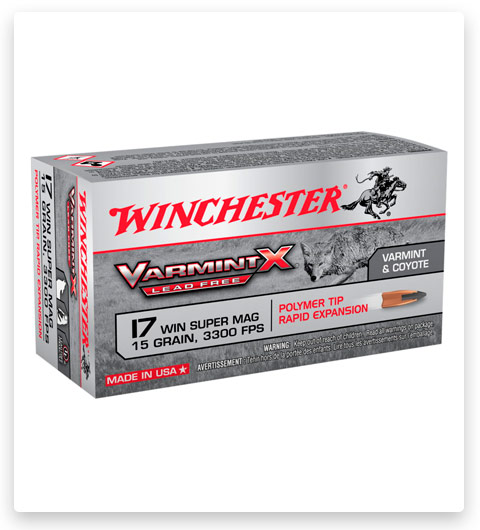 Greetings, fellow hunters! Today, we are thrilled to present the highly anticipated 17WSM Varmint XP Lead-Free ammunition – the pinnacle of rimfire technology, now even faster! Crafted with predator and varmint hunters in mind, this exceptional ammunition is designed to meet the rigorous demands of your hunting adventures. Winchester combines their renowned dependability with cutting-edge technology, offering hunters the ultimate ammunition choice for pursuing a wide range of games, from agile prairie dogs to elusive coyotes.
Its unparalleled long-range performance, explosive impact, and fragmentation power make it a top-notch choice for those seeking precision and power in their hunting pursuits. While the price might be a consideration for some, the benefits in terms of performance and environmental responsibility make it a worthy investment for responsible hunters.
#3 Winchester VARMINT HV 17 WSM Ammo 20 grain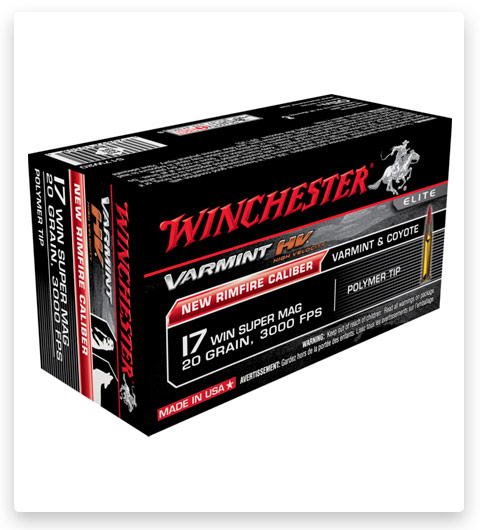 Hey there, fellow shooting enthusiasts! Today, we are thrilled to introduce you to the revolutionary 17 Win Super Mag calibre, a true powerhouse that redefines the capabilities of rimfire ammunition. Our team had the privilege of testing this remarkable cartridge, and we couldn't wait to share our findings with you. As we found the 17 Win Super Mag is a game-changer in the world of rimfire ammunition. Its ballistic superiority, impressive down-range energy, and precision-friendly characteristics make it a top choice for shooters and hunters seeking unparalleled performance. However, it's essential to consider the cost, availability, and recoil sensitivity factors when deciding if this ammunition aligns with your shooting needs.
Reloading ⚙️
Reloading .17 Winchester Super Magnum is a precise process that requires attention to detail and respect for safety. Please note that this information is provided for theoretical understanding, and attempting to reload .17 WSM can be hazardous.
💠Materials Needed: The base requirements for reloading .17 WSM ammunition include empty brass cases, primers, gunpowder, projectiles, and reloading tools such as a reloading press, dies, and callipers for precise measurements.
Inspecting the Casings: Begin by inspecting the spent .17 WSM casings. Look for any signs of damage, including splits, dents or deformations. Casings showing signs of damage should be discarded as they can be unsafe to use.
Cleaning the Casings: After inspection, clean the casings thoroughly. A tumbler or ultrasonic cleaner can be used to remove residual dirt, grime, and gunpowder.
Resizing the Casings: Once the casings are clean, they'll need to be resized using the appropriate resizing die. This process ensures the casings will hold the bullet, primer, and gunpowder properly.
Priming the Casings: Reposition the primer into the base of the casing. Be sure to choose the correct size and type of primer for your specific ammunition.
Adding the Gunpowder: After the primer is in place, add a carefully measured quantity of gunpowder into each casing. The type and volume of gunpowder used can greatly impact the performance of the ammunition, so follow guidelines and recommendations closely.
Seating the Projectile: The final step in reloading is seating the bullet into the casing. This is done using a bullet seating die.
As with all reloading efforts, it's crucial to prioritize safety over all else and to follow manufacturers' recommendations. While reloading can be a rewarding aspect of firearms ownership, it must be approached with caution and respect for the inherent risks involved.
We believe this video can be helpful for you📺
FAQ❓
Conclusion 🏁
And there you have it, fellow marksmen and markswomen! The world of ammo is as diverse and thrilling as a rodeo show.  From its impressive advantages and various types to its outstanding features and reloading potential, 17 WSM is a force to be reckoned with in the shooting world.  So, whether you're after precision on the range or seeking the thrill of varmint hunting, the Best 17 Winchester Super Magnum Ammo will undoubtedly deliver! Happy shooting, and may your aim always be true!
Tags: 17 wsm ammo, .17 wsm ammo, 17 wsm ammo for sale, 17 wsm ammo price, Winchester 17 wsm ammo, 17 wsm ammo vs 17 hmr, 17 wsm ammo review, 17 wsm ammo ballistics, wsm 17 ammo
#Best #17 WSM #Ammo #Review #Remington #Winchester #Self #Homme #Defense #Hornady #Sale #Ballistics #Price #HMR
Affiliate Disclosure: Rotorm.com sometimes gets paid for listings, through sponsors or affiliate programs like Amazon, Optics Planet, Lucky Gunner, Brownells, Cabelas, Rainier Arms, 5.11 Tactical, Bass Pro Shop, etс. Clicking a link helps keep Rotorm.com free, at no extra cost to you!
About the author: Each article on our site is written by experts in survival and tactical equipment, gun enthusiasts, extreme travelers, military, law enforcement and desperate professionals, read about the author at the bottom of the article or visit "About Us" page.
Note: The views and opinions expressed in this article are those of the authors and do not necessarily reflect the official policy or position of any agency.