What is the Best 450 Bushmaster Ammo? 👀
☝️ The 450 Bushmaster is a high-powered rifle cartridge that was introduced in 2007 by the American gun manufacturer Bushmaster Firearms. It was designed to be used in the AR-15 rifle platform and is intended for hunting big game at moderate ranges. The 450 Bushmaster shoots a 0.452-inch diameter bullet that typically weighs 250 grains. It was created to provide more stopping power than the standard 5.56 NATO or .223 Remington rounds used in AR-15 rifles, while still being suitable for use in standard AR-15 magazines and actions.
💪 The cartridge quickly gained popularity among American hunters looking for a powerful AR-15 big game rifle. It has an effective range of about 200 yards and is suitable for hunting deer, black bears, and wild hogs. It fills a niche for American hunters who want a compact, straight-walled cartridge that provides knockdown power on large game animals within typical hunting ranges.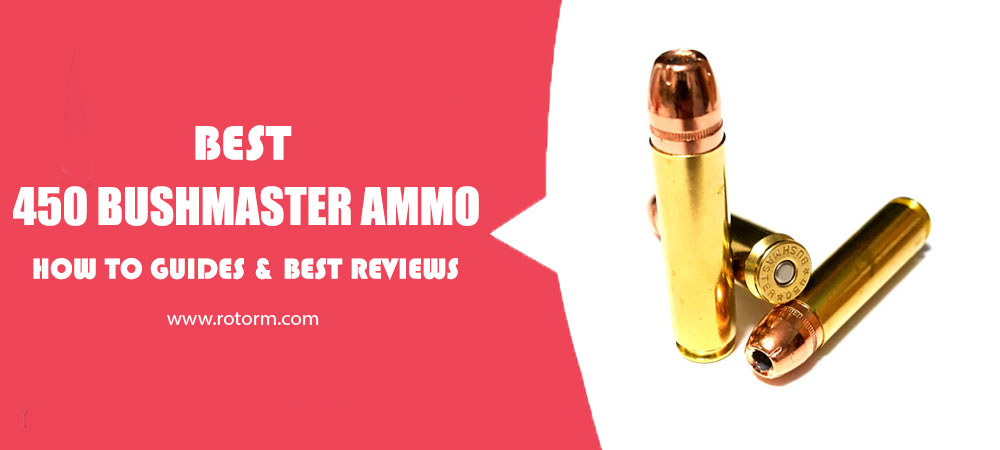 Benefits 🔥
🔫 Provides more stopping power than standard 5.56 NATO or .223 rounds
🦌 Suitable for hunting large game like deer, bear, and hogs
🔧 Works in standard AR-15 rifles with minimal modifications
💥 Compact, heavy rounds provide knockdown power on big-game
📜 Straight-walled cartridge is legal for hunting in many areas
🎯 Effective range out to 200 yards on big game animals
Our Top Pick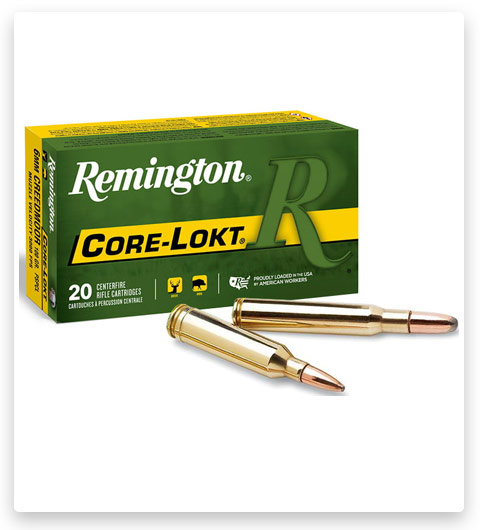 Remington Core-Lokt 450 Bushmaster Ammo 300 Grain
Crafted from superior materials, this ammunition combines power and precision. The 300-grain soft point bullet ensures controlled expansion upon impact, delivering consistent and ethical results for a clean harvest.
Buy Now On OpticsPlanet
If you click this link and make a purchase, we earn a commission at no additional cost to you.
Features ⭐
🔫 Fires a 0.452-inch diameter bullet
💪 Bullets typically weigh 250 grains
💨 Muzzle velocity around 2,200 feet per second
🔧 Uses standard AR-15 magazines and lower receiver
📏 Overall cartridge length of 2.260 inches
🏹 Originally chambered in Bushmaster AR-15 rifles
🔫 Also used in bolt-action rifles and single-shot handguns
🛠️ Provides minimal recoil compared to other big bore rounds
💥 Commonly loaded with jacketed soft point or hollow point bullets
Our Top Pick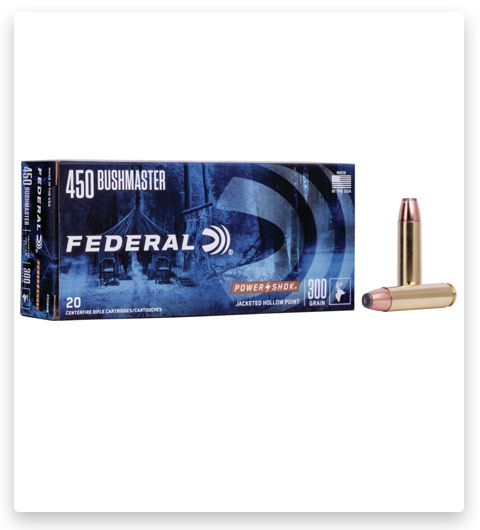 450 Bushmaster Bullet Drop ⬇️
⬇️ Bullet drop for the .450 Bushmaster, like any other cartridge, depends on various factors including bullet weight, muzzle velocity, ballistic coefficient, altitude, temperature, and other atmospheric conditions. Additionally, the zero distance of your scope or sights will influence where the bullet impacts at different ranges.
☝️ As a general reference, if we assume a 250-grain bullet fired at 2200 feet per second with a 100-yard zero, the bullet drop might approximate the following:
🔶 Muzzle: 0 (This is where you're starting, so no drop yet.)
🔶 50 yards: +1.5 inches (The bullet may still be rising if you've zeroed at 100 yards.)
🔶 100 yards: 0 (This is where you've zeroed, so the bullet impacts at your point of aim.)
🔶 150 yards: -3 to -4 inches
🔶 200 yards: -12 to -14 inches
🔶 250 yards: -30 to -35 inches
🔶 300 yards: -60 to -70 inches (or more)
💪 This is a generalized approximation and may not be entirely accurate for your specific ammunition, firearm, and conditions. Always check the ballistics data from the ammunition manufacturer or use a ballistic calculator for a more precise drop calculation.
🚩 Additionally, if you can, conduct live-fire testing at varying distances to understand how your specific firearm and ammunition combo performs.
450 Bushmaster Ammo Review | Best 🚀 450 Bushmaster Ammo
#1 Hornady Custom 450 Bushmaster Ammo 250 Grain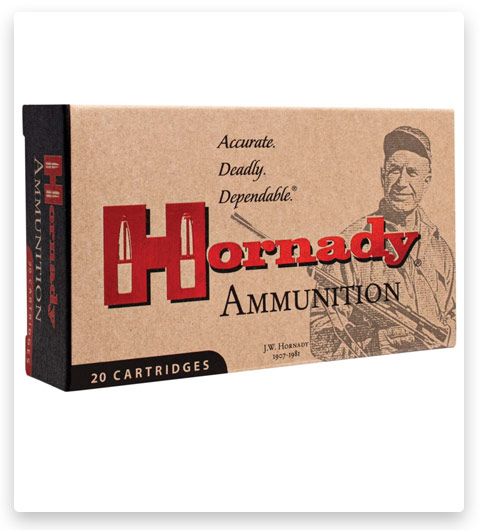 Designed to provide the ultimate balance of expansion and penetration, it's tailored for medium to large-sized games, ensuring you take down your targets effectively.
This ammo features a groundbreaking secant ogive design that enhances ballistic efficiency and reduces drag. This translates to flatter shooting trajectories and improved accuracy, giving you the edge you need for those critical shots.
Each round is meticulously loaded with a 250-grain Flex Tip eXpanding Bullet, which boasts a unique secant ogive profile. This innovative design increases the percentage of ballistic efficiency, setting it apart from traditional rounds and guaranteeing superior results.
Built with high-quality brass cartridge cases and non-corrosive powder, it is dependable and consistent. Ideal for both medium and large game hunting, this ammunition offers optimal performance in various hunting scenarios. Its Spitzer bullet type and 2200 ft/s muzzle velocity ensure deep penetration and expansion, making it suitable for a wide range of hunting situations.
#2 Hornady American Whitetail 450 Bushmaster Ammo 245 Grain
Engineered for accuracy and reliable terminal performance, it features Hornady's renowned InterLock bullets. These bullets boast exposed lead tips for controlled expansion, ensuring devastating stopping power when it counts. The unique InterLock ring embedded in the bullet's core guarantees the core and jacket remain locked together during expansion, delivering exceptional weight retention and energy transfer.
Whether you're targeting medium or large games, this cartridge delivers the punch you need. With a bullet weight of 245 grains and a muzzle velocity of 2200 ft/s, this ammunition generates an impressive 2633 ft-lbs of muzzle energy, making it a formidable choice for hunters and shooters alike.
Hornady takes pride in its commitment to quality. It is loaded with the finest components, including high-quality brass casings and reliable primers. This dedication to consistency translates to dependable shooting performance every time you pull the trigger.
#3 Hornady BLACK 450 Bushmaster Ammo 250 Grain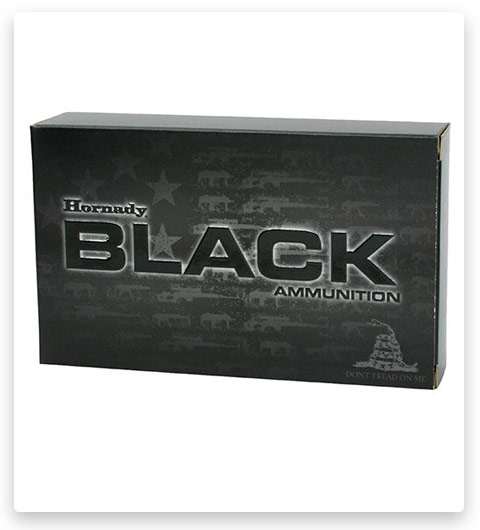 Each round features high-quality cases, primers, and propellant, ensuring consistent performance and accuracy every time you pull the trigger. Whether you're honing your marksmanship skills at the range or tackling demanding hunting scenarios, this ammo guarantees optimal results.
Designed to function flawlessly across a variety of firearms, including direct impingement gas pistons, suppressed, unsuppressed, inertia bolts, pumps, and more, It delivers unrivaled versatility. Say goodbye to worries about compatibility – it is built to shine on different platforms, providing a consistent and reliable shooting experience.
The 250-grain Flex Tip eXpanding bullet design is a game-changer, offering superior ballistic performance and terminal energy transfer. Whether you're hunting or engaging in competitive shooting, it ensures accuracy and stopping power, taking your shooting endeavors to the next level.
#4 Hornady Subsonic 450 Bushmaster Ammo 395 Grain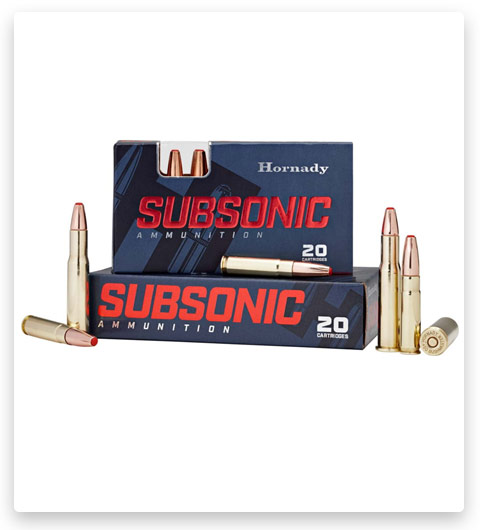 Designed for accuracy and performance below the speed of sound, this ammunition delivers exceptional results for both rifle and handgun loads.
Crafted from high-quality materials and engineered with precision, it offers benefits that cater to both hunting enthusiasts and marksmen alike. The Sub-X bullet, a hallmark of Hornady's design excellence, features a lead core and gilding metal jacket with long grooves that guarantee reliable expansion even at low velocities. This translates to consistent shot placement and optimal performance for medium and large games.
Whether you're using a suppressed rifle or a handgun, it guarantees a silent and stealthy shooting experience. Thanks to specialized powders optimized for subsonic use, this ammunition boasts a low flash signature, making it ideal for both suppressed and unsuppressed applications. Pair it with a suppressor for an even quieter shooting experience that won't compromise on performance.
One of the unique selling points is its compatibility with suppressed firearms, which is further enhanced by its high-quality cartridge cases and primers. These components are chosen for optimal performance and consistency, ensuring that every shot you take is accurate and dependable.
#5 Winchester DEER SEASON XP 450 Bushmaster Ammo 250 grain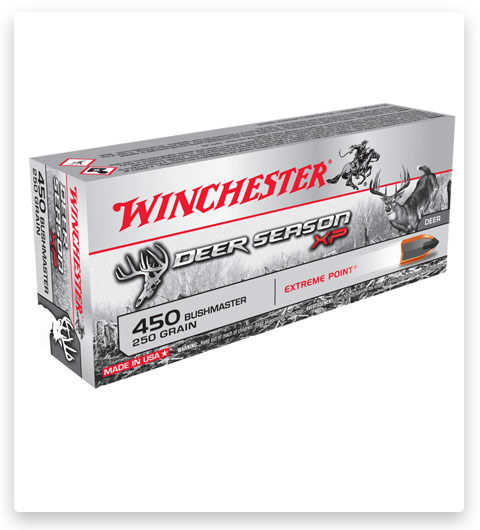 Its large-diameter polymer tip accelerates bullet expansion upon impact, delivering rapid trauma to ensure a clean and ethical takedown. This advanced ballistic profile, combined with the streamlined design and polymer tip, enhances downrange ballistics, allowing you to maintain accuracy even at extended distances.
Crafted using high-quality materials, including brass cartridge cases, this ammunition ensures reliability and consistent performance in the field. The alloyed lead core is optimized to transfer energy effectively, resulting in impressive impact power. Whether you're hunting whitetail, mule, or blacktail deer, it is your trusted companion for a successful hunt.
With a muzzle velocity of 2200 ft/s and a muzzle energy of 2686 ft-lbs, it guarantees exceptional stopping power and terminal performance. Its spitzer flat base bullet design further enhances accuracy and trajectory consistency, ensuring your shots hit the mark every time. Additionally, the ammunition package includes 20 rounds, allowing you to stay prepared for extended hunting sessions.
#6 Federal Premium Non-Typical 450 Bushmaster Ammo 300 grain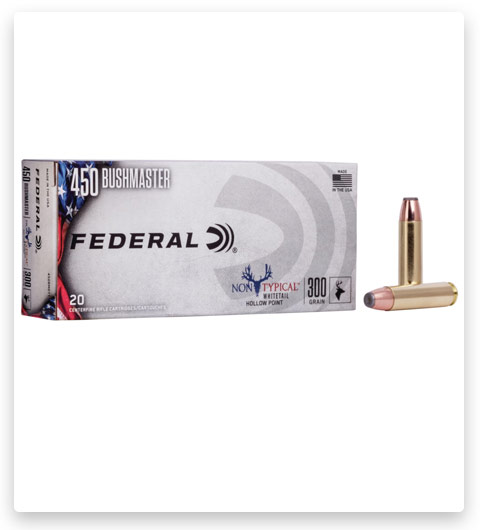 Designed to hit the mark with precision, it features an optimized soft-point bullet with a concentric jacket. Your shots will be on target, delivering consistent and accurate lethal wound channels on any deer.
Whitetail hunting is a unique pursuit, and this ammunition is crafted to meet its specific demands. The hard-hitting bullet design guarantees consistent and reliable performance in the field, ensuring your shots count every time.
The 300-grain bullet weight delivers an impressive impact, transferring kinetic energy effectively to ensure swift and humane takedowns. You can trust that your shots will deliver the stopping power needed for ethical hunting.
Rest assured that it meets all the necessary regulations for use. Be it government export restrictions or domestic regulations, this product complies fully. Your safety, legal compliance, and ethical hunting practices are top priorities.
#7 Federal Premium Power-Shok 450 Bushmaster Ammo 300 grain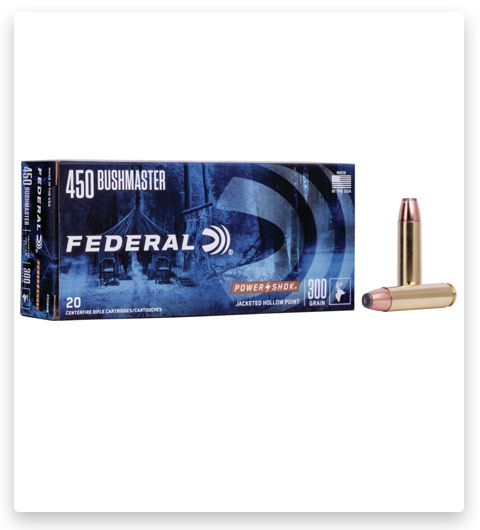 Crafted with precision and quality in mind, it delivers consistent and proven performance. Engineered to provide reliable results, this ammunition is a perfect companion for varmint hunting and hog control, ensuring you achieve effective and humane kills.
Featuring a 300-grain jacketed hollow point bullet, this ammunition expands upon impact, creating deep penetration for swift takedowns. The innovative design of the hollow point and meplat guarantees an unmistakable hit, leaving no doubt about the efficacy of your shot. This ensures that each round meets the expectations of hunters and shooters seeking precise results.
Please note that this product is subject to regulations regarding export by the U.S. Department of State or Commerce. Moreover, be aware of the restrictions on ammunition sales to specific states and territories due to regulatory reasons.
#8 Remington Core-Lokt 450 Bushmaster Ammo 300 Grain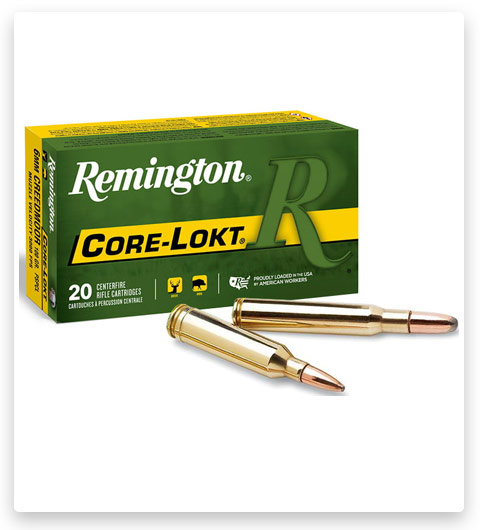 Crafted from the highest quality materials, it boasts a unique blend of power and accuracy. The 300-grain pointed soft point bullet is expertly engineered to deliver controlled expansion upon impact, resulting in optimal terminal performance. This means you can expect consistent and effective results, ensuring a clean and humane harvest.
Its advanced technology and design enhancements guarantee accuracy and reliable performance. With a muzzle velocity of 2150 feet per second, you can count on devastating knockdown power.
Renowned as the original controlled expansion bullet, it has stood the test of time and proven itself across continents and climates. The tapered copper jacket firmly locks the solid lead core, ensuring a two-fold expansion and maximum weight retention. This translates to reliable performance and deep penetration, which every hunter can depend on.
How to reload?
➡️ Here are some tips for reloading 450 Bushmaster ammo:
👌 It uses rebated rim brass cases that are based on the .284 Winchester cartridge. This means .284 Winchester brass can be resized and trimmed to the correct length to reload.
❗ Dies and shell holders for 45-70 Government reloading can also be used for reloading since the case dimensions are very similar. A set of specific dies is recommended but not required.
❗ When sizing the cases, full-length resizing is recommended as they headpaces off the case mouth. Cases should be trimmed to the correct length of 1.771 inches if they become too long.
❗ It operates at relatively low pressures, so load data is not overly sensitive. However, caution is still warranted when working up loads. Powders like Lil'Gun, H110, and W296 work well.
❗ Bullets in the 250-grain weight range are most common. A sturdy crimp is advisable given the large diameters of bullets. Leverevolution-style polymer-tipped bullets are a good choice for hunting loads.
🏁 Overall, reloading uses common tools and components and is very straightforward. Load data is readily available to develop accurate hunting ammo with maximum stopping power.
FAQ 📚
Conclusion 🏁
😎 The .450 Bushmaster is a powerful cartridge that is well-suited for hunting big game animals. When choosing ammunition for your rifle, there are a few factors to consider, such as the intended use, the bullet weight, and the muzzle velocity.
⭐ If you are hunting deer or other medium-sized game, a bullet weight of 220 to 250 grains is a good option. These bullets will provide good penetration and expansion, resulting in quick and humane kills. For larger game animals, such as elk or moose, a heavier bullet weight of 260 to 300 grains is recommended. These bullets will provide even more penetration and stopping power.
💨 The muzzle velocity of the ammunition is also important to consider. A higher muzzle velocity will result in a flatter trajectory, which can be helpful for making long-range shots. However, a higher muzzle velocity can also lead to more recoil, so it is important to choose an ammunition that you can comfortably shoot.
☝️ Ultimately, the best ammunition is the one that meets your specific needs and preferences. By considering the factors mentioned above, you can choose the right ammunition to help you take down your next big game animal.
Tags: 450 bushmaster ammo, .450 bushmaster ammo, 450 bushmaster ammo for sale, 450 bushmaster hog hammer ammo, .450 bushmaster ammo review, 450 bushmaster ammo ballistics, remington 450 bushmaster ammo, hornady 450 bushmaster ammo, 450 bushmaster ammo comparison, 450 bushmaster ammo price
#Best #454 Casull #Ammo #Review #Remington #Winchester #Self #Homme #Defense #Hornady #Sale #Ballistics #Price #Hammer
Affiliate Disclosure: Rotorm.com sometimes gets paid for listings, through sponsors or affiliate programs like Amazon, Optics Planet, Lucky Gunner, Brownells, Cabelas, Rainier Arms, 5.11 Tactical, Bass Pro Shop, etс. Clicking a link helps keep Rotorm.com free, at no extra cost to you!
About the author: Each article on our site is written by experts in survival and tactical equipment, gun enthusiasts, extreme travelers, military, law enforcement and desperate professionals, read about the author at the bottom of the article or visit "About Us" page.
Note: The views and opinions expressed in this article are those of the authors and do not necessarily reflect the official policy or position of any agency.