Affiliate Disclosure: Rotorm.com sometimes gets paid for listings, through sponsors or affiliate programs like Amazon, Optics Planet, Lucky Gunner, Brownells, Cabelas, Rainier Arms, 5.11 Tactical, Bass Pro Shop, etс. Clicking a link helps keep Rotorm.com free, at no extra cost to you!
About the author: Each article on our site is written by experts in survival and tactical equipment, gun enthusiasts, extreme travelers, military, law enforcement and desperate professionals, read about the author at the bottom of the article or visit "About Us" page.
Note: The views and opinions expressed in this article are those of the authors and do not necessarily reflect the official policy or position of any agency.
Taking innovative approaches and being eco-friendly comes with many benefits. This can be advantageous when it comes to lowering power bills and reducing the personal carbon footprint.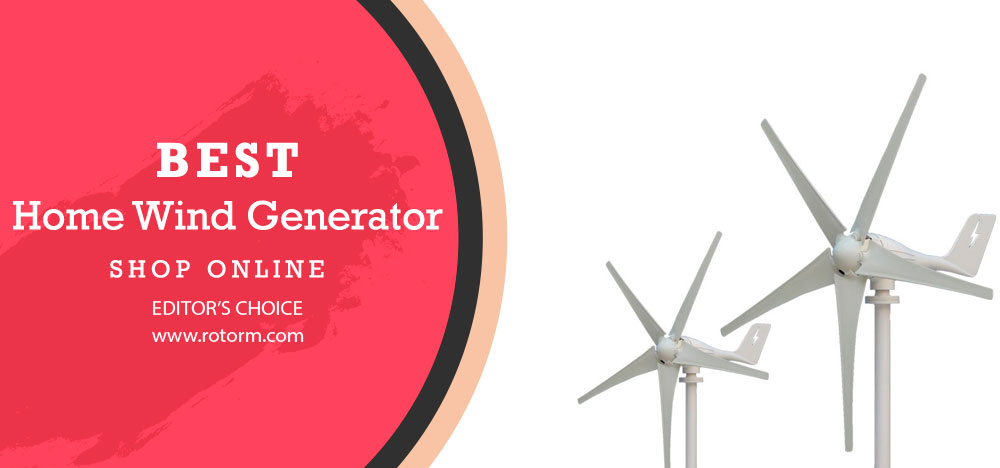 Enter solar energy – a steady, but free energy supply. But having a backup plan for a cloudy day (pun intended) – wouldn't hurt.
Generally, solar panels don't perform exceptionally when it comes to cloudy days and/or nighttime. Wind turbines can be a great alternative in this case.
BUT HOW DO THEY WORK?
Technically, it all comes from the sun. The sun warms up the atmosphere, consequentially creating wind currents. The physics is simple – the Earth has its mechanisms and physics which affects rotation, energy, and magical forces through which movement creates the fabulous currents.
Out of the wind current – the turbine takes the kinetic energy and converts it into mechanical energy.
Then the generator turns this mechanical energy to power or electrical energy.
All of this happens thanks to the aerodynamic force of the blades that the rotor creates. Presently, there are many blades, systems, and wind turbines. The issue of picking the best out of all out there is real. That's why we have scoured the internet and handpicked the best of the best.
Best Home Wind Turbines | Best Wind Generator Systems
| Image | Product | Brand | |
| --- | --- | --- | --- |
| | Tumo-Int 1000W 3Blades Wind Turbine Generator | Tumo-Int | |
| | Automaxx WindMill Home Wind Turbine Generator | Automaxx | |
| | ECO-WORTHY 1400W Wind Turbine Generator | ECO-WORTHY | |
| | Nature's Generator Gold WE System 1800W | Nature's Generator | |
| | Pikasola Wind Turbine Generator 400W 12V | Pikasola | |
| | YaeMarine Wind Turbine Generator, Windmill Generator | YaeMarine | |
| | Dyna-Living Wind Turbine Generator 400W DC 12V | Dyna-Living | |
| | Ejoyous Wind Generator, 500W 12V | Ejoyous | |
| | SHZOND 1200W Wind Generator Hybrid Wind Turbine Generator | SHZOND | |
| | MotorFansClub Wind Turbine Generator | MotorFansClub | |
| | Starter Wind Turbine Generator | Pacific Sky Power | |
#1 Tumo-Int 1000W 3Blades Wind Turbine Generator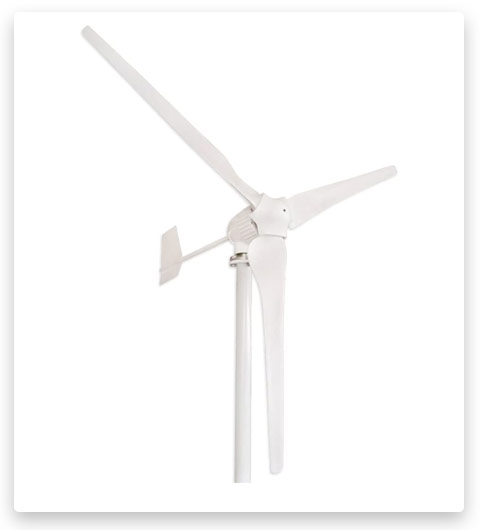 Featuring a minimalist and clean design, Tumo-Int is a 24V 3 blade generator kit. The generator is low noise, thanks to its aluminum alloy case, producing a low spectrum of vibrations. The shell is robust and tight, designed to be low maintenance while being utilized continuously. Being a highly efficient construction, Tumo-Int is aerodynamically designed to be able to start at low wind speeds, improving the overall energy utilization, simultaneously increasing the overall annual power production. A great accessory is the direction module, allowing direction adjustment, by operating with a controller. What's even better is the constant data flow, which allows for identification and repairing errors, if they occur.
#2 Automaxx WindMill Home Wind Turbine Generator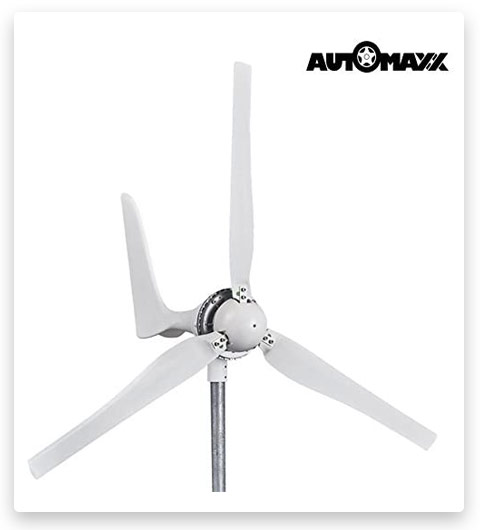 A windmill extraordinaire, Automaxx is quite a modern solution. Comes with an integrated automatic braking system, protecting the blades from high wind speeds. The polypropylene build combined with glass fiber materials, and weather-resistant seal makes the wind blades much more durable compared to other competitors. Additionally, an UV protection coating is applied with an integrated automatic system preventing voltage surges and battery overcharging.
#3 ECO-WORTHY 1400W Wind Turbine Generator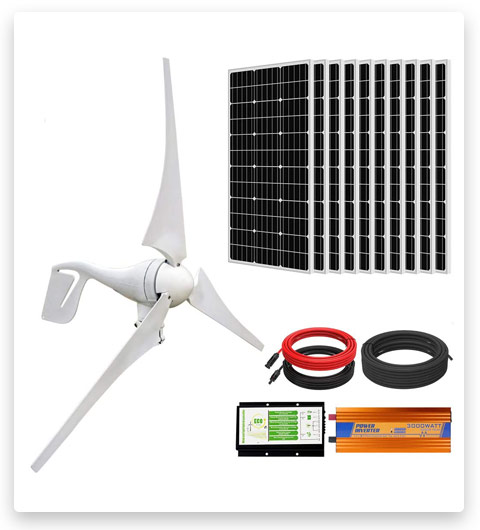 Looking for a wind power kit? Or maybe solar? Why not both? Eco Worthy is a great hybrid kit covering your solar and wind power needs at the same time. Regarding the wind component – it is a standard 24V – 3 blade wind turbine. It has a working range between -22 °F to 140 °F.
The solar component consists of 10 100W mono solar panels. Together, these components can prove a constant flow of energy capable of powering your fridge, AC, and much more.
#4 Nature's Generator Gold WE System 1800W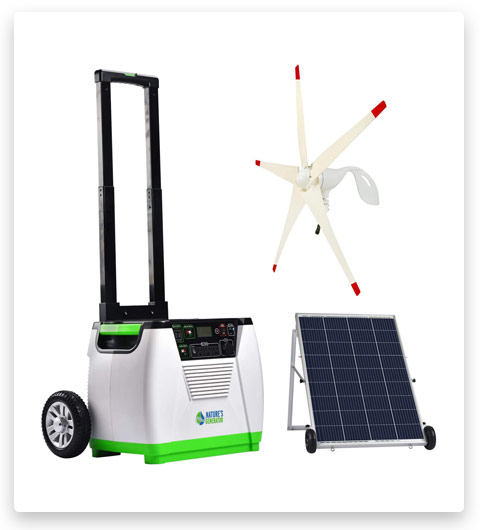 An introductory option, extraordinary for starting out with solar and wind power. Nature's Gold WE system is so simple, that even if you've never done it before, you won't be having any trouble setting it up. The accessories come with a detailed instruction, which is a breeze to follow. The solar panel features three adjustable angles, in order to take full advantage of the sunlight. Another benefit of this generator is that you'll be having power backup regardless of the time of the year. Essentially, you're covering both solar and wind with Nature's Gold WE package.
#5 Pikasola Wind Turbine Generator 400W 12V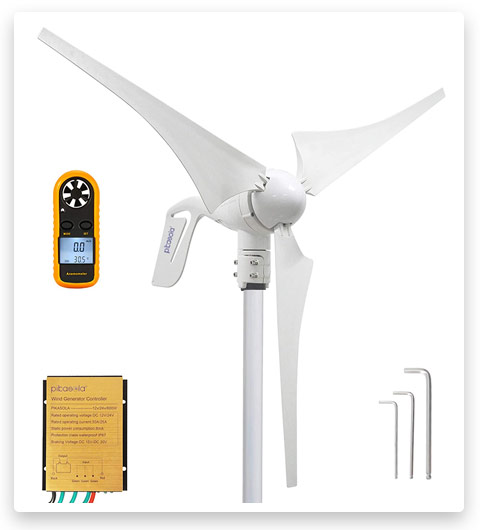 Pikasola is the standard generator featuring 12V 3 blade wind turbines. Excelling at high wind energy utilization and low vibration turbine, coupled with lightweight, waterproof, and corrosion-resistant blades, this station is highly efficient and productive. The fan is powered by an additional intelligent microprocessor, that adjusts current and voltage, while the generator sports an integrated voltage regulator – controlling the activity and shutting the system down when the battery is fully charged. Concerning build quality, the turbine is made from high-quality aluminum and stainless steel, unifying a lightweight and compact build. All in all, Pikasola is an amazing solution for anyone looking for supplemental power.
#6 YaeMarine Wind Turbine Generator, Windmill Generator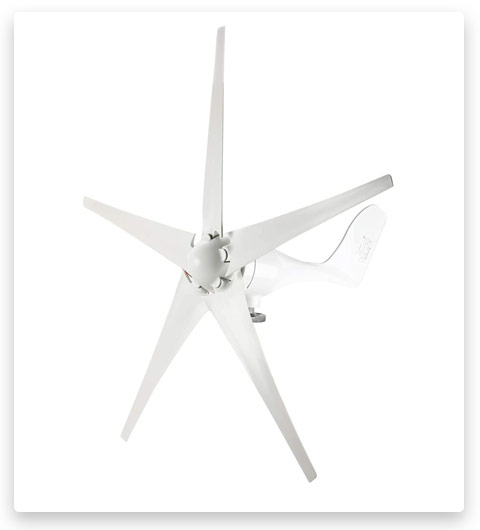 YaeMarine offers a wind solution that features a 24V Wind Turbine and 5 Blades. A solid build is made possible thanks to the use of nylon fibers. You can start with a low start-up speed while maintaining lightweight properties. The device is equipped with a built-in regulator module that regulates current and voltage. With its UV and corrosion resistance, the blade is convenient to maintain. If you want a renewable energy supplement that's perfect for both home and outdoor use, YaeMarine is a perfect solution. It can be used for gazebos, cabins, and mobile homes.
#7 Dyna-Living Wind Turbine Generator 400W DC 12V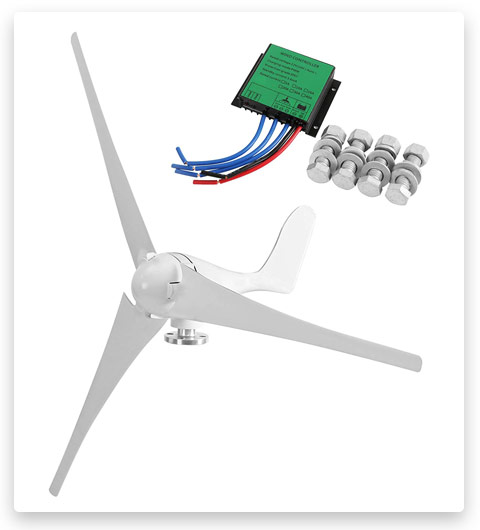 A great wind turbine starring 12V and three blades. A superior characteristic that this turbine has – is its blade quality. Having a copper inlay means that this turbine is great for enduring natural damage and causing the rotor to run smoothly, reliably, and quietly. Since the copper inlay doesn't damage. The nylon fiber material, making the turbine extremely durable and flexible. This means that the rotor can run smoothly from – 40 °F to 176 °C. The heat resistance is exceptional due to the material – Teflon wire – resistant to high temperatures – guaranteeing efficiency and the high wind energy utilization factor. The implication is increased overall power generation. The turbine is excellent for charging batteries for cabins, mobile homes, or in everyday scenarios – covering home or industrial energy demands.
#8 Ejoyous Wind Generator, 500W 12V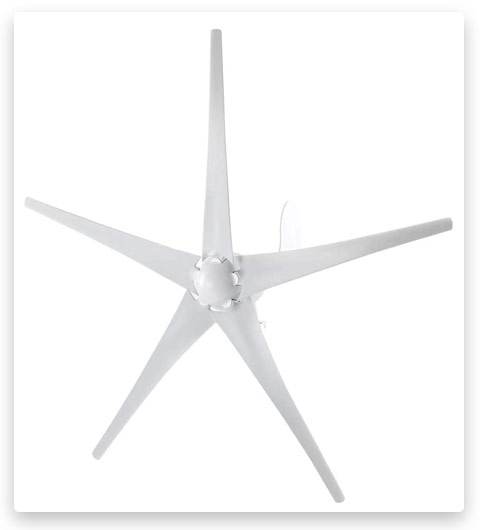 Enjoyus is an innovative generator supply turbine, featuring a 5-blade system. The innovation begins with the ability to automatically adjust in accordance with the wind direction, and temperature range from-40 °F to 176 °F. Each blade being 23,8 inches long, ensures high power generation. This combined with the high-quality motors and nylon fiber blade construction, Enjoyus provides durability, while securing corrosion and oxidation resistance. The system is a perfect fit for businesses, industrial and home energy supplementation, or power generation for parks or even street lighting.
#9 SHZOND 1200W Wind Generator Hybrid Wind Turbine Generator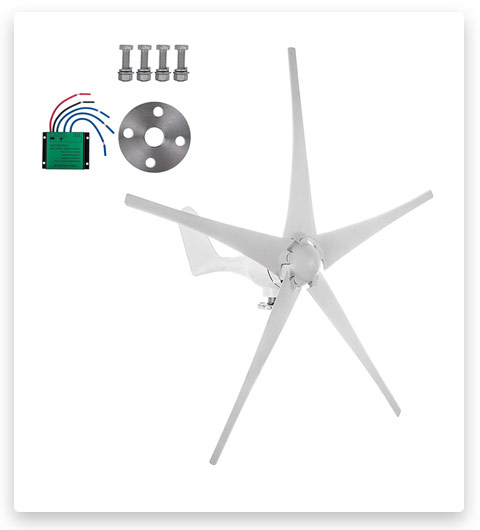 A wind generator aimed at leisure -capable of charging boats, gazebos, and mobile homes. What is special about this generator is its capability of using the least air movement to provide reliable supply even during storms. This generator is hybrid, covering both solar and wind energy. Its compact, aerodynamic blades – are optimized to have a strong charge even during low wind speeds. Moreover, the 5 blades have an uncomplicated design, yet with elegance in mind – featuring low vibration and high wind power efficiency. Built out of reinforced glass fiber, they are quite durable, proving to be an ideal long-term investment.
#10 MotorFansClub Wind Turbine Generator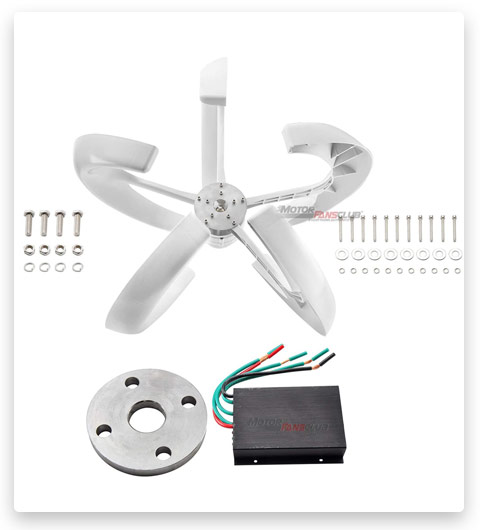 MotorFansClub Wind Turbine Generator is a resilient generator available in two varieties – 12V and 24V. This model is unique, concerning the shape of the wind wings. They assume a semi-ellipsoidal shape, packaging the whole turbine into a small and efficient design. The turbine is additionally powered by a high-power tracking microprocessor, ensuring automatic, precise voltage and current adjustments.
The shell is made out of aluminum alloy diecasting, while the leaf is made out of nylon fiber. This is an exceptional combination for the lightweight wind turbine generator to operate at low wind speeds with utmost efficiency.
#11 Starter Wind Turbine Generator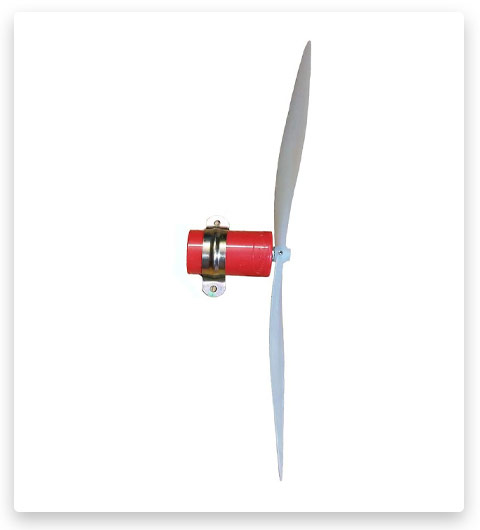 A unique design aimed at DIY consumers, Pacific Sky is a great choice if you need to supplement the power of your home, RV, remote cabin, or simply when you're out camping. The dual blade system stars 15-inch-long high-performance blades. Pacific Sky is an excellent choice for beginners due to its user-friendly design, maintaining safety and effectiveness. The wind turbine is flexible and aimed at creative solutions – it has been used on vehicles, bicycles, boats, kinetic wind sculptures, and more common use scenarios such as homes, boats, cabins, etc.
How To?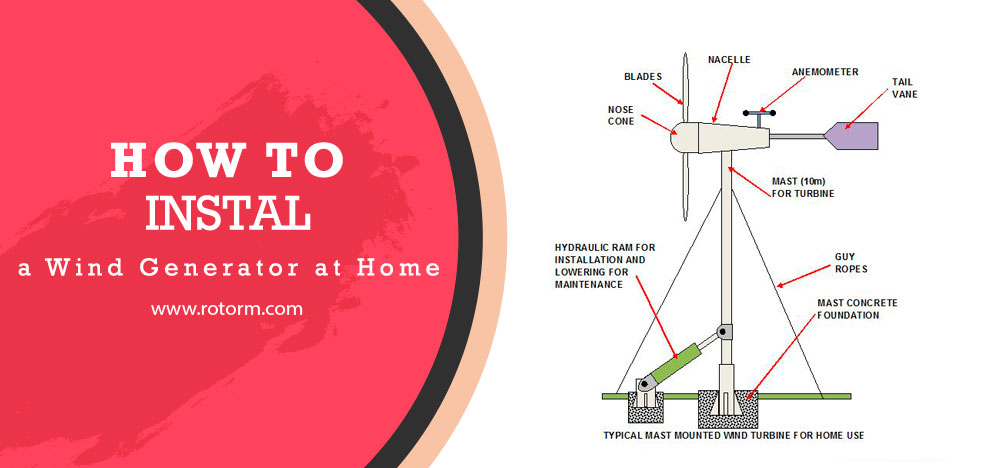 How To Install a Wind Generator at Home
Usually, the manufacturer of the wind system provides installation services. Otherwise, contact your state energy office and local utility for a list of local system installers.
How to Choose a Home Wind Turbine
Depending on the estimate of the system's annual energy output, you should choose the correct size turbine. The turbine you decide to purchase must fit your needs for size, wind resource, availability, reliability, warranty, spare parts availability, and proximity of operation and maintenance teams.
How Much Does a Home Wind Turbine Cost
According to the American Wind Energy Association (AWEA), small wind turbines cost between $3,000 to $5,000 for every kilowatt of power capacity. Most homeowners using a wind turbine as their primary source of electricity install between 5 to 15 kW of wind power capacity, meaning they can expect to pay between $15,000 and $75,000 for their small wind turbine project. These numbers do not include any federal or state incentives.
FAQ
Conclusion
And here comes the conclusion. Through thorough analysis, we have picked the best wind systems that, are really worth it. They're cost-effective, high-quality, resistant; while maintaining durability and safety.
Best Pick
Best Budget Pick
Best Brands
Useful Links
Tags: vertical wind turbine for home use, home wind turbine system, wind turbine to power home, small home wind turbine, wind turbine for home, home wind generator, wind power generator for home use, best home wind generator kit, top-rated wind power generator for home
#home, #turbine, #wind, #generator, #best, #vertical, #cost, #small, #review, #system, #power, #price, #energy, #sale, #cheap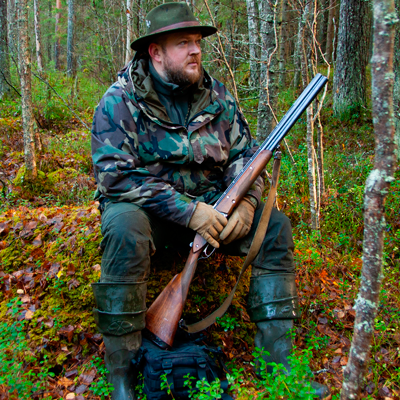 Max Endless
Weapon Expert & School Teacher
Hi, I'm Max. I'm a weapon expert and a teacher of English from Belarus. These two qualities allow me to share my opinions and observations about news from the gun world. I'm really into firearms and different weapons because I was learning about them since my childhood.
My life has taken me through different complications and exciting moments, so what I've learned is to always be ready to fight. My father is professional military personnel and he made me familiar with various weapons since my childhood. My first one was a bow, and then I started to have a fancy for this unbelievable world of firearms. My main specialization allows me to share my thoughts about different devices, guns, and gun details with the English-speaking community. In my articles, I talk about pistols, rifles, knives, shotguns, and many other tactical and survival things.
Read more
about our team
of expert authors.