The survival ax is not an everyday tool. This is what will save your knife from abuse and help you cope with the arrangement of camping, remove excess limbs from the tree trunk, and remain invisible in your luggage.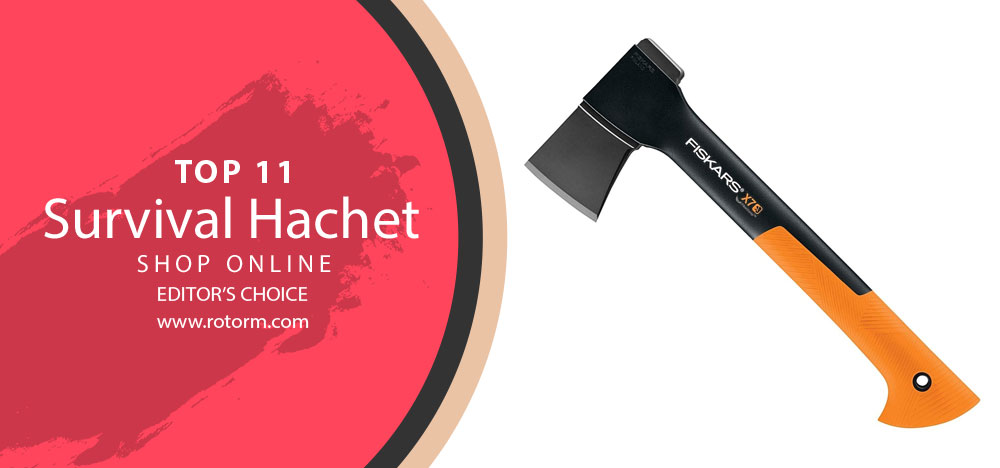 This is a very mediocre weapon for melee or self-defense (during a zombie apocalypse). We are not criticizing the concept itself, we prefer more reliable firearms for such situations. But even such hatchets are better than nothing. Today we will look at 11 popular Amazon offers and try to figure out who received their stars undeservedly, and who remained in the shadows but does their job perfectly.
TOP-11 Best Survival Hatchet
| Image | Product | Brand | |
| --- | --- | --- | --- |
| | Schrade SCAXE10 Survival Hatchet | Schrade | |
| | Gerber Bear Grylls Survival Hatchet | Gerber | |
| | Stansport Survival Hatchet with Fire Starter | Stansport | |
| | Prandi German Style Survival Hatchet | Prandi | |
| | Fiskars X7 Survival Hatchet | Fiskars | |
| | SOG Camp Axe | SOG | |
| | SOG Outdoor Survival Hatchet | SOG | |
| | Schrade SCAXE2 Survival Hachet | Schrade | |
| | Estwing Sportsman's Axe | Estwing | |
| | Camillus Camtrax Survival Hatchet | Camillus | |
#1 Schrade SCAXE10 Survival Hatchet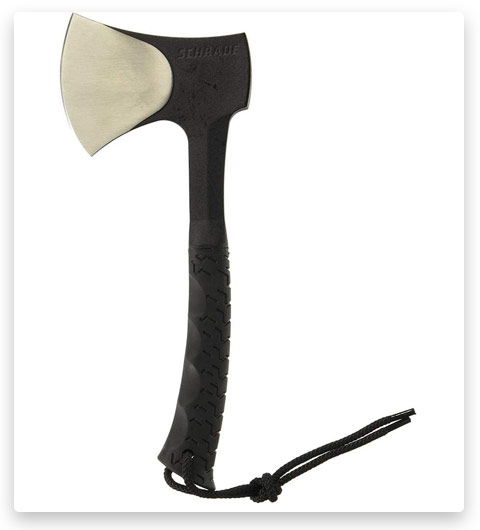 View on OpticsPlanet View on Amazon
It is a small ax for your travel adventure and wildlife survival. It is convenient to take it with you by attaching a thermoplastic cover to your belt, putting it in a backpack, or in the trunk of a car. It's a small hatchet, just 11.1″ long and 3.6″ blade, but nimble enough to handle branches up to 4″ in diameter with ease. The ax head is 3Cr13 SS steel capable of withstanding much abuse without any consequences. On the back is a flat surface that can be used as a hammer or turned into a wedge. To do this, it is enough to place the ax in the place of the future incision and hit the back of the head with a stone or a log. This will help split a large piece of wood. The handle has a non-slip rubber coating that absorbs bounce and prevents slipping.
There is a small lace hole on the edge of the handle. This allows you to make a loop for the hand and work freely with the hatchet without fear of losing it. The complete design adds weight and makes working with this equipment very comfortable and enjoyable. This ax is quite efficient but requires careful handling. If you work intensively for 30 minutes in a row, you may notice how the sharpness of the blade has decreased. Be prepared to take a break and repair the edge with stone. The thermoplastic holster is of mediocre quality and will be better if you replace it with a more reliable one. You can skin a deer or set up camp with this tool. It all depends only on your strength and perseverance because the hatchet is able to withstand your abuse.
#2 Gerber Bear Grylls Survival Hatchet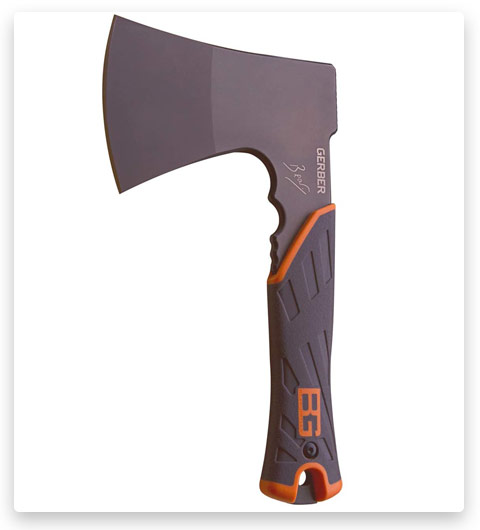 Bear Grylls hatchet from the American company Gerber. The hatchet is made of 3Cr13MoV stainless steel, which gives it strength and anti-corrosion properties. Total length 9.46″, blade length 3.5″, weight, 20.8 ounces – despite its small size, the hatchet is quite powerful and sharp. The ax can also be used as a hammer, for example, to hammer in wedges when setting up a tent or to chop meat. Polypropylene handle with grooves for fingers allows you to comfortably and safely hold the ax in your hand even in bad weather. There is a hole for a lanyard at the end of the handle, which provides additional insurance when working.
The set includes a waterproof nylon cover that reliably protects against destructive factors. This case allows you to wear the hatchet on your belt, which is very practical. This ax model is one of the most demanded tools for the traveler and outdoor enthusiast. With its help, you can not only chop wood for a fire or set up a tent, but even fight back forest ill-wishers. It can be a great gift for any person because such a thing will always come in handy. An unpleasant aspect is of unstable quality control. If you got a marriage or the ax broke on the very first day, you can return it or replace it with a new one without any problems. Also, be careful when ordering and study the dimensions, so as not to be outraged later. This hatchet is worth every penny and will help out in any situation.
#3 Stansport Survival Hatchet with Fire Starter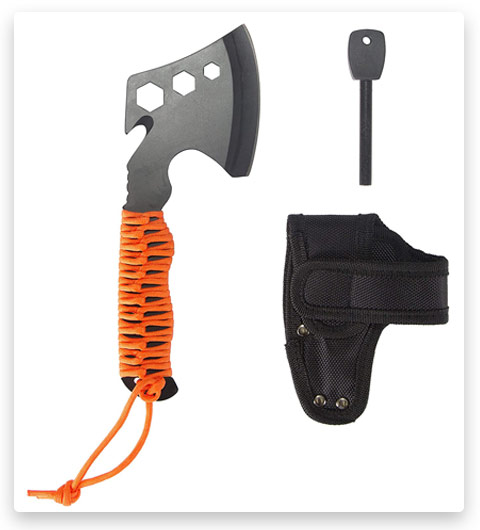 http://shrsl.com/2tlls
This hatchet is exactly what can save lives if the need arises to resist the elements and survive in the wild. It weighs just 8.8 ounces and can be stowed away in your backpack or your survival kit. At tiny dimensions (9.75″ x 3.5″), it gets the job done and even beats expectations. The fact is that the handle of the ax is braided with a 96-inch paracord rope 3 mm thick and has a removable spark igniter. The ax head contains 3 wrenches (10 mm, 14 mm and 17 mm) and a wire rope cutter. This is enough to equip camping.
Among the shortcomings that can spoil your experience of use, an inconvenient grip should be noted. After just a few minutes of operation, the paracord ceases to securely grip the handles and the metal begins to damage the palm. To avoid this, you need to improve the ax yourself, add a soft but strong sheath for the handle. Another option to protect your palm is to use gloves. It is a small and agile ax, its size and weight are not enough to defeat large trees, but it is not necessary for such a small one. Its main purpose is to protect your knife from abuse and help in survival if needed.
#4 Prandi German Style Survival Hatchet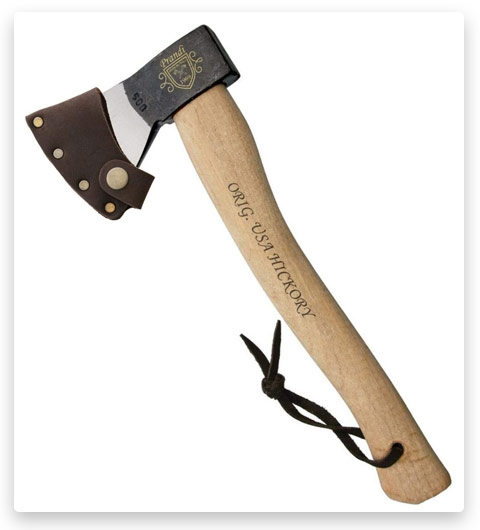 http://shrsl.com/2tllu
A German-style hatchet from Prandi, which specializes in the manufacture of tools for chopping wood. All of their products are manufactured in their own production facilities. The ax is made of high-quality C45 / 1045 carbon steel with a polished and hardened blade. The steel has excellent toughness and is fairly easy to sharpen, however, like all carbon steels, it corrodes. The knife blade is handcrafted so it maximizes the movement of the blade through the wood and reduces surface friction. Sharpening is also done by hand and guarantees high cutting performance for all types of wood. The ax handle is made of American hickory wood. There is a hole at the end of the wooden handle with a leather strap for maximum comfort. Also included is a thick leather case to protect the ax and your safety. This ax will handle 6-8" trees with ease and is easy to operate even with one hand. The steel is easy to sharpen and the edge can withstand heavy loads, even on hardwood. The locking head is of very high quality and will last you a lifetime. The only downside to this ax is the unstable quality of the hickory wood handle. The handle can sometimes break from the first use. This may be due to the fact that the wood may have been charged with parasites and was not noticed during production. But this small error can always be corrected by replacing it with a new handle that is more convenient for you. This ax will become your faithful assistant for camping and at home. It can also be used for competitive ax throwing! A universal ax for all occasions.
#5 Fiskars X7 Survival Hatchet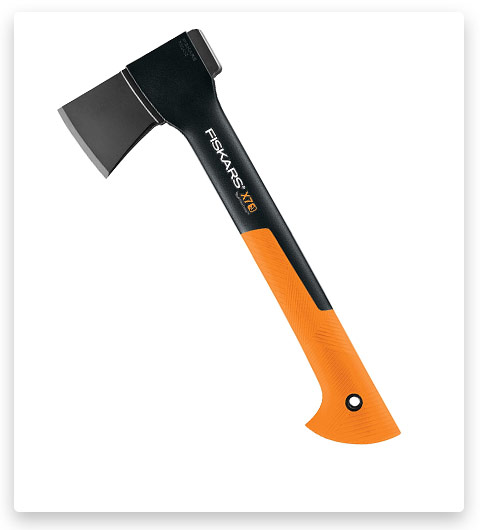 Hatchet from Fiskars 378501-1002 X7. The company was founded in 1649 in Finland and has over 365 years of experience in the design and manufacture of garden tools. The ax head is made of HRC 50-56 carbon steel. This type of steel is quite hard but weakly holds a sharp edge. The orange handle is made of polyamide and reinforced with fiberglass. The handle runs through and around the blade for an incredibly strong connection. Has a flat, oblong back to the head, and can be used as a normal hammer. Comes with a hard-plastic protective shield that protects the entire ax head. Has a swivel lock that provides quick access to remove the ax, as well as a built-in handle for transportation. There is a strap hole at the end of the handle.
Ideal for chopping small to medium-sized logs. Very lightweight and compact, takes up little space in your backpack or your car. Will help out in camping, fishing, and household daily chores. The disadvantages include poor quality control. In most cases, the edge of the blade will deform on first use. Requires re-sharpening after regular use. The design and ergonomics of the handle are poorly thought out. The grip is slippery and does not fit well in the hand, which is why the wrist gets tired with prolonged use. Considering the reasonable price, compact design, and lightweight, you can forgive the shortcomings and test this hatchet yourself.
#6 SOG Camp Axe (Survival Axe, Camping Hatchet)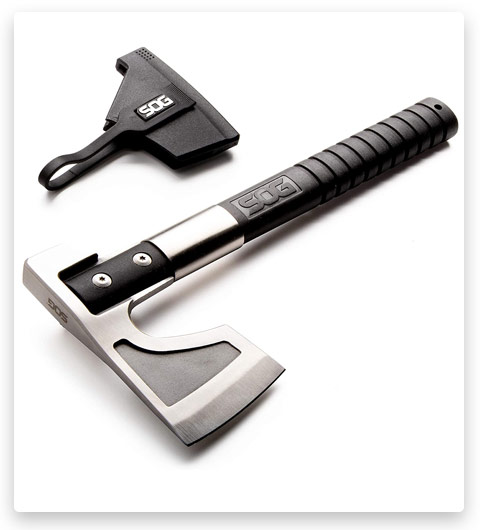 A 3.1-inch camp ax from the American company SOG. The company guarantees the brilliant quality of products, while constantly improving the production technology. This ax is designed for tough tasks in the most extreme conditions. The ax blade is made of 2Cr13 stainless steel. This steel grade belongs to the category of corrosion-resistant alloys. All products from this steel do not have exceptional strength, but they lend themselves well to sharpening. The handle is made of GRN thermoplastic, a polyamide composite reinforced with crushed carbon fiber. The handle is also securely connected to the impact-cutting part by means of two bolts. On the opposite side, it has a flat large part, which allows the ax to be used as a hammer.
There is a lace hole at the end of the handle for more convenient use. The ax comes with a hard-plastic sheath to protect the cutting edge. Light-weight and small size make it easy to transport the ax in a hiking bag or backpack. This ax is indispensable for most hiking situations, outdoor activities, and gardening. Can be used for driving stakes or nails, for chopping wood and removing bark. The ax is excellent quality, very sharp, strong, and well balanced. Will be a faithful friend for years to come. Of the shortcomings, we note the protective shell. The design is poorly thought out, and the material quickly deteriorates. For better protection, we recommend purchasing a leather sheath for this ax. And one more small drawback is the handle. It is too thin for large hands and can slip out in any inclement weather. But it can be replaced or wrapped for better grip in the palm of your hand.
#7 SOG Outdoor Survival Hatchet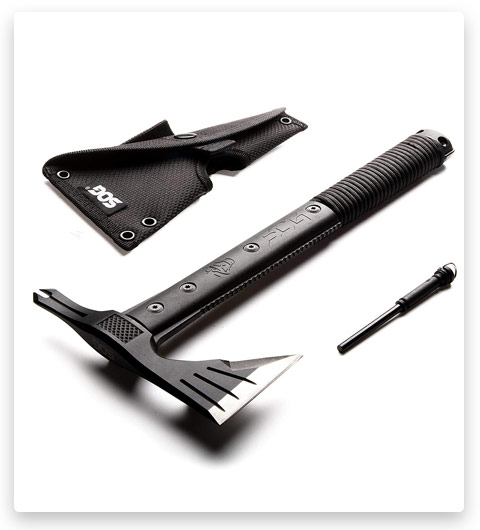 This tomahawk not only has a stunning appearance, but also great features. The design of this ax has a combined odor and provides maximum security for attaching the steelhead to the fiberglass handle. The 3-inch blade has an extended heel and provides a relatively large cutting surface. The ax head is made of stainless steel with a hard coating of 2Cr. This helps resist corrosion and creates a stylish look. As an additional function, the ax head can be used as a hammer (for driving in pegs and nails) and a pry bar for taking out nails orbiting the wire. The handle of this ax really deserves respect.
The material of the handle itself is fiberglass with nylon. This will be used for years and will show no corrosion damage. For a comfortable grip, the SOG uses a paracord-wound grip at the palm grip. This dampens the rebound a bit and makes it safer to use. So that you can keep the blade sharp as a razor and not damage nearby things (when stored together) and hands, this ax has a convenient nylon sheath on the button. If you are a fan of hard plastic cases, you will have to replace the shell yourself. If you are looking to use this tomahawk for throwing training, this is not the best product for that. It's all about the combined smell. It's tough enough to be abused in classic use but can get loose (or break) in the head and grip after a dozen failed shots. It is a great auxiliary tool that can defeat an 8" living tree, but you need tenacity and strength for that.
#8 Schrade SCAXE2 Survival Hachet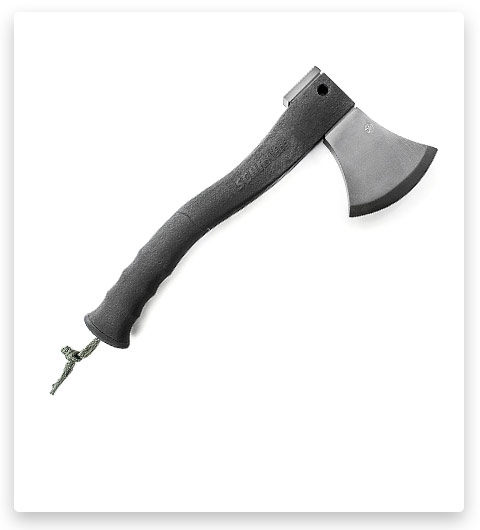 SCAXE2 11.8-inch small ax with a 3.8-inch blade from the American company Schrade. The ax head is made of titanium coated 3Cr13 stainless steel. This type of steel has a higher carbon content, which improves its cutting properties. The ax handle is made of fiberglass reinforced and reinforced with thermoplastic rubber. This handle allows you to securely hold the ax in your hand even in the rain. There is a stainless-steel hammer on the back. The butt of the ax contains a large fire rod on a cord to light a fire. At any time it can be removed from the handle and used as intended.
The set includes a hard-plastic case with a button to protect the ax head. A compact and handy tool for the traveler and outdoor enthusiast. This hatchet is a great addition to your survival kit. Will become a faithful friend in camping, in the garden, hunting, and fishing. Easily chop wood, help hammer in stakes, and start a fire. With such an ax, you will definitely not go hungry. It can be a good choice for people who love outdoor activities and love to travel. The Schrade SCAXE2 ax is compact, lightweight, and fits seamlessly into any backpack. This is usable right out of the box, but for a better experience, the hatchet is worth sharpening with a stone.
#9 Estwing Sportsman's Axe (Camping Hatchet)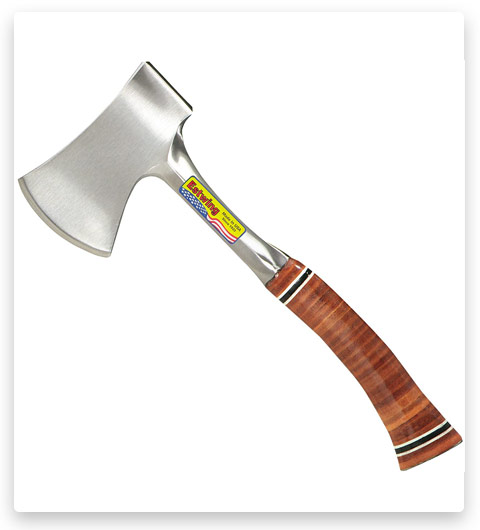 Estwing Sportsman's Ax is a 14 " camping hatchet with forged steel construction and a leather handle. Estwing axes have been produced by a family company in North America since 1923 and are read with the most durable tools. This is an American-made ax made from a single piece of 1055 carbon steel. Optimally hardened ensures the highest reliability and long-lasting blade sharpness. The ax handle is made of genuine leather, which is polished and additionally varnished. The leather grip is secured with a metal tip and rivets that are part of a forged metal structure. The handle is already sealed and protected from minor damage from moisture and other things. Includes a nylon sheath to protect the sharpened cutting edge.
The right attitude to this ax, as to any other blade, will extend the life and last you a lifetime. Good size fits easily into your backpack. The Estwing Sportsmans Ax is versatile for chopping and splitting timber, setting up a tent by driving pegs into the ground, and protecting against attacks from wild animals. When you go for a walk in the fresh air, do not forget to bring your Estwing ax. Ideal for outdoor enthusiasts. Among the shortcomings can be noted in the handle, which is varnished. Many buyers complain that it is very slippery and can slip out of their hands. This problem can be solved with gloves. And if you're not used to wearing gloves, you can simply peel off the polish. Note the wrong size chart. Many buyers claim that the ax is not 14 "but less than 13".
#10 Camillus Camtrax Survival Hatchet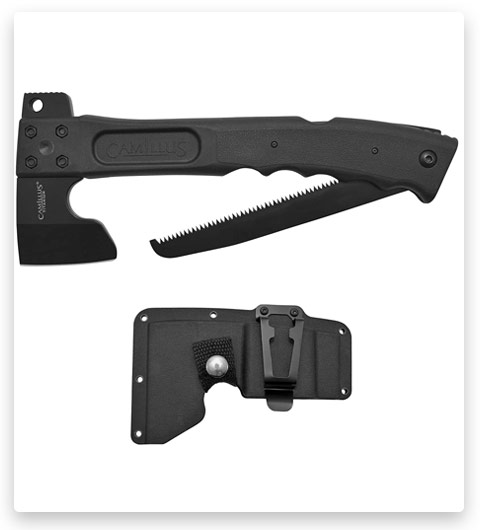 This ax can withstand any abuse. The steel ax head is securely attached to the handle with 4 bolts. This is more than enough for the tool to serve you for many years. A 2.75″ sharp edge is enough to chop wood fire or easily chop small branches up to 4 inches in diameter. An important feature of this offer is the titanium coating of the steelhead. This will protect the blade from corrosion and, if properly cared for and treated with gun oil, will make this ax immortal. The ax handle is made of cast nylon and fiberglass. This adds weight and makes the ax suitable for use against large trees.
At the end of the handle is a 7" folding saw. It is secured with a socket bolt and can be easily replaced if broken (use a hex wrench). The saw is sharp, but the teeth are not aggressive, so it may seem boring or cut too slowly. This is not a problem if you are setting up a campsite on weekends and you have nowhere to rush. The back of the ax head has a small flat surface and can work as a hammer. The only drawback is the size. the hammer is small enough and you need the knack to actually hit the peg (not your fingers). Together with the ax, you also get a molded shell with a double-sided belt clip. This will allow you to carry the ax on your belt on the left or right side, whichever is more comfortable for you. The shell covers the cutting edge and you can safely use the folding saw.
#BONUS: Schrade Machete | Hatchet Combo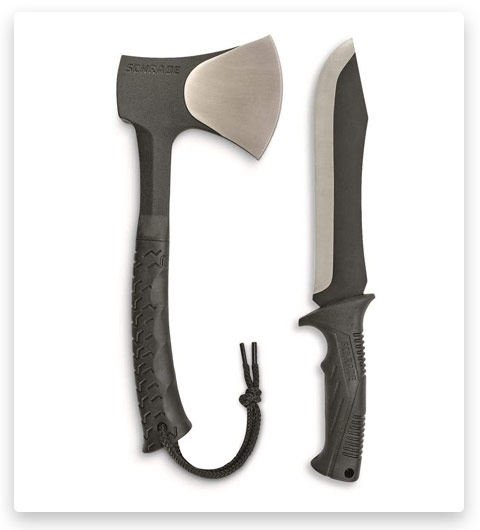 Schrade Machete / Hatchet Combo hatchet and mini machete from the American company Schrade. The main key advantage in manufacturing is the emphasis on product quality. As a result, the consumer receives a reliable and high-quality tool at an affordable price. Both instruments are made of black coated 3Cr13 stainless steel and have a full scent. This design ensures the durability of these tools. On the back of the ax there is a butt, which serves as a hammer. The thermoplastic rubber handles provide a soft and comfortable fit for use in a variety of conditions.
The ax is equipped with a strap and the machete has a strap hole. Includes 2 nylon pouches for safe storage or carrying. Both tools are very sharp right out of the box. Remember to sharpen and lubricate your tools and they will last a very long time. This combo set can easily help you chop wood, clear paths, hammer in stakes, and cut food. Will be a great addition to your survival kit. It can be a great gift for lovers of outdoor activities and travel. An irreplaceable thing for all occasions. Schrade Machete / Hatchet Combo is a great pair of products at a ridiculous price!
Conclusion:
Pay attention to our winners:
Tags: #Best #Survival #Hachet #Axe #Bear Gryls #Multi #Review #Schrade #Sale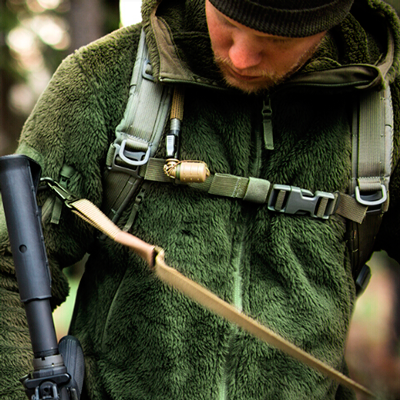 Dmitry Koval
Tactical & Survival Expert
I am from the generation that tried to repeat all the tricks of Jackie Chan, hunted birds with homemade bows, and built my mini-base in the forest. At the age of 18, I was a scout in PLAST (scout organization) and participated in campaigns and quests. Somehow we decided to test ourselves, took our backpacks and walked 50 km (31 miles) in 1 day. We had a lot of fun!
Remembering my past, I ask in bewilderment: "How am I alive after all my adventures?" - harsh trials, reckless parties, love affairs, and a sea of silliness.
My hobbies are weapon upgrades,
tactical gear
, and the latest in wilderness survival technology. I have hundreds of different survival gadgets in my collections, which are sent to me for "test-driving" by Amazon, eBay, and other online retailers. That's what I write about, and I also make YouTube videos about them! Stay tuned!
Read more
about our team
of expert authors.
Affiliate Disclosure: Rotorm.com sometimes gets paid for listings, through sponsors or affiliate programs like Amazon, Optics Planet, Lucky Gunner, Brownells, Cabelas, Rainier Arms, 5.11 Tactical, Bass Pro Shop, etс. Clicking a link helps keep Rotorm.com free, at no extra cost to you!
About the author: Each article on our site is written by experts in survival and tactical equipment, gun enthusiasts, extreme travelers, military, law enforcement and desperate professionals, read about the author at the bottom of the article or visit "About Us" page.
Note: The views and opinions expressed in this article are those of the authors and do not necessarily reflect the official policy or position of any agency.