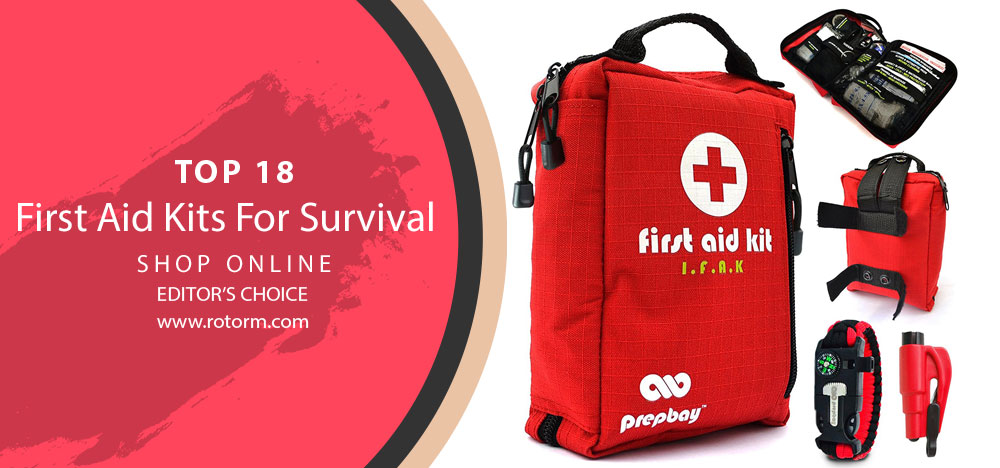 What are first aid kits for survival? 🤔
They are an essential part of any emergency preparedness plan. Such kits have the necessary supplies and equipment to deal with minor injuries and medical emergencies in the wilderness, such as cuts, scrapes, burns, sprains, and fractures.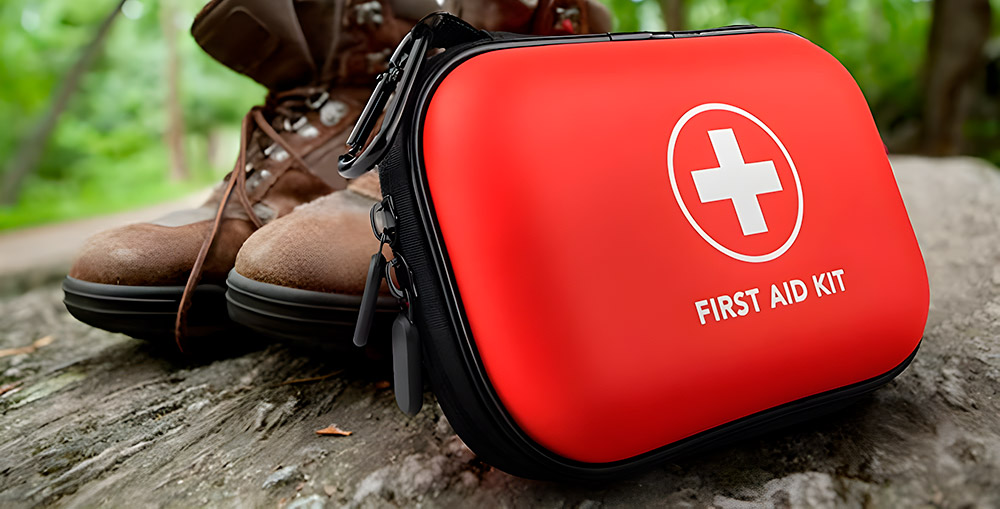 Features ✍️
The best first aid kits for survival should contain a wide variety of items to help you prepare for a range of situations.
✅ Basic items that should be included in any first aid kit include bandages, gauze pads, sterile gloves, tweezers, scissors, and tape.
✅ Other important components include antiseptic ointments, antibiotic creams or sprays, alcohol swabs, instant cold packs, wound dressings, and sting relief products.
✅ It is also important to have basic medications such as ibuprofen or acetaminophen for pain relief and antihistamines like Benadryl for allergies.
✅ In addition to these essentials, it is wise to include items such as CPR masks and face shields for water rescue operations or snake bite kits if working in a high-risk environment.
❗ Be sure to choose a kit that fits your needs and contains enough supplies for the intended purpose. Check expiration dates on medications regularly and replenish supplies as they are used up or expire.
Our Top Pick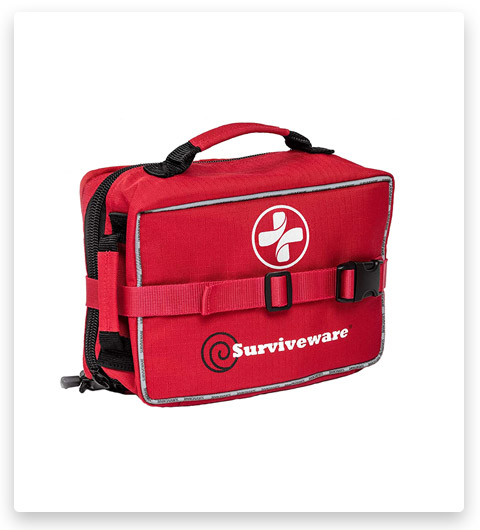 Surviveware Large First Aid Kit & Added Mini Kit
Carefully crafted, this kit features 100 high-quality items such as bandages, antiseptic wipes, and burn ointment to effectively treat cuts, scrapes, and burns. As a bonus, it included a mini kit and a blanket to enhance your preparedness. It is constructed from high-quality rip-resistant 600D polyester, making it resilient and water-resistant. Equipped with removable MOLLE-compatible straps, snaps, and an advanced mounting system, it can be effortlessly secured in your car, used as a home first aid kit, or adapted for any situation you require.
Buy Now On Amazon
If you click this link and make a purchase, we earn a commission at no additional cost to you.
Benefits ⭐️
When it comes to outdoor survival and emergency preparedness, having a reliable first aid kit is essential. Not only can it help you stay safe in the event of an injury or trauma, but it can also provide valuable peace of mind that you're prepared for any situation.
✴️ One of the primary benefits is its ability to provide quick access to medical supplies in case of an emergency. Many kits come with items like antiseptics and antibiotics that can help prevent infection from cuts or wounds; this can be invaluable in a wilderness setting where access to professional medical care may be limited or nonexistent.
✴️ Having such a kit specifically designed for outdoor use also has other advantages such as providing more comprehensive treatment options than traditional over-the-counter solutions would offer.
✴️ Finally, having a great selection of properly organized medical supplies in one convenient place gives users easy access to everything they need should an emergency occur.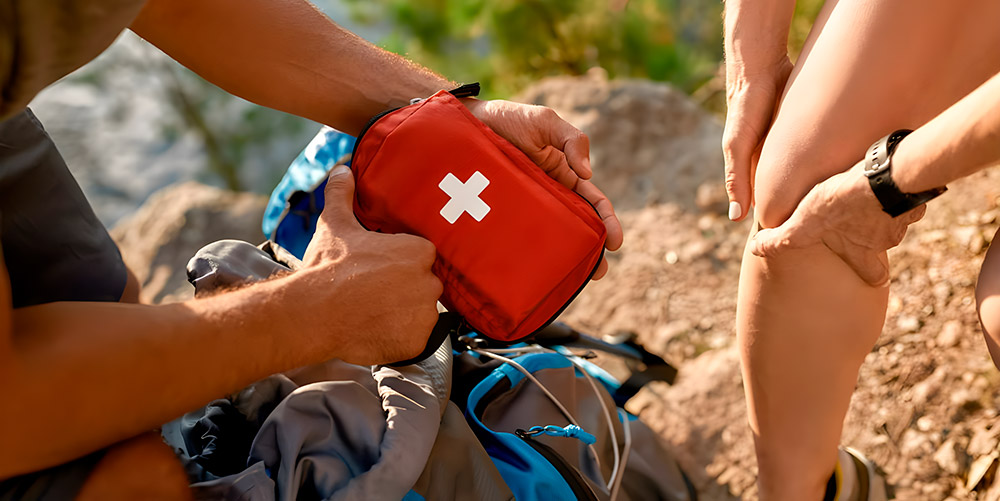 Types ⌛️
When it comes to first aid kits, there are many types of kits available for specific situations. Here's a look at some of the most popular types:
🚑 Basic First Aid Kit – These tend to be lightweight and extremely portable, making them ideal for camping and hiking trips or keeping in any car or RV. A basic kit may include items such as adhesive bandages, antiseptic wipes, gauze pads, triangular bandages, safety pins, scissors, tweezers, and tape.
🚑 Wilderness First Aid Kits – These are designed specifically for more extreme scenarios and are suitable for preppers, hunters, mountaineers, or anyone facing dangerous environments. They typically include items like natural antibiotics, insect repellents, snake bite kits, and emergency blankets.
🚑 Survival First Aid Kits – As its name implies, this type of kit is designed to help you survive a catastrophe such as an earthquake or hurricane. It may include wound care items such as sutures and IV material along with other necessary supplies like water purification tablets and energy bars.
TOP 18 First Aid Kits For Survival 🚑
| Image | Product | Brand | Link |
| --- | --- | --- | --- |
| | | | |
| | Swiss Safe 2-in-1 First Aid Kit (120 Piece) + Bonus 32-Piece Mini Kit: Compact, Lightweight for Emergencies at Home, Outdoors, Car, Camping, Workplace, Hiking & Survival | Swiss Safe | |
| | Swiss Safe 2-in-1 Hardcase First Aid Kit (348 Piece) + Bonus Mini Kit (32 Piece), Survival Preparedness for 50 People | Swiss Safe | |
| | Surviveware Comprehensive Premium First Aid Kit Emergency Medical Kit for Trucks, Cars, Camping, Office and Sports and Outdoor Emergencies - Small 100 Piece Set | Surviveware | |
| | Be Smart Get Prepared 180 Piece First Aid Kit: Clean, Treat, Protect Minor Cuts, Scrapes. Home, Office, Car, School, Business, Travel, Emergency, Survival, Hunting, Outdoor, Camping & Sports, FSA HSA | Be Smart Get Prepared | |
| | First Aid Kit – 291 Pieces of First Aid Supplies | Hospital Grade Medical Supplies for Emergency and Survival Situations | Ideal for Car, Trucks, Camping, Hiking, Travel, Office, Sports, Pets, Hunting, Home | Thrive | |
| | Johnson & Johnson All-Purpose Portable Compact First Aid Kit for Minor Cuts, Scrapes, Sprains & Burns, Ideal for Home, Car, Travel and Outdoor Emergencies, 140 Pieces | Band-Aid | |
| | First Aid Kit for Home with Folding Shovel Soft Case Bag for Camping Hiking Car Emergency Survival Outdoor Sports Office by DIGGOLD | DIGGOLD | |
| | | | |
| | deftget 163 Pieces First Aid Kit Waterproof IFAK Molle System Portable Essential Injuries Medical Emergency Equipment Survival Kits for Car Kitchen Camping Travel Office Sports Home | deftget | |
| | YIDERBO First Aid Kit Survival Kit, 274Pcs Upgraded Outdoor Emergency Survival Kit Gear - Medical Supplies Trauma Bag Safety First Aid Kit for Home Office Car Boat Camping Hiking Hunting Adventures | YIDERBO | |
| | Swiss Safe 200-Piece Professional First Aid Kit for Home, Car or Work : Plus Emergency Medical Supplies for Camping, Hunting, Outdoor Hiking Survival, Includes Adhesive Tape | Swiss Safe | |
| | Surviveware Comprehensive Premium First Aid Kit Emergency Medical Kit for Trucks, Cars, Camping, Office and Sports and Outdoor Emergencies - Small 100 Piece Set | Surviveware | |
| | EVERLIT 250 Pieces Survival First Aid Kit IFAK EMT Molle Pouch Survival Kit Outdoor Gear Emergency Kits Trauma Bag for Camping Boat Hunting Hiking Home Car Earthquake and Adventures | EVERLIT | |
| | First Aid Only 442 All-Purpose Emergency First Aid Kit for Home, Work, and Travel, 298 Pieces | First Aid Only | |
| | Surviveware Comprehensive Premium First Aid Kit Emergency Medical Kit for Trucks, Cars, Camping, Office and Sports and Outdoor Emergencies - Large 200 Piece Set | Surviveware | |
| | Professional 300 Piece (40 Unique Items) First Aid Kit | Emergency Medical Kits | Home, Business, Camping, Car, Office, Travel, Vehicle, Kids, Boat, Survival, Supplies | M2 BASICS | |
| | I GO 85 Pieces Hard Shell Mini Compact First Aid Kit, Small Personal Emergency Survival Kit for Travel Hiking Camping Backpacking Hunting Marine Car | I GO | |
1# MyFAK First Aid Kit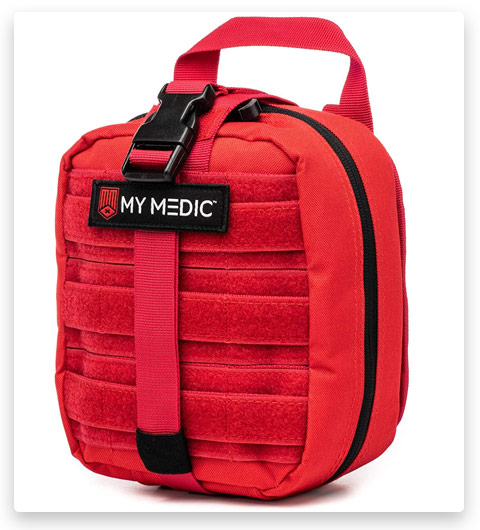 The kit is very durable and portable enough. The red color helps you not to forget the kit in the park, square, or public place. The kit can be used by adults and children. The outer cover is soft and calm. The inner part contains the basic tools and extra kit. The basic tools include a thermometer, scissors, blankets, belts, and small tablets for cold. The extra tools contain two little scissors, a chest seal, plaster, harness. The guide helps to use it in the airport, to stop bleeding, and to prevent colds.
2# Swiss Safe 2-in-1 First Aid Kit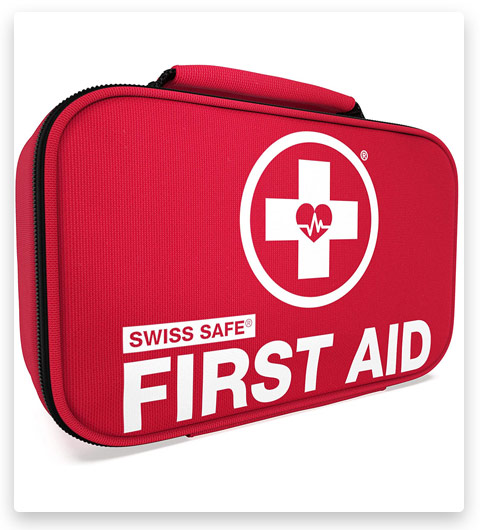 The aim of the kit is emergencies. The inner part includes 120 necessary instruments. The kit includes 32 medical items,120 main parts, an ice pack, antiseptic wipes, a glove stick, a first aid guide, ear sticks, etc. The kit is small and can be used by family and friends. The outer cover has a strong carrying handle, a water-resistant cover, durable stitching, and nylon protection. The kit can be easily used at the working place, in the car, camping, or simply at home.
3# 2-in-1 First Aid Kit (348-Piece)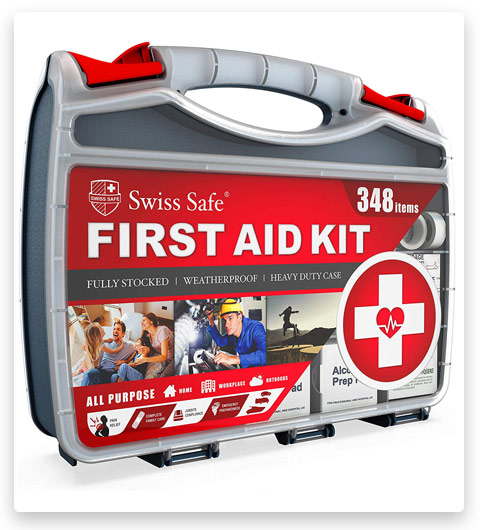 The kit has Swiss origin and has a plastic housing. The package has two ways of opening the back and front ways. The gear has 348 items, an interior to get the main 20 things, extra space for the main things, and small compartments. The best items are different plasters, scissors, belts, and first aid tablets. The best way of using is working emergencies, business trips, travel first aid, home, office, and school. The kit doesn't afraid of water conditions.
4# Surviveware Small First Aid Kit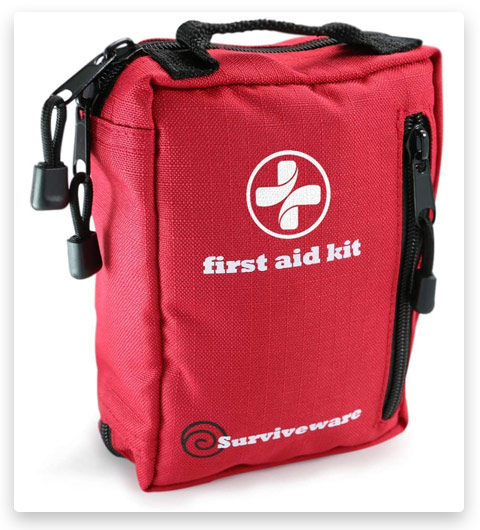 To create this pack was used about 1000 zippers and ripstop material. The weight is only one pound which is not much. The kit includes eye pads, wound closures, shears, anti-allergen wipes, skin cleaning wipes, anti-snake bites, secure dressings, etc. All the parts are separated from each other by the mesh. The first aid emergency brief helps to understand the aim of every part. The kit is ideal for camping, long ways, cycling, and car trips.
5# Be Smart to Get Prepared 180 Piece First Aid Kit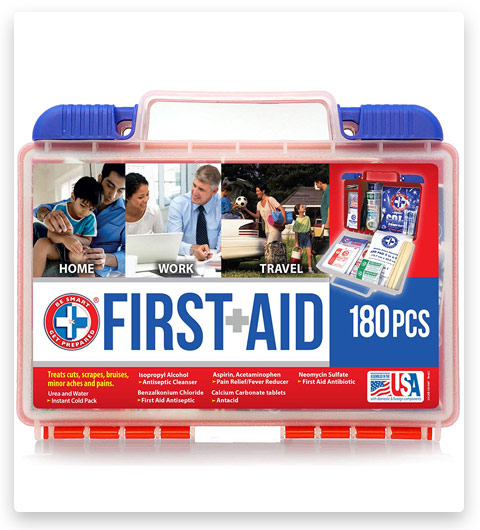 Technology is used and made in the USA. The kit can be used at home, travel, and especially for family use. There are a lot of drug facts. The kit contains antiseptic towels, aspirin, non-aspirin tablets, a cold compress, bandages, 5 kinds of pads, and a roll. The inner part is divided into easy slide latches, removable storage dividers, organized interior compartments, and first aid components. The kit is easily attached to the luggage or clothing.
6# First Aid Kit 291 Pieces Bag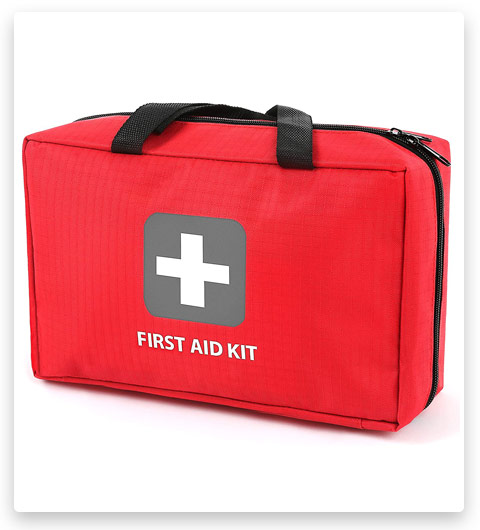 The 291 useful things are included. The kit includes the bandage, pads, pads, emergency whistle, notebook, ice pack, scissors, gloves, and others. The features and parts are divided into the inner organization's pockets, hospital content, heavy-duty zippers, and separate rooms. The outer cover is enough waterproof and has an attractive red color. This kit can be used in restaurants, public places, camping, sports, and in the boat. The full filling of the bag impresses any customer.
7# Johnson & Johnson All Purpose First Aid Kit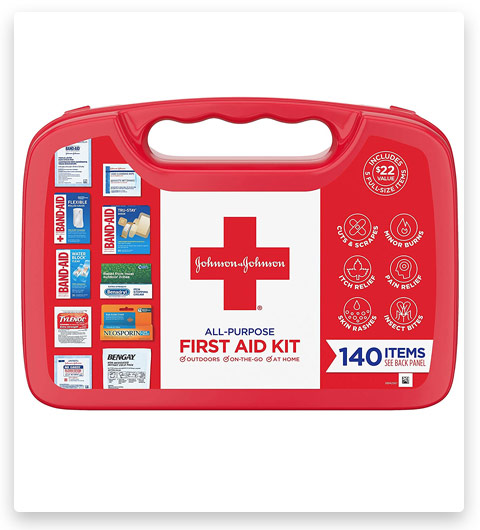 The 140 items are put in the kit for better protection. The Jonson ad Jonson brand gives a compact first aid kit that has gauze pads, wipes, cold packs, Neosporin, band-aid Benadryl, etc. The kit also has antibiotics, to prevent infection. The housing is made from plastic and reflects the water. The kit can be used in public places to stop the pain or cope with the cut.
8# First Aid Kit Home Comprehensive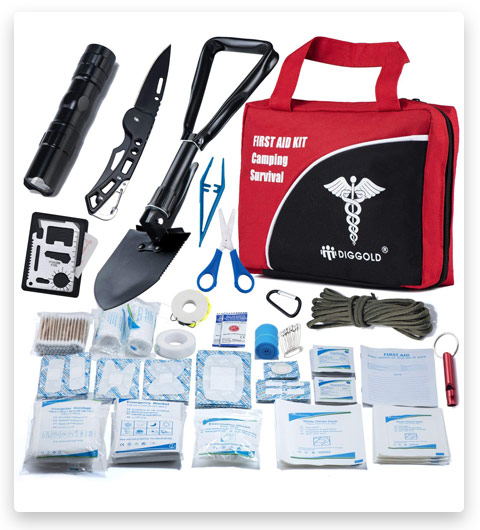 The kit has several parts and is used for military aims. The inner parts have a shovel, flashlight, whistle, scissors, safety pins, fishing kit, carabiner, medical types, alcohol parts, 31 first aid parts, wet cleaning wipes, and nitrile gloves. The package also has a fishing professional kit, a multi-purpose tool card, and folding knives. The kit can be a super bag for protection in boating, fishing, camping, hiking, and extreme kinds of sports. The extra bottles and wipes give the maximum cleaning resources in an emergency.
9# Compact First Aid Kit (Designed For Family Emergency Care)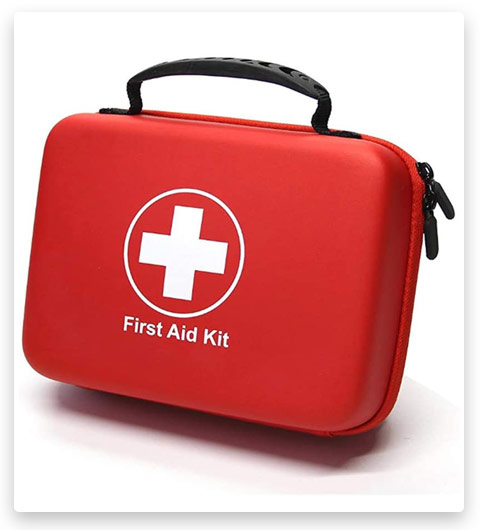 This kit is huge and full of others, it includes 298 pieces and small things. Examples are bandages, silicon ropes, first aid cases, whistles, vinyl gloves, saber cards, CPR masks, etc. The kit can be used during earthquakes, for backpacking, and in survival situations. The kit was tested by the safety guard at the beach. The kit also has sun protection functions and a reflection board.
10# First Aid Kit 163 Piece Portable Essential Injuries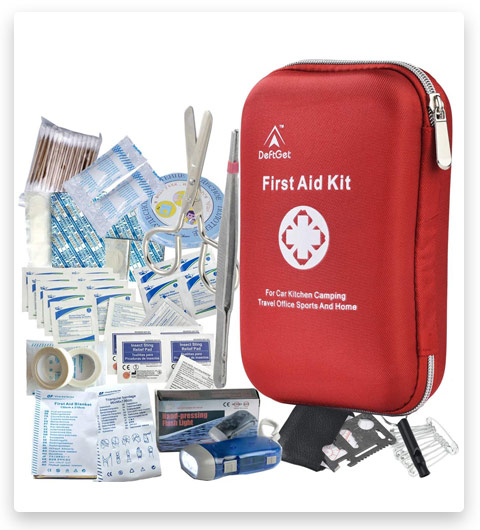 This product is valuable and certified in 2019. The kit includes the outer bag, flashlight, saber cards, alcohol pad, stitching wipes, antiseptic pad, bandage belts, stainless steel belts, emergency blanket, compressed towel, and safety pins. The kit can be used at the seaside, on the boat, hunting, or motorcycle. The pills are divided into 18 parts that can be applied in 18 cases. The outer packaging is very strong.
11# Monoki First Aid Kit Survival Kit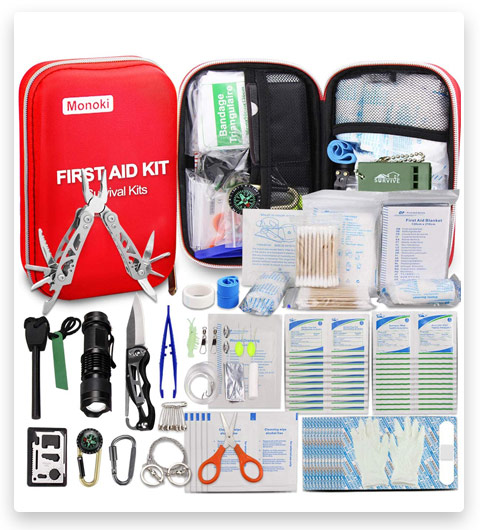 This kit has multiple usages and can be a good gift. The kit has 16 survival tools, a compass, a fire starter, scissors, aluminum foil, a keychain, complect for wound injuries, first aid choices, and fishing tools. The kit can be used in the countryside, near the lake or river. The aim is to protect the family from cuts, insects, and outer effects. People mostly take such a kit to fish, hiking, traveling.
12# 200-Piece Professional First Aid Kit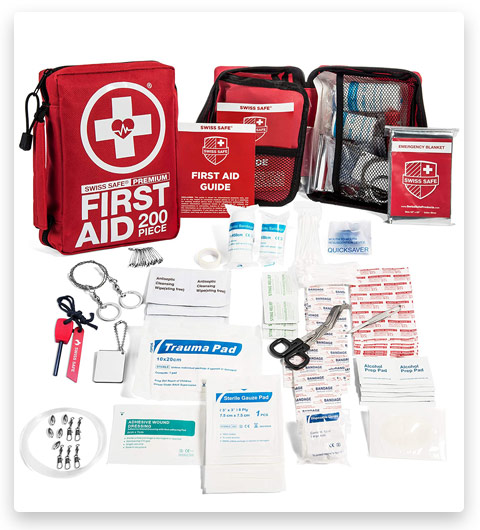 The package is super for individual use or can be a help for small family and friends. The kit contains 200 pieces, first aid things, a gloves box, scissors, a fishing kit, blanket. The kit can be used for camping, boating, in the country, kitchen, and even for sport. The Swiss supplier gives a 100 percent refund in case of problems. The compass and fire saw will help in emergency cases. The blanket will protect the person from the cold and water. The new upgrade made the kit better in 2020.
13# Surviveware Small First Aid Kit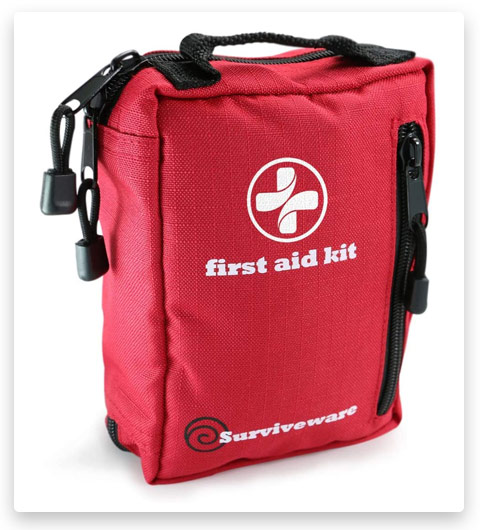 The kit can cope with a difficult situation in nature. The number of zippers inside is about 1000. The main usage is the way to expeditions or travel. The outer cover is water-resistant. The kit includes towels, wipes, cleaning water, tablets, snaps, mesh, and multipurpose compartments. The CPR pouch can be easily removable which is good for emergencies. Housing is an easy weight that is suitable for mountains and hiking. The bandages can cope with 5 types of wounds.
14# Everlit 250 Pieces Survival First Aid Kit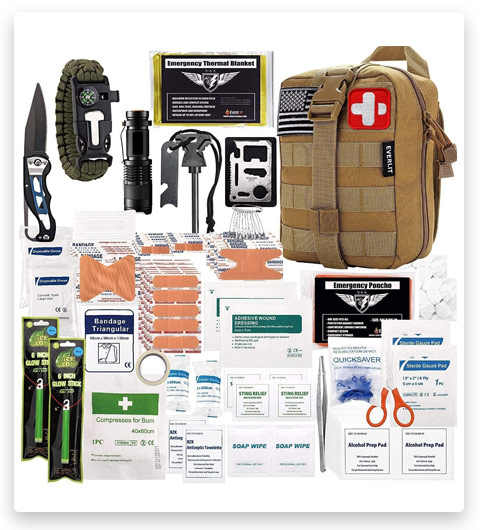 The kit will be a perfect gift for scouts, their families, and friends because has a first aid thing. The package is used by US veterans, the military, the army, and groups of friends. The kit includes survival gear for a group of 4 or more people. The kit includes a knife, plasters, glow sticks, paracord rope, an alcohol pad, and bandages of various sizes. The inner part has 3 parts divided by the mesh that can be easily opened and filled with your tablets. The kit also includes a whistle and compass for better orientation.
15# First Aid Only 299 Piece All-Purpose First Aid Kit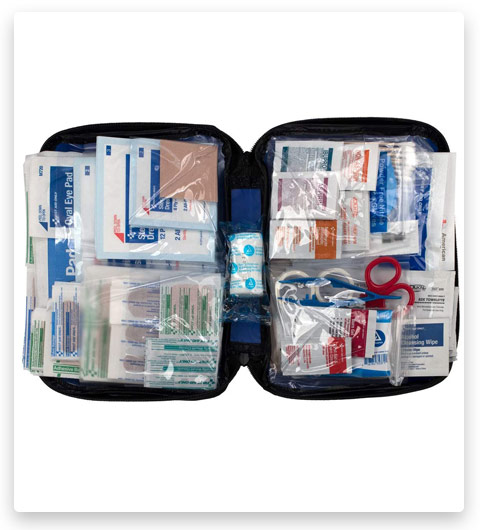 The supplier gives full protection and a user guide to understand the purpose. The 299 small treats will help to survive in the emergency case and nature. The kit is ideal for home and travel. The kit includes 10 types of bandages, finger plasters, and wipes, gloves, scissors, eye pads, sterile pads, trauma pads. The kit can be opened by the long zipper for the whole length which gives full access. The kit can cope with basic trauma while you will wait for the doctor.
16# Surviveware Large First Aid Kit & Added Mini Kit
The size of the kit is enough large to support a family of 4 or a company of friends. The outer package is made from polyester and has plastic elements, that are durable enough. The kit has extra space for things, own pills, a versatile mini kit, a first aid kit, a belt, removable CPR belt. The three inner parts help to get what you need quickly and fast access to tablets. The emergency blanket helps to prevent hypothermia.
17# M2 Basics 300 Piece First Aid Kit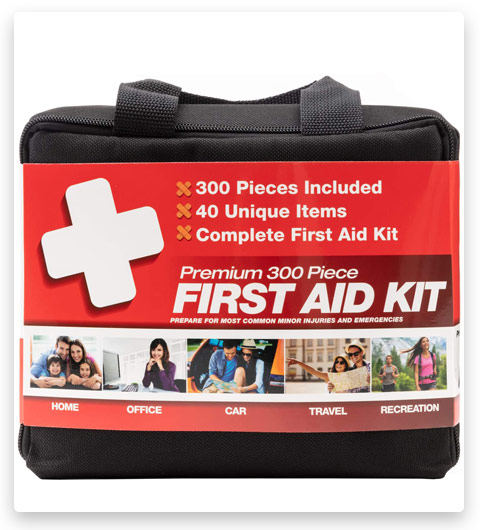 That kit is famous for the unique items which make it better. The kit can be divided into 300 pieces and 40 first-aid parts. The kit is perfect for children's protection against wounds and cuts. The kit includes gloves, pins, pads, 3 types of bandages, wipes, and ropes. Also, you can find scissors and an emergency whistle. The kit can be used for children, pet care, boats, trips, military. The aid guide will help with proper usage.
18# I Go 85 Pieces Hard Shell Mini Compact First Aid Kit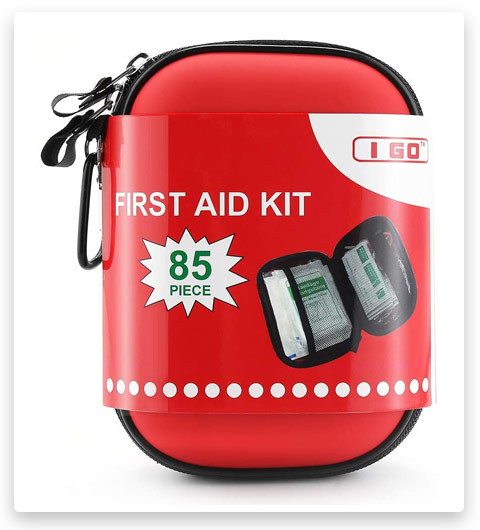 The kit is the Amazon choice for camping and hiking. The kit has 85 inner tools for first aid, for example, the help guide, bandages, plastic pads, patches, scissors, mouse masks, gloves, pins, and meshes. Thanks to the inner mesh the parts can be divided into two spaces and not mix. The portable size helps to use the kit on the go, on the train, camping, or in the car. The user guide helps to use it even for small children or young parents. The kit can be a part of the luggage for fishing and cycling.
Essential items in first aid kits 📝
When selecting a first aid kit for survival, it is important to understand the different items that should be included. Depending on your needs and location, some items may be more essential than others. The following are typically considered must-have supplies:
💊 Antibiotic ointment and bandages – These can help treat minor cuts, scrapes, and burns.
💊 Adhesive tape – A roll of adhesive tape provides extra support for securing bandages in place as well as holding gauze together when needed.
💊 Pain relievers – Ibuprofen or acetaminophen can help relieve pain from injuries, while aspirin helps prevent heart attacks when taken at the first sign of symptoms.
💊 Antihistamines – An antihistamine can help provide relief from allergies or insect bites.
💊 Masks and gloves – To protect against bacteria, viruses, and other contaminants, masks, and gloves should always be included in any first aid kit.
💊 Splints and splinting materials – These are essential for immobilizing broken bones or sprains until medical help can be obtained.
💊 Sterile gauze pads – Gauze pads are used to clean wounds and absorb excess blood as well as apply pressure when needed to stop bleeding.
💊 Scissors and tweezers – Scissors are useful for cutting bandages and tweezers can help remove splinters or other foreign objects from wounds.
💊 Flashlight – A flashlight is essential for providing illumination in dark areas where medical attention may be needed.
💊 Emergency blanket – An emergency blanket provides warmth during cold weather and prevents hypothermia.
💊 Waterproof matches – These are vital for starting fires to provide heat, cook food, boil water, or signal for help if necessary.
FAQ 🤓
Сonclusion 😊
When it comes to the best first aid kits for survival, there is no one-size-fits-all solution. The right kit depends on your needs and preferences. Hopefully, this buyer's guide has given you a better idea of what features are important when selecting an emergency medical kit. Keep these tips in mind as you shop around to ensure that you get the most out of your purchase! 🤠👍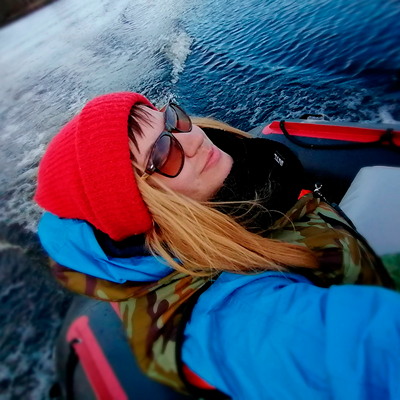 Olena Dubose
Traveler & Camping Expert
I was born in a family of experienced travelers and used to spend all my school breaks and long weekends camping and hiking around the most admirable places in Canada and sometimes United States. My dad used to be a soldier and always taught me how to survive during unpredictable circumstances. Like every other kid, I wasn't really interested in my parents' extreme lifestyle when I was little, but I can't imagine my life now without regular outdoor trips and extreme sports.
Thanks to my intense childhood and a few decades of experience I can now choose the best equipment for any adventure waiting for me to dive in. And after all, I have been through, I want to share my knowledge so more people could join an enjoyable and breathtaking trip to discovering magical nature around us. Forget about five-star hotels and treat yourself with thousands more in a cozy camping trip!
Read more
about our team
of expert authors.
Affiliate Disclosure: Rotorm.com sometimes gets paid for listings, through sponsors or affiliate programs like Amazon, Optics Planet, Lucky Gunner, Brownells, Cabelas, Rainier Arms, 5.11 Tactical, Bass Pro Shop, etс. Clicking a link helps keep Rotorm.com free, at no extra cost to you!
About the author: Each article on our site is written by experts in survival and tactical equipment, gun enthusiasts, extreme travelers, military, law enforcement and desperate professionals, read about the author at the bottom of the article or visit "About Us" page.
Note: The views and opinions expressed in this article are those of the authors and do not necessarily reflect the official policy or position of any agency.