If you are just getting started with crossbows, or are looking for a quiet and powerful weapon for hunting large animals, be sure to check out the products from review. We bet you might not expect such incredible performance from these small shoulders, but they are. Today we will look at the legendary line of crossbows that at one time changed the very concept of "crossbow accuracy".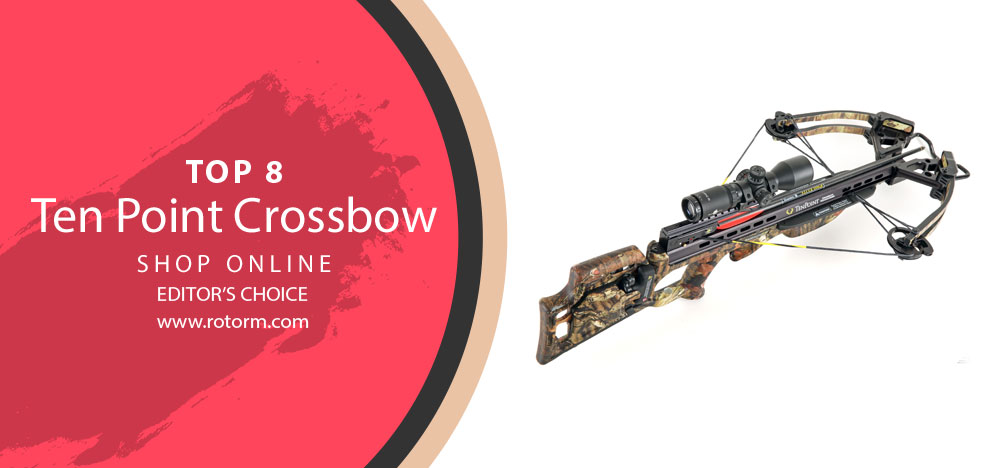 All presented crossbows have sniper accuracy. If you put in the effort and set up your tactical scope correctly, you can achieve rifle accuracy even at distances of up to 100 yards. But if you use a more expensive telescopic sight, you can send arrows with deadly accuracy and long distances. Let's move on to an overview of these deadly "babies".
TOP-8 Ten Point Crossbow Review
| Image | Product | Brand | Link |
| --- | --- | --- | --- |
| | TenPoint Stealth NXT, Rangemaster Pro Scope, ACUdraw 50 SLED, Multi | TenPoint | |
| | TenPoint Shadow NXT Crossbow Package with Pro-View 2 Scope, Quiver, and Arrows (CB18018-5827) | TenPoint | |
| | TenPoint Titan M1 Crossbow, TrueTimber Viper - 370 FPS - Equipped with Lighted 3X Pro-View Scope & Rope-Sled - Forward-Draw Design | TenPoint | |
| | Wicked Ridge M-370 Crossbow, Peak Camo - 370 FPS - Equipped with Built-in ACUdraw for Effortless Cocking & 3X Multi-Line Scope | Wicked Ridge | |
| | | | |
| | TenPoint XR-410, ACUdraw PRO, Rangemaster Pro Scope | TenPoint | |
| | TenPoint Vengent S440 Crossbow, Veil Alpine - Hunting Package Includes RangeMaster Variable Speed Scope, Bubble Level, ACUslide System, 6 Evo-X CenterPunch Arrows, 6-Arrow Quiver + Narrow Soft Case | TenPoint | |
| | TenPoint Viper S400 Crossbow, Veil Alpine - 400 FPS - Equipped with RangeMaster Pro Variable Speed Scope + ACUslide Cocking & De-Cocking System | TenPoint | |
Before choosing a specific crossbow model, we highly recommend learning more about the brands and their philosophy. High quality of production is certainly important, but an engineering approach that allows you to get more efficient solutions is more important. Let's take an unbiased look at the legendary crossbow maker and understand the philosophy he puts into his projects.
The main value of Ten Point Crossbow Technologies is its team. All employees of the company are active hunters and prefer to use crossbows of their own production due to their numerous advantages. Also, it helps to make the product even better, more convenient, and more durable.
Company founder Bill Bednar was one of the top archery shooters in the United States in the 1960s and 1970s. When the company was founded (1994), crossbows were not yet comfortable, reliable, or accurate. "This was the trigger for creating the perfect product that I would like to use myself and open the world of quiet hunting for many hunters."
If you do not like Ten Point crossbows, then you did not hold a real Ten Point crossbow in your hands. Many professional hunters can confirm this as evidence. Ten Point Crossbow Technologies is about quality piece production, not mass stamping.
#1 TenPoint Stealth NXT Crossbow acudraw 50 sled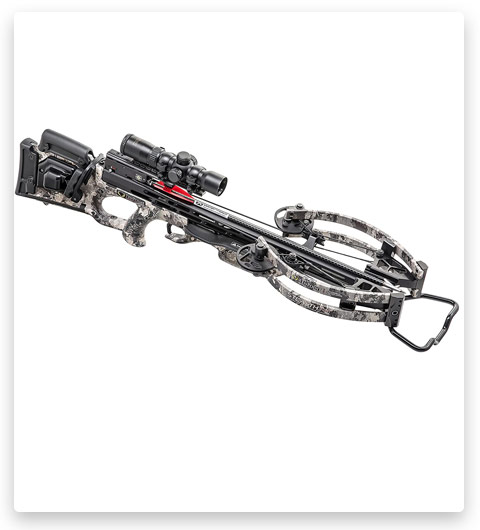 View on OpticsPlanet View on Amazon
Crossbow from the American company TenPoint Stealth NXT with a complete set for shooting in a complete set – ACUdraw 50 sled. The ACUdraw 50 has put together the best combination of speed, precision and width unmatched at this price. This powerful crossbow is easy to use and is only 6 inches from axle to axle when cocked. Fires arrows at up to 410 frames per second with 138 lb-ft of energy on impact.
Vector Quad cable technology keeps the cams perfectly aligned for straight, precise boom reach with low noise. ACUdraw 50 cable provides constant traction for increased precision. The 8.25″ Aluminum Rangemaster riflescope features variable speed and drop compensation adjustments for crossbows shooting from 275 to 425 fps. Three duplex crosshairs and five horizontal dots, calibrated for 20, 30, 40, 50, and 60 yards. Glass reticle and fully multi-coated optics from 1.5 to 5x reduce light transmission loss, while a 30mm tube increases light output. An auto-trigger safety trigger specially designed for hunting to ensure a consistent and clear shot. The smooth trigger features a TenPoint mechanism that has a latch design to reduce friction.
The crossbow is equipped with 3 20-inch premium EVO-X CenterPunch carbon arrows. All booms are checked for straightness to the nearest 0.001 and each package corresponds to the grain weight to the nearest 1 grain per arrow. The cocking mechanism in this model is fully integrated into the stock and equipped with a design with removable handles, which reduces the weight of the crossbow tension by 50%. The skeleton stock design includes a secure grip and wings to keep fingers out of the bowstring path. The set includes the crossbow: sight, instant release quiver, 3 carbon arrows.
#2 TenPoint Shadow NXT Crossbow Package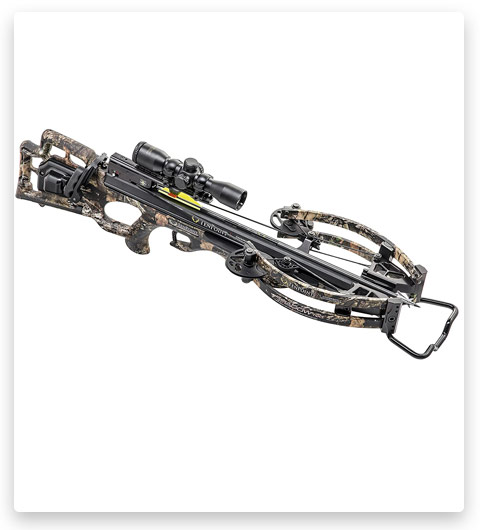 The TenPoint Shadow NXT is one of the best crossbows in the mid-range. With its small size, only 6.5″ wide and 7 pounds, it is a highly maneuverable weapon for forestry hunting. The starting speed of the boom is 380 feet per second. That's enough to stay guaranteed deadly up to 100 yards. At long distances, weather conditions and especially wind play a significant role. Even if the Crossbow Nail retains its energy, you need to see the target and hit it.
For accurate shots, the seller installs the Pro-View 2 scope, which is already calibrated from the box. The scope has 3 crosshairs and 4 points for 20, 30, 40, and 50 yards. As you can imagine, hitting the target at a distance of 100 yards or more will take luck, lots of luck! The crossbow will be convenient for both right-handers and left-handers. The quick-release 3-arrow quiver can be attached to either side, as can the fuse switch. To hit his first target, the seller equipped the crossbow with 3 carbon arrows. These are TenPoint pro proprietary training shots with 100g points. For hunting large animals such as deer or bear, the more deadly hunting arrows are recommended.
The ACUdraw 50 cocking mechanism deserves a special mention. This is not the fastest arrow charging, but it allows you to charge the crossbow with 50% less effort, which can be important if your lair is in a tree and there is no complete freedom of action. The loading mechanism is integrated into the butt, it has a removable handle (which is attached from the bottom) and an updated sled that pulls back the pull. If your package does not have the Acudraw system, you will not be able to enjoy this crossbow to the fullest.
#3 TenPoint Titan M1 Crossbow Package (with Pro-View 3 Scope)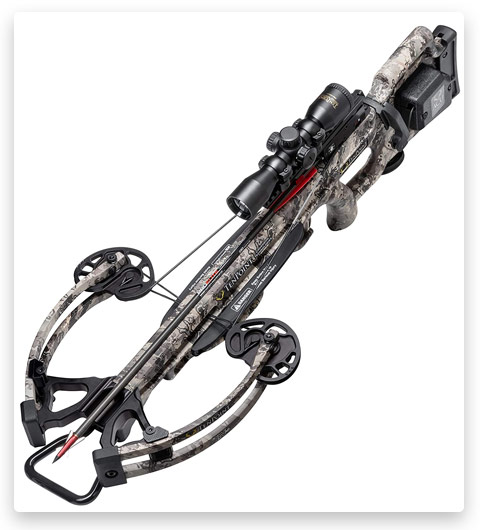 Crossbow TenPoint Titan M1 with Pro-View 3 scope, quiver, and arrows. This crossbow from an American company is the best-selling and most reliable due to its narrower and faster platform. A great option if you need a crossbow that is perfect for hunting. Has a compact width of 9 inches and a firing rate of 370 frames per second. Utilizes VX-5 Inverted Cam technology, which lengthens travel and increases rotation for lethal precision.
The Titan M1 is also equipped with an automatic trigger T5. This mechanism is specially designed for hunting large animals. The trigger has a permanent clear gap to help keep you safe. The snap-in design of the string also reduces friction. The T5 double trigger system gives a smooth trigger action. Installed 3x telescopic sight TenPoint Pro-View 3, with variable distance points at 20, 30, 40, and 50 yards. Supplied with 20" 3-TenPoint Pro Elite Carbon Arrows with 100 Practical Grit. The cocking device in this model is a rope sled. But you can also buy the TenPoint Titan M1 with cocking device – ACUdraw for extra money.
The Titan M1 crossbow is very easy to build, agile, and deadly accurate. And the ratio of price and quality is one of the best in the world's crossbow market. The set for the crossbow includes: Pro View 3 scope, instant release quiver for 3 arrows, 3 carbon arrows.
#4 Wicked Ridge M370 Crossbow Package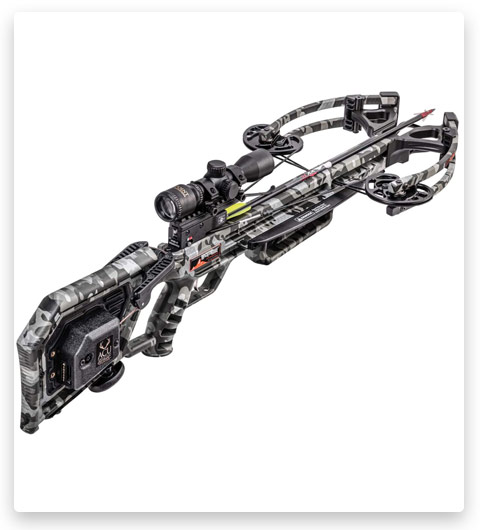 Crossbow set Wicked Ridge M370 from the American company TenPoint. Considered one of the lightest crossbows on the market, it weighs just 5.8 pounds. It is 9.5 inches wide when cocked and fires at 370 feet per second. Ideal for those hunting in tight spaces and scouring for miles to find the right spot. Has a built-in ACUdraw cocking device for easy and accurate cocking of the crossbow, which ensures safety and silence.
Equipped with 3x multi-line coated optics and three duplex crosshairs, calibrated at 20, 30, and 40 yards for maximum accuracy. The VX-5 reversing cams lengthen travel and rotation for quick, accurate shots. The stock is molded from dampening glass-filled polypropylene for maximum strength, reduced weight, and ensures long crossbow service. The integrated forend is equipped with extended safety wings to protect the hands from the bowstring, and the closed trigger guard provides additional safety. Includes 3 x 20-inch Wicked Ridge XX75 aluminum arrows with outfield points.
The crossbow is ready to fire after a simple assembly with one bolt. Working stroke: 13.8 inches. Length: 35 inches. Width: 9.5 inches (cocked), 14 inches (uncocked). The set to the crossbow includes: an instant detach quiver for 3 arrows; multi-line sight TenPoint; arrows Wicked Ridge XX75 Arrows 3 pcs.
#5 TenPoint Nitro XRT с ACUdraw Pro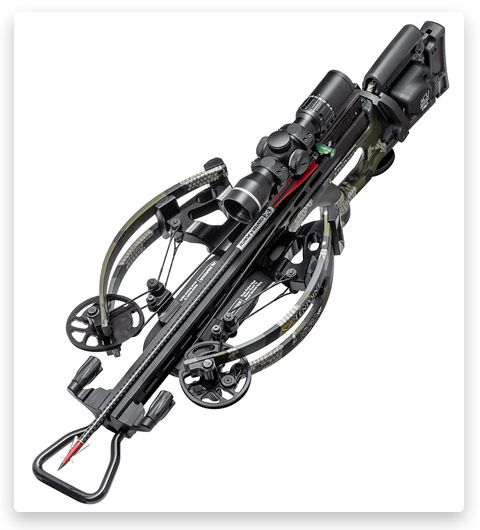 Crossbow from TenPoint Nitro XRT with ACUdraw Pro and EVO-X scope. This crossbow became a novelty in 2019 and managed to fall in love with many users. With this crossbow, no target or animal escapes you. The power and precision of this model are astounding, it fires arrows at up to 470 frames per second with a load of 182 lb-ft. energy. The crossbow is a reverse tensioned design that features RX7 cams and Vector Quad 4 cable technology.
This cable system ensures perfect cam alignment throughout the entire shot. This ensures a smooth ride and precision when descending. A more advanced design guides the strings through the riser to extend travel and reduce vibration. This means that hunters get the quietest shots possible with flatter trajectories. Like all crossbows of this company, it is equipped with a T5 trigger. Considered one of the smoothest and safest TenPoint triggers ever made. The crossbow features an EVO-X Marksman Scope with 1.5-6x variable speed with high quality etched glass reticle and lenses with 14x full multi-layer coating. The scope is also equipped with hinged covers, quick release rings, and a bubble level.
Comes with red or green illumination, and the zoom does the function of adjusting the shutter speed. The scale does not change after installation. Includes 6 20-inch CenterPunch carbon arrows, which are equipped with an 84-grain insert. There is also an Alpha-Nock and a receiver for quick, illuminated attachment. All CenterPunch booms are checked for straightness to the nearest 0.001. The crossbow design is 30.7″ long, 7″ axle-to-axle cocked, 16.5″ travel, and 7.4 lbs. Includes: EVO-X Marksman scope, 3-boom snap-off quiver, 6 Evo-X CenterPunch charcoal arrows with practice points, built-in string stop, hard case, neoprene sling.
#6 TenPoint XR-410, ACUdraw PRO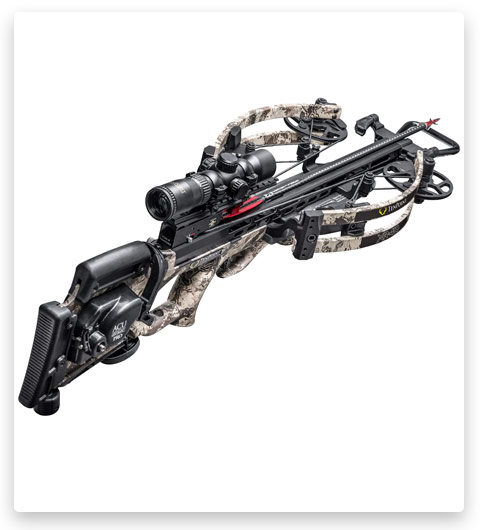 The TenPoint XR-410 crossbow is a weapon that will win your heart and hit the target with noiselessness and incredible accuracy. This weapon is based on the philosophy of professional hunters. Arbalet is lighter and more maneuverable than its competitors, but at the same time, it is not inferior in the power of the shot. With a 17" stroke, the crossbow boom gains a launch speed of up to 410 feet per second. This lethal force will fly right on target thanks to the RX7 cams and Vector Quad 4 cable system.
This system has a center-balanced design to make the crossbow ultra-thin (6.5 inches wide) and stable throughout the shot. This crossbow is much safer than its competitors. This was made possible by a combination of many factors. The T5 trigger is automatically triggered and reliably blocks the crossbow from an accidental shot. Also, the system takes care of the string and carefully protects it from friction. The ACUdraw PRO is used to pull the strings, which means the mix will be silent and requires only 9 pounds of force. The RangeMaster Pro scope is a full-fledged professional optics with 1.5x to 5x magnification.
This is more than enough to look a squirrel in the eye if you find yourself in the neighboring trees. The etched glass reticle has duplex crosshairs and 4 points are already calibrated for 20, 30, 40, and 50 yards. To make long-range shooting even more effective, a 60-yard calibration triangle has been added. For instant testing and training, the crossbow is equipped with three 20" Pro Elite arrows. These arrows have 400 grains and feathers slightly offset to the center. Each boom has a 61-grain aluminum insert for even balance
#7 TenPoint Vengent S440 Crossbow Package with ACUslide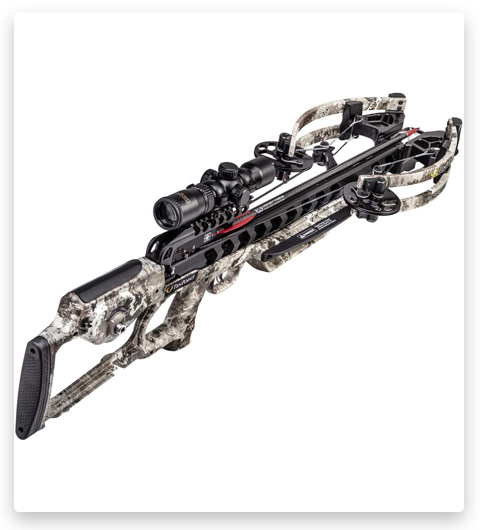 TenPoint Vengent S440 is a crossbow with which your hunt will be enjoyable and effective. This kit has everything you need to have a pleasant experience. Let's take a closer look at how the seller justifies such a high bid price. The Vengent S440 is a powerful crossbow. The launch speed of the crossbow arrow reaches 440 frames per second with a kinetic force of 166 ft-lbs.
This is accomplished with a 14″ travel. At 35 inches long and 11 inches wide (when cocked, the width is 5.8 inches), the crossbow weighs 7.7 pounds. To reduce weight, TenPoint used a lightweight Tec-X stock. With such dimensions, you can secretly hunt using even small bushes and trees as cover. This kit has a pre-installed RangeMaster scope with multi-layer coating and illuminated aiming points, which is attached with a dovetail. Thanks to the bubble level, you can easily understand the angle of the crossbow and adjust your shot to hit the target accurately. This crossbow has a very quiet cocking thanks to ACUslide.
This system is not only very reliable and safe but also allows the platoon to be removed if required. Launching each boom will be a separate pleasure thanks to the S1 2-stage trigger. With a perfectly working system with impressive performance, the TenPoint team didn't stop there. The Vengent S440 crossbow comes with a 6-bolt quiver and 6 Evo-X CenterPunch carbon bolts weighing 100g. For easy portability, you will also receive the TenPoint Blazer soft case and field goggles with which you can spot your prey from afar.
#8 TenPoint Viper S400 Crossbow Package with ACUslide
The TenPoint Viper S400 with ACUslide is a good deal for those on a budget who are unwilling (or unable) to pay the extra $ 500 for an additional 40 fps shot rate. With this crossbow, your shot will be just as deadly and as accurate. 400 fps bolt speed at 135 ft. Lbs is enough to successfully hunt large deer (this requires hunting arrows). The cocking system ACUslide allows you to gently cock and cancel a platoon. This crossbow has a reduced working stroke, only 11 inches.
This was the main reason for the decrease in the power of the shot, but this, in our opinion, is absolutely not critical. The length of this crossbow is 32 inches wide, 7.2, and 11 inches, depending on cocking. 7.5 pounds is perfectly normal weight, and a long hunt is possible without significant fatigue with it. It would be better to get a transport case as well, but this is not included in this package. The Multi-coated RangeMaster scope attaches to the crossbow with a dovetail attachment and allows you to understand the true tilt level thanks to the built-in bubble level. For shots from a great height, or at long range, this very important parameter must be taken into account.
This crossbow requires no additional setup and is ready to use. The kit also includes a quiver and 3 Evo-X CenterPunch charcoal bolts weighing 100g. field points.
FAQ
Ten Point Crossbow Video Review
Conclusion
With the Ten Point Vengent S440 crossbow you get the strongest and most accurate crossbow on the planet. You can fully enjoy target shooting and hunting. It is an accurate and very powerful weapon. Your prey simply has no chance of salvation if you use this crossbow and arrows to hunt. The Vengent S440 has a really high price tag, but that doesn't diminish its strength. By purchasing this you will understand that it is worth your money.
Affiliate Disclosure: Rotorm.com sometimes gets paid for listings, through sponsors or affiliate programs like Amazon, Optics Planet, Lucky Gunner, Brownells, Cabelas, Rainier Arms, 5.11 Tactical, Bass Pro Shop, etс. Clicking a link helps keep Rotorm.com free, at no extra cost to you!
About the author: Each article on our site is written by experts in survival and tactical equipment, gun enthusiasts, extreme travelers, military, law enforcement and desperate professionals, read about the author at the bottom of the article or visit "About Us" page.
Note: The views and opinions expressed in this article are those of the authors and do not necessarily reflect the official policy or position of any agency.