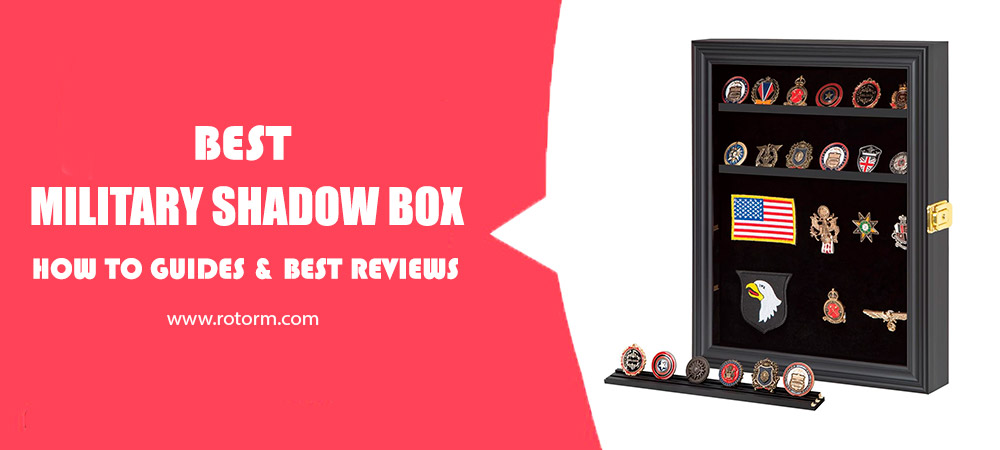 What is a Military Shadow Box? 🙄
It is an exquisite display case that captures the essence of a veteran's service. Often mounted on walls, these boxes create a stunning and deeply meaningful arrangement of military medals and other cherished items.
Why Do We Need a Military Shadow Box? 🧐
It serves as a uniquely poignant and respectful way to honour the service and sacrifices of military personnel. It provides a tangible display of awards, medals, flags, and other symbols of service, representing a compelling visual history of one's military career. This tribute not just symbolizes the recognition of the person's dedication and bravery, but also serves as a cherished keepsake for family members, encapsulating stories of valour and commitment for future generations. Thus, it is more than a decorative item; it's a meaningful keepsake of service, sacrifice, and patriotic duty.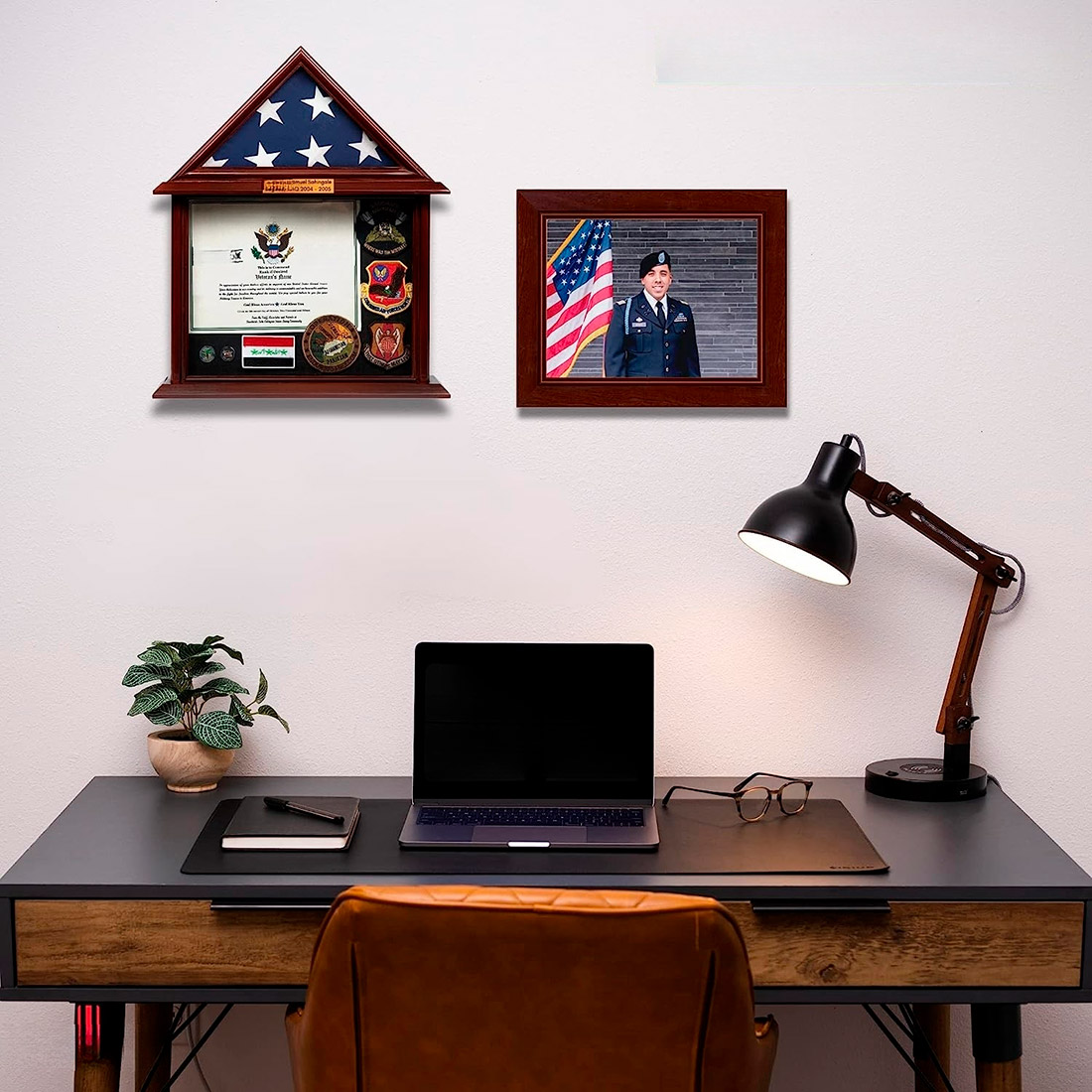 Features 🔍
A Shadow Box is loaded with features that make it an ideal keepsake and tribute. Here are some of the primary facets of this special item:
✔️ Display Area: The box usually has a large display area for medals, badges, ribbons, insignia, and other military memorabilia.
✔️ Flag Holder: One of the distinct features is a triangular flag holder that can accommodate a folded flag, typically the U.S. flag, a poignant symbol of national service.
✔️ Craftsmanship: These boxes are often crafted with high-quality wood, such as oak, walnut, or cherry, ensuring durability and aesthetic appeal. The glass front is usually made from shatter-proof material for safety and longevity.
✔️ Customization: Many Shadow Boxes offer customization options, allowing you to choose the layout and design that best represents the serviceperson's journey.
✔️ Wall-Mountable: They are typically designed to be wall-mountable for easy display, turning any room into a personal museum of honour.
✔️ Seals and Emblems: Military Boxes may also feature seals and emblems of various military branches, further enhancing their symbolic significance.
So as you see it is a comprehensive, customizable, and high-quality display case that beautifully captures the essence of a serviceperson's journey.
Our Top Pick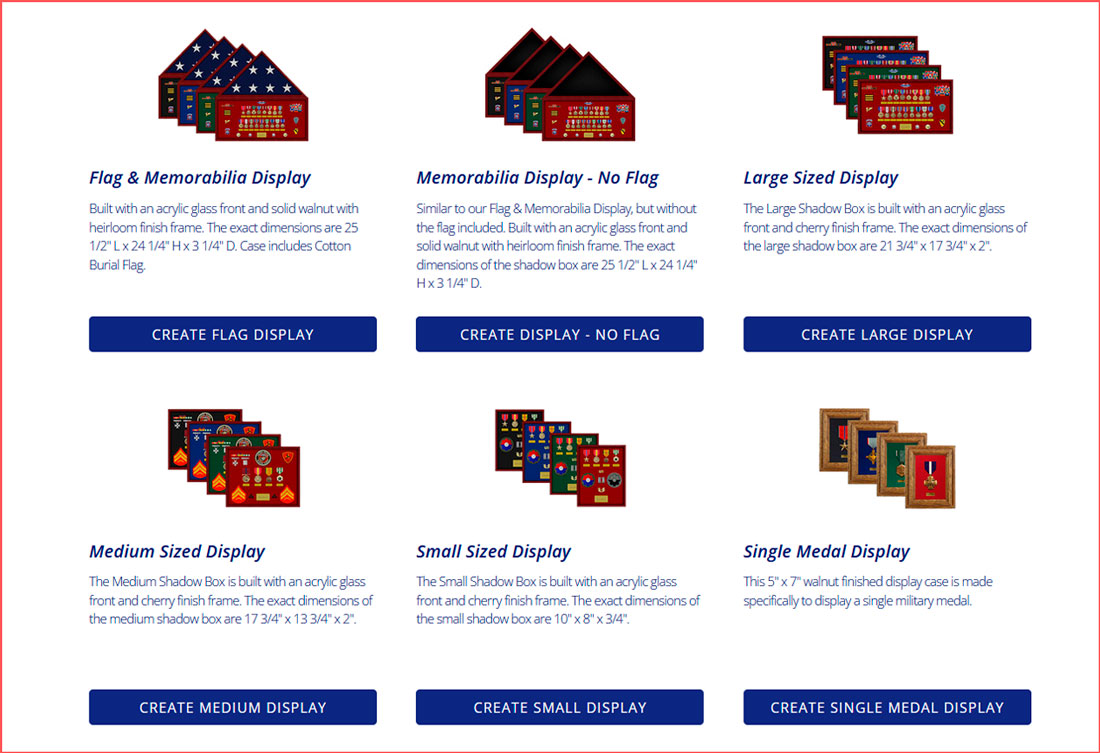 USAMM
USAMM is a veteran-owned company that offers official military decorations, ribbons, medals, uniforms, and equipment. They provide tailoring services too. Your order will be completed and dispatched the same or the next business day. The customer service team is attentive. USAMM offers customized products that allow you to choose text and artwork, making your purchase unique and special. Remember, the possibilities are endless.
USAMM
If you click this link and make a purchase, we earn a commission at no additional cost to you.
 What Items Can Be Included in a Military Shadow Box? 📜
| | | |
| --- | --- | --- |
| ⚜️ Medals and Ribbons: A warrior's achievements deserve the spotlight, capturing the honours they've earned. | ⚜️ Flags: The national flag symbolizes patriotism and loyalty to the country. | ⚜️ Military Memorabilia: Personal items like dog tags, challenge coins, and rank insignia add a personal touch. |
| ⚜️ Patches and Insignia: Each emblem tells a unique story of the units served and the battles fought. | ⚜️ Photographs: Capturing moments in service, portraying faces beaming with camaraderie. | ⚜️ Certificates and Awards: Acknowledgments of exceptional service that deserve pride of place. |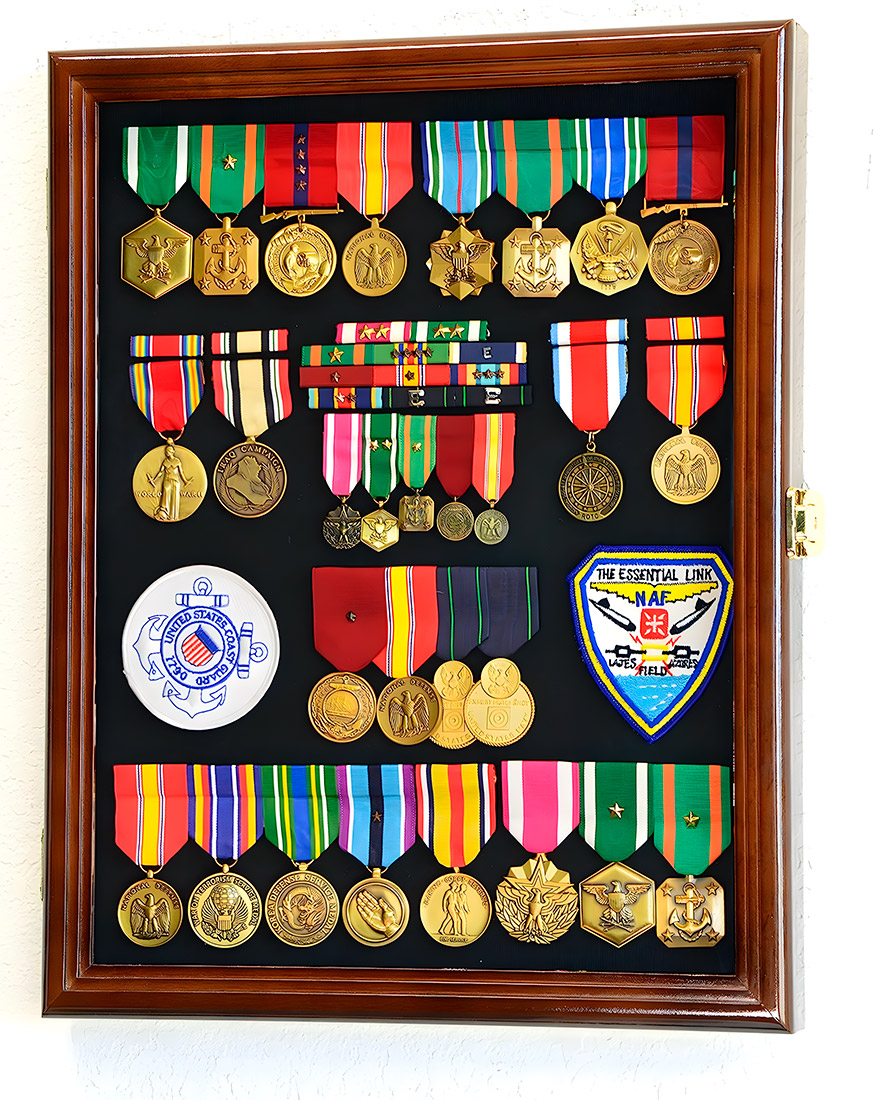 Types ✨
They are available in several types, each designed to pay tribute to different aspects of military service:
Single Service Shadow Box: This type is designed to honour an individual's service in a specific branch of the military. It may contain insignias, badges, or seals specific to that branch, along with the serviceperson's individual awards and decorations.
Combined Service Shadow Box: Suitable for those who have served in multiple branches of the military, this type allows for a diverse display of awards, medals, and emblems from different service branches.
Career Retrospective Shadow Box: This type tells the story of a serviceperson's entire career. It typically includes a chronological display of awards, photographs, and mementoes from various stages of the individual's military journey.
Memorial Shadow Box: This type serves as a tribute to a fallen service member. It may include personal items, letters, or photographs, in addition to the usual medals and awards, to create a deeply personal memorial.
Choosing the right type depends largely on the individual's service history and the specific story you wish to tell. Each type offers a unique way to honour and commemorate a serviceperson's dedication and commitment.
#1 USAMM (Editor's Choice)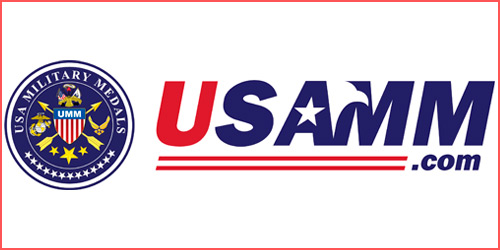 USAMM is one of the best places to go for all of your military shadow box needs. The company was founded 15+ years ago (works from 2006 year) and offers a wide range of services, including military medals, ribbons, badges, attachments, gadgets, uniform tailoring, and more.
Products and Services
USAMM provides official military decorations, ribbons, medals, and uniforms as well as tailoring and equipment. All purchases are completed and dispatched the same or next business day. They're a veteran-owned firm with attentive customer service reps. USAMM says that the possibilities are endless. This means that you can choose whatever text and artwork you want on your product, which will make it unique and special for you.
USAMM provides personalized item builders such as the EZ Rack Builder, EZ Shadow Box Builder, Leather Tag Builder, Name Tag Builder, Dog Tag Builder, Navy Cap Builder, and Uswag Builder that help to create your own designs directly on the website.
Let us look at the Military Shadow Box Builder in more detail. With the help of this builder, you can quickly create your shadow box: you may arrange, categorize, and completely personalize your trophies and memories. Choosing the components and the assembly method is really simple.
You can choose from these templates: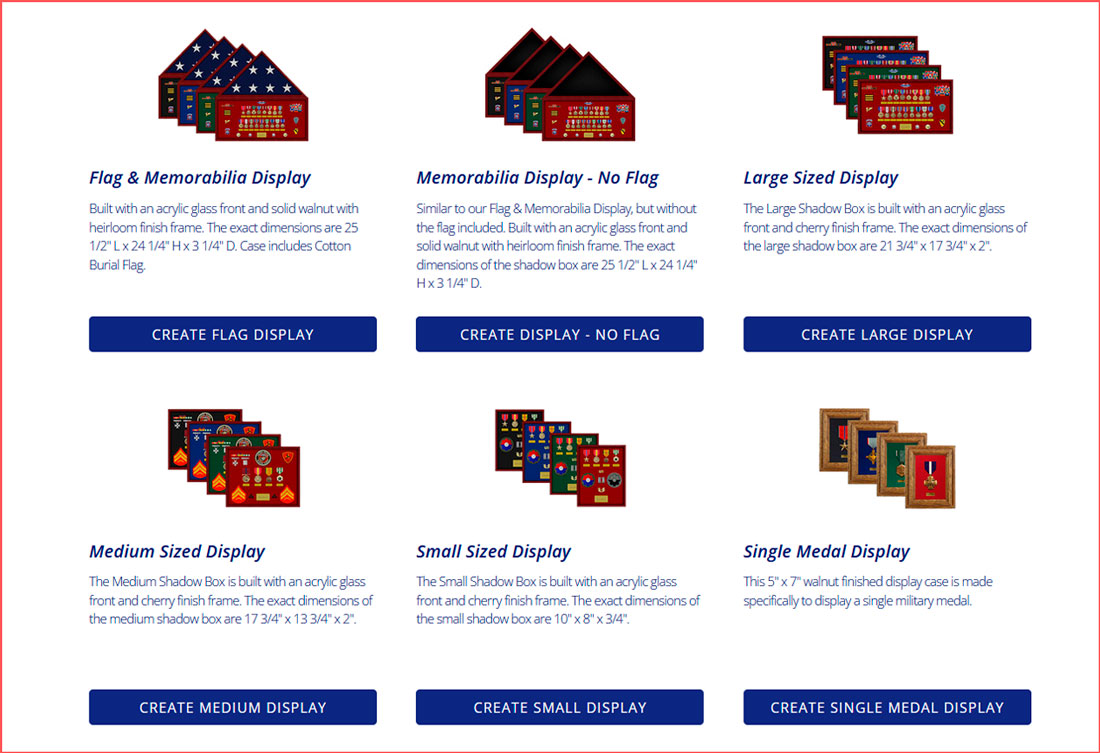 Small Sized Display
Medium Sized Display
Large Sized Display
Flag & Memorabilia Display
Single Medal Display
If you're looking for a high-quality military shadow box, USAMM is the company for you. They offer a wide variety of shadow boxes in all shapes and sizes, and their prices are unbeatable. We highly recommend their products, so USAMM is the #1 company to buy shadow boxes on our list. 😎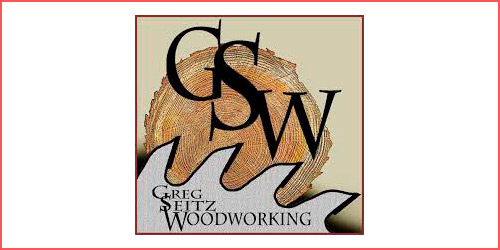 ShadowBoxGuru is a company that specializes in the creation and sale of shadow boxes. They offer a variety of designs and styles to choose from, and their boxes are made from high-quality materials. We were impressed with the level of detail and precision that goes into each ShadowBoxGuru box.
About
This firm was founded by John S. Seitz, a woodworker who has been working in the industry full-time since 1985. As an apprentice furniture maker in Dayton, Ohio, he began making handcrafted wood pieces and cabinets for private clients, retail businesses, and juried exhibits in the early 1990s.
Joe's work was all about custom wood shadow boxes and flag display cases for veterans, first responders, civil servants, scouts, collectors, athletes, and other artists. Each box was handcrafted to order in his studio on the campus of the Front Street Buildings in Dayton's art and artisan center.
Products and Services
Shadowboxguru creates each shadow box and flag case by hand. Design and construction are all done in-house, ensuring excellent attention to detail, sturdy build, and finish. They exclusively use high-quality domestic hardwoods, hardware, and fabrics with real glass windows to ensure a high level of quality.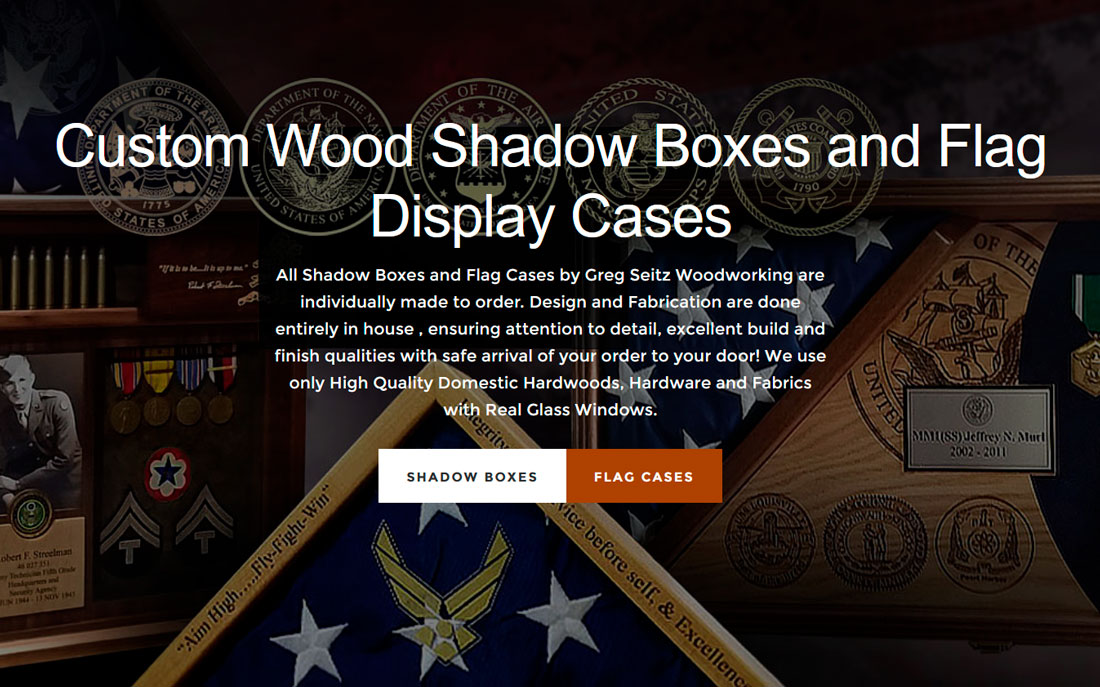 It's simple to mount your medals, patches, and ribbons using straight pins, double-sided tape, or Velcro. All shadow boxes are delivered with mounting hardware for the wall. All boxes can be transported by FedEx in custom-fit, well-padded containers for their journey across the county or even beyond!
Their customer service is excellent, and they create custom shadow boxes quickly. We can highly recommend ShadowBoxGuru to anyone looking for a beautiful and well-crafted shadow box.
Here is the list of products you can order:
Basic Shadow Boxes (12×24, 16×16, 16×24, 16×32, 18×18, 18×24, 24×24, 24×36, honor guard cartridge box).
Flag Shadow Boxes (12×24, 16×16, 16×24, 16×32, 18×18, 18×24, 24×24).
Options and Extras (add-on flag frames, challenge coin shelves, K-bar knife mount with coin shelf, glass options, mounting medals, ribbons, patches, U.S. flags, a branch of service flags).
Flag Cases (3×5, 4×6, 5×9, 8×12).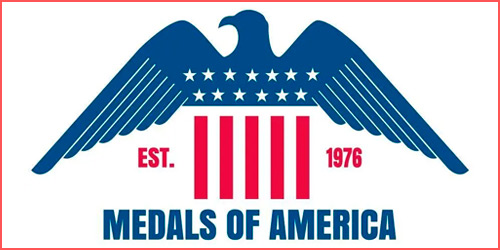 Medals of America sells military necessities such as medals, ribbons, shadow boxes, and clothing. The company's priority was shadow boxes when it was founded in 1976. It gradually expanded over time to cover a wide range of themes connected to military services. Any current active-duty, reserve, or veteran service member in the armed forces, as well as their family members and friends, are great customers for Medals of America. The company's mission is to help and support people like these.
The staff at Medals of America understands what their customers need. The company was started by veterans, so the employees know what medals, ribbons, and shadow boxes mean to people. This understanding helps them create one-of-a-kind personalized goods. In addition, the company wants to help veterans and their families. Veterans who support Medals of America can feel proud that they are helping other soldiers.
Personal Experience
Medals of America is one of the best places to buy shadow boxes. They have a wide selection of military shadow boxes, as well as other types of shadow boxes, that are all made with high-quality materials. You can also find a variety of customization options at Medals of America, so you can create the perfect shadow box for your needs.
We highly recommend Medals of America if you are looking for a high-quality military shadow box. We were extremely impressed with the craftsmanship and attention to detail that went into creating my shadow box. The staff was also very friendly and helpful, and they were able to answer all of our questions.
Products and Services
Medals of America offers a large selection of military-related products. The collection at Medals of America is enormous, and it includes almost everything for the military.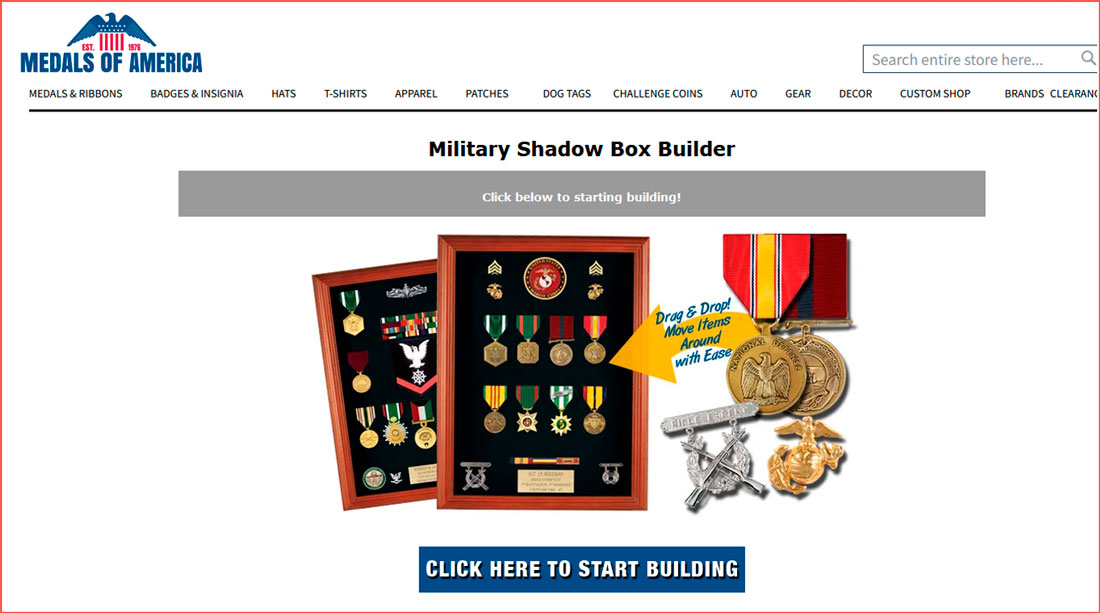 Many of the products have a lot of customization options: customers can add text or pictures to clothes, wooden plaques, home décor, and more. It allows clients to create something unique and special that would make an excellent gift.
A shadow box can be a nice present for a veteran or active duty member, but you can also explore clothes, accessories, medals, ribbons, and other military supplies from this store.
Verdict: Medals of America is a great company that makes the highest-quality military shadow boxes. They have a wide variety of shadow boxes to choose from, and their prices are very reasonable. We highly recommend the Medals of America store for all your military shadow box needs!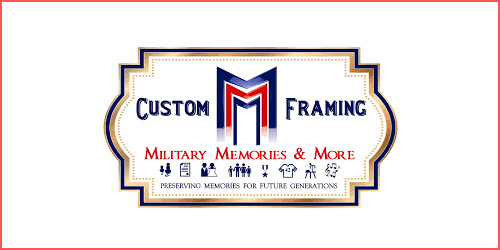 Military Memories & More is a family-run business that focuses on making unique frames for military shadow boxes. This is a great way to show off someone's accomplishments. Military Memories was founded by a Vietnam veteran in 2006, who wanted to provide a way for people to remember their friends and family members. The business offers customers the chance to keep sentimental memories (like births, sports, hobbies, vacations, graduation, marriage, or even simple everyday occurrences) in high-quality exhibits.
Products and Services
You can find a design for your needs: different colour schemes for each branch of the service (Army, Navy, Air Force, USMC, Coast Guard, and the new Space Force). Their newest addition is the rank-shaped shadow boxes that are handcrafted from solid wood.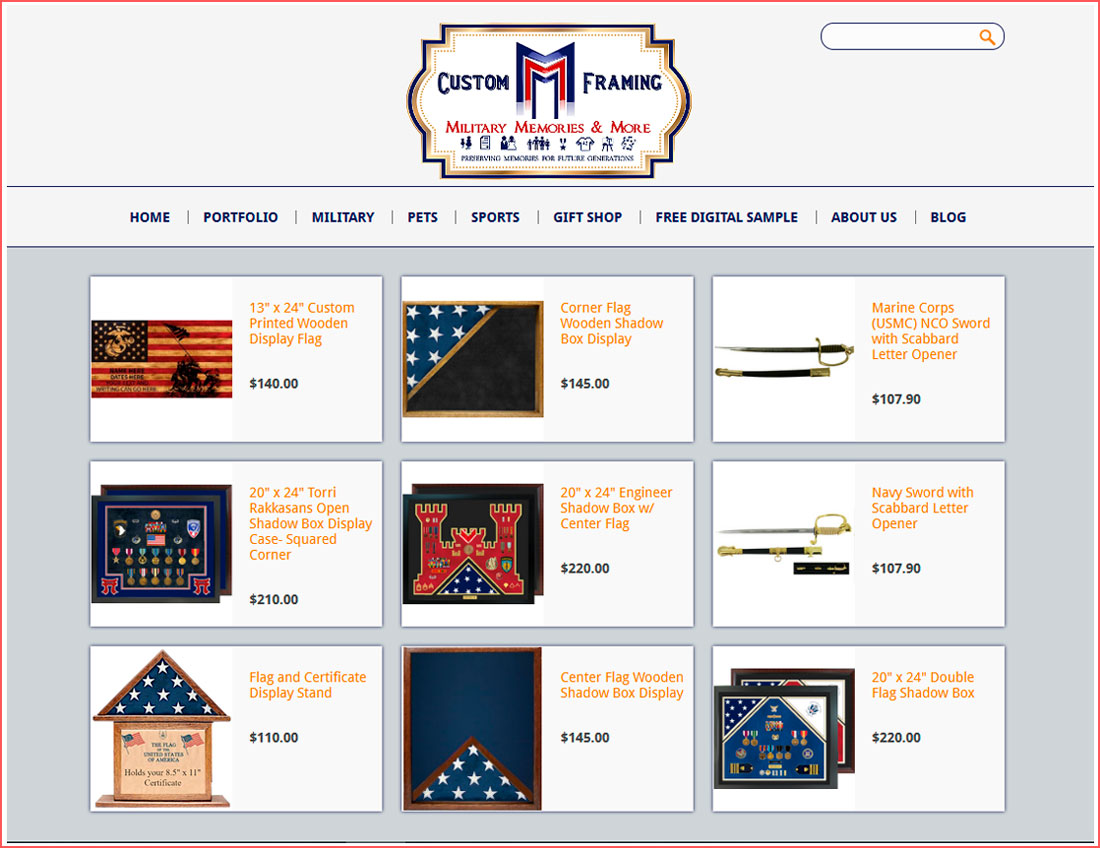 All military shadow boxes are 100% hand-made in the United States, using only the highest quality materials. If you are looking for a military frame that is different from all the others, this is the company for you.
You are not limited to layouts, Military Memories & More can design a custom display frame for you that is specific to your needs.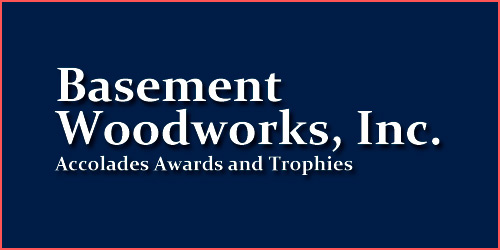 Basement Woodworks Inc was founded in 2004 by Sean L. Arnold and his son Alex. This company provides a wide range of services, including custom military shadow boxes, display cases, flag cases, trophies, award plaques, and more. Each military shadow box is made from solid wood with a strong wooden frame.
Basement Woodworks is a market leader for Military Personalized Shadow Boxes. It has a wide selection of great possibilities, like curved casings and deep-inset boxes, and many high-quality items. Your military distinctions and accolades will be presented by them with the highest respect and dignity as they are professionals at doing this. They have created hundreds of displays over the years, and they continue to work hard every day to produce cases that are not only good-looking but also built to last through time and the elements.
Products and Services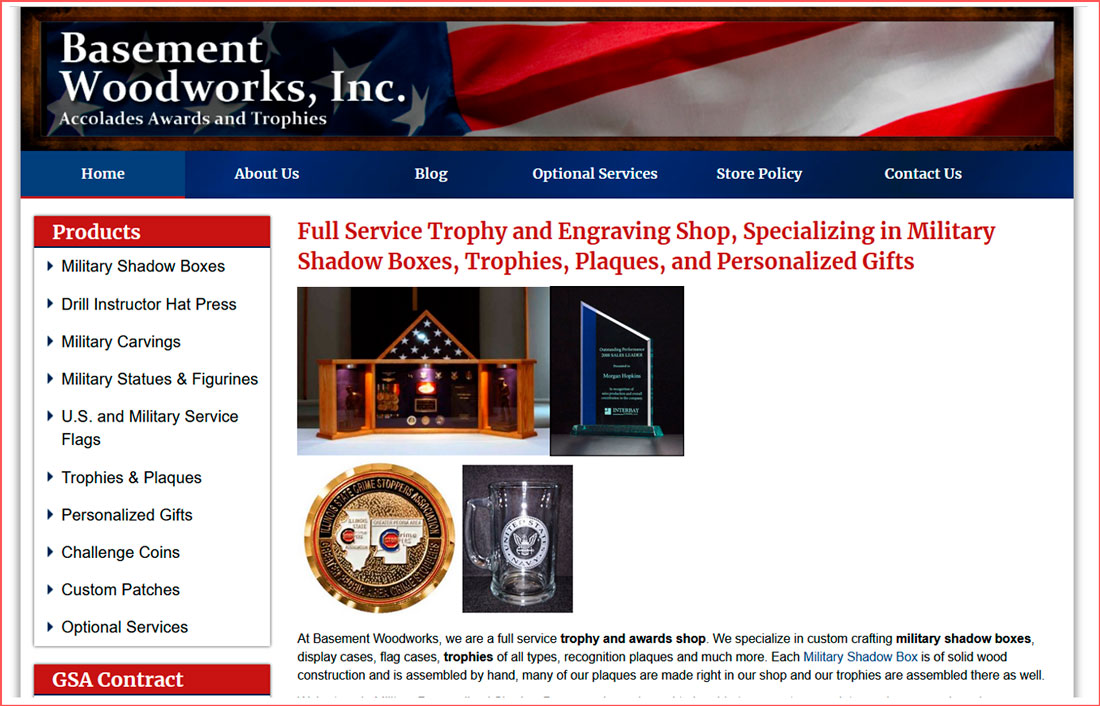 No matter what your award demands are, the company offers laser and custom engraving, ink sublimation 3D Carvings, and a lot of other services. They serve high schools, ivy league institutions, and local youth sports teams as Mid-Coast Maine's top trophy and awards supplier. Basement Woodworks works hard to give you service that is reasonable, trustworthy, and dependable.
Assortment:
Flag Display Case. There are many ways to show our patriotism, but one of the best is to put the flag on display. A flag display case will protect the flag and show its beauty for years. You can use a flag display case to honour a fallen soldier or just show your pride in being an American.
Military Personalized Shadow Boxes. Shadow boxes can help you display your military decorations in three dimensions. These boxes are made of wood and can be used to store your medals, awards, and other prizes. There is a shadow box for every branch of the military, each with its unique carving.
Military Carvings
Military Statues & Figurines
Trophies & Plaques
Personalized Gifts
Challenge Coins
Custom Patches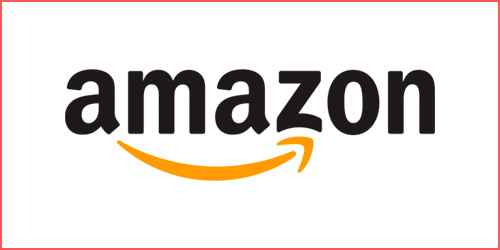 If you're looking for cheap military shadow boxes with the fastest delivery, Amazon is a place you should definitely visit. Amazon offers a wide selection of military shadow boxes, and they have competitive prices as well as free shipping on qualifying orders. Plus, their customer service is excellent, so you can be sure that you're getting the best possible shopping experience.
Products and Services
Since Amazon is the largest marketplace on the Internet, it provides anything you need from brand items to hand-made goods and digital products. You can buy almost anything here, which makes this place that popular. Plus, it provides many various services, such as fast shipping and loyalty programs, that make it beneficial and enjoyable to not only a customer but also a merchant. The main advantage of buying goods on Amazon is that it's a world-known company that guarantees you quality and great support. Even though everything depends on the specific merchant you buy from, you can still rely on Amazon in any situation.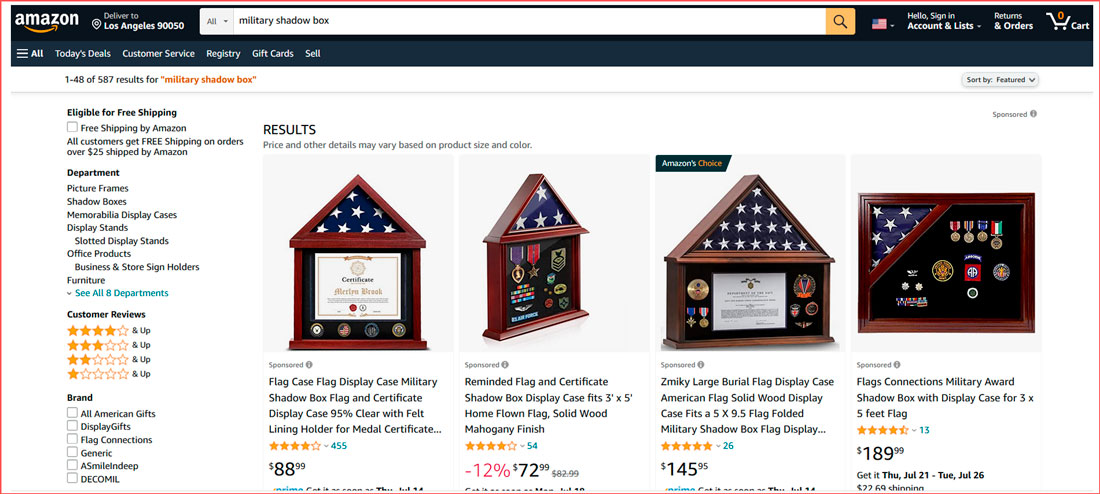 With the help of useful features on Amazon, you can search for shadow boxes that meet all your preferences. Sort goods, apply filters, read reviews, and contact merchants to find the most suitable shadow box from hundreds of options.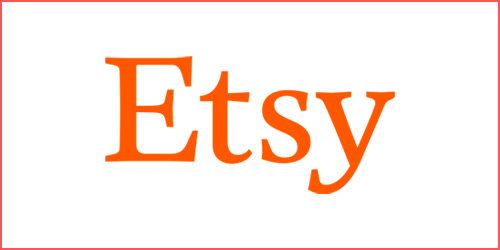 Etsy is a website marketplace where independent artists and craftsmen can sell their works. Etsy was established in 2005 to help connect buyers looking for unique presents and products with independent artists, designers, and collectors.
When it comes to finding unique and one-of-a-kind shadow boxes, Etsy is the perfect place to shop. This online marketplace is home to a wide variety of sellers who offer handmade and vintage shadow boxes in a variety of styles and colours. You're sure to find the perfect shadow box for your needs on Etsy!
Products and Services
As it was said, you can find here a great number of various hand-crafted shadow boxes. Most Etsy sellers provide international delivery and a variety of shipping options, some of which are even free.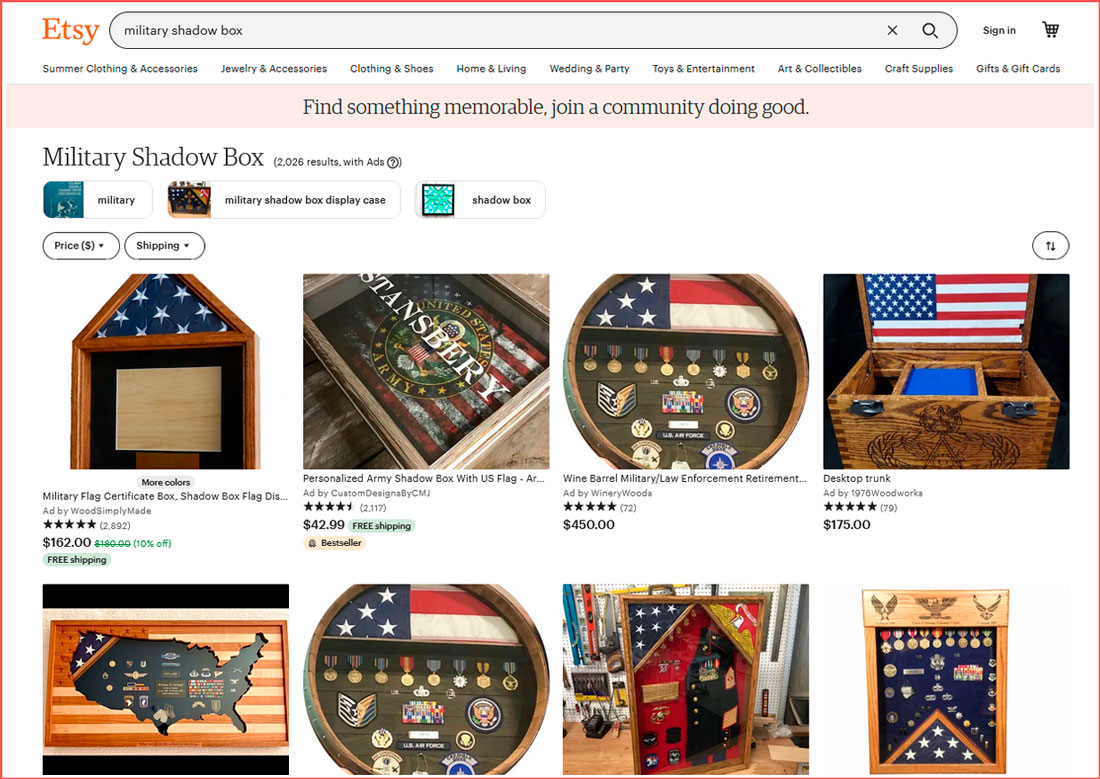 Note: even if you buy everything at once, ordering from many vendors increases the likelihood that you'll get items from various carriers at various times because each seller selects their shipping method. Luckily, Etsy has a system that helps you confirm your order number and shipment. They also have a chat app that lets you talk to the seller if there are any problems with the delivery.
Obviously, Shadowboxly.com is not a manufacturer or seller, but the site specializes in military shadow box picks and reviews. It may be helpful in finding ideas.
Step-by-Step Guide: Building Your Own Military Shadow Box 📖
Creating your own Military Box is a beautiful way to commemorate a serviceperson's journey and can be a deeply personal and rewarding process. Here is a step-by-step guide on how to create a Shadow Box that truly tells a story:
Gather the Materials: Start by collecting all the materials you will need. This typically includes a shadow box frame, background fabric, pins or adhesive, a ruler, scissors, and of course, the military memorabilia you wish to display. You might also need a triangular flag holder if you're including a service flag.
Choose Your Background: Select a background fabric that complements the items you'd be displaying. This could be a uniform fabric, a national flag, or a simple neutral-coloured cloth. Cut the fabric to fit the back panel of your shadow box frame.
Arrange the Memorabilia: Lay out your military items on the fabric. You might have medals, badges, ribbons, patches, or personal mementoes. Be creative and arrange them in a way that tells a story. Use a ruler for precision and symmetry.
Secure the Items: Once you are satisfied with the arrangement, secure each item to the fabric. You could use pins or adhesive for this purpose, depending on the weight of the items and your personal preference.
Install the Back Panel: After everything is securely attached, install the back panel into the shadow box frame. Make sure it's secure and the items are displayed as you intended.
Display the Shadow Box: Finally, find a suitable place to display your newly crafted Military Box. It could be a wall, a mantelpiece, or any other place where it would be seen and appreciated.
Building your own box can be more than just a creative project. It's a meaningful tribute, a journey down memory lane, and a unique opportunity to reflect on the service and sacrifices of our brave servicemen and women. So, take your time, put your heart into it, and create a keepsake that truly honours the military journey.
We believe this video can be helpful for you 📺
FAQ ❓
Conclusion 🕊️
Congratulations! You've now unlocked the secrets to crafting an awe-inspiring Military Shadow Box that honours the valour and sacrifice of our military heroes. As you delve into this heartwarming endeavour, remember that each shadow box is a testament to the indomitable spirit of those who serve and protect our nation. Embrace the opportunity to connect with history, celebrate achievements, and immortalize the legacy of our brave servicemen and women. Let your Shadow Box serve as a beacon of remembrance, a captivating story etched in wood, glass, and love. May your Shadow Box be a poignant tribute that speaks volumes without uttering a single word.
Affiliate Disclosure: Rotorm.com sometimes gets paid for listings, through sponsors or affiliate programs like Amazon, Optics Planet, Lucky Gunner, Brownells, Cabelas, Rainier Arms, 5.11 Tactical, Bass Pro Shop, etс. Clicking a link helps keep Rotorm.com free, at no extra cost to you!
About the author: Each article on our site is written by experts in survival and tactical equipment, gun enthusiasts, extreme travelers, military, law enforcement and desperate professionals, read about the author at the bottom of the article or visit "About Us" page.
Note: The views and opinions expressed in this article are those of the authors and do not necessarily reflect the official policy or position of any agency.