Brownells.com is a well-established American retailer specializing in firearms and firearm accessories. Its roots trace back to the early 20th century, and it has played a significant role in the firearms industry and the wider shooting sports community.

History and background✍️
🏠 In the quiet town of Montezuma, Iowa, in 1939, Bob Brownell had a vision. He established Brownells as a small, family-owned business, driven by a passion for firearms. Bob saw a gap in the market and focused on providing high-quality gunsmith tools, spare parts, and supplies. This was the humble beginning that laid the foundation for the company.
| | |
| --- | --- |
| What sets its apart is enduring commitment to family values. Even as the company expanded and evolved, it remained family-owned and operated through multiple generations. This commitment to heritage is reflected in their dedication to quality and service. | With the internet revolutionizing shopping, it embraced e-commerce, launching Brownells.com. This online retail platform catered to the growing online market for firearms and accessories while staying committed to quality and customer satisfaction. |
Navigating Online Store👩‍💻
Website layout and design ✴️
➡️ Homepage:
Features a clean and user-friendly design.
A search bar to allow users to find products quickly.
Navigation menu with categories like Firearms, Ammunition, Gun Parts, Accessories, and more.
Promotional banners or sliders highlighting current deals or featured products.
Links to key sections such as Customer Service, Account/Login, and Shopping Cart.

---
➡️ Product Categories:
The website categorizes products into sections like Firearms, Ammunition, Reloading, Gun Parts, Optics, and Accessories.
Subcategories to refine product searches, e.g., Handgun Parts, Rifle Parts, Shotgun Parts under the Gun Parts category.

---
➡️ Shopping Cart and Checkout:
A shopping cart icon indicates the number of items in the cart.
An option to view the cart and proceed to checkout.

---
➡️ Account:
Options to create an account, log in, or access an existing account.

Search functionality and filters ✴️
   Website Search Functionality 🔍
✔️ Search Bar: The website typically features a prominent search bar at the top of the page, usually near the header. Users can enter keywords or product names to initiate a search.
✔️ Auto-Suggestions: As users type in the search bar, the website may provide auto-suggestions to help them complete their search queries or select from relevant products or categories.
✔️ Search Results: After entering a search query and pressing "Enter" or clicking the search icon, users are presented with a page displaying search results. The results often include product images, product names, and prices.

Main Categories and Subcategories 🧩
| | | |
| --- | --- | --- |
| ✅ Guns: This category includes a wide range of firearms, such as pistols, rifles, shotguns, and more. Users can explore different types of firearms and related accessories. | ◀️▶️ | 🟢 Subcategories: Handguns, Long Guns (Rifles and Shotguns), Black Powder Firearms, Air Guns, and more. |
| ✅ Gun Parts: This category focuses on firearm components and parts, allowing users to customize, repair, or upgrade their firearms. | ◀️▶️ | 🟢 Subcategories: Handgun Parts, Rifle Parts, Shotgun Parts, 1911 Parts, AR-15 Parts, and more. |
| ✅ Ammunition: Users can find various types of ammunition, including bullets, cartridges, and shotgun shells. The ammunition category typically includes options for different calibers and gauges. | ◀️▶️ | 🟢 Subcategories: Handgun Ammo, Rifle Ammo, Shotgun Ammo, Rimfire Ammo, and more. |
| ✅ Reloading: Users interested in reloading their ammunition can explore reloading equipment and supplies in this category. | ◀️▶️ | 🟢 Subcategories: Presses, Dies, Powder Handling, Primers, Brass, and more. |
| ✅ Tools & Cleaning: This section provides gunsmith tools, equipment, and supplies for those who work on firearms or perform maintenance. | ◀️▶️ | 🟢 Subcategories: General Gunsmith Tools, Gun Tools, Gun Cleaning, and more. |
| ✅ Optics: It includes a wide range of optical products, such as scopes, red dot sights, and binoculars, designed for improving accuracy and target acquisition. | ◀️▶️ | 🟢 Subcategories: Scopes, Red Dot Sights, Binoculars, Spotting Scopes, and more. |
| ✅ Gear: Users can find clothing and accessories for shooting and outdoor activities. | ◀️▶️ | 🟢 Subcategories: Shooting Apparel, Outdoor Apparel, and Accessories, Safety Gear, Books & Videos, and more. |

Shipping and Delivery 🌎
Shipping options and estimated delivery times on Brownells may vary depending on the specific items you purchase, your location, and the shipping method you choose.
Shipping Methods and Cost 📦

Standard Shipping: This is the regular shipping option, which may be available for most items. Delivery times vary depending on your location but are typically within a few business days to a week.

Expedited Shipping: For faster delivery, you can choose expedited shipping options. It typically includes 2nd Day Air or Next Day Air services. The estimated delivery time for expedited shipping is generally within 2 business days or the next business day.

The shipping cost for your order depends on various factors, including the shipping method, the weight and size of the items, and your location. Brownells often provides the option to calculate shipping costs during the checkout process. They may also offer free shipping for certain orders or as part of loyalty program benefits.

Tracking Orders: Customers often have the option to track their orders after they are shipped. Brownells may provide tracking information and instructions on how to monitor the progress of your shipment. This allows you to stay informed about the status of your order and estimated delivery date.
Estimated Delivery Times 🚚
The estimated delivery times for standard shipping typically depend on your location. Brownells may provide a range of delivery times based on shipping destinations, such as:
⏰  Continental U.S.: Delivery within a few business days to a week.
⏰ Alaska and Hawaii: Delivery may take longer than the continental U.S.
⏰ U.S. Territories: Longer delivery times may apply.
⏰ International Shipping: Delivery times for international orders can vary significantly based on the destination and shipping method. Customers should be aware of customs clearance and import regulations for international orders.
Customer Service 👩‍💻
Brownells typically provides various contact methods for customers to reach out for assistance, inquiries, and support. Response times may vary depending on the nature of the inquiry and the specific contact method used.
Contact methods 📧

Customer Service Phone Line: Customers can often reach Brownells' customer service team via phone. Brownells provides a customer service phone number on its website. Response times for phone inquiries can vary. During business hours, you may expect to speak with a representative relatively quickly.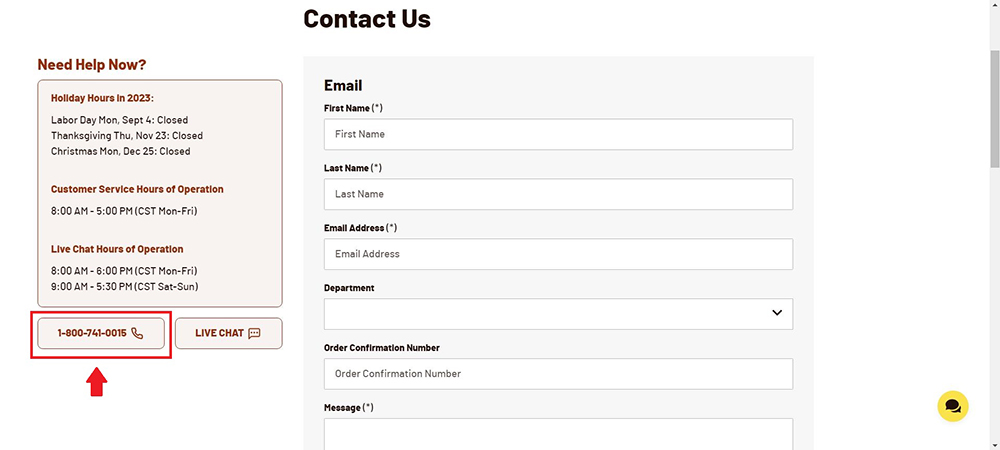 Live Chat: Some e-commerce websites, including Brownells.com, offer a live chat feature. This allows customers to engage in real-time text chat with a customer service representative. Response times through live chat can be relatively quick during business hours. It offers immediate assistance and is often a convenient way to get quick answers to questions.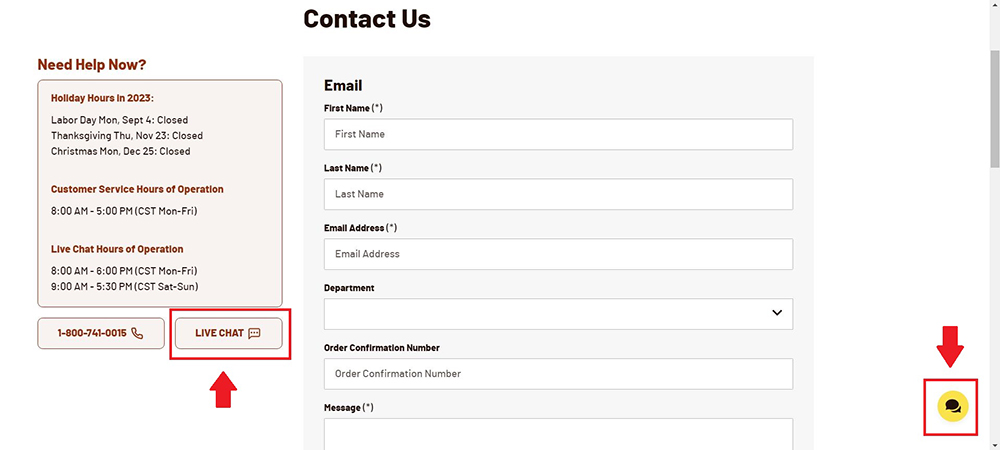 Online Contact Forms: Brownells provides online contact forms that customers can fill out with their inquiries or concerns. Response times for inquiries submitted through online contact forms are typically within 24 – 48 hours during regular business days.

Social Media: Some customers may choose to reach out to Brownells through social media platforms. It often maintains a social media presence and may respond to direct messages and comments. Response times on social media can vary, but some inquiries may receive prompt replies, especially related to customer service or general questions.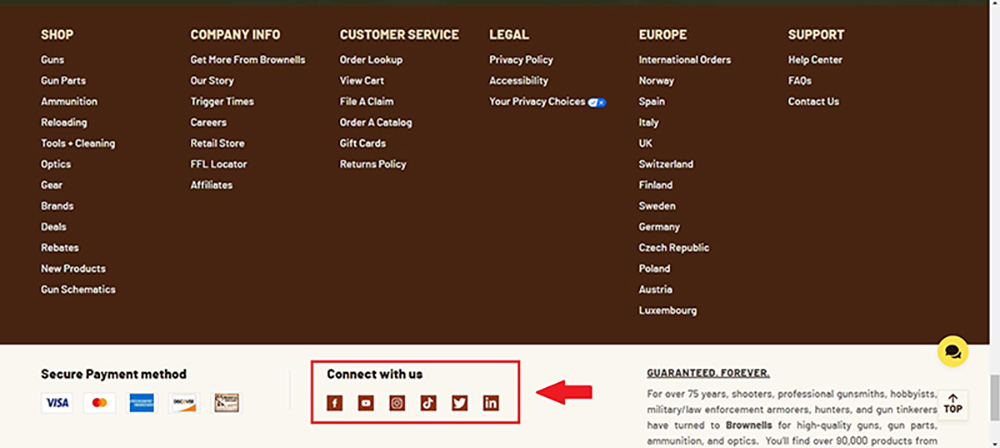 Handling of returns 🔁
Brownells.com typically has established procedures for handling inquiries, complaints, and returns to ensure customer satisfaction and address any issues that may arise during the shopping process. Here's a general overview of how it typically handles these matters:
📝 Return Policy: Brownells has a return policy that outlines the conditions and procedures for returning products. The return policy may specify time frames, eligibility, and any restocking fees.
📝 Return Authorization: Customers may need to obtain a Return Merchandise Authorization (RMA) number from Brownells before returning products. This helps ensure that returns are processed efficiently.
📝 Packaging: Customers are often required to return products in their original packaging and resalable condition. Adequate packaging is essential to protect the item during transit.
📝 Refunds and Exchanges: Depending on the reason for the return and the specific circumstances, Brownells may offer refunds or exchanges for returned items.
📝 Return Shipping: The responsibility for return shipping costs may vary depending on the reason for the return and whether the item is defective or damaged.
📝 Warranty Claims: Customers may contact Brownells to initiate warranty claims for repair or replacement of products covered by warranties.
User-Friendly Features and Tools ⭐️
Brownells.com offers several special website features to enhance the shopping experience and provide valuable information to customers. These features include:
🎁 Wish Lists: Customers can typically create wish lists on Brownells.com. This feature allows users to save products they are interested in and may want to purchase in the future. It's a convenient way to keep track of desired items.
🎁 Educational Articles and Guides: It often provides a wealth of educational resources, articles, guides, and how-to videos on various topics related to firearms, gunsmiths, and shooting sports. These resources are designed to help customers make informed choices and learn more about the products they are interested in.
🎁 Customer Reviews: Brownells.com features customer reviews and ratings for many of its products. Customers can read these reviews to gain insights into the quality and performance of products, helping them make informed decisions.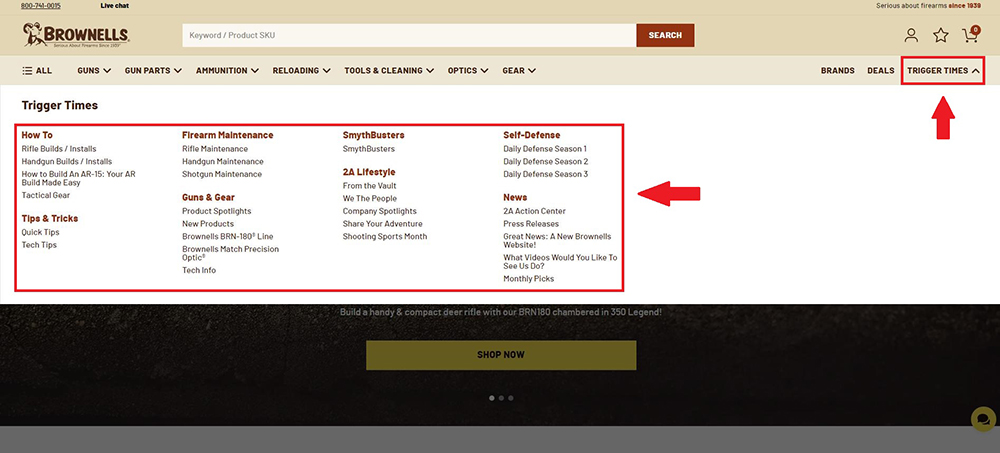 Pros and Cons of Shopping 🛒
Shopping at this online retailer comes with its own set of pros and cons. Here's a balanced overview to help you make an informed decision:
Pros:
Cons:
✅ Wide Product Selection: Brownells.com offers a vast selection of firearms, firearm parts, accessories, ammunition, optics, and shooting gear. You can find a comprehensive range of products for your shooting and gunsmithing needs.

✅ Quality and Reliability: Brownells is known for its commitment to quality and reliability. They typically offer reputable brands and products, making it a trusted source for firearm enthusiasts and professionals.

✅ Educational Resources: Brownells provides a wealth of educational resources, articles, guides, and how-to videos, helping customers make informed decisions and enhance their knowledge of firearms and shooting sports.

✅ Order Tracking: Customers can track their orders and view order status through their user accounts, ensuring transparency in the order fulfillment process.

✅ Customer Service: Brownells typically offers multiple contact methods for customer support, including phone, email, live chat, and online contact forms. This provides assistance and answers to customer inquiries.

❌ Pricing: While Brownells aims to provide quality products, some customers may find that prices are higher compared to other online retailers. It's essential to compare prices and consider the overall value.

❌ Restocking Fees: Some returns may be subject to restocking fees, which can affect the overall cost of returning products.

❌ Shipping Costs: The shipping costs can vary based on the order, location, and chosen shipping method. Customers should be aware of shipping costs before placing an order.

❌ Varied Warranty Coverage: Warranty coverage varies depending on the manufacturer and product. Customers should review warranty information for individual products to understand what is covered.
Conclusion 😊
Brownells.com is a reputable and well-rounded choice for gun enthusiasts who prioritize quality, reliability, and a wide selection of products. Their educational resources and customer support are valuable assets. However, it's essential to assess your specific needs, budget, and preferences to determine if they align with your requirements for firearms and shooting sports products. Thanks for reading! 🤠👍
Affiliate Disclosure: Rotorm.com sometimes gets paid for listings, through sponsors or affiliate programs like Amazon, Optics Planet, Lucky Gunner, Brownells, Cabelas, Rainier Arms, 5.11 Tactical, Bass Pro Shop, etс. Clicking a link helps keep Rotorm.com free, at no extra cost to you!
About the author: Each article on our site is written by experts in survival and tactical equipment, gun enthusiasts, extreme travelers, military, law enforcement and desperate professionals, read about the author at the bottom of the article or visit "About Us" page.
Note: The views and opinions expressed in this article are those of the authors and do not necessarily reflect the official policy or position of any agency.