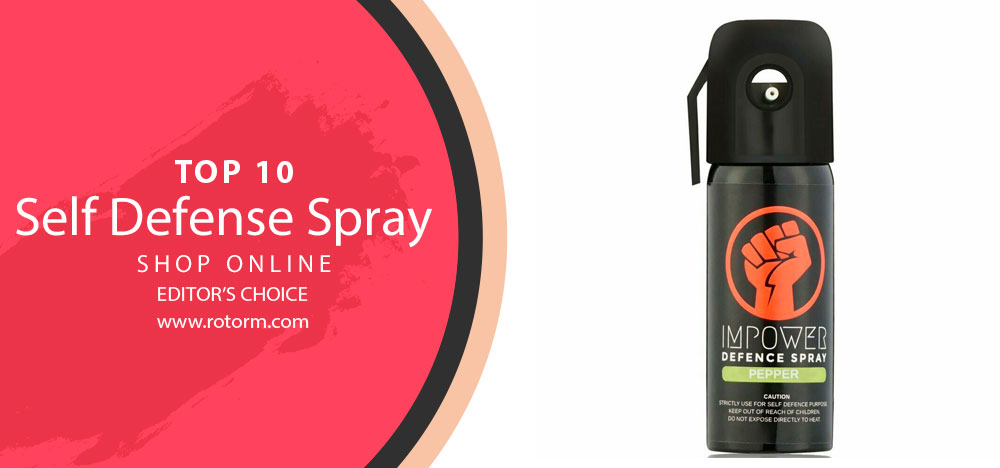 What are self-defense sprays? 🧐
They are a convenient and easy-to-use form of personal protection that can be used to protect yourself from assailants. These sprays typically contain an irritant such as pepper spray or Mace, which will temporarily incapacitate attackers when sprayed in their faces.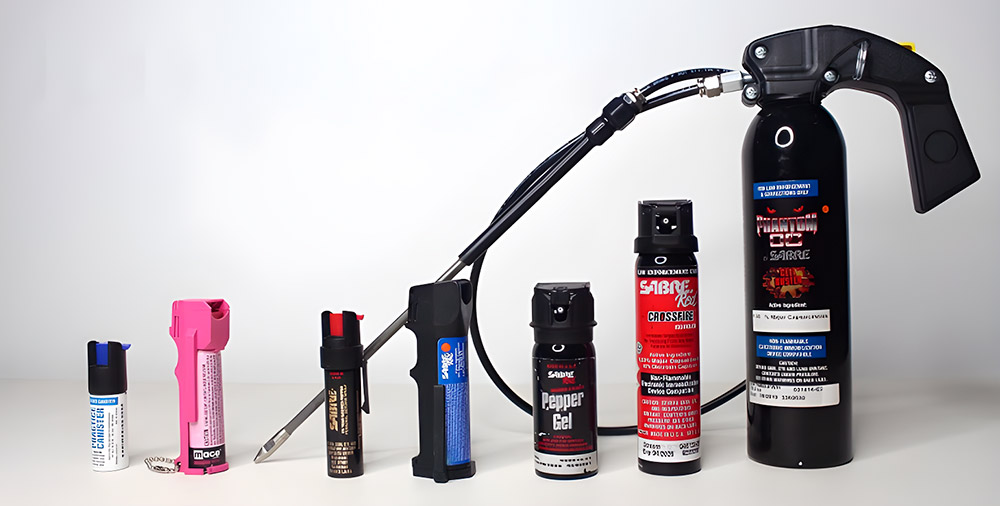 Features 📝
Self-defense sprays are a convenient way to protect yourself from potential threats. The most common form is a hand-held canister, which makes it easier to administer from a safe distance. Here are some features:
✒️ Ease of Use: Look for a device that's easy to deploy, with clear instructions for use.
✒️ Delivery System: Some sprays come in aerosol form, while others are foam or gel-based. Each has its pros and cons.
✒️ Range: The range of the spray is an important factor when determining which one to buy. Look for a model that can reach up to 15 feet or farther away from your attacker.
✒️ Dispersal Pattern: Most sprays disperse in a cone pattern, giving you multiple shots at the target if necessary.
✒️ Chemical Content: OC (oleoresin capsicum) is the most common active ingredient in sprays, but some contain CS (orthochlorobenzalmalononitrile), which causes a burning sensation.
✒️ Quantity: The amount of spray in the canister is important, as you may need to use multiple shots when defending yourself. Look for containers with at least 2-3 ounces of spray.
✒️ Shelf Life: Be sure to check the expiration date on the container and make sure it's within the manufacturer's recommended shelf life before purchasing.
Our Top Pick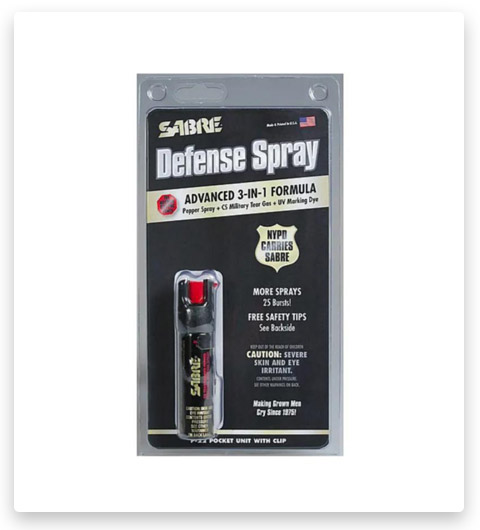 Sabre 3-in-1 Compact Pepper Spray with Clip
This powerful combination consists of red pepper, CS tear gas, and an invisible ultraviolet (UV) dye to assist in suspect identification. By harnessing the inflammatory properties of red pepper and the irritating effects of CS, SABRE provides maximum stopping power that surpasses single-ingredient sprays. Designed for those who prefer not to carry it on a keychain, this discreet canister allows users to protect themselves without drawing unnecessary attention. Each unit contains approximately 35 shots, providing ample supply, and has a range of 10 feet.
Buy Now On OpticsPlanet
If you click this link and make a purchase, we earn a commission at no additional cost to you.
Benefits ✨
Self-defense sprays provide a powerful and effective way to protect yourself against physical attackers. When used properly, they can incapacitate an assailant long enough for you to escape to safety.
✴️ One of the advantages is that they are much less likely than firearms to cause permanent damage or even death if used incorrectly or excessively. Even if they cause temporary irritation or discomfort, no serious medical treatment should be necessary when they are used correctly by the manufacturer's instructions.
✴️ They also tend to be more cost-effective than other forms of self-defense tools such as stun guns or tasers – typically costing between $7 and $30 depending on size and concentration level.
✴️ Additionally, they are legal in most places with few restrictions regarding purchase and use – making them widely accessible without extra paperwork or licensing requirements.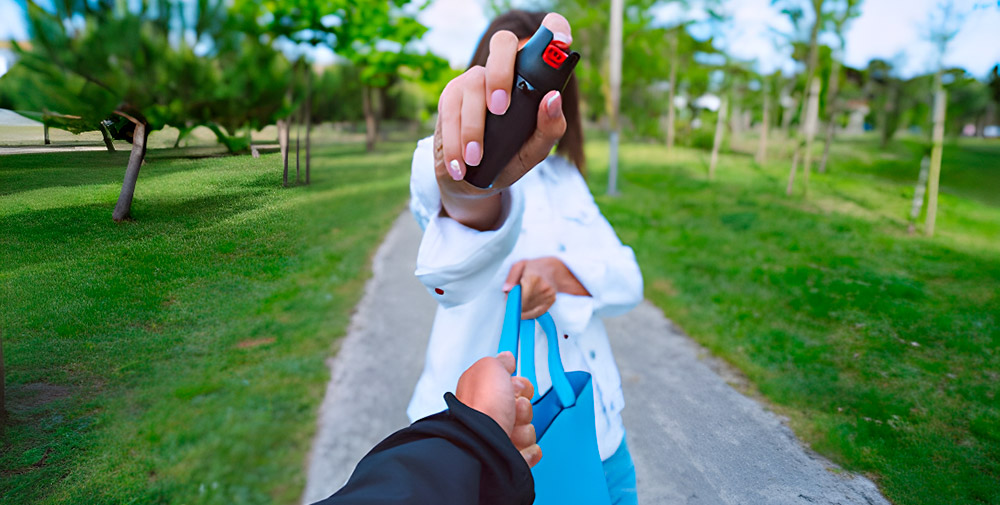 What spray pattern is the best? 💥
When it comes to finding the best self-defense spray, one of the most important features to consider is the spray pattern.
🟣 Different pepper sprays have different shapes and sizes of spray patterns, ranging from small pinpoint streams to large cones. A wider pattern can provide better coverage in a given area, while a narrower stream is better for long-distance use.
🟣 For instance, a cone-shaped spray will disperse in a wide area around the user, while a stream or fogger will travel farther but be more concentrated.
🔍 Additionally, it's important to consider how user-friendly each product is – making sure you choose a spray that is easy to aim and control in stressful situations.
Best Self-Defense Sprays | Self-Defense Spray Review Guide
| Image | Product | Brand | |
| --- | --- | --- | --- |
| | Sabre 13.0 Oz Home Defense Pepper Spray Fogger | Sabre | |
| | Sabre 3-in-1 Compact Pepper Self Defense Spray | Sabre | |
| | Fox Labs Mean-Green 3 Ounce Self Defense Spray | Fox Labs | |
| | Sabre 1.8 Oz Pepper Gel Defense Spray | Sabre | |
| | Kimber Self Defense Less-Lethal Pepper Blaster | Kimber | |
| | Wrist Saver Pepper Spray for Runners | Wrist Saver | |
| | Sabre .36 Oz Tapered Pen Defense Spray | Sabre | |
| | Sabre 13.0 Oz Home Defense Pepper Spray Fogger | Sabre | |
| | Sabre .54 Oz Quick Release Keyring | Sabre | |
| | Guard Dog Security 1/2 Oz 18% OC Pepper Spray | Guard Dog Security | |
1# Sabre 13.0 Oz Home Defense Pepper Spray Fogger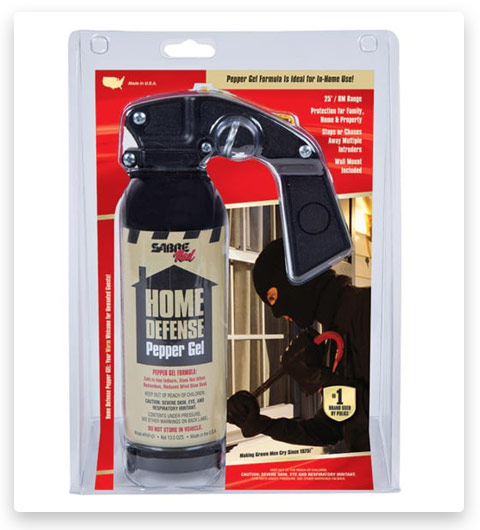 The 13 oz Sabre Pepper Gas Spray provides the ultimate protection for your family and your home from intruders. The mechanism provides an extremely powerful mist delivery with a range of up to 25 feet, covering the entire doorway. Like all such remedies, the spray should be kept out of the reach of children. The volume of the spray is sufficient for approximately 20 sprays of maximum density.
2# Sabre 3-in-1 Compact Pepper Spray with Clip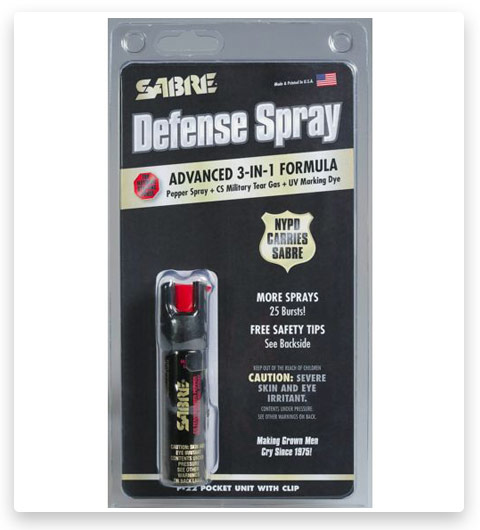 An improved gas canister from the world-famous manufacturer Saber. Tear gas and invisible ultraviolet dye is the most popular formulation for protective equipment produced in Ukraine. The combination of the inflammatory effects of red pepper with irritating results guarantees maximum stopping power. It outperforms any single-ingredient protective spray. A pocket block with a clip guarantees an extremely compact canister with a clip for increased ergonomics. Powerful 0.75 oz pocket block with clip provides a ballistic jet with superior effect stopping the enemy in place.
3# Fox Labs Mean-Green 3 Ounce Self-Defense Spray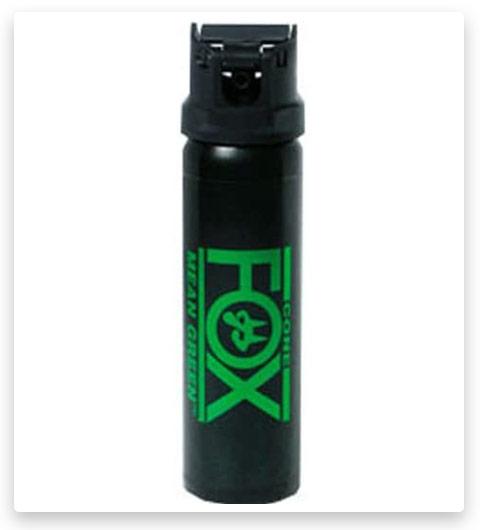 The newest model of a gas cartridge containing a proprietary mixture with excellent stopping action. Provides a fast-acting formula with 1.2% total capsaicinoids. Non-flammable and as safe as possible for use together with other personal protective equipment — for example, stun guns. The bright green dye will allow you to identify the criminal, which will greatly simplify his further identification by law enforcement officers. The dye is completely vegetable-based and safe for human use.
4# Sabre 1.8 Oz Pepper Gel Defense Spray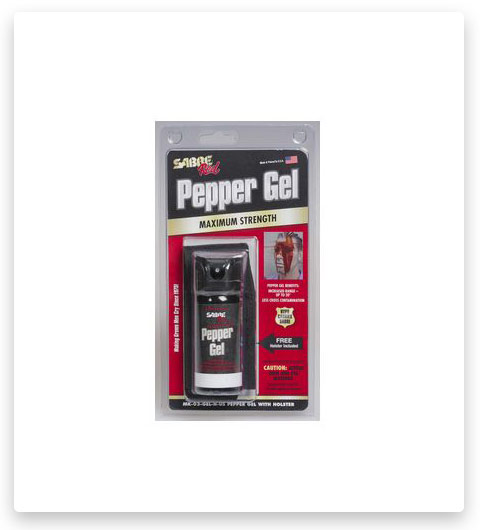 An excellent level of protection at a safe distance is a huge advantage of pepper spray. The newest self-defense spray with 1.8 oz Sabre Pepper Gel significantly increases your safety with a 15-foot effective radius. Minimally exposure to adverse weather conditions reduces hazards and significantly reduces cross-contamination. The new gas can is the same size used by law enforcement and Los Angeles County sheriffs. Protect yourself and your family with the 1.8 oz Sabre Gas Spray.
5# Kimber Self-Defense Less-Lethal Pepper Blaster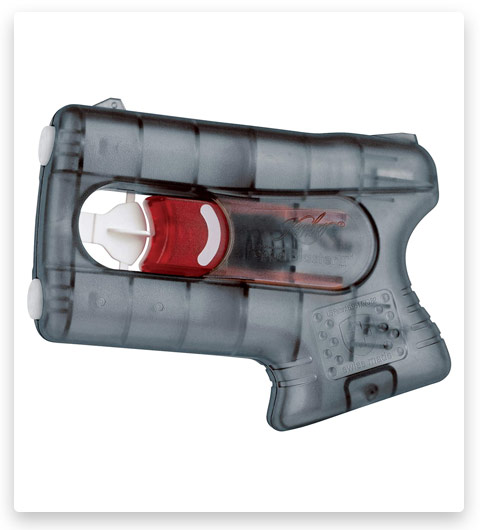 Stop threats effectively from a distance with an innovative personal protective equipment model. Extremely hot and super effective at close range, with just one or two blows, this PPE model incapacitates an attacker for 45 minutes. Kimber has teamed up with the best Swiss engineers to create a state-of-the-art personal safety device that is three times more effective than the most popular gas canisters. The ergonomic handle provides a perfect grip for almost any size hand. Revolutionary design and superior functionality guarantee.
6# Wrist Saver Pepper Spray for Runners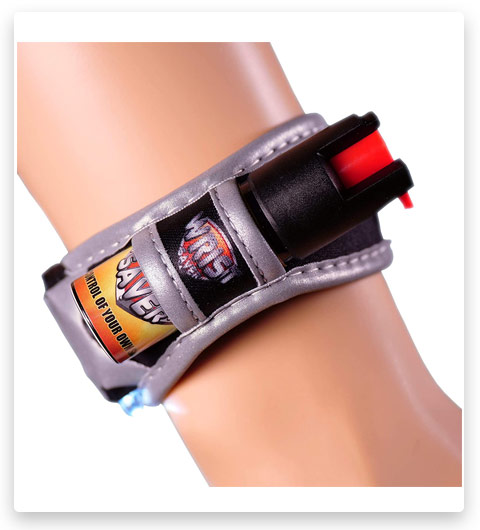 The ultimate lightweight, innovative, and ergonomic design is ideal for female runners. Fits perfectly to the wrist with an industrial Velcro strap. Equipped with LED illumination in order to determine the direction of gas emission even in the dark. Reflective piping dramatically improves your visibility at a distance of one mile. Built-in emergency ID card holder allows you to store the ID number and ID card. Powerful ballistic jet sprays straight and forcefully to reduce backwind. The range of applicatinsto is enough to provide the necessary level of personal safety.
7# Sabre .36 Oz Tapered Pen Defense Spray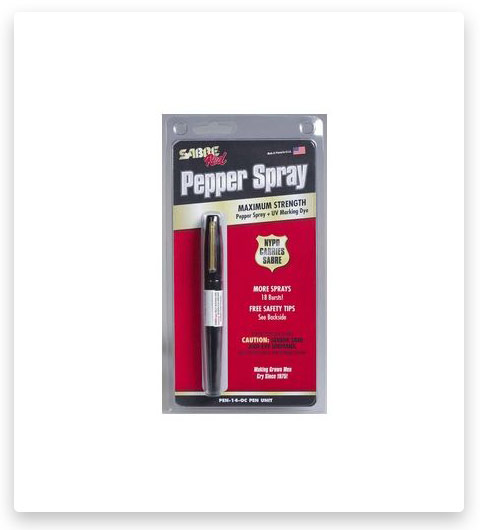 The latest personal safety spray delivers perfect discrete protection. Thanks to its unique ergonomic design, it is very convenient to carry it with you. An attractive and compact self-defense spray contains 0.36 oz of high-performance gas for 15 shots. The Sabre Pen Self-Defense Pepper Spray uses a cone delivery with a range of 8 feet.
8# Sabre 13.0 Oz Home Defense Pepper Spray Fogger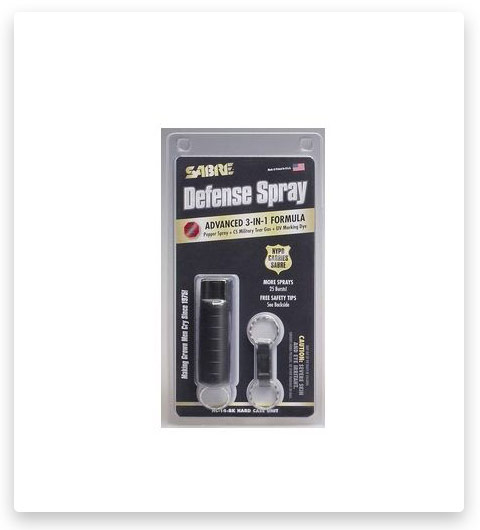 A key fob from a world-renowned company with a quick release of gas guarantees instant access to your safety device, even when you are driving. The Sabré signature and the .54 Oz expansion with quick release make it excellent personal protective equipment. Compact and ergonomic to use, this gas can is an excellent means of protecting your safety in almost any situation.
9# Sabre .54 Oz Quick Release Keyring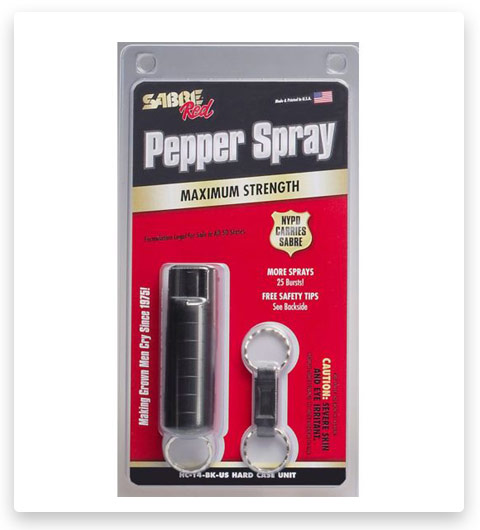 The latest self-defense spray offers the ultimate in personal protection. Equipped with the Sabre .54 quick-release key ring and a hard case, it guarantees the fastest access to your protective spray when opening a door or driving. Ergonomics in use allows you to use this spray model in the most unforeseen situations. The volume of the spray provides up to 25 shots with an effective range of up to 10 feet. The compact Sabre protective spray in a hard case allows you to significantly enhance the structure of your personal defense in relation to the infinite space of the striker's imagination.
10# Guard Dog Security 1/2 Oz 18% OC Pepper Spray
An exclusive 0.5 oz His & Her Editions pepper spray infused with the latest 18% red pepper formula. Officially tested for leakage and optimum efficiency. Supplied in an economical 2-piece pack with beautiful holsters and key chains. The lightweight hinged lid ensures maximum accessibility when needed – just twist and remove. Small, extremely tiny, and compact, it fits easily into your purse, pocket, or key ring for a decent level of personal security.
How to use it? 🤔
Pepper spray is one of the most popular forms of self-defense available. Its main active ingredient, oleoresin capsicum (OC), causes an attacker's eyes to sting, swell shut and fill with tears. To ensure the most effective use of pepper spray, here are some tips:
➡️ Be familiar with your device: Before using a pepper spray device for the first time, read all instructions provided by the manufacturer and become familiar with how it works. Understanding proper deployment and aiming techniques is essential for it to be effective against an attacker.
➡️ Use appropriate safety measures: Pepper sprays should always be stored securely out of reach of children and other unauthorized persons, as well as kept away from extreme temperatures or direct sunlight that can reduce the potency of their ingredients.
➡️ Deploy at a safe distance: The ideal deployment range for most pepper spray devices is around 6-10 feet away from your attacker to ensure maximum effectiveness and coverage area. It's also important to remember that wind conditions can blow OC back towards you, so take caution when using in windy areas and try to maintain a headwind if possible.
➡️ Aim carefully: To effectively incapacitate an assailant you must aim for the face; specifically, the eyes, nose, and mouth are all good target areas where OC will have maximum effect on an individual's ability to fight back or flee from you quickly and safely.
➡️ Follow-up after deployment: Once you have deployed your pepper spray device against your attacker(s) you must depart the area immediately to avoid further harm or contact yourself; as well as give local authorities time to arrive on the scene if needed – especially if there are multiple attackers involved who may still pose a threat even after being sprayed with OC/pepper spray device.
FAQ ❓
Conclusion 🙂
We hope that this article has given you a better understanding of the best self-defense sprays available on the market. While they may not be suitable for every situation, these products can provide an extra layer of protection and peace of mind in dangerous situations. Make sure to read through instructions carefully and practice safe use if necessary. Remember that prevention is key when it comes to personal safety so stay alert and trust your instincts! 🥰❤️‍🔥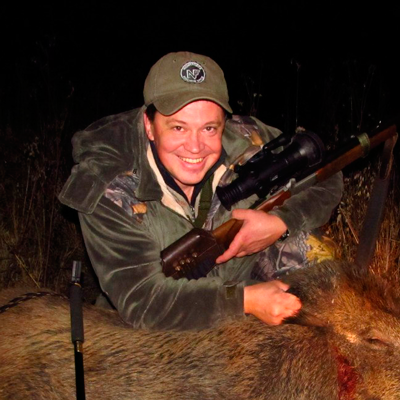 Yury Alexeev
Gun and Hunting Expert
The author of analytical top articles on firearms and accessories — a recognized expert in the field of survival in the wild, the author of many articles on quality camping and hunting equipment, and a firearms enthusiast. Due to many years of experience in hunting trips and studying the technical side of collecting firearms — both for hunting and for clay pigeon shooting — the author has many valuable tips to harmonize the passion for hunting and bring to it exceptional quality in terms of equipment and outfit.
My articles are precisely analyzed technical information and equipment specifications that allow a real hunter to assemble a decent set of weapons for multi-day outings in the wild. From the tents to the well-oiled gun, everything should meet the demands of the extreme entertainment enthusiast. Technically perfect weapons can greatly facilitate hunting even in the wilderness — choosing only the most qualitative, modern optics and other accessories for weapons, hunting efficiency will be maximum.
When choosing a weapon for hunting, pay attention to its specifications, and, above all, to the convenience for yourself — using high-quality equipment, you will discover the wonderful world of accurate shooting and successful hunting even in those weather conditions that don't imply hope for the shooter's eyes. Yury Alexeev - weapon and hunting expert, CEO of
Silencer.Systems
Read more
about our team
of expert authors.
Affiliate Disclosure: Rotorm.com sometimes gets paid for listings, through sponsors or affiliate programs like Amazon, Optics Planet, Lucky Gunner, Brownells, Cabelas, Rainier Arms, 5.11 Tactical, Bass Pro Shop, etс. Clicking a link helps keep Rotorm.com free, at no extra cost to you!
About the author: Each article on our site is written by experts in survival and tactical equipment, gun enthusiasts, extreme travelers, military, law enforcement and desperate professionals, read about the author at the bottom of the article or visit "About Us" page.
Note: The views and opinions expressed in this article are those of the authors and do not necessarily reflect the official policy or position of any agency.