When choosing a magazine extension, as a rule, they ask 5 main questions: Who produced it? What weapon is it compatible with? What material is it made of? What addition to ammunition does the shooter get? Is the upgrade worth the money?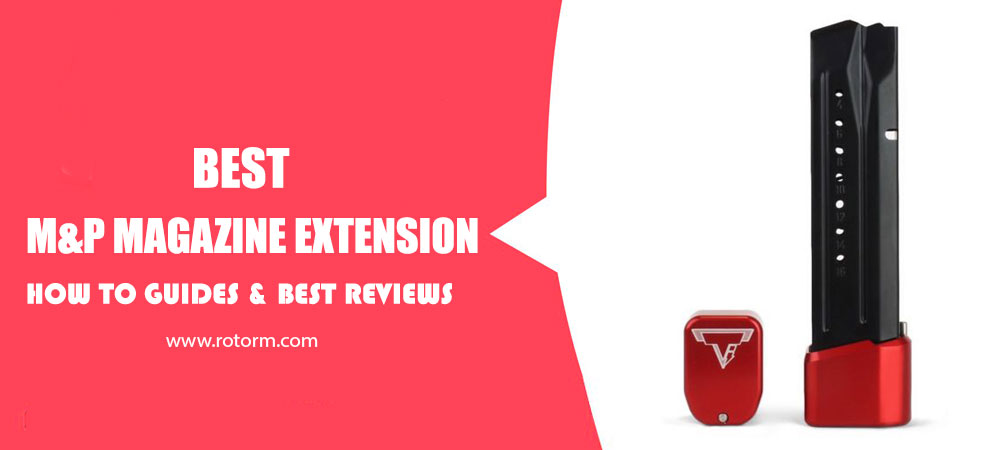 If you want to receive ready-made structured answers to all these questions, we have prepared everything for you. Our review brings together the most popular aftermarket offerings to improve magazine capacity and gun handling. It will be interesting as always, so let's get started!
Top-20 M&P Magazine Extensions
#1 FAB Defense MPS-12 Magazine Extension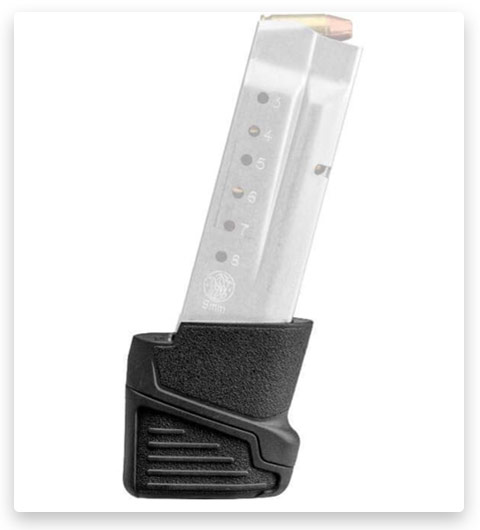 When the 8-round S&W M&P 9 SHIELD magazine seems to be insufficient for all your purposes, you can increase your ammo load by 4 rounds. This increase will make your 9mm MP9 Shield 12 chargeable, greatly increasing your firepower. The matte black finish and neat geometry make the enlarged magazine unnoticeable, and the extra ammo load will surprise your would-be opponents.
The design of FAB Defense is designed in such a way that the elongated part completely repeats the shape of the pistol grip. Miniature finger grooves provide a secure grip and a secure grip when removing the magazine from the pistol. A fiberglass-reinforced polymer construction is used to create this add-on. The ammo pusher spring plate is compatible with the original magazine spring, so everything works smoothly and the ammo doesn't get stuck.
This add-on only works as described with the original factory extended magazine. If you attempt to install this add-on into the standard 7-round magazine, the FAB Defense MPS-12 Magazine Extension will only be able to add 3 rounds, giving a total load of 10 rounds.
Comes with illustrated instructions and a hex wrench. It will take only 5-10 minutes to upgrade the magazine and a little care. Otherwise, it works as advertised if you've used an 8-shot magazine and have strong fingers to overcome the spring's resistance.
#2 HYVE M&P Magazine Extension 8-Round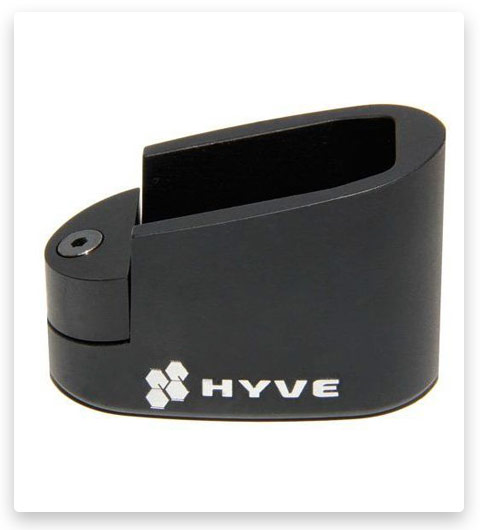 The Smith & Wesson M&P 9 Shield is a popular handgun, but the 8-round magazine seems like a joke. It is very easy to fix this situation, just order HYVE Technologies Magazine Extension Base Pad. As a result, you will get: +2 extra rounds in the magazine, a more comfortable hold (full grip), reduced recoil and better balance, and of course a favorite color. This extender comes with 8 different color options to match your weapon branding and design.
The HYVE Technologies Magazine extension base pad is made from 6061-T6 anodized aluminum. This gives lightness and anti-corrosion resistance. This magazine extender also uses a standard 8-round magazine spring. You may need to stretch the spring a little to get the last rounds to eject better, but this is a one-time action and does not incur additional costs.
Since there are 8 color options, you may have thought of combining details, such as expanding the magazine in one color, stopping the magazine in another color. The planet does not allow this, only specific matte colors are presented in the offer. Be careful with rough handling because the colorful extension cord is a scratch magnet.
Of the features, it is important to note that this item is compatible with Shield 9mm and 40 S&W magazines and will not work with Shield EZ magazines. The extension will add about 1 1/2 inches and will not greatly affect stealth, but it will noticeably improve the balance of the pistol while firing. Don't forget that you get 2 extra rounds in the ammo pack and a large finger grip area when changing magazines. As a result, the upgrade will make your Smith & Wesson M&P 9 Shield more manageable, prettier, and more efficient.
#3 HYVE M&P Shield Magazine Extension 7-Round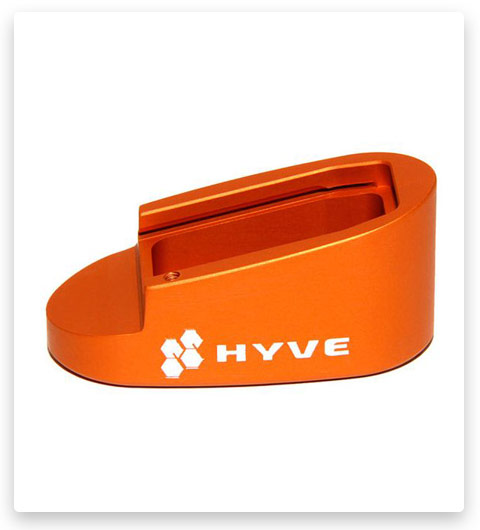 Sometimes an increase in the magazine is required not only to increase the ammo capacity but also to lengthen the short pistol grip. If you own a Smith & Wesson M&P 9 Shield, this problem is well known to you. The "lucky" owner of the kit with 7 charging clips was especially affected. If this situation is familiar to you, this suggestion is guaranteed to fix your problem. The HYVE Technologies Magazine Extension Base Pad adds extra ammo to your ammo load and with a choice of 8 color finishes, makes your build stand out. In addition, this improvement will allow your little finger to find its place on the pistol grip, which is convenient and pleasant.
The Hyve-style extension is crafted from 6061 T6 aluminum and follows the lines of the handle. An anodized finish can have 8 color options, soft matte color. Colors are a little brighter in the photo than in reality. For example, the "red" in the picture is actually more burgundy in reality, but still very pretty.
Overall, this improvement is more of a necessity than a wish. The presence of an additional cartridge is a nice bonus, the main improvement is, of course, improved control. Shooting a pistol will be much more enjoyable when all fingers are firmly on the handle and you enjoy shooting. With this update, this will be possible.
#4 Tyrant Designs S&W M&P Shield Magazine Extension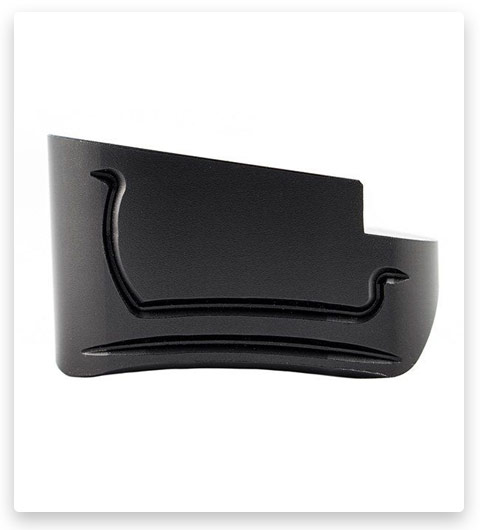 The Smith & Wesson M&P Shield with 7-shot magazine is short enough that shooters with large hands may feel uncomfortable. Tyrant Designs Magazine Extension can help you with this. By increasing your ammo load by 2 rounds and slightly lengthening the handle, you will get a solution to two of your problems at once. In addition, you can change the color of the bottom of your magazine by ordering a brighter extension.
The Shield magazine extension is made from aerospace-grade aluminum. CNC-machined, the extension receives an elegant engraving and beveled edges to remain more discreet and in keeping with the style of the MP Shield. The anodized finish is available in three colors, black, red, and grey. The fourth option is the natural color of aluminum after polishing it to a mirror finish.
The extension feels quite sturdy and even a little heavy, but that's not a problem. Installation is fast and takes only a few minutes. The only important thing to consider before buying is the compatibility list of this improvement. Tyrant Designs Magazine Extension was created for 7 classic charger magazines. The Shield 45ACP and Shield PLUS are not compatible, and the 6-round Shield 40S&W will only get 1 round per ammo load.
#5 HYVE S&W M&P 9c Magazine Extension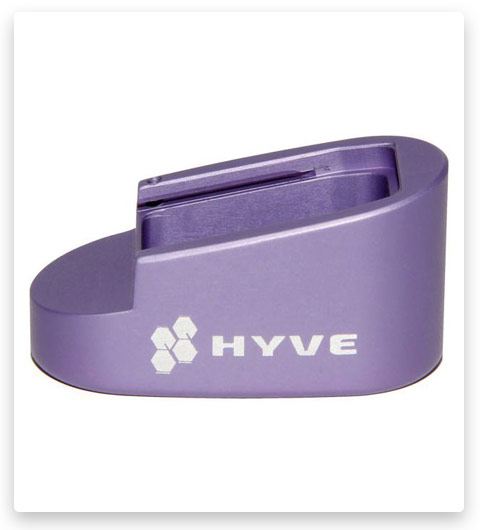 It is believed that ammunition is very rarely 100% sufficient. Even if spare cartridges were not in demand, it is much better to have them available. If you use 12Round Mag for S&W M&P 9c, you can get 3 extra rounds with a small but very useful upgrade. The Hyve Technologies Mag Extension will add about 1/2 inch to the length of a classic 12-round magazine design, making good use of the space hidden in the little finger extension. In addition, you can choose between 8 anodizing options and make your build really special.
This magazine extension is made from 6061-T6 aluminum. After CNC processing and polishing, one of eight anodizing options is applied to a smooth surface. Actual colors may be slightly dimmer or have a different hue than shown in the photo. If this is of fundamental importance to you, ask the appropriate question to the manager before ordering.
All you need for installation is a hex wrench which is already included in the kit. There is also an updated magazine latch next to this set screw, which locks the magazine more securely to the back of the extension.
If you want to turn your S&W M&P 9c 12Round Mag into a 15-shot like the Glock 19, this will do the trick. But if you already have a 15-round magazine, this update will not be able to be integrated. Otherwise, it is well built and leaves no excess tolerances once installed. The only strict restriction applies only to residents of California, for whom there is a legal restriction on the possession of handguns with more than 10 rounds of ammunition.
#6 HYVE M&P Shield .45 Magazine Extension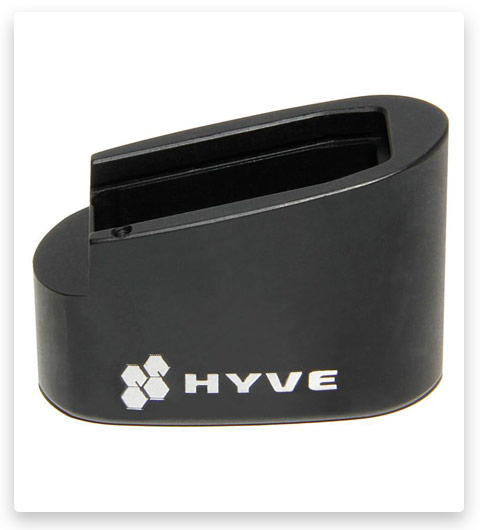 When you have a Smith & Wesson M&P 45 Shield with 7 ammo in your arsenal, you realize that your advantage is stealth and surprise. The firepower hidden in this weapon is sufficient to resolve an emergency in your favor. Even 1 extra ammo will make your arsenal even more effective, but the overall stealth should remain quite acceptable. It is possible to combine these two desires with the HYVE Technologies magazine extension.
This extension is made of 6061-T6 aluminum and coated with colorful anodizing. You can choose from 8 color options to add some personality to your build. Due to the safety design revision, the magazine latch has been changed. This gives an additional guarantee of reliable fixation of the ammunition.
Installation takes only a few minutes and does not require a scientific degree. You must be careful during installation to ensure that the magnetic spring sits flat in the extension. If the spring is bent or jammed, the extra cartridge will not be able to fit into the enlarged magazine. For installation, you will need a hex wrench, which is already included in the kit. It remains to check the compatibility of the magazine with the modifier. Shield 45 can be supplemented with different magazines for 6, 7, and 8 rounds. This extension works correctly with the 7-round magazine (gives 7+1) and 8-round magazine (gives 8+1). But be careful, the 6 round magazine won't get +1 due to the different spring.
#7 Taran Tactical M&P 9/40 Magazine Extension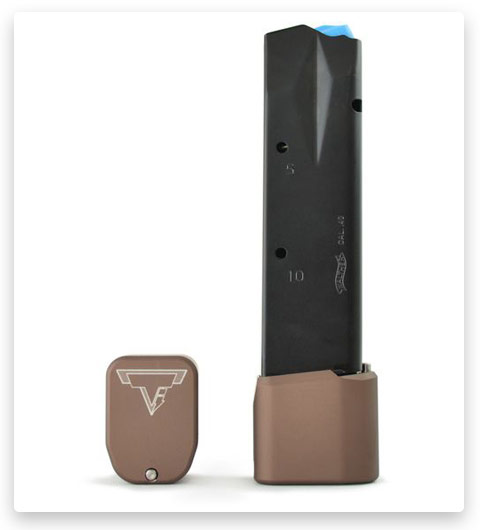 This improvement will be of interest to owners of the full-sized Smith & Wesson M&P 40 and Smith & Wesson M&P 9 pistols. The addition to the 9mm magazine is 6 extra rounds and 5 extra rounds for .40 caliber, but this is not the main advantage.
Thanks to the use of the patented Loctite push pin design, cleaning and disassembling the magazine, even in the field, is much easier and faster. In addition, you no longer need to look for hex keys and other tools or be afraid to lose some accessories. Simply press the pin to install the base plate and press the pin to secure. With the right combination of components, you can get a huge ammo capacity, 20+1 rounds of .40 S&W, or 23+1 rounds of 9mm. In this offer, only 2 dark colors (flat black and coyote bronze) are added, suitable for concealed wear.
The base pad is made from aircraft-grade aluminum so it weighs just 1.2 ounces in total at +1 1/2″ front and +1″ rear. After processing the workpiece on a CNC machine, the support platform is covered with hard anodizing. As a result, the magazine falls out much more easily when reloading dynamically and does not scratch as quickly as other magnifying pads. The kit also comes with a more powerful spring that will help push out additional ammunition. All that is required is to remove the metal insert at the bottom before installation and use a pin to install the airbag from Taran Tactical Innovations.
Important warning, the base cushion does not require adjustment! Users are advised not to tighten the support pad screw, which is already factory tightened. Attempting to forcibly turn the screw may cause it to break, which will void the warranty on the base pad.
#8 Taran Tactical M&P Base Pad Mag Extension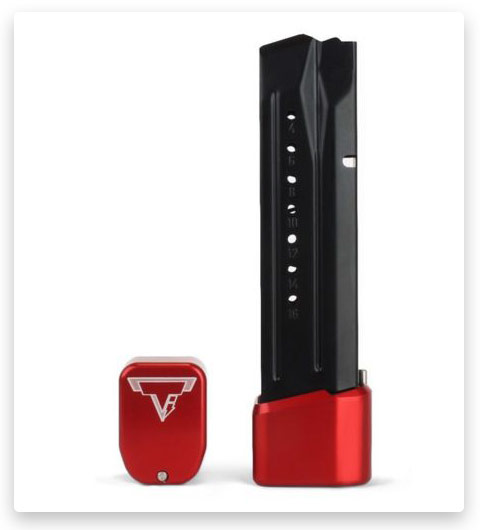 Fans of Taran Tactical Innovations products are not only multiple world champions such as Jerry Miculek, Team Miculek, and Julie Golob but also many advanced shooters. The main argument in every fan dispute is the company's attention to detail. Base pads are manufactured from billet aluminum to exacting tolerances, using quality components and innovative technology. The pin locking system (Loctite®) is the simplest and most secure way to secure the base pad to the magazine without the need for additional tools.
In this offer from Taran Tactical Innovations, you can get a base pad compatible with USPSA 140mm and full-size S&W .40 and 9mm. Also added are 3 hard-anodized finishes, gray, black, and deep red. In addition, you get an additional spring and the possibility of obtaining maximum ammunition of 20+1 rounds of 40S&W and 23+1 rounds of 9 mm caliber. Ammo is arranged in 2 stacks, so you get the maximum capacity with the smallest size.
If you do not live in California, you are not subject to legal restrictions on extended magazine ownership. In other cases, this is a good addition that is definitely worth the money.
#9 Taran Tactical +1/2 Base Pad M&P Shield Magazine Extension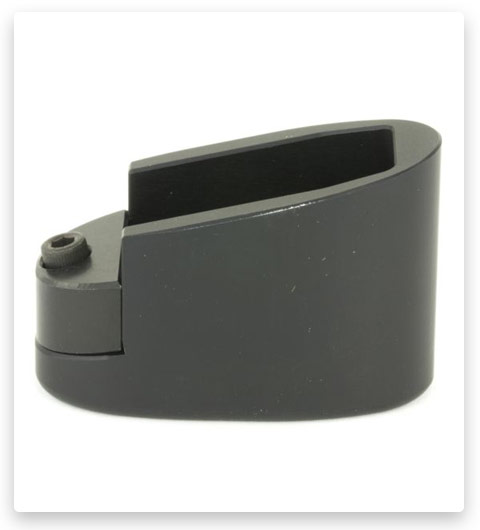 This offer contains a basic ammo-enhancing pad for Smith & Wesson M&P Shield full-size pistols in the most popular calibers. .40 caliber can get +1 rounds (max 8 +1) and 9mm caliber + 2 rounds (max 10 +2). The Firepower Base Pad uses a standard magazine spring, so no hassle or additional expense is required. Pay attention to compatibility and do not try to integrate it with the Shield EZ magazine. The Base pad has been designed and tested to work with OEM magazine only.
The add-on is made from a solid billet of aluminum and with the help of CNC processing takes on its final contours. A little extra weight gives extra magazine release speed when reloading, but is not pocket ballast. Hard anodizing resists accidental scratches well and comes in 7 color options so you can choose the right color for you and your style.
This TTI product is very easy to mount on a magazine and a pleasure to reload into a pistol. Entry and locking are crisp and leave no play or unpleasant rattling. Our only comment is related to the small gap that forms between the gun and the top of the gasket. This does not affect performance at all but may confuse those who are looking for something more than guaranteed functionality. Other than that, it's very well made and reliable.
#10 Samson Smith & Wesson M&P9/M&P40 Magazine Extension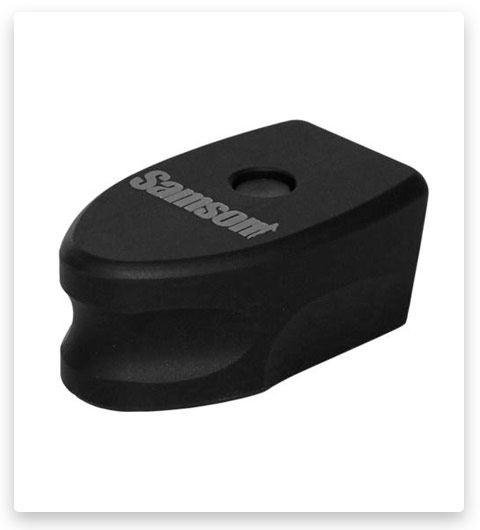 If you've been experiencing annoying problems (such as double feeding or magazine jamming) on ​​your Smith & Wesson M&P 40 Shield or M&P 9 Shield, we've found the antidote. The Samson Smith & Wesson M&P9/M&P40 Shield Carry Contour Magazine Extension is designed to remedy this situation. In addition, this update will add additional cartridges to your arsenal. If that sounds unimpressive, think about it, for 7 and 8 charge magazines, this addition is almost +15% capacity.
Constructed from 6061-T6 aircraft-grade aluminum and anodized to MIL-A-8625 Type III Class 2. This add-on measures just 1.66 inches long, 0.98 inches wide, and 0.62 inches high, with a total weight of 0.5 ounces. The design of the lower part is made in such a way as to fall out freely and cling to the shooter's hand. Inside there are also discharge slots for smooth magazine extraction and preventing double ammo feeding. The additional rounding at the bottom acts as a groove for better finger grip and allows one-handed reloading.
The Magazine extension uses a factory spring and does not require any additional accessories. The replaceable retainer provides positive feed and works perfectly with the factory spring. In general, it is very difficult to find a product that surpasses this in terms of quality and manufacturability.
#11 Strike Industries M&P Shield Mag Extension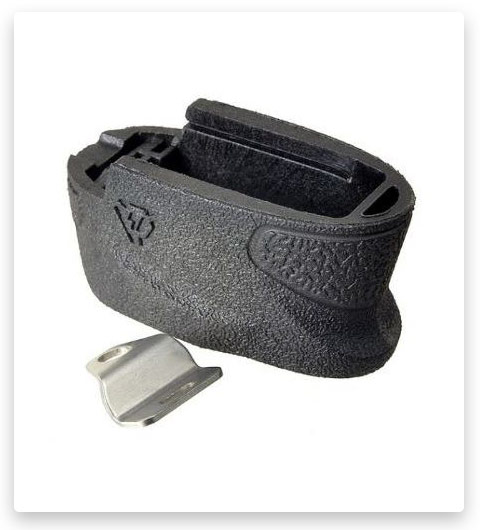 This upgrade from Strike Industries is nearly unbeatable for the price and is intended for the 7-round Smith and Wesson M&P 9mm magazine (gives 2 extra rounds). If you're going to upgrade the M&P 40 Shield, you'll only get one extra ammo. The lightweight and extra length make the enhancement very functional and comfortable to use. Now, instead of a pinky pad, you can get an additional arsenal and conveniently hold your stealth weapon.
The Strike Industries EMP for the Smith and Wesson M&P Shield is made from high-impact polymer. The shape and texture of the EMP follow the contours of a pistol grip and fits well in a large hand. Designed to upgrade the standard and oversized factory Smith and Wesson M&P shield magazines (9mm and .40S&W) and uses a preloaded spring. Be careful, it is not compatible with maggots +1 spring as the pusher will fall into the extension and hang up. Other than that, it is not compatible with M&P 40c and Shield Plus factory outlets.
To modify, you will need to be careful and a little inventive. This kit comes with everything you need: extension, stop plate, and 1 screw with fixing plate. The EMP+2 will work fine with higher capacity factory magazines but will leave a noticeable gap between the EMP and the pistol grip. It will take a little modification of the plate (file and sand), but it will not take much time. For example, when modifying an 8-charge magazine, simply do not use the factory gap extension. This will reduce the gap by about 0.04 inches. If, after modification, you notice a silvery stripe that haunts you and spoils the appearance, try to hide it, for example, draw with a black pen or marker.
Other than that, it works as advertised and is absolutely worth the money. The only remark is related to the gap, but this does not affect performance in any way.
#12 Mec-Gar Plus2 Metal Floorplate M&P Magazine Adapter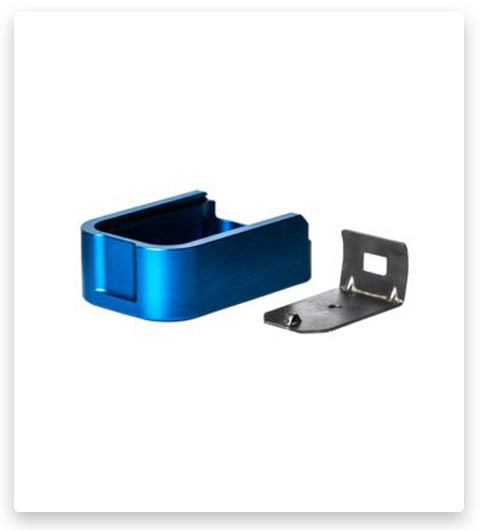 Mec-Gar Plus2 Metal Floorplate Magazines does what many others can't. The adapter allows you to add 1-2 rounds to the magazine and the compatibility list is bound to surprise you: CZ 75 Compact, Ruger P93, CZ 75 B, Ruger P94, Ruger P89, Ruger P85, Smith & Wesson Model 5900, Ruger P95, Browning Hi-Power.
The adapter is crafted from solid 7075 aircraft-grade aluminum and hard anodized. There are 3 color options to choose from: blue, gray, and red. For the convenience of reloading magazines, a notch has been added to the front of the adapter, which is convenient to hold with your fingers.
The adapter is designed to leave no gap between the frame and the floor slab. To do this, please use part number F42223-ST at checkout for a better fit. To accurately assess the possibility of compatibility, see the full list of suitable journals for modification. You can get +3 Ruger P85/89/93/94/95 9mm ammo for the 15-round magazine and +1 ammo for the Browning HP 9mm 13th. Therefore, carefully check the compatibility list before buying. Locking plate and Plus 2 adapters included. Otherwise, this Italian adapter works fine and looks great.
#13 Taran Tactical +2/4 Base Pad M&P Magazine Extension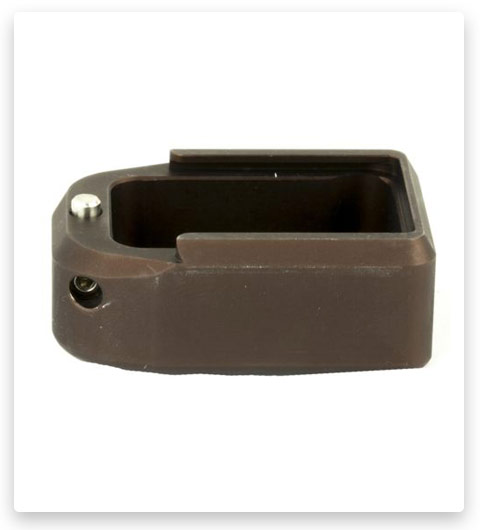 Taran Tactical Innovations continues to strike a balance between sufficient and desirable ammo. This time around, the base pad is designed to fit any full-size M&P pistol and adds 2 extra .40 rounds (holds 8+1) and 4 additional 9mm rounds (holds 10+1) to the magazine. It also uses a patented push pin design, quality materials, and it's all meticulously crafted and put together.
The body of this base cushion is CNC machined from a single piece of aircraft-grade aluminum. By repeating the contours of the pistol grip, you can imagine the overall dimensions of the pillow, given that it is a little more than 1 inch in height. The light overall weight is beneficial and makes the weapon better balanced, and the empty magazine becomes a free-fall. The base cushion is hard anodized and finished in Coyote Bronze. The improvement looks very strong and wealthy.
Modifying the base log is simple and does not require any tools at all (if the log has been previously prepared). The first step is to press down on the pin so that it can connect to the bottom of the magazine and press on the back of the pin to secure the base plate to the magazine. As you can see, no tools are used and little details are never lost.
#14 Pachmayr M&P Grip Extender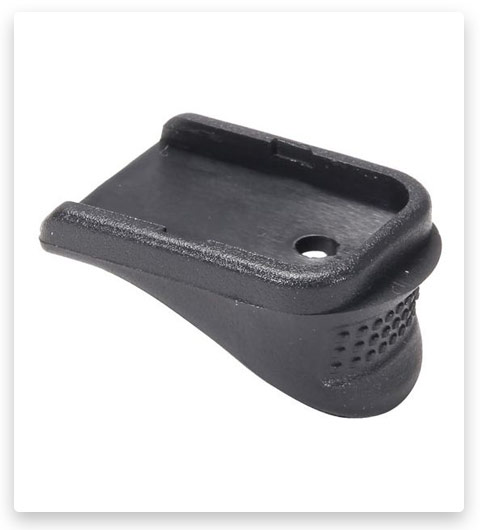 When small guns and big hands meet, it's always sad. To be together and enjoy every minute, you need external help and Pachmayr is there. This offer contains 7 overlays for the most popular models of compact and subcompact pistols. It won't increase your ammo capacity, but the feeling of shooting will be much nicer.
Pachmayr handle extensions are molded from high-strength polymer and can withstand many cases of abuse and rough handling. The design of the models follows the contours of the pistol grips and differs slightly from each other. A common feature of all models is a protruding lip with pleasant texturing for the little finger and a total weight of less than 1 ounce.
Installing this upgrade is intuitive and does not require an advanced degree. If you notice a slight edge mismatch or an annoying kink, you can always fix it by cutting off the excess. You will have an extra try to get it right because this overlay is duplicated. When ordering one, you get the second one for free, which means that the actual price of the upgrade is half as much.
If while gripping the pistol grip your little finger gets under the magazine base plate and you get a nasty pinch, it's time to take a look at Pachmayr's offer. Place your pinky in the middle of your protruding lip and enjoy shooting without pinky injury.
#15 Taran Tactical M&P Firepower Base Pad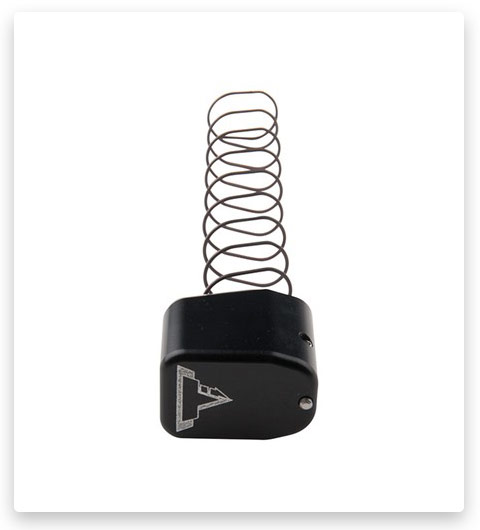 This is Taran Tactical Innovations' latest version of the very popular and successful base M&P pad. This upgrade expands the shooter's arsenal to 20+1 rounds of 40S&W or 23+1 rounds of 9mm. In the best tradition of TTI, this basic cushion uses a patented pin lock, so operation is very easy and hassle-free.
The base shoe is CNC machined from a single billet of aircraft-grade aluminum. This offer contains three variants of hard anodizing (black, red, and blue). The shape of the body does not have protrusions or depressions repeating the design of the handle. This upgrade is self-sufficient and shows some "features" and prestige of the modification.
This improvement is designed to integrate with 40S&W/9mm and USPSA 140mm. The kit also has an additional spring with which the whole assembly will work as it should. At first, you may notice excessive resistance when approaching a 20 loaded round. This excessive resistance must be overcome several times or left loaded with a magazine for 1 day so that the spring has time to get a little tired and return to normal values.
It is as pleasant to use as other TTI products. The updated magazine becomes much more capacious, falls out easier, and looks pretty. The only aspect that makes us think is double the price compared to the competition. But this is definitely a quality project worth every penny.
#16 Samson M&P Shield Magazine Extension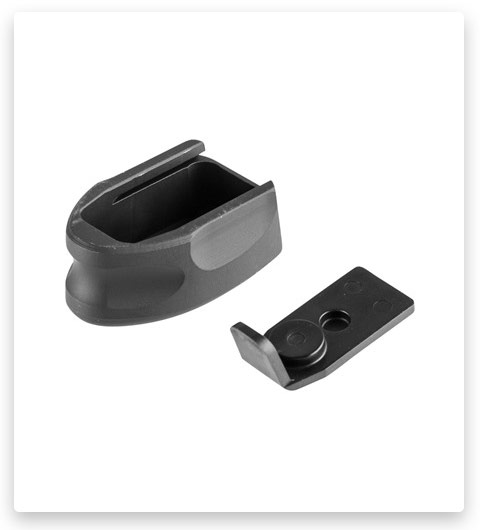 This offer is intended to please owners of the M&P®9 SHIELD and M&P®9 SHIELD M2.0 with factory magazines for 7 and 8 rounds. In addition to adding ammo for +1 ammo, you get significant handling improvements. The magazine becomes slightly longer, which is much more comfortable to grip with a large palm, and removing the magazine becomes easy and pleasant.
The magazine extension is manufactured by SMC from billet aluminum using CNC machines. The design has only been optimized for compatibility with M&P®9 SHIELD and M&P®9 SHIELD M2.0. But that doesn't mean all M&P®9 pistols are compatible. As an example: Shield EZ M2.0 or M&P Shield M2.0 in 40SW are not compatible with this magazine extension. Be careful and when ordering, it is better to ask the seller again about compatibility with a specific weapon model.
The improvement feels quite reliable and interacts well with weapons. The magazine eliminates double feed, glides easily, and does not cling to the hand. The discharge slots are pleasant to the touch and make it easy to remove with one hand. This improvement uses a stock magazine spring so no additional investment is required. The shape and color match the weapon's factory design, allowing the magazine extension to become an inconspicuous extension of the grip.
The price of this upgrade will pleasantly surprise you. Maybe +1 ammo is not that much, but the more pleasant handling of the weapon is definitely worth the money.
#17 Tyrant Designs M&P Shield +2 Magazine Extension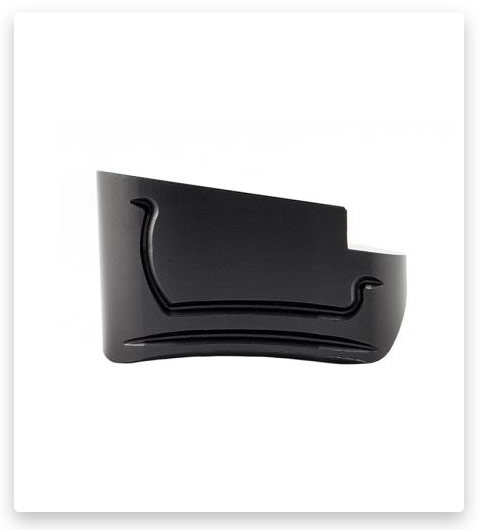 We have already reviewed a similar offer (#4) that we found on OpticsPlanet.com, but if somehow you don't support this site, here's an alternative offer at Brownells.com. The difference of a few dollars is not significant, but the choice of additional colors seemed very interesting to us.
It's all the same CNC-machined aircraft-grade aluminum. The design is almost completely smooth and rounded at the edges, additionally embellished with a small curly line at the bottom. Completely extends the profile of the pistol grip and measures 1.15 inches long by 0.90 inches wide and adds 1.2 ounces of weight. The patented pin design works great as always and allows you to add this extension to your magazine in just 10 seconds, without any extra tools or magician skills.
Complementary colors can make your Smith & Wesson M&P Shield really stand out. The anodizing is evenly saturated and looks great. Of course, if you're looking for practicality – dark colors hide accidental scratches more easily. But if your friends on the shooting range like to show off their new guns – this is a good option to put yourself in the spotlight.
#18 Taran Tactical S&W M&P Magazine Extension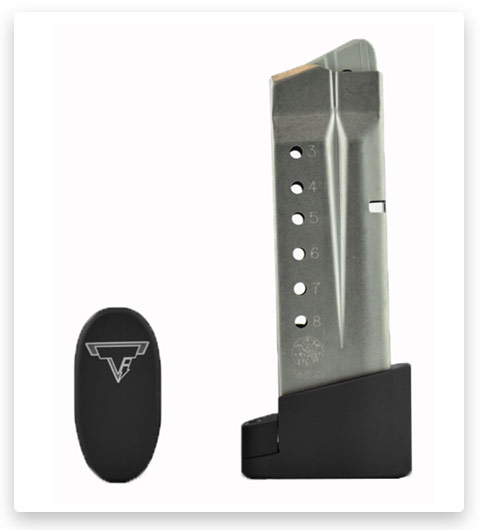 This offer is intended for owners of large hands and fans of concealed carrying of weapons. Adding +2 ammo to a 9mm shield magazine (10+1 total) or +1 ammo to .40 S&W (8+1 total) with a flat black finish looks really cool!
As expected, Taran Tactical manufactures the magazine enlarger from aircraft-grade aluminum, which has a positive effect on corrosion resistance and maintains an optimal weight balance. The magazine enlarger is designed to work with OEM S&W magazine cases only. Shield 45 or Shield 9 EZ are not compatible.
When replacing the factory base plate with this extended plate, be sure to remove the plastic piece from the spring. With this error, you will get +1 ammo instead of +2. In addition, reloading the magazine may also not be the easiest. Fix the installation error and everything will look like a fairy tale.
There is another common "problem". The magazine enlarger works with factory Shields magazine springs. Until about 200 rounds have passed and the spring has not weakened – 10 rounds will be an ordeal. Because of this, even the location of the cartridge at a slightly different angle is possible. It's hard to argue with that, but the problem will go away on its own if you give this magazine enlarger a little time.
Otherwise, this is a good American product for confident shooters. The improved magazine is a pleasure to handle, the color and shape are conducive to concealment, and extra rounds are always nice to have on hand.
#19 Pearce Grip S&W M&P Magazine Extension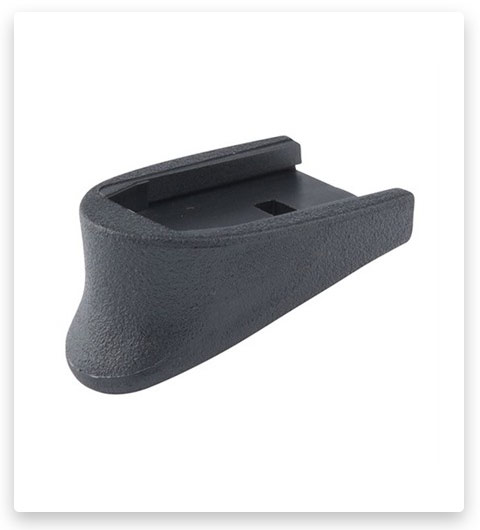 The M&P Shield is a damn popular pistol. Perfect balance and small size make the 7-8 shot pistol the best defender, but there is one problem. Many owners of the S&W M&P Shield complain about the lack of finger space on the grip. To solve this problem, you can follow one of two paths. The first way is to increase the magazine and get a bulkier weapon. Or use a small magazine overlay to add room for your little finger.
This overlay is molded from black impact-resistant plastic. The rough texture of the front lug is pleasant to the touch and gives extra grip when held with the whole palm. Unfortunately, this does not increase the capacity of the magazine, but the weight of the weapon practically does not change. Installing an extension "shelf" is to replace the factory basis of the magazine with this improvement.
In time, it will take only a few minutes and is no more difficult than routine cleaning of the magazine. In terms of compatibility, this is only for Shield with one stack (7-8 rounds). Compatibility with double-stack magazines with increased ammo has not been confirmed. The price really allows you to experiment, but for safety, it is better not to violate the manufacturer's rules.
#20 Arredondo S&W M&P Magazine Extension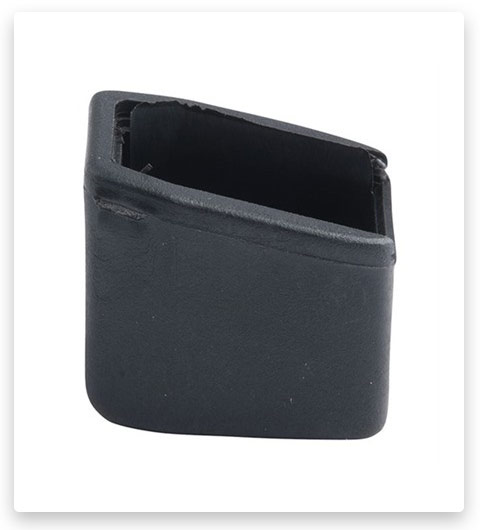 A common feature of all pistols with high-capacity magazines is the two-stack arrangement of cartridges. Because of this, manufacturers of aftermarket upgrades are forced to choose a specific direction, either to match the basic low-load magazines for 7-8 cartridges or to create separate upgrades for owners of enlarged magazines. This pad was created specifically for M&P and M&P 2.0 with double stack magazines and adds +6 rounds for M&P 9mm and +5 rounds for .40 S&W.
Despite the flimsy appearance, this is a very strong overlay. It is made of impact-resistant nylon and contains additional fiberglass reinforcement. The pad is quite capable of withstanding the fall of an empty magazine on a hard surface and does not receive serious damage. Works in conjunction with the magazine's factory spring and requires a simple replacement of the bottom of the magazine to install. If you want to get the maximum possible strength – use an L-shaped fixing insert. This will keep the overall length of the magazine below 140mm. Another advantage of this offer is a very attractive price. It's really hard to beat, and therefore deserves your attention.
Conclusion
"For one who does not know where to sail, there is no favorable wind" (Greek proverb). Your desires lead to your goals, so feel free to want more and get more. This time you can get more space for the little finger and additional ammo. We recall some of the contestants that we liked the most.
Thank you for visiting us, and we hope you have added to the list of desired updates. Next time we will pick up something else interesting. Good luck survivalist!
Affiliate Disclosure: Rotorm.com sometimes gets paid for listings, through sponsors or affiliate programs like Amazon, Optics Planet, Lucky Gunner, Brownells, Cabelas, Rainier Arms, 5.11 Tactical, Bass Pro Shop, etс. Clicking a link helps keep Rotorm.com free, at no extra cost to you!
About the author: Each article on our site is written by experts in survival and tactical equipment, gun enthusiasts, extreme travelers, military, law enforcement and desperate professionals, read about the author at the bottom of the article or visit "About Us" page.
Note: The views and opinions expressed in this article are those of the authors and do not necessarily reflect the official policy or position of any agency.