Before starting an overview of magnifying glasses (loupes), we must understand what it is: Loupe (magnifying glass) – an optical system consisting of one or more lenses and is designed to magnify and observe small objects located at a finite distance.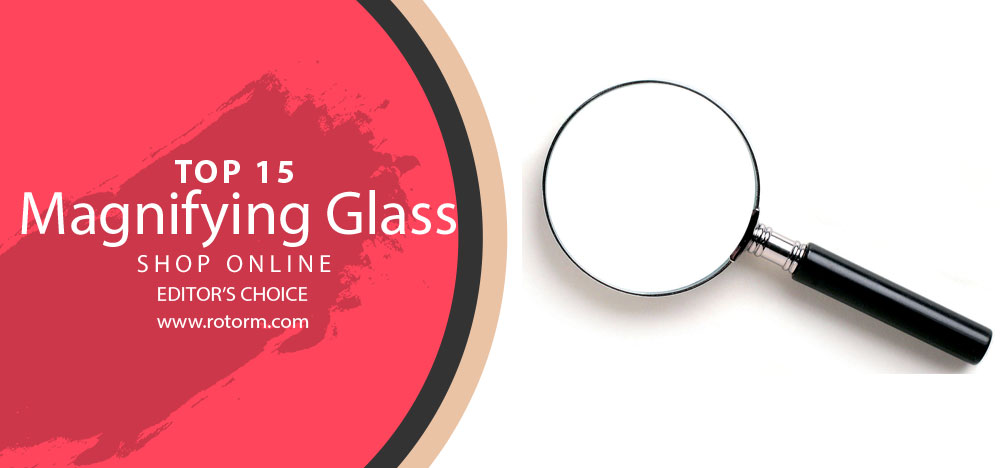 It is used in many areas of human activity, including biology, medicine, archeology, banking and jewelry, forensic science, in the repair of watches and radio-electronic equipment, as well as in philately, numismatics, and bonistics. The choice of the magnifier you need depends on where you will use it. And so, we have 15 of the best magnifying glasses on our review today.
TOP-15 Magnifying Glass
| Image | Product | Brand | |
| --- | --- | --- | --- |
| | Galco Magnifying Loupe Glass With Case | Galco | |
| | Carson MiniBrite 5x Magnifying Loupe Glass | Carson | |
| | Carson SplitHandle 2x-3x Magnifying Glass | Carson | |
| | Zeiss Optics D24 6x Aplanatic Achromatic Pocket Magnifier Loupe | Zeiss Optics | |
| | Discovery Kids LED Magnifying Glass | Discovery Kids | |
| | Carson 4.5x SensorMag Magnifier SM-44 | Carson | |
| | Carson Remov-A-Lens RL-30 | Carson | |
| | Bausch & Lomb 81-23-67 | Bausch & Lomb | |
| | Bausch & Lomb Folding Pocket Magnifier Loupe | Bausch & Lomb | |
| | Reizen Golden Pendant Magnifier Loupe | Reizen | |
| | Levenhuk Zeno Desk D3 Magnifier | Levenhuk Zeno | |
| | Levenhuk Zeno Desk D7 Magnifier | Levenhuk Zeno | |
| | Armor Forensics 3-1/4inch Round Glass Magnifier | Armor Forensics | |
| | Zeiss Optics D36 Aplanatic Achromatic Pocket Magnifier Loupe | Zeiss Optics | |
| | Zeiss Optics D40 10x Aplanatic Achromatic Pocket Magnifier Loupe | Zeiss Optics | |
#1 Galco Magnifying Loupe Glass With Case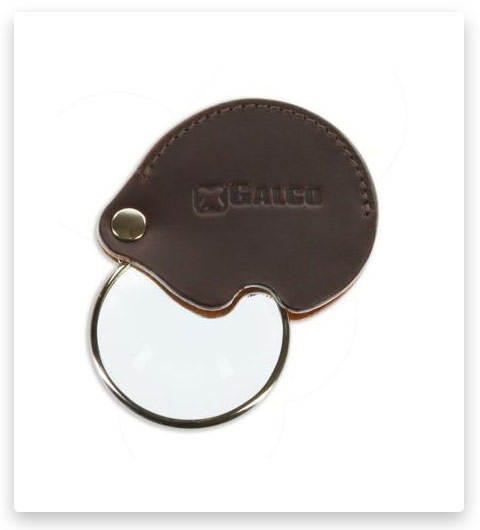 This magnifier will appeal to everyone who fails from time to time. It is especially suitable for the elderly because it is very durable and reliable. Galco fits easily into any pocket. Even if you accidentally sat on it when it was in your back pocket of your trousers, do not worry, it will remain intact. This magnifier is made of glass and plastic so it will not scratch or fade. You can carry it with you anytime, anywhere. You can easily read any map, guide, or newspaper in your survival camp. Also your grandparents will absolutely love Galco 🙂
#2 Carson MiniBrite 5x Magnifying Loupe Glass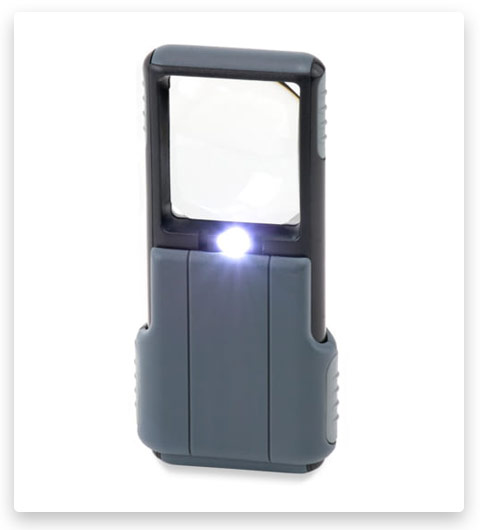 This magnifier is great for reading any small print or anything small that we can't see. The LED backlight makes it even easier to see what you are magnifying. The LED backlight is bright and can be used as a flashlight in the dark. The plastic case is well designed to protect the lenses. You can use the magnifier with or without a light on. For the backlight, you need 3-AAA batteries, they serve as long as possible thanks to the LED lamp. The size is ideal to fit in handbags, waist bags, glove boxes, bedside tables, etc.
#3 Carson SplitHandle 2x-3x Magnifying Glass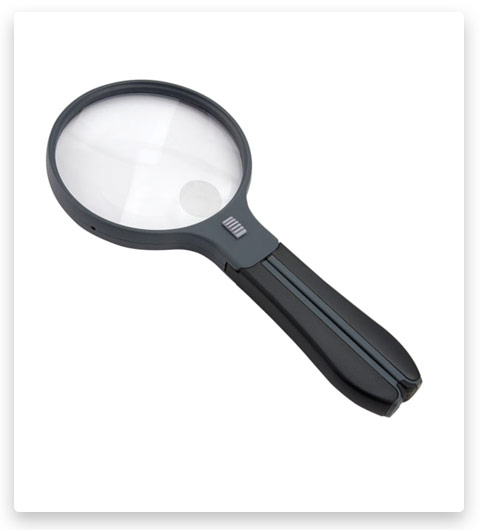 This one-of-a-kind magnifier can be used with Hands-Free magnifiers as the set includes a neck strap. This is a magnifying glass with two crystal clear acrylic lenses with 3.5x bifocal lenses. The super-bright LEDs of the Carson SplitHandle magnifying glass illuminate the subject. Carson Split handle ideal for reading, sewing, crafts, hobbies, and daily activities.
#4 Zeiss Optics D24 6x Aplanatic Achromatic Pocket Magnifier Loupe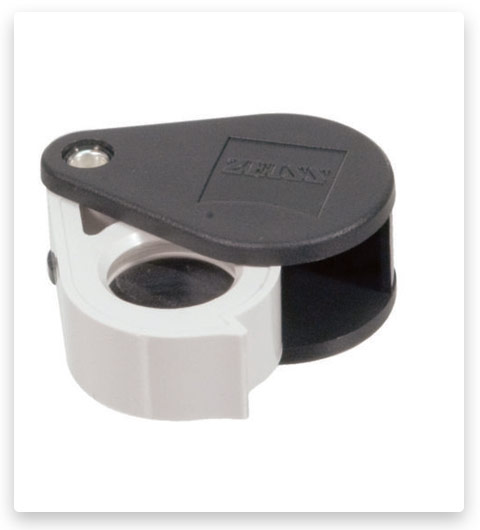 If you are looking for a good quality portable magnifier, you have found it. The Zeiss Portable Magnifier is made from the highest quality polycarbonate. This reduces weight and makes the lens shape more precise. All lenses of Zeiss D24 magnifier are protected by a thick layer of anti-reflective coating, which is used in high-end glasses. With good care, your Zeiss D24 loupe will maintain its high-quality performance and will delight you for years to come.
#5 Discovery Kids LED Magnifying Glass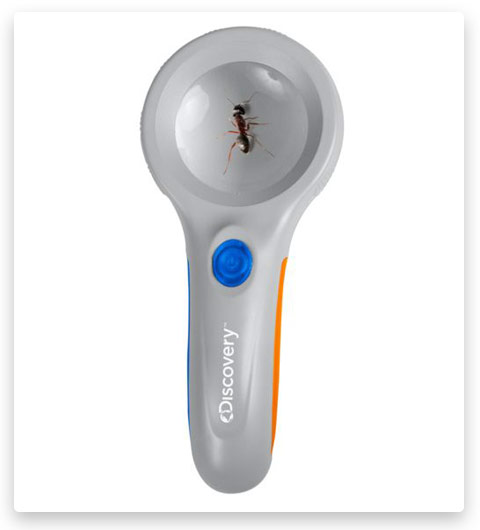 If your child is curious and loves to explore the world around him, loves looking at small bugs, worms, and has been long dreamed of a magnifying glass, then the Discovery Kids 44-29501 magnifier is what you need. This handy 3x LED magnifier is equipped with 8 LEDs. Perfect for reading, observing insects and discovering the world around you. Made of high strength plastic material, safe for children.
#6 Carson 4.5x SensorMag Magnifier SM-44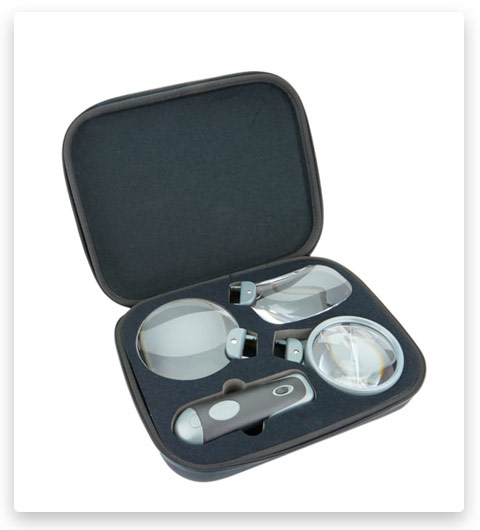 Carson's 4.5x SensorMag Magnifier SM-44 will be very useful for photographers. It will help you clean the lens from dirt and dust. This magnifier from Carson fits comfortably inside the camera lens hole and has an adjustable focus for different camera sizes. Carson 4.5x SensorMag Magnifier SM-44 hands-free allows you to magnify the image and helps you clean the sensor. Several diameter settings are suitable for most Canon and Sony DSLR cameras. The six bright LEDs at the base of the Carson Sensor-Mag LED help you clean your sensor. The Carson Sensor-Mag LED features a unique magnifying glass that can be rotated 45 degrees to the side for better access to the sensor, leaving room for a small tool or brush to clean the sensor. Its compact size allows it to be carried in a camera bag.
#7 Carson Remov-A-Lens RL-30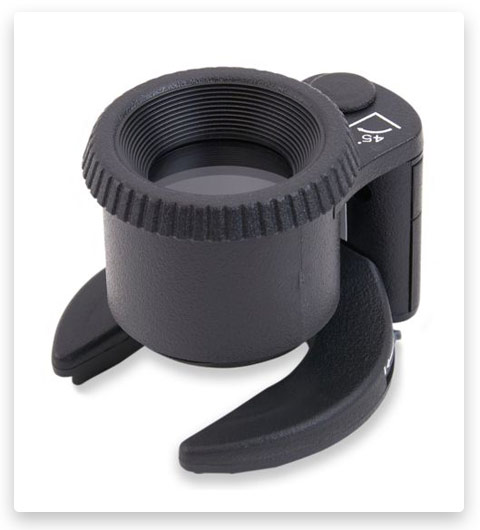 The Carson RL-30 Remov-A-Lens Magnifier is an excellent illuminated 3-in-1 portable magnifier with three interchangeable lenses with varying magnifications. Easy to use: To change the magnifying glass in Carson Remov-A-Lens, you just need to choose one of three lenses and insert them into the handle. Press the button on the side of the magnifier handle to release the lens and select a new one. The ergonomic handle of this magnifier fits perfectly in the palm of your hand and has a non-slip rubber grip. The fold-out legs can be extended out of the handle to adjust the magnifier for hands-free operation. Crystal clear acrylic lenses and two ultra-bright LED lights enable this Carson magnifier to deliver crisp, bright, and magnified images.
#8 Bausch & Lomb 81-23-67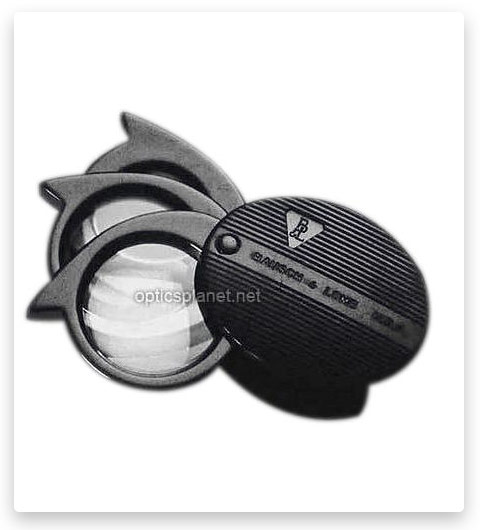 This is a very handy little magnifier – perfect for viewing small objects in the field. The lens focal length range is quite versatile. Bausch & Lomb magnifier can be used in electronics repair, antique identification, high magnification magnifying glass, but the lenses are quite small. Acceptable price.
#9 Bausch & Lomb Folding Pocket Magnifier Loupe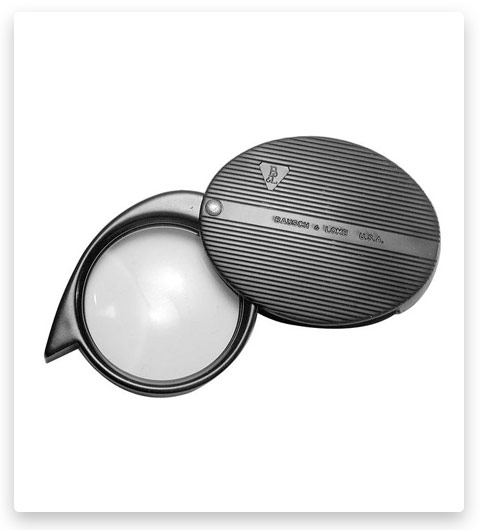 A good magnifier in terms of price-performance ratio. Convenient for constant carrying in your pocket, bag. Easy to use: take out the lens and use it all. It is very useful for people with insufficiently good eyesight who are ashamed of it. Due to its size, it fits easily in the hand and is almost invisible.
#10 Reizen Golden Pendant Magnifier Loupe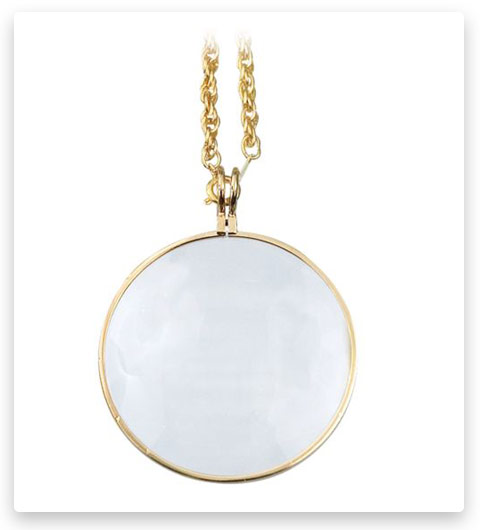 This gold pendant magnifier can replace your jewelry. The golden magnifier will complement any outfit both during the day and at night. People around you will appreciate this glamorous piece of jewelry around your neck. The Reizen Golden Pendant Magnifier Loupe doubles as a glamor necklace and a powerful 4x glass loupe. It hangs gracefully around your neck on a long 33 " gold-plated rope chain, so you'll have this magnifier close at hand whenever you need it. Comes with a free cleaning cloth and vinyl storage case to keep your hanging magnifier in top condition when not in use.
#11 Levenhuk Zeno Desk D3 Magnifier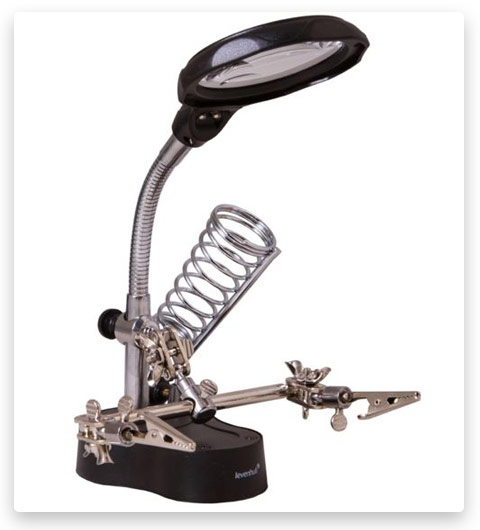 Levenhuk Zeno Desk D3 70441 Magnifier is an indispensable tool for 3D modelers, jewelers, as well as those who repair printed circuit boards or solder. This magnifier includes a bifocal lens, built-in illumination, and a third-hand instrument. The magnifier lens is made of optical plastic and provides two magnifications: 3.5x and 12x. Flexible neck allows you to individually adjust the lens position. The built-in illumination consists of two bright LEDs mounted next to the lens. All clips are removable.
#12 Levenhuk Zeno Desk D7 Magnifier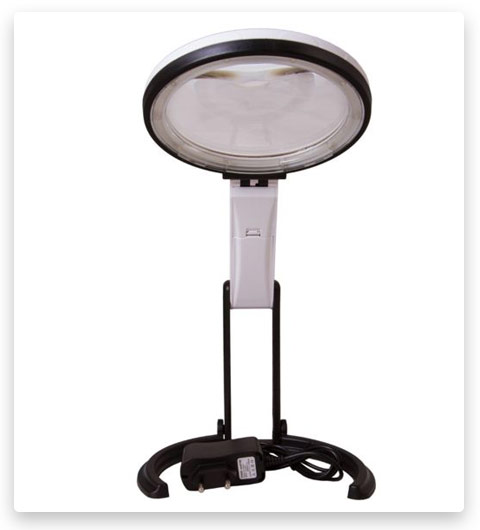 Levenhuk Zeno Desk D7 Magnifier is an ideal desktop assistant: it is ideal for long-term close-up inspections, reading, small parts repair. Thanks to the foldable neck, it can be easily transformed into a handheld magnifier. Bifocal lens magnifies 2 and 5 times. LEDs are distributed around the lens, they provide uniform illumination of the field of view. The LEDs are powered by an AC adapter and batteries.
#13 Armor Forensics 3-1/4inch Round Glass Magnifier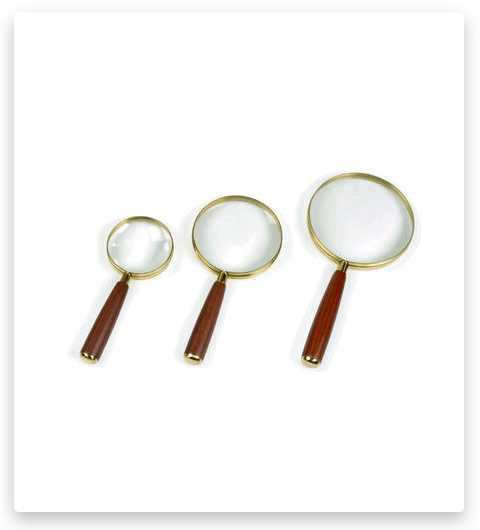 Armor Forensics 3-1 is the ideal reading magnifier – a device that is particularly sought after by people with vision problems and those whose profession is connected with the need to study large-scale printed information. Interesting design, flawlessly clear image, ease of use. The handle is made of brown plastic with a wonderful gold-plated rim.
#14 Zeiss Optics D36 Aplanatic Achromatic Pocket Magnifier Loupe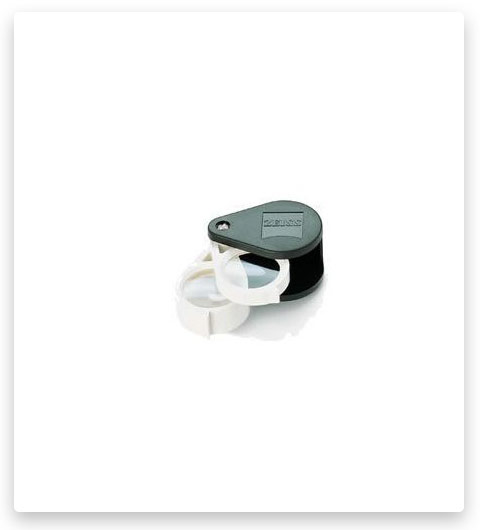 Zeiss Optics D36 is an excellent achromatic pocket magnifier. Large diameter double folding magnifier (22mm). Zeiss Optics is the most versatile portable magnifier used by amateurs and professionals alike. The kit includes 3x or 6x magnification lenses. They can be used individually or combined for up to 9x magnification. It is the ideal choice for stamp and coin collectors, archivists, antique dealers, and medical research.
#15 Zeiss Optics D40 10x Aplanatic Achromatic Pocket Magnifier Loupe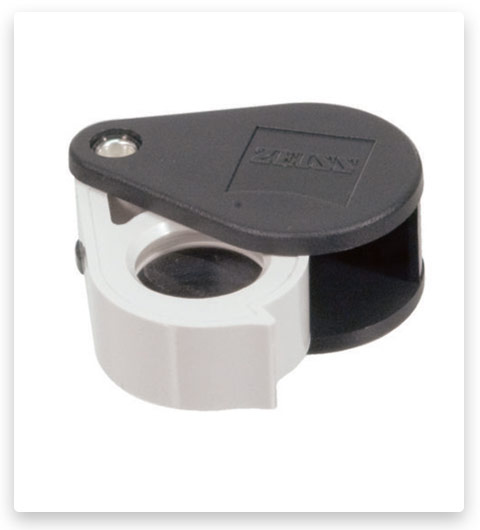 Zeiss Optics D40 is a pocket-size achromatic magnifier. It is the standard by which all other loops are judged. GIA and CIBJO define a high quality 10x magnification aplanatic achromatic loupe for evaluating diamond color and clarity. This 13mm diameter folding magnifier from Zeiss Optics surpasses all requirements for clear, dispersion-free viewing. Zeiss Optics D40 is ideal for geologists and entomologists, antique appraisers, and in general for all professions or hobbies that require a high-quality magnifying glass.
FAQ
Conclusion
In everyday life, magnifiers can be used for reading or looking at some small details (for example, a drawing or an inscription). Magnifiers have their own characteristics and characteristics depending on the scope of application. But any magnifier is represented by a magnifying glass with two convex surfaces inserted into the frame. Loupes are different. The device can be supplemented with a mount, holder, and even a whole range of highly targeted accessories. Professional magnifiers designed for use in a specific area of work (cosmetology, medicine, etc.) are complex. An ordinary magnifier that is used for household purposes, as a rule, is not complicated by special designs. This subject is extremely simple and understandable even for children.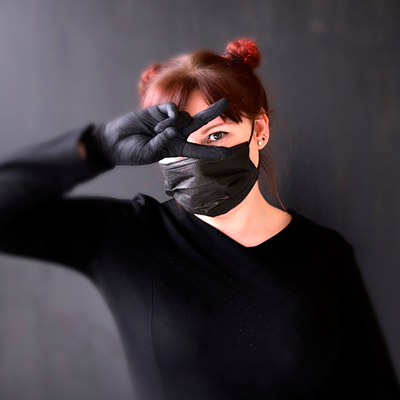 Ann Burwell
Mother, Extreme Lover, Author, and Outdoor Gear Expert
Nice to meet you, my name is Ann. What I can say about myself is that I am a supporter of a healthy lifestyle and enjoy spending my leisure time actively (most frequently outdoors). My hobby is camping, hiking, climbing mountains. And of course, I adore various survival and
tactical gear
, which is so necessary for a comfortable stay in extreme conditions. I am fortunate that my husband and family support me about this.
That is why it is important for me to find good items that will help me and my family have a good time without too much hassle. I like to look for stuff for myself or gifts for my loved ones. We also share the high-quality products we find with each other, and I think it is really important to transfer your opinion and knowledge, that is why I am pleased to share the useful information I find with other people. I'm so happy that my family helps me in this matter. We hope that someone really finds this helpful and interesting enough!
Read more
about our team
of expert authors.
Affiliate Disclosure: Rotorm.com sometimes gets paid for listings, through sponsors or affiliate programs like Amazon, Optics Planet, Lucky Gunner, Brownells, Cabelas, Rainier Arms, 5.11 Tactical, Bass Pro Shop, etс. Clicking a link helps keep Rotorm.com free, at no extra cost to you!
About the author: Each article on our site is written by experts in survival and tactical equipment, gun enthusiasts, extreme travelers, military, law enforcement and desperate professionals, read about the author at the bottom of the article or visit "About Us" page.
Note: The views and opinions expressed in this article are those of the authors and do not necessarily reflect the official policy or position of any agency.