What is 458 Winchester Magnum Ammo?🧐
It is a powerful ammunition designed specifically for big game hunting. Introduced by Winchester Repeating Arms in 1956, it was created with the aim of providing a potent round for hunters targeting large and dangerous animals. It's known for its high velocity and heavy bullet weight, ensuring a reliable performance in the most challenging hunting scenarios. Its considerable stopping power has made it a favourite among African safari hunters targeting big games like elephants and buffalos.
Purposes😎
It serves various purposes, which include:
⚫ Big Game Hunting: The primary purpose is large and dangerous game hunting. This ammunition's high velocity and heavy bullet weight make it ideal for hunting big game animals like elephants, buffalos, and rhinos.
⚫ Safari Hunting: Due to its stopping power, this ammo is a favourite among African safari hunters. It provides a reliable performance in the challenging and unpredictable conditions of the African wilderness.
⚫ Sport Shooting: Although less common, it is also used in sport shooting events. Its formidable power and precision can offer thrilling experiences for dedicated sport shooting enthusiasts.
⚫ Self-Defence in Wilderness: For individuals living in or travelling through wilderness areas with large predators,it can be used as a means of self-defence. Its power and range give it a significant advantage in these dangerous scenarios.
Our Top Pick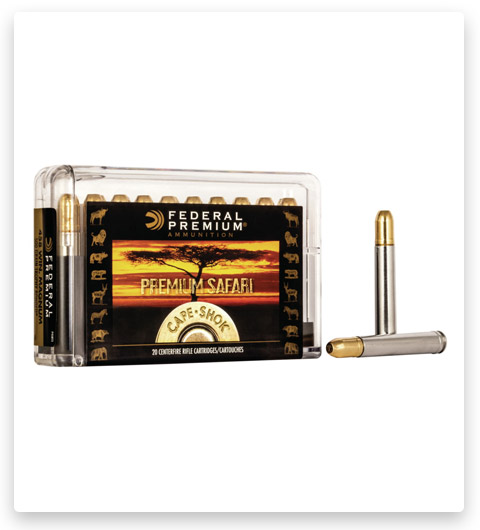 Federal Premium Solid – 458 Winchester Magnum – 500 Grain
Offered with a selection of premium bullets, including the esteemed Trophy Bonded Bear Claw and the robust Trophy Bonded Sledgehammer Solid, this ammunition guarantees exceptional performance. An enhanced manufacturing method further enhances the dependability of Trophy Bonded bullets, instilling the confidence you need in crucial moments.
Buy Now On OpticsPlanet
If you click this link and make a purchase, we earn a commission at no additional cost to you.
Features🤠
It holds numerous features that make it stand out in the ammunition world. These include:
🔰 High Velocity: This ammunition is known for its high velocity, often exceeding 2,000 feet per second. This speed gives a flat trajectory and high impact force, making it effective at both short and long ranges.


---

🔰 Heavy Bullet Weight: It typically uses bullets weighing between 350 to 500 grains. This heavy bullet weight contributes to its tremendous stopping power, allowing it to penetrate deep into the target.


---

🔰 Stopping Power: Owing to its high velocity and heavy bullet weight, this ammo has massive stopping power. This makes it ideal for hunting large and potentially dangerous game, as it leaves little room for the animal to escape or retaliate.


---

🔰 Versatility: Despite being designed for big game hunting, it also performs well in sport shooting and self-defence scenarios. Its potent combination of power and precision makes it a versatile round.


---

🔰 Reliability: It is praised for its reliable performance, even in the most challenging conditions. This reliability is vital when hunting in the unpredictable African wilderness or defending oneself in dangerous wilderness areas.
Types🎯
There are several types, each designed with specific uses and benefits in mind. Here are some of the most popular types:
| | |
| --- | --- |
| 🟠 Soft Point: |  Soft point ammunition has an exposed lead tip, which expands upon impact to cause a wider wound channel. This expansion makes it perfect for big game hunting where quick, humane kills are important. |
| 🟡 Full Metal Jacket (FMJ): | This ammo is designed for increased penetration. The bullet is enclosed in a hard metal shell, which doesn't expand upon impact, making it less destructive but more penetrating. This type is often used in sport shooting due to its high accuracy. |
| 🔵 Hollow Point: | These bullets have a hollowed-out shape tip, which causes the bullet to expand upon impact, increasing the damage done to the target. This type is ideal for self-defence and big game hunting. |
| 🟢 Solid: | It is made of a hard material like brass or steel, designed not to expand upon impact. This gives it superior penetration, making it ideal for hunting very large or dangerous game, where deep penetration is crucial for a quick and humane kill. |
Remember, the choice of ammunition type largely depends on the intended use, whether it's hunting, sport shooting, or self-defence. Always ensure to choose the right type for your specific needs.
Best 458 Winchester Magnum Ammo Reviews
1# Federal Premium – 458 Winchester Magnum – 500 Grain – 20 Rounds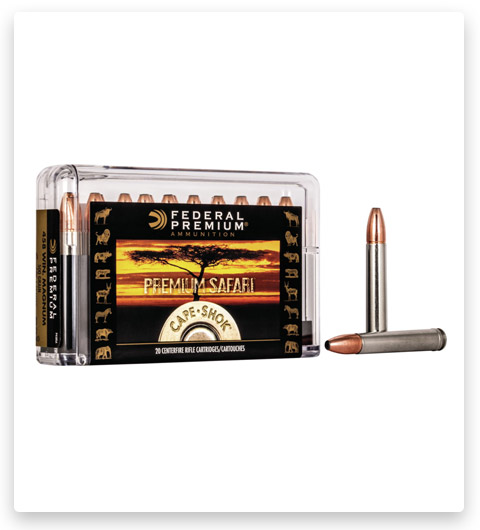 Federal Premium's .458 Winchester Magnum ammunition is the perfect choice for big game hunters who demand power and accuracy. Each round is designed with basic ballistics in mind, with a bonded front core and progressively tapered jacket that ensure controlled expansion and weight release. The A-Frame design stops expansion at a certain point, while the nose profile withstands heavy recoil without deforming. You can count on Federal Ammunition to get you through each and every situation with plenty of rounds to spare. Pick up some today, and see what else we have in store for you!
2# Federal Premium Solid – 458 Winchester Magnum – 500 Grain – 20 Rounds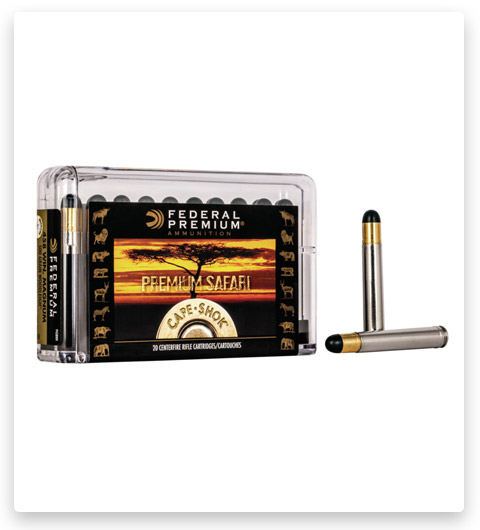 When you need to take down the biggest and worst game out there, reach for Federal Premium's Solid 458 Winchester Magnum Ammo. These 500-grain bullets are designed for maximum penetration and expansion, making them ideal for large and dangerous games. The concave bullet nose and flared pressure ring help to prevent deflection and create a massive wound channel, while the polymer nose cap ensures reliable feeding. So when you're looking to put some real hurt on your target, make sure you've got Solid Ammo from Federal Premium in your gun.
3# Federal Premium Solid – 458 Winchester Magnum – 500 Grain – 20 Rounds
If you want to take your shooting skills to the next level, use Federal Premium Cape-Shok Centerfire Rifle Ammunition. This premium ammo is designed for superior accuracy and consistent results. The bonded jacket and core retain more than 95 per cent of the bullet's weight for deep penetration, while the grooved shank improves accuracy across all gun platforms. The nickel-plated case and bullet prevent corrosion, ensuring reliable performance in even the most demanding conditions. So whether you're a competitive shooter, casual enthusiast or big game hunter, Federal Premium Cape-Shok Centerfire Rifle Ammunition is the perfect choice for your next outing.
4# Federal Premium Solid – 458 Winchester Magnum – 400 Grain – 20 Rounds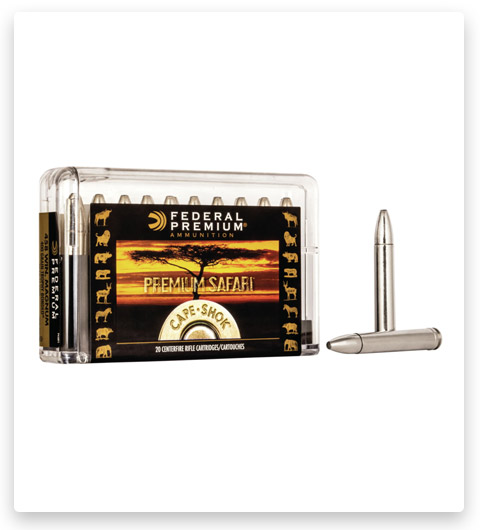 With Federal Premium Solid rifle ammunition, you'll see a difference in your shooting almost immediately. This high-quality, performance-enhancing ammo is designed to help you shoot your best.
The bonded jacket and core retain more than 95 per cent of the bullet's weight for deep penetration. Grooved shanks improve accuracy across all gun platforms Manufacturing processes ensure consistent, reliable performance Nickel-plated cases and bullets prevent corrosion.
With a muzzle velocity of 2250 feet per second and a muzzle energy of 4496 foot-pounds, this ammo packs a serious punch. You'll be able to hit your target with precision and power when you use Federal Premium Solid rifle ammunition.
5# Federal Premium Solid – 458 Winchester Magnum – 500 Grain – 20 Rounds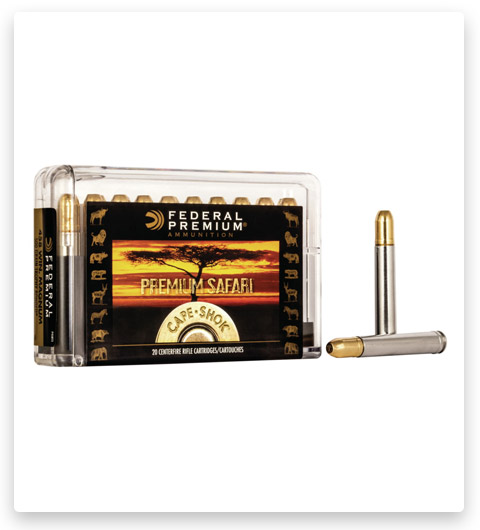 When you're heading out on a safari or dangerous game hunt, you need a bullet you can rely on. Federal Premium Cape-Shok is a perfect choice. Available with your choice of the finest bullets, including Trophy Bonded Bear Claw and Trophy Bonded Sledgehammer Solid, this ammunition is sure to deliver. An improved manufacturing process makes Trophy Bonded bullets even more reliable, so you can trust them to perform when it matters most. Choose Federal Premium Cape-Shok for your next hunt and rest assured knowing you're armed with the best.
6# Hornady – 458 Winchester Magnum – 500 Grain – 20 Rounds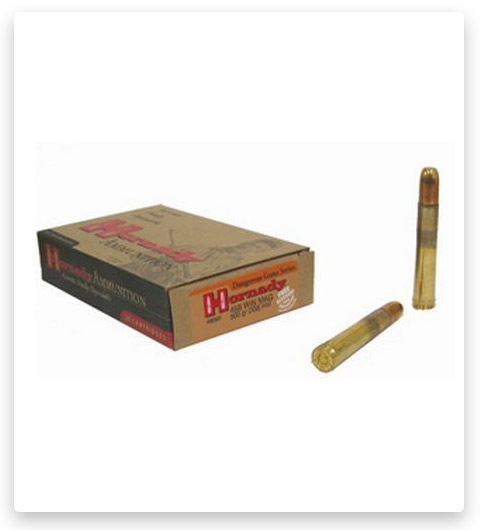 The Hornady 458 Winchester Magnum is a high-performance rifle cartridge that is perfect for hunters and target shooters alike. This cartridge provides increased performance up to 200 fps without additional chamber pressure, recoil, muzzle blast, or temperature sensitivity. The high-performance propellants used in this ammunition provide 100 to 200 fps faster than traditional ammunition, while still maintaining uncompromising accuracy and unfailing performance across a broad range of temperatures.
7# Hornady Solid – 458 Winchester Magnum – 500 Grain – 20 Rounds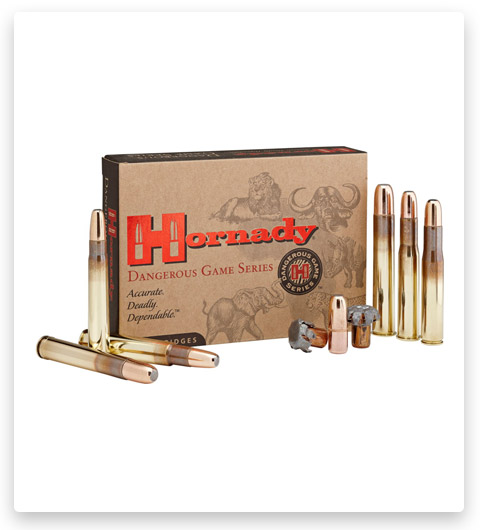 Looking for a round that can take down large and dangerous games? Look no further than Hornady's Solid line of ammunition. The 458 Winchester Magnum is a 500-grain cartridge that is designed to deliver hard-hitting accuracy. The expandable Bonded bullets feature a copper-clad steel jacket that is bonded to a lead core. This process ensures that the bullet will not separate on impact, making it ideal for taking down tough targets. The powder and primers are carefully selected to provide consistent shot-to-shot results. So whether you're on safari or in the field, you can rest assured that Hornady's Solid line of ammunition will get the job done.
8# Barnes Vor-Tx Safari – 458 Winchester Magnum – 450 Grain – 20 Rounds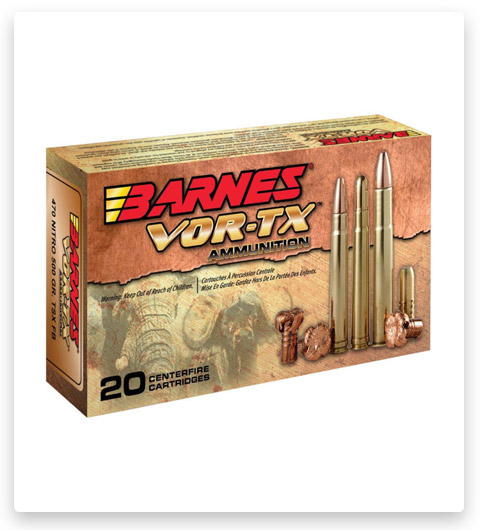 Not only do Barnes bullets offer quick, clean and humane kills, but they are now offering their highly regarded bullets loaded with ammunition. VOR-TX Safari ammunition is manufactured with extreme precision to guarantee excellent accuracy and consistent velocities essential when hunting some of the world's most dangerous games.
The Barnes Banded Solid Bullets were crafted with rings cut into the shank to reduce pressures while also allowing for higher velocities. With a meplat wider than average, these bullets are designed to penetrate large game without veering off course, even when hitting heavy bone. These bullets do not have a lead core or jacket because they are constructed of homogenous metal throughout one continuous piece. In other words, Barnes VOR-TX Safari ammunition is exactly what you need to make sure your next hunt is a success. So don't wait any longer – pick up a box today!
9# Barnes Vor-Tx TSX FB – 458 Winchester Magnum – 450 Grain – 20 Rounds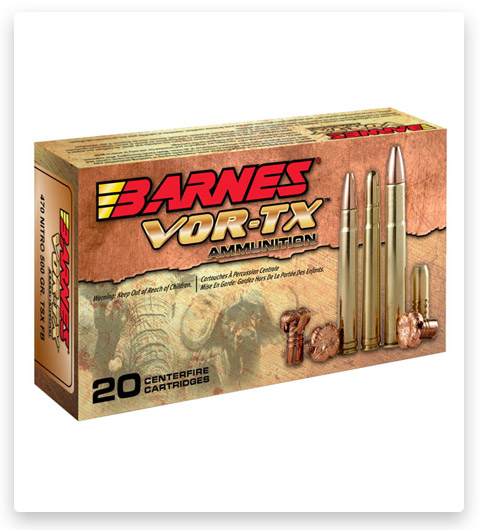 Introducing the Barnes VOR-TX Safari Centerfire Rifle ammo! This high-grade ammunition is designed for hunters and shooters who demand only the best. Using only the highest quality materials, this ammo offers unmatched performance and consistency. Whether you enjoy hunting or target practice, you can benefit from the technically advanced design. With the shooter in mind, Barnes has worked to find only the best materials. Each bullet is put through stringent production standards to remove any flaw that might arise… so you get nothing but perfection. Don't settle for anything less than the best – choose Barnes VOR-TX Safari Centerfire Rifle ammo for your next hunt or range session!
10# Nosler Solid – 458 Winchester Magnum – 500 Grain – 20 Rounds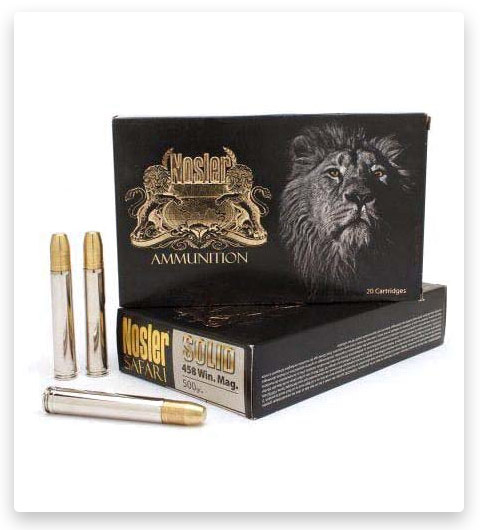 The Nosler brand is known for offering high-quality ammunition that is designed to perform flawlessly. These bullets are intended to provide excellent energy transfer and repeatable accuracy, shot after shot. The nickel-plated brass cases ensure reliable feeding and chambering, while the flat nose design provides optimum penetration. Each round is loaded to exacting specifications and undergoes rigorous quality control testing to ensure peak performance. Whether you're chasing a big game in Africa or whitetail in North America, Nosler Solid ammunition will help you put your trophy on the ground.
11# Nosler – 458 Winchester Magnum – 500 Grain – 20 Rounds
For years, hunters have put their trust in Nosler bullets because of the quality and consistency. This ammunition is sure to perform well because it has been checked for length and neck trued, chamfered, and sized. Powder charges are weighed before being cast and each finished round is examined and polished before leaving the factory to ensure the best quality ammo for the consumer. With choices like the Partition or Nosler Solid bullet, you can be confident knowing your ammunition will perform perfectly no matter what situation you find yourself in. Whether you're hunting dangerous game in Africa or anywhere else in the world, Nosler Safari Ammunition gives you the confidence you need to take down your trophy.
Storage🗄️
Storing ammunition properly is essential to maintain its efficacy and prevent accidents. Here are some crucial rules to follow:
✔️ Dry Environment: Always store ammo in a dry environment. Humidity can cause rust and corrosion, which can deteriorate the ammunition's performance.
✔️ Cool Conditions: High temperatures can damage your ammo. Try to keep it in a cool place, away from direct sunlight or heat sources.
✔️ Original Packaging: It's best to keep ammunition in its original packaging. The manufacturers designed these to protect the ammo during storage.
✔️ Safe and Secure: Your ammunition should be stored in a locked and secure location, out of the reach of children or unauthorized persons.
✔️ Avoid Mixing: Don't mix different types or calibres of ammo. This can lead to confusion and potential mishaps.
✔️ Off the Floor: If possible, don't store your ammo directly on the ground. Use shelving or storage containers to keep it elevated and safe from potential water damage.
✔️ Regular Checks: Regularly inspect your stored ammunition for signs of damage or deterioration.
✔️ Dispose of Damaged Ammo: Never use ammo that appears to be damaged or corroded. Dispose of such ammunition properly.
✔️ Rotate Your Stock: Use older ammunition first and replenish with new stock to ensure your ammo doesn't get too old.
✔️ Follow Local Laws: Lastly, always follow local laws and regulations related to ammunition storage. They can vary, so be sure to know what applies in your area.
Transportation 🚚
Transporting ammunition requires careful planning and adherence to local and federal laws. Always store the ammunition in a well-constructed, secure container that prevents movement or damage during transport. Avoid leaving ammunition in vehicles for extended periods, especially in high-temperature conditions, as this can cause degradation. Always check local laws and regulations regarding ammunition transport, as regulations can vary widely.
Cases for Storing 💼
Specialized ammunition cases are a great option for storing and transporting rounds. These cases, often made from durable materials like hard plastic or metal, offer a secure, organized way to store your ammo. They come with individual slots for each round, preventing them from knocking into each other and causing potential damage. Some cases also provide seals to prevent moisture intrusion, further ensuring the longevity of your ammunition.
When choosing an ammunition case, consider factors like size, capacity, material, waterproofing, and lock features to ensure it best suits your needs.
FAQ❓
Conclusion🤩
The .458 Winchester Magnum ammunition stands as an exemplar of power, precision, and versatility. Designed to meet the demanding requirements of big game hunting, its high velocity and substantial bullet weight make it a trusted choice for hunters worldwide. Its impressive stopping power has earned it a stellar reputation, particularly among African safari hunters. Moreover, it isn't limited to hunting alone; its use in sport shooting events and as a reliable means of wilderness self-defence showcases its versatility. Available in multiple types to suit various scenarios, this ammunition provides reliability and performance, making it a must-have for any serious shooter. Always remember, that the correct choice of ammunition can make a significant difference in your shooting experience, so choose wisely.
Affiliate Disclosure: Rotorm.com sometimes gets paid for listings, through sponsors or affiliate programs like Amazon, Optics Planet, Lucky Gunner, Brownells, Cabelas, Rainier Arms, 5.11 Tactical, Bass Pro Shop, etс. Clicking a link helps keep Rotorm.com free, at no extra cost to you!
About the author: Each article on our site is written by experts in survival and tactical equipment, gun enthusiasts, extreme travelers, military, law enforcement and desperate professionals, read about the author at the bottom of the article or visit "About Us" page.
Note: The views and opinions expressed in this article are those of the authors and do not necessarily reflect the official policy or position of any agency.