What is 45 Long Colt ammo?🤔
It is a type of centerfire revolver cartridge originally developed for use in the Colt Single Action Army revolver, also known as the Colt Peacemaker. It was introduced in 1872 by the Colt Manufacturing Company and has since become a popular and iconic round in the United States. This cartridge typically has a bullet diameter of .452 inches (11.5mm) and a case length of 1.285 inches (32.6mm).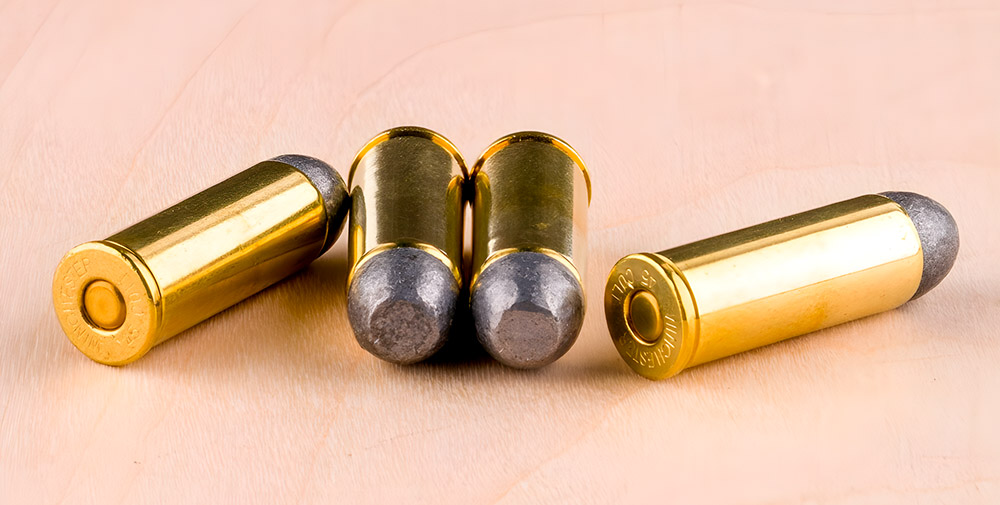 Features📚
The .45 Long Colt ammunition has several features that make it popular and effective for various applications. Here are some key ones:
❇️ With its large diameter and heavy bullet options, it is known for its significant stopping power. It can deliver substantial energy to the target, making it effective for self-defense and hunting larger game.
❇️ The cartridge is available with various bullet designs, including lead round-nose, flat-nose, semi-wadcutter, hollow point, and jacketed hollow point. Shooters can choose the most suitable bullet type based on their specific needs.
❇️ It is used for hunting medium to large game, such as deer and wild hogs, particularly when fired from a strong, modern revolver with appropriate loads.
❇️ These cases can be reloaded, allowing shooters to save money and fine-tune their loads to suit their preferences.
Our Top Pick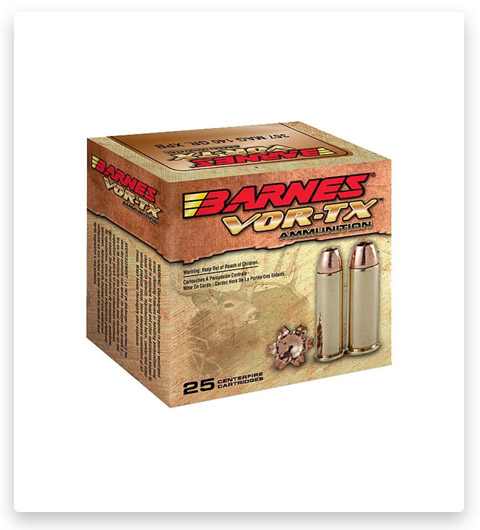 Barnes Vor-TX 45 Colt Ammo 200 Grain
This premium line of ammo offers exceptional value, ensuring you have maximum fun without breaking the bank. What sets it apart is its superior loading, surpassing most other options on the market. It allows you to focus on honing your shooting skills without any worries about ammunition performance. The 200-grain jacketed hollow point (JHP) bullets ensure optimal stopping power and accuracy for your hunting needs. Made with high-quality brass cartridge cases, you can trust the durability and reliability of this ammunition. With a muzzle velocity of 1025 ft/s, you'll experience consistent and controlled shooting performance.
Buy Now On OpticsPlanet
If you click this link and make a purchase, we earn a commission at no additional cost to you.
Benefits🤩
The .45 Long Colt ammunition offers several advantages that have contributed to its enduring popularity over the years. Here are some of the key benefits:
⭐️ Stopping Power: One of the primary advantages is its significant stopping power. The large caliber and heavy bullets can deliver substantial energy to the target, making it effective for self-defense situations and hunting larger games.
⭐️ Versatility: It can be used in both single-action and double-action revolvers, providing versatility for shooters who prefer different types of firearms. It can also be used in lever-action rifles chambered for .45 Colt, further expanding its applications.
⭐️ Cowboy Action Shooting: This is a popular choice for cowboy action shooting competitions. The historical significance of the cartridge, as well as its association with the Old West, adds to the appeal of using it in these events.
⭐️ Historical Significance: It has a rich history and is associated with legendary firearms like the Colt Single Action Army revolver, which adds to its allure for history enthusiasts and collectors.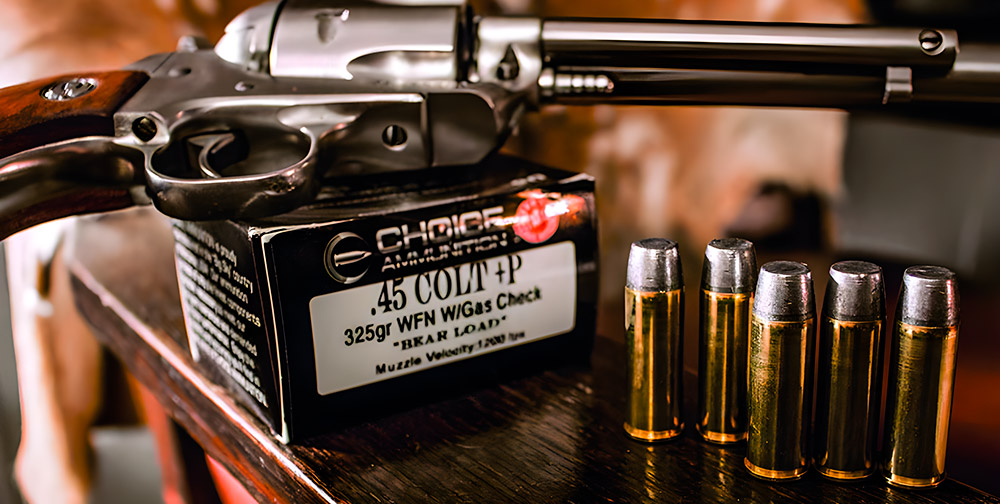 Can shoot it at 1000yards?🎯
The .45 Long Colt cartridge is not designed or intended for long-range shooting, especially at distances as far as 1000 yards (approximately 914 meters). It is a handgun cartridge with a relatively low muzzle velocity and a trajectory optimized for shorter ranges typically encountered in self-defense, hunting, and cowboy action shooting.
💥 When fired from a typical revolver or lever-action rifle, the effective range is generally limited to around 50 to 100 yards (45 to 91 meters). Beyond these distances, the bullet's trajectory will drop significantly, making accurate shooting at 1000 yards virtually impossible.
📌 If you're interested in long-range shooting, it's essential to use the appropriate firearms and ammunition specifically tailored for the task. Attempting to shoot a .45 Long Colt at 1000 yards would be highly impractical and ineffective.
45 Long Colt Ammo Review | Top-3 45 Long Colt Ammo
| Image | Product | Brand | |
| --- | --- | --- | --- |
| | Sig Sauer V-Crown 45 Colt Ammo 230 grain | Sig Sauer | |
| | Barnes Vor-Tx 45 Colt Ammo 200 grain | Barnes | |
| | Liberty Civil Defense 45 Long Colt Ammo 78 grain | Liberty Civil Defense | |
1# Sig Sauer V-Crown 45 Colt Ammo 230 grain
Introducing the Sig Sauer V-Crown 45 Colt Ammo, designed to deliver top-tier accuracy, reliability, and performance for personal defense. This ammunition is a game-changer, providing you with the peace of mind you need when it matters most. The stacked hollow point design sets new standards for self-defense ammunition. By incorporating a smaller, secondary hollow point cavity behind the main one, these bullets ensure controlled and uniform expansion at all effective distances and velocities. The result? Unmatched stopping power that you can rely on. The V-shaped jacket skives and scores on these bullets further enhance their performance, promoting controlled expansion and penetration with every shot. Embrace confidence and elevate your self-defense game with this ammunition. It will empower you to face any situation with the utmost assurance in your gear and abilities!
2# Barnes Vor-TX 45 Colt Ammo 200 grain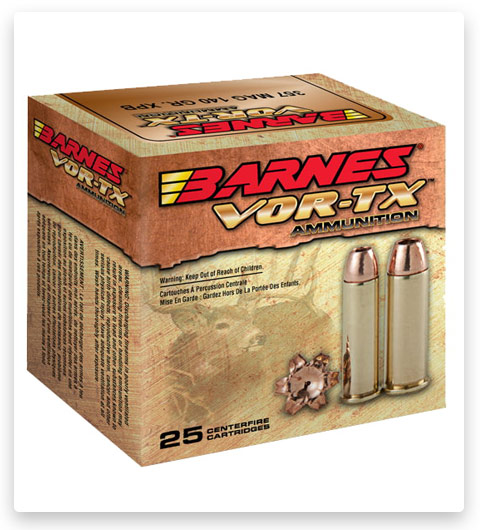 Discover the Barnes Vor-TX 45 Colt Ammo – a top-value choice for your shooting adventures. As a team of passionate shooters, we've put this premium line of ammo to the test and found it to be a perfect blend of quality and affordability. The ballistics on these bullets are impressive, and we were pleased to find that they feed reliably and effortlessly, enhancing our shooting sessions. It stood out among other options, loading better than most and allowing us to sharpen our skills with every shot. The 200-grain jacketed hollow point (JHP) bullets provide the stopping power needed for hunting applications, making them versatile and effective for various shooting scenarios. The brass cartridge cases are top-notch, ensuring durability and smooth extraction. With a muzzle velocity of 1025 ft/s, you can trust the consistent performance of this ammunition. Whether you're honing your skills or heading out for a hunting adventure, these rounds have got you covered.
3# Liberty Civil Defense 45 Long Colt Ammo 78 grain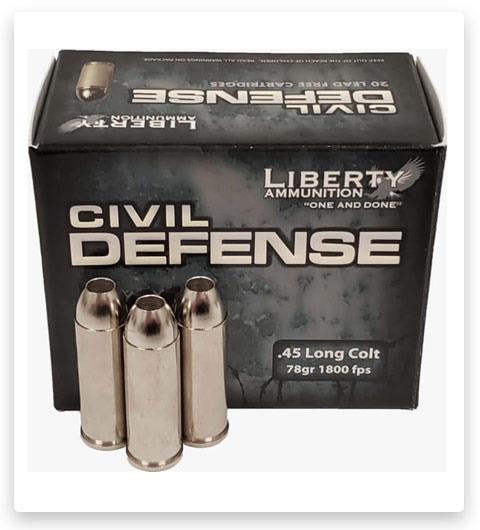 If you're seeking the ultimate self-defense round for your 45 Colt, look at the Liberty Civil Defense 45 Long Colt Ammo. These rounds deliver far more kinetic energy while maintaining less recoil, ensuring optimal shooting comfort and control. What sets these projectiles apart is their unique design, purposefully crafted for maximum damage and tissue disruption. Moreover, rounds fragment into a starburst pattern upon explosion, creating multiple wound channels for unparalleled effectiveness. Not only do they perform well against barriers, but they also reduce the risk of over-penetration and unintended casualties, a crucial consideration in self-defense situations. The lighter projectile design contributes to less muzzle flip, facilitating faster follow-up shots, essential for maintaining control in high-pressure scenarios. Trust in this ammo for unmatched stopping power and enhanced safety when it matters most.
Reloading step-by-step🧑‍🔧
Reloading .45 Long Colt ammunition, like any other cartridge, requires careful attention to detail and adherence to proper reloading practices to ensure safety and performance. Below is a general overview of the steps involved in reloading it:
| | |
| --- | --- |
| ➡️ Step 1: Gather Equipment and Components | 🧩 You'll need the following equipment and components: reloading press, reloading dies, brass cases (previously fired and inspected for defects), primers (appropriate for .45 Long Colt), powder (suitable for .45 Long Colt and the specific bullet weight), bullets (appropriate for .45 Long Colt), powder scale or dispenser, calipers for measuring cartridge overall length (COL), reloading manual (for recommended powder charges and load data). |
| ➡️ Step 2: Clean and Inspect Brass Cases | 🧩 Before reloading, clean the brass cases to remove any dirt, debris, or residue from previous firing. Inspect each case for any signs of damage, such as cracks or splits, and discard any questionable cases. |
| ➡️ Step 3: Resize and Deprime Cases | 🧩 Run the brass cases through the resizing die in your reloading press to restore them to the correct dimensions. This step also removes the spent primers from the cases. |
| ➡️ Step 4: Prime Cases | 🧩 Using a priming tool, insert new primers into the primer pockets of the resized cases. |
| ➡️ Step 5: Charge Cases with Powder | 🧩 Carefully measure the appropriate powder charge for your chosen bullet weight and type, following the load data from your reloading manual. Use a powder scale or dispenser to ensure precise and consistent charges. |
| ➡️ Step 6: Seat the Bullets | 🧩 Insert the charged cases into the reloading press and set up the bullet seating die. Adjust the die to achieve the desired cartridge overall length (COL) for your chosen bullets. Carefully seat the bullets to the correct depth. |
| ➡️ Step 7: Crimp the Cases | 🧩 If desired, use a separate crimping die to apply a proper crimp to secure the bullet in the case and prevent bullet movement during recoil. |
| ➡️ Step 8: Inspect Finished Rounds | 🧩 Once all the steps are completed, inspect each reloaded round for proper powder charge, primer seating, bullet seating, and overall length. Check for any defects or anomalies that could compromise safety. |
| ➡️ Step 9: Store and Label | 🧩 Store the reloaded ammunition safely, away from heat and moisture, and label the containers with the cartridge type, bullet weight, and powder charge data for future reference. |
❗ Always start with conservative powder charges and work your way up, checking for signs of excessive pressure during test firing. It's essential to follow recommended load data from reliable reloading manuals and continually prioritize safety throughout the process.
FAQ🤠
Conclusion😊
45 Long Colt Ammo is a popular caliber for many shooters, a versatile cartridge with a rich history dating back to the Old West era. Its applications range from self-defense and hunting to cowboy action shooting and historical reenactments. In this article, we've taken a look at different ammo rounds and given our recommendations for how the right round for your needs. Thanks for reading!😉❤️‍🔥
Tags: 45 long colt ammo, .45 long colt ammo, 45 long colt hunting ammo, 45 long colt ammo review, cheapest 45 long colt ammo, best 45 long colt ammo
#Best #45 Long Colt #Ammo #Review #Remington #Winchester #Self #Homme #Defense #Hornady #Sale #Ballistics #Cheapest
Affiliate Disclosure: Rotorm.com sometimes gets paid for listings, through sponsors or affiliate programs like Amazon, Optics Planet, Lucky Gunner, Brownells, Cabelas, Rainier Arms, 5.11 Tactical, Bass Pro Shop, etс. Clicking a link helps keep Rotorm.com free, at no extra cost to you!
About the author: Each article on our site is written by experts in survival and tactical equipment, gun enthusiasts, extreme travelers, military, law enforcement and desperate professionals, read about the author at the bottom of the article or visit "About Us" page.
Note: The views and opinions expressed in this article are those of the authors and do not necessarily reflect the official policy or position of any agency.