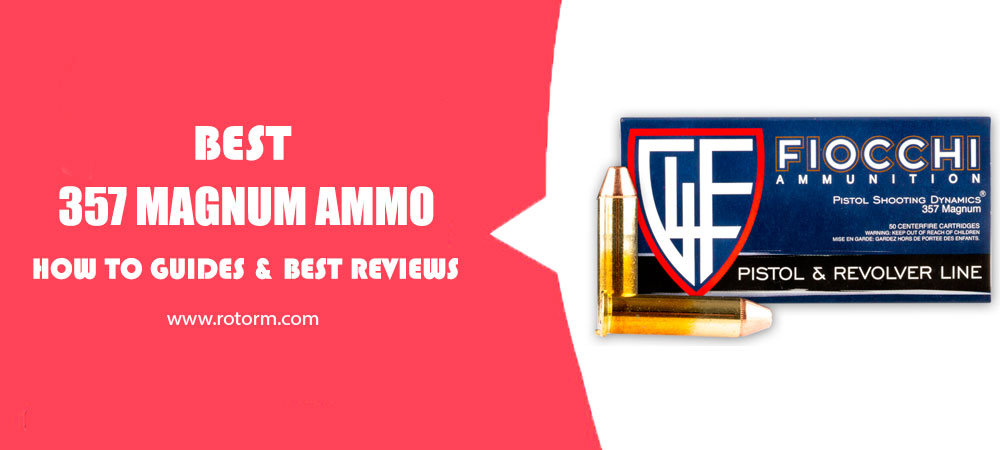 What is 357 Magnum ammo?🤔
It refers to a type of handgun cartridge that is widely used for self-defense, target shooting, and hunting. It is an extremely versatile cartridge useful for hunting small and medium game like deer, hogs, and black bears at short to moderate distances. With proper firearm selection, it is an excellent all-around handgun cartridge.
Features✒️
Here are some key features and capabilities of 357 Magnum ammunition:
✅ High velocity – Muzzle velocities typically range from 1,200 to 1,500 fps, delivering significant energy and recoil in handguns. This allows for flat trajectories and longer effective ranges.
✅ Stopping power – The kinetic energy produced by еруіу rounds is quite high, delivering excellent stopping power in self-defense scenarios. Rapid energy transfer is aided by bullet expansion.
✅ Effective range – In revolvers or pistols, practical accuracy, and impact are achieved out to 100-125 yards typically. Skilled shooters can extend this range further.
✅ Manageable recoil – Despite its power, the 357 Magnum has very manageable recoil in full-size revolvers and pistols. Perceived recoil is less than expected.
Our Top Pick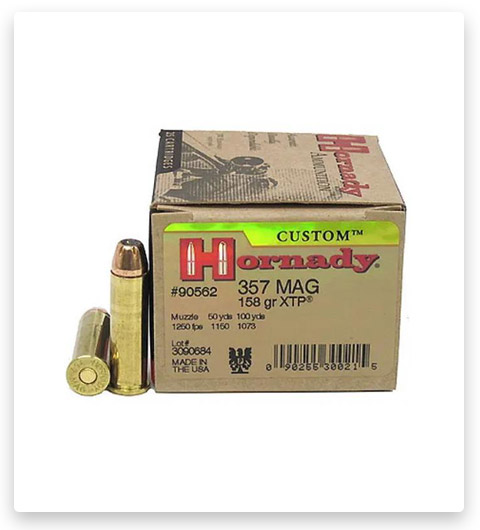 JHP – Hornady Custom – 357 Mag – 158 Grain – 25 Rounds
Handgun enthusiasts seeking superior accuracy and potent stopping power have come to rely on this ammunition. It features the renowned Hornady XTP (Extreme Terminal Performance) bullet, as well as FMJ or FTX bullets. Every single round undergoes meticulous hand inspection before packaging, ensuring top-notch quality control. These cartridges are meticulously loaded with powders calibrated to attain ideal pressure, velocity, and consistency across different batches. Each primer is carefully matched to specific loads and meticulously chosen for its capacity to promptly, thoroughly, and reliably ignite the powder charge.
Buy Now On OpticsPlanet
If you click this link and make a purchase, we earn a commission at no additional cost to you.
Benefits🔥
357 Magnum ammo is a powerful and popular cartridge that offers several benefits for those who use it. Here are some of the key advantages:
💣 One of the major benefits is its versatility. Most .357 Magnum revolvers are capable of also firing .38 Special ammunition, a milder and more commonly available cartridge.
💣 Many hunters appreciate this cartridge for hunting small to medium-sized game, such as deer or wild boar, at closer ranges. It provides sufficient power and energy to take down such a game with proper shot placement.
💣 It is commonly chambered in revolvers and lever-action rifles, which can offer a more reliable and simpler mechanism compared to semi-automatic handguns. This makes it a favored choice for individuals who value the reliability of these firearms.
💣 Such ammunition is widely available in a variety of bullet types, including hollow points for self-defense, flat-nosed bullets for target shooting, and heavier projectiles for hunting. This wide selection allows shooters to tailor their ammunition choice to their specific needs.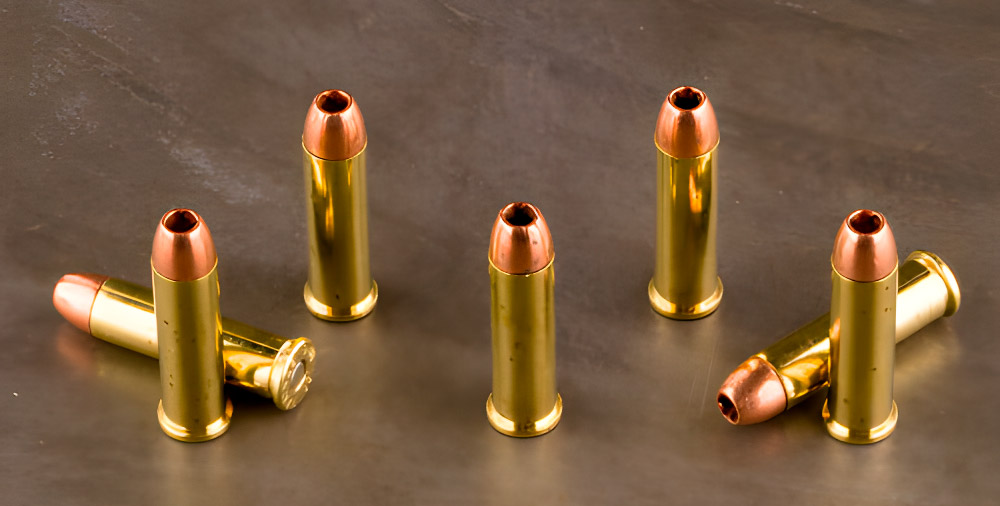 Battle: 357 Mag ammo vs 44 Mag ammo💥
The debate between .357 Magnum and .44 Magnum ammo has been a long-standing one, with enthusiasts and experts discussing the merits of each cartridge for various purposes. Let's break down the characteristics and benefits of each cartridge to help you understand their differences:
🧩 .357 Magnum:
🧩 .44 Magnum:
🔷

Power

: This cartridge offers substantial power and stopping power, particularly when fired from a full-sized revolver. It's considered a versatile cartridge suitable for self-defense, target shooting, and even hunting smaller games.
🔷

Power

: This cartridge is known for its significant power and energy. It's often chosen for hunting larger game, such as deer and even bear, due to its greater stopping power compared to the .357 Magnum.
🔷

Recoil

: While the recoil is manageable, it can still be snappy, especially in lightweight handguns. This might affect accuracy and control for some shooters, especially those who are less experienced.
🔷

Recoil

: The recoil is notably stronger than that of the .357 Magnum. This can make it more challenging to control and shoot accurately, especially for those with less experience or weaker recoil tolerance.
🔷

Ammunition Variety

: .357 Magnum revolvers can also fire .38 Special ammunition, providing greater versatility. Shooters can practice with milder .38 Special rounds and switch to more potent .357 Magnum loads as needed.
🔷

Limited Firearm Options

: While .44 Magnum revolvers are available, they might be less common than .357 Magnum revolvers. Additionally, the .44 Magnum is less frequently chambered in other types of firearms, limiting its versatility.
🔷

Accuracy and Range

: Such cartridge generally offers good accuracy at medium ranges, making it suitable for target shooting and self-defense scenarios.
🔷

Hunting Capability

: It is favored by hunters for its ability to take down larger game at medium ranges. The heavier bullets and greater energy make it more suitable for this purpose compared to the .357 Magnum.
☑️ In summary, the choice between .357 Magnum and .44 Magnum largely depends on your intended use and personal preferences:
➡️ If you're searching for a versatile cartridge that can be used for self-defense, target shooting, and hunting smaller game, the .357 Magnum might be a better choice due to its manageable recoil and availability of revolvers.
➡️ If your primary focus is hunting larger games and you're comfortable with handling heavier recoil, the .44 Magnum's increased power and energy could be more suitable.
📌 Remember that proper shot placement, practice, and familiarity with your chosen cartridge and firearm are crucial regardless of the caliber you choose. It's recommended to try out both cartridges if possible and select the one that aligns with your needs and shooting abilities.
Best 357 Magnum Ammo Reviews
1# JSP – PMC – 357 Mag – 158 Grain – 50 Rounds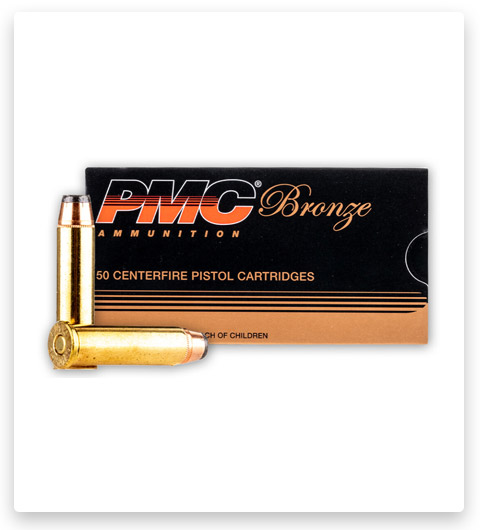 PMC Bronze training ammunition is the perfect choice for high-volume shooters who demand uncompromising quality and performance. This new production, non-corrosive ammunition is boxer primed and made with brass cases. It is great for target practice, range training, and home defense. The precisely engineered copper jacket and swagged lead core provide the necessary concentricity and balance for optimum accuracy. PMC's commitment to quality and reliability is what makes its products stand out from the competition. When you choose this ammunition, you can be confident that you are getting the best possible product for your money.
2# FMJ – Sellier & Bellot – 357 Mag – 158 Grain – 50 Rounds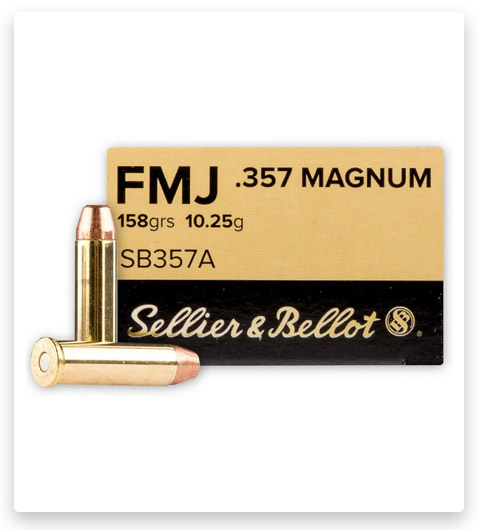 The Sellier & Bellot .357 Magnum ammunition is a great choice for training at the range or plinking with your revolver or lever gun. Based on our experience these well-crafted training rounds are loaded with a 158-grain Full Metal Jacket projectile and come in boxer-primed, noncorrosive reloadable brass cases. Sellier & Bellot is a highly respected Czech manufacturer of ammunition, percussion caps, and other firearms accessories, with a rich history dating back to 1825. Today, they sell their wares to militaries and commercial buyers all over the world and are renowned for their reliability and quality.
3# FMJTC – Fiocchi – 357 Mag – 142 Grain – 50 Rounds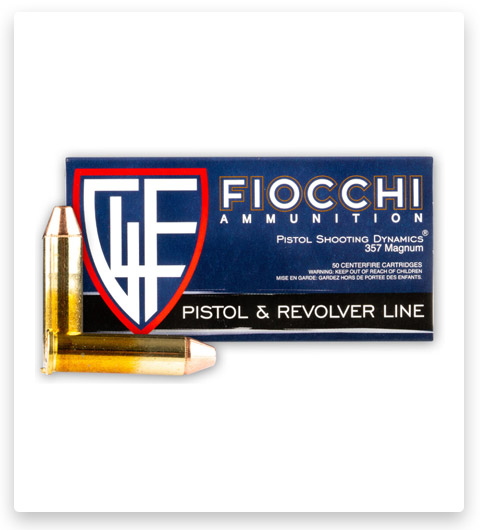 Searching for reliable, inexpensive 357 Magnum ammunition? Fiocchi Shooting Dynamics has you covered. This ammo is ideal for high-volume shooters and hunters, providing outstanding quality and dependability at a terrific price. Loaded with a 142-grain Full Metal Jacket bullet, it is your go-to choice for training, practice, or hunting. The lead projectile and copper full metal jacket create flawless results every time, making this ammo your best bet for an incredible shooting experience. Don't miss your chance to stock up on this essential ammunition – order this ammo today!
4# JHP – Fiocchi – 357 Mag – 158 Grain – 25 Rounds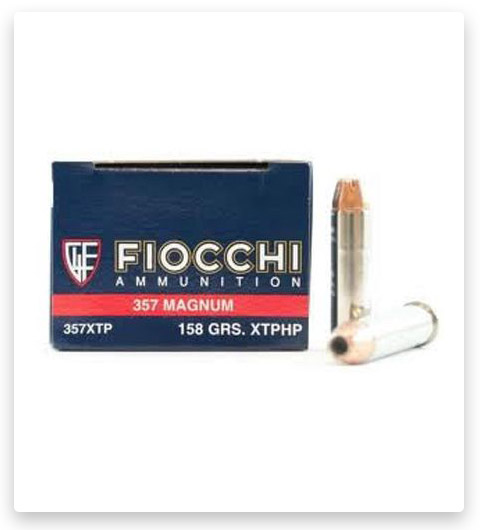 The Fiocchi Extrema line of ammunition is some of the best pistol ammo on the market today. This ammo is loaded with a 158-grain Hornady XTP Jacketed Hollow Point bullet, designed for deep penetration and terminal expansion at a wide range of velocities. Using this product, our team found that the nickel-plated brass cases provide reliable feeding and smooth chamber extraction, making this ammo perfect for self-defense or hunting applications. Don't settle for less than the best when it comes to your pistol ammunition, choose Fiocchi Extrema.
5# JHP – Fiocchi – 357 Mag – 148 Grain – 50 Rounds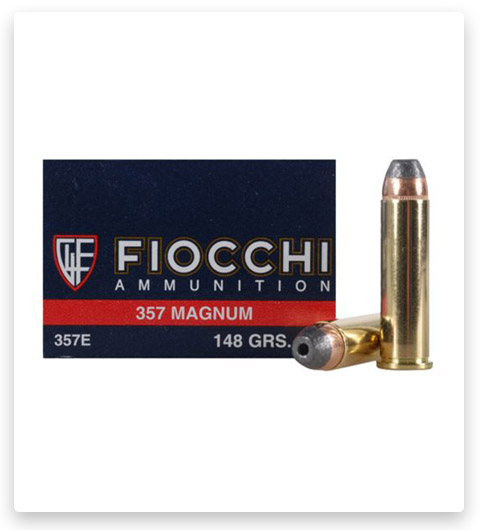 View on LuckyGunner  View on OpticsPlanet
Fiocchi's 357 Mag ammunition features a high energy 148 gr JHP projectile designed to deliver great energy transfer. This 357 Mag round is ideally suited for personal defense with its jacketed hollow point bullet designed for excellent expansion. Offering similar grain weights as the Exacta line this Fiocchi Ammunition allows you to shoot or plink as much as possible. This accurate and reliable ammunition is perfect for any shooting activity. This high-volume load is built for shooting training and practical exercises. With reliable Fiocchi quality control and dependable factory components, such ammunition is perfect for your next range trip or hunt.
6# SJHP – Fiocchi – 357 Mag – 125 Grain – 50 Rounds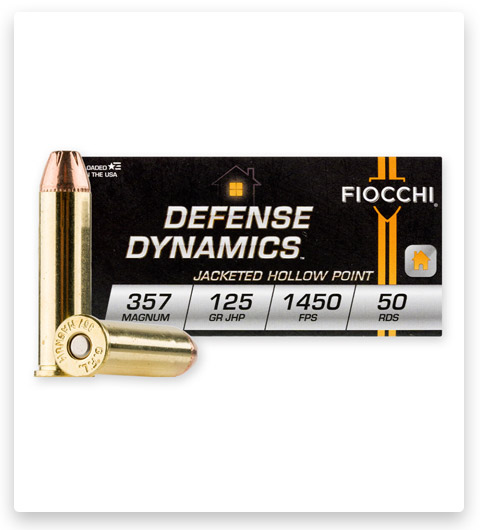 Do you want to get a quality cartridge that won't break the bank? Check out the Fiocchi! This brass-cased, boxer-primed ammunition is perfect for training, target practice, home defense, or plinking. It's consistent, reliable, and affordable. This ammunition is brass-cased, new production, non-corrosive and boxer-primed. It is also reloadable. The bullet weight is 125 grain and the muzzle velocity is 1450 feet per second. The muzzle energy is 584-foot pounds. This quality-made ammunition is an awesome choice for your needs!
7# SJHP – Remington HTP – 357 Mag – 110 Grain – 20 Rounds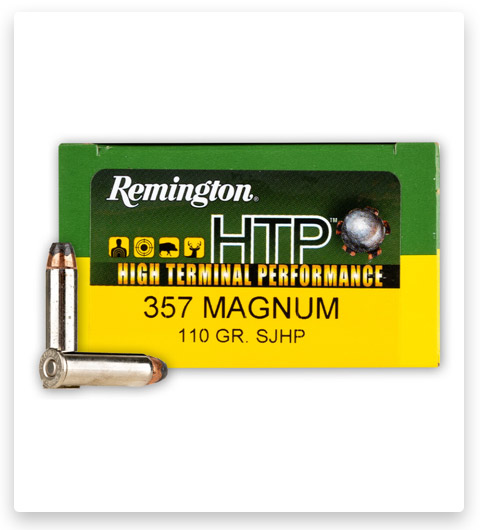 When you need maximum stopping power, reach for Remington's HTP line of ammunition. This 357 Magnum round delivers devastating terminal ballistics that will stop an assailant in their tracks. The 110-grain bullet is on the lighter side, resulting in a fast 1,295 fps muzzle velocity that promotes a flat trajectory. As a semi-jacketed hollow point, the bullet has just enough jacket to prevent lead-on-steel contact in the bore, preserving your firearm's accuracy. The nose cavity isn't constricted by the jacket, however, so it encounters little resistance as it initiates up to double-diameter terminal expansion. When you need maximum stopping power, reach for Remington's HTP line of ammunition.
8# SJHP – Remington HTP – 357 Mag – 125 Grain – 20 Rounds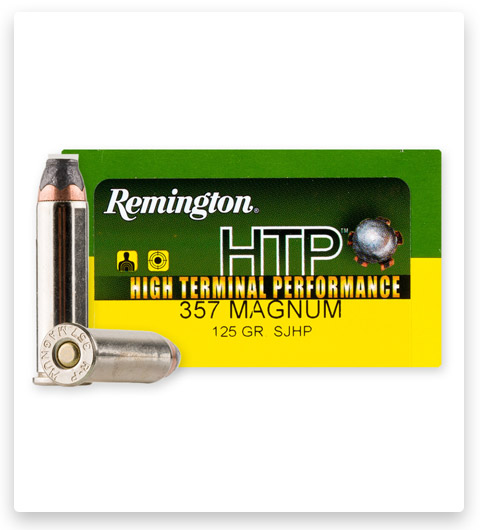 View on LuckyGunner  View on OpticsPlanet
The Remington HTP357 Mag is a high-volume, semi-jacketed hollow point bullet that is designed for exceptional energy delivery and impressive penetration. Based on our own experience the two-pronged hollow point cavity of the bullet creates massive wound cavities that quickly separate from the thin-walled lead-core bullet, resulting in rapid expansion and high terminal performance. This cartridge is loaded with a lightweight 125-grain bullet and has a muzzle velocity of 1,450 fps, providing a flat and accurate trajectory at close range.
9# JSP – Remington UMC – 357 Mag – 125 Grain – 50 Rounds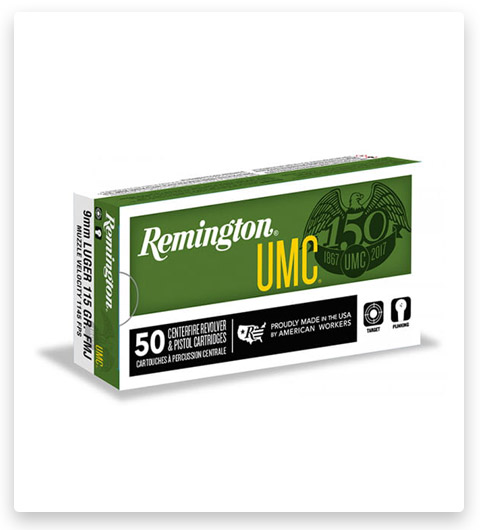 If you need high-volume shooting ammunition that won't sacrifice performance or quality, notice the JSP Remington UMC 357 Mag 125 Grain 50 Rounds. These rounds are made with waterproofed case mouths and primers, plated in nickel to reduce oxidation and improve feeding and extraction, and treated with powders to reduce muzzle flash. Additionally, each bullet is made with Remington components right here in the USA. So if you're searching for reliable, high-quality handgun ammunition, choose this ammunition!
10# SJHP – Remington High Terminal Performance – 357 Mag – 158 Grain – 20 Rounds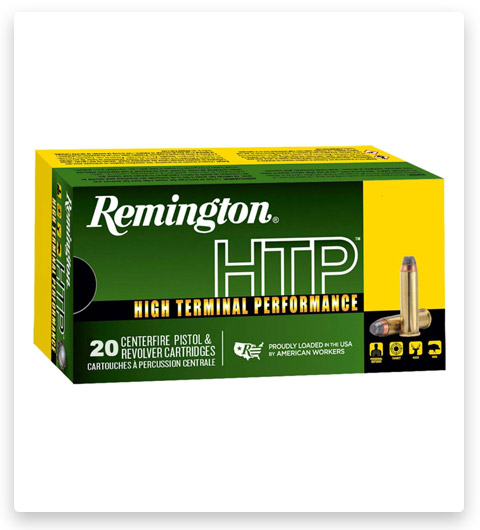 Introducing the Remington High Terminal Performance .357 Magnum 158 Grain Semi-Jacketed Hollow Point (SJHP) rounds. From one of the most reliable brands in firearms, these rounds are sure to deliver some serious firepower. The double-diameter expansion is perfect for taking down targets, and the brass cases are re-engineered to be tighter than ever before. Stay alert and prepared to handle any mission in any environment when you have rounds of this reliable Remington ammunition.
11# JSP – Federal American Eagle – 357 Mag – 158 Grain – 50 Rounds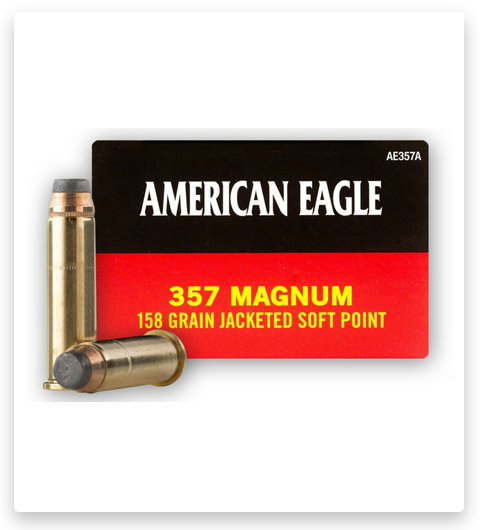 The Federal American Eagle .357 Mag is a newly manufactured product that is excellent for self-defense, target practice, and tactical exercises. Each round is brass-cased, boxer-primed, non-corrosive, and reloadable. The bullets are designed for maximum energy transfer upon impact but controlled expansion (a result of the jacketing). Our research has shown that the product is both economical and precision manufactured in the United States by an established U.S. cartridge producer. With a muzzle velocity of 1240 fps and a muzzle energy of 539 ft-lbs, this product is sure to meet your needs.
12# Lead-Free HP – Barnes TAC-XPD – 357 Mag – 125 Grain – 20 Rounds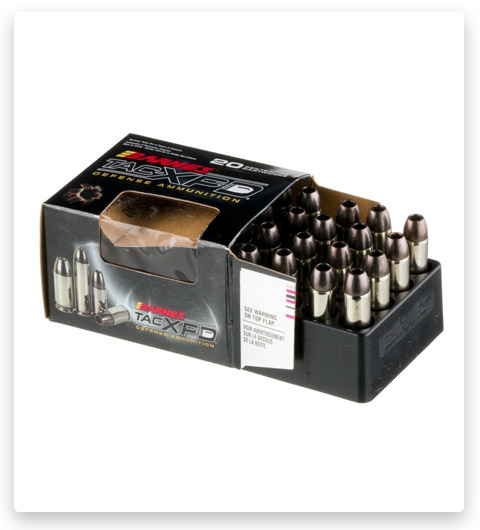 View on LuckyGunner  View on OpticsPlanet
These magnificent rounds utilize Techni-Crom plated brass casings which offer twice as much corrosion resistance as the nickel-plated variety. In addition, the unique composition of the brass provides for a smoother feeding and ejection process via a minuscule friction coefficient. That means that these reloadable cartridge cases will always slide effortlessly into the cylinder and will never resist movement from your favorite wheel gun's ejector rod. Each casing is equipped with a clean-igniting boxer primer, filled with low-flash propellant, and crowned with Barnes's time-proven TAC-XP projectile. You simply cannot go wrong when you choose Lead-Free HP – Barnes TAC-XPD – 357 Mag – 125 Grain – 20 Rounds for your next range session or hunting excursion!
13# XPB HP – Barnes Vor-TX – 357 Mag – 140 Grain – 20 Rounds
View on LuckyGunner View on OpticsPlanet
When it comes to high-quality, dependable handgun hunting rounds, the XPB HP from Barnes is hard to beat. This bullet has an all-copper hollow point design that is meant to rapidly expand to twice its original diameter upon contact, making it ideal for taking down animals. With no chance of jacket/core separation, you can be sure that this bullet will provide maximum tissue and bone destruction for a quick, humane kill. The polyethylene sleeve on each cartridge prevents clogging, re-engagement, or deformation that can cause accuracy problems – ensuring that you make the most of every shot. So whether you're hunting deer, hogs, or other game animals, make the XPB HP your go-to choice for outstanding performance in the field.
14# MonoFlex – Hornady Handgun Hunter – 357 Mag – 130 Grain – 25 Rounds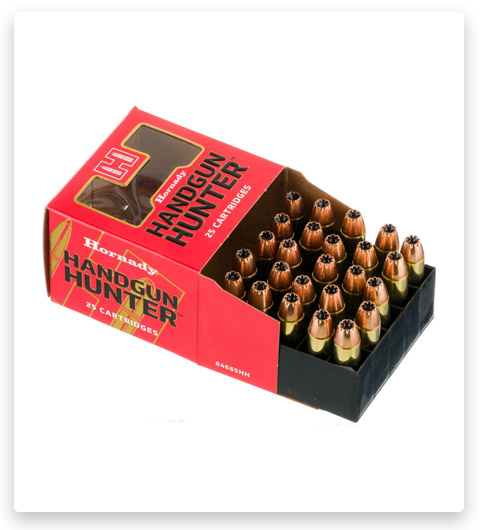 View on LuckyGunner View on OpticsPlanet
The Hornady Handgun Hunter – 357 Mag – 130 Grain – 25 Rounds is a great choice for those who need a reliable and powerful cartridge. This cartridge is equipped with Hornady's 130-grain MonoFlex, which is a solid copper hollow point with black elastomer filling its nose cavity. When the elastomer compresses during penetration, it forces rapid outward expansion that deals significant damage to surrounding soft tissues. The MonoFlex's all-copper composition makes it unusually rugged and able to penetrate deeply into targets. Additionally, the bullet loses no more than 5% of its weight during penetration, which all but guarantees a deep and deadly wound channel. This round also has a muzzle velocity of 1,250 fps, making it a great choice for those searching for a powerful firearm.
15# Spitzer – Hornady Leverevolution – 357 Mag – 140 Grain – 25 Rounds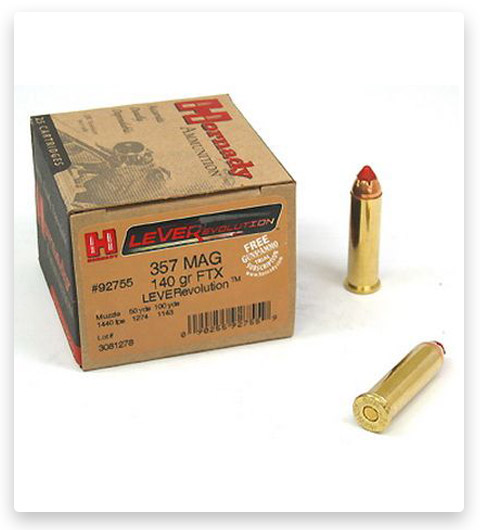 If you're searching for a potent and accurate choice for your lever action firearm, turn to Hornady Leverevolution .357 Magnum 140 grain Centerfire Pistol Ammunition. This top-of-the-line ammo is Contact us today to learn how we can help take your business to the next level with our unique suite of services designed specifically for small businesses. The classic round jacketed bullet provides true powerhouse performance, with the same ballistics and terminal performance as other famous brands of lever action ammo. New propellants provide maximum muzzle velocity at conventional pressures, resulting in flatter trajectories and more downrange energy. With exceptional accuracy and overwhelming downrange terminal performance, this ammunition is a great choice for your next hunting or shooting expedition.
16# JHP – Hornady Custom – 357 Mag – 158 Grain – 25 Rounds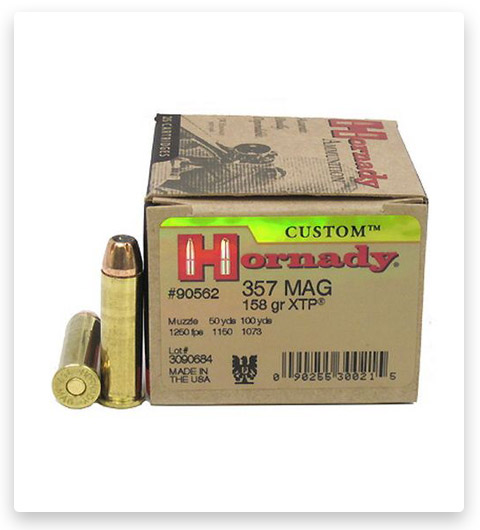 If you want peak performance and stopping power from a factory-loaded round, look no further than Hornady Custom ammunition. rounds go through strict quality control measures, including hand inspection. They've then coupled with the XTP (Extreme Terminal Performance) bullet for unrivaled accuracy. Based on our observations these premium bullets deliver exceptional accuracy and knock-down power, making them perfect for self-defense or hunting applications. In addition, every primer is matched to individual loads for reliable ignition, ensuring consistent performance from lot to lot. Don't settle for anything less than the best – choose Hornady Custom ammo for your next shooting adventure.
17# JHP – Underwood – 357 Mag – 158 Grain – 20 Rounds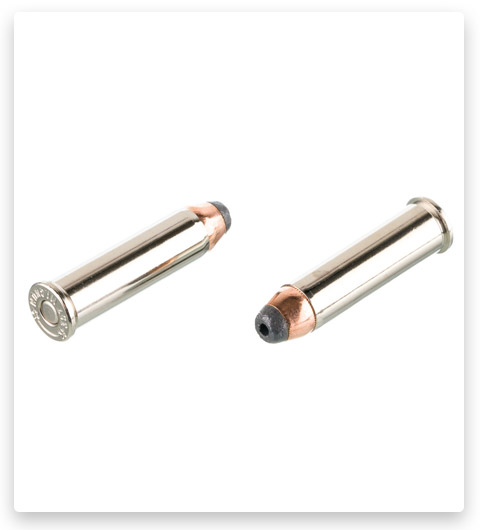 View on LuckyGunner View on OpticsPlanet
When you need to be sure your shot is going to count, you need Underwood Ammo. This JHP in 357 Mag is loaded with Nosler's 158-grain Sporting Handgun jacketed hollow point bullets for exceptional accuracy and terminal expansion. The low-flash propellant means you won't be blinded by your shot if you have to use your firearm in low light, and the accurate trajectory ensures that your shot will find its mark every time. Whether you're a professional shooter or just need some peace of mind on the range, Underwood Ammo is the only choice.
18# HP – Liberty Ammunition Civil Defense – 357 Mag – 50 grain – 20 Rounds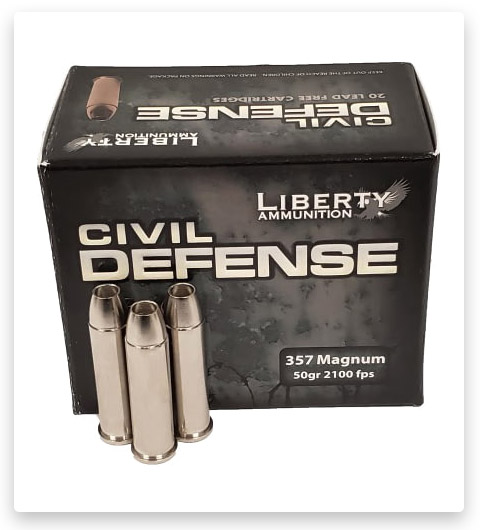 This is a high-quality, reliable product that offers a great deal of features that people want and need. This particular ammunition features very deep hollow points that are designed to rapidly expand upon contact with flesh, creating a large wound channel. Additionally, the petals of the hollow point tend to shear off and form their wound tracks, causing further exsanguination. The central part of the bullet continues to penetrate deeper into the body, typically to a distance of 12-14 inches in ballistic gelatin. This product also offers a penetration depth of 12 inches in ballistic gelatin, which is the arbitrary minimum distance that the FBI has determined is suitable for the needs of its agents. With all of these features, the HP – Liberty Ammunition Civil Defense – 357 Mag – 50 Grain – 20 Rounds is an excellent choice for anyone looking for a reliable, high-quality personal defense round.
19# JSP – Federal Premium American Eagle – 357 Mag – 158 Grain – 50 Rounds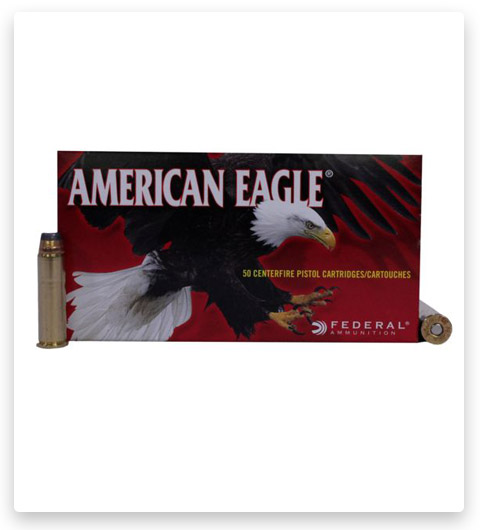 Introducing the JSP – Federal Premium American Eagle – 357 Mag – 158 Grain – 50 Rounds. Invest in quality with American Eagle Centerfire Handgun Ammunition. You can turn down the noise you make while shooting without having to sacrifice for performance. These bullets offer superior accuracy and they give you reliability. They offer cleanliness that is only brought about by a hand-selected propellant. Your bullet is weighed and profiled meticulously. You can get noise reduction and clean burning powders making your weapon a clean one. Shoot with skill and confidence each time you pull the trigger.
20# JHP – Federal Premium – 357 Mag – 158 Grain – 20 Rounds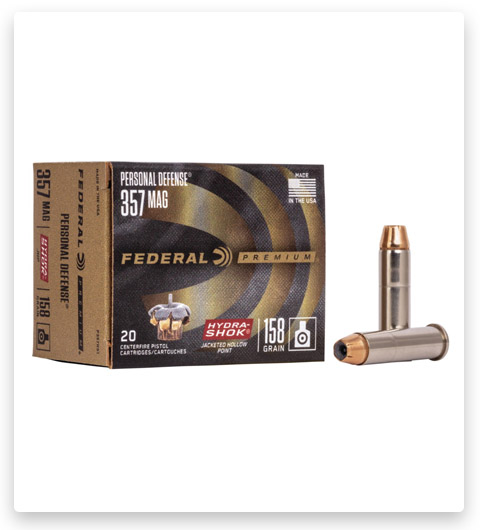 Federal Premium's JHP357 Mag is a high-quality ammunition option for those who need a reliable and powerful round. With superb accuracy and overall ballistic performance, this round is perfect for security agencies and others who demand the best from their ammunition. Our analysis of this product showed that the hydra-shok bullet is designed for controlled expansion and outstanding penetration, making it a great choice for self-defense or other applications where you need a round that will get the job done. Don't settle for less than the best – choose these rounds for your next shooting adventure.
21# BHP – Federal Premium – 357 Mag – 170 Grain – 20 Rounds
When it comes to lever-action ammunition, there is simply no equal to Federal Premium's HammerDown line. These rounds are designed specifically for optimal performance in the field or on the range, with a focus on delivering unparalleled cycling and velocity. Every aspect of the cartridge has been carefully considered, from the geometry of the case and bullet to the powder load, resulting in ammunition that is truly in a class of its own. What's more, the construction of the molecularly bonded soft point bullets has been adjusted for superior accuracy and expansion at high velocities, while the specially designed lead hollow point provides exceptional expansion and weight retention on impact. In other words, this is ammunition you can rely on to get the job done right, every time. You won't be disappointed.
22# Solid – Federal Premium – 357 Mag – 180 Grain – 20 Rounds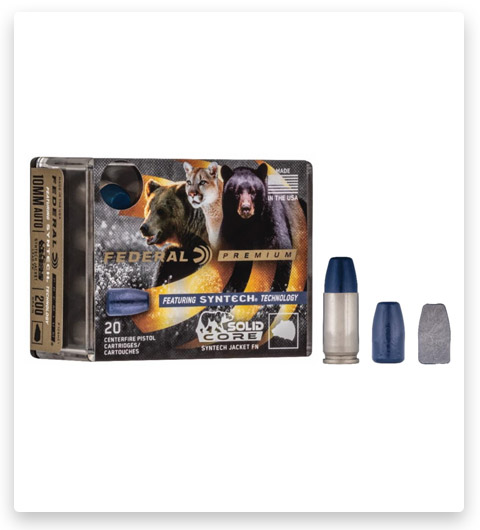 This centerfire pistol ammunition is an excellent choice for anyone searching for quality ammunition. These top-tier bullets are built to penetrate deeply and offer first-rate performance. The flat-nose bullet is formed from extremely hard, high-antimony lead alloy and is designed to withstand impact and penetrate bone. According to our experience the special polymer jacket reduces friction and leading without the need for wax rings or gas checks. So, when you need some serious firepower, make sure to buy the Federal Premium Syntech Solid Core 357 Magnum 180gr Syntech Jacket Solid Core Centerfire Pistol Ammunition.
23# JHP CCI – 357 Mag – 158 Grain – 50 Rounds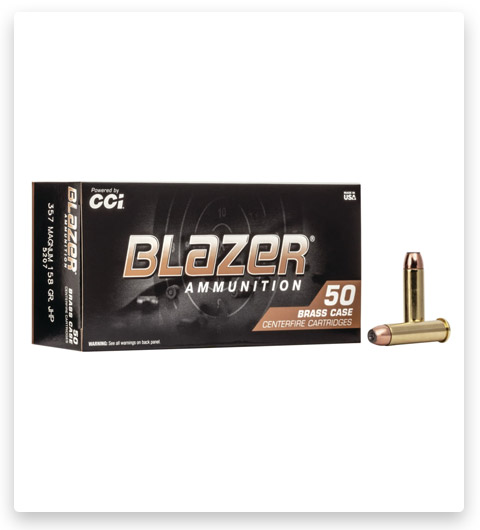 It is designed to achieve uniform ballistics performance while at the same time providing high-impact energy transfer and controlled expansion upon impact. This ammunition is both economical and reliable, making it a great choice for target practice. It is manufactured in the United States by CCI, a subsidiary of ATK, the largest ammunition manufacturer in the United States. The ammo features reloadable brass cases, reliable primers, and clean-burning propellants. Standard boxer-type primers and primer pockets make reloading easy. So if you're looking for an affordable option that still delivers on quality and performance, CCI JHPs are the way to go.
24# JHP – Winchester Super-X – 357 Mag – 158 Grain – 50 Rounds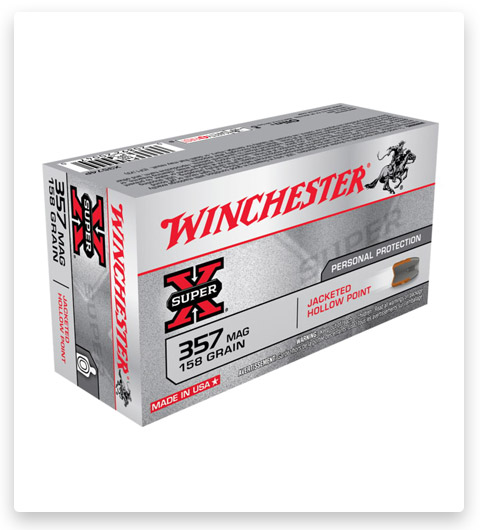 The Winchester Super-X 357 Mag Ammo is designed for those who demand the very best from their ammunition. Featuring a jacketed hollow point (JHP) bullet, this ammo is perfect for taking down big games at any distance. The lead-free powder used in these rounds helps keep your weapon cleaner and reduces the need for frequent maintenance. Additionally, the unique polymer tip eliminates clogging and fouling, ensuring that your weapon will always be ready to go when you need it. Order your own today and see why this ammo continues to be one of the most popular choices among handgun enthusiasts.
25# JHP – Winchester Super-X – 357 Mag – 145 Grain – 20 Rounds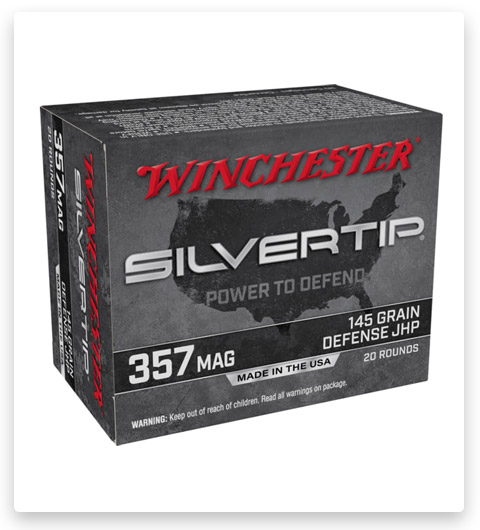 Trusted for decades when it matters most, Silvertip offers a time-proven design with the power to defend. As a result of our tests, we determined that the hollow point provides maximum stopping power for personal defense scenarios, while the engineered jacket profile ensures reliable functioning, precise accuracy, and consistent expansion. With a muzzle velocity of 1290 ft/s and muzzle energy of 536 ft-lbs, this ammunition is sure to stop any threat in its tracks.
Reloading for beginners🧑‍🔧
Reloading ammunition can be a rewarding and cost-effective hobby, but it's essential to approach it with safety and caution, especially if you're a beginner. Here's a general guide on how to reload .357 Magnum ammunition for beginners:
⏰ Gather Necessary Equipment: Before you start reloading, you'll need to gather the required equipment and components.
⏰ Choose a Recipe: Select a safe and reliable reloading recipe (also known as load data) from a reputable reloading manual or online resource. This recipe will provide you with information on the appropriate powder charge, bullet type, primer, and overall length for the .357 Magnum.
⏰ Clean and Inspect Brass: If you're using once-fired brass, inspect each case for cracks, dents, or other defects. Clean the cases using a tumbler or another suitable method to remove dirt, debris, and carbon buildup.
⏰ Resize and Deprime: Use the resizing die to reshape the brass case to its original dimensions. This step also removes the spent primer from the case.
⏰ Prime the Cases: Place a new primer into the primer holder on your reloading press and use the priming die to press the primer into the case's primer pocket. Make sure the primer is seated properly and fully.
⏰ Charge Powder: Use a powder scale to measure the appropriate powder charge according to the recipe you've chosen. Once measured, carefully pour the powder into each case using a powder dispenser. Be cautious not to spill or mix powders.
⏰ Seat the Bullet: Place a bullet on the mouth of the case and use the seating die to press the bullet into the case to the proper depth. This depth affects accuracy and overall cartridge length.
⏰ Crimp (Optional): Depending on your reloading recipe and firearm, you might need to apply a slight crimp to the case mouth to prevent the bullet from moving during recoil. This step can improve consistency in performance.
⏰ Inspect and Measure: After seating the bullet, use calipers to measure the overall cartridge length to ensure it matches your recipe's specifications. Check for any visible defects in the completed cartridge.
⏰ Test and Monitor: Start with a few test rounds and gradually work your way up, paying attention to how your firearm performs with your reloads. Keep detailed records of your reloading process, including powder charges and results, for future reference.
⏰ Safety First: Always prioritize safety when reloading. Follow recommended load data precisely, double-check your measurements, and wear appropriate safety gear, including eye protection.
📌 It's highly recommended that beginners seek guidance from experienced reloaders, attend reloading classes or workshops, and thoroughly study reliable reloading manuals before attempting to reload ammunition. Reloading can be a rewarding endeavor, but safety and accuracy are paramount.
FAQ🤓
Conclusion🙂
In conclusion, the .357 Magnum is a powerful cartridge with plenty of benefits for target shooting and hunting. With so many options on the market, finding the right ammo for your needs can be a daunting task, but it is well worth it to protect yourself and those around you. We have provided you with some tips to help make the process easier, but you must find what works best for you. Thanks for choosing us as your source of information!🥰 ❤️‍🔥
Affiliate Disclosure: Rotorm.com sometimes gets paid for listings, through sponsors or affiliate programs like Amazon, Optics Planet, Lucky Gunner, Brownells, Cabelas, Rainier Arms, 5.11 Tactical, Bass Pro Shop, etс. Clicking a link helps keep Rotorm.com free, at no extra cost to you!
About the author: Each article on our site is written by experts in survival and tactical equipment, gun enthusiasts, extreme travelers, military, law enforcement and desperate professionals, read about the author at the bottom of the article or visit "About Us" page.
Note: The views and opinions expressed in this article are those of the authors and do not necessarily reflect the official policy or position of any agency.