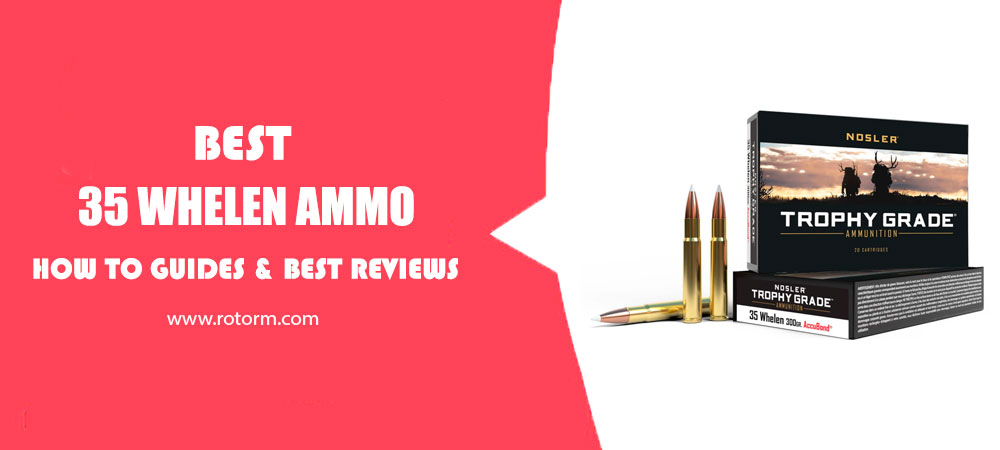 What is 35 Whelen ammo?🤔
It is a rifle cartridge developed by Colonel Townsend Whelen in the early 1920s. It is based on the .30-06 Springfield cartridge case, which was a widely used and well-regarded cartridge in its time. This cartridge was created by necking up the .30-06 case to accept a larger caliber bullet, specifically .358 inches in diameter.
Features✒️
The .35 Whelen ammunition, as with any type of ammunition, comes with specific features and characteristics that define its performance. Here are some of the key ones:
☑️ Caliber: This cartridge has a bullet diameter of .358 inches, making it a relatively large caliber cartridge. This larger caliber contributes to increased stopping power and penetration.
☑️ Velocity: The velocity depends on the specific load, bullet weight, and manufacturer. Generally, it operates at moderate velocities suitable for hunting larger games, providing adequate energy for effective shot placement.
☑️ Stopping Power: Due to its larger caliber and heavier bullets, the .35 Whelen offers significant stopping power, making it suitable for hunting animals like elk, moose, and bear. The larger bullet diameter increases wound channels and energy transfer upon impact.
☑️ Penetration: It is known for its deep penetration capabilities, allowing it to break through heavy bone and muscle, reaching vital organs for humane and effective kills.
☑️ Recoil: The increased power also results in higher recoil compared to smaller cartridges. Shooters need to be prepared for the additional recoil when firing rifles chambered in .35 Whelen.
Our Top Pick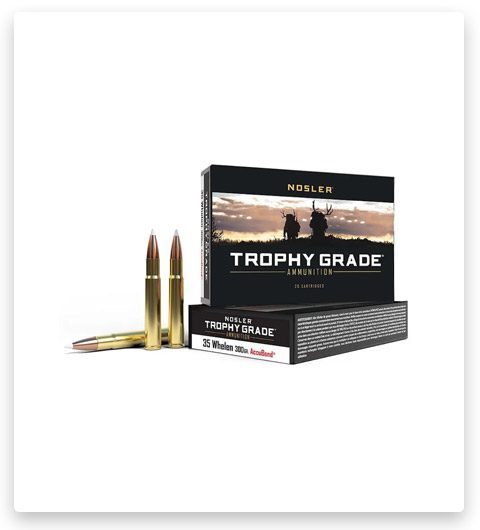 SBT – Nosler Trophy Grade – 35 Whelen – 225 Grain – 20 Rounds
Every round has undergone careful visual inspection, ensuring that measurements and weights are spot on. The bullet type favored here is the Spitzer Boat Tail (SBT), a design known for its aerodynamic properties that contribute to accuracy and performance. The bullet weight of 225 grains offers that sweet spot between energy transfer and penetration, making it a versatile choice for various games. The use of brass as the cartridge case material speaks to the quality and reliability you can expect. It's ammunition that's been crafted with a focus on quality and performance, ensuring that when you're out in the field, you're equipped with ammunition that you can trust.
Buy Now On OpticsPlanet
If you click this link and make a purchase, we earn a commission at no additional cost to you.
Benefits🔥
The .35 Whelen ammunition offers several benefits that make it a popular choice among hunters and shooters who are seeking specific performance characteristics. Some of the advantages include:
✴️ This ammo is versatile in terms of the types of games it can effectively take down. It's suitable for hunting various big game animals, making it a well-rounded choice for hunters who pursue different species.
✴️ It is effective at moderate ranges commonly encountered in hunting scenarios. It offers a good balance between bullet trajectory and energy retention, making shots at distances typically encountered during hunting feasible.
✴️ The larger and heavier bullets of such ammo transfer a significant amount of energy upon impact. This energy transfer contributes to effective shot placement and can help incapacitate the animal more quickly.
✴️ Reloaders can take advantage of the .35 Whelen's reloadability to customize loads to suit specific hunting scenarios and preferences. This allows for tailoring the ammunition for optimal performance in different conditions.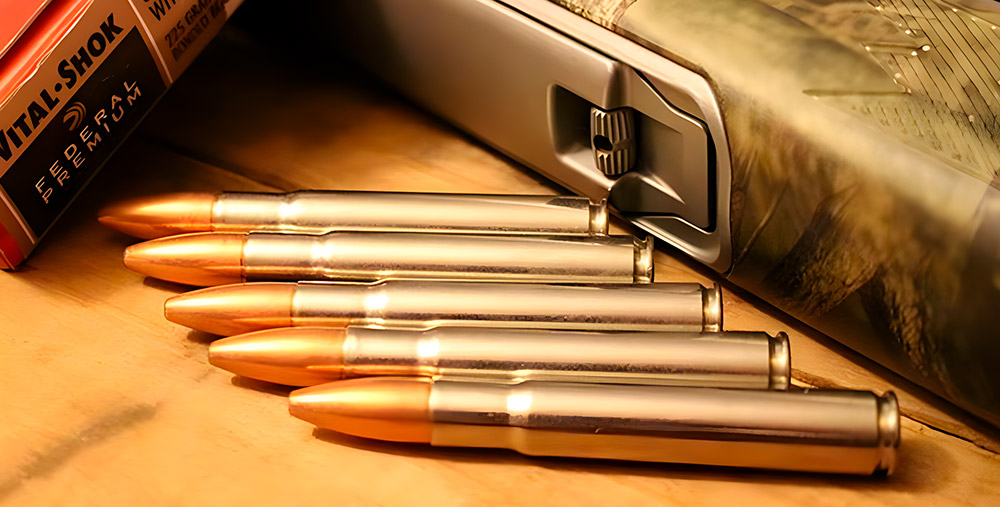 Bullet Drop Explained🎯
Bullet drop refers to the downward trajectory of a bullet's path as it travels downrange. This phenomenon occurs due to the force of gravity acting on the bullet from the moment it leaves the barrel of the firearm. The .35 Whelen cartridge, like any other rifle cartridge, experiences bullet drop as it travels through the air.
✅ The bullet drop will vary depending on factors such as the specific load being used, the bullet weight, the muzzle velocity, and the distance to the target. To provide you with a general idea, let's consider a common scenario using a 200-grain bullet fired from a .35 Whelen cartridge with a muzzle velocity of around 2,800 feet per second (fps). Keep in mind that these numbers are approximate and can vary based on actual conditions and specific ammunition choices.
🟣 Here's an example of a bullet drop for a .35 Whelen cartridge at various distances🟣
💥 100 Yards: At 100 yards, the bullet might be only a few inches below the line of sight, perhaps around 1 to 3 inches.
💥 200 Yards: At 200 yards, the bullet will start to drop more noticeably. Depending on the specifics, it might drop around 6 to 9 inches below the line of sight.
💥 300 Yards: Around 300 yards, the bullet drop becomes more pronounced. The drop could be in the range of 18 to 24 inches or more, depending on the factors mentioned earlier.
💥 400 Yards: At 400 yards, the bullet might have dropped around 3 feet (36 inches) or more below the line of sight.
💥 500 Yards: Beyond 400 yards, the bullet drop becomes even more significant. At 500 yards, the drop could be in the range of 5 to 6 feet (60 to 72 inches) or more below the line of sight.
📌 It's important to practice at different distances and become familiar with your rifle's ballistics to make accurate shots, especially when hunting or engaging targets at extended ranges. While the .35 Whelen cartridge offers good ballistic performance, understanding its bullet drop characteristics is essential for accurate shooting, especially at varying distances.
Best 35 Whelen Ammo Reviews
1# TTSX – Barnes VOR-TX – 35 Whelen – 180 Grain – 20 Rounds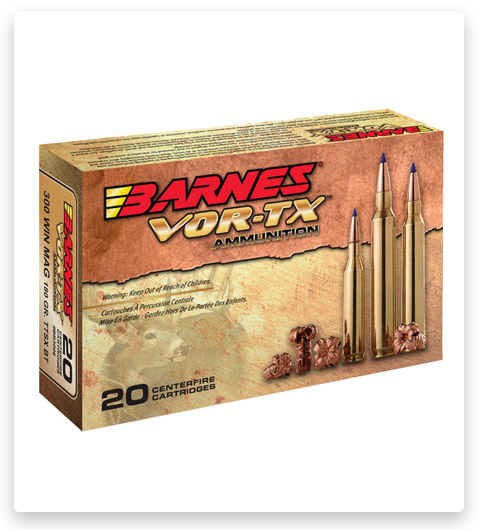 View on LuckyGunner View on OpticsPlanet
If you're searching for a bullet that offers ultimate accuracy, terminal performance, and hand-loaded precision, then you need to check out Barnes' VOR-TX 35 Whelen ammunition. Featuring double-diameter expansion, maximum weight retention, and excellent accuracy, the TSX, Tipped TSX, and TSX FN bullets are designed to deliver maximum tissue and bone destruction, pass-through penetration, and devastating energy transfer. Our analysis of this product showed that the multiple grooves in the bullet's shank reduce pressure and improve accuracy, while the tipped Triple-Shock design delivers a "three strikes you're out" rule for reliable game drops. So whether you're looking for hunting or self-defense ammunition, Barnes' VOR-TX 35 Whelen is a great choice.
2# Soft Point – Hornady – 35 Whelen – 200 Grain – 20 Rounds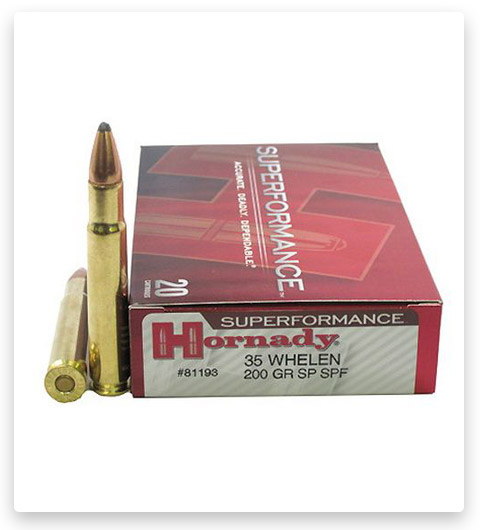 Upgrade your favorite hunting rifle with Hornady Superformance powder blend. As a result of using this product, we found that you'll experience improved trajectory, reduced wind drift, increased accuracy, and more energy delivered on target with no additional recoil or muzzle blast! Take advantage of the new propellant blend by using field-proven Hornady InterLock bullets for maximum penetration and controlled expansion. Order it just now!
3# Soft Point- Fusion – 35 Whelen – 200 Grain – 20 Rounds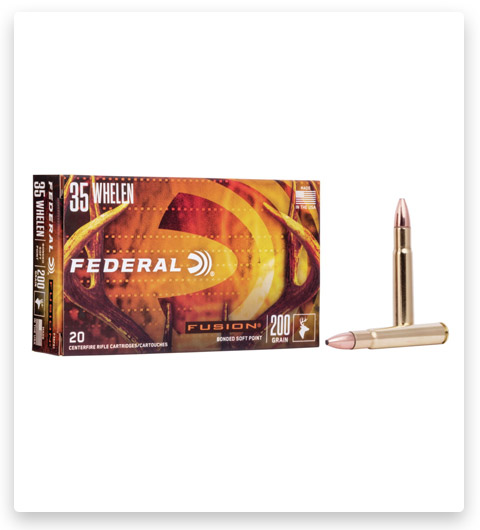 Federal Premium Fusion Rifle Ammo is advanced hunting ammunition that guarantees satisfaction. It was created for deer hunting, but also outperforms other brands on antelope and similar animals. Featuring molecular bonding for perfectly aligned component separation, Fusion Rifle Ammo is sure to provide outstanding downrange transfer of terminal energy and exceptional bullet weight retention. In addition, the optimized boattail profile ensures excellent flight characteristics and accuracy, while the skived tip provides lethal long-range expansion potential without minimizing short-range tenacity. Made in the USA, Fusion Rifle Ammo is the perfect choice for anyone who demands the very best from their hunting ammunition.
4# SBT – Nosler Trophy Grade – 35 Whelen – 225 Grain – 20 Rounds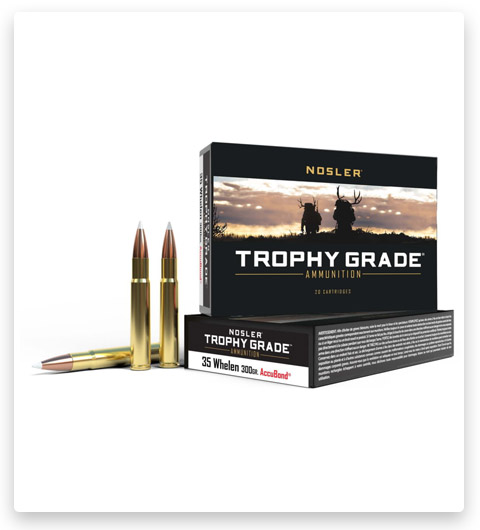 Nosler Trophy Grade Centerfire Rifle Ammunition provides hunters with the optimum performance they need to take down their prey. There are many different bullet and powder combinations available, each of which has been meticulously designed for accuracy and reliability. The Nosler AccuBond bullets used in this ammunition are some of the most accurate and powerful on the market, making them perfect for taking down large game animals. The white polymer tips on the bullets ensure smooth chambering and enhance accuracy, while the boat-tail bases provide superior mushrooming capabilities. With 20 rounds per box, you'll have plenty of ammunition to get the job done right. Order your Nosler Trophy Grade Centerfire Rifle Ammunition today and be prepared for your next hunting trip.
5# JSP – Remington Core-Lokt – 35 Whelen – 200 Grain – 20 Rounds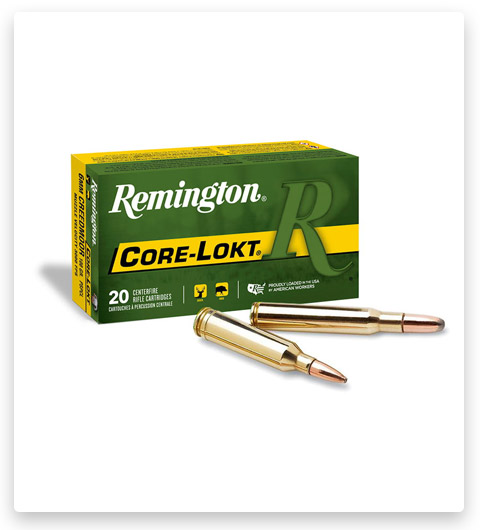 Since 1939, more hunters have relied on Remington Core-Lokt than any other big game ammunition. Core-Lokt is the original controlled expansion bullet. Its time-proven performance has made it hunting's first choice for over 75 years. Based on our observations the tapered copper jacket is locked to a solid lead core delivering massive 2X expansion, weight retention, and consistent on-game results. Available in soft point and pointed soft point versions, and in a range of bullet weights for virtually every centerfire hunting caliber made. Trust your next hunt to the best-selling hunting ammunition of all time.
6# PSP – Remington – 35 Whelen – 250 Grain – 20 Rounds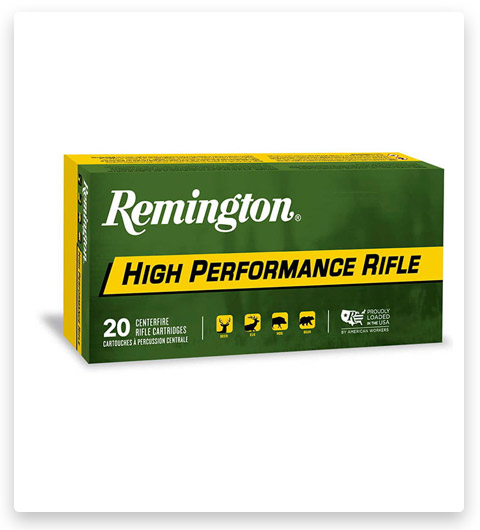 The PSP Bronze Point ammunition is designed to provide hunters with the perfect blend of long-range performance and medium-game stopping power. The Power-Lokt design is perfect for small game and varmint hunting, while the Core-Lokt design is ideal for taking down deer. Remington rifle ammunition comes in a variety of calibers to suit every hunter's needs. Every type of Remington ammunition is created using ultra-tight tolerances and premium components for increased ease of use. The PSP line of big game hunting ammunition is reliable and effective, thanks to the original controlled-expansion bullet design. The progressively tapered copper jacket protects the lead core from degradation, while the controlled expansion ensures that the bullet retains its weight for maximum penetration. With Remington PSP ammo, you can trust that your hunt will be successful.
How does it compare to the .375 H&H and 30-06?💡
The .35 Whelen, .375 H&H Magnum, and .30-06 Springfield are all rifle cartridges, each with its characteristics and intended uses. Let's compare these three cartridges in terms of their performance, applications, and strengths:
| | | | |
| --- | --- | --- | --- |
| | 🔰 .35 Whelen: | 🔰 .375 H&H Magnum: | 🔰 .30-06 Springfield: |
| ✨ Bullet Diameter: |  .358 inches. | .375 inches. | .308 inches. |
| ✨ Typical Bullet Weights: |  180 to 250 grains. | 235 to 300 grains. | 150 to 220 grains. |
| ✨ Muzzle Velocity: |  Around 2,700 to 2,900 fps (varies based on load). | Around 2,500 to 2,700 fps (varies based on load). | Around 2,700 to 2,900 fps (varies based on load). |
| ✨ Applications: |  It is a versatile cartridge suitable for hunting medium to large games. It offers good stopping power and penetration, making it effective for animals like deer, elk, moose, and bears. It's favored by those who want a larger caliber for hunting in North America. | It is known for its versatility and ability to handle a wide range of games, from smaller animals to the largest and most dangerous game on the planet. It's often used for hunting in Africa and other regions where thick-skinned or dangerous animals are encountered. | It is one of the most popular and versatile cartridges worldwide. It's used for hunting a wide variety of game, from deer and antelope to larger species like elk and bear. It's also used for military and competitive shooting. |
| ✨ Strengths: |  It provides excellent stopping power and deep penetration, making it well-suited for hunting larger games. It strikes a balance between the .30-06 and larger magnum cartridges. | It offers tremendous stopping power and exceptional penetration, making it a favorite for big-game hunting under various conditions. Its versatility allows it to tackle a wide range of game species. | It offers a balance of power and trajectory, making it effective at medium to long ranges. It's highly adaptable, available in various bullet weights and loadings, and suitable for a broad spectrum of hunting scenarios. |
😉 In summary, each of these cartridges has its strengths and intended applications. The .35 Whelen offers a larger caliber option for hunting medium to large game, the .375 H&H Magnum is renowned for tackling dangerous and large African game, and the .30-06 Springfield is a versatile choice for a wide range of hunting and shooting activities. Your choice among these cartridges should be based on your hunting preferences, the type of game you intend to hunt, and the distances you'll be shooting.
FAQ🤓
Conclusion😊
In conclusion, the .35 Whelen ammo is a versatile cartridge that offers significant advantages for hunters, particularly when it comes to penetration and performance in challenging conditions. Its higher velocities, coupled with the ability to handle heavier bullets, make it an outstanding choice for hunting larger games at longer distances. We had provided product reviews and tips to help make your decision easier. Remember, choosing the best ammo involves balancing performance, accuracy, and recoil, all while keeping safety as the ultimate priority. Thanks for reading!🥰❤️‍🔥
Affiliate Disclosure: Rotorm.com sometimes gets paid for listings, through sponsors or affiliate programs like Amazon, Optics Planet, Lucky Gunner, Brownells, Cabelas, Rainier Arms, 5.11 Tactical, Bass Pro Shop, etс. Clicking a link helps keep Rotorm.com free, at no extra cost to you!
About the author: Each article on our site is written by experts in survival and tactical equipment, gun enthusiasts, extreme travelers, military, law enforcement and desperate professionals, read about the author at the bottom of the article or visit "About Us" page.
Note: The views and opinions expressed in this article are those of the authors and do not necessarily reflect the official policy or position of any agency.