What Is 32 H&R Magnum Ammo?🤔
It is a rimmed cartridge designed for revolvers. It was developed in 1984 as a joint venture between Harrington & Richardson and Federal Cartridge. The 32 H&R Magnum is based on the .32 S&W Long cartridge and offers significantly more performance, making it an effective choice for small game hunting and self-defence. It's praised for its manageable recoil and compatibility with small-frame revolvers, making it a preferred choice among many firearms enthusiasts.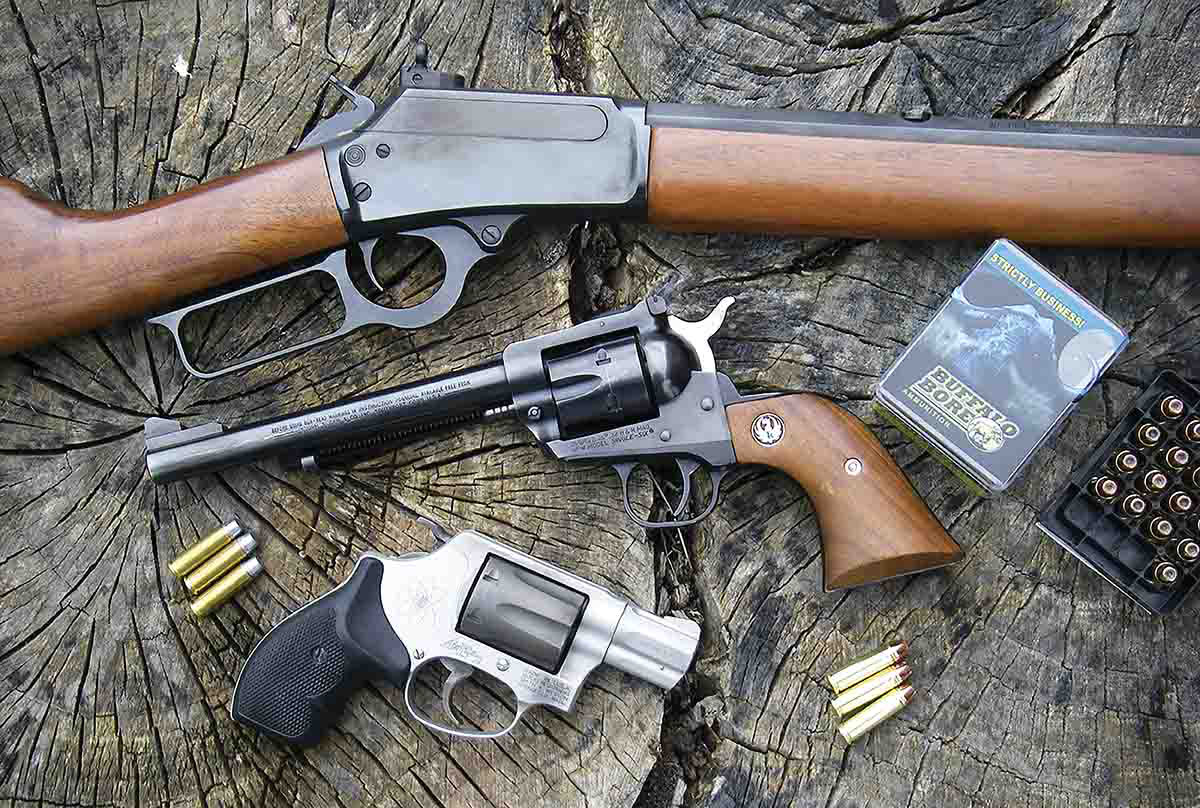 Features🧐
The performance of this ammo can be best described as efficient and reliable.
✅ With a muzzle velocity typically ranging from 900 to 1,300 feet per second, the cartridge provides a swift and potent force, necessary for both hunting and self-defense scenarios. Its enhanced performance comes from a high-pressure load, which significantly surpasses that of the .32 S&W Long cartridge, upon which it is based.
✅ The manageable recoil of the 32 H&R Magnum contributes to its accuracy, allowing for rapid, successive shots without significant loss of aim.
✅ Additionally, the ammo demonstrates impressive terminal ballistics, making it effective for small to medium-game hunting. However, it's important to note that like any ammunition, the performance can be influenced by the specific firearm used and the skill of the shooter.
Our Top Pick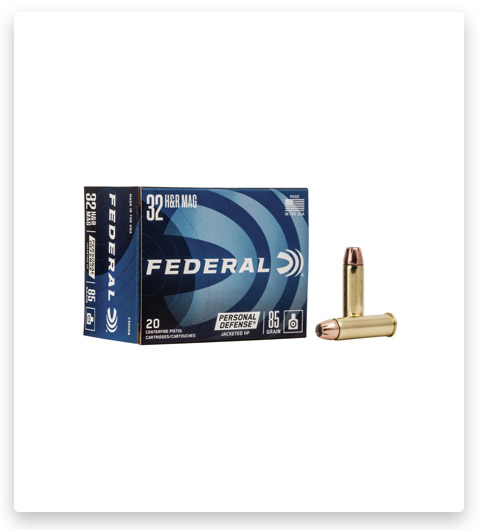 32 H&R Magnum – Federal Premium Personal Defense
Crafted with utmost precision, these rounds are non-corrosive and feature boxer primed brass cases, ensuring reliability and reloadability. Embrace the assurance of top-notch performance in your 32 H&R Magnum firearm. The Jacketed Hollow Point design guarantees expansion upon impact, delivering unparalleled stopping power—making this selection an optimal and confident choice for any self-defence situation.
Buy Now On OpticsPlanet
If you click this link and make a purchase, we earn a commission at no additional cost to you.
Use😎
🔘 Self-Defence: It is an excellent choice for self-defence due to its significant firepower and manageable recoil. The lower recoil compared to larger calibre rounds allows for quick follow-up shots, a critical feature in self-defence scenarios. It's impressive stopping power is often sufficient to neutralize threats effectively.
🔘 Hunting: This cartridge is popular among small to medium-game hunters. The combination of high muzzle velocity and effective terminal ballistics ensures a clean, humane kill in skilled hands. It is ideal for hunting animals such as rabbits, squirrels, and even larger varmints.
🔘 Target Shooting: This ammo is a favourite among target shooters. Its accuracy and manageable recoil make it an excellent choice for both casual and competitive shooting. It's often used in both bullseye and silhouette competitions.
🔘 Plinking: This type of casual shooting is another area where the 32 H&R shines. The ammo's affordability and lower recoil make it great for extended shooting sessions, helping shooters improve their accuracy and gun-handling skills in a relaxed environment.
🔘 Firearms Training: New or inexperienced shooters often this to be a great cartridge for learning. Its manageable recoil and noise level help less-experienced shooters become more comfortable with firearms, fostering better shooting habits and gun safety understanding.
Firearms chambered for the .32 H&R Magnum 🤩
| | |
| --- | --- |
| Ruger SP101: This is a small-frame, double-action revolver known for its robust construction and reliability. The Ruger SP101 offers a six-round capacity, stainless steel construction, and a 4.2-inch barrel, making it an excellent choice for both self-defence and hunting. | Charter Arms Undercoverette: A compact revolver designed specifically for concealed carry. The five-shot Undercoverette in .32 H&R Magnum is lightweight yet powerful, making it ideal for self-defence. |
| H&R Sportsman: A nine-shot, single-action revolver, the H&R Sportsman offers a reliable and affordable option for those seeking a firearm in this calibre small game. It's long barrel and adjustable sights make it a favourite for target shooting and small-game hunting. | Taurus Model 731: This revolver offers a seven-round capacity in a compact, lightweight design. The Taurus Model 731's rugged construction and ported barrel, designed to reduce recoil, make it a suitable choice for both self-defence and sport shooting. |
Best💣  32 HR Magnum Ammo
1# 32 H&R Magnum – Federal Premium Personal Defense – 85 Gr – 20 Rounds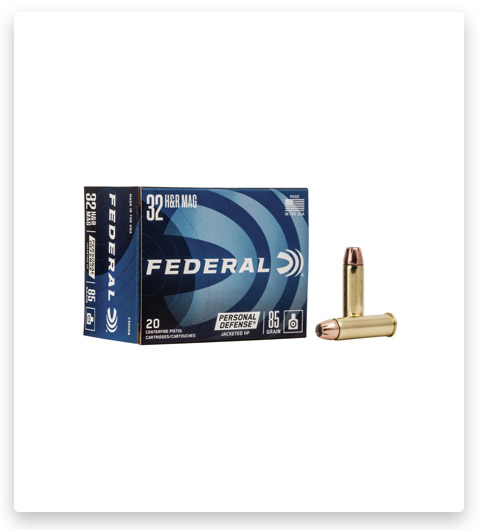 If you're looking for trustworthy 32 H&R Magnum ammo, then look to Federal Premium's Personal Defense line. This new production ammunition features 85 Grain Jacketed Hollow Point bullets- excellent for self-defence situations. Non-corrosive, boxer primed with brass cases and reloadable, this 32 H&R Magnum ammo is exactly what you need in your gun. The Jacketed Hollow Point bullet expands on impact for maximum stopping power, making it a great choice for self-defence situations. With a muzzle velocity of 1100 feet per second and muzzle energy of 228-foot pounds, this Federal Personal Defense ammo is sure to give you the performance you need. Don't settle for less, trust Federal Premium for your self-defence needs.
2# 32 H&R Magnum – Federal Premium Champion – 95 Gr – 20 Rounds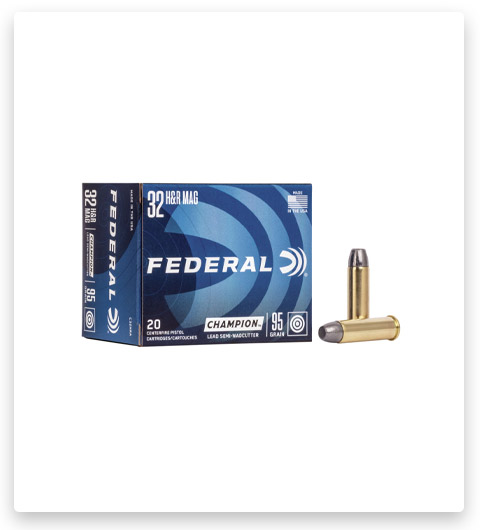 Federal Premium's Champion Centerfire Handgun Ammunition is a high-quality, affordable ammunition option. This ammo is designed specifically for small magnum pistols and revolvers and features high-velocity bullets that are perfect for target practice or competitions. With a nominal diameter of 0.175 inches, you can get 1000 primers in each box, making this an excellent choice for high-volume shooters who want to practice reloading. Accurate and consistent, the new Federal Champion Centerfire Handgun Ammunition is also noncorrosive, so you can shoot all day without worrying about damaging your gun. Don't miss this great opportunity to invest in top-notch ammunition at an unbeatable price.
3# 32 H&R Magnum – Hornady Critical Defense – 80 Gr – 25 Rounds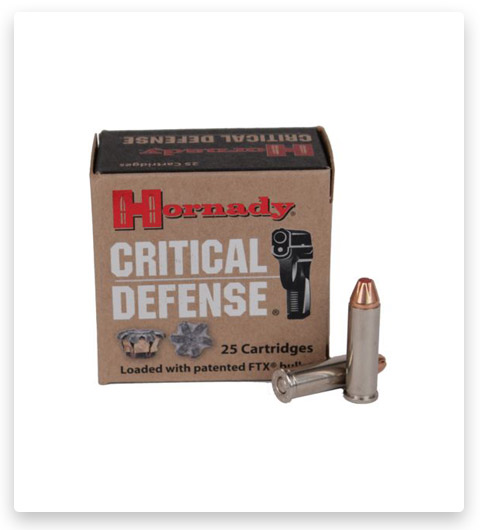 Whether you're carrying your gun for self-defence or just to show off, make sure you've got a few rounds of Hornady's Critical Defense .32 H&R Magnum in your clip. This powerful little round is perfect for taking down threats quickly and efficiently, thanks to its patented Flex Tip technology. The Flex Tip ensures that the bullet expands reliably upon impact, penetrating deeply and creating a large wound channel without clogging. This makes it ideal for use in concealed carry guns, where accuracy and dependability are critical. And because each round is individually weighed and measured for consistency, you can be sure that every shot will hit its target. So when the stakes are high, make sure you're carrying Hornady Critical Defense .32 H&R Magnum.
Reloading⚙️
Reloading provides an opportunity for shooters to customize their ammunition to fit their specific needs, whether it's self-defence, hunting, or target shooting.
⭕ The process of reloading requires careful attention to detail to ensure safety and optimal performance. The foremost aspect involves choosing the right components, which include the bullet, powder, primer, and case. For .32 H&R Magnum, bullets usually range in weight from 85 to 100 grains, with the lighter bullets favouring self-defence use and the heavier ones being more suited for hunting and target shooting.
⭕ The choice of powder is crucial for the ammo's performance. Slow-burning powders are typically recommended for the .32 H&R Magnum to ensure a consistent and efficient burn, translating to better velocity and accuracy. Primers should be chosen based on their sensitivity and reliability, with brands such as CCI and Winchester being among the preferred choices.
⭕ The cases can be used multiple times, provided they are properly cleaned and inspected for any signs of wear or damage before each reload. One of the great advantages of this ammo is its longevity; if properly cared for, brass cases can be reloaded many times.
⭕ It's important to note that reloading should be undertaken with appropriate knowledge and understanding of the process. Safety measures, including wearing safety glasses and working in a well-ventilated area, should always be adhered to. Finally, the reloaded ammo should be tested in a controlled environment before use in the field.
Reloading ammunition can be a rewarding experience, offering a customized shooting experience and potential cost savings. However, it requires a careful and knowledgeable approach to ensure safety and effectiveness.
Watch this video to find more information💻
FAQ❓
Conclusion💠
The .32 H&R Magnum is a versatile and powerful ammunition choice that caters to a variety of shooting needs, from self-defence and hunting to target shooting and plinking. Different firearms chambered for this cartridge offer a range of features that enhance its performance across these applications. The ability to reload this ammunition allows shooters to customize their experience further, improving the cartridge's overall utility. However, this process requires careful attention to detail, knowledge, and adherence to safety practices.
Affiliate Disclosure: Rotorm.com sometimes gets paid for listings, through sponsors or affiliate programs like Amazon, Optics Planet, Lucky Gunner, Brownells, Cabelas, Rainier Arms, 5.11 Tactical, Bass Pro Shop, etс. Clicking a link helps keep Rotorm.com free, at no extra cost to you!
About the author: Each article on our site is written by experts in survival and tactical equipment, gun enthusiasts, extreme travelers, military, law enforcement and desperate professionals, read about the author at the bottom of the article or visit "About Us" page.
Note: The views and opinions expressed in this article are those of the authors and do not necessarily reflect the official policy or position of any agency.