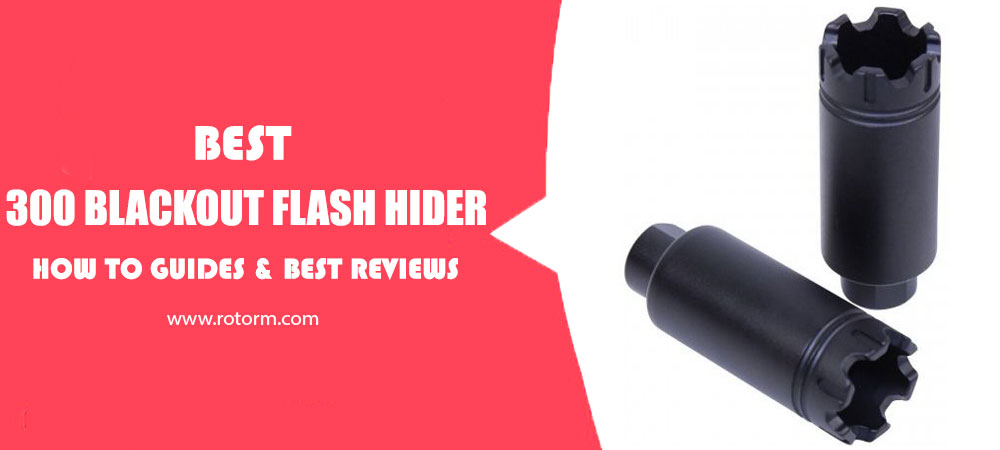 What is the Best 300 Blackout Flash Hider? 🤔
😎 The 300 Blackout flash hider is a muzzle device designed to reduce the muzzle flash from a firearm chambered in 300 Blackout ammunition. The 300 Blackout cartridge was developed in the late 2000s as a way to provide increased power and performance in the AR-15 platform while using standard AR magazines. It was intended for use with suppressors and subsonic ammunition.
👌 The increased powder in the cartridge can lead to significant muzzle flashes, so they became popular to reduce this signature. They work by redirecting propellant gases to counteract and cool the flash as the bullet leaves the barrel. They have cuts or prongs along the top designed to disrupt the gases.
💪 This round grew in popularity in military and civilian use in the early 2010s. As its use expanded, the tailored for the cartridge's ballistics also grew more widespread. They are a common muzzle accessory to control flash with 300 Blackout rifles today.
Benefits 🔥
✅ Enhanced Stealth: The primary purpose is to reduce or eliminate the visible muzzle flash. This can be crucial in low-light or night-time situations, ensuring that the shooter's position remains concealed.
✅ Improved Accuracy: By reducing the muzzle flash, shooters can maintain better sight pictures and focus on their target without the distraction or blinding effect of a bright flash.
✅ Protection: It can prevent the premature erosion of the muzzle due to the intense heat and blast from repeated firing.
✅ Reduced Night Vision Disruption: For those using night vision equipment, a significant muzzle flash can temporarily blind or disrupt the equipment. It mitigates this problem.
✅ Enhanced Aesthetic Appeal: For many firearm enthusiasts, the addition adds a tactical and professional look to their weapon.
Our Top Pick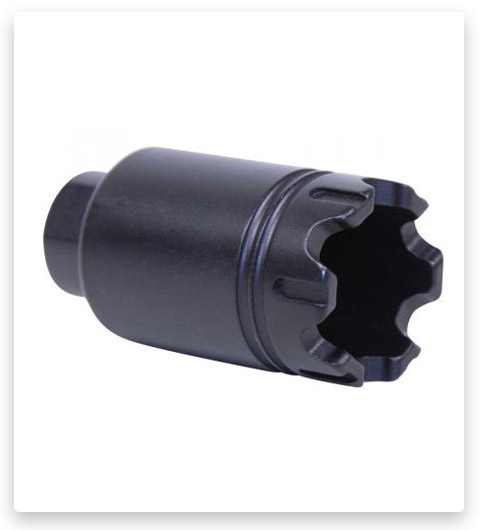 Guntec USA AR-15 Micro Trident Flash Can
Engineered to eliminate blinding flashes in low-light conditions, ensuring unwavering focus on your target. Say goodbye to distracting muzzle flashes with easy one-handed installation and removal—designed for ultimate convenience.
Buy Now On OpticsPlanet
If you click this link and make a purchase, we earn a commission at no additional cost to you.
Features ⭐
☑️ Durable Construction: Often made from high-grade materials like steel or aircraft-grade aluminum to withstand the pressures and heat of firing.
☑️ Easy Installation: Most models are designed for quick and straightforward attachment to the muzzle of the firearm without the need for specialized tools.
☑️ Advanced Design: Many of them use pronged or slotted designs to effectively dissipate the gases and reduce flash signature.
☑️ Corrosion Resistance: Many of them come with finishes or coatings that resist rust and corrosion, ensuring longevity and consistent performance.
☑️ Lightweight: Despite their robust construction, many of them are lightweight, ensuring they don't add unnecessary weight to the firearm.
☑️ Versatility: Some of them also serve dual purposes, acting as compensators or muzzle brakes, helping to reduce recoil and muzzle rise.
Our Top Pick
How to Choose the Right Flash Hider for 300 Blackout 🔎
🚩 Purpose and Environment: Begin by identifying the primary purpose of your firearm and the environments in which you'll be using it. If you're primarily shooting at night or in low-light conditions, a hider that offers maximum flash reduction will be essential. For daytime shooting, you might prioritize other features.
🚩 Material and Durability: The material plays a significant role in its durability and performance. High-grade steel or aircraft-grade aluminum are popular choices due to their strength and resistance to heat. Ensure it is made of materials that can withstand the pressures and temperatures of repeated firing.
🚩 Installation and Compatibility: Ensure it is specifically designed for the 300 Blackout caliber. It should fit snugly on your firearm's muzzle without any gaps. Additionally, consider how easy it is to install. Some of them can be easily screwed on, while others might require professional installation.
🚩 Design and Efficiency: The design can influence its efficiency in reducing muzzle flash. Pronged or slotted designs are common and effective in dissipating gases. Some designs also help in reducing muzzle rise and recoil, serving as compensators or muzzle brakes.
🚩 Weight and Balance: While they are generally lightweight, their weight can still influence the balance of your firearm. Choose one that doesn't make the gun too front-heavy, ensuring comfortable handling and shooting.
🚩 Corrosion Resistance: If you're using your firearm in various environments, especially humid or wet conditions, ensure it has a finish or coating that resists rust and corrosion.
🚩 Budget and Brand: While it's essential to get a quality hider, there's no need to break the bank. There are many reputable brands offering effective hiders at various price points. Research reviews and user feedback to find a product that offers the best value for your money.
🚩 Legal Considerations: Before purchasing, ensure that it is compliant with local and state laws. Some jurisdictions have restrictions on certain firearm modifications, so it's crucial to be informed and compliant.
By considering these factors and doing thorough research, you can confidently choose the right flash hider for you, enhancing both performance and safety.
Best 300 Blackout Flash Hider Reviews
1# KAK A2 Birdcage 300 Blackout Flash Hiders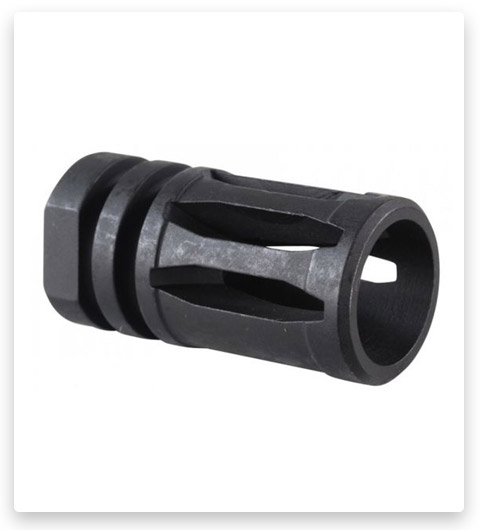 It is not just any muzzle device; it's your key to improved shooting. Designed to significantly reduce muzzle flash and recoil, it ensures a smoother shooting experience. Say goodbye to blinding flashes and hello to enhanced accuracy.
Built to last, it is constructed from top-quality materials. You can trust its durability and longevity, even under rigorous shooting conditions. It's a reliable companion for your firearm adventures. Whether you're using a 9mm Luger, .300 AAC Blackout, or any compatible caliber, it is adaptable to your needs. It's available in various thread sizes, ensuring compatibility with a wide range of firearms.
It is designed to deliver consistent and impressive results. Its sleek and functional design not only reduces muzzle flash but also enhances the overall shooting experience. You'll notice the difference from the moment you start shooting.
2# Manticore Arms Shadow Flash Hider, 1/2×28 TPI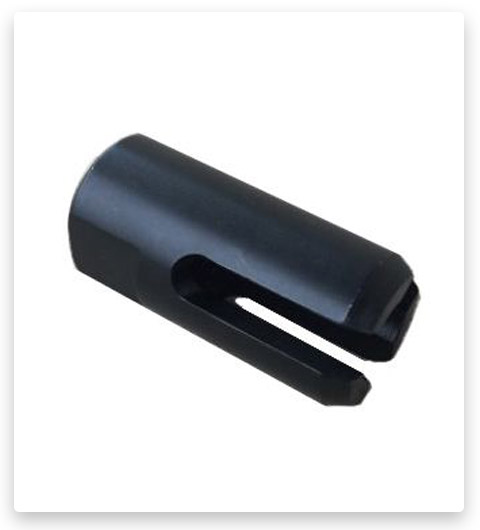 View on OpticsPlanet
Equipped with three short, straight prongs that excel at hiding muzzle flash. This feature not only keeps you concealed but also adds a level of safety and tactical advantage to your shooting.
It can accommodate rounds up to 9mm in diameter, including popular options like 300 Blackout, 5.56mm, and .22LR. Its 1/2×28 threading ensures a secure fit for various firearms, making it a versatile choice for your arsenal.
Crafted from high-quality 8620 steel with a Rockwell 50C heat treatment, it is built to withstand tough conditions. Its durability ensures that it will serve you well for years to come.
3# Guntec USA AR-10 Slim Line/Micro Cone Flash Can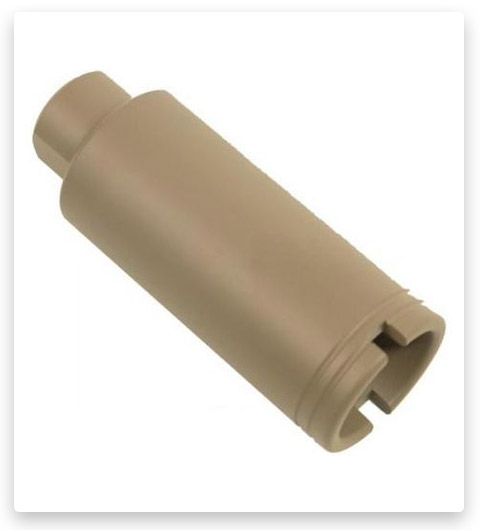 View on OpticsPlanet
One of the standout features is its ability to direct the muzzle blast forward, reducing both recoil and noise. This means you'll experience less felt recoil, improving your shot accuracy and control. Additionally, it's a considerate choice for your fellow shooters by minimizing noise disturbance.
Whether you own a .308 or 300 AAC Blackout AR-10, it is ready to perform. It seamlessly fits 5/8×24 threads, ensuring compatibility with your rifle. Crafted from solid T6 aluminum, it can boast a slim profile with an outer diameter of just 1.245 inches. It's engineered to fit most slimline and thin free-floating handguards, giving your rifle a streamlined look without compromising its effectiveness.
The anodized finish not only enhances the can's longevity but also adds a touch of style to your firearm. Its black color is both classic and versatile, complementing various rifle aesthetics.
4# Guntec USA AR .308 Claw Multi-Prong Flash Hider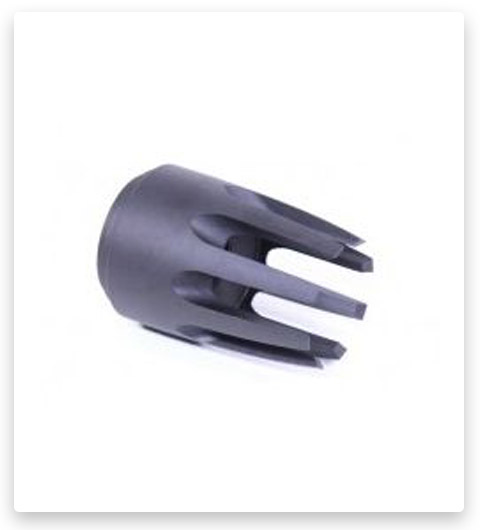 Designed for .308 and 300 BLK rounds, it offers exceptional muzzle flash reduction. Whether you're shooting in low light conditions or need to maintain a low profile, this device effectively hides the blast, ensuring a discreet shooting experience.
Constructed from high-quality T6 aluminum, it is both lightweight and durable. It can withstand the force of .308 caliber projectiles, making it a reliable choice for your firearm. Installing and removing it is a breeze, thanks to its lightweight aluminum construction. No need for specialized tools – simply attach it with ease.
Featuring a 5/8×24 thread pitch, it is compatible with a wide range of firearms, including AR-10 models. It ensures a secure fit and reliable performance.
5# Guntec USA AR-10 Slim Line Trident Flash Can w/Glass Breaker
Can effectively redirect and dissipate the flash forward, ensuring that your vision remains clear, even in low-light conditions. It's a must-have feature for those who value precision and accuracy.
Constructed from solid T6 aluminum, it can be built to withstand the harshest conditions. It's designed to be rugged and reliable, ensuring that it serves you well for years to come. Whether you own an AR308, AR-10, or AR-15, it can be designed to fit seamlessly. Its 5/8×24 threads per inch make it compatible with a wide range of rifles, providing you with versatility and convenience.
In addition to its primary function, it can also serve as a glass breaker. It's a valuable tool in emergencies, adding an extra layer of utility to your firearm.
6# Guntec USA AR-15 Micro Trident Flash Can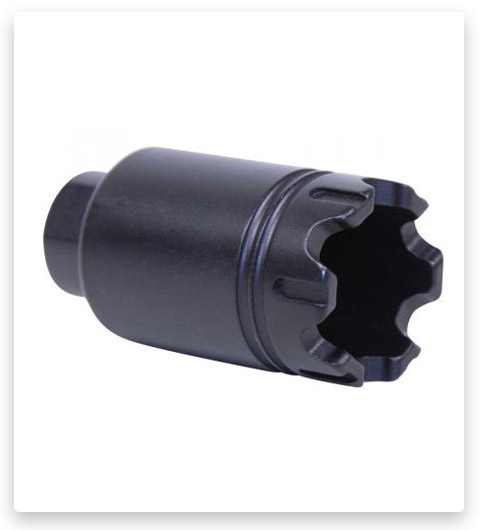 Engineered to eliminate blinding flash, ensuring that you stay focused on your target even in low-light conditions. Say goodbye to distractions caused by excessive muzzle flash. It can feature deep chambers and porting, allowing for effortless installation and removal with just one hand. No need for additional installation tools; it's designed for convenience.
The Micro Trident Flash Can's innovative design fits seamlessly into the majority of slimline handguards, giving your AR-15 a sleek and unobtrusive look. Crafted from high-quality T6 aluminum, it is built to withstand the rigors of shooting and maintain its performance over time. It's a durable addition to your firearm.
Available in various caliber options, including 9mm, .223 Remington/5.56x45mm NATO, and .300 AAC Blackout, you can choose the one that best suits your AR-15 setup.
Installation Guide for Flash Hiders for 300 Blackout 🔧
👉 Installing can significantly enhance its performance, especially in low-light conditions. Before you begin the installation, it's paramount to prioritize safety. Ensure the firearm is completely unloaded by removing the magazine and clearing the chamber. Always handle the firearm as if it were loaded, pointing it in a safe direction.
👉 To start the installation process, you'll first need to remove any existing muzzle device on your 300 Blackout. If your rifle has a muzzle device attached, secure the upper receiver in a vise using a vise block suitable for the upper receiver. This will provide stability during the removal process. Using the appropriate wrench, turn the existing muzzle device counterclockwise to unscrew and remove it.
👉 Once the old device is off, it's essential to clean the threads on the muzzle. Over time, these threads can accumulate gunpowder residue, old thread-locking compounds, or other debris. Cleaning ensures a smooth installation process and optimal performance of the new flash hider. After cleaning, inspect the threads for any signs of damage. If there's any damage or if the threads appear worn, it's advisable to consult a gunsmith before proceeding.
👉 Many of them come with a crush washer. This washer ensures proper alignment once it's tightened. If it includes a crush washer, place it over the muzzle threads before you begin the installation.
👉 Begin threading it onto the muzzle by turning it clockwise. Hand-tighten it as much as possible. Using your wrench, continue to tighten it until it's properly aligned. The exact alignment will depend on the design, but in many cases, the ports or slots should be oriented correctly to effectively dissipate gases and reduce flash.
👉 If you're using a thread-locking compound, which can help ensure it remains securely in place during firing, apply it to the threads before installing it. After applying, allow it to set for the recommended duration before using the firearm.
👉 Once it is installed and aligned correctly, conduct a final check to ensure it's secure. After installation, always perform a function check of your firearm to ensure everything operates as it should. If you ever feel uncertain or uncomfortable during the installation process, seeking assistance from a professional gunsmith is always a good idea.
FAQ 📚
Conclusion 🏁
In conclusion, the 300 Blackout Flash Hider is an essential accessory for anyone looking to enhance their shooting experience. Designed to reduce muzzle flash, it not only improves target focus but also conceals the shooter's position.
The 300 Blackout cartridge, developed in the late 2000s, has gained popularity for its increased power and performance. They play a crucial role in taming the significant muzzle flashes associated with this cartridge, redirecting propellant gases to counteract and cool the flash. Thanks for reading! 🤝
Affiliate Disclosure: Rotorm.com sometimes gets paid for listings, through sponsors or affiliate programs like Amazon, Optics Planet, Lucky Gunner, Brownells, Cabelas, Rainier Arms, 5.11 Tactical, Bass Pro Shop, etс. Clicking a link helps keep Rotorm.com free, at no extra cost to you!
About the author: Each article on our site is written by experts in survival and tactical equipment, gun enthusiasts, extreme travelers, military, law enforcement and desperate professionals, read about the author at the bottom of the article or visit "About Us" page.
Note: The views and opinions expressed in this article are those of the authors and do not necessarily reflect the official policy or position of any agency.