What is 22 TCM Ammo?🧐
The 22 Tuason Craig Micromagnum is a proprietary bottle-necked cartridge, developed by custom gunsmith Fred Craig and Rock Island Armory (RIA) for semi-automatic pistols and the Rock Island M22 TCM bolt action rifle. This ammunition was designed to mimic the ballistics of the .22 Hornet, delivering a high-velocity round that offers less recoil and muzzle flash than most other cartridges in its class.
Features😎
✴️ High-Velocity: The primary feature is its high velocity. It was designed to imitate the ballistics of the .22 Hornet, which is known for its speed.
✴️ Reduced Recoil: Despite its high velocity, this ammo offers reduced recoil, making it perfect for individuals who prefer less kickback when shooting.
✴️ Less Muzzle Flash: Another distinct feature of the ammo is its reduced muzzle flash. This makes it particularly suitable for low-light environments or tactical situations where discretion is necessary.
✴️ Versatility: The ammo was developed not only for semi-automatic pistols but also for the Rock Island M22 TCM bolt action rifle, demonstrating its versatility.
✴️ Proprietary Design: It is a proprietary, bottle-necked cartridge. This unique design was developed by renowned custom gunsmith Fred Craig and Rock Island Armory (RIA).
Watch this video to find more information💻
Compatible Firearms 🗞️
It is designed primarily for two types of firearms, ensuring a performance that maximizes their engineered potential.
⚫ Semi-Automatic Pistols: One of the main firearms designed to use this ammo is a semi-automatic pistol. The cartridge's high velocity and reduced recoil make it ideal for rapid yet controlled fire in these handguns. A perfect example is Rock Island Armory's own series of 1911-style semi-automatic pistols, which were specifically designed to handle and complement the distinct characteristics of the 22 Tuason Craig Micromagnum round.
⚫ Bolt Action Rifles: This ammo is not limited to only semi-automatic pistols. It also caters to bolt action rifles, demonstrating its versatility. The Rock Island M22 Tuason Craig Micromagnum bolt action rifle is a prime example, tailored to capitalize on the high-velocity, low-recoil, and reduced muzzle flash of this unique ammunition.
It is, however, important to note that due to its proprietary nature, not all firearms can use this ammo. Always check the specifications of your firearm before using ammunition to ensure safety and proper functioning.
Our Top Pick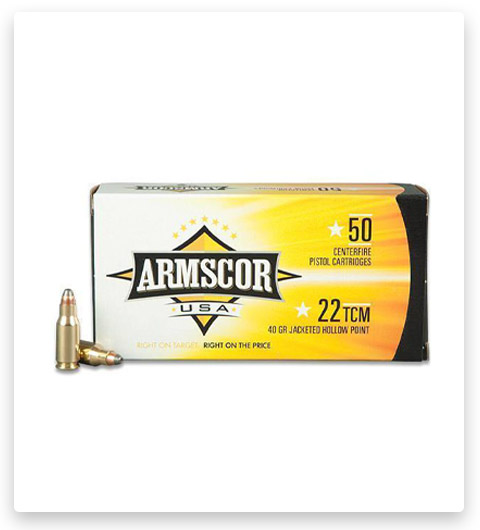 22 TCM – Armscor Precision Inc – 40 Grain
Crafted to exceed the demands of discerning competitive shooters, law enforcement, military personnel, and passionate gun enthusiasts, this premium-grade ammunition stands at the pinnacle of performance. It boasts a precision-engineered Jacketed Hollow Point bullet meticulously designed to deliver unparalleled accuracy and formidable stopping power. Propelled by a muzzle velocity of 1875 feet per second, this ammunition assures exceptional velocity retention and energy transfer. The brass cartridge case guarantees flawless feeding and smooth function, ensuring every shot counts. Packaged in a convenient 50-round box, you'll find an ample supply of ammunition to cater to your every shooting pursuit.
Buy Now On OpticsPlanet
If you click this link and make a purchase, we earn a commission at no additional cost to you.
The Effective Range🚩
This ammo exhibits an impressive effective range, thanks largely to its high-velocity nature. Traditionally, for the purpose of comparison, the effective range is often defined as the distance at which a weapon can inflict damage on a target with a certain level of assurance.
🟡 For the .22 Tuason Craig Micromagnum, this range is estimated to be around 100 yards (approximately 91 meters) when fired from a handgun and can extend to as far as 200 yards (approximately 183 meters) when shot from a rifle. The cartridge maintains a reasonably flat trajectory up to about 150 yards (137 meters), beyond which the bullet begins to drop sharply.
At 100 yards, this ammo still retains significant velocity, making it suitable for varmint hunting at this distance. However, as with any ammunition, the actual effective range can be influenced by several factors:
The barrel length of the firearm. A longer barrel will impart more velocity on the bullet, resulting in a longer effective range.
The type of bullet used. Some bullets are designed for more penetration than others, which will affect the effective range.
The target. The size and type of target will also affect the effective range. For example, a smaller target will require a shorter effective range than a larger target.
The shooter's skill. A skilled shooter will be able to make more accurate shots, which will extend the effective range.
Best 22 TCM Ammo Reviews
1# 22 TCM – Armscor Precision inc Armscor ammo – 40 Grain – 100 Rounds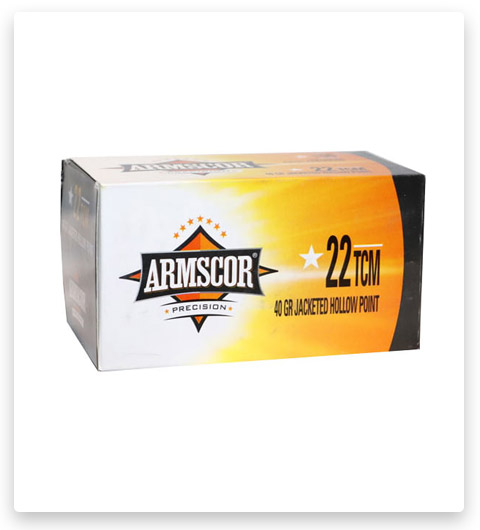 The .22 TCM from Armscor is an excellent choice for those searching for a reliable and affordable round for recreational shooting. This 100-pack contains jacketed hollow point bullets that are great for target practice or plinking. The cases are made from nickel-plated brass and are fully reloadable. With a muzzle velocity of 1875 ft/s, the .22 TCM is a great choice for anyone looking for an accurate and fun round to shoot.
2# 22 TCM – Armscor Precision Inc – 40 Grain – 50 Rounds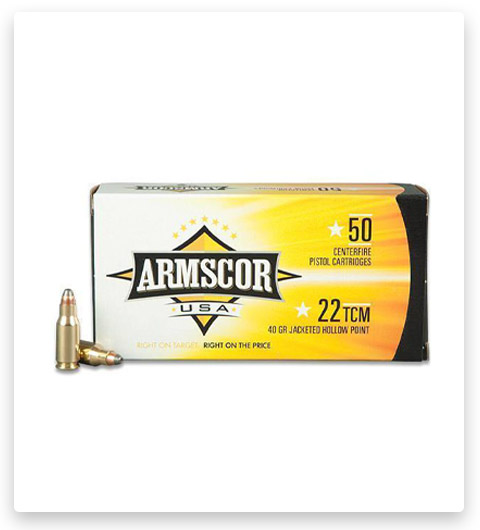 Armscor Precision Inc. .22 TCM ammunition is perfect for those who demand the utmost precision and reliability. This top-of-the-line ammo is specifically designed to meet the needs of competitive shooters, police, military, and gun enthusiasts. It features a Jacketed Hollow Point bullet for maximum accuracy and stopping power, as well as a muzzle velocity of 1875 ft/s. The brass cartridge case ensures reliable feeding and function, while the 50-round box gives you plenty of ammo for all your shooting needs. So don't settle for anything less than the best—choose Armscor Precision Inc. .22 TCM ammunition.
Battle Of Mini Calibres💡
The .22 Tuason Craig Micromagnum cartridge has a higher muzzle velocity and muzzle energy than the .22 LR cartridge. This means that it will have better penetration and stopping power. However, it is still not as powerful as the 9mm Luger or .223 Remington cartridges.
Let's summarize the key differences between the four cartridges:
| | | | | |
| --- | --- | --- | --- | --- |
| Cartridge | Bullet Diameter | Muzzle Velocity | Muzzle Energy | Penetration |
| .22 TCM | .224 in (5.69 mm) | 1,350 ft/s (411 m/s) | 280 ft·lbf (380 J) | Good |
| .22 LR | .224 in (5.69 mm) | 1,250 ft/s (381 m/s) | 140 ft·lbf (190 J) | Fair |
| 9mm Luger | .355 in (9.1 mm) | 1,150 ft/s (351 m/s) | 350 ft·lbf (470 J) | Good |
| .223 Remington | .224 in (5.69 mm) | 2,300 ft/s (701 m/s) | 1,300 ft·lbf (1760 J) | Excellent |
In light of the above, it is apparent that the choice of ammunition – whether it be .22 TCM, .22LR, 9mm, or .223 – is heavily influenced by the specific requirements and preferences of the shooter. Each of these ammo types has unique characteristics and advantages, from the high velocity and lower recoil of the .22 Tuason Craig Micromagnum to the renowned self-defence capabilities of the 9mm. Therefore, a comprehensive understanding of these different ammunitions, their properties, and their suitable applications is vital for making an informed decision. Ultimately, the most appropriate ammunition is one that best aligns with the shooter's objectives, whether that be precision shooting, hunting, self-defence, or tactical situations.
We believe this video can be helpful for you📺
FAQ❓
Conclusion🤩
The 22 Tuason Craig Micromagnum ammunition demonstrates a remarkable blend of features that make it a unique and versatile choice for both semi-automatic pistols and bolt action rifles. Its high velocity, reduced recoil, and minimal muzzle flash make it suitable for a variety of shooting scenarios, including tactical uses and varmint hunting. Notably, the effective range of this ammo is influenced by factors such as barrel length, bullet type, target, and the shooter's expertise. However, due to its proprietary design, it's critical to verify firearm compatibility before use. Overall, the 22 TCM reinforces the innovative spirit of firearm development, offering an exciting option for shooting enthusiasts.
Affiliate Disclosure: Rotorm.com sometimes gets paid for listings, through sponsors or affiliate programs like Amazon, Optics Planet, Lucky Gunner, Brownells, Cabelas, Rainier Arms, 5.11 Tactical, Bass Pro Shop, etс. Clicking a link helps keep Rotorm.com free, at no extra cost to you!
About the author: Each article on our site is written by experts in survival and tactical equipment, gun enthusiasts, extreme travelers, military, law enforcement and desperate professionals, read about the author at the bottom of the article or visit "About Us" page.
Note: The views and opinions expressed in this article are those of the authors and do not necessarily reflect the official policy or position of any agency.